While your bathroom might not be the most frequently displayed room in your home, it's still an important space when it comes to self care. It's here that we unwind and relax after a long and tiring day, hoping to feel fully rejuvenated. This is why our choice of toilet tiles and design aesthetics plays an important part too. The furnishings we choose for our bathrooms are sure to play an indirect role in how we feel in this space. From colours to materials, every aspect of design can make or break the utility of your bathroom.
To help you make the best choices, we've put together a few points to bear in mind while picking out your toilet tiles. Let's get into them!
A Few Things to Look Out For While Selecting Your Toilet Tiles
Size of Your Tiles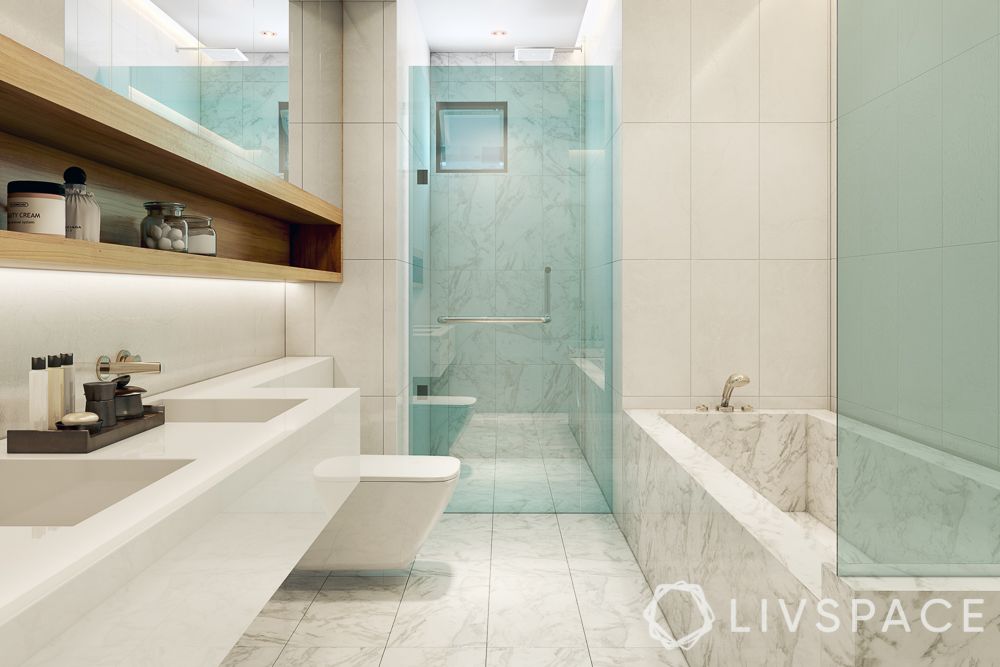 Before you plan your bathroom, it's important to take stock of the space constraints you have to work with. In the case of smaller bathrooms, larger toilet tiles can create the illusion of space due to fewer grout joints. If your bathroom has a high ceiling and is well-lit, bigger tiles can further help enhance the effect of space.
Similarly, if you have a more spacious bathroom, you can opt for smaller tiles. For angular bathrooms, smaller tiles are also ideal as they are easier to lay in irregularly shaped nooks.
Pro Tip
Buy a sample tile before you decide to commit to anything in particular. This way, you'd be sure of the dimensions that you will be receiving without having to account for incorrect sizing.
Materials That Work Best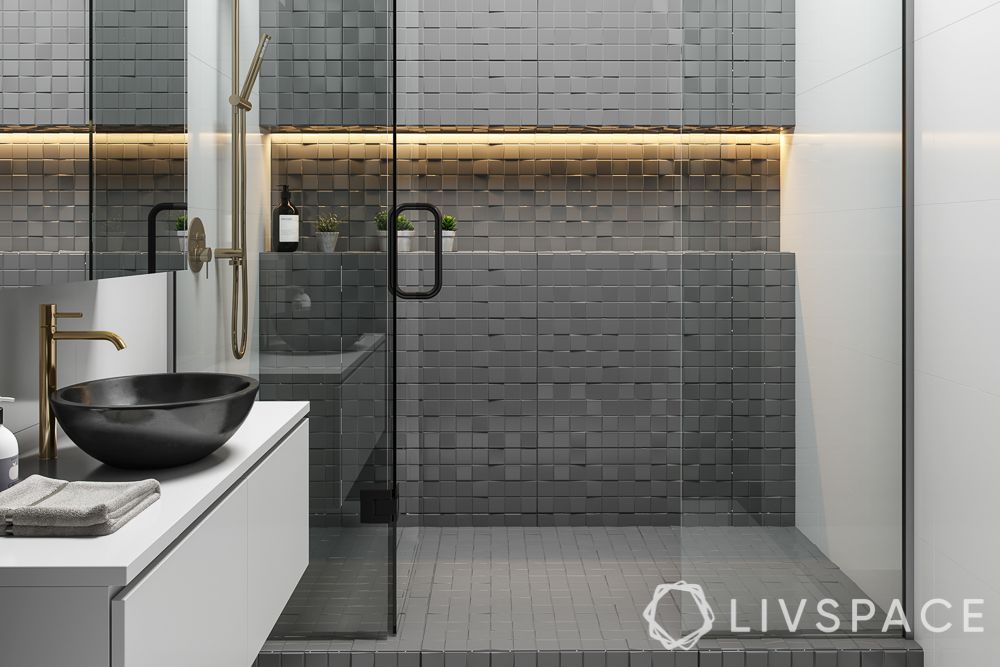 Aesthetics are important, but making your bathroom accident-free and long-lasting is crucial as well. When it comes to bathroom safety, investing in slip-resistant and durable materials is non-negotiable. Porcelain, ceramic and vinyl are the usual go-to materials when it comes to waterproofing your bathroom.
Pro Tip
For bathrooms on a budget, porcelain and ceramic tiles can give you the most bang for your buck.
Colours and Placements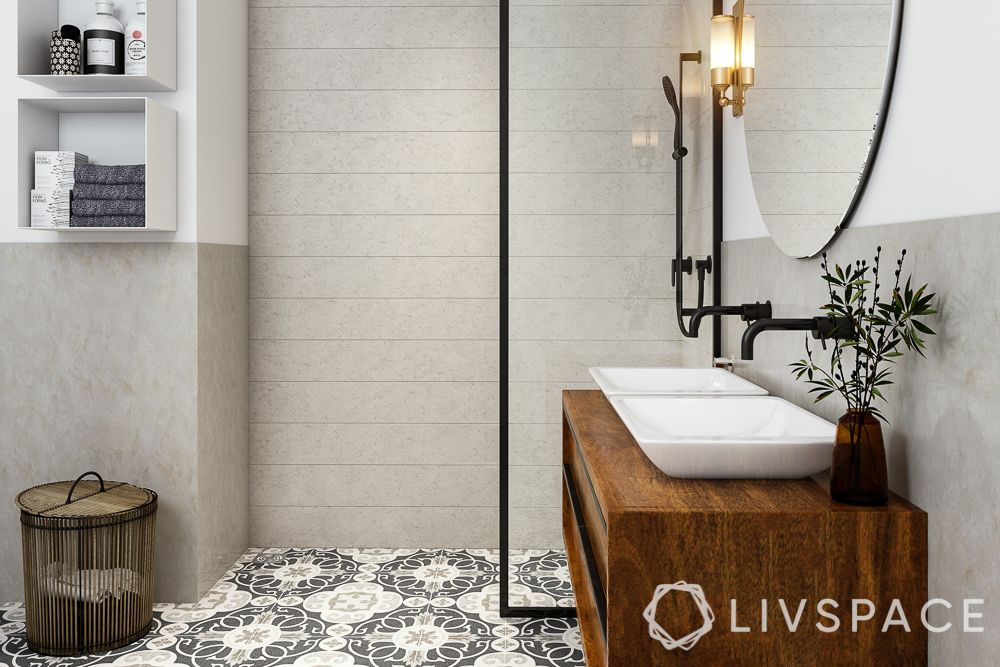 Much like how the size of your toilet tiles can manipulate the illusion of space, colours and placements of tiles can also help recreate this effect. For example, darker colour tiles can make your space look smaller whereas lighter, neutral palettes can be space-enhancing. The same holds true when it comes to toilet tiles design.
Pro Tip
To add a bit of interest to your plain bathroom interiors, you can go for a colourful mosaic tile design or a simple feature wall to add a pop of colour.
For more colour inspiration, check out 6 Trendy but Timeless Bathroom Colours to Try in Your Next Renovation.
Types of Toilet Tiles to Consider for Your Bathroom
#1: Vinyl Tiles – Versatile and Affordable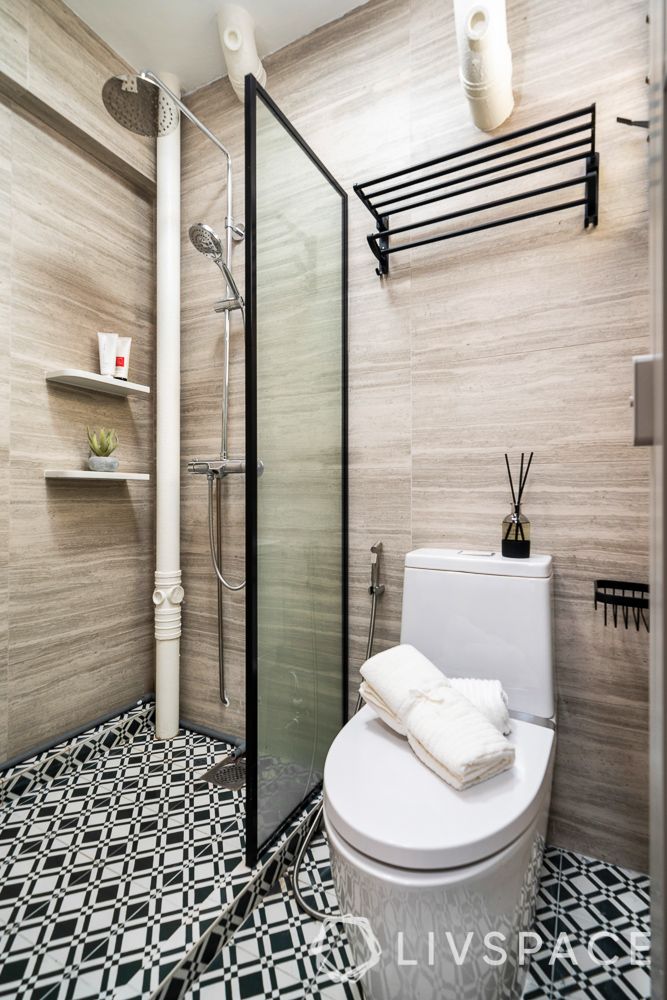 Want that classic wooden tile feel in your bathroom but don't have the budget for real wood? Here's where vinyl toilet tiles are a beautifully versatile option for you to consider. Be it toilet floor tiles or toilet wall tiles, you can make use of vinyl on either surface.
What's more, it's available in a multitude of designs and finishes based on the look you're looking for. Better yet, it's a great budget-friendly option as well.
An Important Point to Note
Wood is becoming an increasingly popular material to feature in bathrooms. But, if you're considering real wood for your bathroom, there are a few things that you should know. Though hardwood materials are known to boost the resale value of your property, they include high-maintenance upkeep.
Similarly, it also depends on the type of wood you use. Certain strains of wood tend to be more water-resistant and durable but still require regular sealing and maintenance.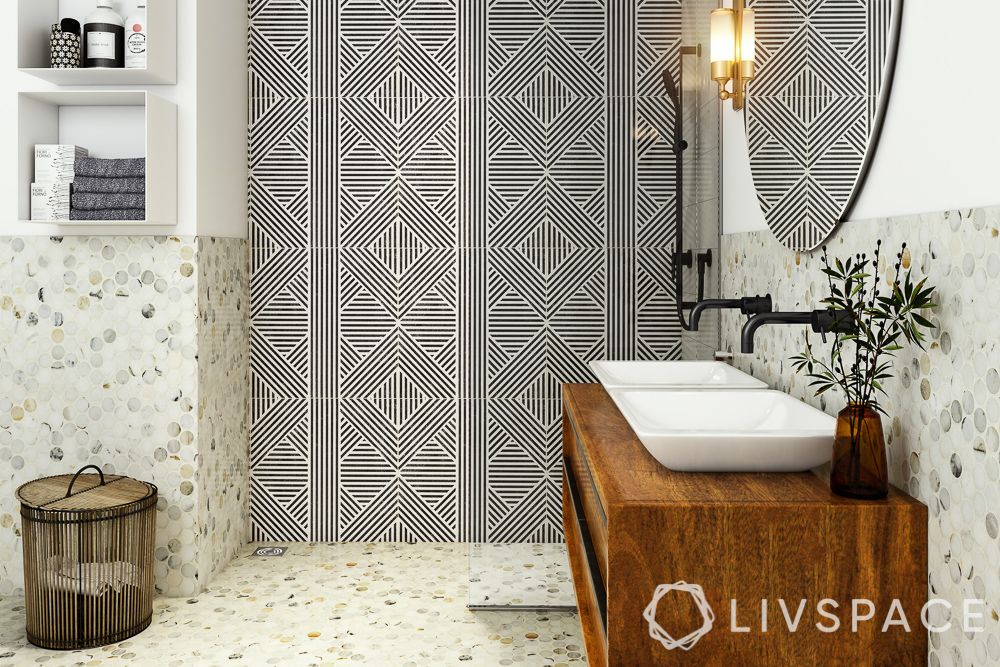 Pro Tip
Vinyl tiles work exceptionally well for BTOs and rentals as they can be used as an overlay on your existing flooring. They also help in cutting costs when it comes to hacking and installing new tiles.
Here are 6 Unbelievable Before and After Bathroom Makeovers to Inspire You.
#2: Glazed Terracotta Tiles – Rustic and Niche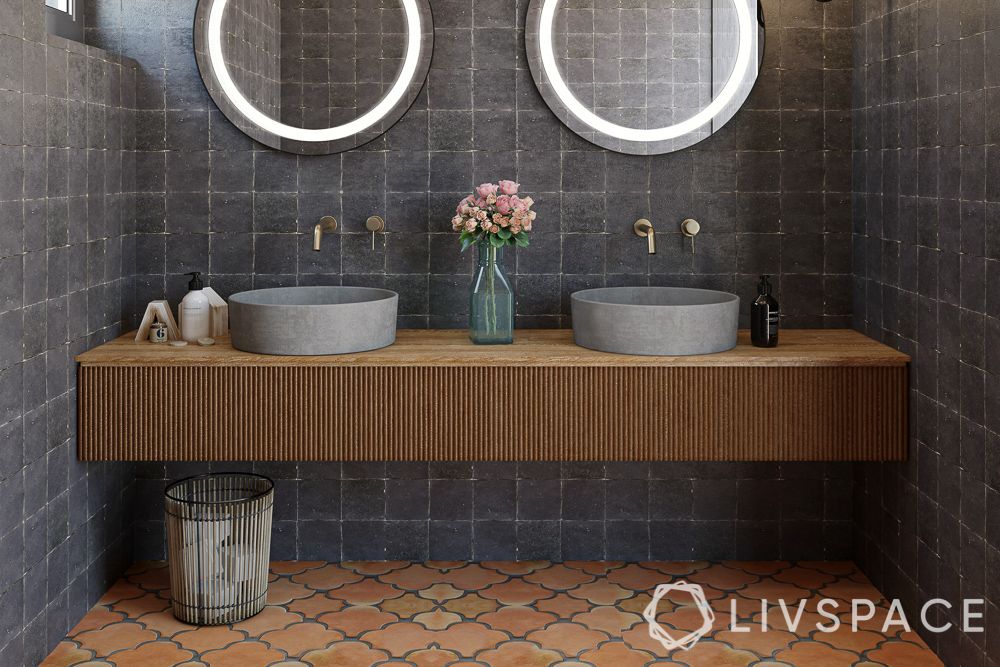 Terracotta tiles might be a slightly more niche option to pursue for your bathroom, but they're sure to pack a punch of personality. Bringing in a subtle rustic vibe, these toilet tiles are guaranteed to fully enhance your bathroom decor.
However, bear in mind that these tiles are waterproofed only when glazed. In their natural state, they can be highly porous and unsuitable for wet areas.
Pro Tip
Only opt for glazed terracotta tiles for wet areas or as decorative toilet floor tiles. The glaze also helps keep your tiles stain-proof and long-lasting.
#3: Ceramic Tiles – Classy and Chock-Full of Benefits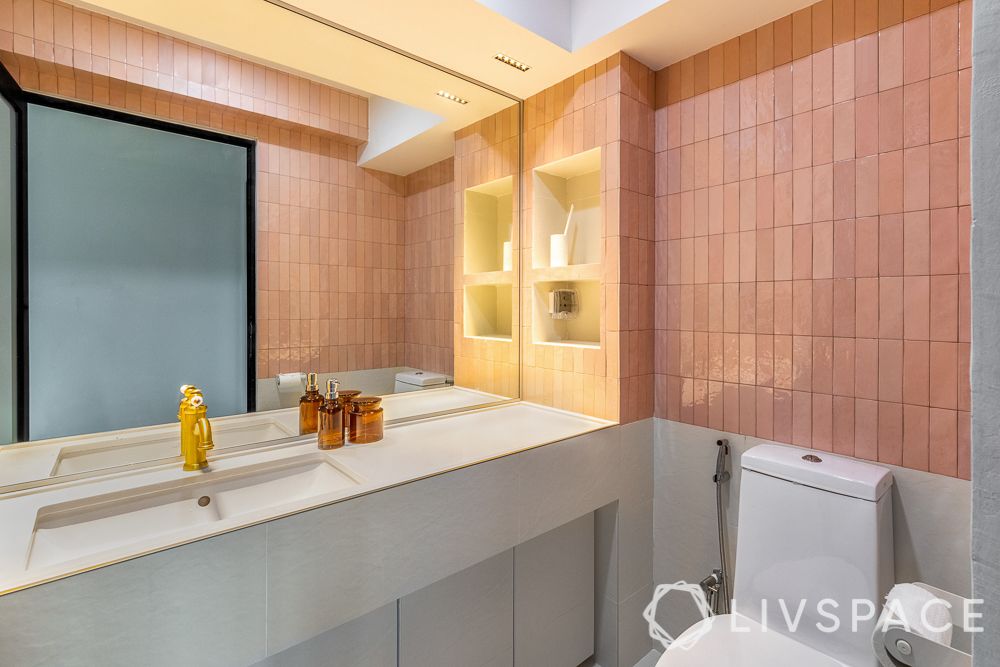 One thing that has remained consistent about ceramic tiles throughout the years is their durability and affordability. What's more, we weren't kidding when we said ceramic tiles are chock-full of benefits for your home.
These toilet tiles are not only child and pet-friendly, but are also hypoallergenic. This means that they help prevent allergens from collecting on your bathroom wall or floor and keep you safe from illness.
Pro Tip
If you're into sustainable interiors, ceramic tiles are a great option to consider as they are recyclable and eco-friendly.
Also read: Attractive Wall and Floor Tiles Are All You Need for Your Bathroom Makeover
#4: Porcelain Tiles – Simple Yet Elegant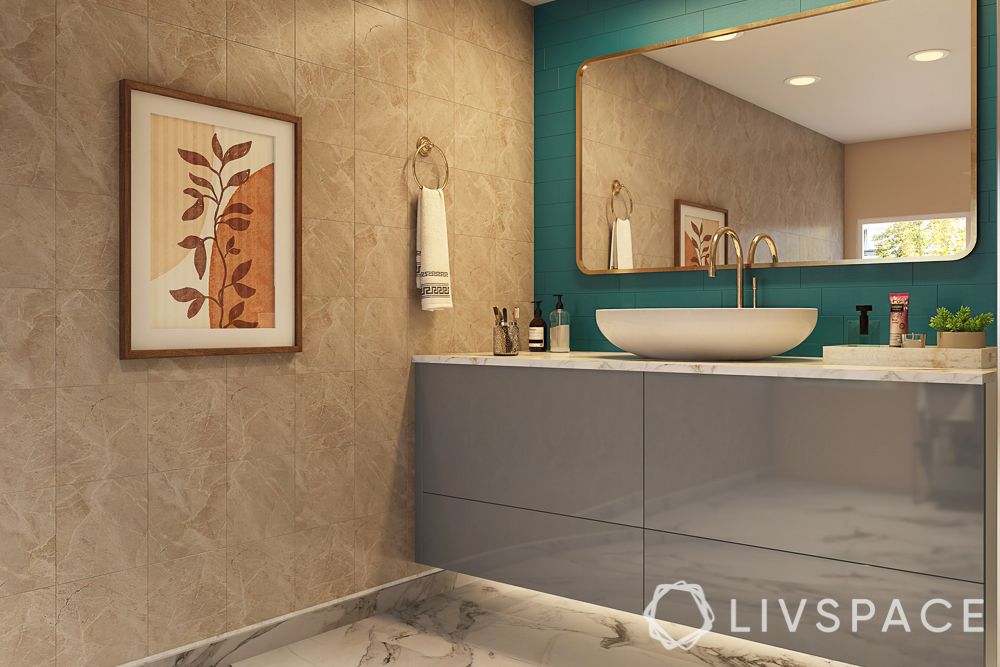 You can probably say that porcelain toilet tiles are the 2.0 version of regular ceramic tiles given their abilities. Though some varieties of porcelain tiles can be on the slightly pricier side, there are a wide majority of options to suit smaller budgets as well.
The reason this tile design is such a versatile choice to have, is because it can mimic nearly any other style of tile. If you'd like to have a marble-finish for your bathroom but cannot afford the cost of real marble, porcelain can get the job done for a fraction of the cost.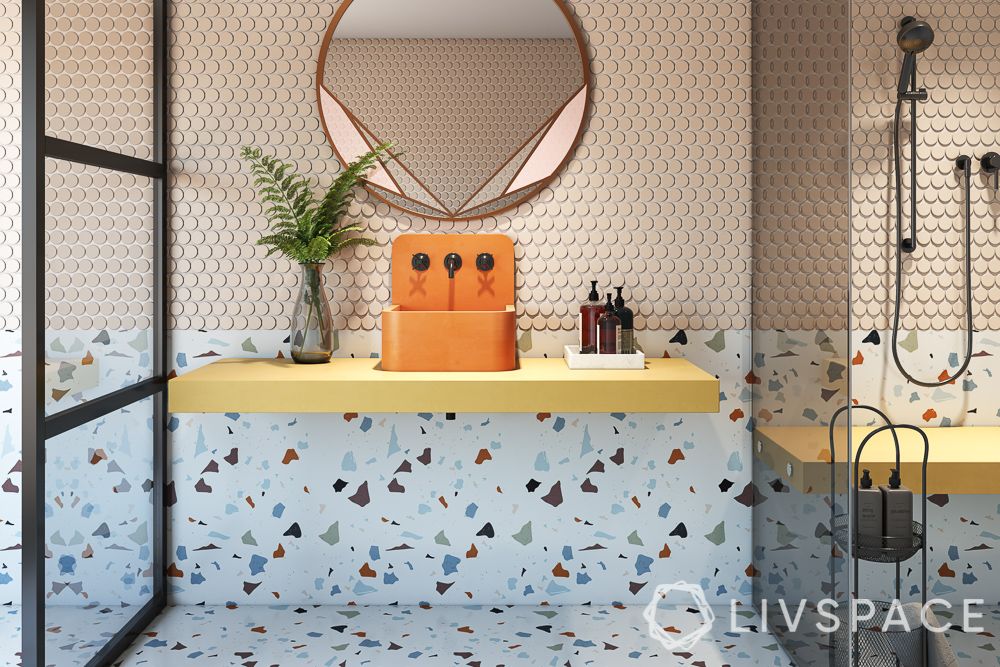 Similarly, if you want to kick things up a notch and embrace quirky styles, porcelain is a good material to test out. Here, we have the example of penny tiles made from glazed porcelain which bring a fun element of design to this retro-esque bathroom.
Pro Tip
Glazed porcelain tiles can be digitally printed, based on the style or look you are going for.
#5: Homogeneous Tiles – Durable and Reliable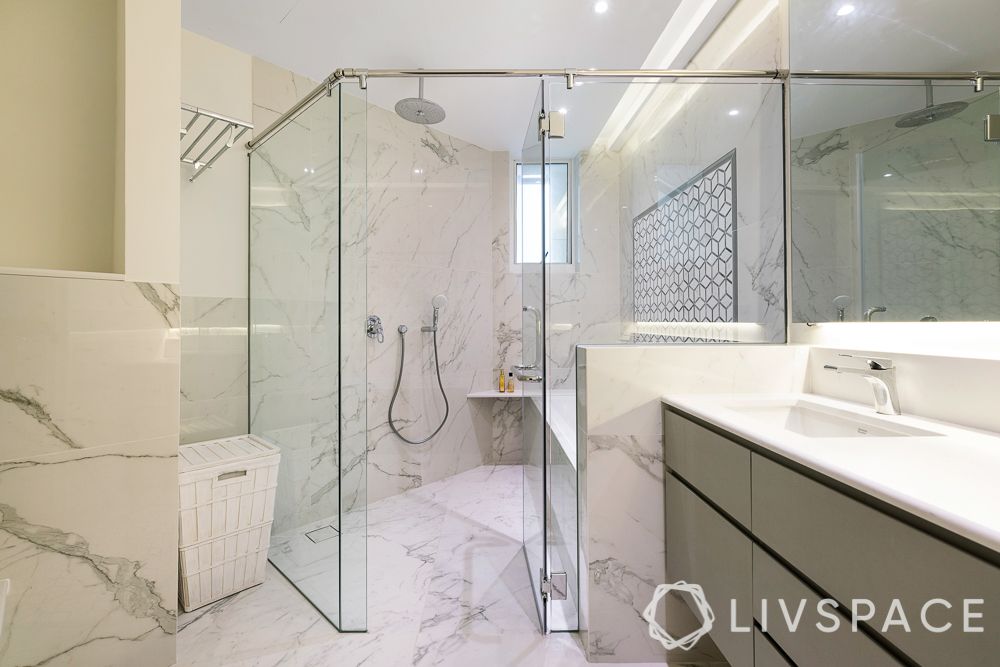 So what are homogeneous toilet tiles? Simply put, they're a water-resistant counterpart of porcelain tiles despite being unglazed. However, these tiles are non-porous and highly durable unlike certain types of porcelain.
What makes these tiles different is that their colour runs throughout the material and not just on the surface. Though these tiles might be on the pricier side compared to ceramic or vinyl options, they're definitely cheaper than hardwood or marble.
Pro Tip
For elder-friendly homes, non-slip homogeneous tiling is a must-have. The grip on these tiles is sure to make your home a safer space for vulnerable family members.
Also read: How to Design a Bathroom That Stands the Test of Time
How Can Livspace Help You?
We hope you found our ideas useful! If you want your home to be just as beautiful, then look no further. Book an online consultation with Livspace today. Delivering safe home interiors has been our No. 1 priority. Click here to find out how interiors are being delivered following all safety protocols.