Our designer used a modern interior design style clubbed with a luxe vibe for this condo.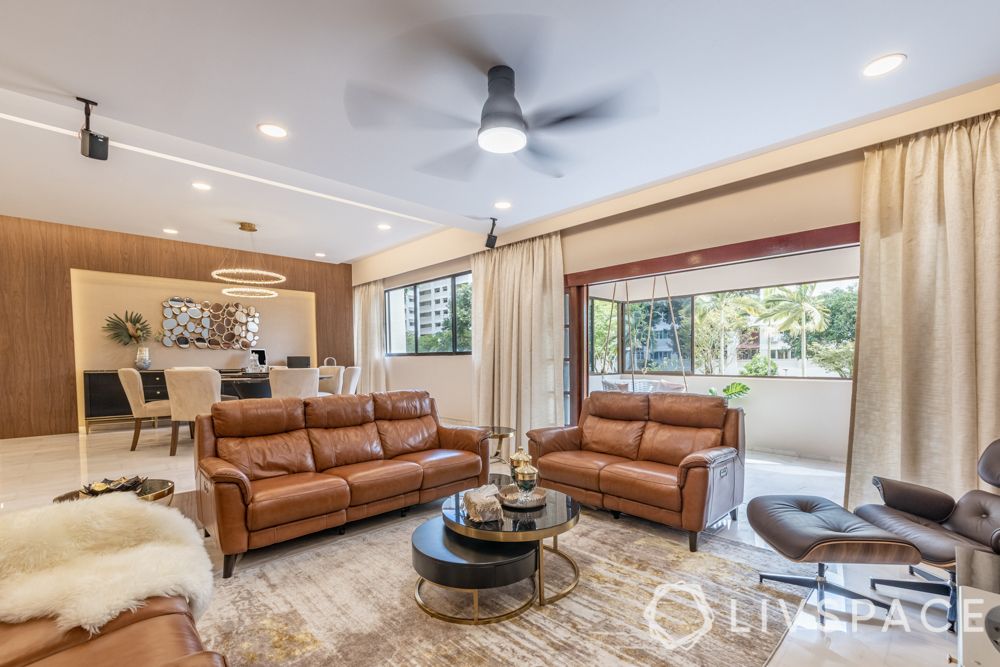 ---
Who livs here: A family of five
Location: Windy Height
Type of home: 4-room condo
Livspace team: Interior Designer Ankita Gupta and Project Manager Kent Huang
Livspace service: Full scope including carpentry, masonry, electrical, plumbing, etc
Budget: $$$$$
---
If there's one thing that would catch your immediate attention in this condo, it has to be the plush materials and hints of metal. The family living here really wanted a warm and welcoming home but also a design that would suit their modern lifestyle. They wanted comfy furniture and warm, calm colours in every room. They say that not all that glitters is gold, and that is very true for this home. Here, the entire home glitters, with the complementing colours that augment the opulence of metallic highlights in the design.
Check out how our designer Ankita Gupta helped this family achieve the right look and feel in their 4-room condo.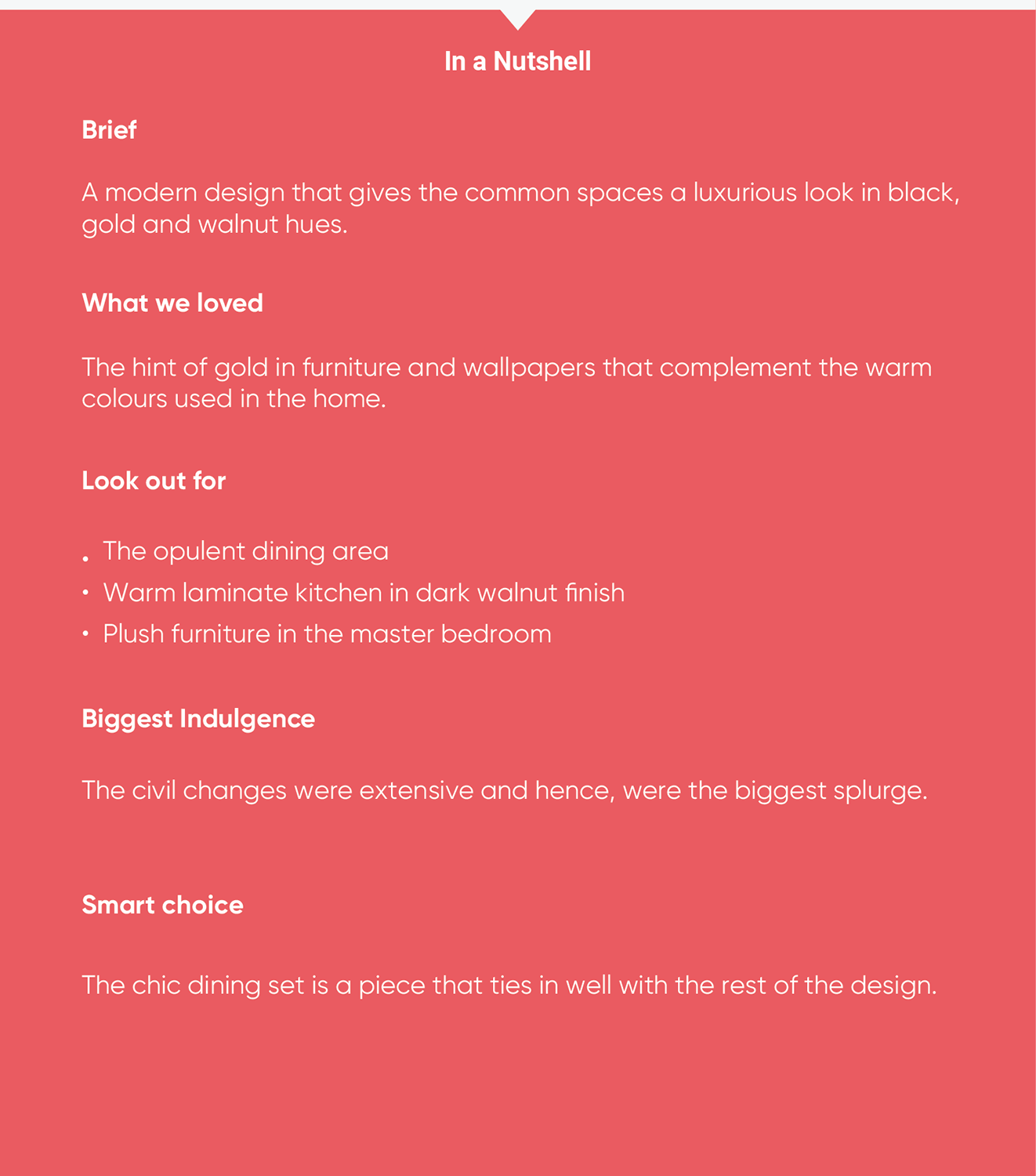 Welcome to opulence in this living room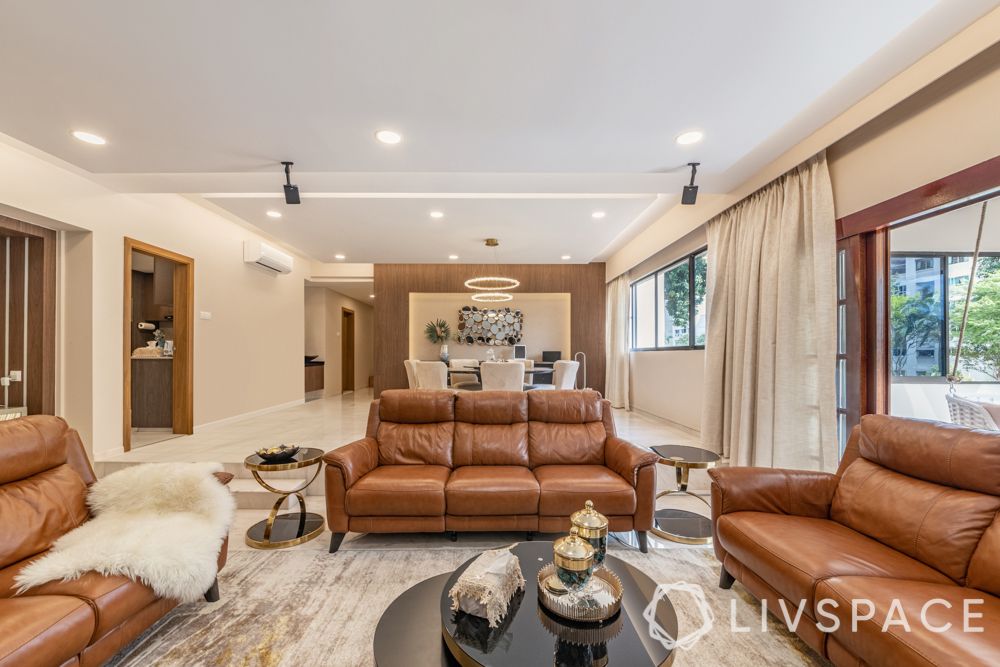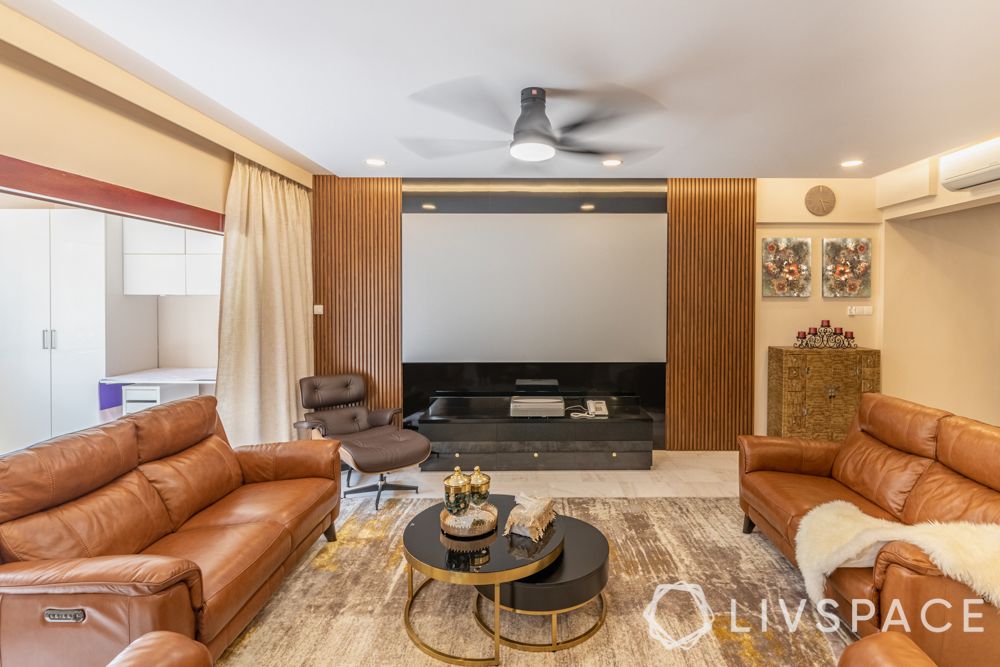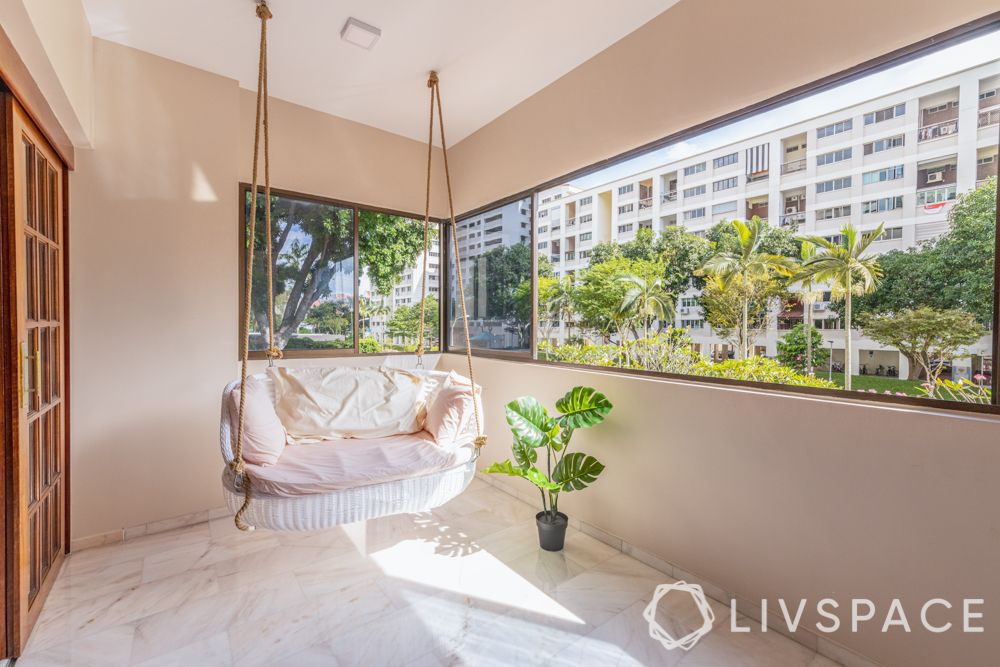 The living room is definitely one of the main highlights of this condo and once you enter, you will know why. Replete with plush leather upholstery for the sofas and hints of gold in the furniture, this space looks very inviting. Ankita has also added fluted wooden panels on the TV feature wall to that extra bit of warmth to this living room.
Once you peep outside you will spot this minimal balcony with a cute suspended swing. This is such a me corner that we are totally crushing on it!
A glam dining room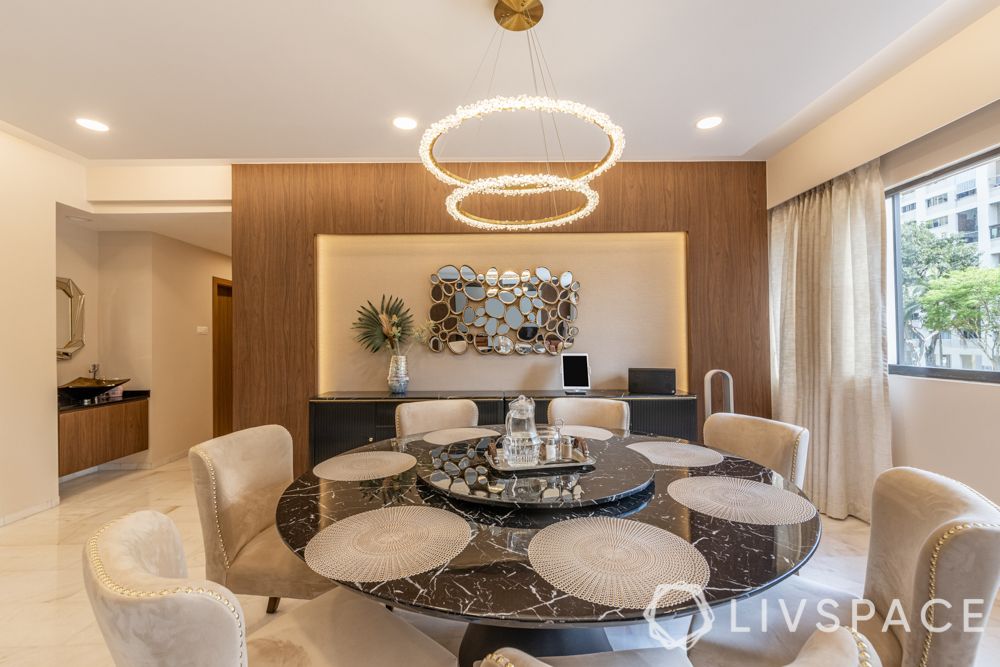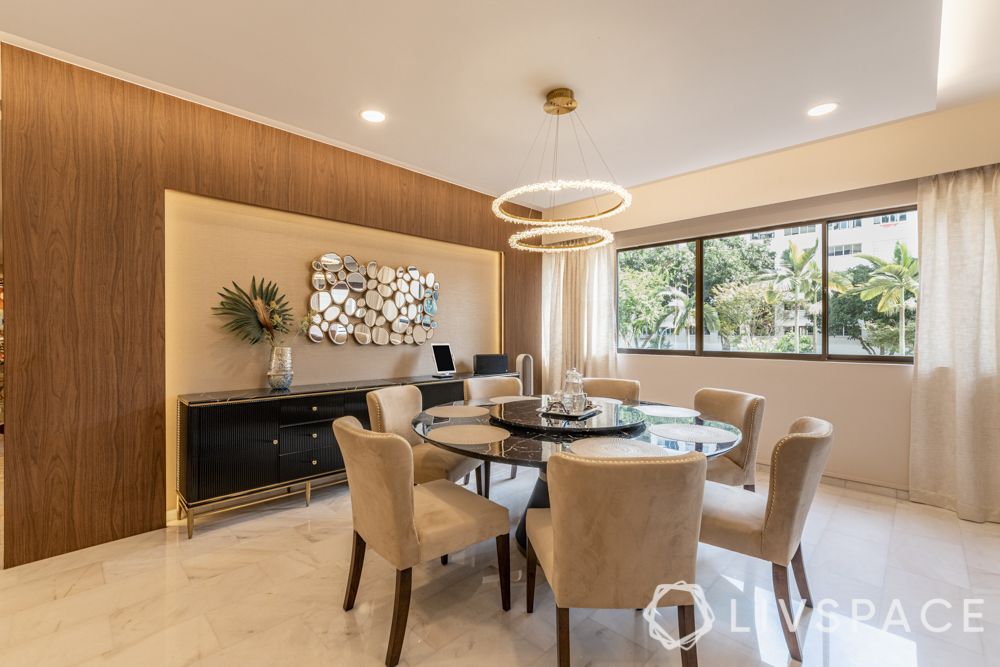 In the dining room you can spot the round dining set with plush upholstered chairs around it. To keep up with the theme and to add that striking element, Ankita has given the family a very sleek chandelier that speaks of modern interior design. To further accentuate the look, she has added a statement mirror on the crockery unit wall that is surrounded by laminate panelling around it.
Simple and functional kitchen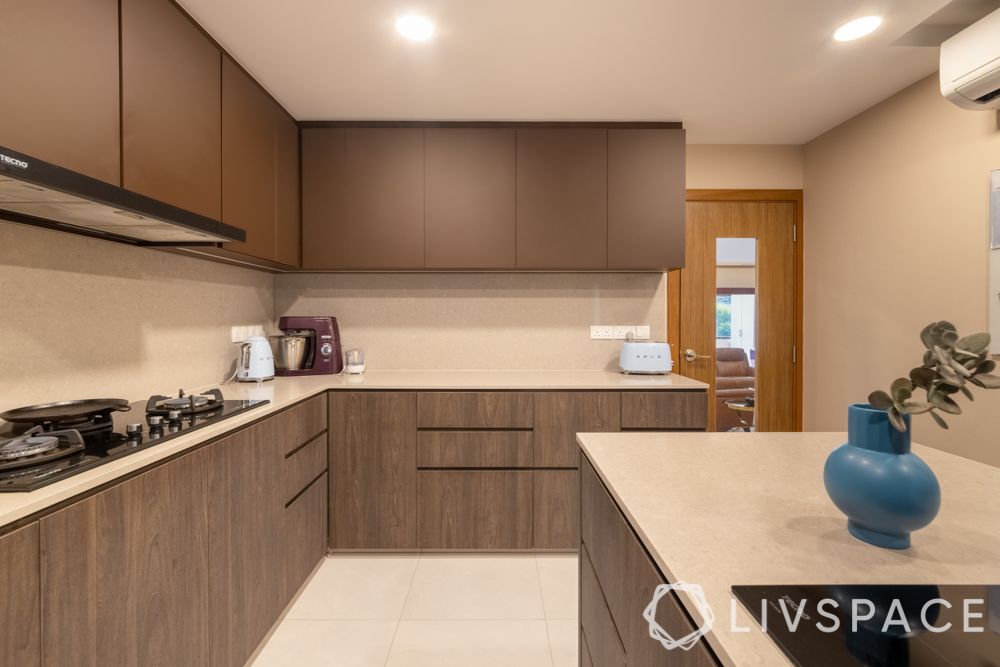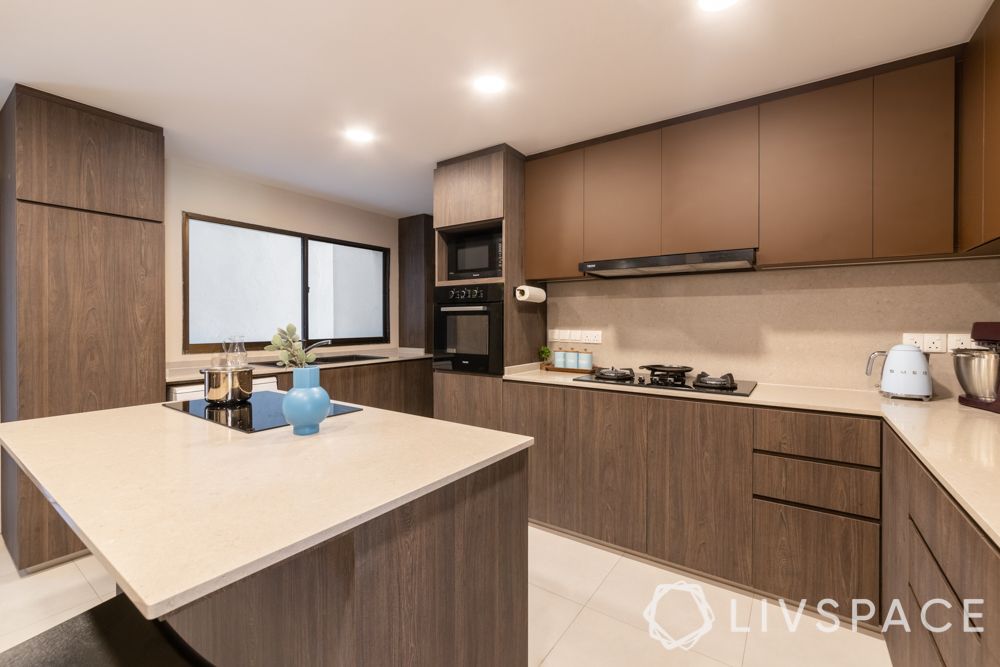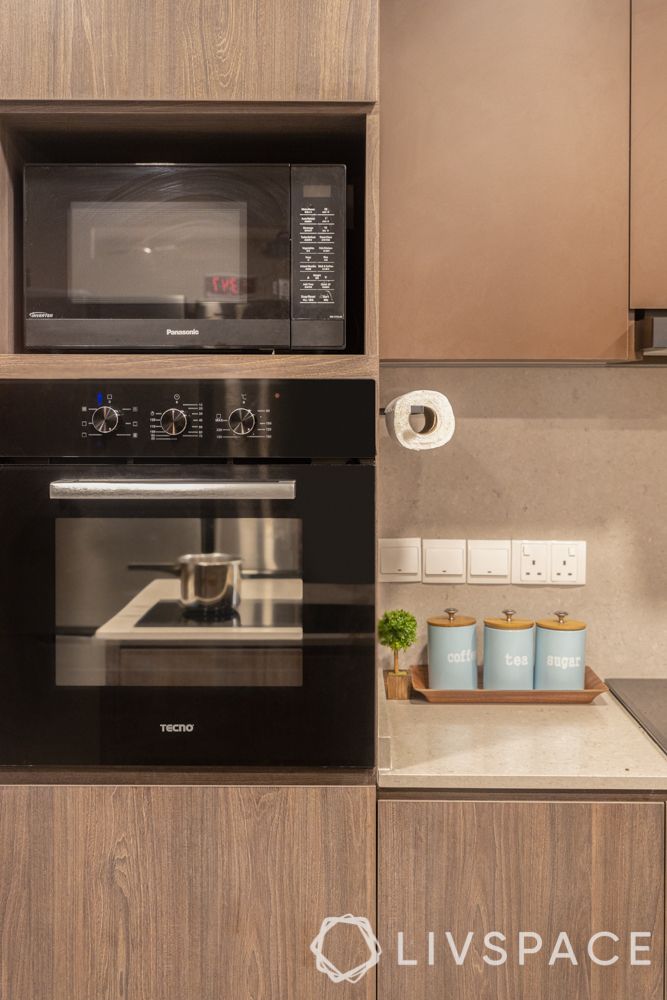 A family of five, with kids around, definitely need a fully functional kitchen. Given that this is one space at home that is always abuzz with activity, Ankita had to make sure she did not miss out on providing anything that would make this kitchen less efficient. While walnut laminate was the chosen finish for the cabinets, the backsplash and counters are carved out of stone. This is an island kitchen where the island is very useful for grabbing a quick snack or a cuppa. Integrated appliances are a must for a kitchen that is used so often.
Grandeur and calm in the master bedroom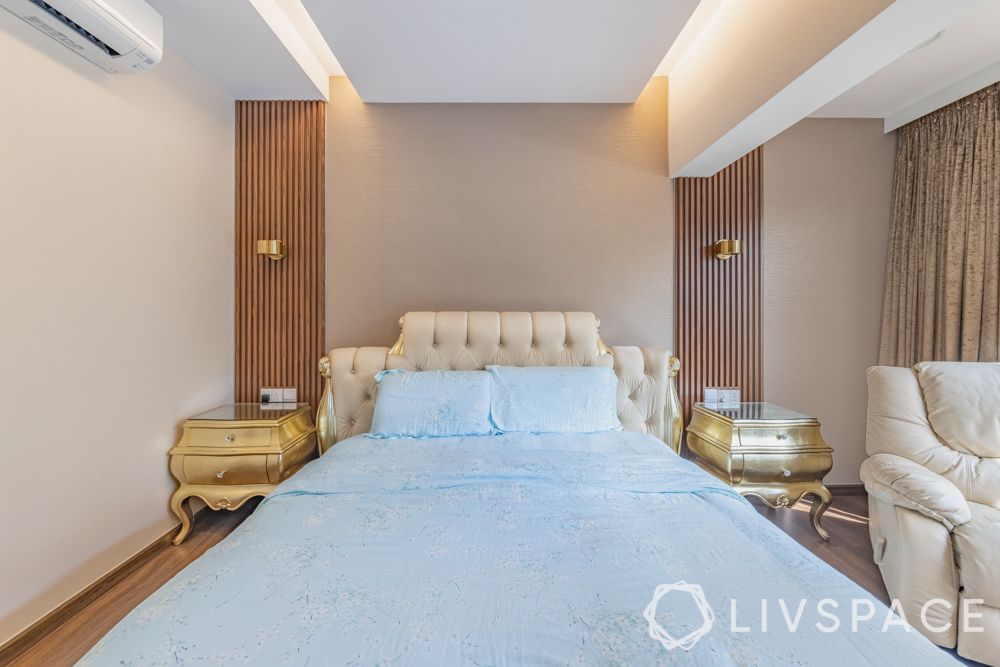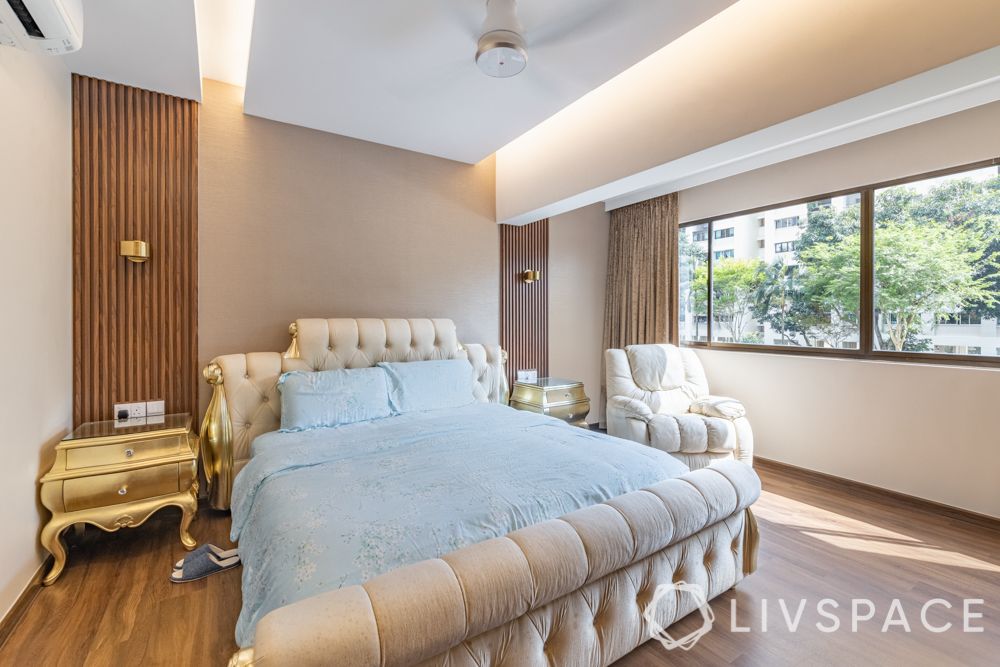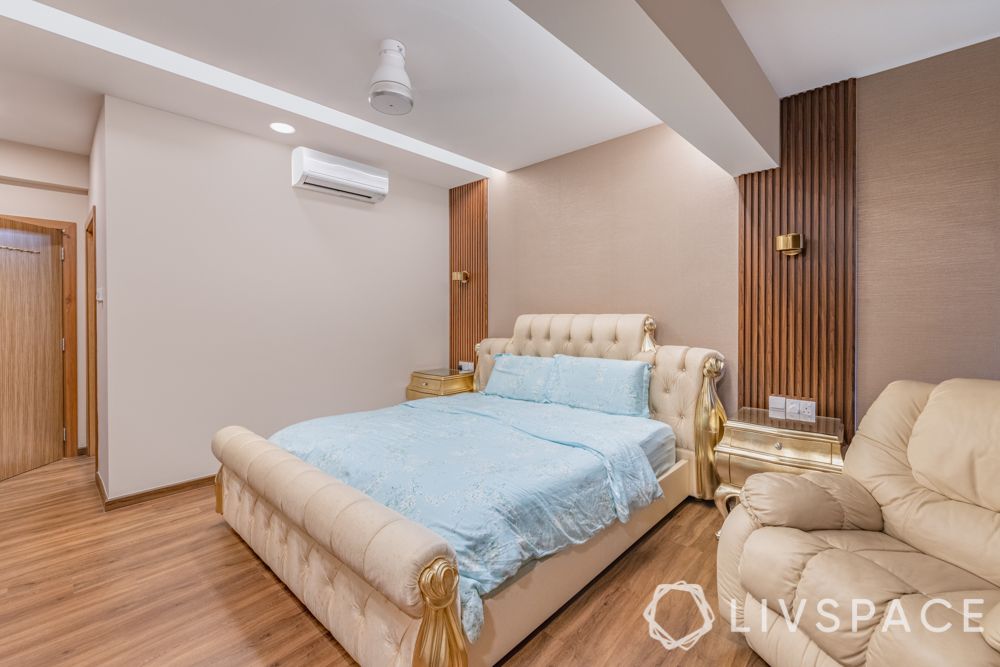 Ankita admits that it was both fun and challenging to design the master bedroom, specifically because of existing furniture. She had to match the colours and dimensions of everything else in accordance with the furniture. But we are not complaining! The result is simply stunning. This bedroom definitely looks like it has come straight out of a design magazine. Soothing beige walls with matching furniture paints a serene picture here.
A multi-purpose girl's bedroom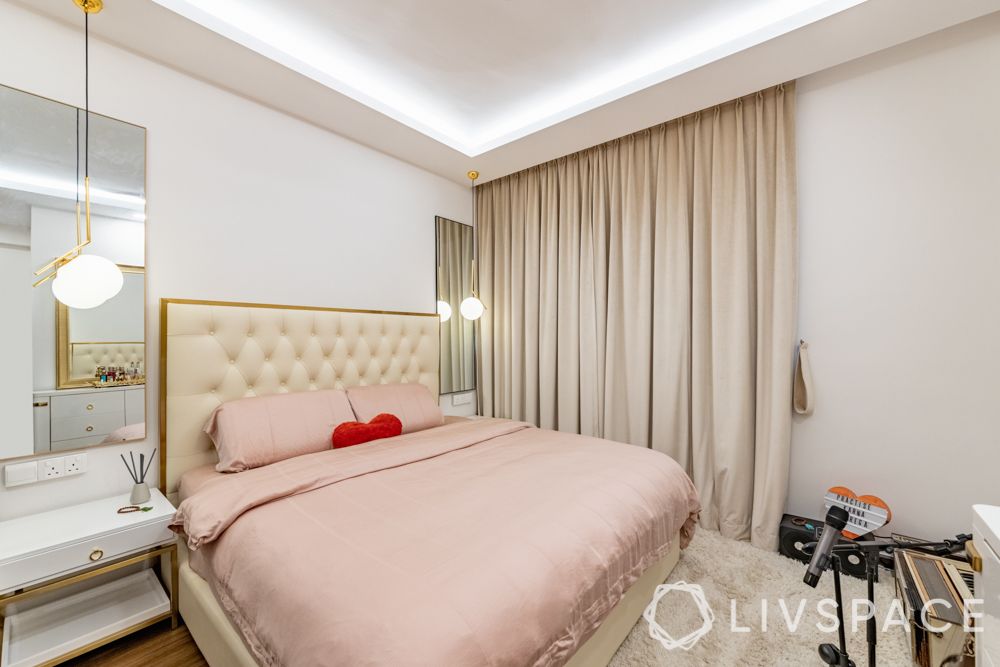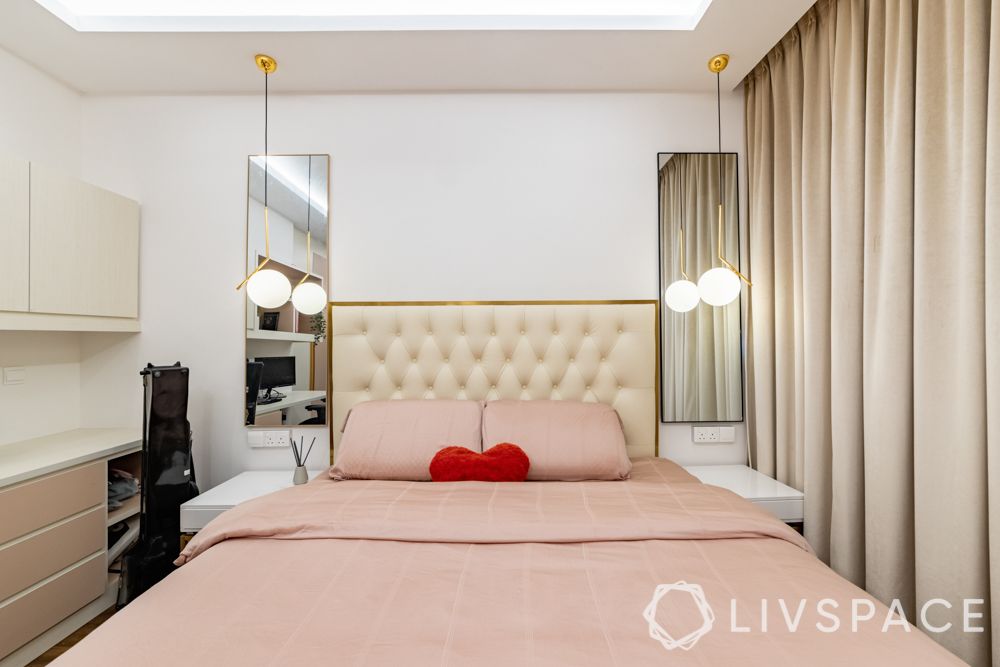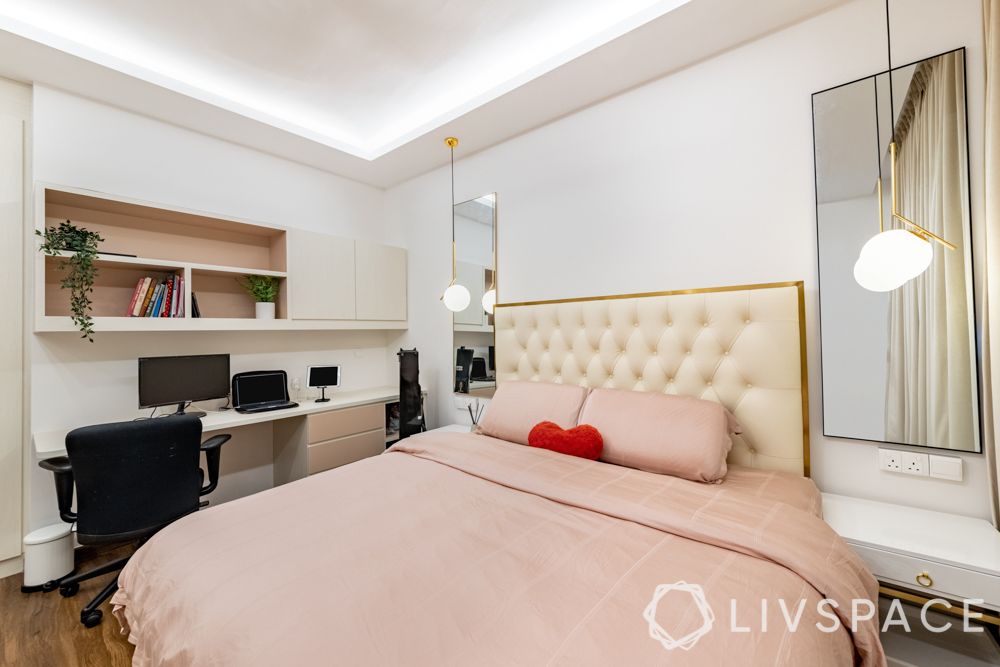 The daughter's bedroom in this modern interior design style condo looks very pleasing. With white walls and a beige button-tufted headboard for the bed, this room looks soothing to the eye. Ankita has added mirrors on either side of the bed with pendant lights in front for the right illumination. Right next to the bed you can spot the study table with ample cabinets for storage.
Adding a fun element in this bedroom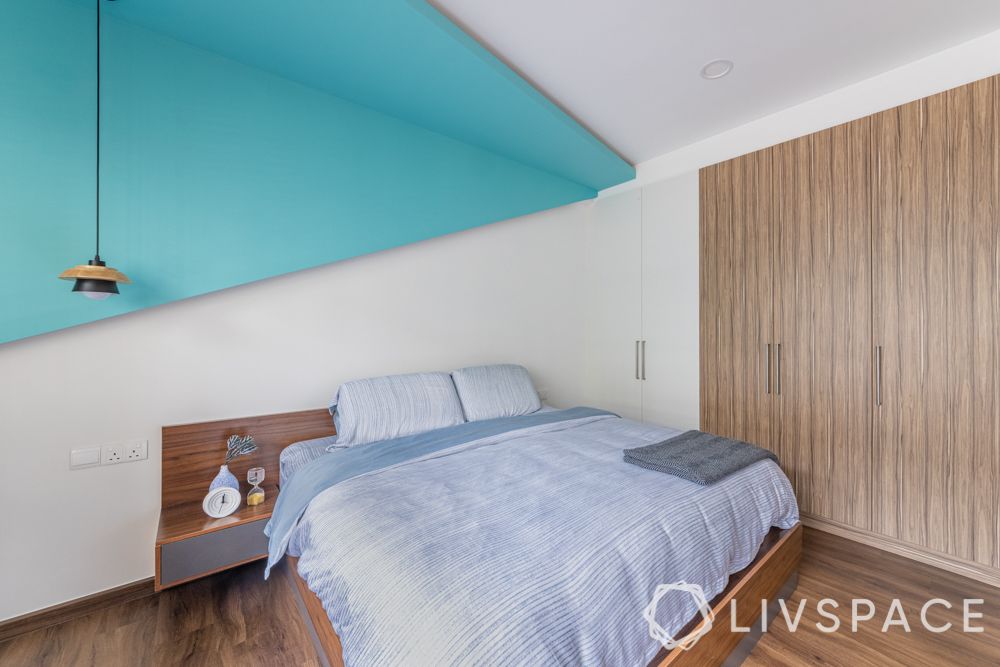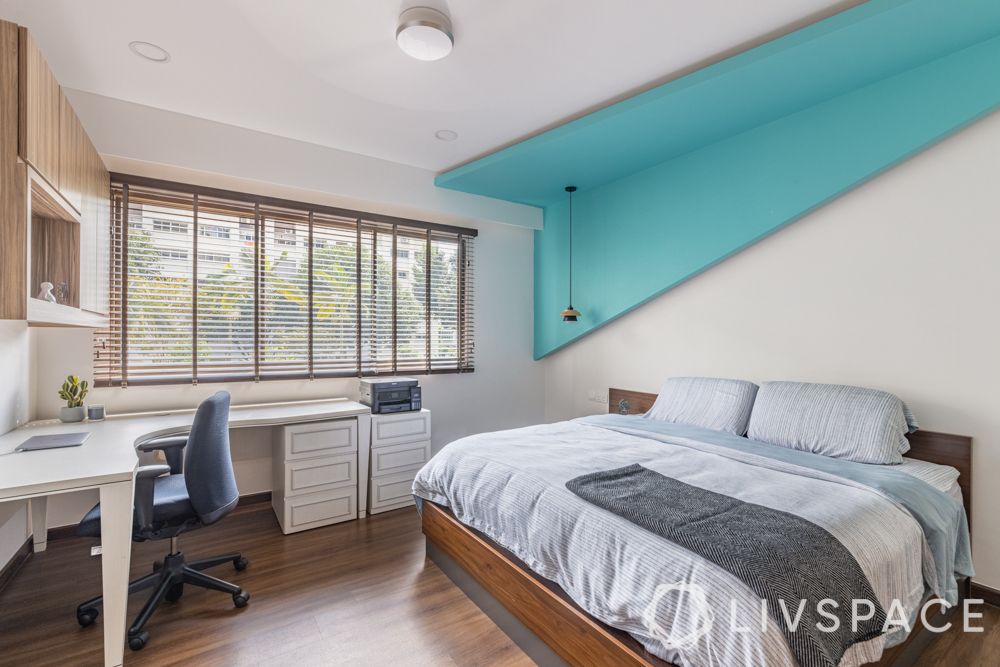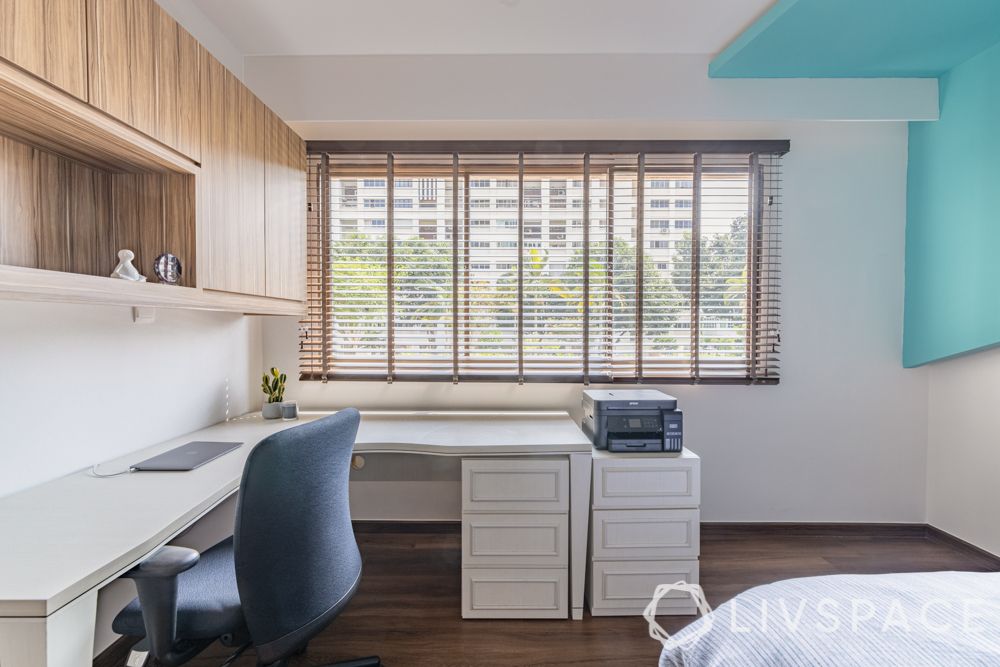 In this bedroom the main highlight is the pop of blue on the ceiling. The quirky design makes the look stand out and adds a hint of cheer to this otherwise plain white room. Here too you can spot a full-fledged L-shaped study table complete with wall cabinets and drawers for storage. No-fuss Venetian blinds make the room look neat and classy.
A practical son's bedroom with study table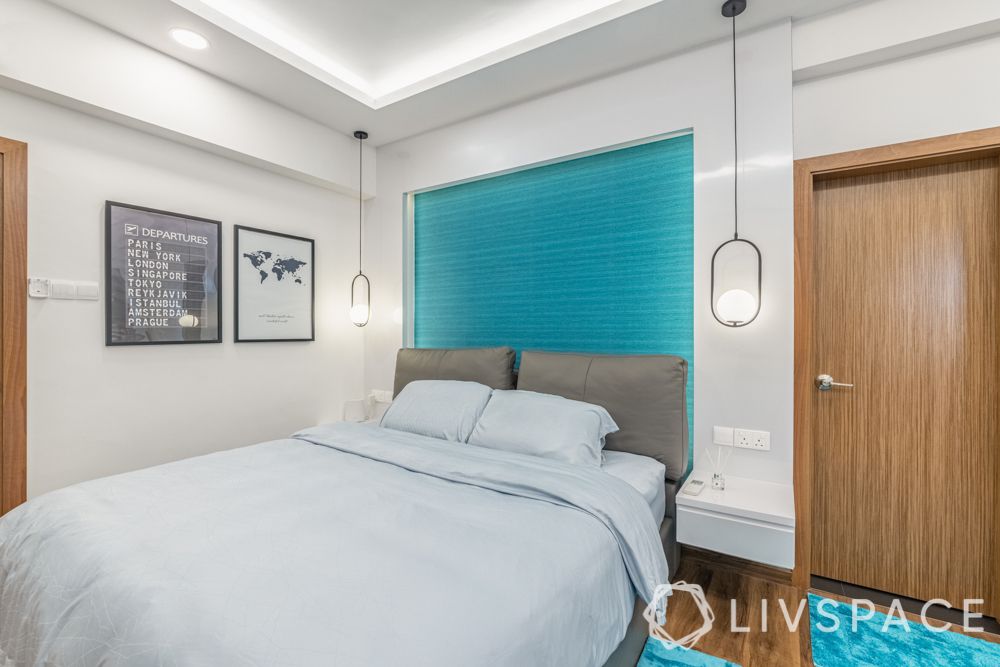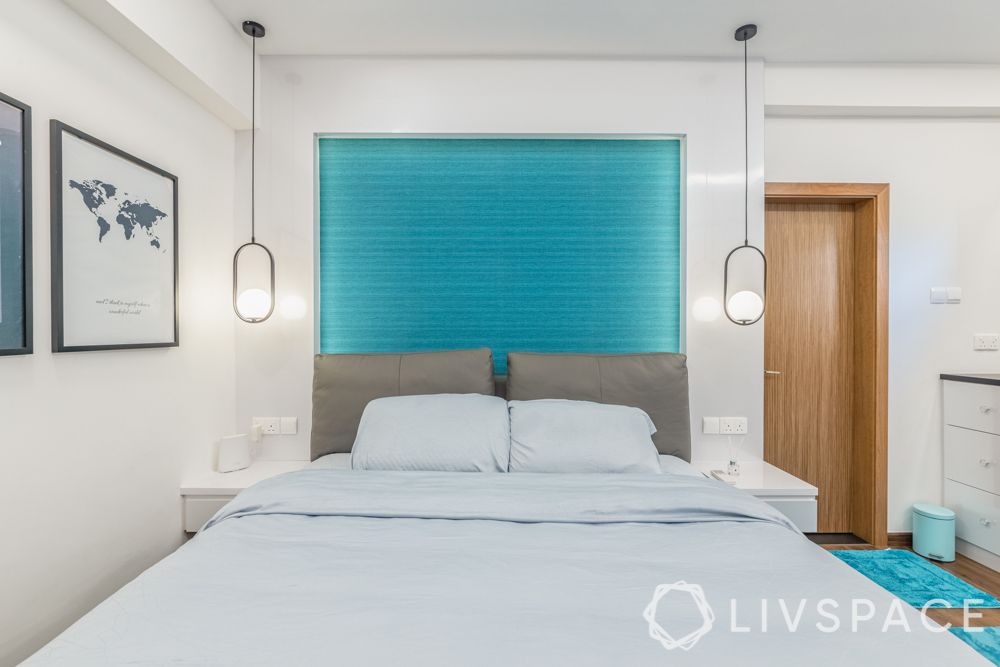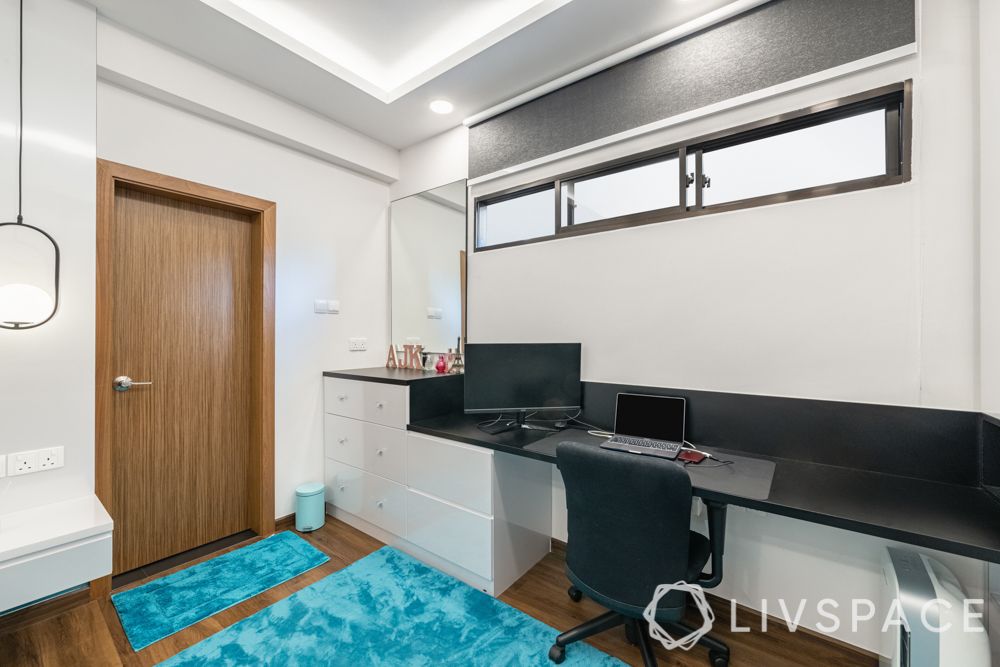 The third bedroom that belongs to the son has a blue feature wall behind the bed and the rest of the room sports walnut finish and white walls. You can also spot the matching rug that really amplifies the effect of the feature wall. Lighting is brilliant, with false ceiling lights and downlights that help keep this room bright and well-lit. Yet again, this bedroom with modern interior design is the best example of how to incorporate a study table in a bedroom. This study table here comes with an attached dresser that was customised for the son.
Dark and white bathrooms that are well designed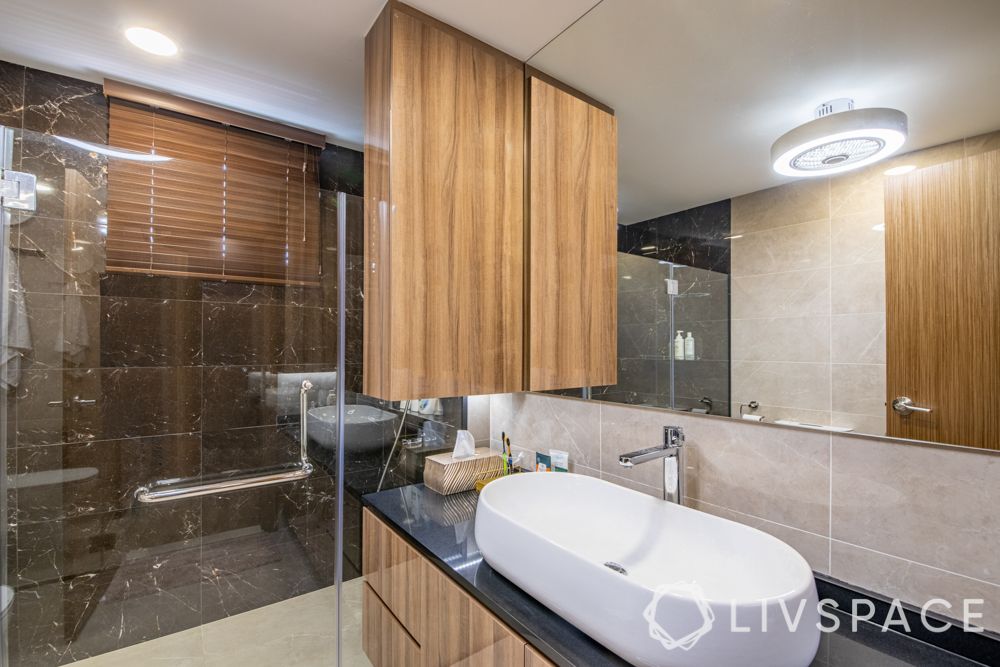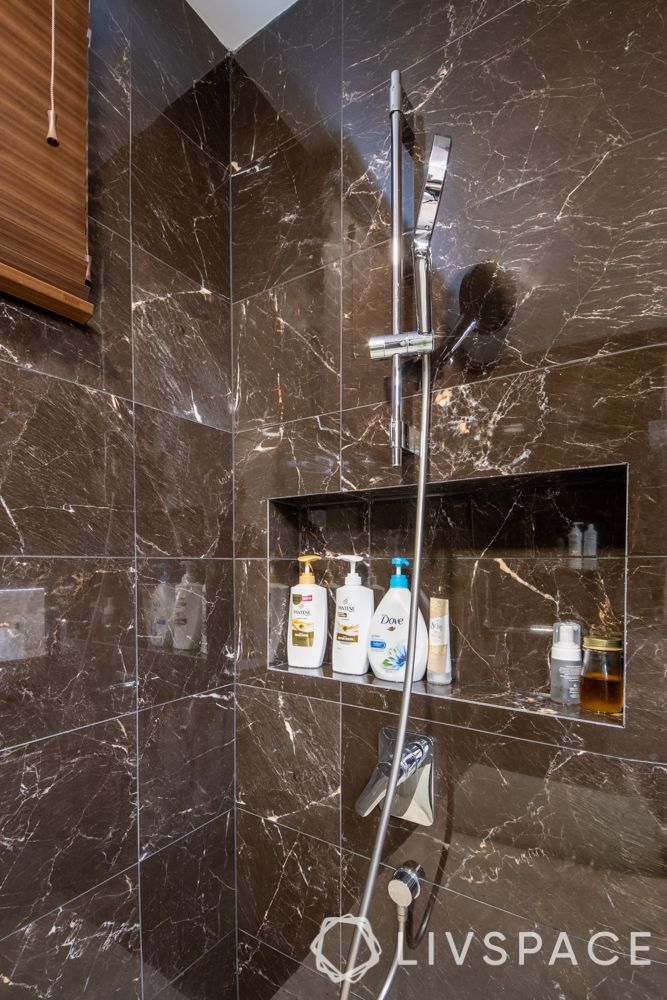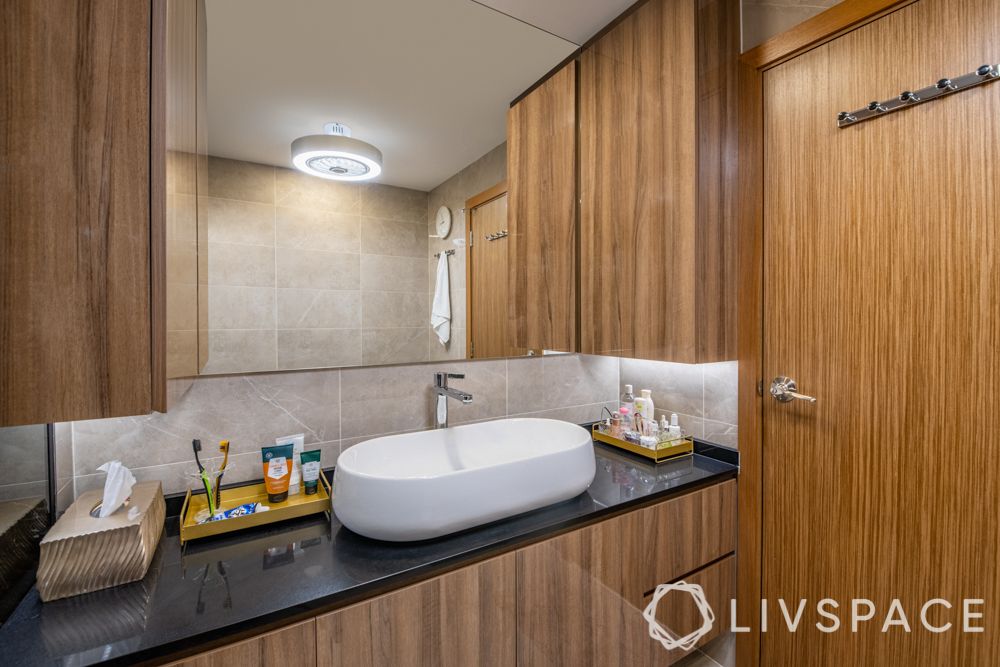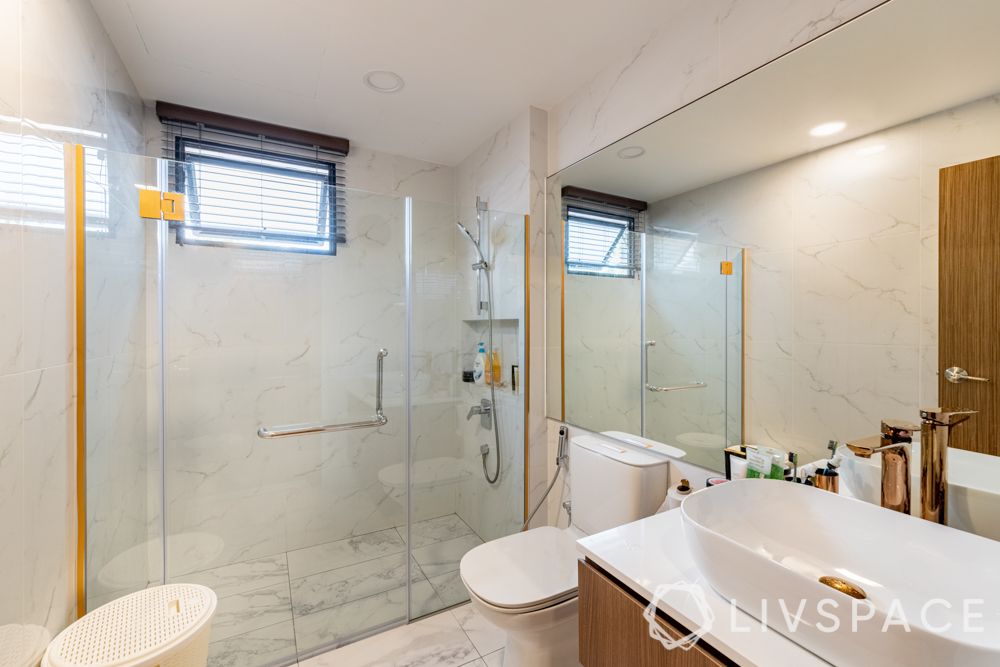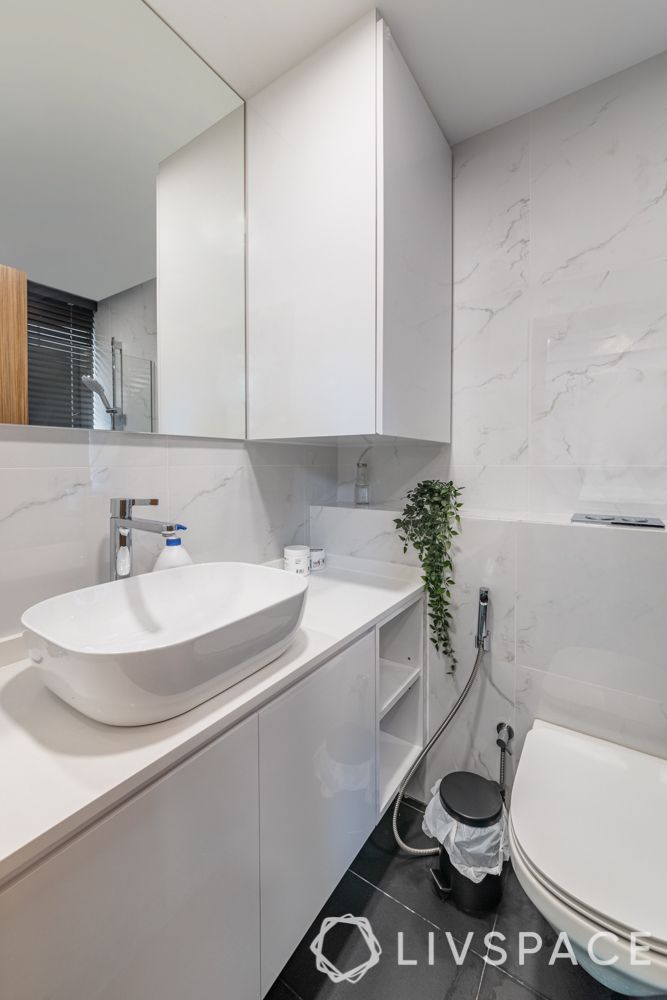 All the bathrooms in this 4-bedroom condo were renovated to suit the colour choices of each of the family members. While some toilets flaunt darker tones like browns and walnuts, others sport light and simple whites. Since every family member had unique preferences, Ankita renovated the bathrooms by trying to accommodate every requirement. There's storage, functionality. lighting, style and everything else in these bathrooms.
"This was a very different project and I really pushed my limits for this one and I learnt a lot in the process. The family was very clear about what they wanted and I had to work accordingly. While I enjoyed designing the entire space, the living and dining area as well as the master bedroom are my favourite!"

Ankita Gupta

Interior Designer, Livspace
So if you love that glam look, we know you enjoyed reading this. If you're looking for a different style of design, check out this condo design: This Condo Has the Best of Japanese and Minimalist Style of Design.
Send in your comments and suggestions to editor.sg@livspace.com.