Renovating a resale HDB requires precision and an eye for detail, and we have taken complete care of the same for this 5-room flat.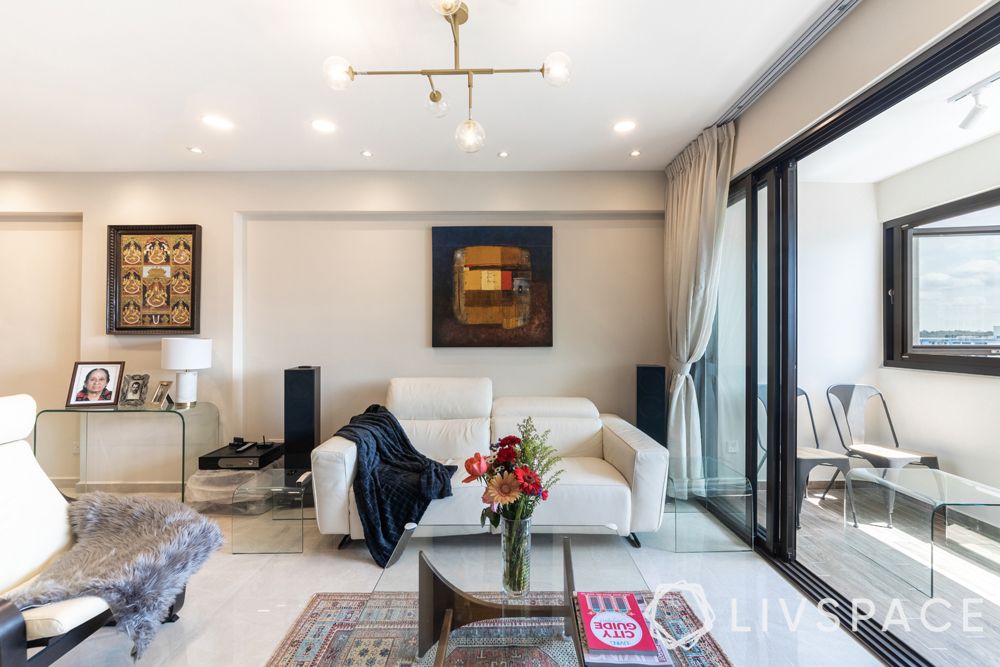 ---
Who livs here: Mr. Mohandas
Location: 534 Jelapang Road
Type of home: 5-room resale HDB
Livspace team: Interior Designer Ankita Gupta with Project Manager Alvin Teo
Livspace service: Carpentry, masonry, electrical, plumbing, etc
Budget: $$$$$
---
There's something about this resale HDB flat that takes you back to England — exactly how Mr. Mohandas had envisioned his home. Having returned to Singapore for his retirement with a will to relax and live life on his own terms, he came to us to renovate his home. Since he bought his first home in England, he wanted a similar vibe here as well, especially in the kitchen. A home where he can entertain his friends and family and feel happy and warm is how he describes this place. And we totally agree.
Read on to find out how Ankita Gupta, his designer in this journey, churned out fresh ideas according to his brief. With ample light flowing in and the open plan layout of this resale HDB, it would be safe to say that Mr. Mohandas got what he was looking for!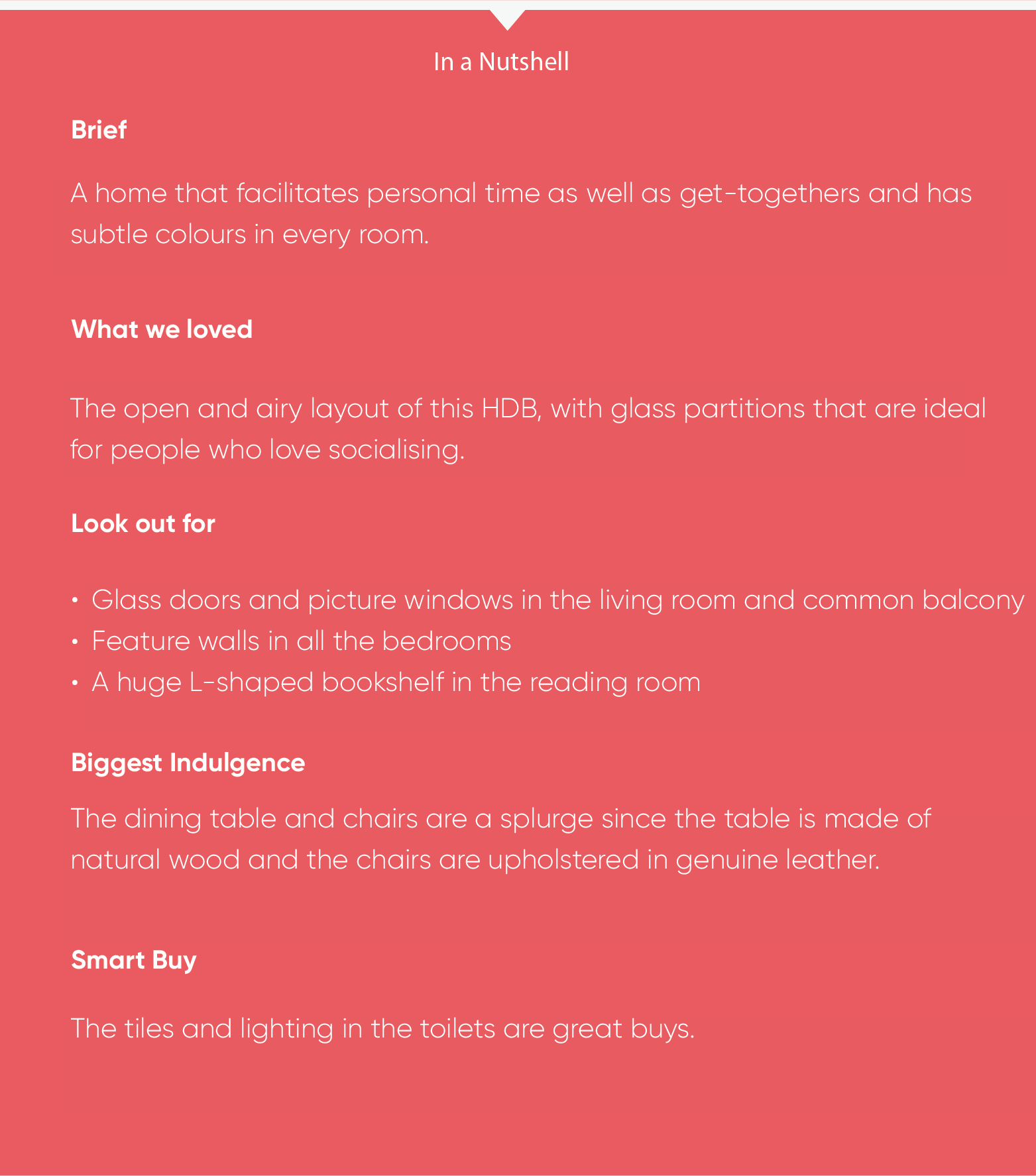 Comfy and airy vibe for the living room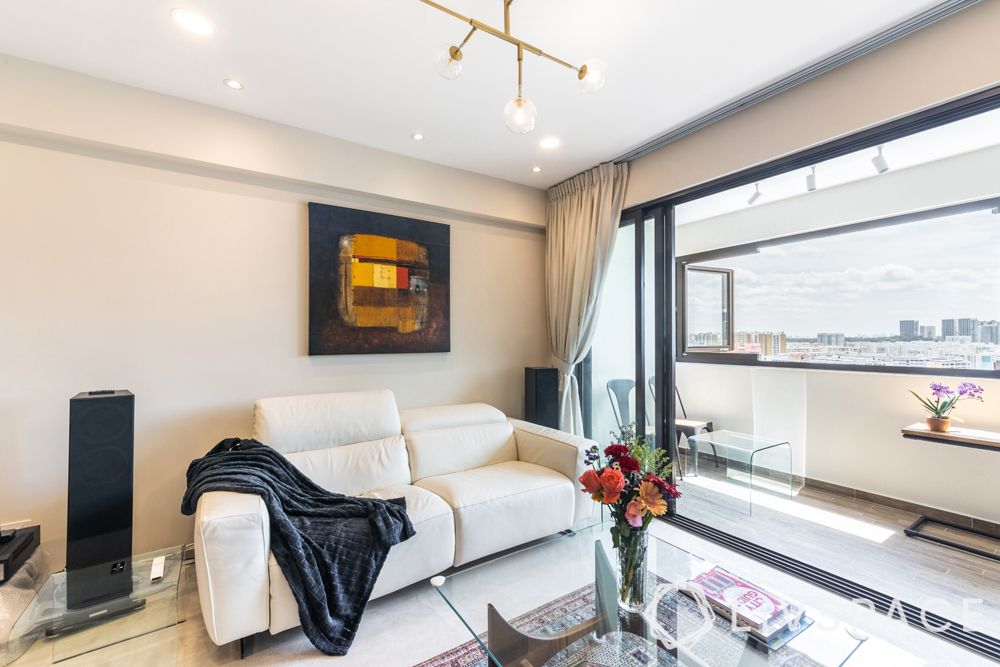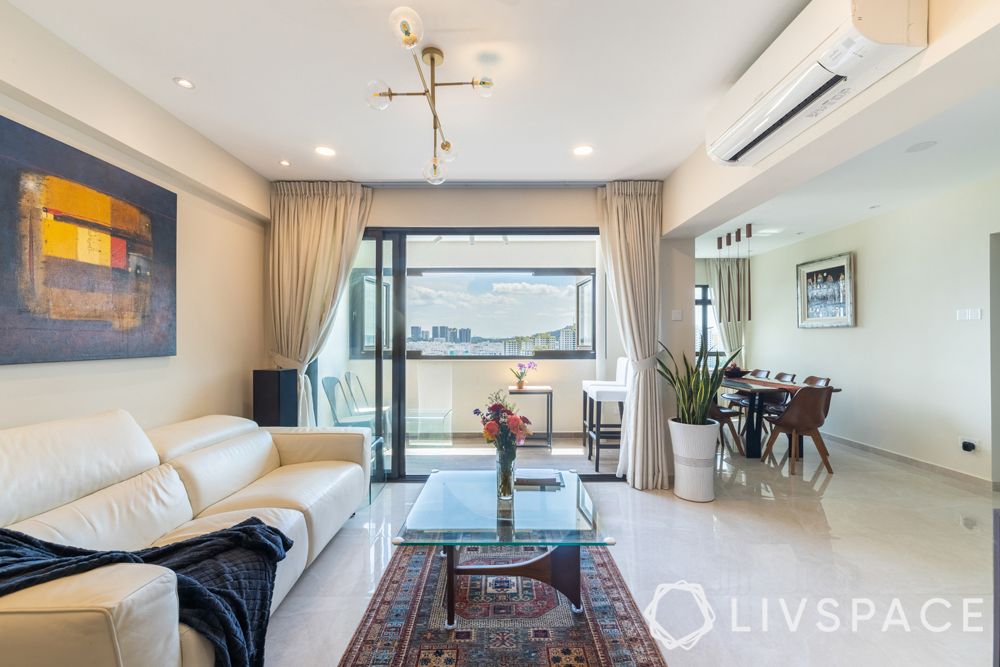 This living room is an exceptional example of how to dress up simple white walls without making the space look bare. Mr. Mohandas wanted to use the walls to add paintings so that all the attention went there and Ankita suggested plain white paint for the same. This way the living room looks spacious and the painting remains the centre of attraction. As for the furniture, we have stuck to a comfy recliner sofa in white. Glass-top tables have been added to further simplify the look of this space.
A balcony view to die for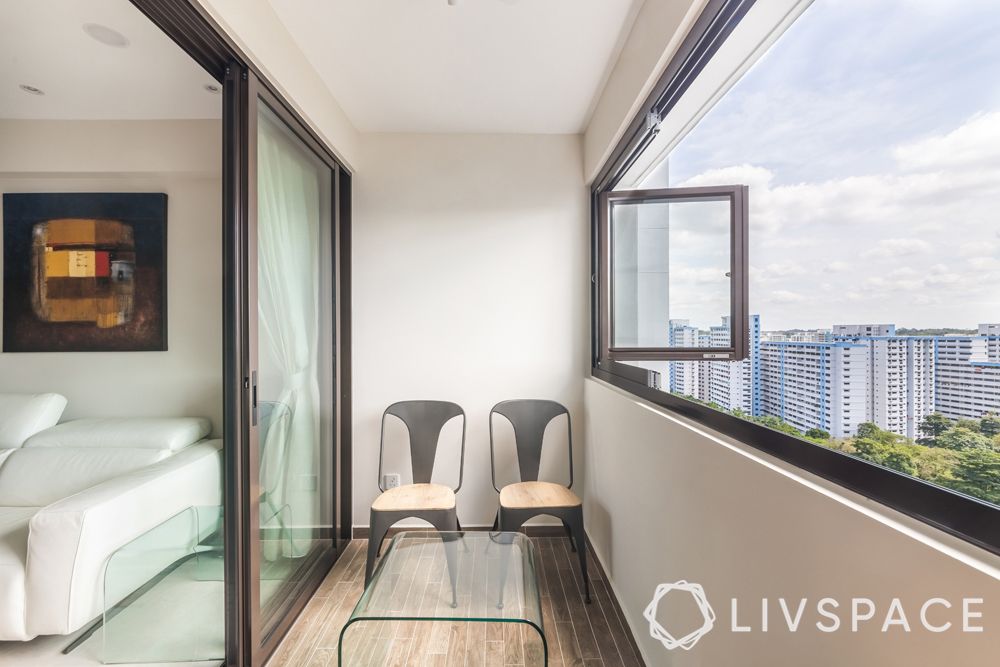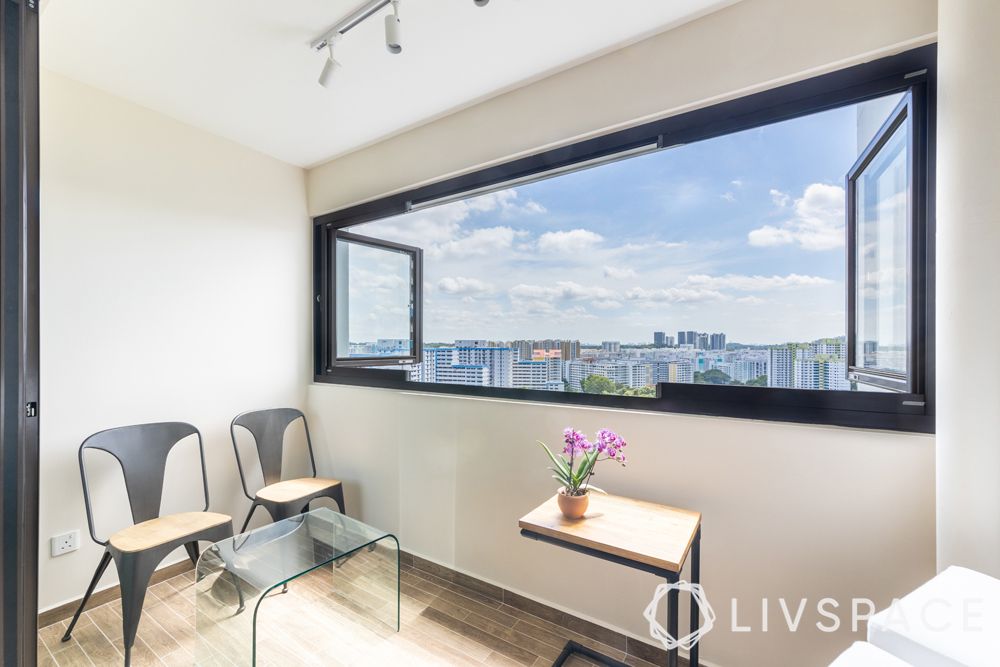 The view from this resale HDB is breathtaking and blocking it would be criminal. Therefore, Ankita has used a glass door for the balcony in the living room so that the view is unhindered. The balcony has minimal furniture and picture windows that open up to let fresh air sweep in. This is the perfect setting for an evening with friends!
Exotic furniture for the dining room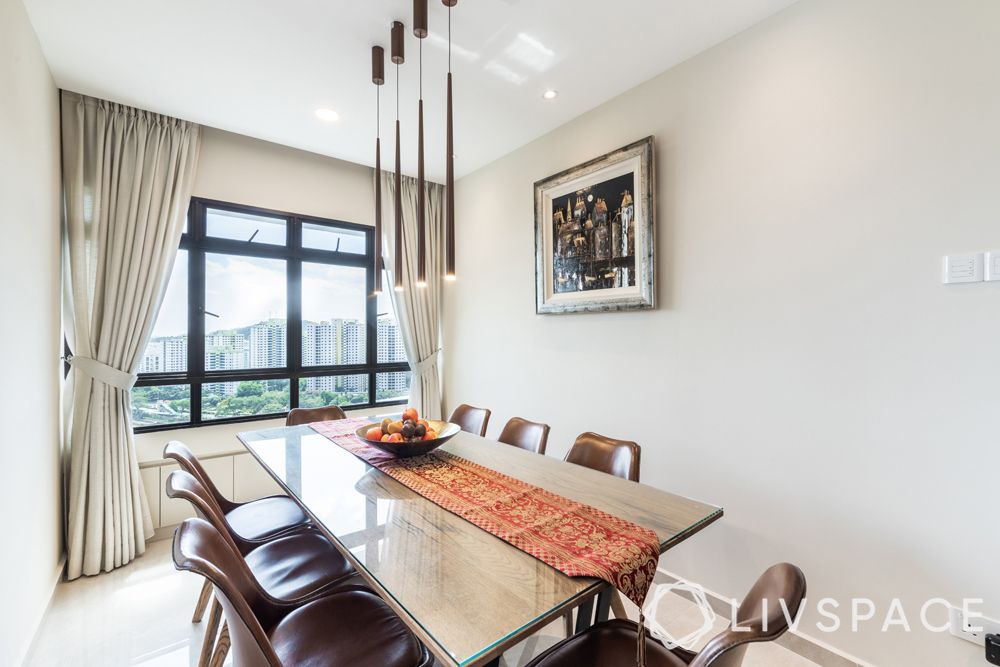 Definitely the most exclusive corner in this resale HDB is this dining room with its glass-top dining table made of natural wood. Add to that these plush brown leather dining chairs that cost a fortune for each but uplift the mood of this space manifold. Ankita has added minimal pendant lights here and a glass panel on the wall provides a peek into the balcony straight from the dining area.
A slice of England in the kitchen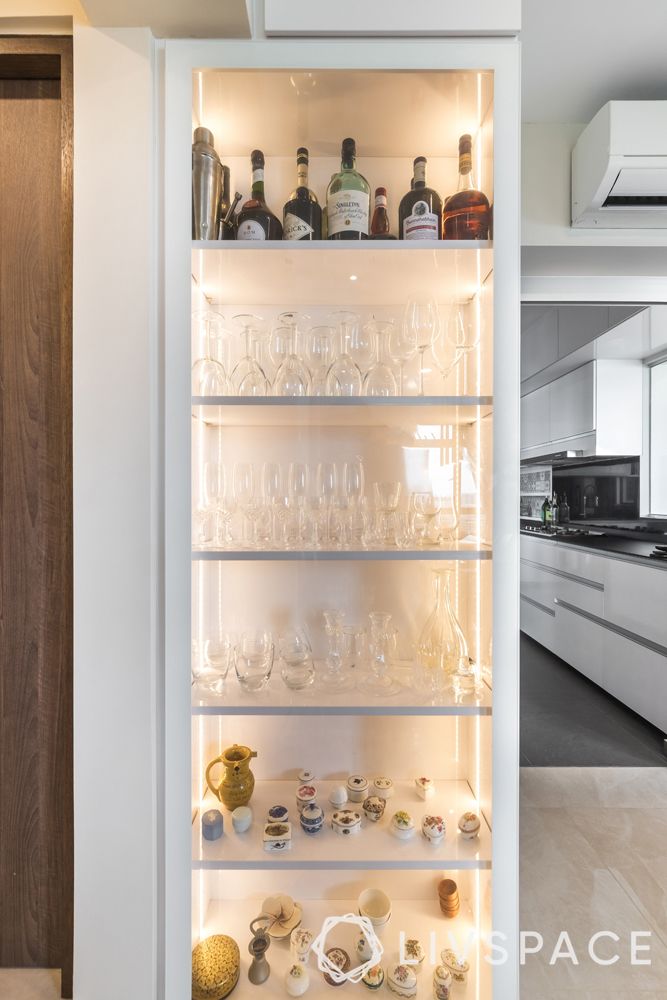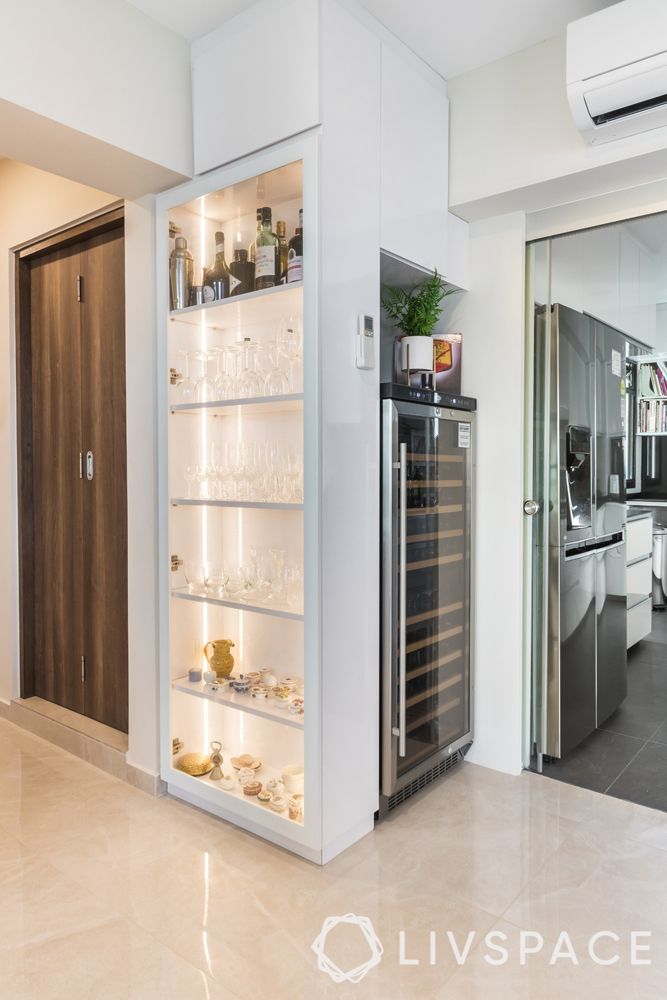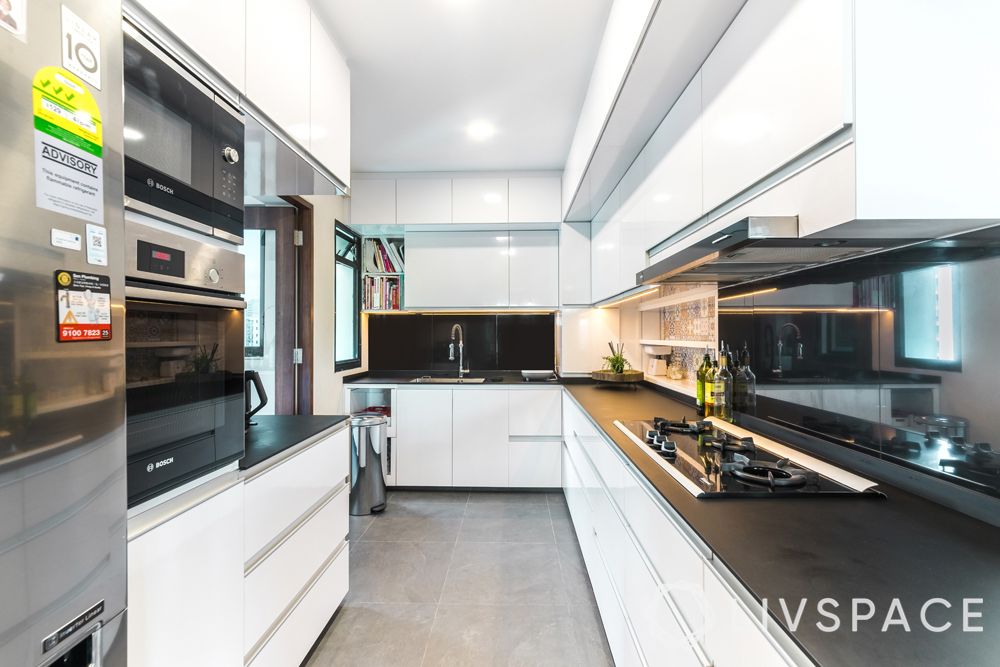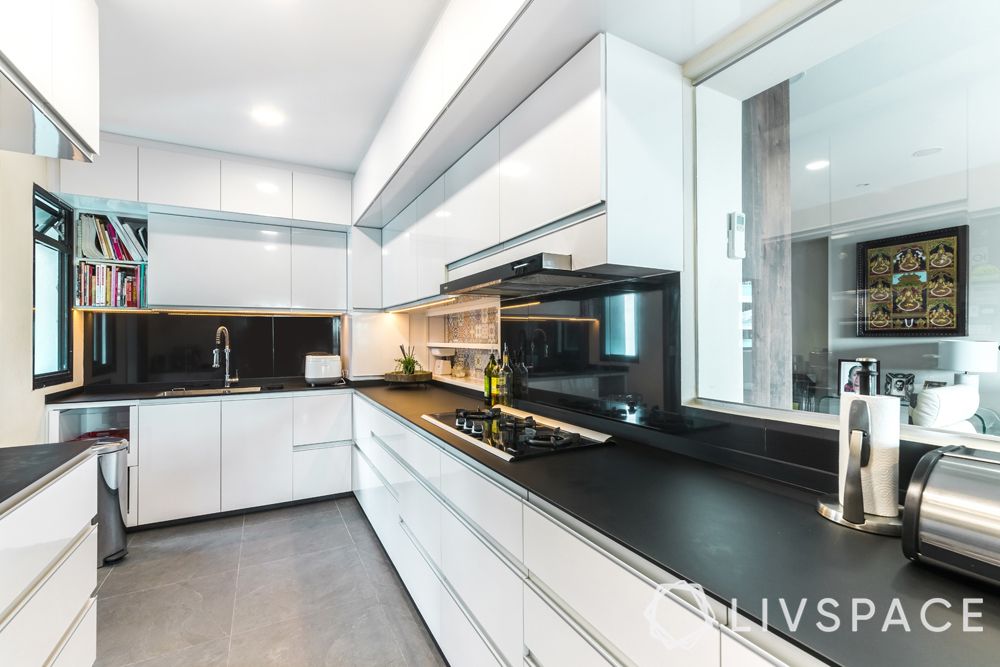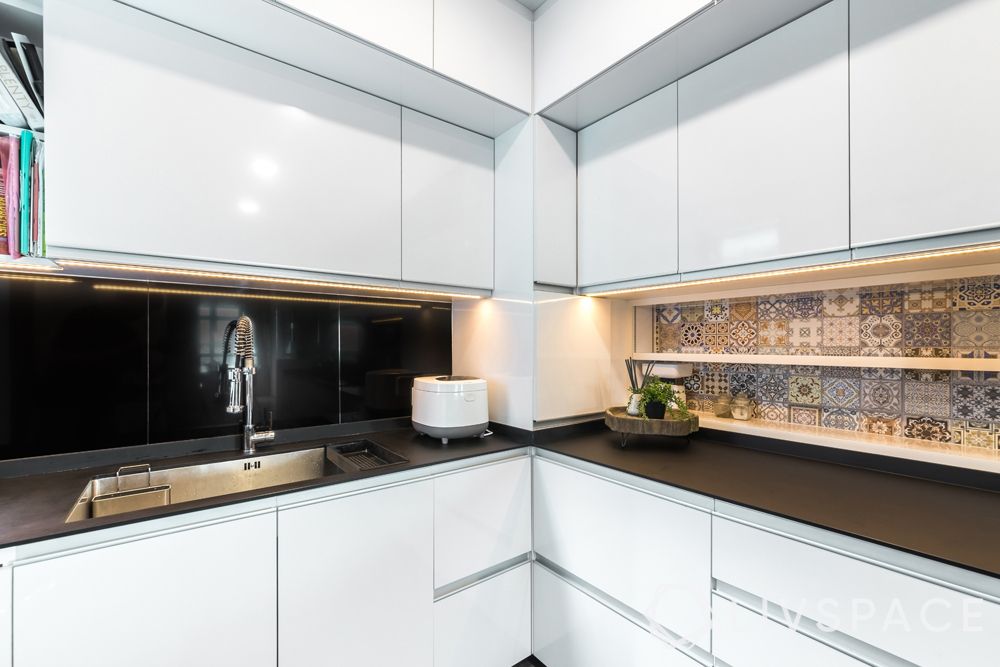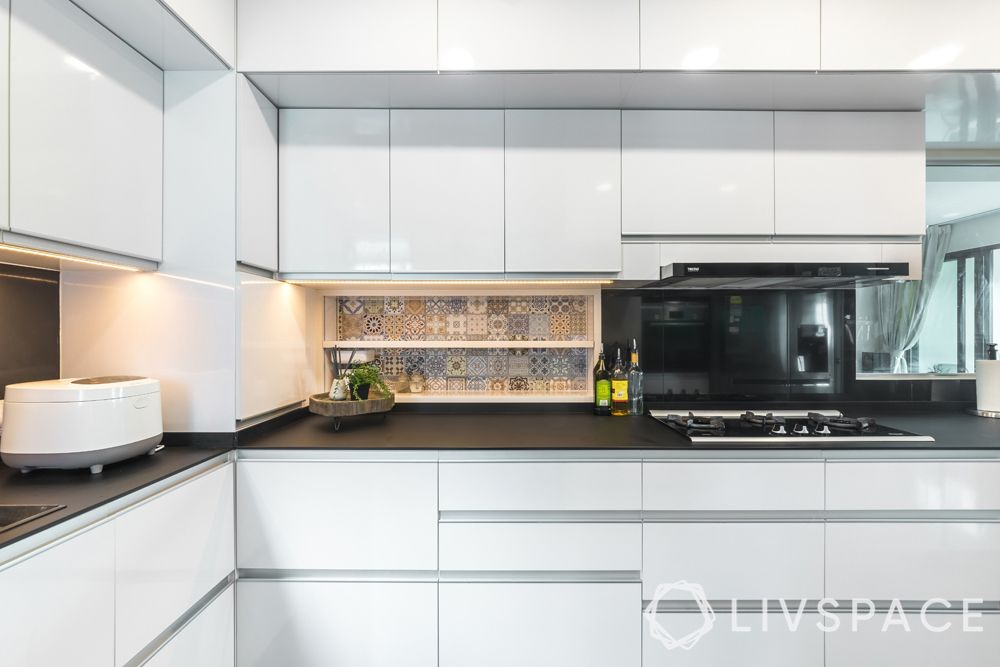 As we'd already mentioned, Mr. Mohnadas bought his first home in England, and he was very keen on having a similar black and white kitchen in his home in Singapore as well. After a lot of deliberation and discussions, Ankita decided to go ahead with the same colour scheme while adding immensely to the functionality aspect of this space. He wanted an open kitchen that would help him socialise while in the kitchen too, but at the same time, keeping the fumes from spreading across the HDB was a concern. Hence, Ankita designed this amazing layout for the kitchen that is semi-open.
It is a fully-equipped kitchen with the latest accessories and appliances since he loves cooking. Ankita has added ample storage space in terms of cabinets and lofts so that there are no complaints.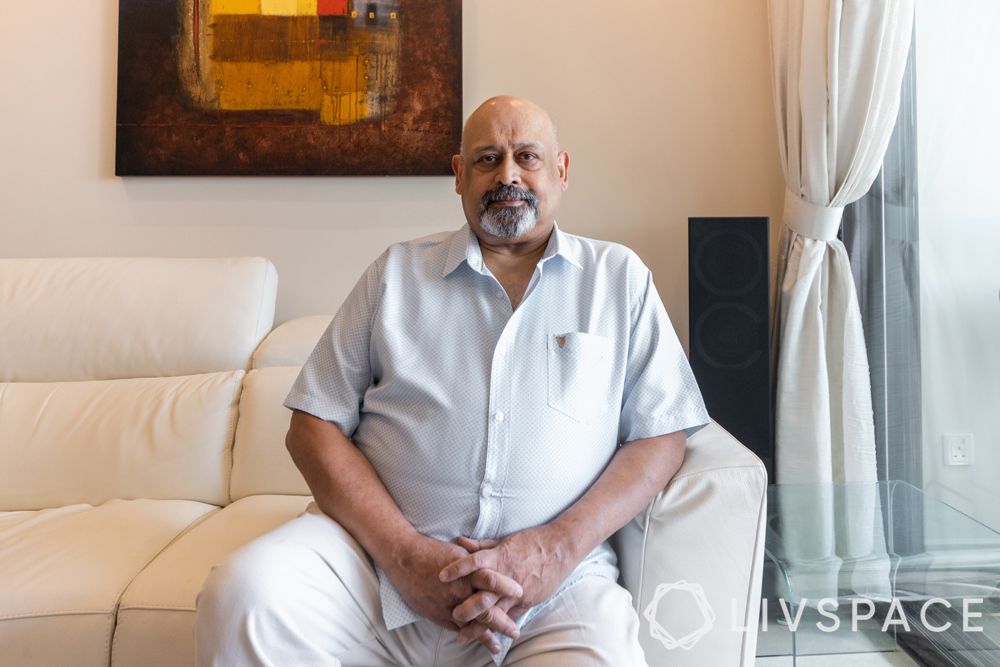 "My overall experience with Livspace and the team has been very positive and I've even recommended them to my friends. I have heard a lot of people getting their homes renovated and facing trouble with getting what they were looking for. But Ankita (the designer) is excellent at her work. She gave me great ideas and solutions to make me home comfortable and welcoming."

Mr. Mohandas

Livspace Homeowner
Style and functionality merge in the master bedroom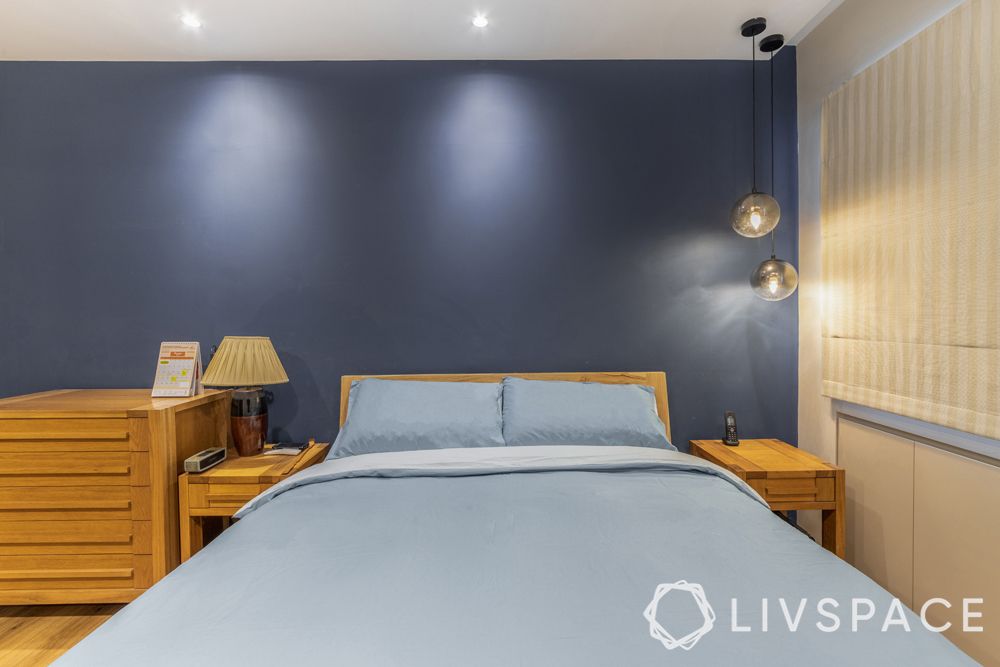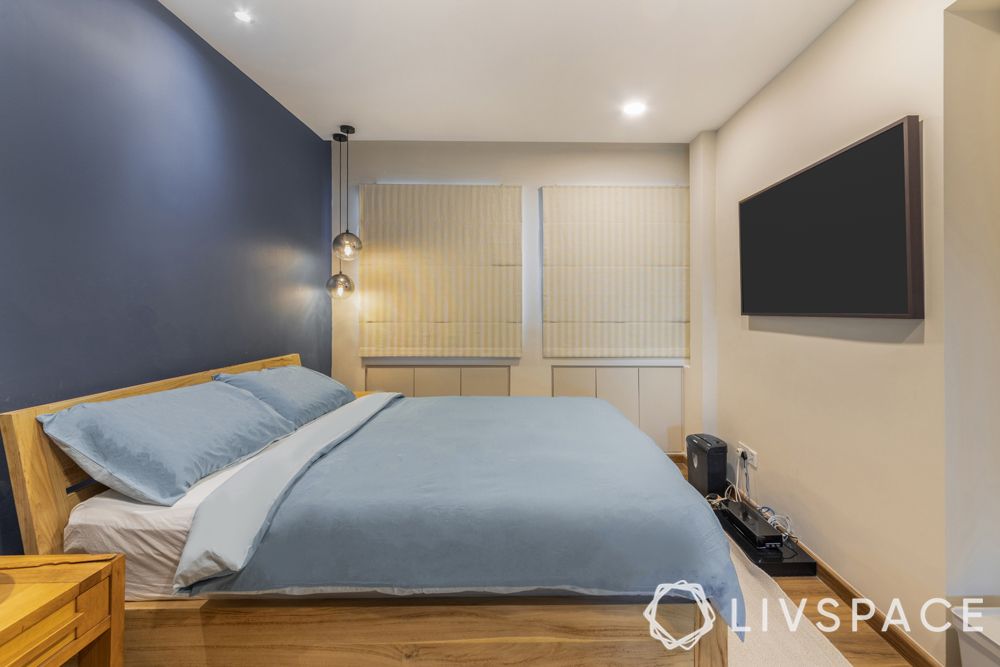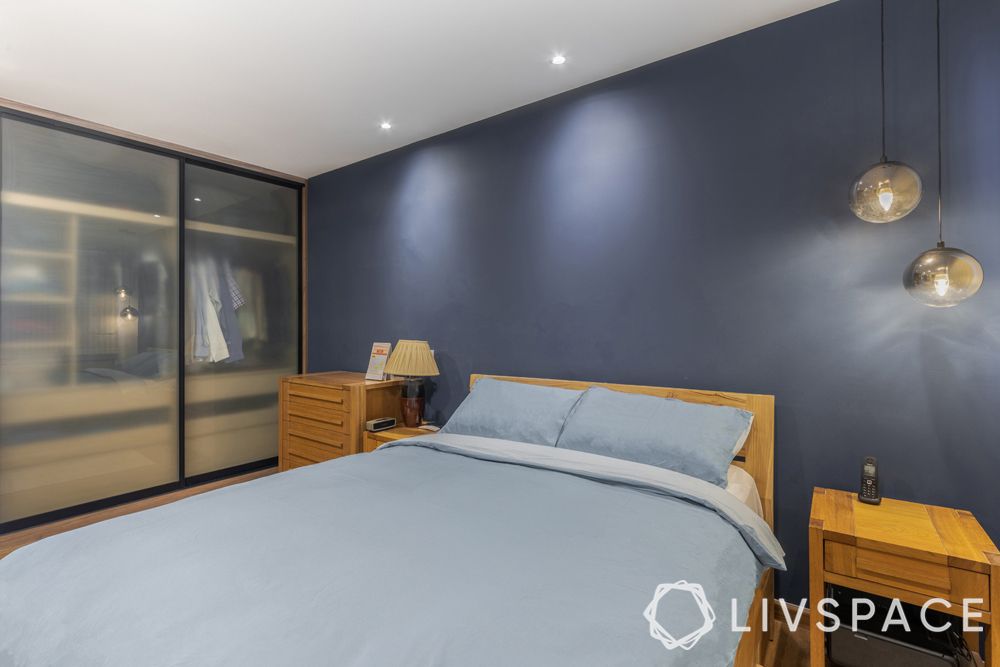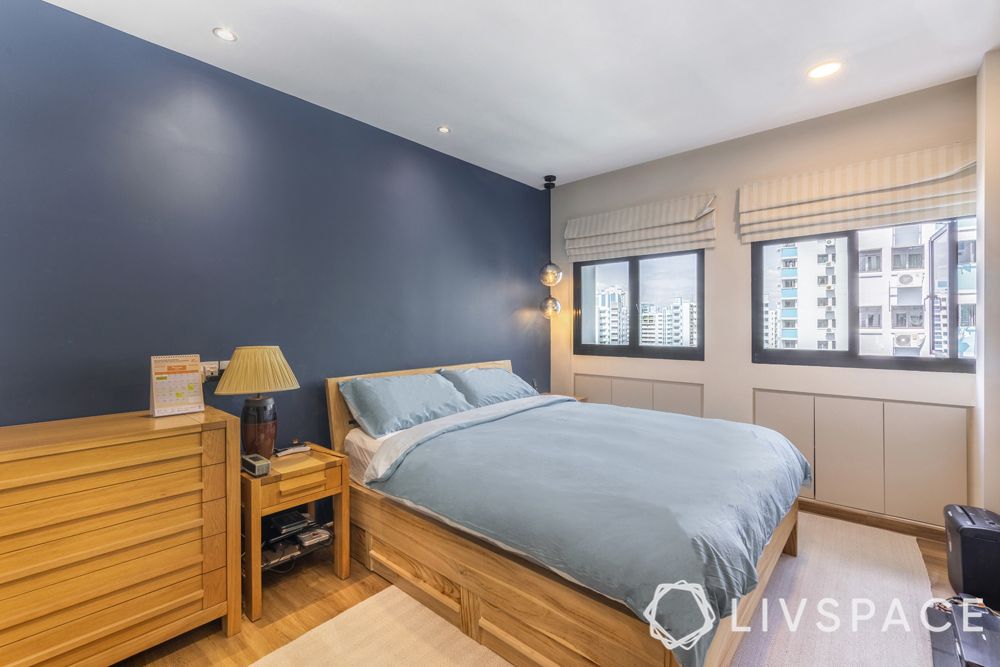 While all the rooms at this resale HDB have one thing in common—simple and functional design—the master bedroom hits the right chords with the vibe. Warm wooden furniture provides storage as well as looks inviting. The subtle blue feature wall is definitely the highlight, while storage underneath the windows is a clever idea given by Ankita. It looks sleek and does not eat up floor space at all. A frosted glass wardrobe also makes the room visually lighter.
A minimal design for the guest bedroom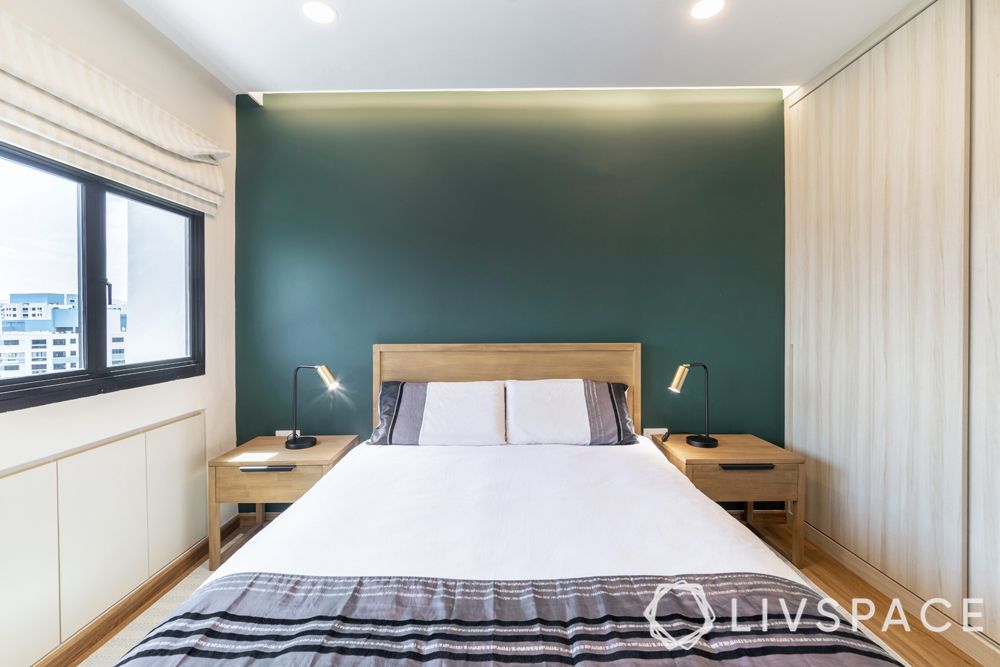 The guest bedroom features a greenish-blue wall paint on the headboard wall. It looks soothing and classy while not making the room look cramped. You can spot a full height mirror in front of and wooden side tables right next to the bed. Here too, Ankita has added storage under the windows and given blinds instead of curtains to keep the look clean and fuss-free.
An extra room with extra storage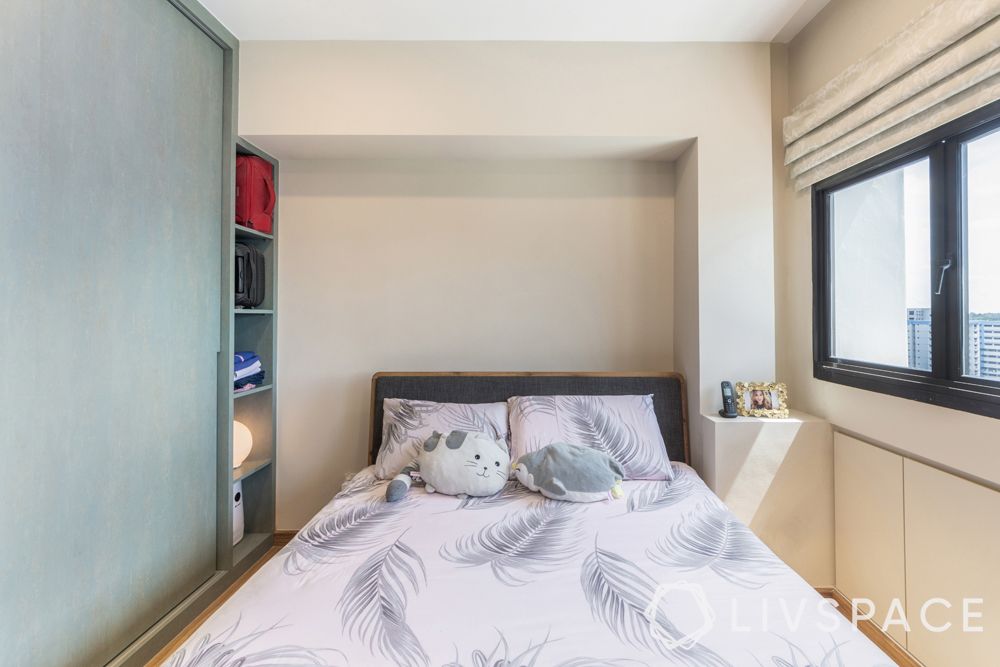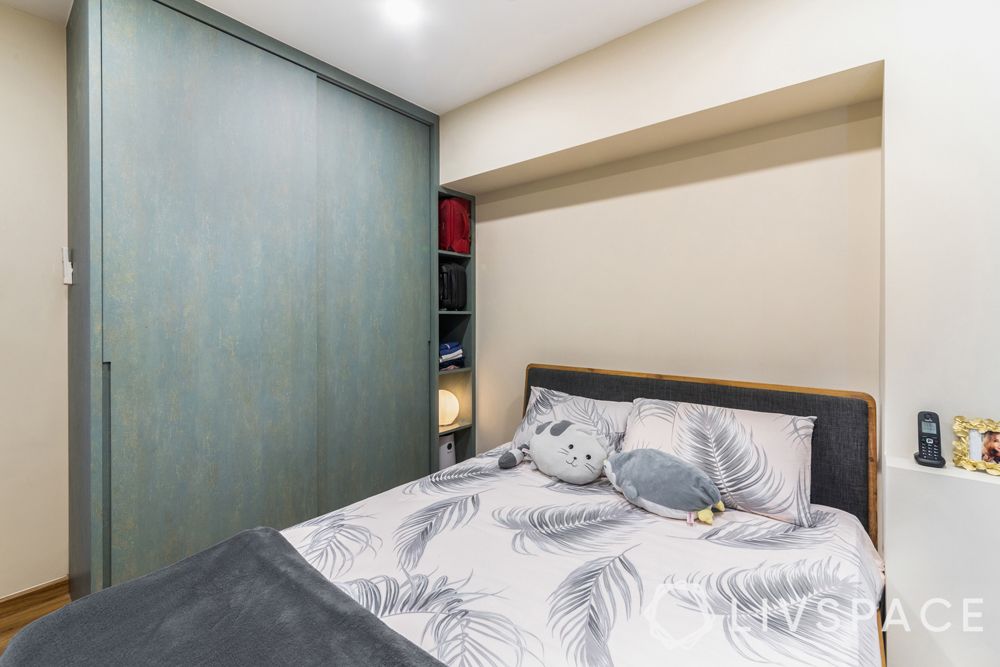 The best idea to steal from this bedroom is the open storage shelf next to the wardrobe. Ideal for small bags, luggage, shoes, handbags, books, accessories and so on, these shelves make the best use of space. Therefore, rather than wasting the tiny niche, Ankita turned it into a genius storage space.
This one's especially designed for the client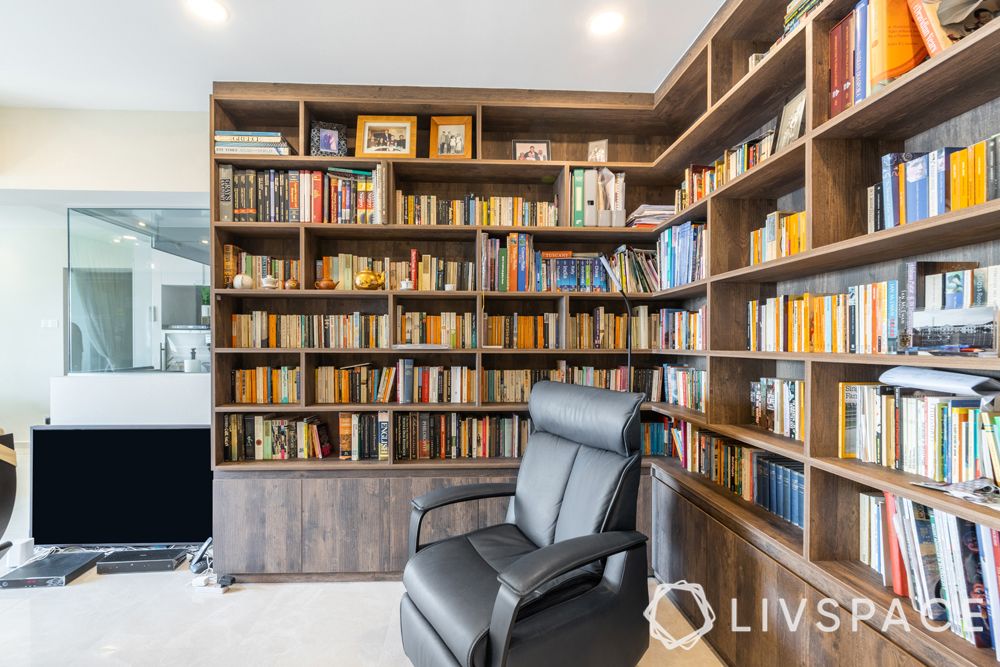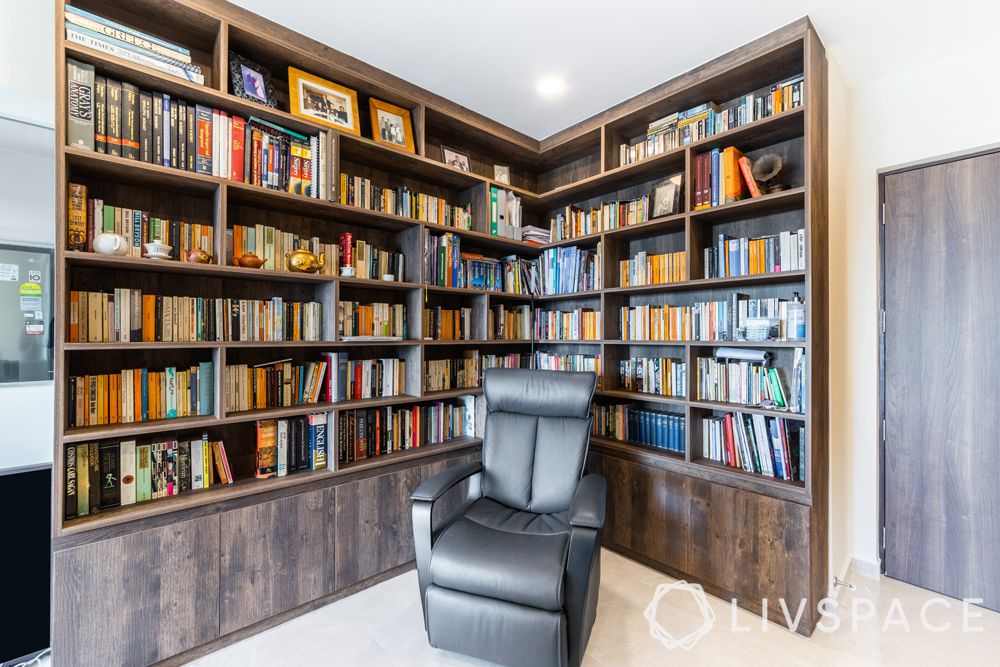 A treasure for anyone who loves reading, a reading room or a personal mini library is a great place to relax and unwind. Mr. Mohandas loves kicking back and reading on his recliner in this reading room. And we know why! Who wouldn't want to end their day here?
Let's not forget the sleek bathrooms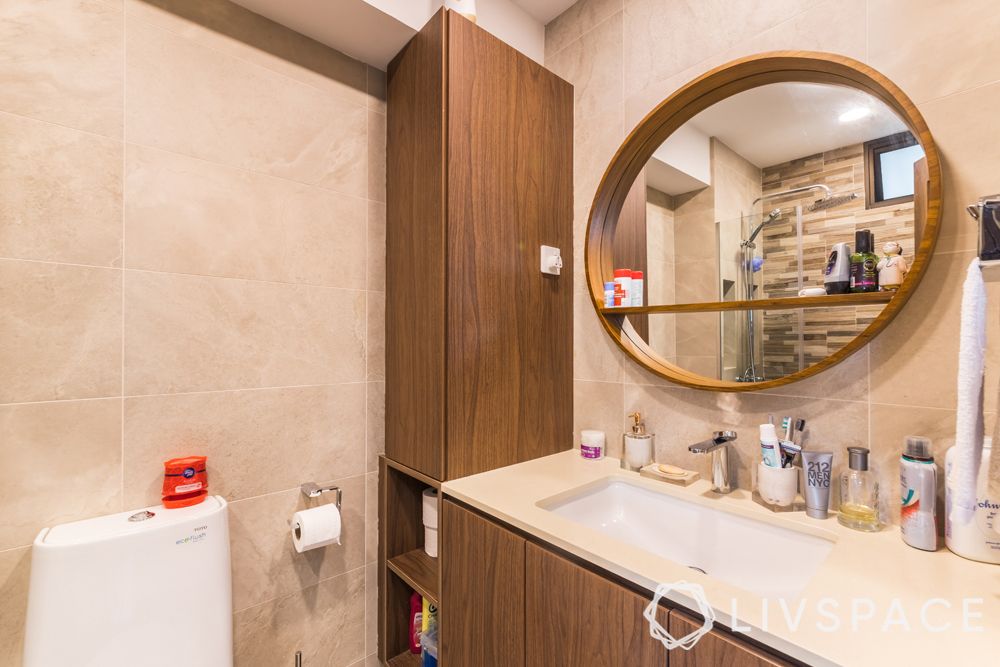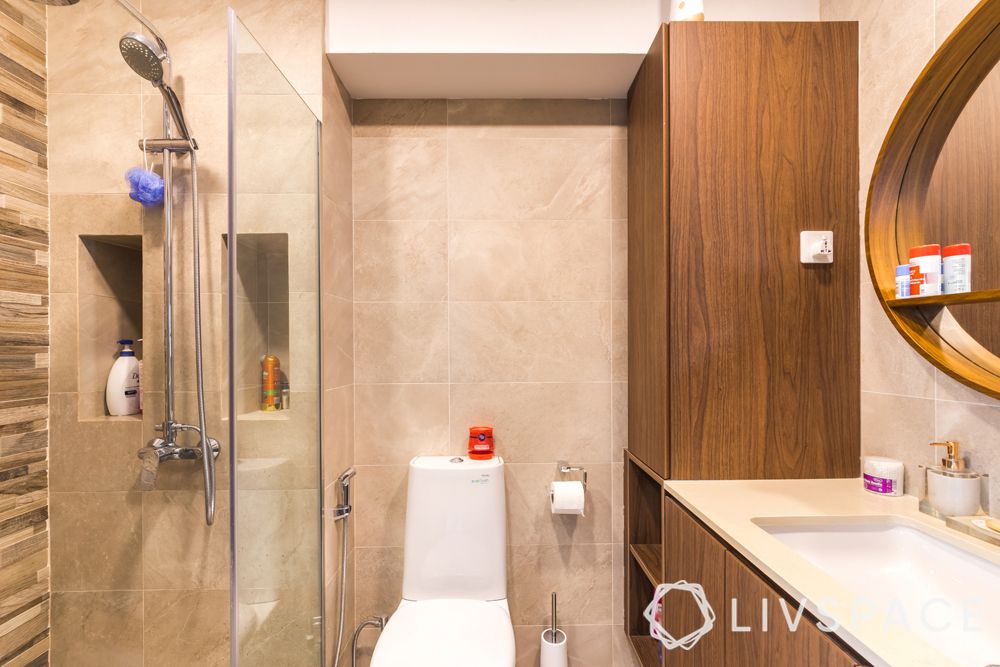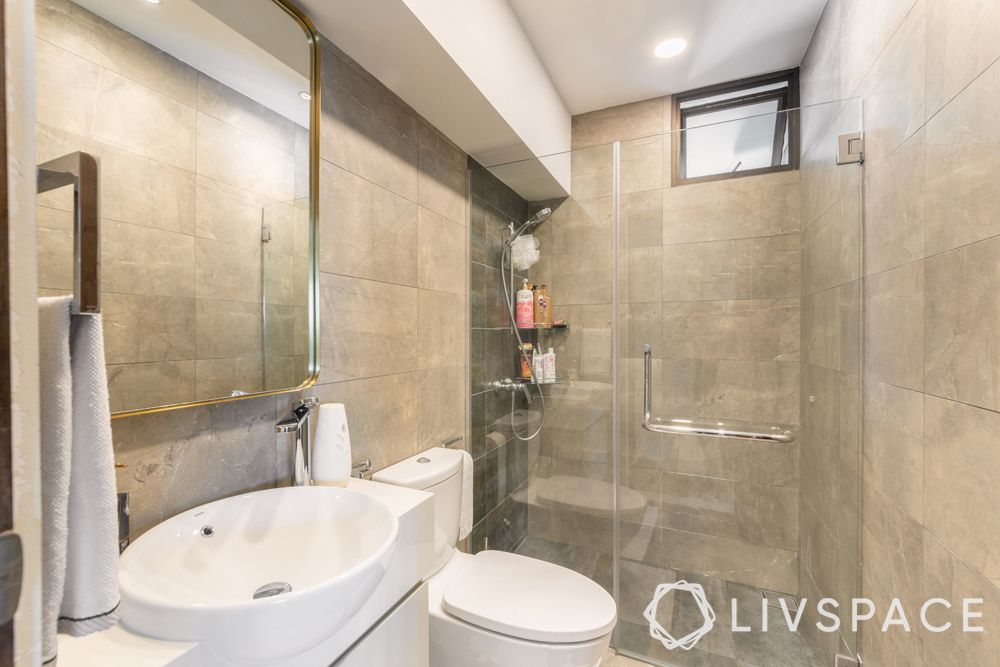 Every bathroom in this resale HDB renovation follows a similar design. They look neat and simple with basic tiles and colours. Glass partitions for the shower area and sleek vanities are the essential addition to the toilets. The master bathroom has extra storage cabinets next to the vanity for convenience.
"Mr. Mohandas is one of the best clients I have had till date. He was very clear and precise with his requirements and he communicated the same to me. We discussed everything before finalising the design and I also accompanied him to shop for furniture and furnishings for the home. It is always great to work with such clients. I had a lovely experience."

Ankita Gupta

Interior Designer, Livspace
We hope you enjoyed reading this renovation story. If you want to look at another lovely HDB renovation, check this out: Our Designer Renovated This HDB to Make it Elder-friendly and Comfortable.
Send in your comments and suggestions to editor.sg@livspace.com.