Interior design requirements depend upon multiple factors, including your marital status! While a bachelor might look for easy-to-maintain interiors, a married individual will have to consider their spouse and kids' (if any) needs as well. This was the case for Farant Poh, a quintessential family man, who had several requirements from the luxury remodel of his 5-room HDB.
First of all, he was keen on having the sleek and simple look of a modern luxury hotel room, with a spacious and minimalist design. Secondly, since this HDB would be housing a family of six, it had to be very space-efficient. Thirdly, the members of his family included two young daughters and his elderly mother, so he wanted a child and elder-friendly luxury home remodel. Finally, since apart from him, there were only women living in the home, he wanted the interior design to be as comfortable and convenient as possible for them.
---
Who Livs here: Farant Poh, with his wife Eunice, elderly mother, and two daughters, aged seven and eleven years
Location: BLK 51 Strathmore Ave
Size of home: A 5-room HDB
Design team: Interior Designer Prinky Leong
Livspace service: Full home design
Budget: S$85,000 approx.
---
IN A NUTSHELL


Design Brief

To design a modern, minimalist home that's spacious and child- and elder-friendly

What We Loved

Smart space planning and the use of lighting to create a spacious look

Look Out for

– The TV unit wall that doubles as a partition
– The glamorous mirrored wall in the dining room
– Spacious wardrobe with dresser unit in the bedroom

Smart Buy

The magnetic track lighting in the living room false ceiling

Biggest Indulgence

High-quality furniture


#1: The Room Where the Family Bonds Together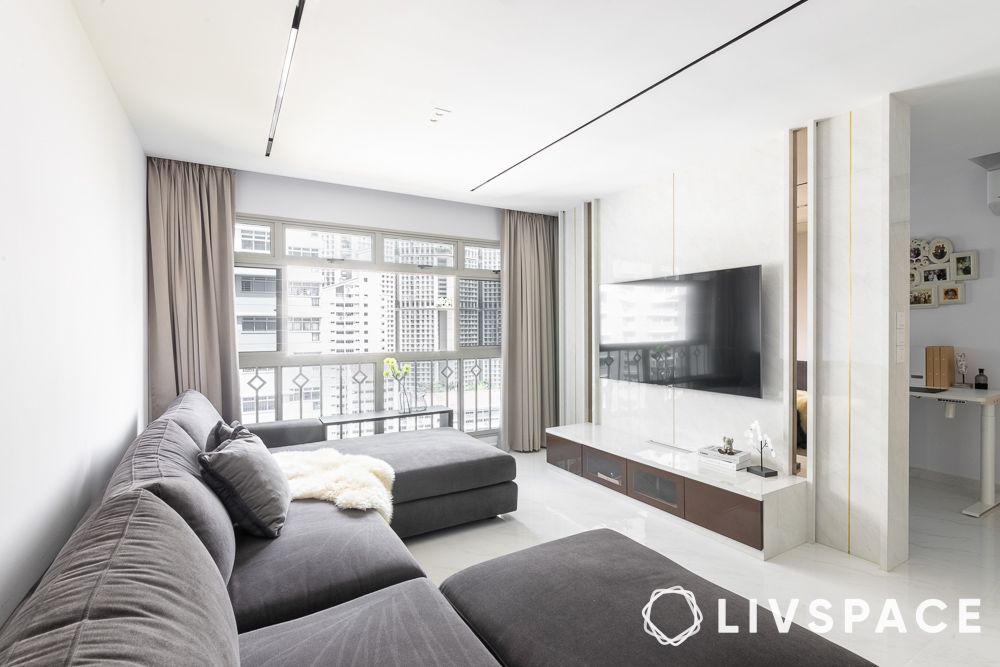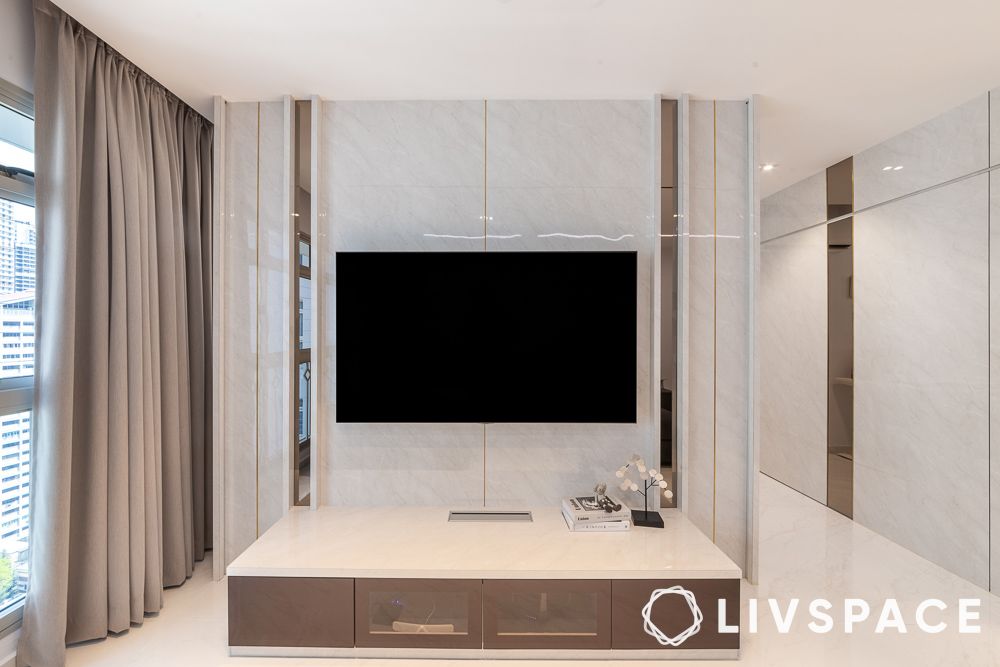 Key Features
The marble-like laminate TV unit wall acts as a divider that separates the living room and the study room in this luxury remodel
Additionally, our designer Prinky used stainless steel and T-tinted mirrors to add some texture to the unit
Magnetic track lighting in the ceiling
Here's how the living room looked like before Livspace transformed it: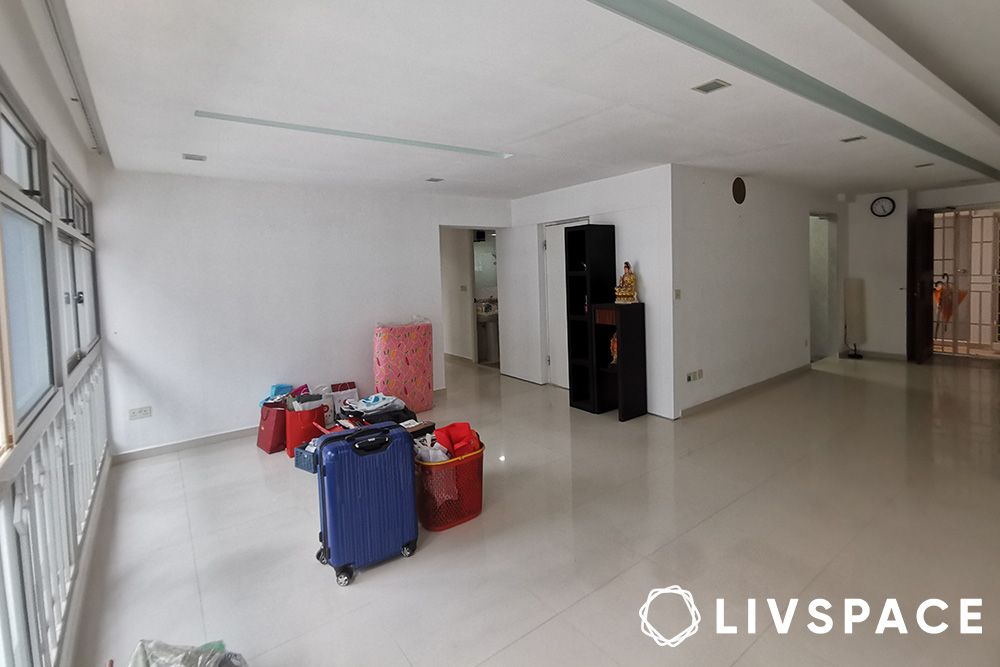 Fun Fact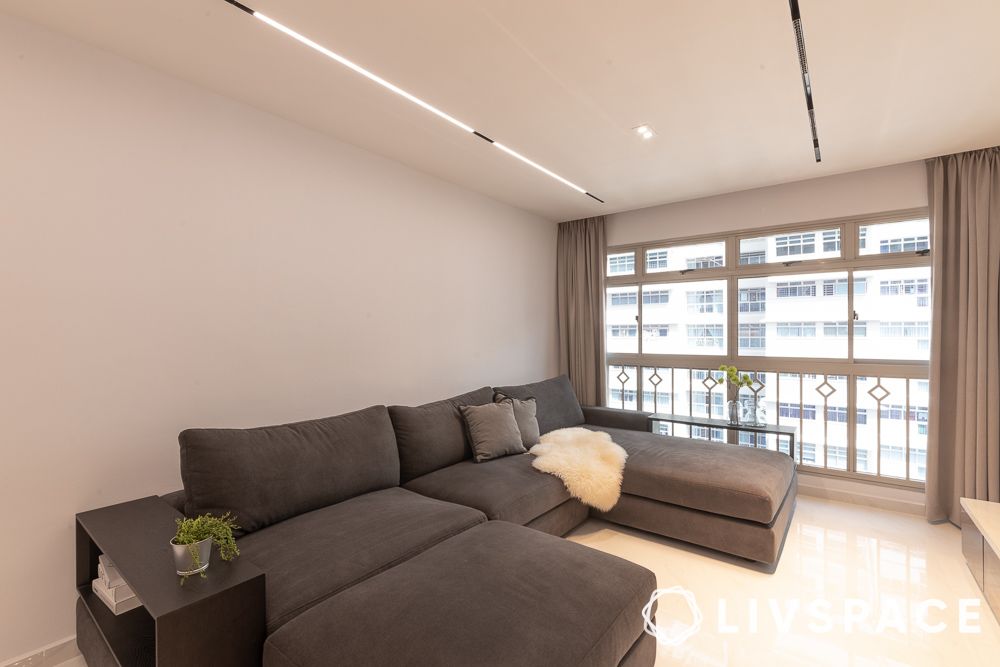 Considering most of the family members were women, the homeowner chose this type of magnetic track lighting which can be easily removed by anyone, without any hassle.
#2: The Luxurious Dining Room Straight Out of a Premium Hotel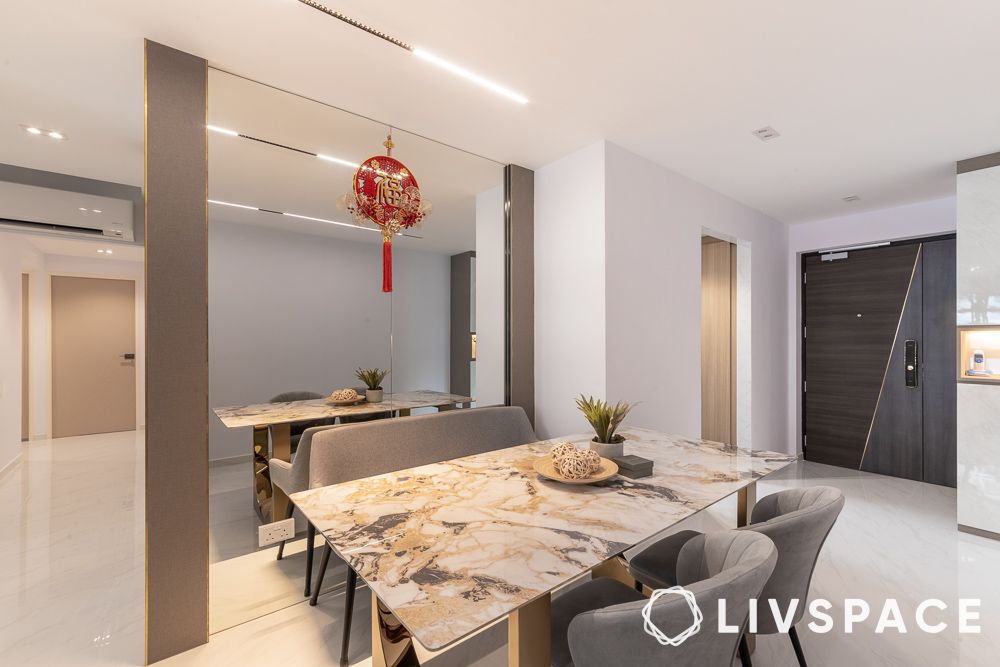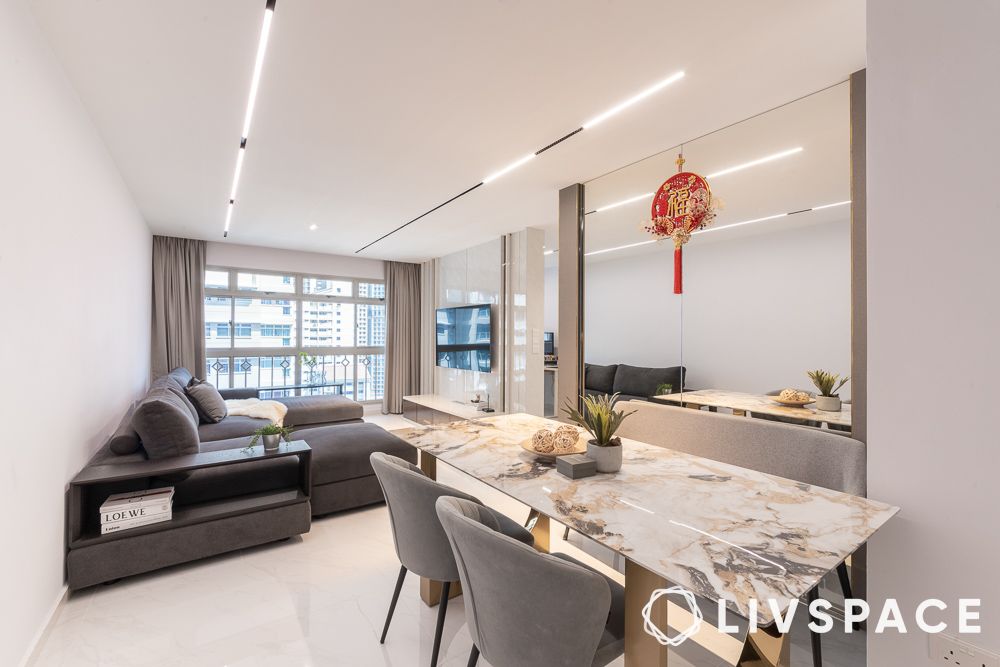 Key Features
The mirrored wall enlarges the space and makes it look luxurious at the same time
Moroever, stainless steel inlays and T-tinted trims maintain continuity with the TV unit feature wall
Fun Fact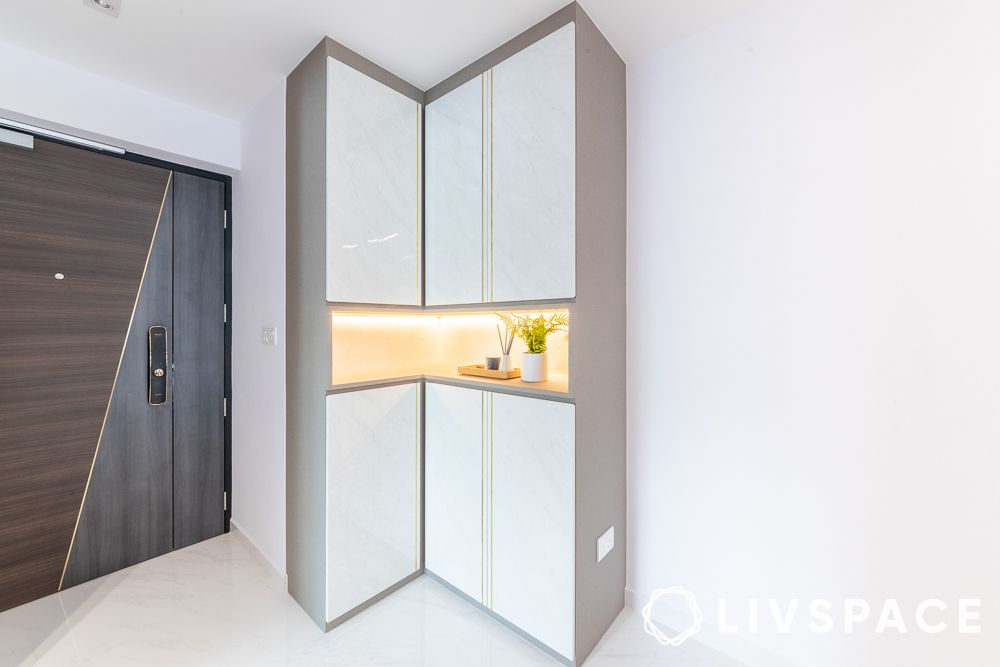 This contemporary unit serves two purposes. While the upper section hides the electrical distribution board, the lower part acts as a shoe rack.
#3: A Spacious Kitchen for Multiple Cooks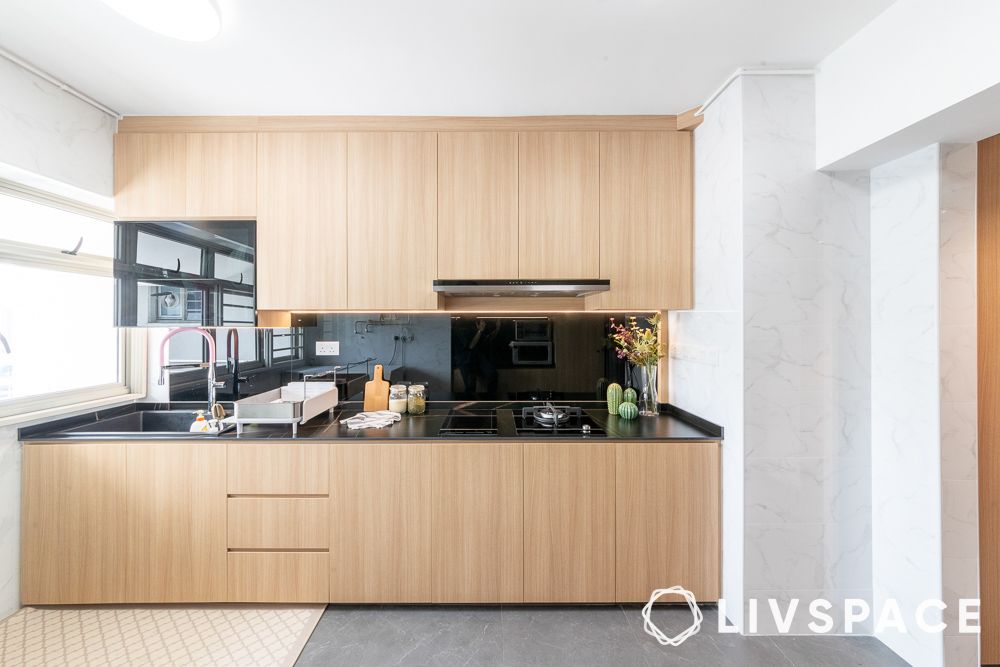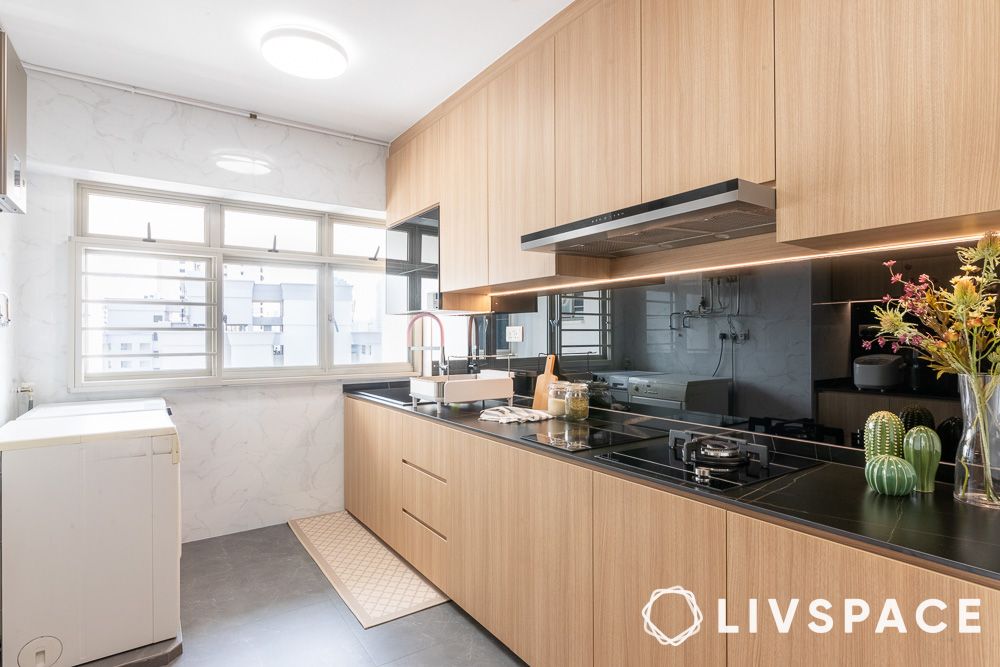 Key Features
Prinky hacked off the original entrance wall to the kitchen in this luxury remodel to create extra space, considering three people will be using it
The choice of light wood cabinetry helps in making the kitchen look more spacious and timeless
The countertop is sintered stone, thereby making it moisture-, heat- and scratch-resistant
Fun Fact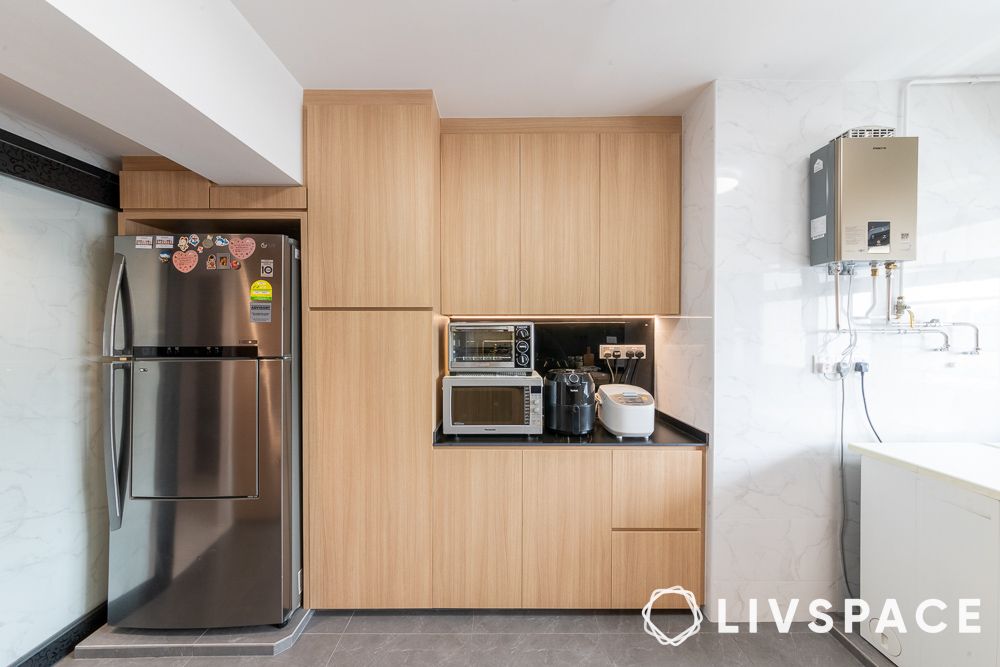 Farant, the owner of this HDB, is the main cook of the household and loves to whip up meals during special occasions like Chinese New Year.
#4: Luxury Master Bedroom Remodel Customised for the Lady of This HDB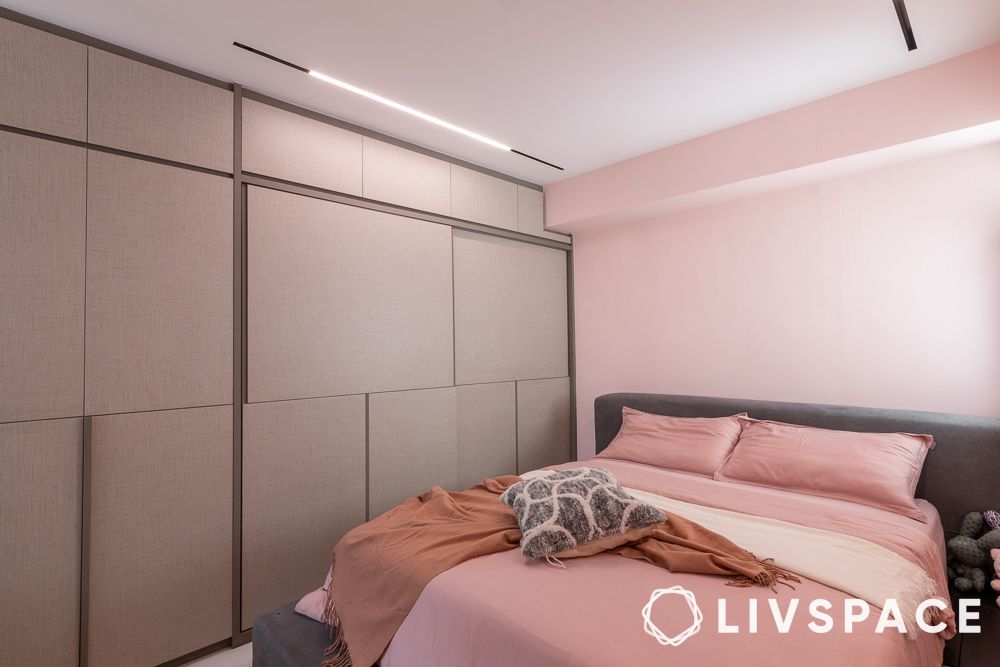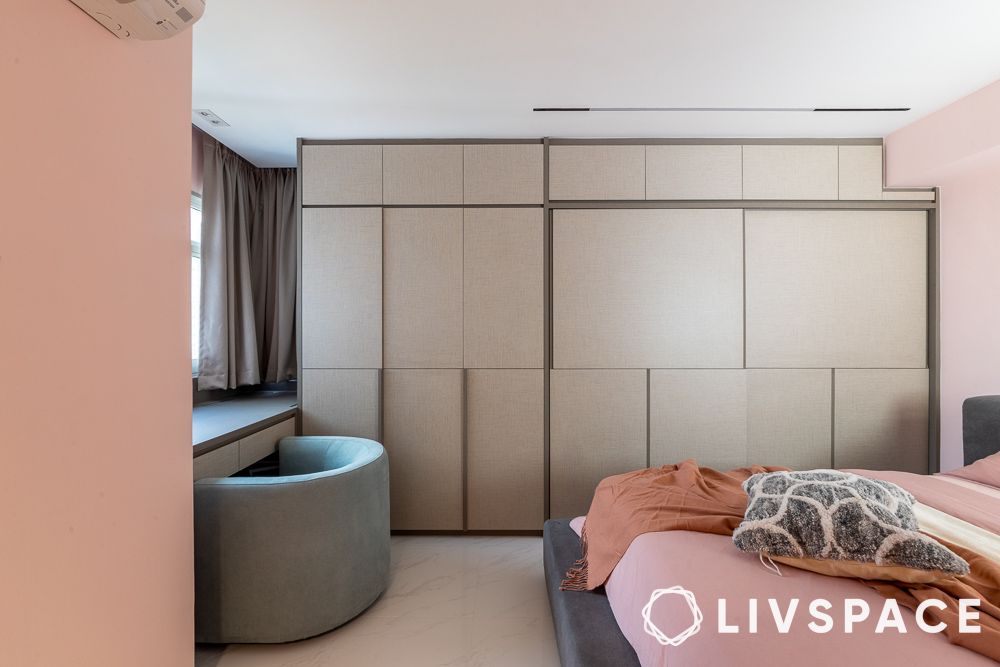 Key Features
Since Farant's wife, Eunice required a lot of storage space for her clothes, bags and other accessories, our designer gave them a wall-to-wall and floor-to-ceiling wardrobe
In addition, there is a compact dressing area near the wardrobe which makes it convenient for Eunice to get ready
Here's how the master bedroom looked before the luxury remodel: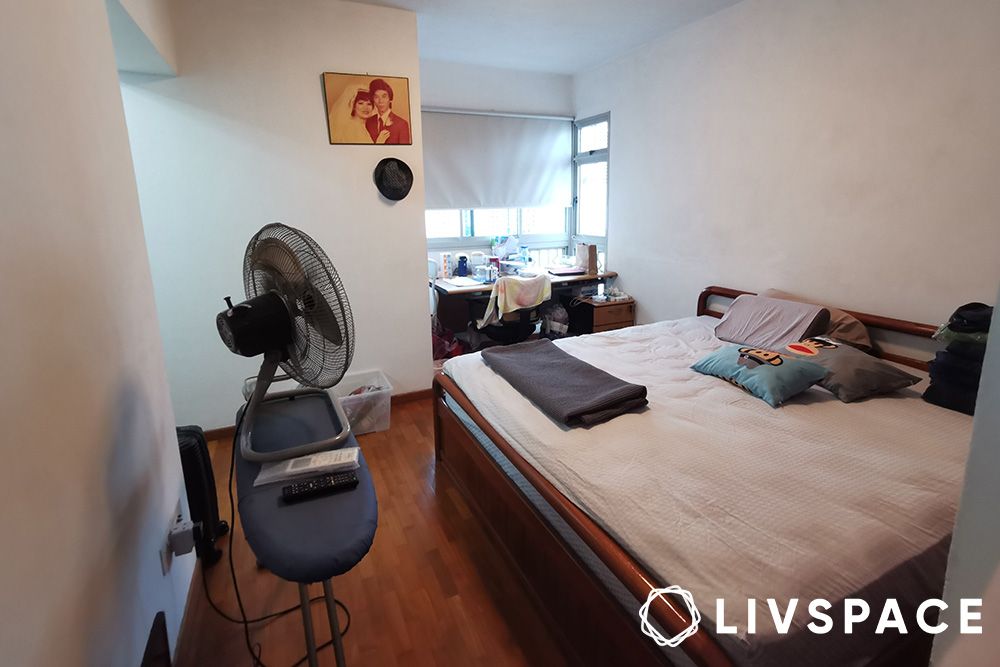 Fun Fact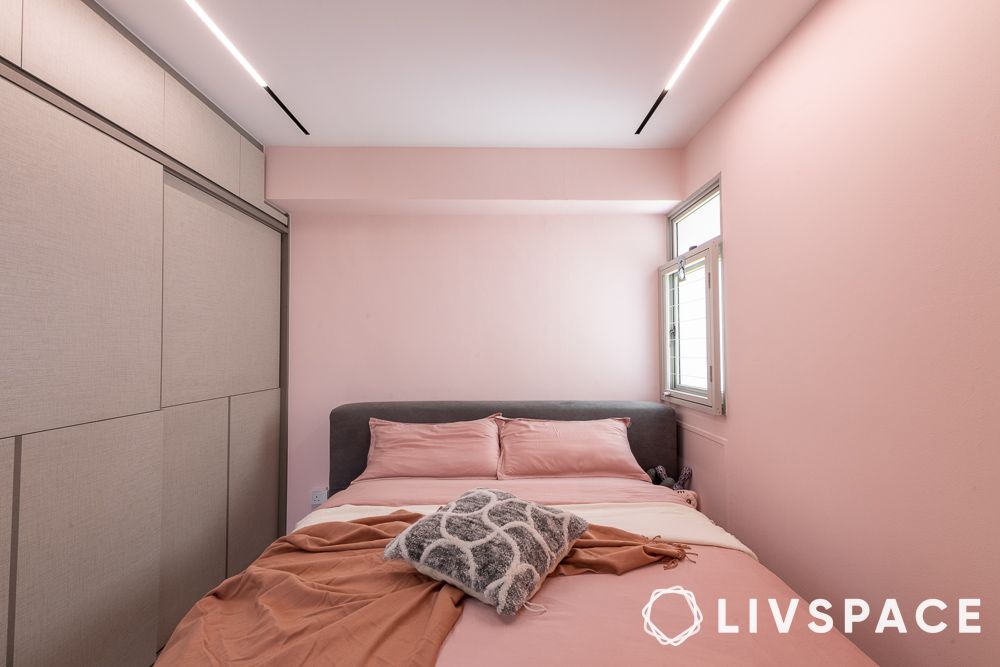 As Eunice's favourite colour is pink, Farant chose a pink theme for the master bedroom.
#5: Things We Loved in This HDB Luxury Remodel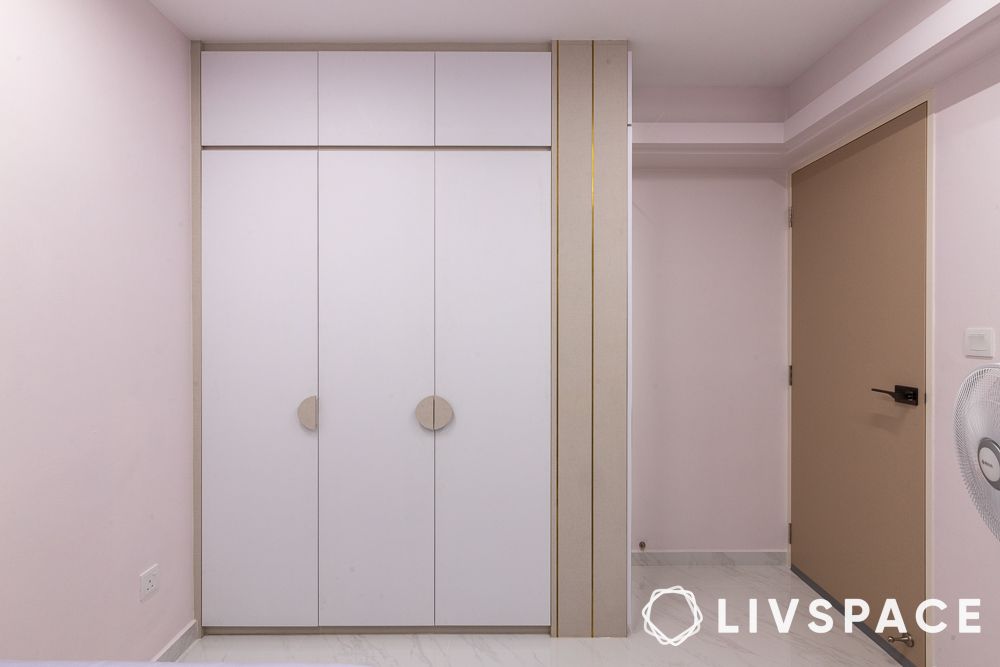 This wardrobe is in the kids' bedroom. The beige part of the wardrobe is actually additional storage where the girls can place their books and bags.
For the master bathroom, Farant wanted a luxe look, like a hotel's bathroom. To accommodate this, Prinky opted for tons of lighting and glass for a glam appeal. Additionally, this theme perfectly complements the gunmetal grey accents in the bathroom.
The common bathroom has maximum lighting, but not too much glass. This makes it safe and elder-friendly.
How Can Livspace Help You?
Our expert designers will work with you to co-create bespoke and stunning designs
Our costing process is completely transparent
In addition, we provide high-quality materials that are durable
If you want beautiful interiors for your home, look no further. Book an online consultation with Livspace today.
Disclaimer: All contents of the story are specific to the time of publication. Mentions of costs, budget, materials, and finishes can vary with reference to current rates. Additionally, the designs showcased within the story are subject to availability and will vary based on the year the homes were designed in. Consult our designers for more details on the latest designs, pricing, and availability.