At Livspace, our vision has always been to put together homes that represent the homeowner's vision. This includes incorporating their idea of quality, aesthetics and function in the home design. An important part of this is perfecting the furniture at their home. When you decide to make furniture to fit your home, you also make the decision to make your household functional. The best part of getting the customised furniture made for your home is that it can also be multipurpose furniture. Customisable, multipurpose furniture is the key to saving a compact home from being a visual disaster. Nevertheless, who doesn't love to optimise their home space? Here are seven of our favourite custom furniture design pieces from Livspace homes.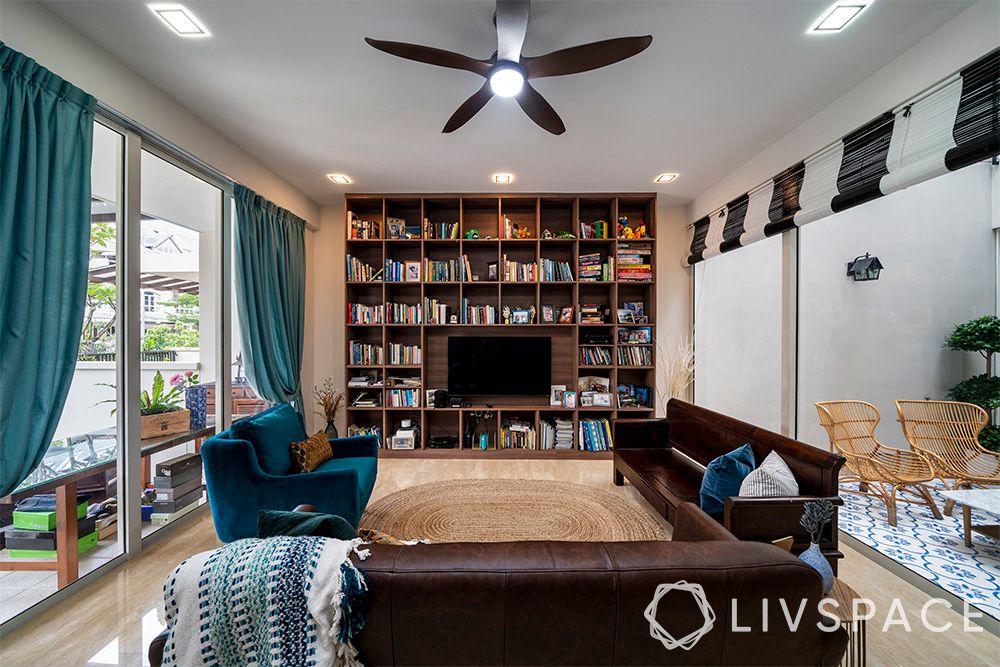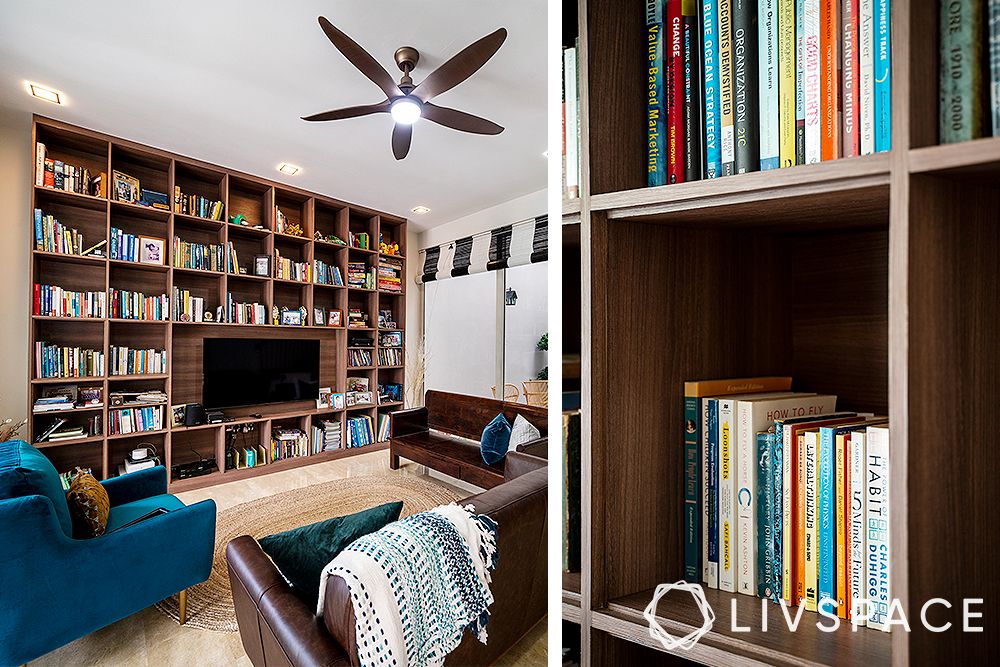 Every bookworm has dreamt of ending up in the in-house library of the beast because he truly had the most enviable collection. This TV-unit home furniture design gives us the same vibes. We bet that any avid reader would love to have this unit in their home. If you have a shortage of space for your book collection, the next best thing is to display it on a customised piece of furniture like this one. Put on some soothing music, pick a cosy corner on your couch and unwind with your favourite book.
This 4-room HDB design flaunts farmhouse-style interiors. This inherently means a light colour palette for home furnishing coupled with practicality and comfort. You can check out the complete house design here. The foyer in this house gives you an impeccable first impression when you enter the house. The plank-style panelling lends a rustic-chic look to the interiors. The decor is easy to catch the eye, especially with the in-built cove lighting. However, this beautiful addition hides a bomb shelter behind. Once you spot the brass door pulls, you can understand that there is a lot more to this feature wall than it seems.
A crockery unit is a convenient addition to any dining space. It saves you the effort of running to the kitchen each time you forget a trivial thing like a spoon. However, it can be made into a multipurpose furniture easily. This home furniture design can also double up as a display unit if used wisely and this condo does just that. The crockery unit is arranged below while you can spot the daily-use appliances above. What adds more to the space is the hanging display unit with reeded glass for shutters. The owners have rightfully used the space to display their favourite artwork and we love it!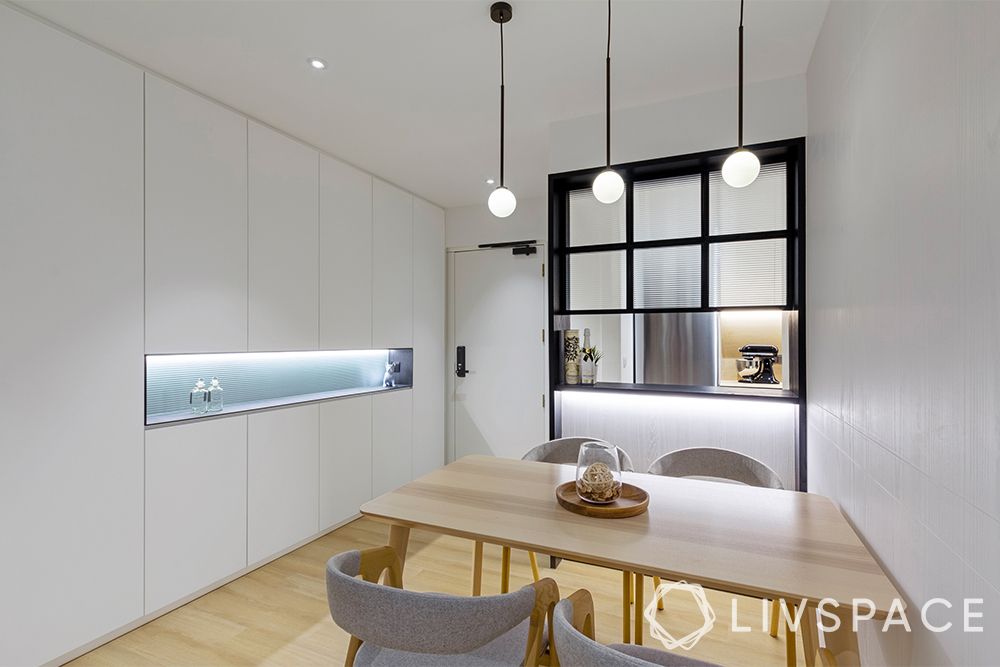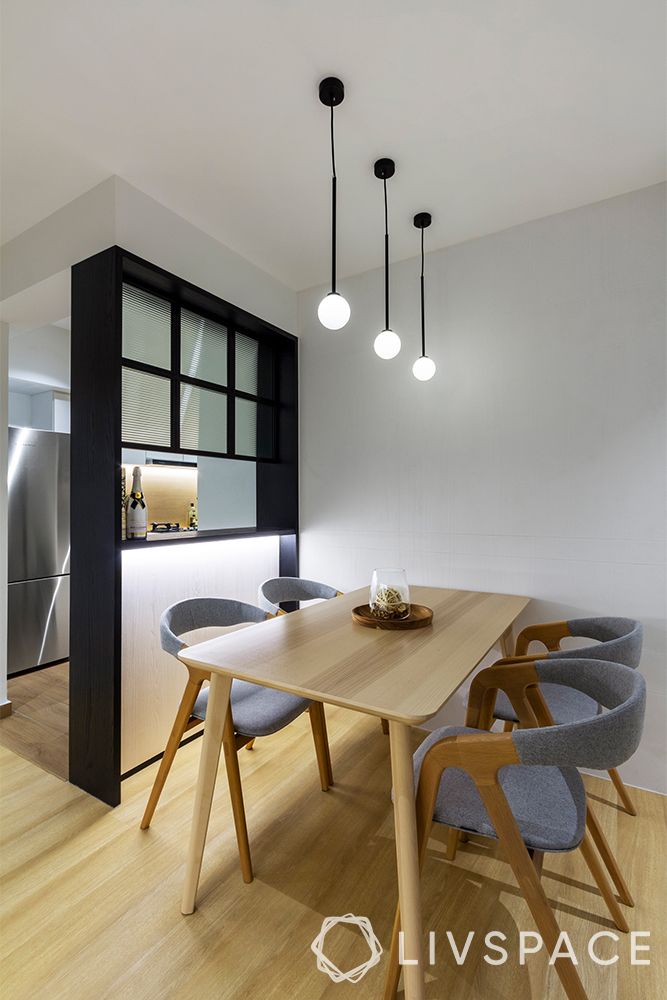 This 3-room HDB has several space saving ideas that you can definitely check out here. However, this bar unit has to be our favourite. Acting as a partition between the dining table and the kitchen, this home furniture design is also equipped with a serving counter. The unit also has display units where your alcohol collection can be stored. Keeping up with the modern furniture design, the bar unit makes use of vertical space- a valuable lesson every homeowner should take a note of.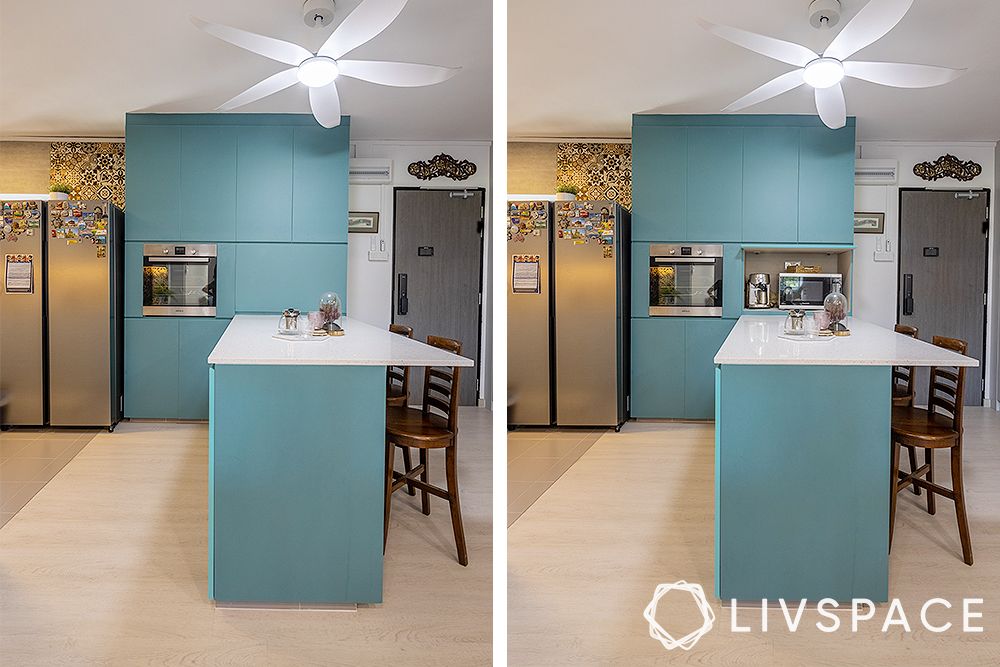 We all love concealed storage. This custom furniture design of the kitchen unit is the perfect example for it. Bathed in teal, this kitchen unit already has multiple shutter storages. Needless to say, the members of the family in this apartment love to have their breakfast here. You can also pull out your favourite cereal anytime you want from this counter as it is just within your reach. For more tips like this, take a look at this executive apartment here.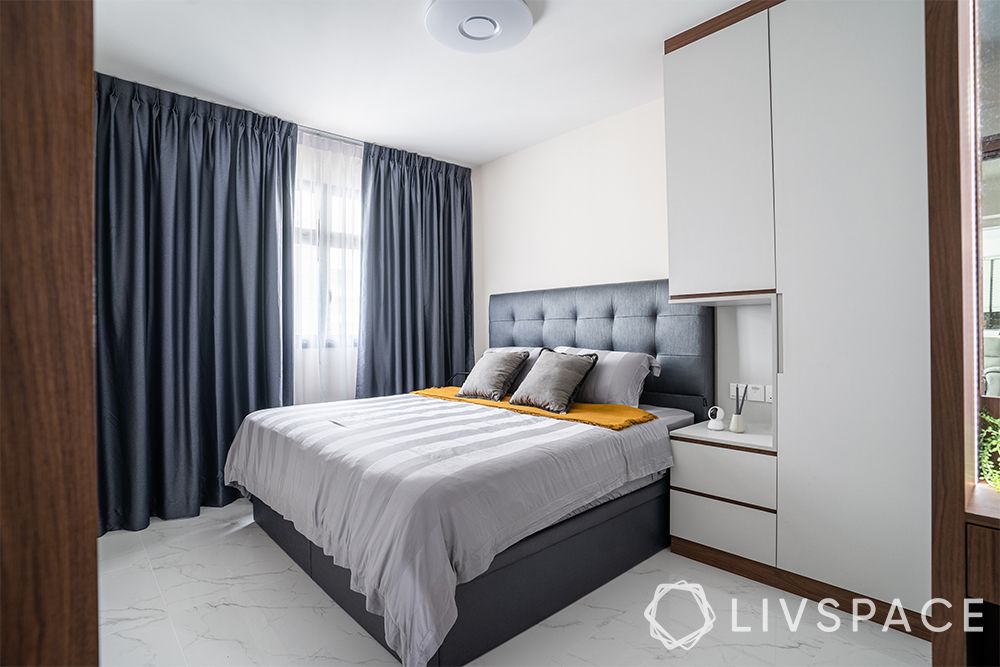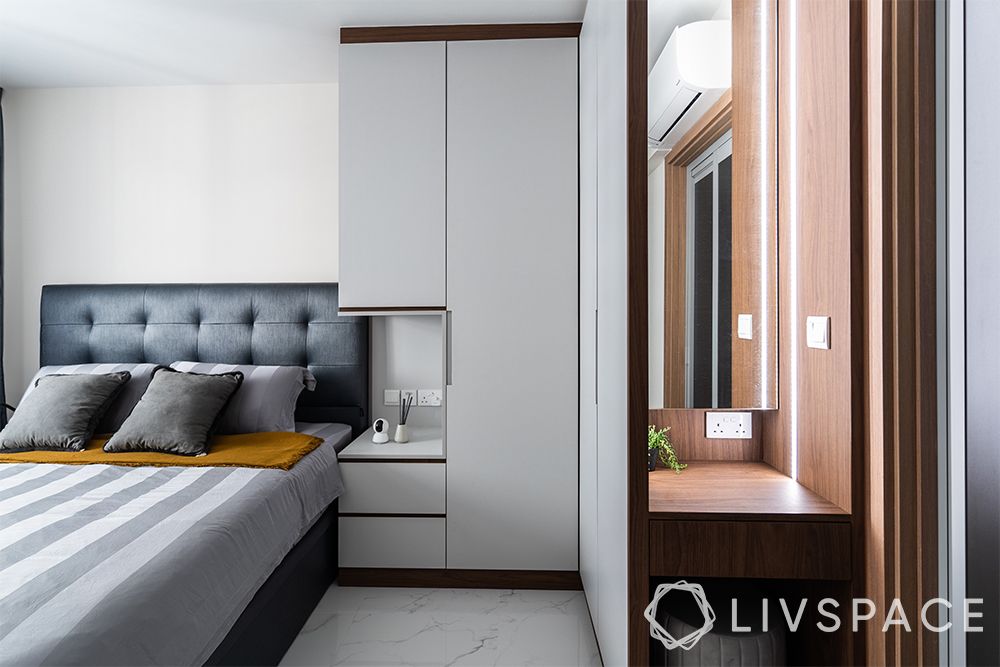 While this BTO renovation makes use of many tricks that optimise the compact space (Check them out here!), we particularly take a liking towards the custom furniture design of the wardrobe. This wardrobe ends dresser woes for the homeowners as the interior designer Shim made sure that he equips the wardrobe with a well-lit, in-built dresser. It is easy for the homeowners to wake up every morning and get ready as their clothes are just within their reach. He also cut out a nightstand with a sizable open display so the couple has somewhere to keep their potpourri.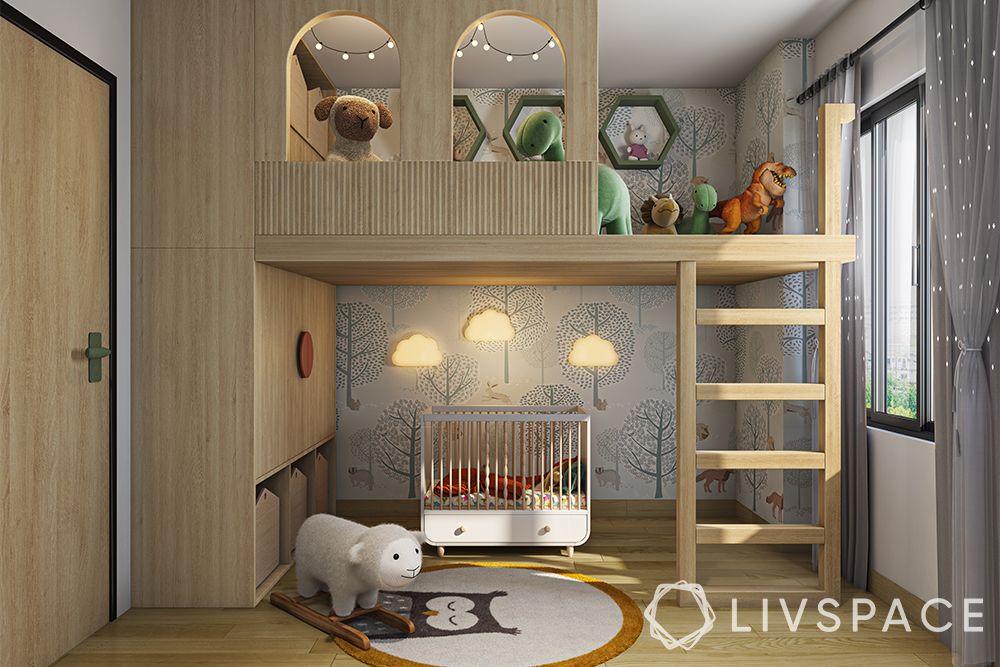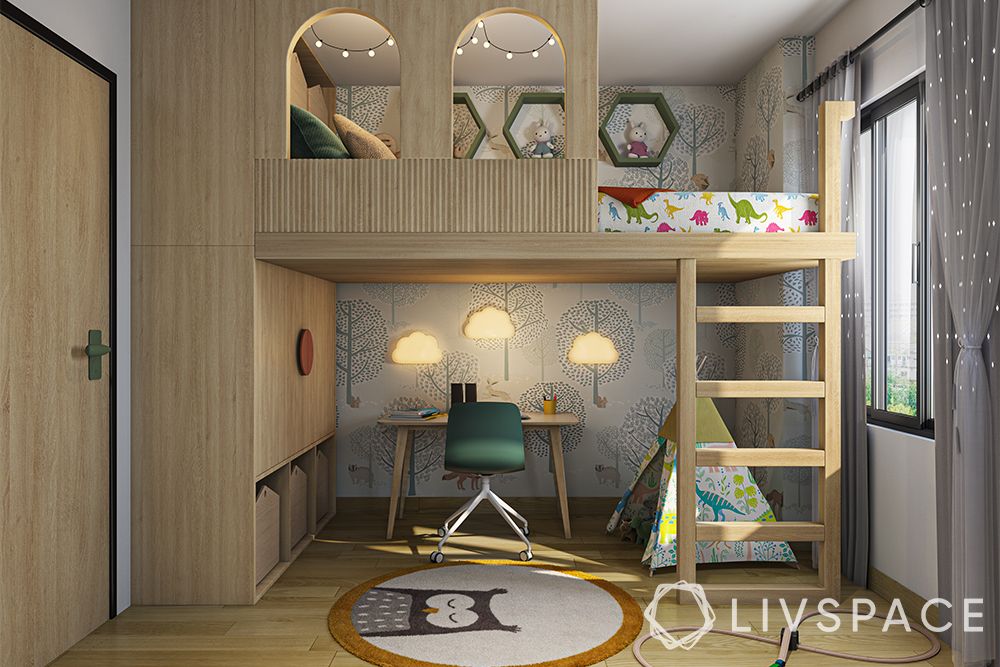 This kids room is a great example of how a home interior design should be ready to cater to the needs of a growing child. This custom-built loft is the saviour of this compact room as it has ample storage space as well as enough room to play around for the kid. The plushie-filled loft is quickly replaced with suitable home furnishing where the kids can sleep as they grow up. The study table and the tepee replaces the crib.
We hope you love these customised furniture ideas as much as we do! Read What is the Best Way to Design a 3Gen Flat with Furniture from IKEA? now! Want something similar for your homes? Reach out to us!
How Can Livspace Help You?
If you want your upcoming home to be just as beautiful, then look no further. Book an online consultation with Livspace today. Meeting Your Interior Designer for the First Time? Here are some pointers to get you started!
We would love to hear from you! Write to us at editor.sg@livspace.com.