Whether you want to mount your TV on to the wall or place it on a stand, a TV console is saviour and adds to your entertainment experience. A good TV console design will not only enhance the look of your living room, but also provide adequate storage for media essentials. Catch-up on your favourite TV shows or binge-watch timeless classics when you have your media set-up just right. From sleek wall mounted TV consoles to glossy freestanding ones, we present to you, our latest collection of console designs for your living room.
Check out these 10 designs that will inspire your next TV console purchase!
Freestanding TV console designs
#1: Compact mid-century modern TV console
When you do not want to occupy a lot of space in your living room but still need some storage, this small TV console stand will come handy. With splayed legs and a solid wood frame, this mid-century modern style TV console design is sleek yet functional. It is also a sturdy addition to your living room. This type of TV console comes at a great price too.
#2: Glossy black TV console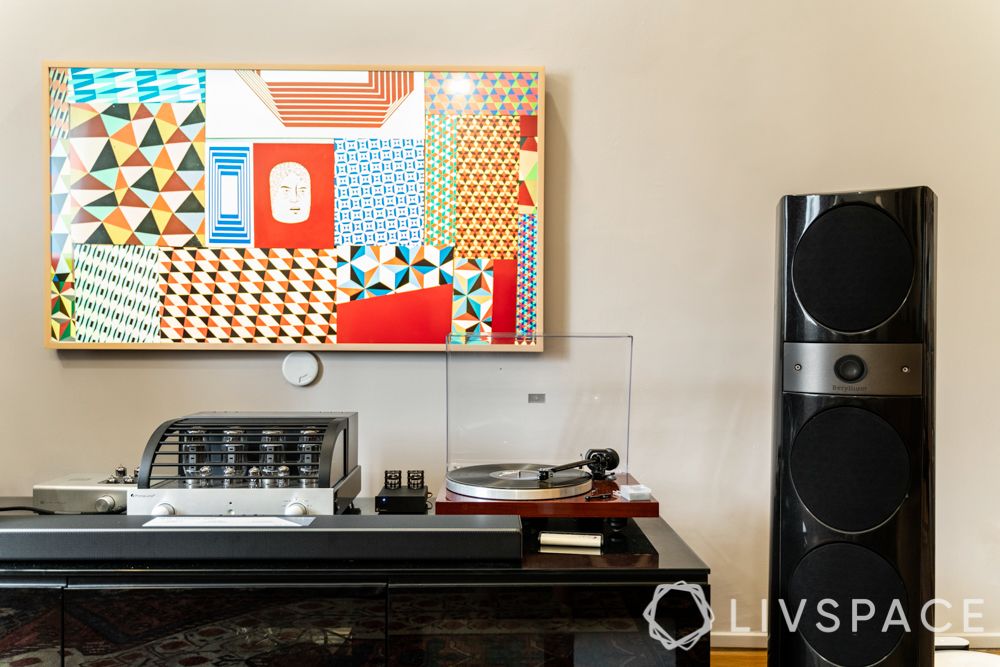 If you're a movie buff or love listening to your favourite music with great sound quality, this TV console design will appeal to you. With ample surface space, this TV console can hold all your dear records and media essentials in place. Get a matching home theater system to make it all look like one unit. Glossy black finish adds a modern look to this space.
Check out how this home looks, here.
#3: Wood and white TV console with shelves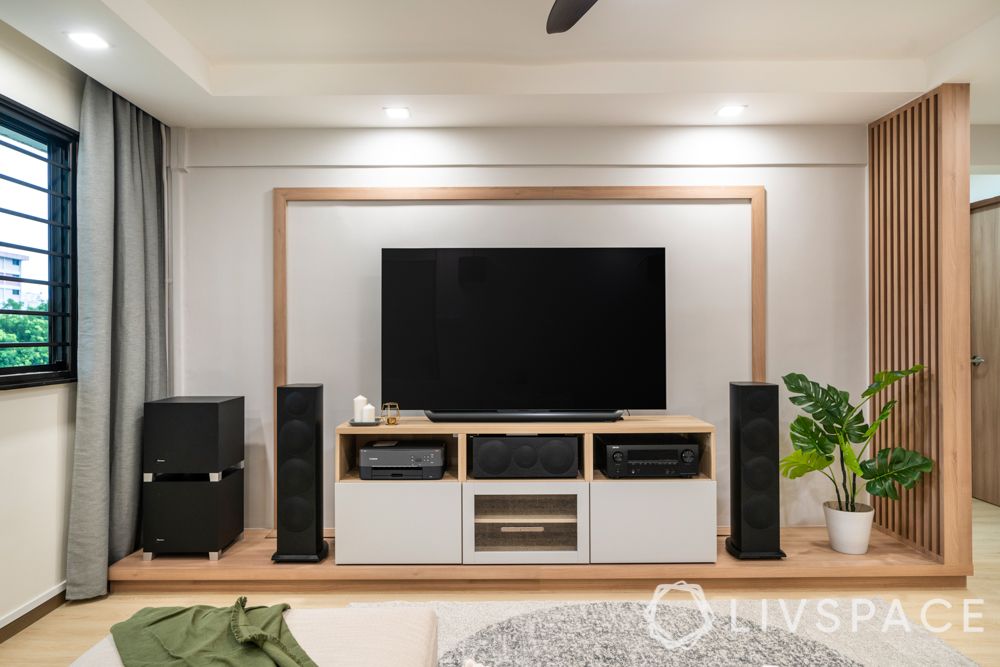 This TV console is complete with light laminates that are paired up with white. Easy on the eye and filled with storage, this elaborate TV unit comes with open shelves and cabinets. Elevated on a platform with wooden rafters on one side, this TV console design is sectioned-off. Place speakers and plants to fill up the area.
#4: Modern TV console with drawer storage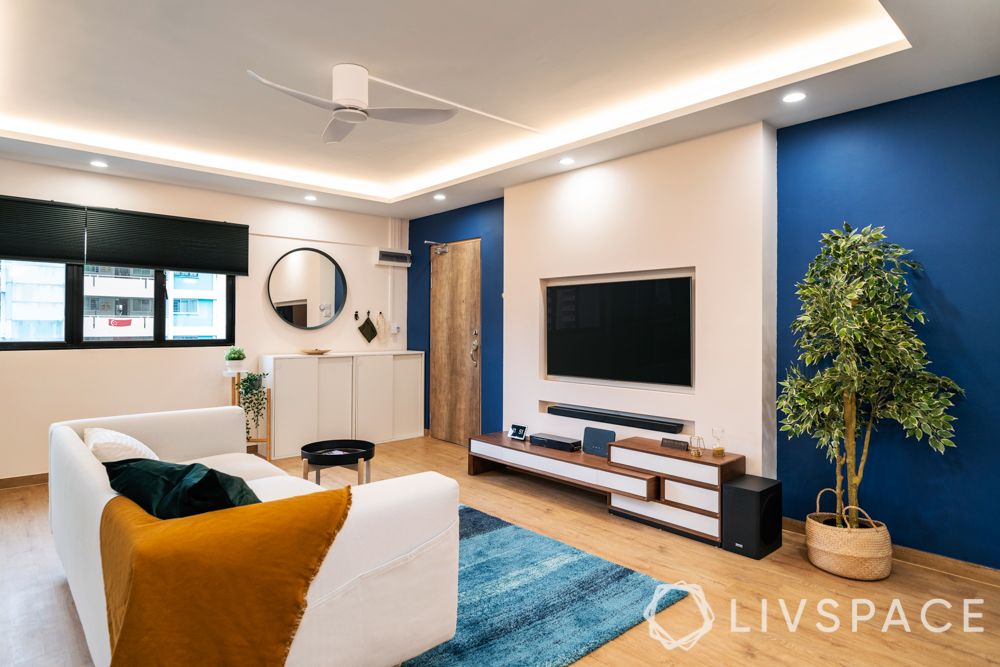 This stylish TV console design is a unique piece that looks like a horizontal version of tetris. A sleek piece of furniture, this console unit has only closed storage to protect your media essentials from excess dust. The TV and projector system is tucked away in niches that makes this space look neat.
#5: Complete wood TV console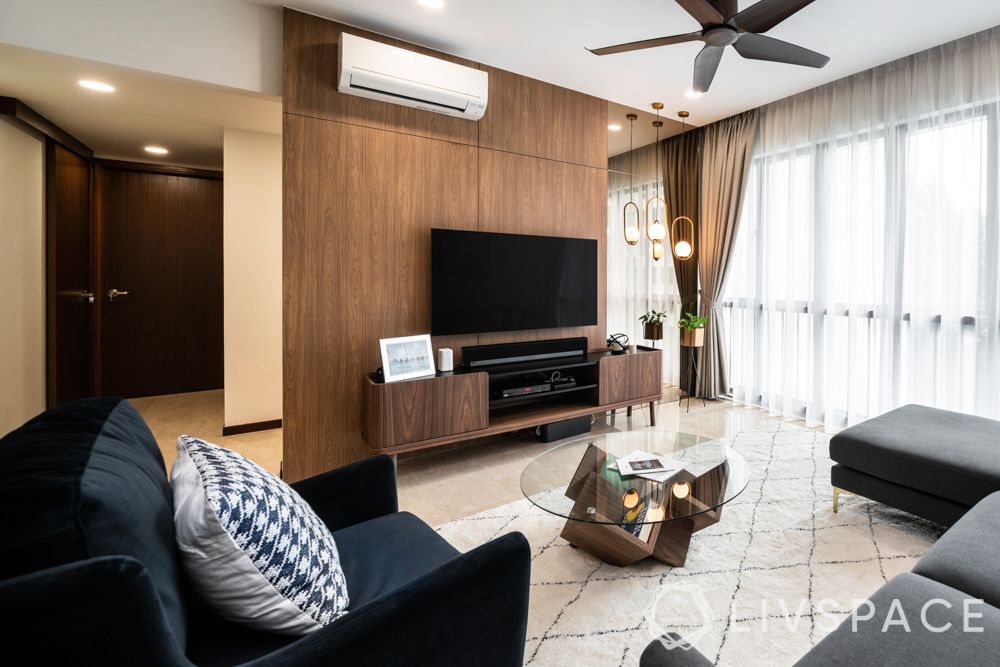 This one's for everyone who loves all things wooden. Dark wood has a charm about it and this TV console table matches perfectly with the panel on the wall. This is very close to a mid-century modern style piece, but with cleaner lines. Black shelves in the centre keep up with the dark theme.
#6: Laminate TV console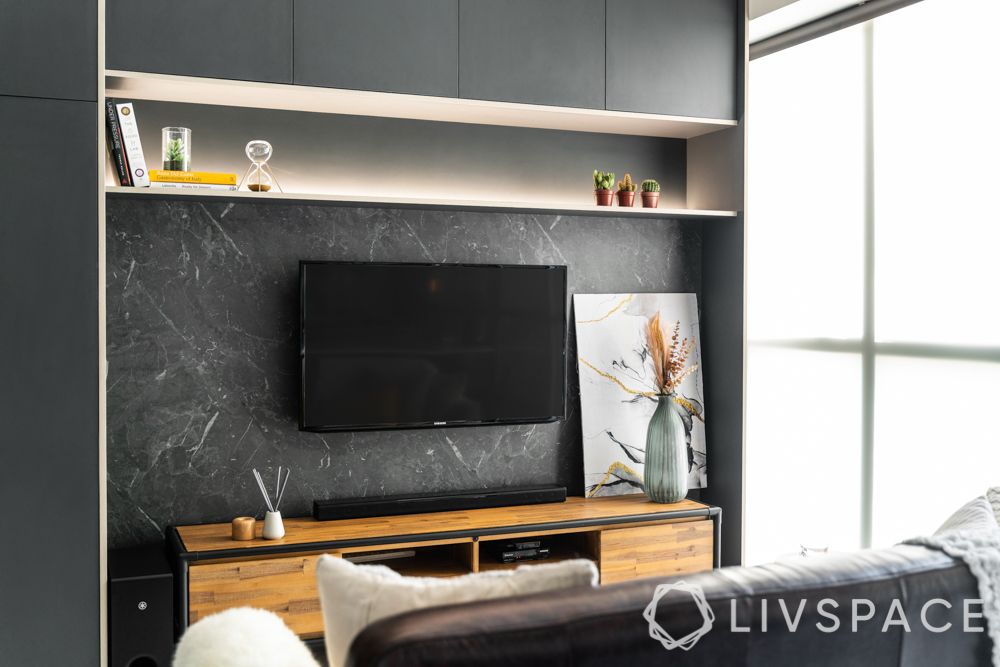 Who said laminate cannot be paired with marble? This marble-feel wall is a great alternative to the real thing and saves a lot of cost. Our designer has added a black beading on all sides of the TV console table to match it with the backdrop. Open cavities provide easy access to remotes and joysticks.
Wall mounted TV consoles
#7: Industrial style TV console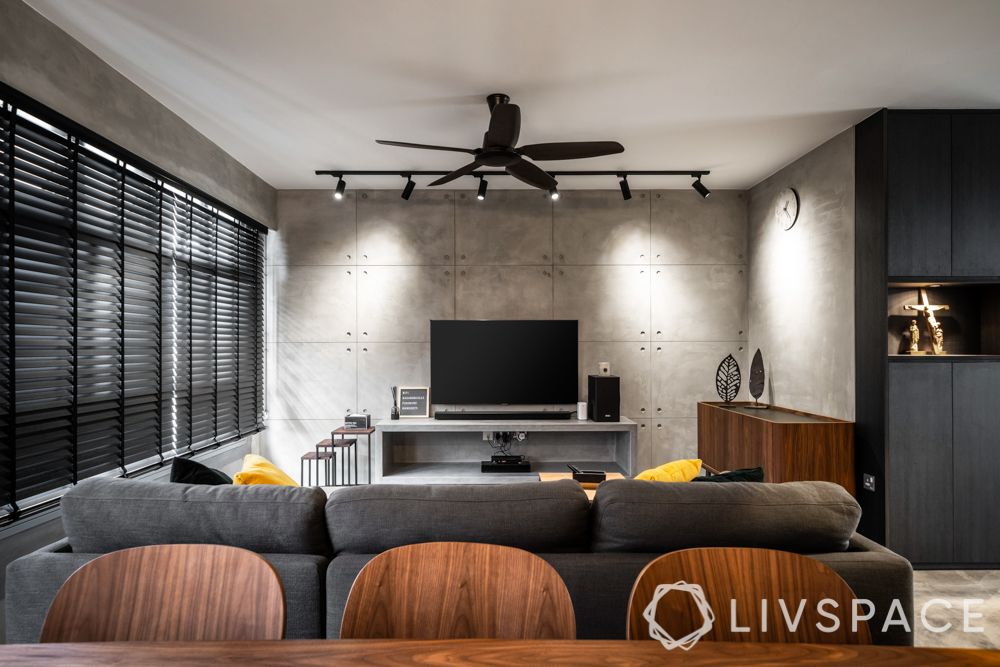 This one's one of our favourite TV console designs out there. It's like a hollow, rectangular box that's mounted on the wall. Although it is finished in laminate, it looks like a part of the industrial theme of this house. With the backdrop of cement screed walls, this grey TV console design has our heart!
Check this out for more details about this BTO: 4 Reasons Why This 5-Room BTO Design Won an Award.
#8: Sleek wall mounted TV console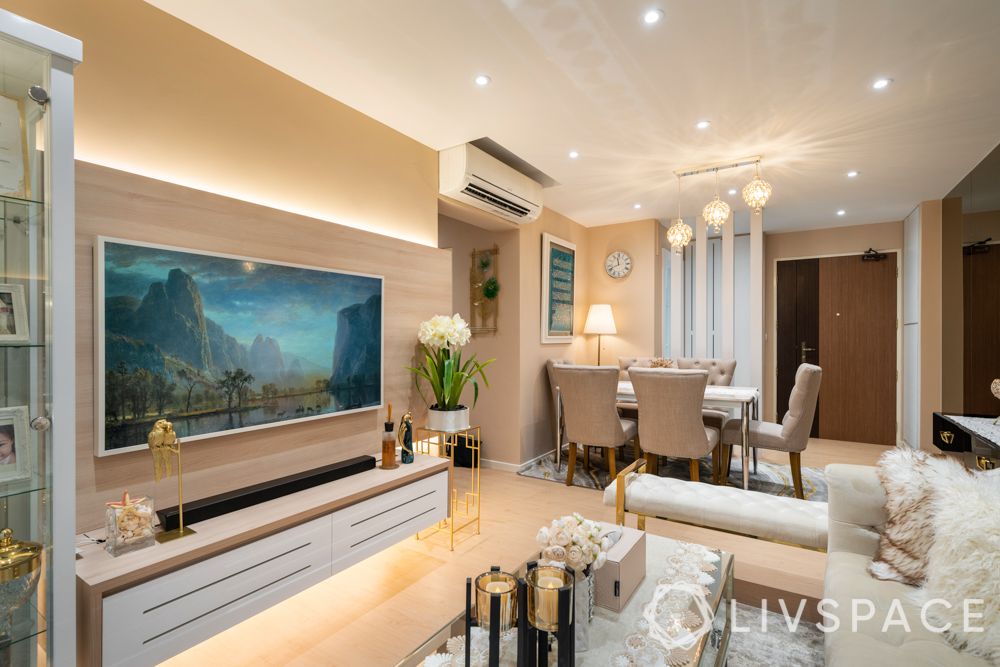 This HDB resale flat has an elegant design that is unique in its own way. You can spot lots of recessed lights, pendants, floor lamps and ambient lighting here. One of the standout features of this living room here is the compact wall mounted TV console design. Since the centre table is slightly big, it makes sense to not occupy more floor space by placing a TV console there. Hence, our designer has added a sleek unit with two big drawers for storage.
#9: Wall-to-wall Console with drawers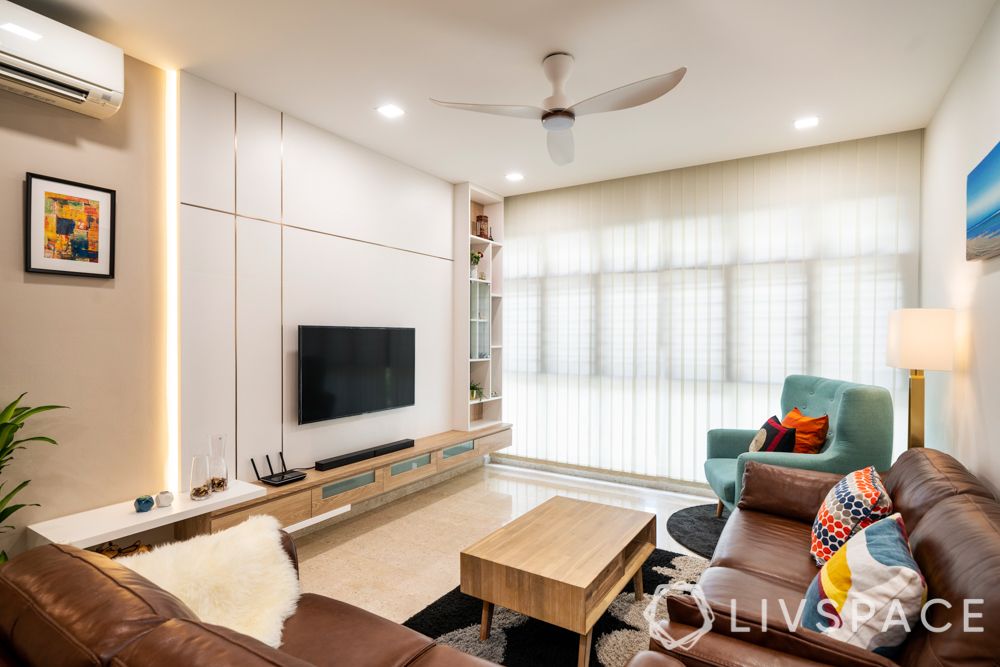 Who does not like a little extra storage and when it comes without weighing down the look of a room, then it's a win-win. Just like this living room, where we've used almost the entire width of the wall to add a TV console. With drawers that have frosted glass panels, this TV unit is extended on both sides via a ledge and a display unit. Storage comes in style with this one!
#10: Minimal Console unit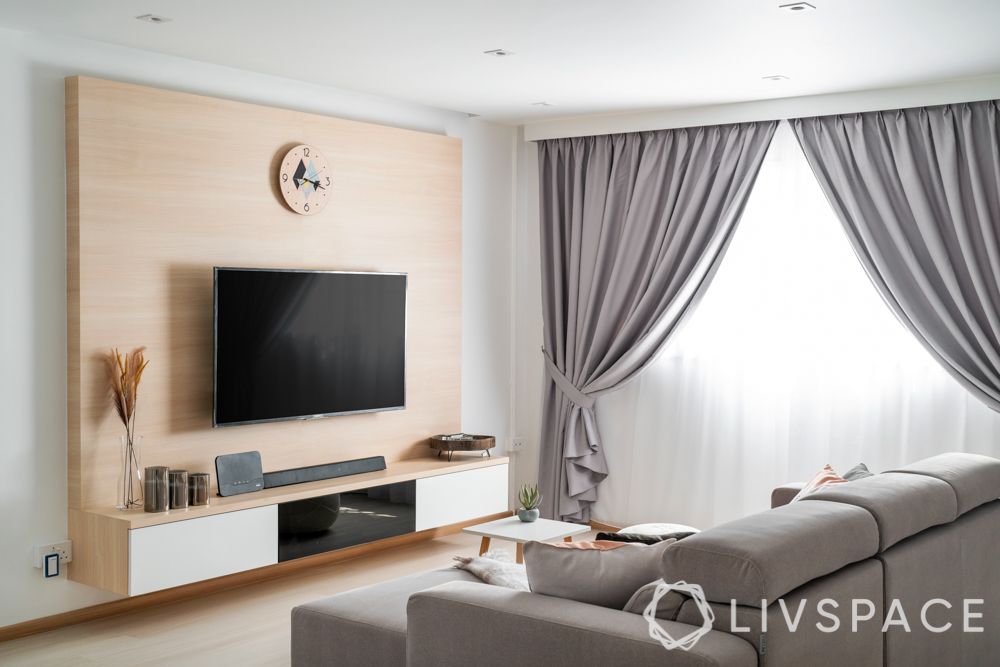 If you love minimal design, this TV console is going to inspire you. The clean lines and no-fuss look of this unit has us floored. It is sleek enough to occupy limited space and has ample surface and storage space.
Now that we've given you an array of TV console designs to choose from, take a look at our guide to designing your living room: What are the 6 Essentials of a Good Living Room Design.
Send in your thoughts and suggestions to editor.sg@livspace.com.