We've been through a lot this year, but that did not stop us from designing some amazing homes in Singapore. As most homeowners asked for minimal, space-saving designs, we delivered exactly what they asked for. Ideas for small house interior design are aplenty and here, we've compiled a list of the best ones that you can steal for your home renovation. From space-saving furniture to hacks for creating more storage, we have it all.
Take a look at the best compact home design ideas!
#1: Multipurpose furniture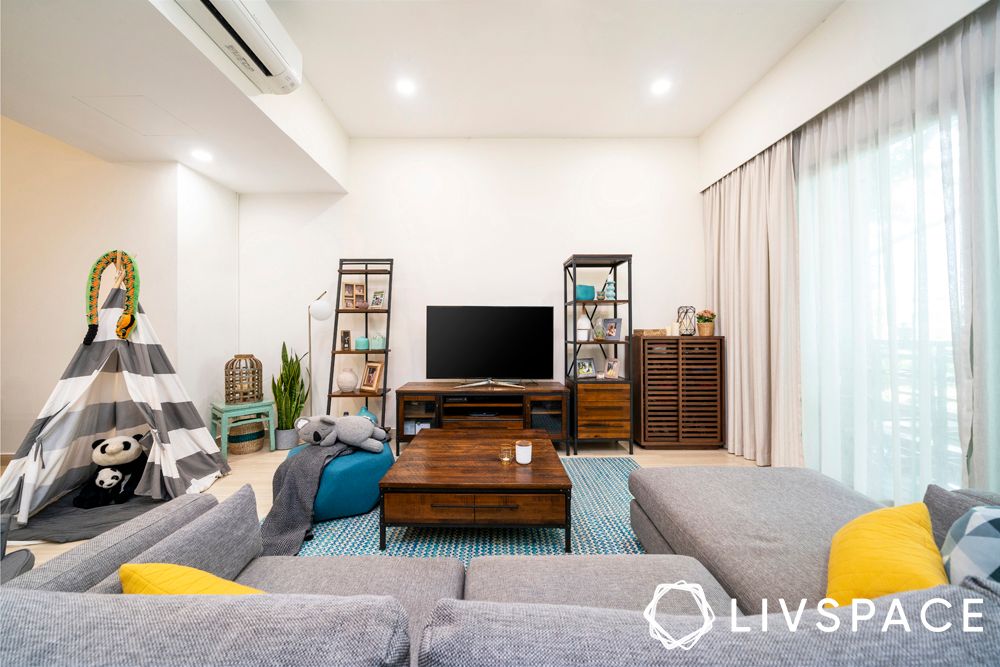 When dealing with small spaces, we often tend to skimp out on furniture that we might actually need in the long run. Like this coffee table right here. What's a living room without a centre table, right? But it's win-win if you can incorporate storage within the table to make the most of it. Instead of choosing a hollow table design, we suggest you pick something like this, that has drawers for storage. We also love the multipurpose display racks which come with drawers at the bottom.
Read more about this home here: This 3-Room Condo is Neat and Flaunts Pretty Colourful Accents.
#2: Study table attached to the bed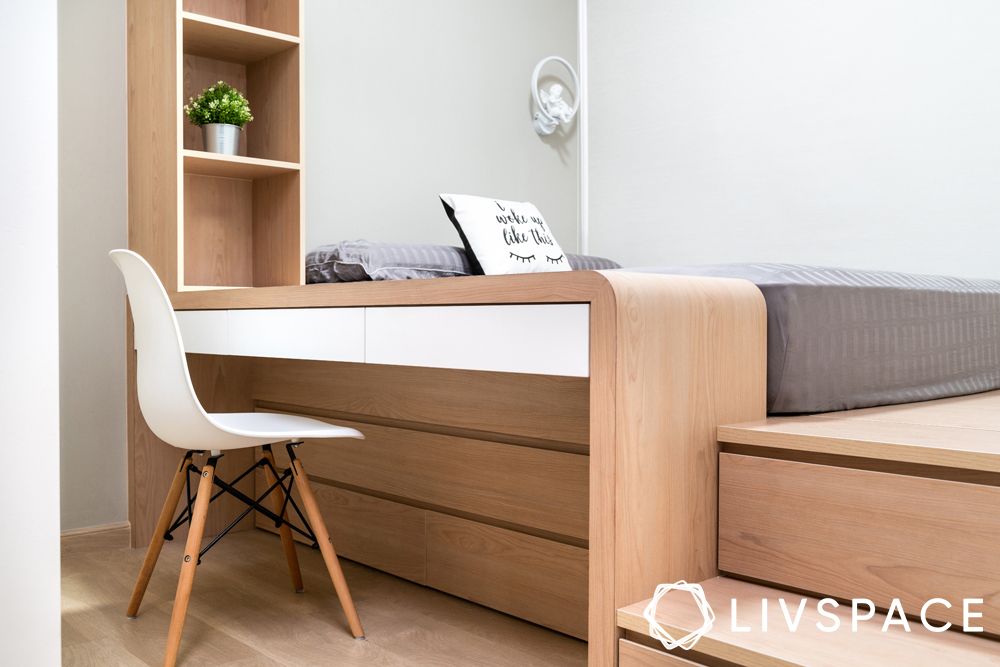 Sometimes, a modern and minimal home design is not about scaling down and keeping decor to the bare minimum. This bedroom features a platform bed with a study table attached to it. And not just that, there is hidden storage below the desk, stairs and along the window. So, it's a complete package when it comes to small house interior design and we have no complaints!
Check out other space-saving ideas from this home here: Designing a Compact Home? You Need to Look at This Smart 55sqm Home Design.
#3: Converting dead spaces into usable spaces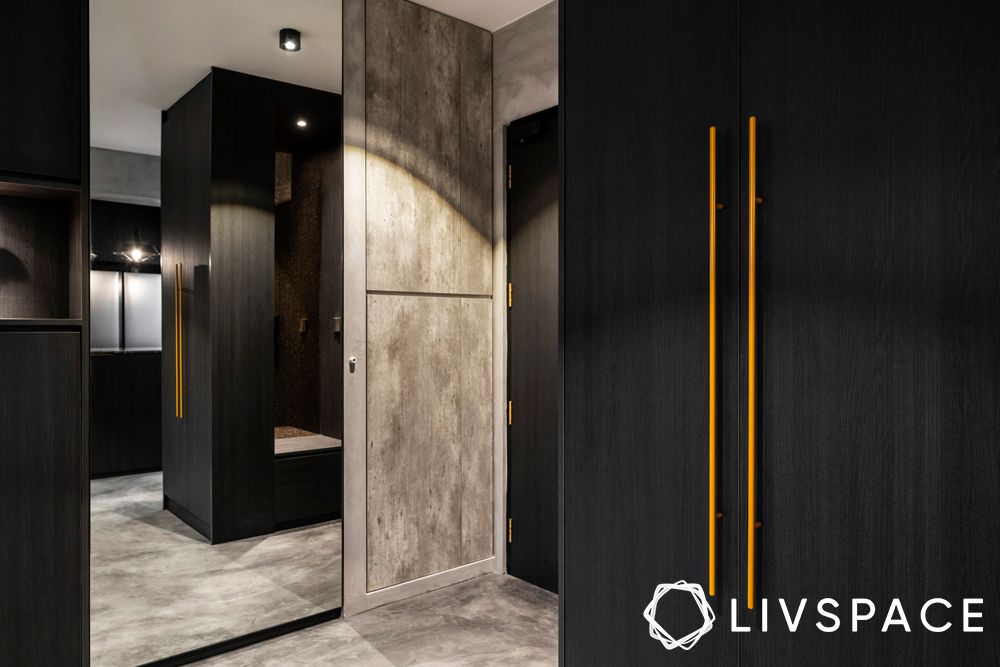 Have you ever thought about what all you can do with your foyer, other than just placing a shoe rack or a seat? You can convert that passage into a full-blown storage area for yourself. This award-winning HDB BTO teaches us how. Storage requirements of a family are a dynamic property; it changes depending on your plan for the future. The storage unit in the entryway that also serves as a divider between the foyer and kitchen, is an example of how storage can be added smartly.
#4: Concealed storage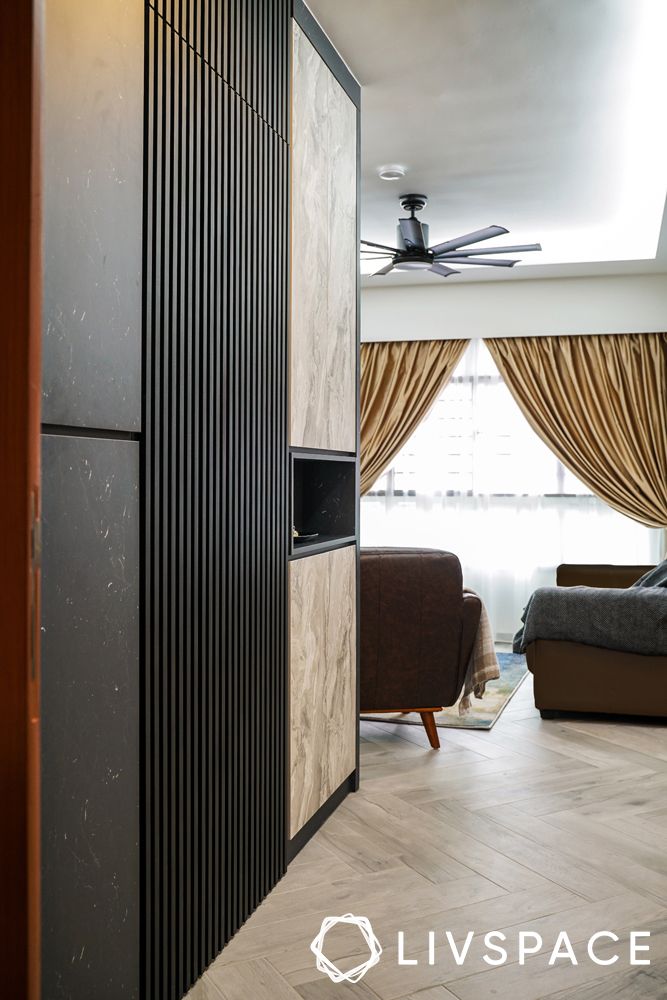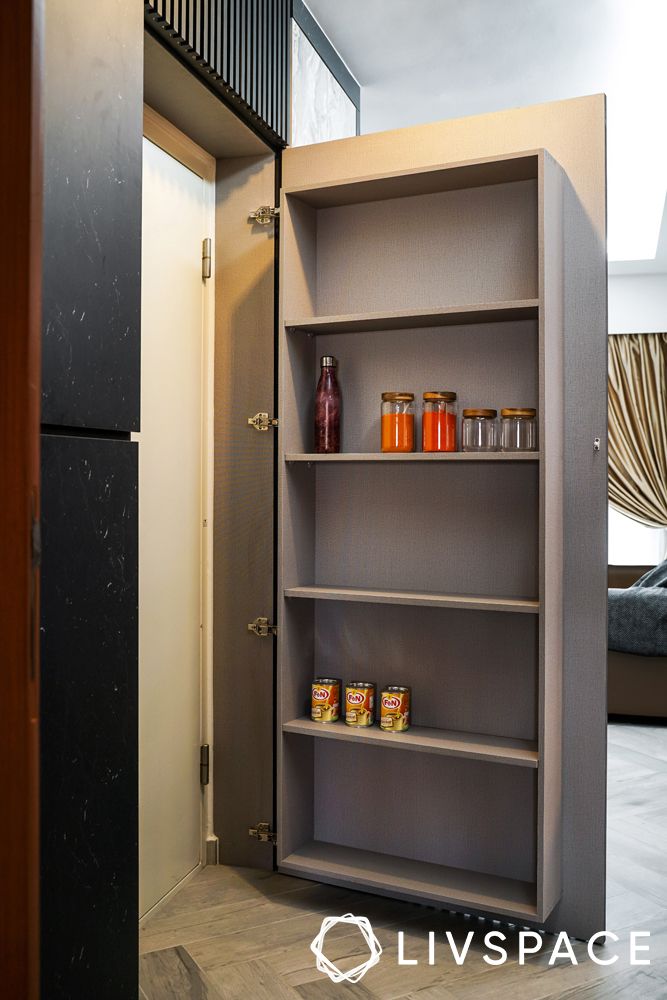 An absolute winner in this list of space-saving solutions for homes—concealed storage! Yes, you can never go wrong with this if your designer identifies the right space for this in your HDB or condo. In this clever idea, you can spot hidden storage behind fluted panels in the foyer. It is ideal for bomb shelters where you can add these shelves to store extra things and miscellaneous items. It is well designed as it maximises the foyer space, which would otherwise be wasted space. Also, it camouflages the door that leads into the bomb shelter.
Check out this BTO here: This Small Apartment Is Designed to Be a Maximalist's Dream.
#5: Headboard wall storage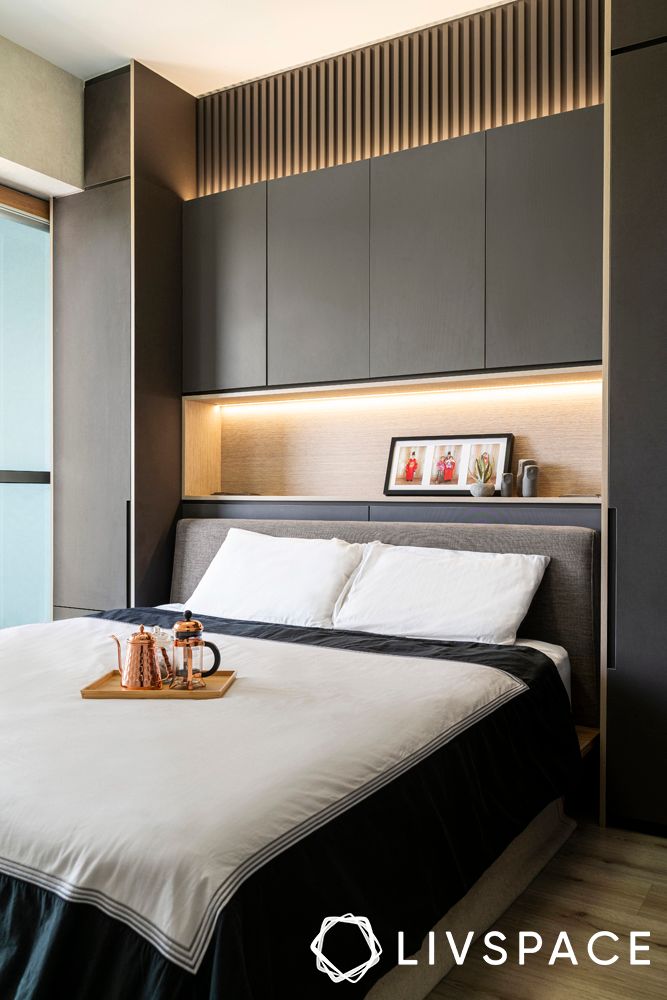 Did you think you cannot stack your bedroom with storage without making it look like it's toppling over you? Well, we're about to change your mind! If you're dealing with a compact bedroom and have a lot of things to store, you have to use your headboard wall for storage. A clever way to do it is to add sleek cabinets on top of the bed to keep extra pillows and other essentials. Merge it with the rest of your bedroom design and you will not even notice it!
Read more about space-saving ideas for small house interior design here: Here are the Best Design Features of This 3-room Condo.
#6: Platform bed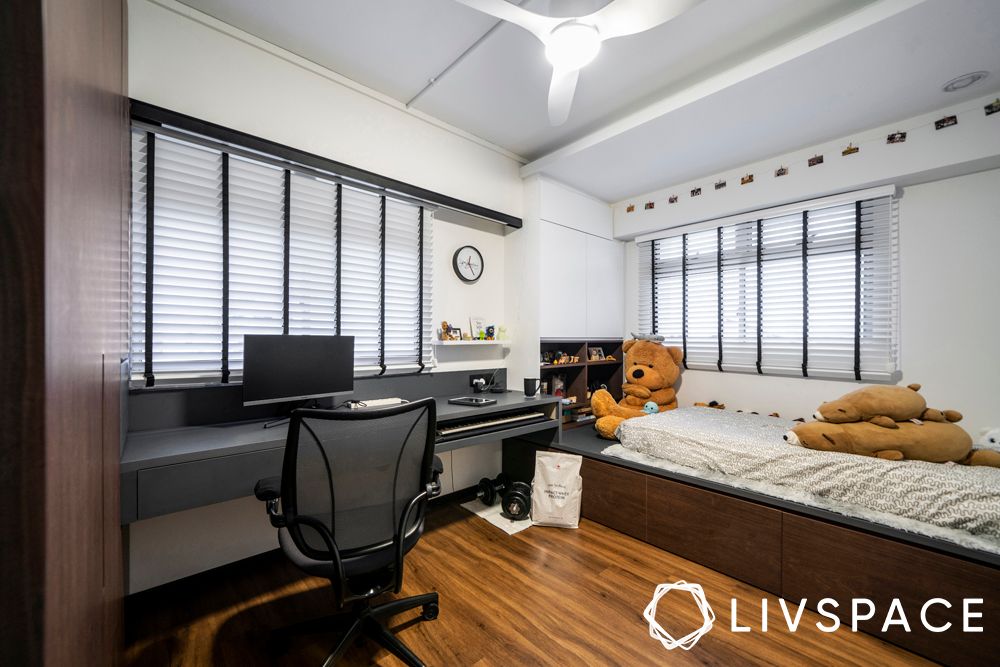 Last but not the least—platform beds—are the best bet for a small bedroom where you don't necessarily need a proper bed frame. These beds usually have storage underneath them so that you can keep all your linen and other items comfortably. They look very cosy and are ideal for guest or kid's bedrooms.
Check out this stunning HDB with great ideas: The Reason Behind These Smiles is their Newly Renovated HDB.
These were our top picks for compact homes from 2020. We hope you took notes! Check out the best of Livspace Homes from this year: Here are the Top 10 Homes That We Designed and You Loved in 2020!
Send in your comments and suggestions to editor.sg@livspace.com.