Homeowner Daphne Lee  took some time to consider all her options before deciding on this 2-room flexi flat in Bedok. When she finally got her keys, she sought an interior designer who could comprehend her particular demands and assist in creating a simple yet  modern home. Ricky Ng, one of the top Livspace designers, came up with a simple, decluttered, minimalist, and modern 2-room HDB design in Bedok North based on what Daphne wanted. Let's walk you through this home design and see how we designed it with just $10,000.
---
Who Livs here: Daphne Lee 
Location: Bedok North
Type of home: 2-room flexi HDB BTO
Design team: Interior Designer Ricky Ng and Business Manager Ava
Livspace service: Partial home renovation
Budget: $$ 
---
---


IN A NUTSHELL

Brief
To combine modern and traditional design styles in this 2-room HDB flat design in Bedok North, making the best use of limited space

What We Loved
The seamless storage unit in the bedroom

Look Out For
– The pink accent walls in living room and bedroom 
– The ideal use of furniture to maximise utility

Biggest Indulgence
Maintaining the interior design symmetry in a compact home


We Designed This Modern Living Room Space With Vivid Colours and Minimal Furniture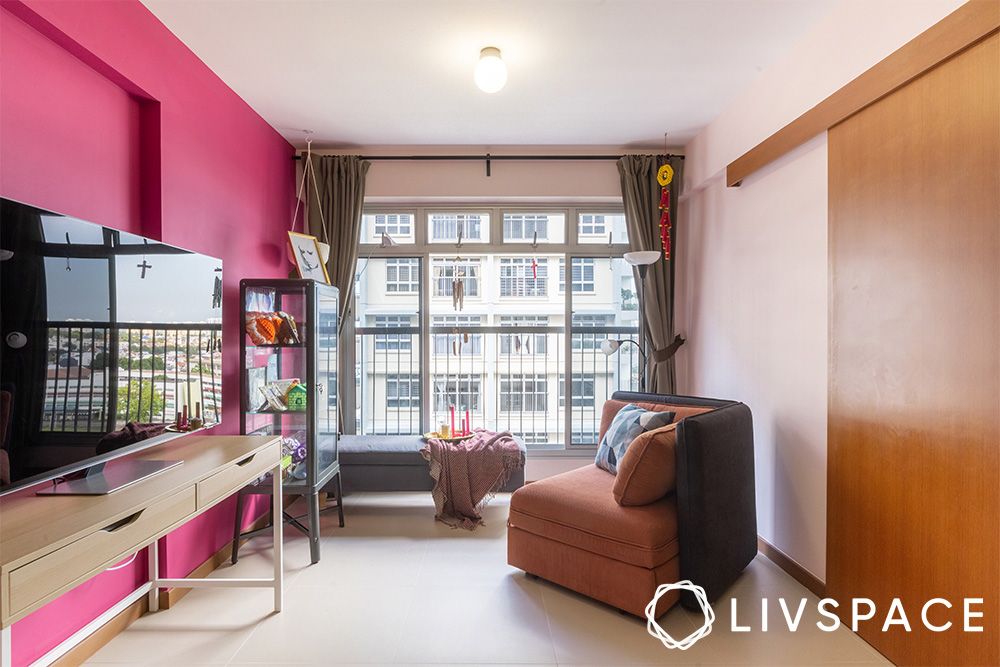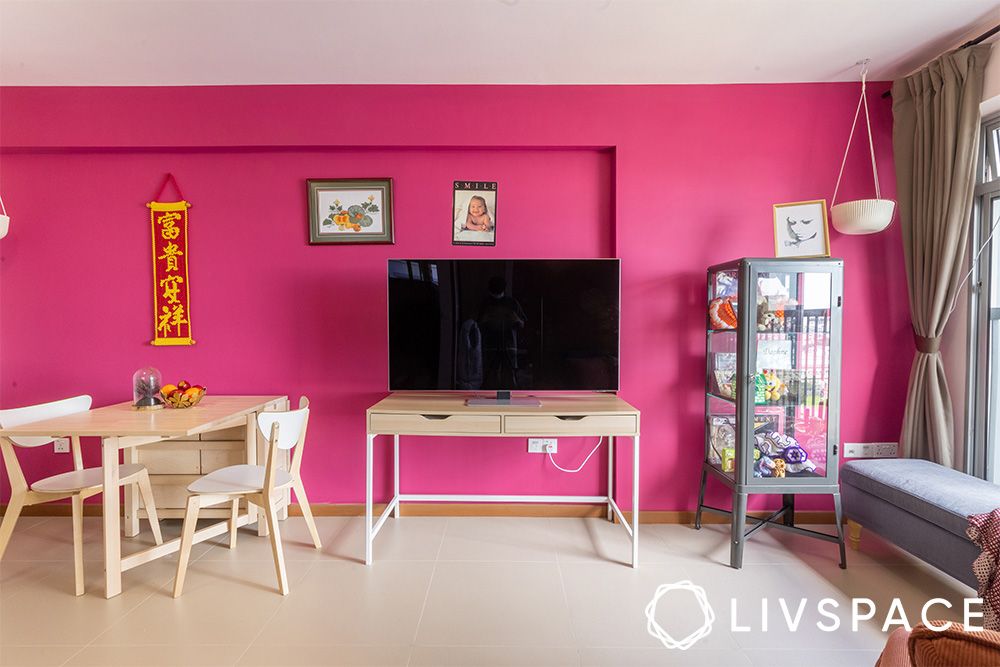 The living area in this HDB interior design in Bedok North, Singapore is well-lit, thanks to the full-length window. The walls of the living room are neutrally-coloured except this one pink accent wall. This wall colour has all our heart and it elevates the design quotient of this room single-handedly. The room has minimal furniture, that is a two seater sofa and a bench from IKEA in shades of brown and grey. The TV is placed on a simple wooden TV unit with two drawers for storage. There is a small storage unit placed next to the TV unit as well. 
The dining room in this HDB flat design in Bedok North shares the same space as the living room. The dining area has a two seater wooden dining table which is a completely practical choice for a small family. The accent wall has a few paintings and a wall-hanger. 
Also read: This 72 sq. m. HDB Has Seamless Storage in Almost Every Room
We Created a Parallel Kitchen to Make the Maximum Use of Space in This HDB Flat design in Bedok North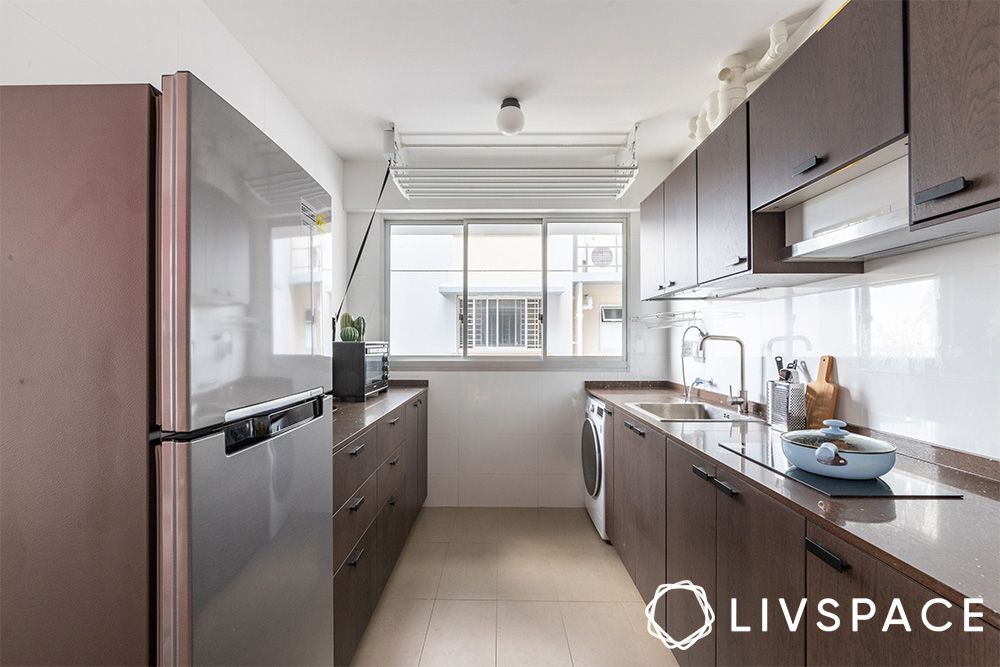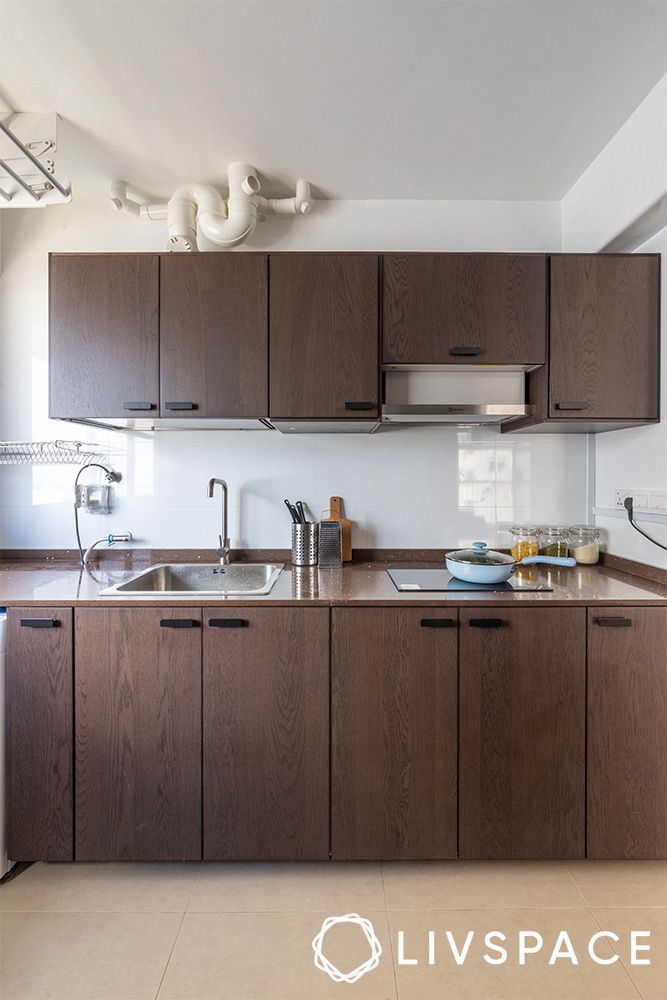 This HDB BTO flat interior design in Bedok North incorporates a parallel-shaped kitchen to make the maximum use of the available space. It allows the homeowner to have separate areas for washing, preparing food, and cooking. The burner and oven are situated nearby for convenience. The kitchen has maximum storage thanks to both upper and lower cabinets. The wooden cabinets are dark brown in colour with black handles keeping the look simple yet stylish at the same time.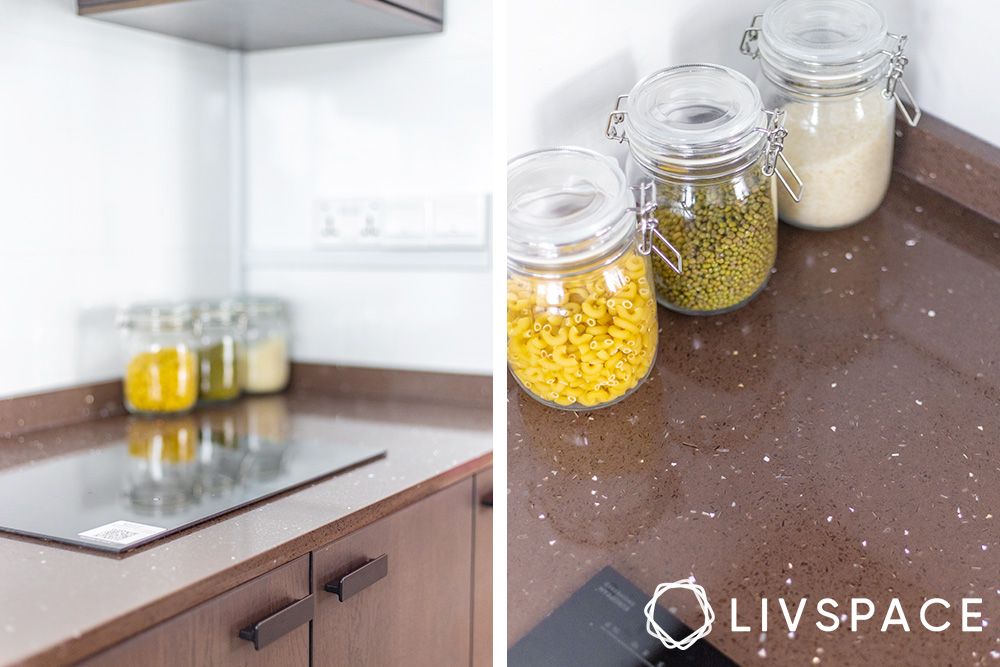 For the backsplash, Ricky settled on clean, white ceramic tiles. He then finished the look with brown quartz countertops that maintains the kitchen's sleek aesthetic.
Also read: 8 Popular Kitchen Cabinet Materials and Finishes: With Pros and Cons
This Compact Bedroom is Practically Complete With Seamless Storage and Natural Light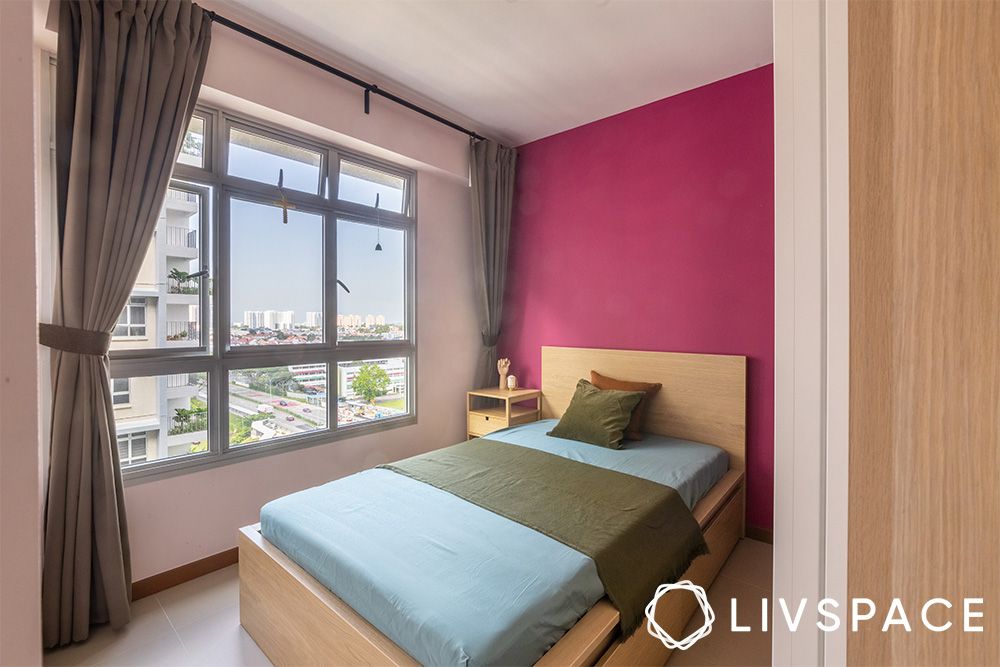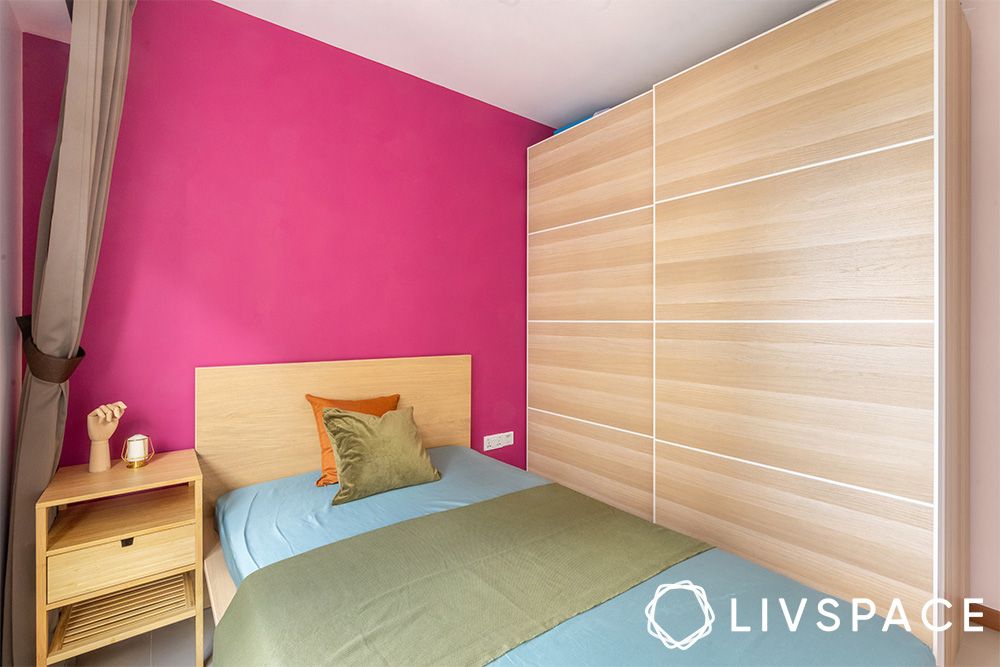 The most practical and comfortable area of the 2-room HDB design in Bedok North is the master bedroom. Ricky and the homeowners made the decision to bring in the vibrant pink colour in the master bedroom as well, just like the living room.  It is designed with built-in seamless sliding wardrobe for storage. The room also features a simple nightstand, and a big window to let both natural light and air flow in seamlessly. 
Also read: See How We Transformed An Old 4-room Resale HDB Interior Design at Fernvale Street Into A Sleek and Stylish Modern Home
What Is a 2-Room Flexi Flat?
If you know about the 2-room flexi scheme for the elderly, you know that HDB allows the elderly to purchase two-room apartments with a shorter lease. They were formerly known as Studio Apartments for elderly. They consist of one bedroom, one living room with a dining area, a kitchen, a bathroom, and a bomb shelter. Although it may sound like the ideal bachelor or bachelorette pad, the elderly are the main target demographic for these flats.
However, if we talk from the interior design perspective, this 2-room HDB design in Bedok North came with a number of spatial limitations. The size of the house is considerably small to incorporate the design elements into it. Moreover, the homeowner didn't want us to make drastic changes to the space. So, Livspace considered his request and worked majorly on the kitchen space, built-in wardrobe and paints.
How Can Livspace Help You With Your HDB Interior Design in Bedok North Singapore?
Enjoyed this modern HDB BTO flat interior design in Bedok North? Now, it's your turn to get beautiful interiors for your dream home. All you have to do is book a consultation with Livspace designers. With safety as our priority, you will get quality interiors. You can learn more about our COVID-19 safety protocols here.
Send in your thoughts and suggestions at editor.sg@livspace.com.