There's a lot more to a kitchen than its looks. When getting your kitchen renovated, you need to think of several things, starting with your kitchen cabinets! You should carefully select the materials and finishes for your kitchen cabinets, with several other factors in mind. For example, if you regularly cook heavy meals, waterproof and heat-resistant kitchen cabinet materials and finishes will serve you best. On the other hand, if you rarely whip up elaborate meals at home, you can lean towards more low-maintenance finishes, even if they are not waterproof.
Read on to find out the different kinds of kitchen cabinet materials popularly used in Singapore, and you can easily zero in on the ones that suit your home best.
Types of Materials for Kitchen Cabinets
#1: Plywood
Plywood has been a favoured kitchen cabinet material for a long time. Made of thin layers of wood veneer glued together, this engineered wood binds wood fibre sheets and resin to make a composite material.
Pros: Tensile strength, termite resistant
Cons: Expansion on heat, not waterproof
#2: Melamine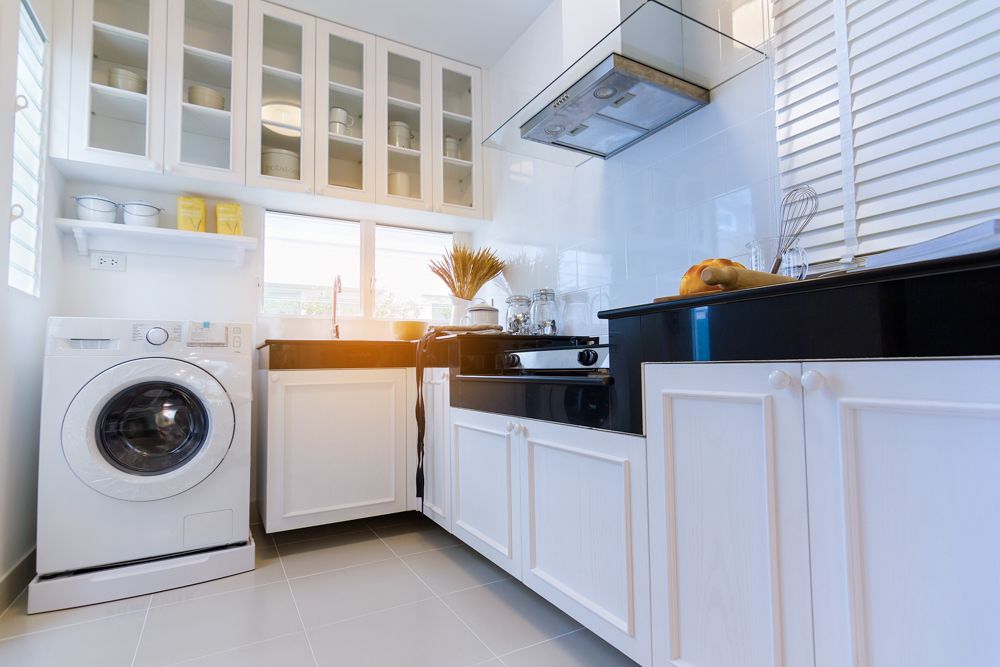 Melamine is another material commonly used to make kitchen cabinets. This material is favoured especially by budget-conscious homeowners, and not without reason! Made by heat-sealing an organic material like plywood, MDF or pressed wood, this material is chemically treated to be moisture resistant. However, you can mould this material more easily in a factory – so while it is a common choice for modular kitchens, you will hardly find it used in carpenter-made kitchens.
Pros: Resistant to heat, moisture and impact, budget-friendly and durable
Cons: Difficult to mould outside factories
#3: Particle Board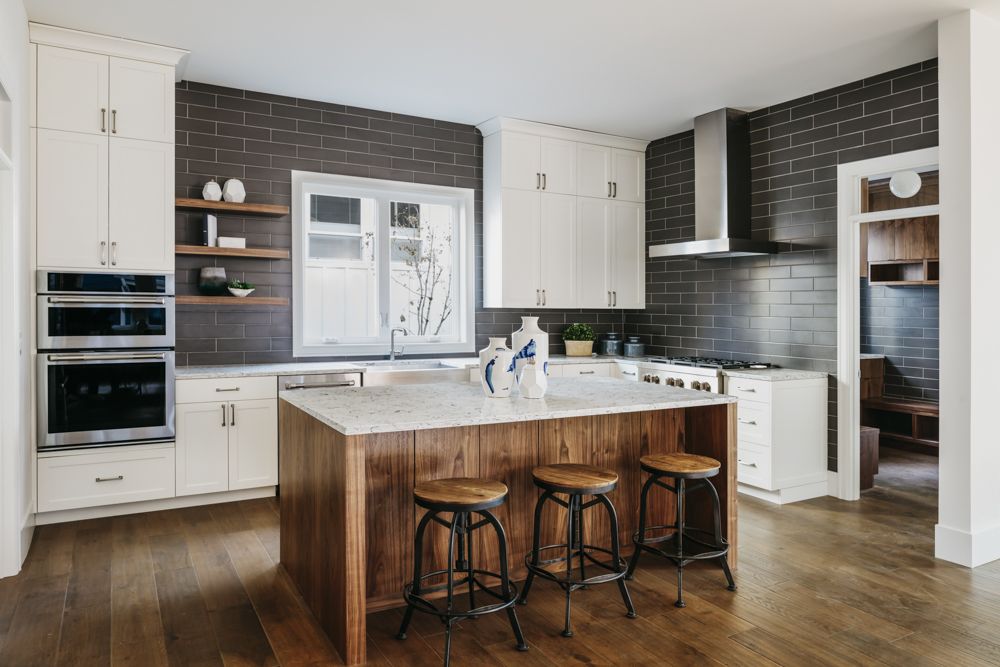 Particle board is another budget-friendly option you can consider for your kitchen cabinets. Made of wood chips and synthetic resin or a suitable binding agent, this material's low cost stems from the fact that it reuses lumber waste products. However, this material is also unforgiving. So if you want to craft your kitchen cabinets out of particle board, we'd suggest that you get it installed right in the very first try, and don't move it afterwards!
Pros: Lightweight and pocket-friendly
Cons: Not very durable, not water-resistant and hard to repair
#4: Marine Ply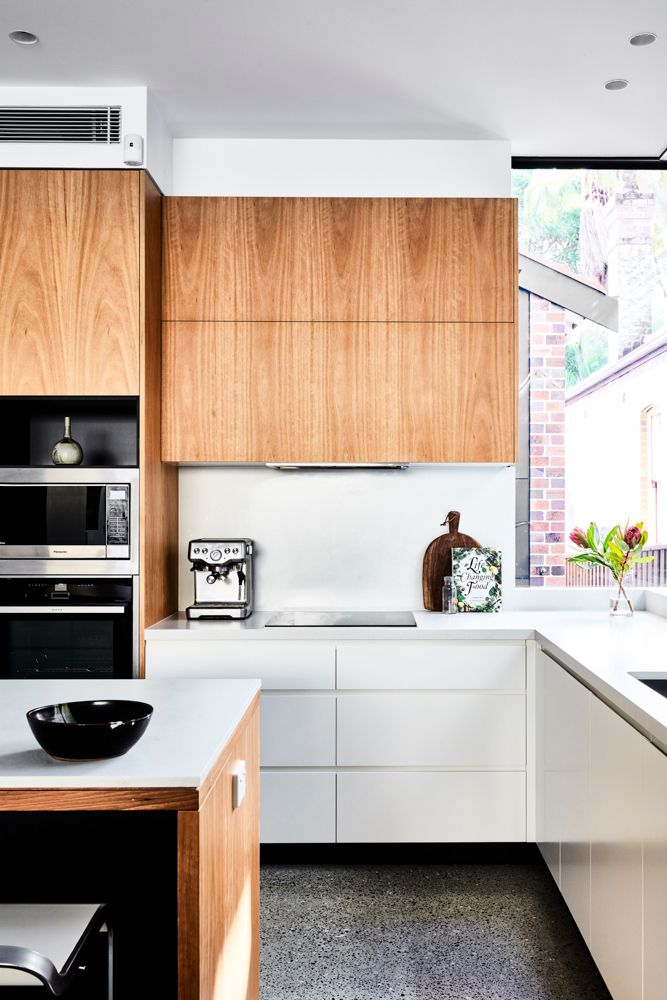 Marine plywood, as the name suggests, is simply a superior grade of plywood. It is commonly made from tropical hardwood. While it can be expensive compared to the other options, it is also water-resistant, even without any chemical treatments. If you regularly cook heavy meals for your family in the kitchen, choose marine plywood – your kitchen will thank you for this, even a decade down the line!
Pros: Water-resistant, resistant to common pests like termites and wood borers, and durable
Cons: On the expensive side
Types of Finishes for Kitchen Cabinets
#1: Laminate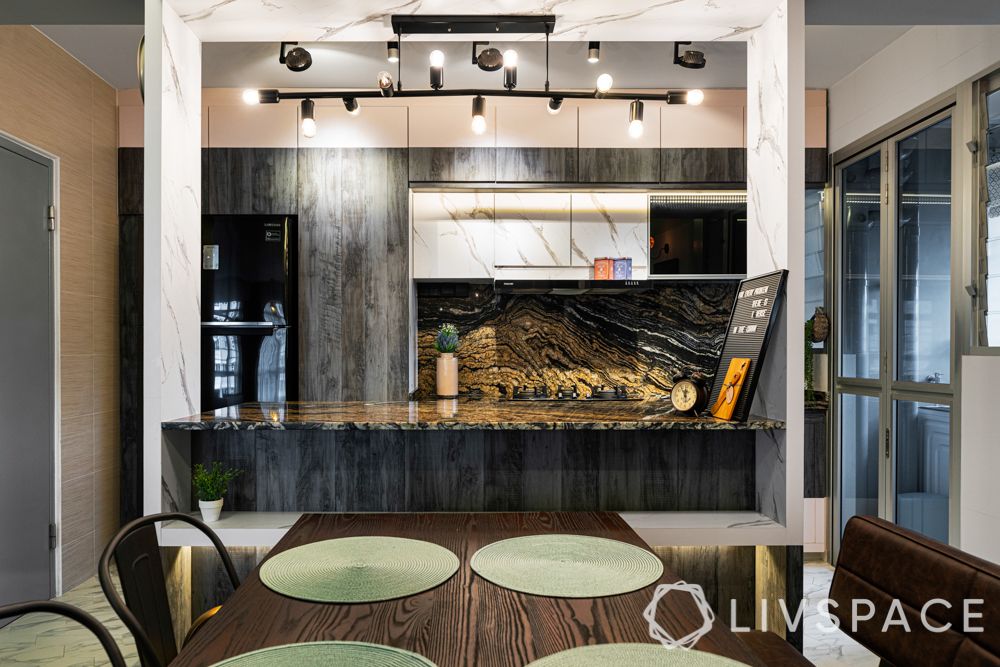 It's no wonder that the affordable laminate is the most popular choice for kitchen cabinets in Singapore. We love laminates for their moisture- and heat-resistant nature, as well as their durability. What's more, it's also a budget option!
You can choose from a wide range of colours for your laminate kitchen finishes. What's more, you can even choose between gloss and matte finishes. If you're looking for something that's easier to clean, however, we'd recommend glossy laminates over matte ones, since the latter has more surface area to trap dust.
Pros: Moisture- and heat-resistant and durable
Cons: Heat causes the finish to peel off
#2: Veneer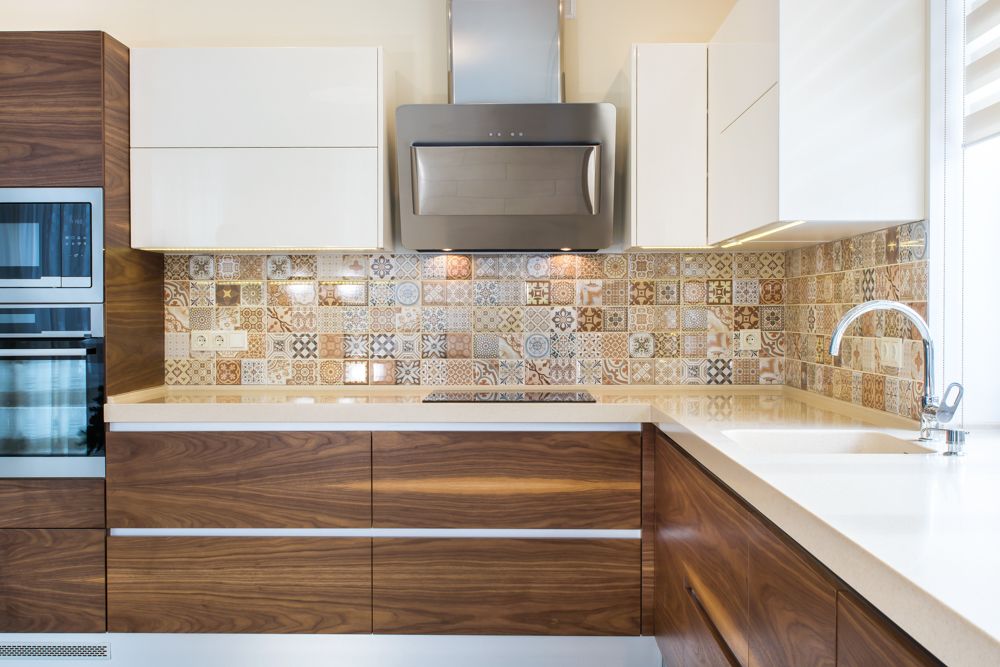 If you are looking for a wooden kitchen that looks as close to the real thing as possible, opt for veneer finishes! With this finish, your kitchen cabinets will take on the rich, warm appearance of wood, making the entire space look plush and luxurious. However, it's best to keep water away from your kitchen cabinets!
Pros: Visually appealing, increased strength and durability
Cons: Expensive, susceptible to damage by water, and develops cracks at high temperatures
#3: Acrylic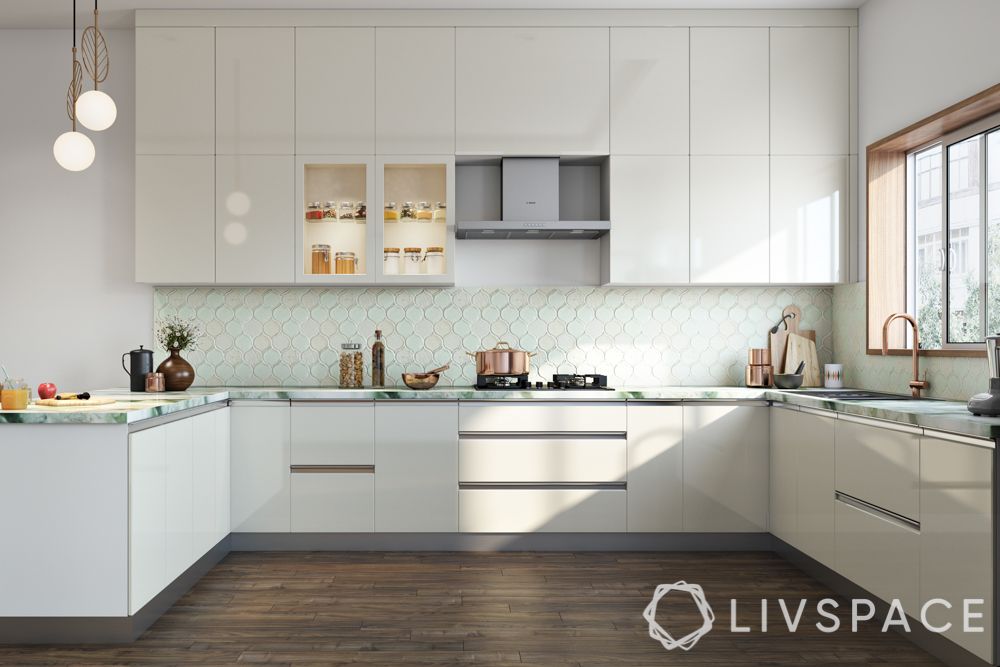 If you were planning to steer clear of acrylic finishes solely because of the cost factor, think again! This high-gloss finish is available in a variety of vibrant colors, and also retains its smooth and untarnished appearance over time. Its scratch-resistant property makes it the best fit for busy kitchens.
Pros: Scratch-resistant, easy to clean and waterproof
Cons: Vulnerable to heat damage and hard-to-maintain lustre
#4: PU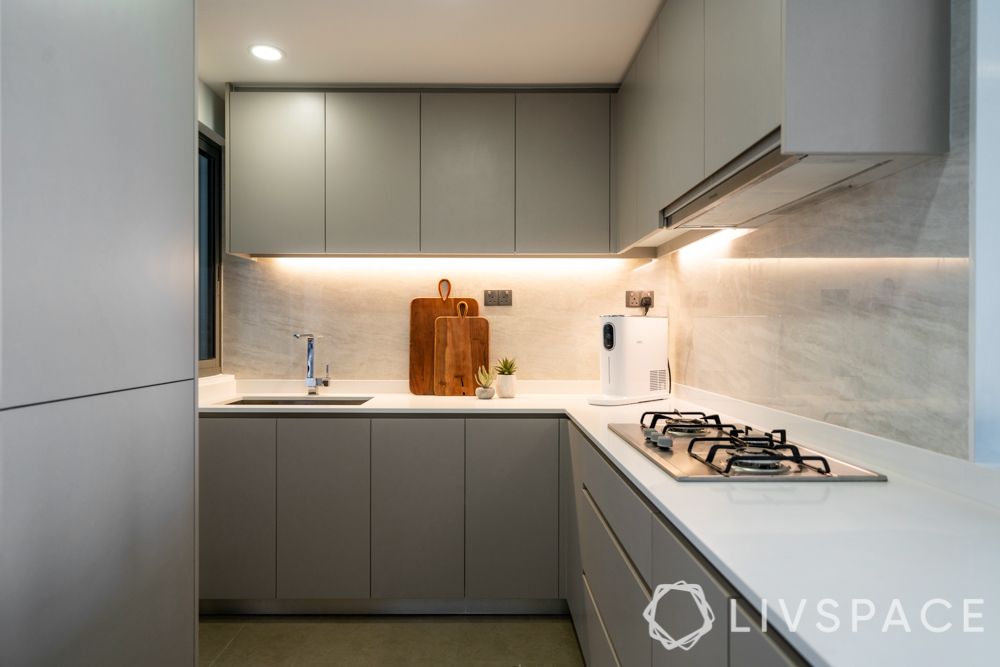 PU or polyurethane is an acrylic-based paint sprayed directly onto your kitchen cabinets. This high-gloss finish makes your kitchens look as elegant as can be. What's more, it allows you to choose from a wide variety of colours.The only downside – attaining this finish is a labour-intensive process, making it the most expensive finish of them all. But considering how seamless it makes your kitchen look, isn't it worth the expense? If you are considering a unique design for your kitchen, we recommend this high-end finish that keeps joint lines at bay and makes your kitchen look straight out of a picture.
Pros: Water, oil and grease resistant, prevents growth of fungus or mould when paired with wooden cabinets, easy to clean and maintain, and unaffected by weather conditions
Cons: Can bubble out or peel if subject to extreme heat and absorbs water on prolonged exposure
You can pair any material and finish together depending on your budget, style sensibility and functionality. Now that you have found the right material and finish for your kitchen, do you need some design inspiration? Check out these Stunning Kitchen Ideas for Your HDB.
Send in your comments and suggestions to editor.sg@livspace.com.