If there's one thing smaller than HDB flats in Singapore, it's the size of the kitchens that come with each home. Even if the kitchen doesn't strike you as small, chances are you'll notice it as soon as you start your renovation. Here's when you might realise that there's a lot more to a kitchen renovation than you initially thought. Given the small size of HDB and even condo kitchens, you need to make sure you're using the right kitchen cabinet design to suit your layout.
For the same reason, you'd need to know what kitchen cabinet types, materials, and finishes are available. What's more, by selecting the best material for kitchen cabinets, you can further improve the functionality and aesthetics of your space. So, let's get into it!
1. What Are the Different Types of Kitchen Cabinets?
#1: Stock Kitchen Cabinets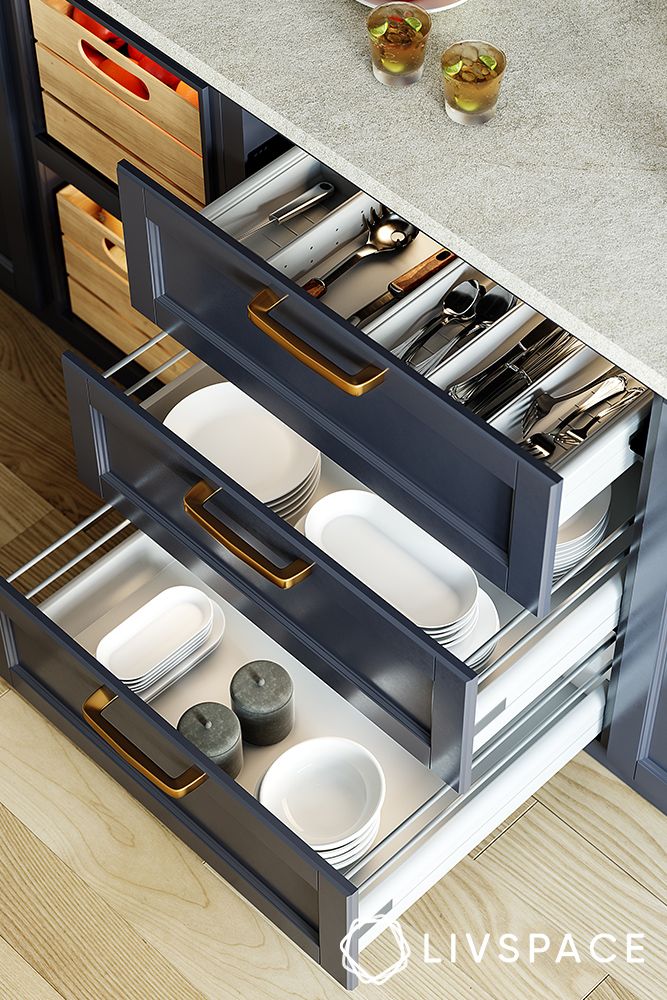 If you're looking for a simple ready-made kitchen cabinet in Singapore, a stock cabinet might be your best bet. Unlike customised cabinets, this standalone kitchen cabinet design can be more economical. Since they are mass produced, they are most likely faster to get your hands on – you can purchase them and get them ready for your TOP date! However, do make sure that these cabinets can fit into your existing space.
#2: Semi-Custom Kitchen Cabinets
For an HDB kitchen cabinet that offers a bit more flexibility than stock cabinets, go for semi-custom cabinets. With this kitchen cabinet design, you have the option of customising each unit to a certain extent.
While you might not have as much flexibility in design compared to fully custom units, you can certainly play around with the length and depth of each cabinet. This, in turn, gives you a bit more freedom in planning your kitchen cabinet design layout.
#3: Base Cabinets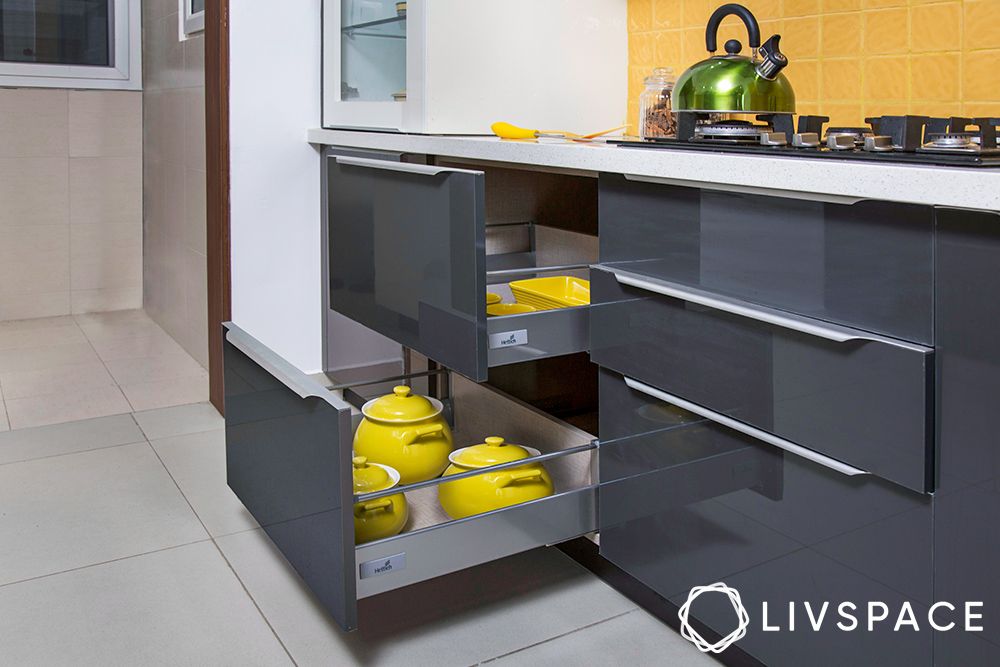 These types of kitchen cabinets are found right below your countertop. In terms of kitchen cabinet design, these cabinets are responsible for holding your worktop in place, making them an important feature.
Since they are supposed to hold a lot of counter weight, it's important to ensure they are sturdy and durable. Before you renovate your HDB BTO kitchen cabinet, ensure that you choose a hardy material for your base cabinets.
#4: Kitchen Top Cabinet/Wall Cabinets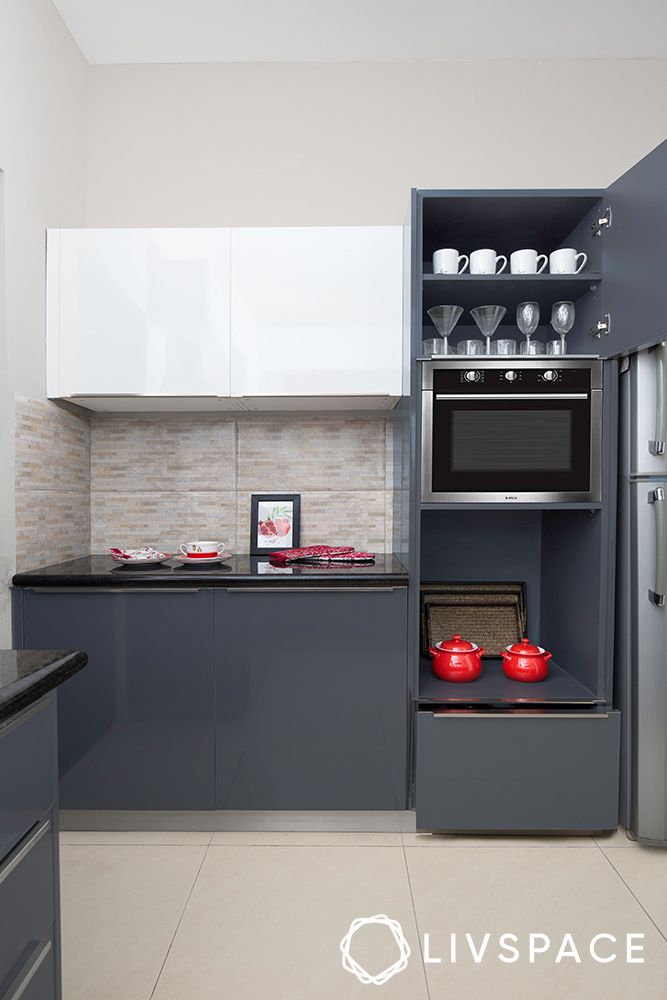 This kitchen cabinet design is the counterpart of base cabinets, as they are found at or above eye level. You can also use them for loft storage, depending on your kitchen cabinet design layout. Since these cabinets are typically wall-mounted, they're the first thing you see when you enter the kitchen.
Here's where you can experiment with different kitchen cabinet design ideas to create a stronger visual. Besides being the visual component of your kitchen, the kitchen top cabinet is also responsible for offering storage.
#5: Tall Cabinets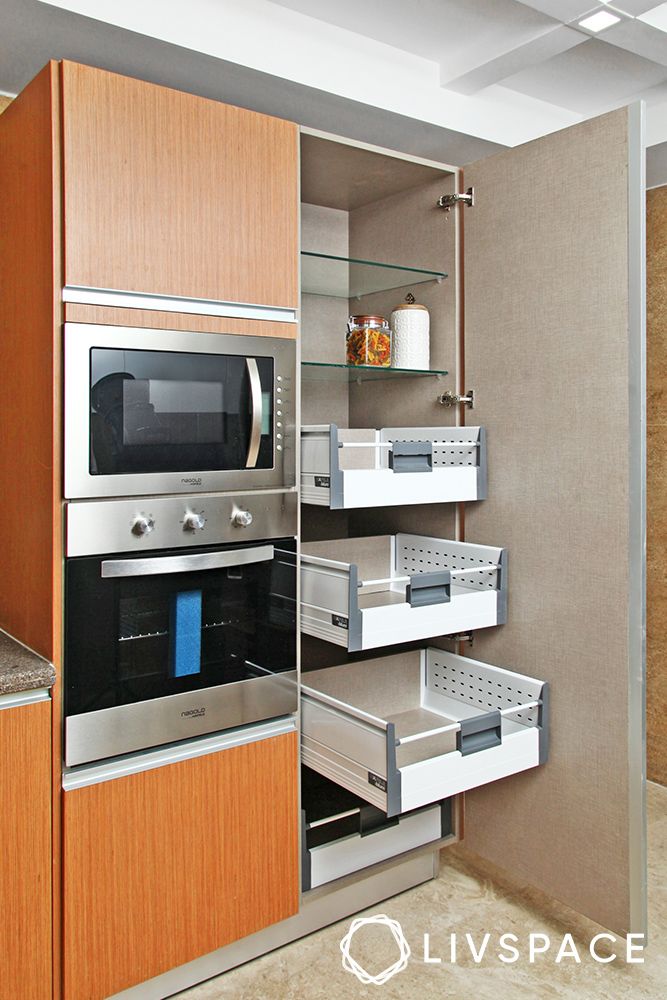 As the name suggests, this style of kitchen cabinet design is tall and storage-friendly. Also known as the pantry kitchen cabinet in Singapore, this storage unit offers a lot of space. You can use it to store appliances, groceries, and even cleaning supplies! However you plan to use it, it's sure to be a handy HDB kitchen cabinet addition.
2. Types of Material for Kitchen Cabinets
#1: Laminate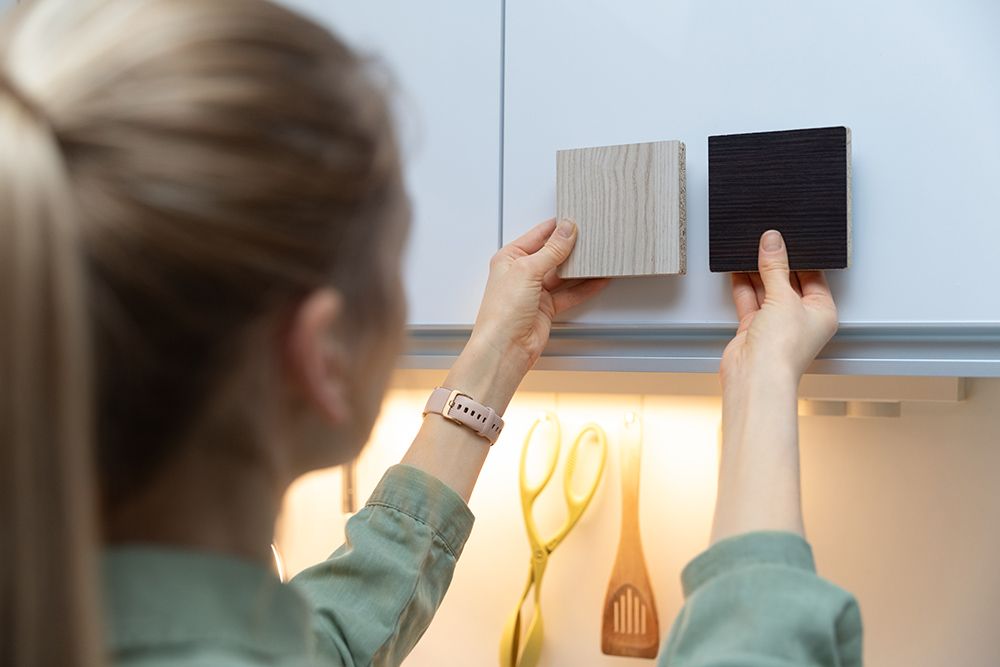 Since laminate is a considerably cost-effective material, it is commonly used in kitchen cabinet design. Similarly, due to the wide availability of colours, patterns, and finishes, they make a good choice as material dupes. With laminate boards, you can get the look of premium materials at a fraction of the cost.
Though they are widely available, be sure to get good quality laminate boards as cheaper options can risk quality. Ensure that they are well-sealed to avoid risking damage through wear and tear.
#2: Steel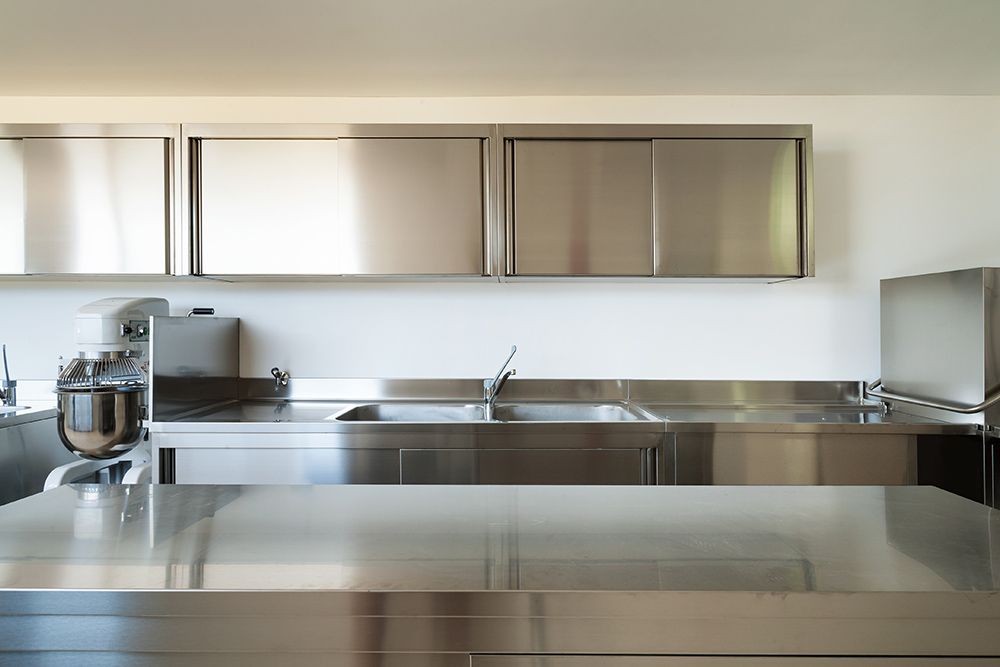 In the market for a sterile kitchen cabinet design? If yes, steel is a must-have material! Its smooth finish and lack of grout joints lend to its antibacterial properties, making it a great investment for hypoallergenic homeowners.
Though this type of cabinet material is more suited to commercial kitchen cabinet design, it can work just as well in HDBs and condo apartments. If you're looking to create a sleek, industrial-style look at home, consider using steel cabinets across your kitchen.
#3: Lacquer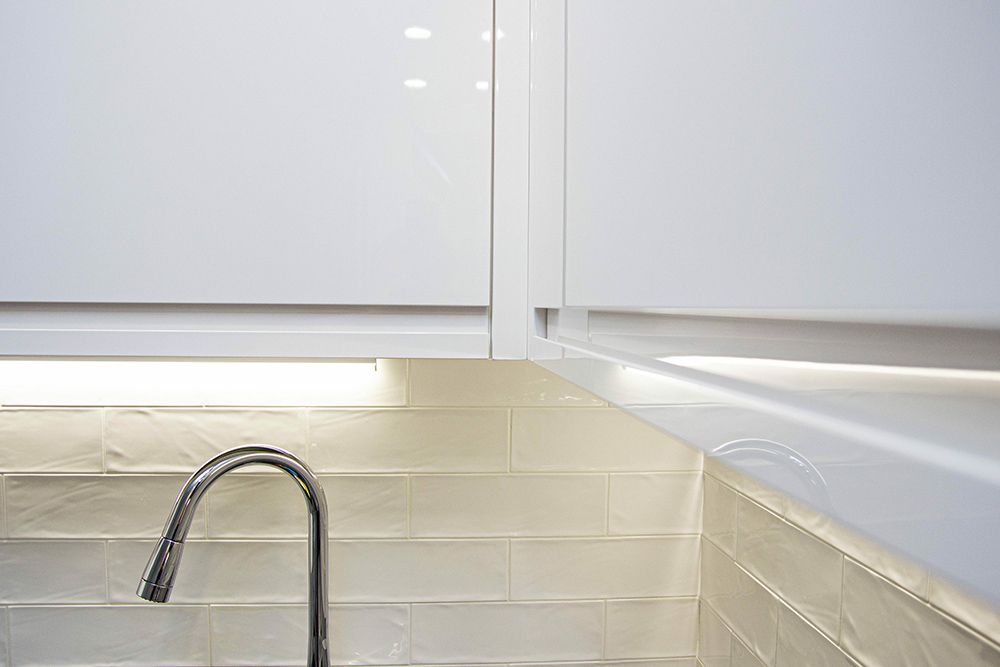 As a kitchen cabinet material, lacquer lends a glossy sheen to any kitchen cabinet design that uses it. Similar to laminate material for kitchen cabinets, lacquer is also available in a variety of designs and types. Given its smooth surface, this material for kitchen cabinets is relatively low maintenance and easy to clean.
#4: Wood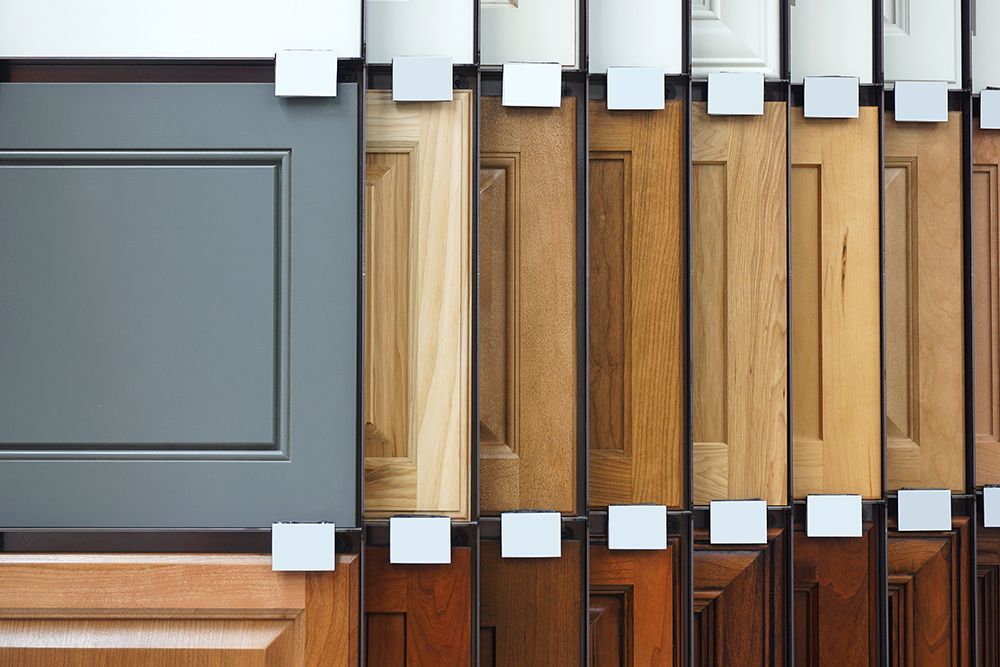 When you think of a water resistant material for kitchen cabinets, you might not list wood as one of the contenders. However, if you choose the right strain of wood, it can be just as water-resistant as synthetic kitchen cabinet materials.
Moreover, a kitchen cabinet design made of wood can even improve your resale value, as it is a durable material. Though wood comes with a fair list of advantages, do note that it can be an expensive investment for an HDB BTO kitchen cabinet.
3. How to Choose the Best Material for Kitchen Cabinets
With so many different kinds of kitchen cabinet materials popularly used in Singapore, finding the right match can be tricky. Use this handy guide to find the best material for kitchen cabinets for an affordable yet durable home.
#1: Durable Kitchen Cabinet Design Ideas Featuring Plywood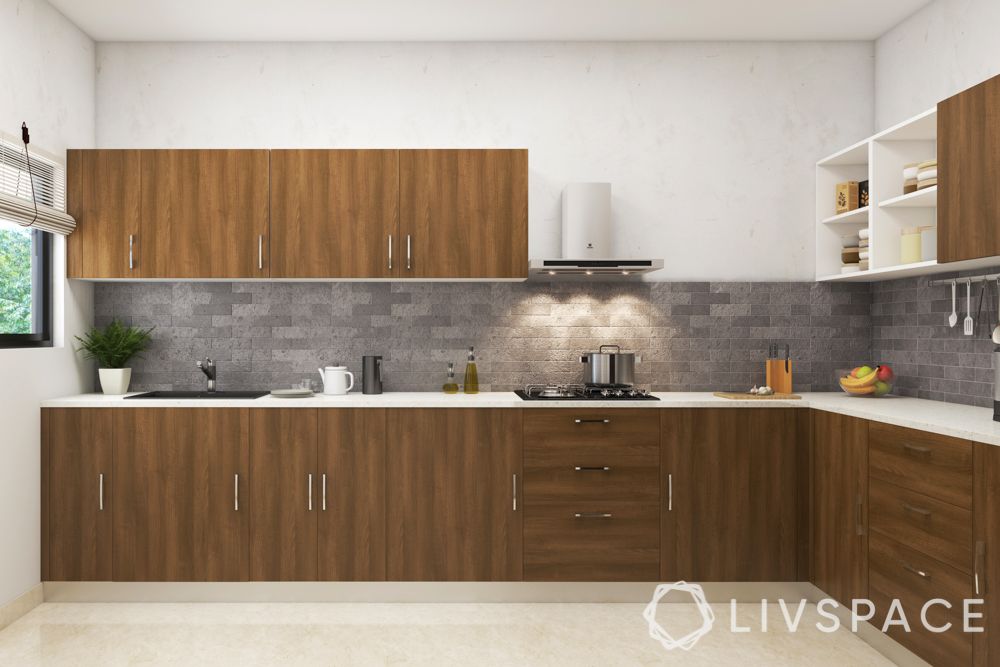 Plywood is a preferred material for kitchen cabinet design in most Singapore homes, owing to its affordability. In terms of construction, it's made up of thin layers of wood veneer glued together. Similarly, this common engineered wood binds wood fibre sheets and resin together, making a composite material.
Pros: Tensile strength, termite resistant
Cons: Expansion on heat, not waterproof
#2: Melamine Offers Quality Within Budget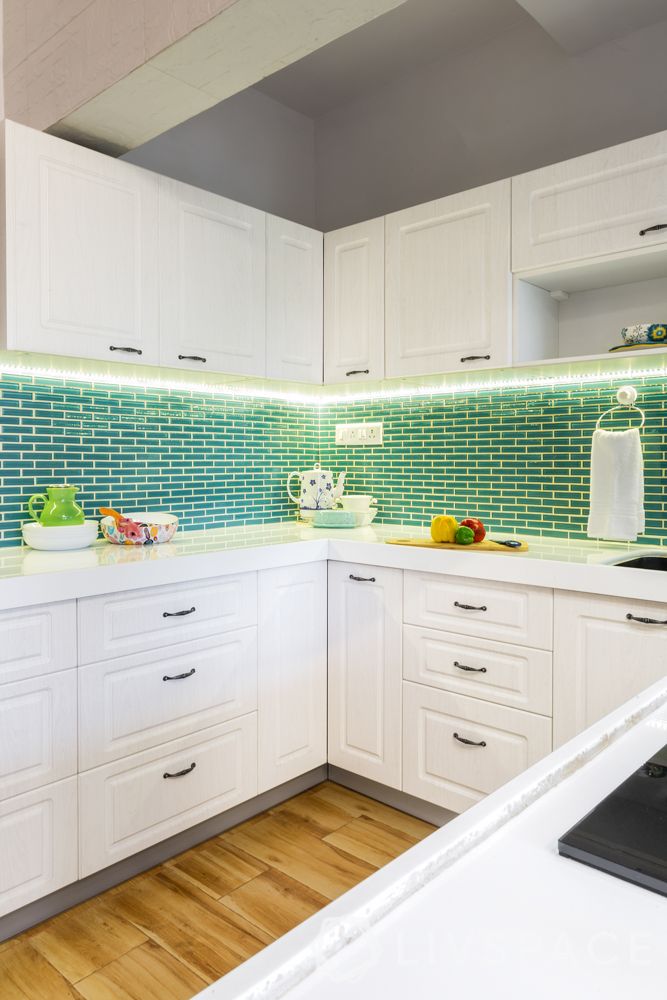 Ideal for budget-conscious homeowners, melamine has a lot to offer when it comes to your kitchen cabinet design. Made by heat-sealing materials like plywood, MDF, or pressed wood, this kitchen cabinet material is further chemically treated to be moisture-resistant.
Since melamine is easier to mould in a factory, it isn't as easily available in carpenter-made kitchens. So, if you're in search of this material for kitchen cabinets, consider buying the ready-made versions.
Pros: Resistant to heat, moisture and impact, budget-friendly and durable
Cons: Difficult to mould outside factories
#3: Choose Particle Board for Lightweight Kitchen Cabinets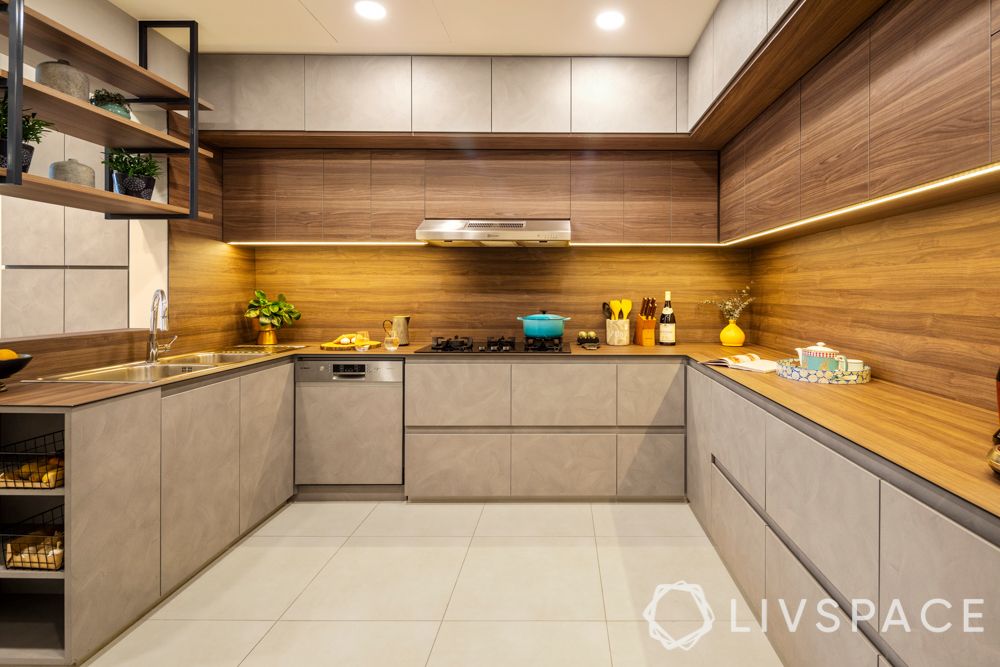 Particle board is another pocket-friendly option to consider for your kitchen cabinet design. Made of wood chips and synthetic resin or a suitable binding agent, this material's budget-friendly cost stems from the fact that it reuses waste lumber.
However, particle board has a huge disadvantage: it's not as durable as plywood or MDF. So, if you want to craft your kitchen cabinet design out of particle board, be sure to get it installed well. For the heavy-duty chefs out there, this kitchen cabinet material might not be the best choice for you.
Pros: Lightweight and pocket-friendly
Cons: Not very durable, not water-resistant and hard to repair
#4: In Need of Waterproof Kitchen Cabinets? Go With Marine Ply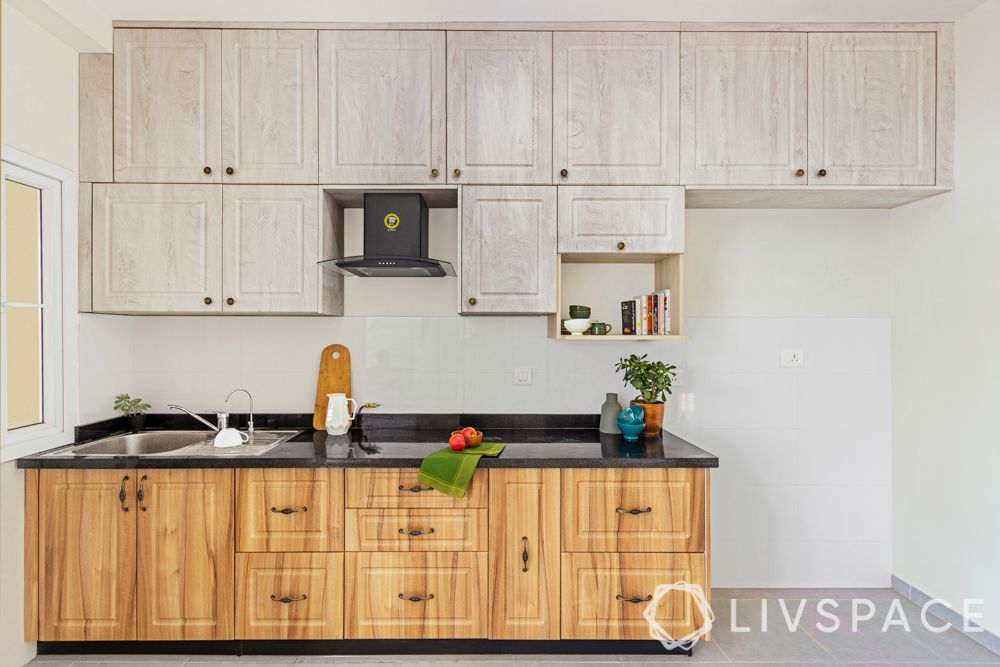 Marine plywood is simply a superior grade of plywood that can be used for your kitchen cabinet design. Commonly made from tropical hardwood, it can also be an expensive material compared to the others.
Moreover, it offers water-resistant qualities, even without any chemical treatments. Go for marine plywood if you regularly cook heavy meals for your family.
Pros: Water-resistant, resistant to common pests like termites and wood borers, and durable
Cons: On the expensive side
Bonus: How Do You Install Your Kitchen Cabinets?
After picking out the best material for your kitchen cabinet design, installation is next on the list. Here's where space-planning is of utmost importance to ensure you're making the most of a compact space.
For HDB flats or condo apartments that do not come with built-in kitchen cabinets, be sure to measure the space well.
First, measure the space from wall to wall to know the total area you have to work with.
Mark out areas where doors and windows may rest so that you know how much room to leave around these openings.
Take stock of the cabinet depth you require as bulky and deep cabinets can eat into your floor space, making the space feel more compact.
4. Which Finish Should You Pick For Your Kitchen Cabinet Design?
While the carcass of a kitchen cabinet is important, another factor that determines the durability of your kitchen cabinet material is the finish. Below are some of the preferred finishes for a kitchen cabinet design:
#1: Laminate Finish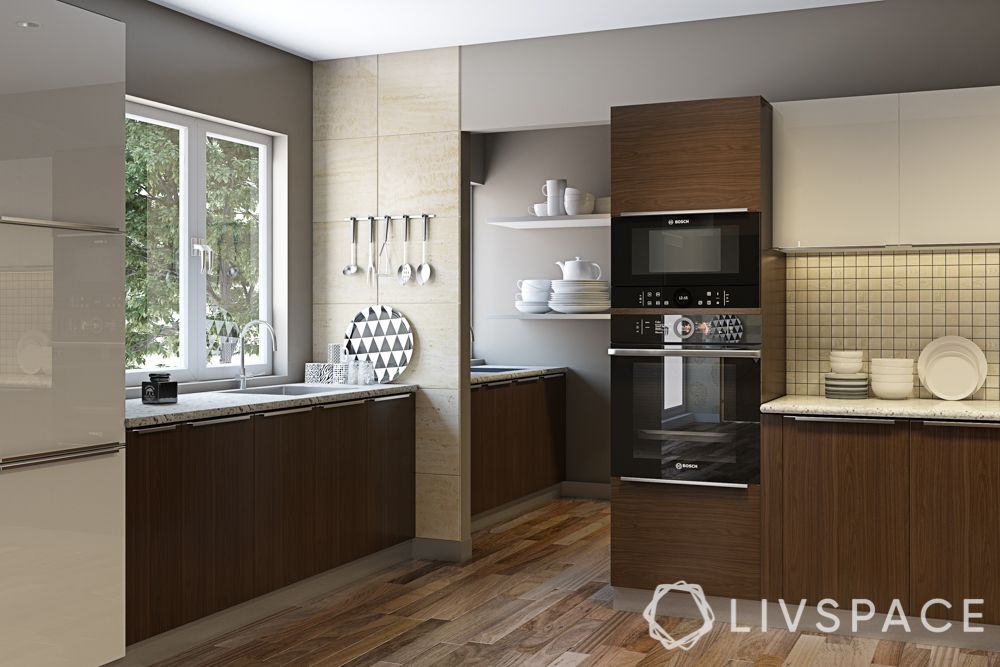 Laminate finishes are the most popular (and affordable) choice for Singapore kitchens. A laminate kitchen cabinet design is not only moisture- and heat-resistant, but is also fairly durable. Moreover, laminate kitchen cabinets are expansive in terms of colour and finishes (matte and glossy).
However, if you're looking for something that's easier to clean, go for glossy laminates over matte ones, as the latter has more surface area to trap dust.
Pros: Moisture- and heat-resistant and durable
Cons: High heat can cause the finish to peel off over time
#2: Veneer Finish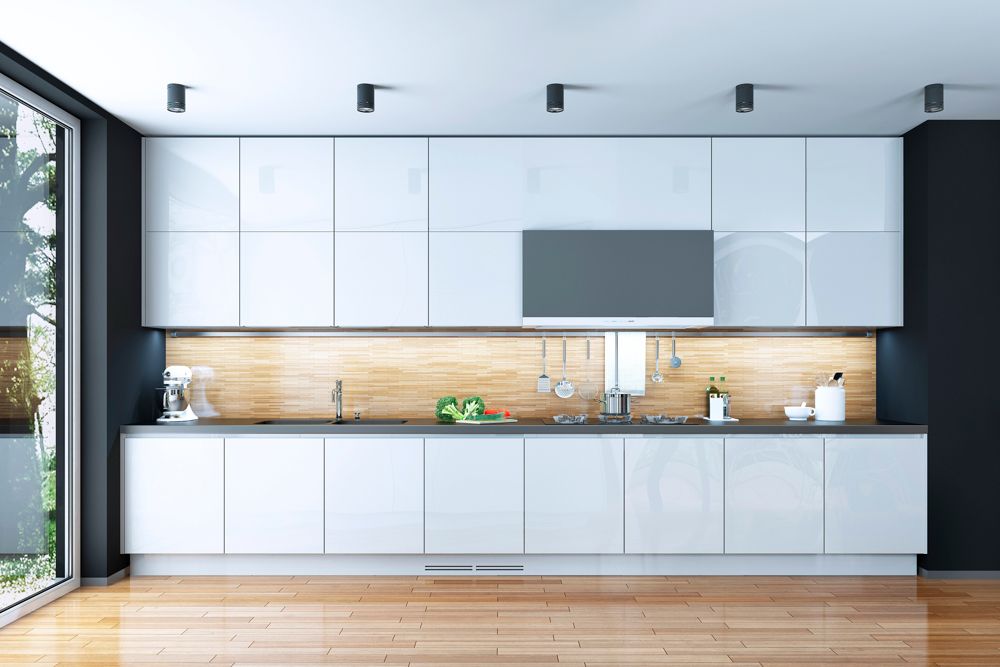 Looking for a wood-like kitchen cabinet design? Opt for veneer finishes! With this finish, your kitchen cabinet can take on the appearance of wood, making the entire space look plush and luxurious. However, a kitchen cabinet manufactured with veneer finish is best kept away from water.
Pros: Visually appealing, increased strength and durability
Cons: Expensive, susceptible to damage by water, and develops cracks at high temperatures
#3: Acrylic Finish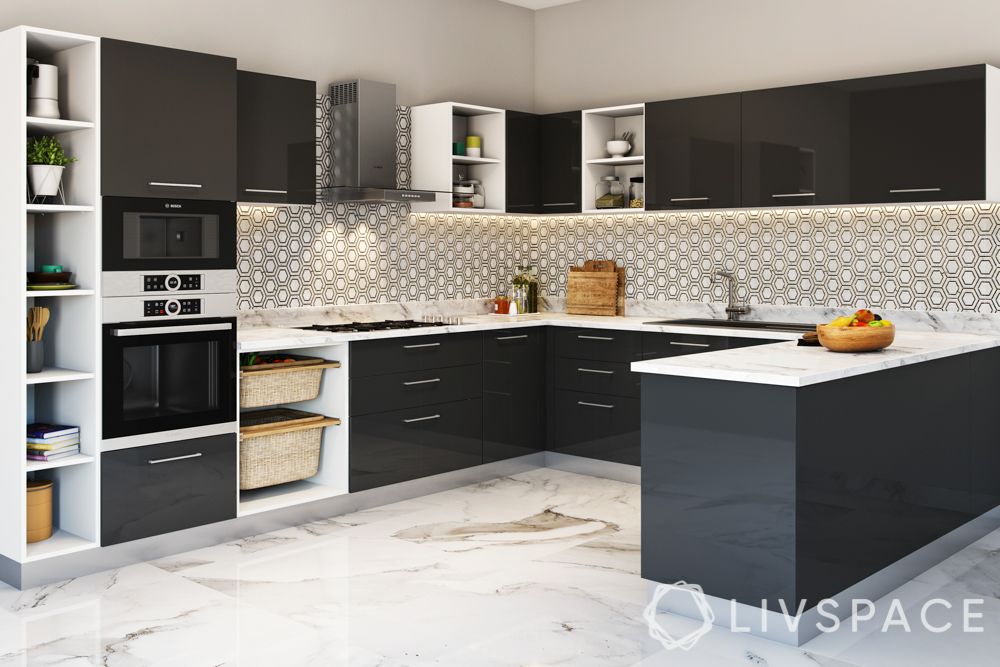 If you are steering clear of an acrylic finish kitchen cabinet design solely because of the cost factor, think again! This high-gloss finish is available in a variety of vibrant colours, and retains a smooth and untarnished appearance over time. It also has scratch-resistant properties making it the best fit for busy kitchens.
Pros: Scratch-resistant, easy to clean and waterproof
Cons: Vulnerable to heat damage and hard-to-maintain lustre
#4: Spray-On PU Finish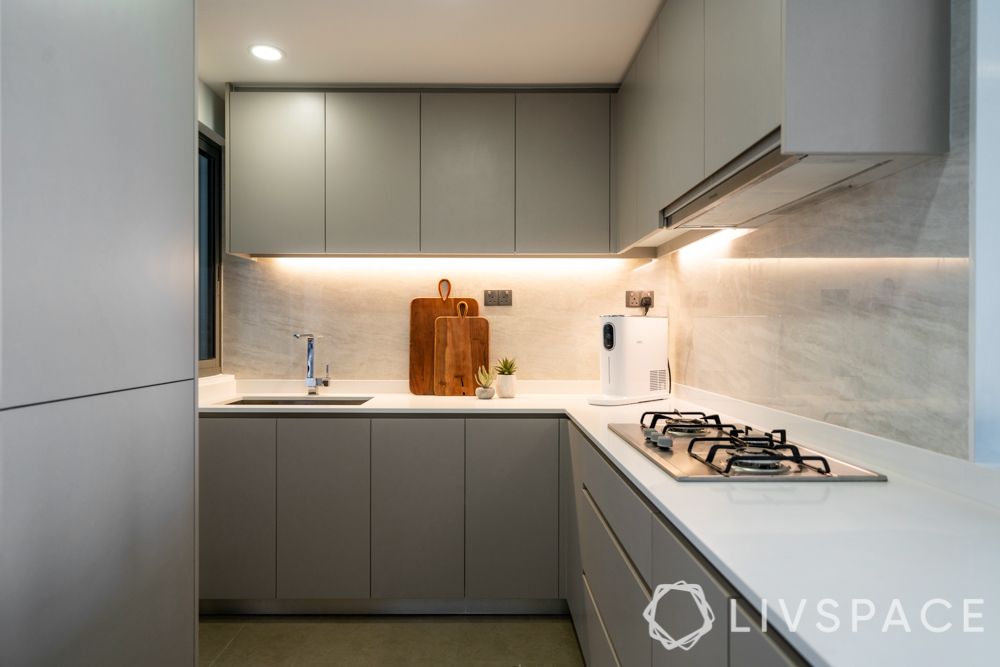 PU or polyurethane is an acrylic-based paint spray that can be directly applied on the surface of your kitchen cabinet. This versatile high-gloss finish offers an elegant look to any kitchen cabinet design that uses it.
The only downside is that attaining this finish is a labour-intensive process, making it one of the most expensive finishes of all. However, the end result is a seamless finish and a unique design for your kitchen.
Pros: Water-, oil-, and grease-resistant; prevents growth of fungus or mould when paired with wooden cabinets; easy to clean and maintain, and unaffected by weather conditions
Cons: Can bubble out or peel if subject to extreme heat; absorbs water on prolonged exposure
You can pair any material and finish together depending on your budget, style, sensibility and functionality. Now that you have found the right material and finish for your kitchen, do you need some design inspiration? Check out these stunning kitchen ideas for your HDB.
How Can Livspace Help You?
We hope you found our ideas useful! If you want your home to be just as beautiful, then look no further. Book an online consultation with Livspace today. Have some comments or suggestions you'd like to share with us? We're all ears! Feel free to write to us at editor.sg@livspace.com.
FAQs
What Are Some Affordable Kitchen Cabinet Options?
Particle board and melamine are a couple of budget-friendly kitchen cabinet materials to consider while renovating.
How Do I Choose a Cabinet Style?
Before settling on a kitchen cabinet design, it helps to have a rough outline of what you need and want. First, understand how much space you have to work with and create your cabinet measurements accordingly.
The next step is to pick a suitable material, finish, and colour for your cabinets based on the function you require for them. You can choose the kitchen cabinet colours based on how well it matches the rest of your interiors, especially in an open-layout home.
How Much Should I Spend on Kitchen Cabinets?
You can expect to spend anywhere between S$150 to S$450 per sq. ft. (estimated) while renovating your kitchen cabinets. However, this range can also fluctuate depending on the cabinet material and finish.
Which Are the Most Durable Kitchen Cabinets?
Plywood is one of the most durable kitchen cabinet materials.