We spoke to our designer to find out the latest kitchen design trends that are going to rule kitchens this year. From colours to cabinetry, Noel Tan Rongkeng has given us access to some amazing kitchen design ideas that you must check out. These are all bang on trend and here to stay. After a tough year that was, here's looking forward to more trendy and chic kitchens in your HDBs and condos. Do not hesitate to experiment and renovate your kitchen to give it a fresh look!
Check out what we have in store for you.
#1: Layout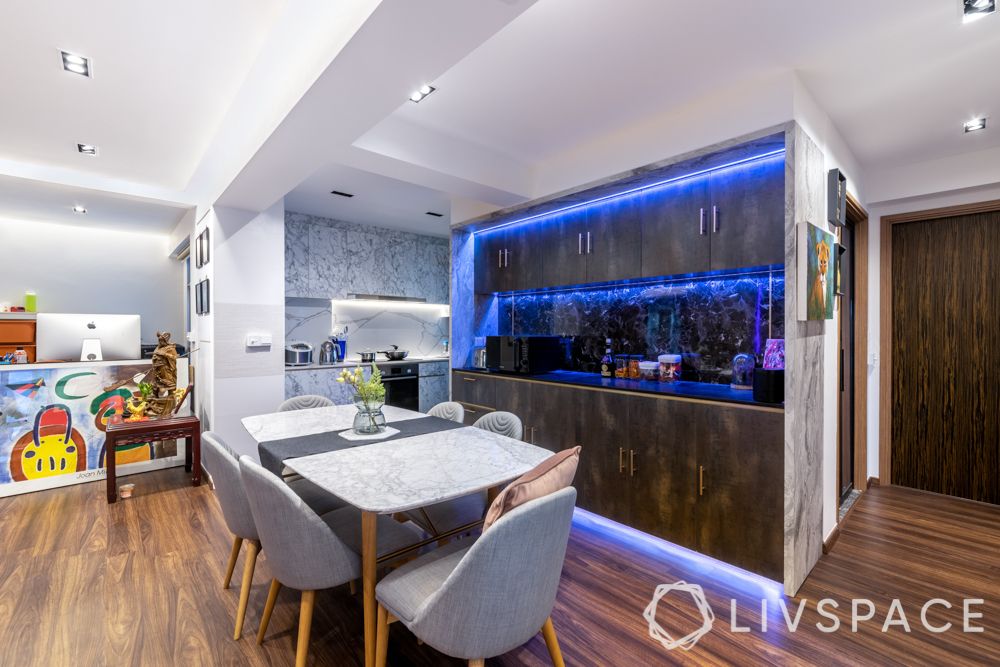 We have said it earlier and we are saying it again. Open kitchens are love! This year too, this layout is going to rule your home. With more people opting for a layout that facilitates social interaction and openness, an open kitchen with a breakfast counter is ideal. Noel suggests fluted strip-detailing on the breakfast counter to give it an edge.
#2: Colour scheme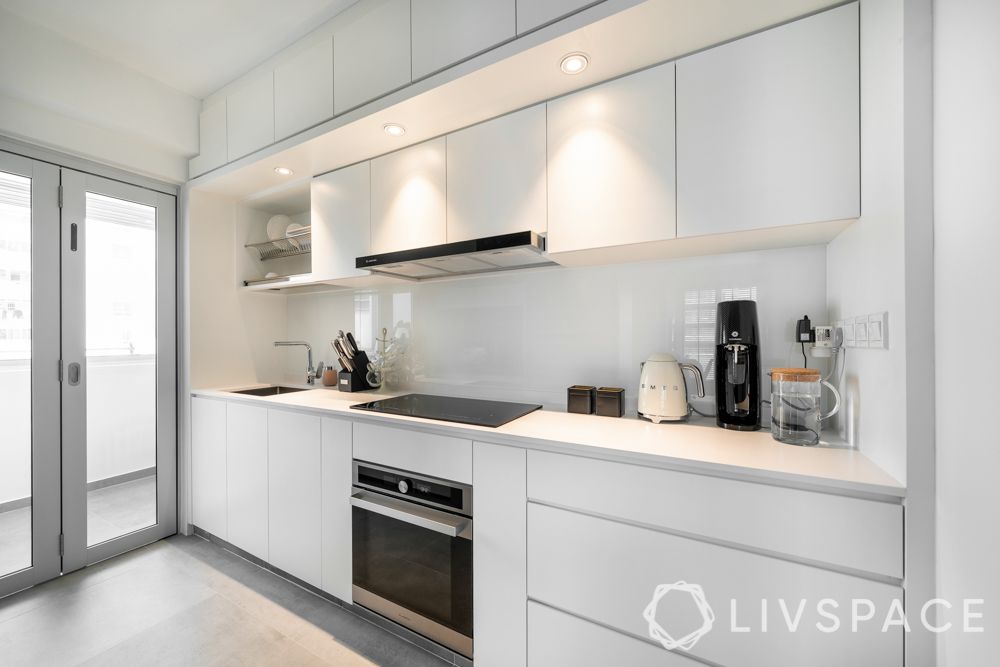 It's time to embrace elegant pastels in kitchens this year. Think mint, dusty pink, teal and the like. Noel recommends these colours for the young and trendy homeowners since they tend to like experimentation. However, if you want to stay safe and looking for one of those elegant kitchen design ideas, light wood and classic whites are here to stay. You can never go wrong with such timeless colours schemes.
#3: Cabinetry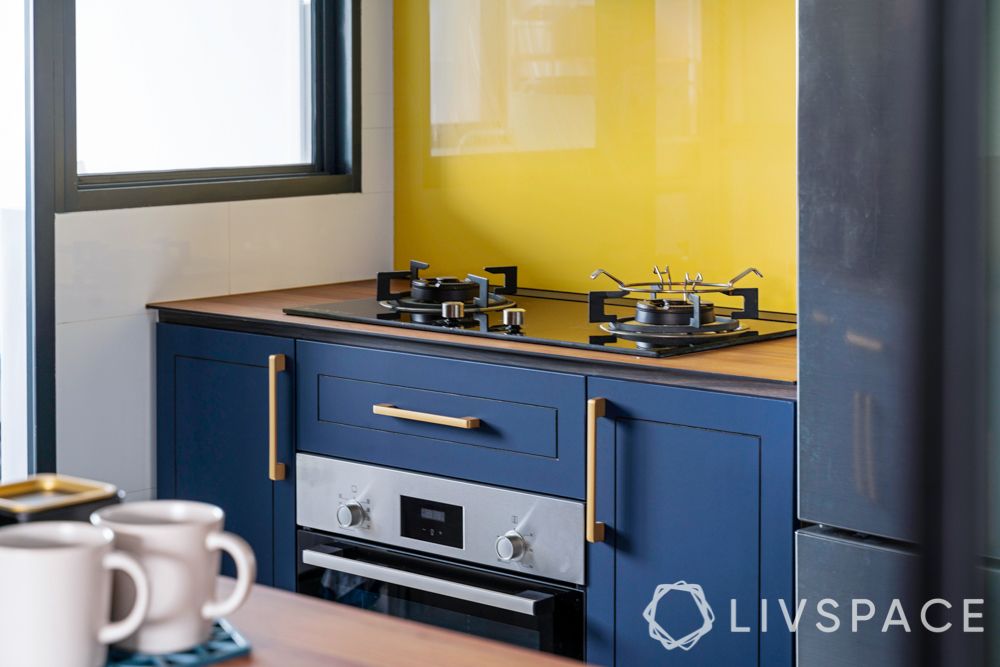 "Your cabinetry should flaunt a clean Nordic vibe this year," says Noel. He suggests having brush gold hardware for your cabinets as well. Metallic handles are one sureshot way of nailing this trend and they come in all shapes and sizes. They also match with almost all colours and add character to your cabinetry. Another one of kitchen design ideas to try is the English shaker-style cabinet if you love that elegant and timeless look.
#4: Storage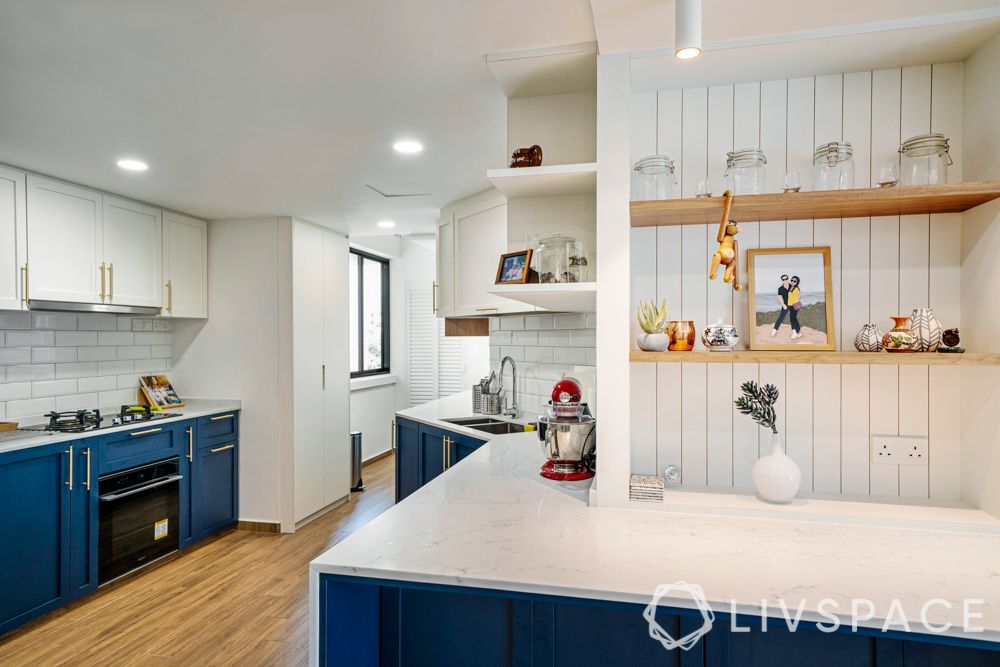 It's time to put that kitchen up on display. Yes, that's true. Gone are the days of fully closed kitchen cabinets. While you can always have lofts and cabinets to add extra storage space in your kitchen, this year is going to be all about open shelves. Display that exclusive drinkware, chinaware and decor on wall ledges and display racks. You can also have a coffee corner within your kitchen with cute mugs put up on display in open shelving.
#5: Countertop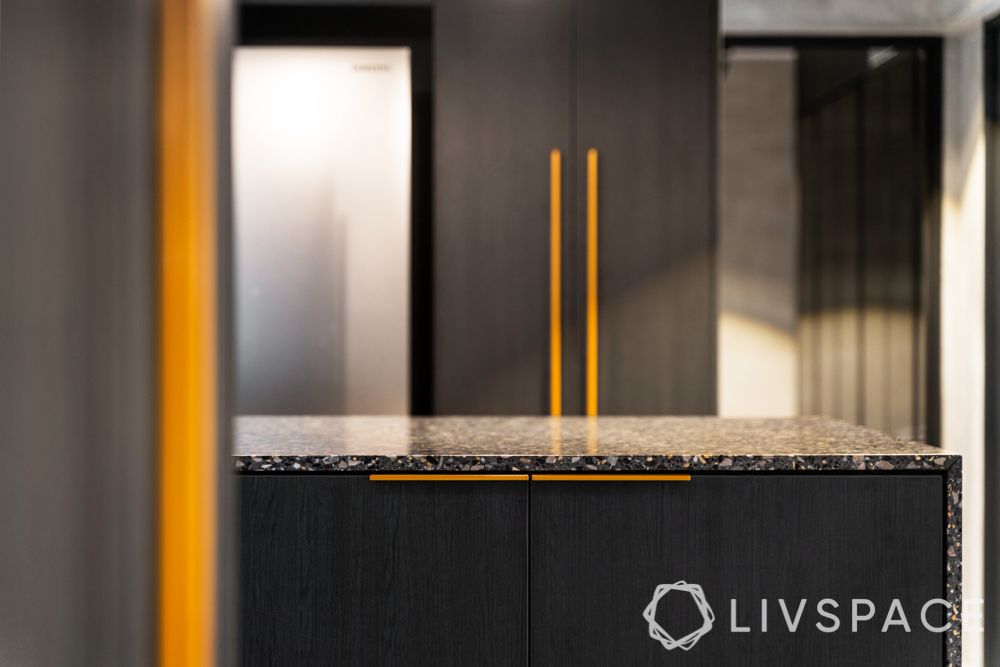 This one's a classic trend that will never go out of style. So, if you're renovating your kitchen, you might just have this in place already. Quartz is going to dominate countertops this year. It is low maintenance and heat and stain-resistant. If you like the look of marble, you can get a marble-looking Quartz countertop too. Apart from this, engineered wood like Kompac plus will also be spotted in kitchens.
#6: Backsplash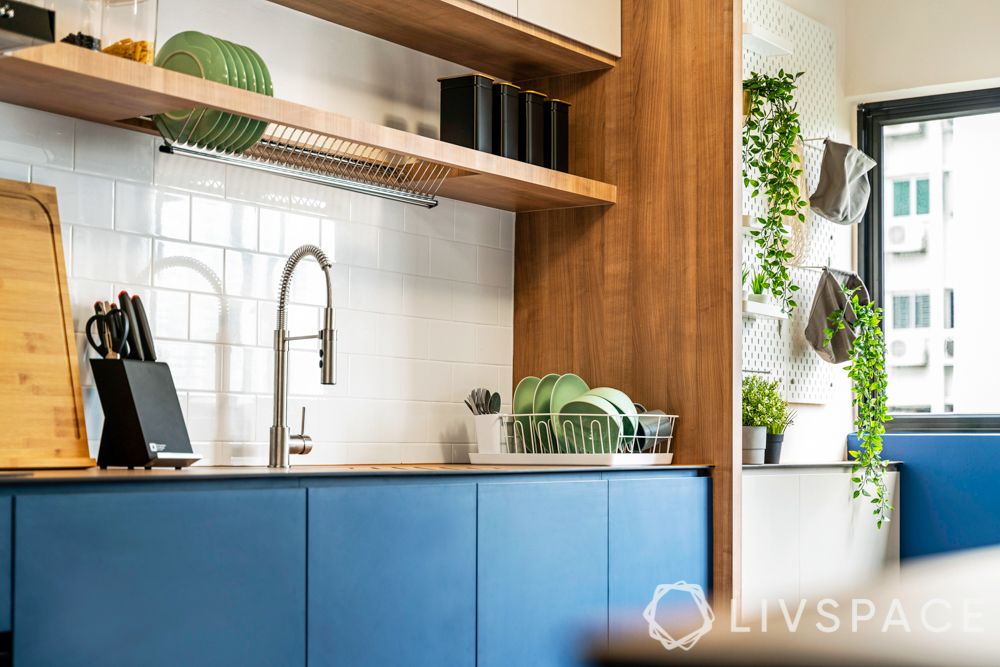 It's tiles all the way. Available in numerous shapes and styles, tiles for the kitchen backsplash can change the entire look of this space. One trend this year is definitely subway tiles that can be laid out in different shapes. Think herringbone, diagonal stack and so on. You can also opt for seashell tiles for a unique look to your kitchen.
#7: Flooring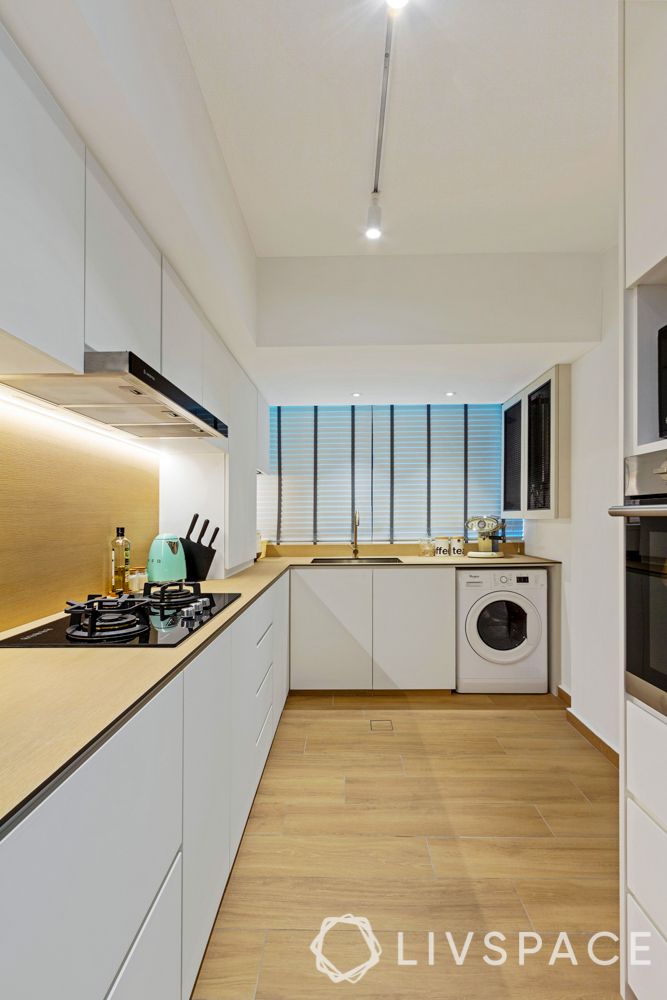 This year make your kitchen a part of your home. The easiest way to do this is by opting for an open layout and having a warm, inviting flooring that merges with the rest for your home. Wood tiles or vinyl flooring are popular for the kitchen to create that warm, homely feeling. "These are both practical and timeless options," says Noel.
#8: Window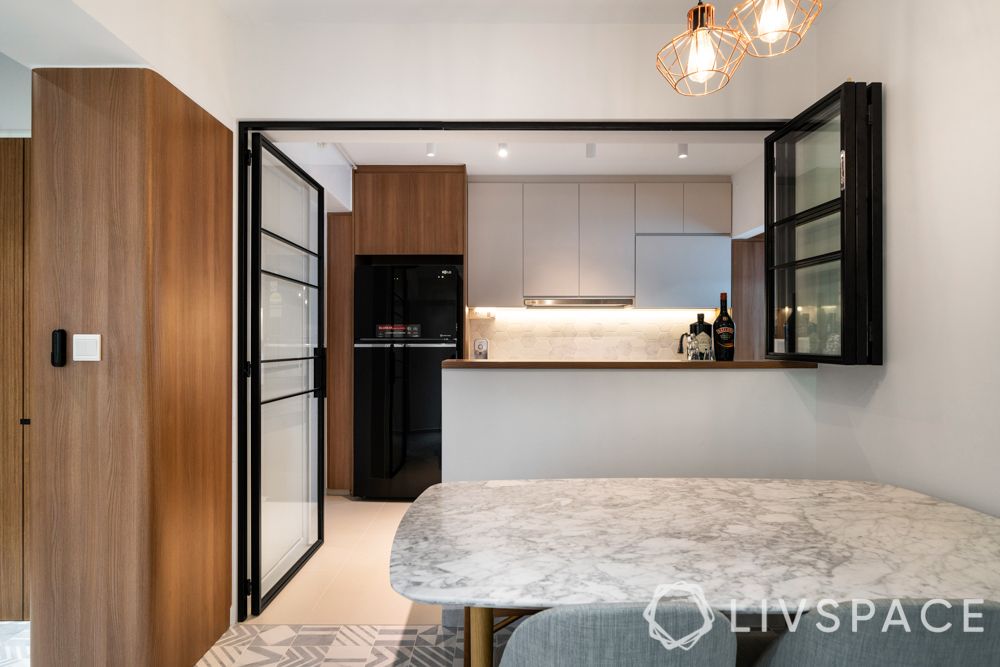 Since you are going to embrace open kitchens, it is going to be a challenge to keep the aromas and fumes from spreading all across your home. Therefore, to tackle this, Noel suggests having a collapsible window on your breakfast counter. This way, you can open it up when you are having get-togethers and close it when you're using it for daily cooking. Glass is the only option if you want to nail this trend.
Check out this 4-room BTO:
Now, we hope you have decided which one of these trends you want to flaunt in your kitchen. If you've been thinking about kitchen islands, check this out: How to Get The Perfect Kitchen With an Island for Every Size and Style.
Send in your comments and suggestions to editor.sg@livspace.com.