The kitchen with an island is arguably the dream design addition that most homeowners want during their kitchen renovation. Not only does it look stylish, but is also a great functional and efficient feature. If you thought islands can only be accommodated in big kitchens, you will be surprised to know that our designers have managed to squeeze in an island in the most compact of kitchens.
Check out this compilation of kitchen designs with islands for every size and style from homes designed by us.
Size-based:
First, let's look at some kitchens in every size that have managed to get an island.
#1. Compact kitchen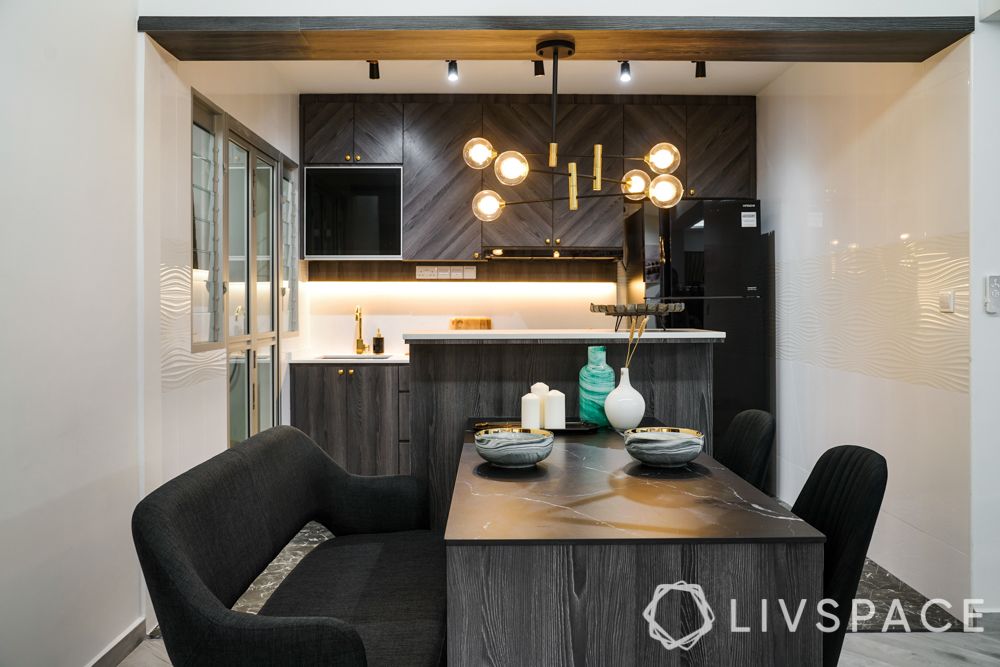 Most homes in Singapore have the constraint of space yet a requirement of a lot of storage space. With clever ideas from your interior designer, you can make maximum use of the space that is available to you.
For instance, in this home, there was almost no space to place a dining table. So, our designer suggested an integrated kitchen with dining space. This way, he could add an island that opened up to the dining area. This island features storage as well, so it is not just a block. He also added a two-tier Caesarstone countertop to the island for expanding the prepping area of the tiny kitchen. Usually, an island counter takes up space in a kitchen. But here, it preserves the open layout without eating into the space.
Check out how the rest of the home looks, here: This Small Apartment Is Designed to Be a Maximalist's Dream.
#2. Medium-sized kitchen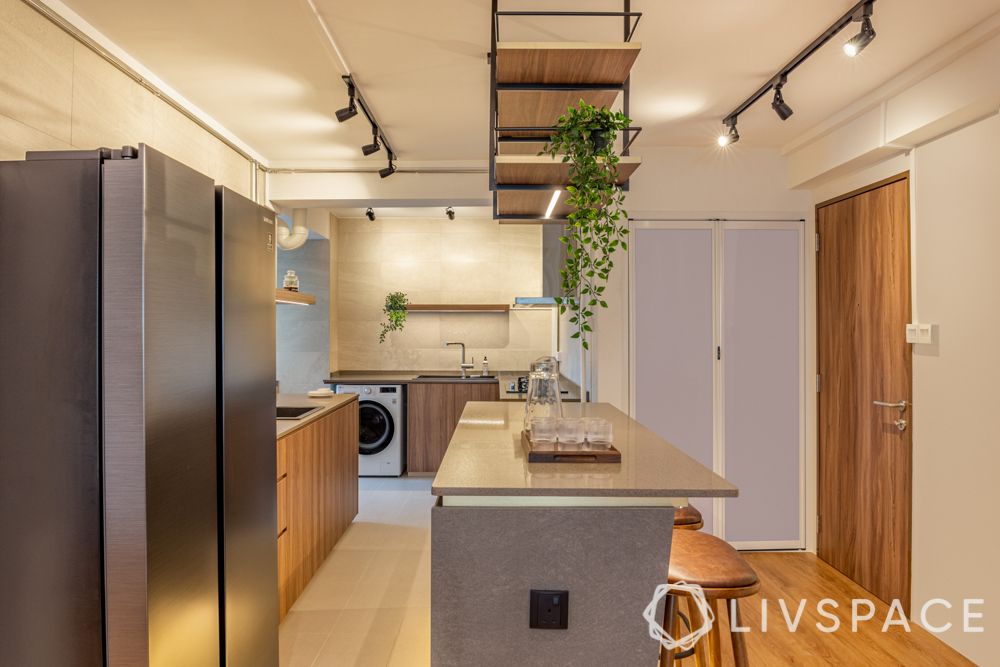 This mid-sized kitchen with an island features a tapered island with a textured laminate finish and brushed-line gold trimming. The overhead wine rack sports a similar edging to match the counter. This island was purposely added by hacking the walls to facilitate social interaction. Yes, a kitchen island is a great addition to an open kitchen. It creates a subtle partition while not blocking away the entire kitchen completely. By adding high stools in front, an island like this can also double-up as a bar serving counter.
Here's a look at the rest of the HDB: Extreme Makeover: This 5-room HDB Flaunts a Simple and Luxurious Look.
#3. Big kitchen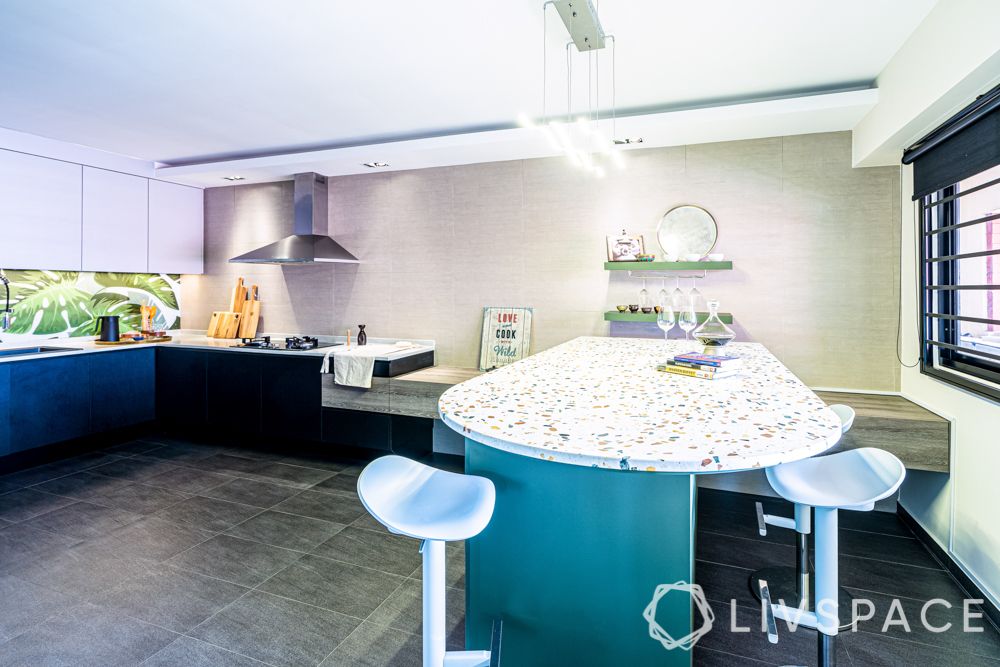 This HDB got a visual upgrade by incorporating a dining area within the kitchen. And how did we do it? By adding a kitchen island, of course! The open layout brings in a villa-esque vibe to the flat. This kitchen and its island set up with plenty of storage and a terrazzo countertop is definitely the highlight of the space. It doubles up as a dining table and bar unit with all the seating around it. We absolutely love this idea!
Want to see more of this kitchen? Go here: Everything in this Stunning 17-year-old HDB Was Redesigned.
Style-based:
Everyone has a different style preference. So, we thought we'd give you ideas on how to add an island to any kitchen style.
#1. Industrial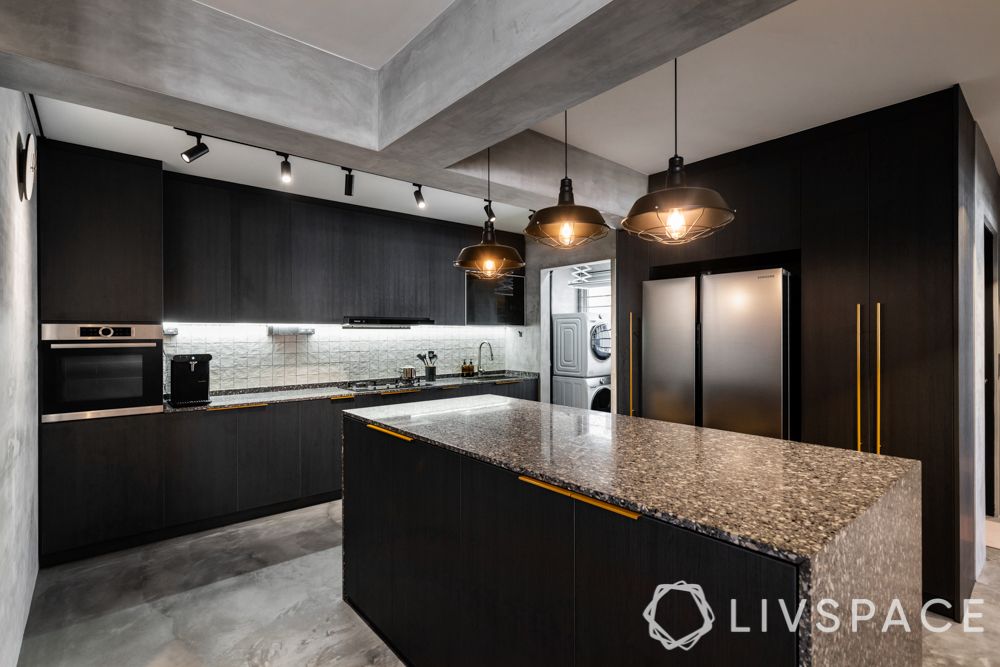 Yes, our favourite style trend—Industrial—is the first on our list of design styles, and why not? After all, this home is an award-winning design and there are so many things to love here. Would you look at that huge island in the centre! That is surely the focal point of this Industrial kitchen design. And how did we nail the look? True to any modern industrial interiors, we added laminates in black-browns, a terrazzo stone countertop and wrought iron pendant lights, laid out cleverly to form the basis of this look. Even better, the island is also stocked with plenty of storage.
See the entire kitchen here: A Non-Cookie Cutter Home To Inspire Your Renovation.
#2. Modern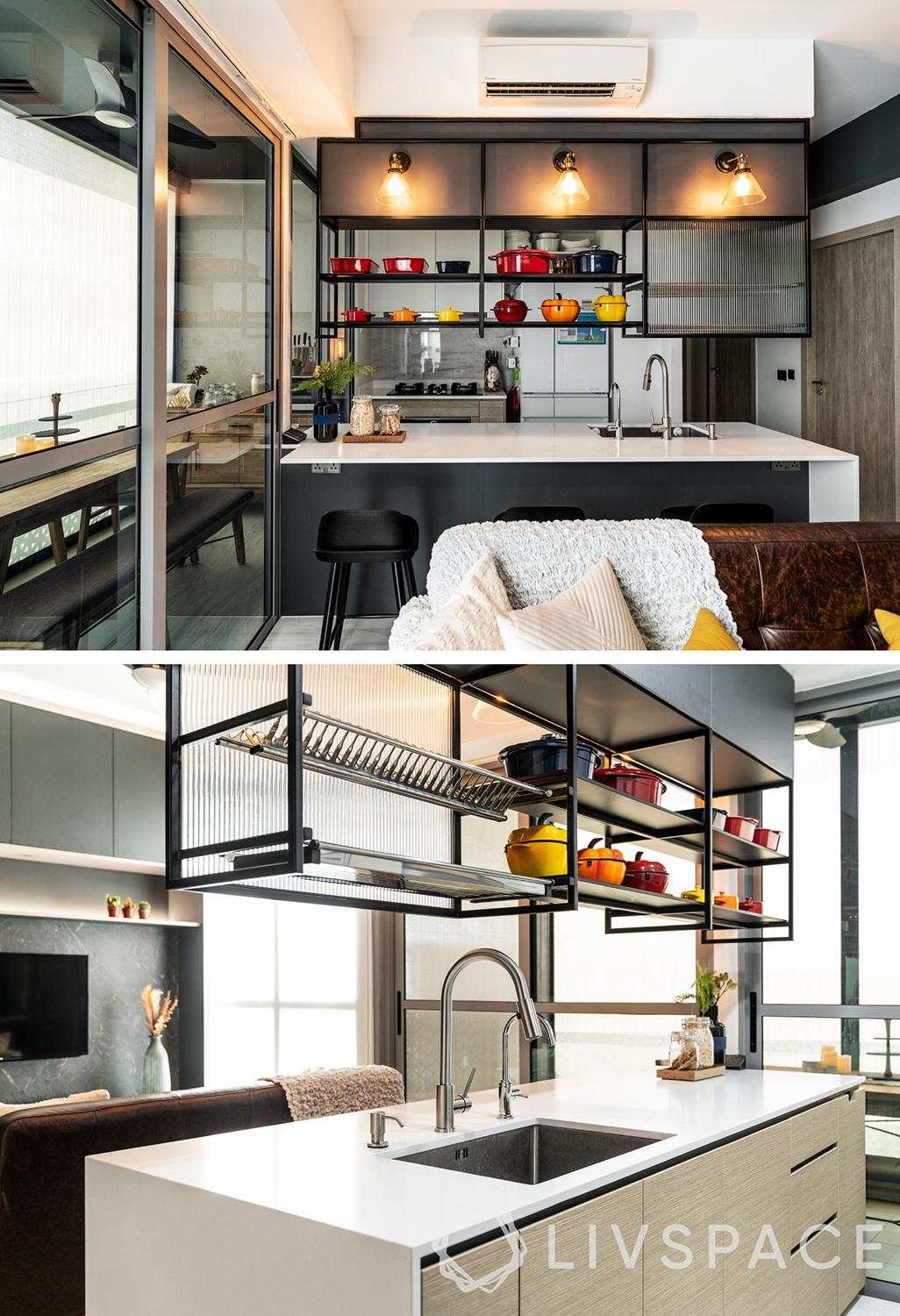 A common yet tricky to get it right kind of design style is Modern. It is easy to get swayed away and look only for style and aesthetics while missing out on the functionality aspect. But here, our designer has kept the needs and requirements of the homeowners in mind while designing this space. Ardent bakers always need a huge counter to knead their dough. Therefore, a big island in this modern kitchen looked like the best idea. The designer has also added a suspended metal rack in black, with shelves that complete the look. And the pristine white countertop looks sleek.
Check out the details here: Here are the Best Design Features of This 3-room Condo.
#3. Scandinavian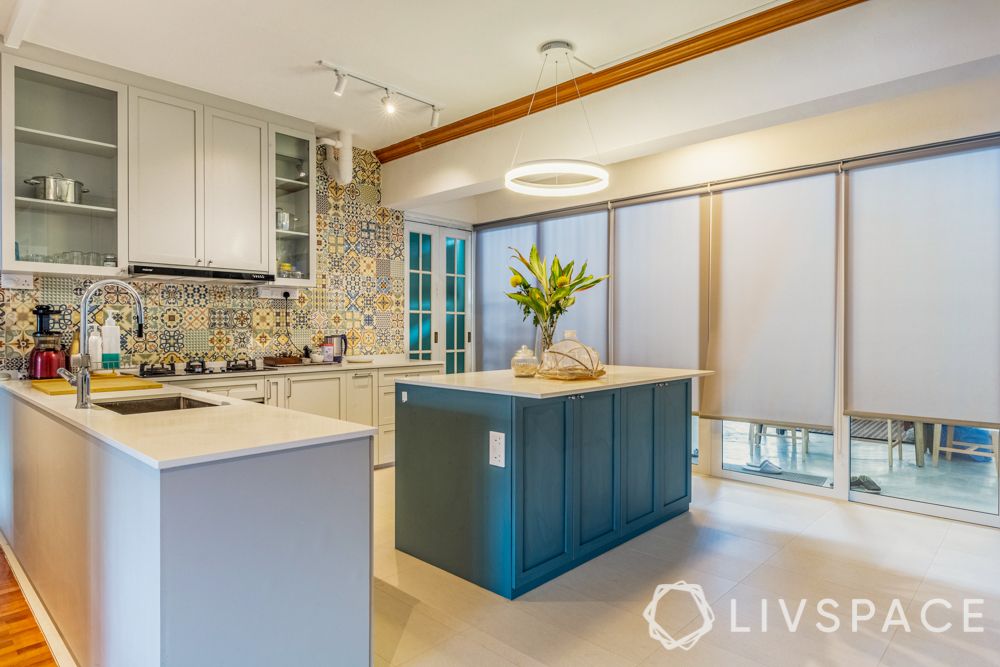 One of the most popular design trends in Singapore is undoubtedly Scandinavian. Everyone wants a slice of Scandi charm in their homes and the kitchen is not far behind! Look at the lovely white cabinetry in this kitchen, accentuated by layered lighting that creates the right focal points here. The only pop of colour here is the island and what a soothing colour it is! The same carpentry for the island maintains design harmony and still makes it the centre of attention. This island features storage and can be used for easy prep work.
#4. Contemporary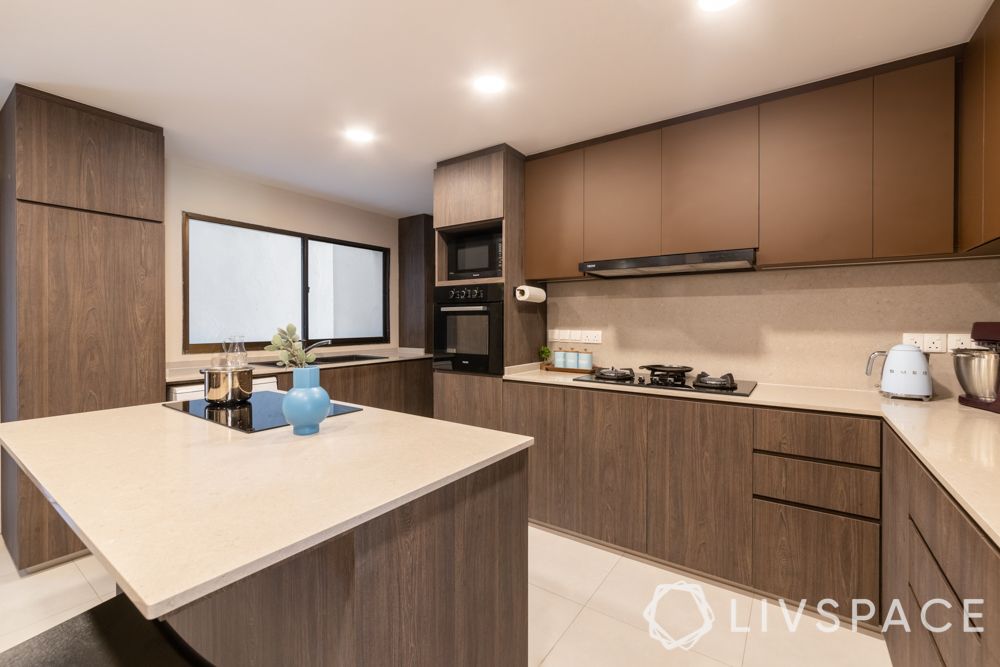 If you want to play it safe, always opt for a Contemporary look in your kitchen. Wooden laminates and a soothing countertop are a winning duo. Warm brown cabinetry is accompanied by a laminate finish island in the centre of the kitchen. This mid-sized kitchen has the perfect work triangle that is facilitated by the island. This is how you can maximise floor space and add an extra counter.
Check out this 4-room BTO:
That is all from our side and we sincerely hope you now know more on how to get that look for your kitchen with an island, right? Want to know more about islands? Check this out: What is a Kitchen Island and Why Do You Need One.
Send in your comments and suggestions to editor.sg@livspace.com.