How do I make the most of my BTO kitchen? This is a serious concern for most of us who are going to start renovating our HDB BTOs now. Whether you are a single professional, a young couple or a family who loves cooking, your kitchen is the most "active" zone at home. This makes it even more important for you to get the perfect BTO kitchen design while renovating your flat.
So how do you customise your kitchen according to your lifestyle? If you're someone who prefers ordering in on most days, then you do not need a fully equipped kitchen. Likewise, if you love cooking up meals, then your kitchen should be able to assist you in every way. Let's look at some ways in which you can design the best kitchen for your BTO.
#1: Multiple cooks at the same time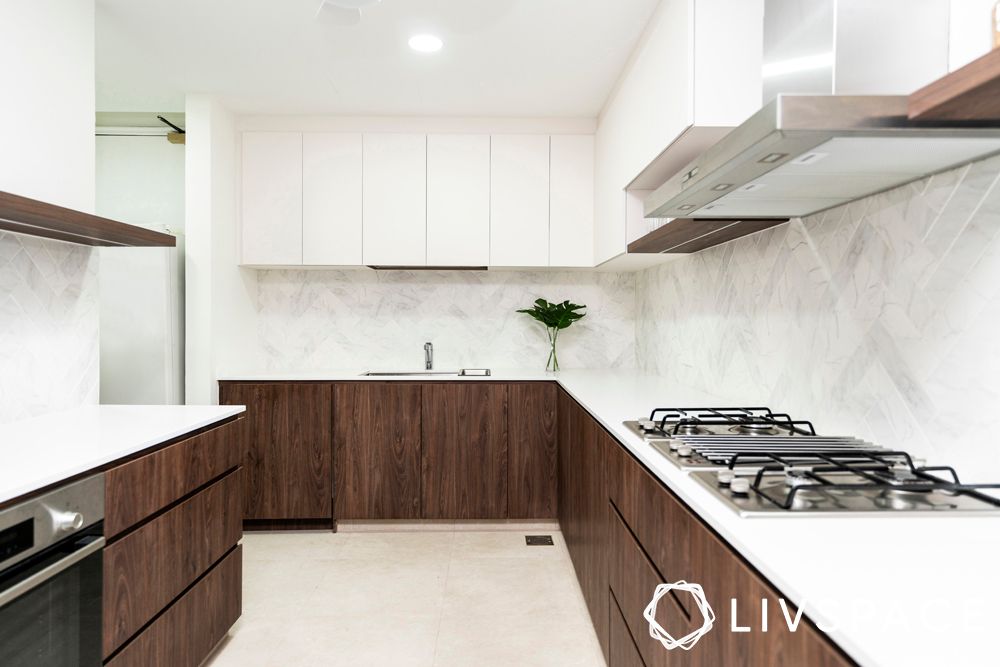 Preferred layouts: L-shaped or open kitchen
We know, there's nothing like the entire family cooking together. But can your BTO kitchen design accommodate everyone comfortably? We recommend an L-shaped kitchen because each person gets their own working zone. The work triangle is also easy to form in this layout. Similarly, when we say multiple cooks, it also means that you're a great host and your friends love cooking with you. For this, open plan kitchens are the ideal choice. Here's why:
Open kitchens help the cooks keep a check on what's happening outside the kitchen
With minimum wall constraints, there's easy movement around the kitchen
Designated dry and wet zones will also help in limiting smoke and grime to one zone
Do you know Why Open Concept Kitchens for HDBs are the Best?
#2: For heavy-duty cooking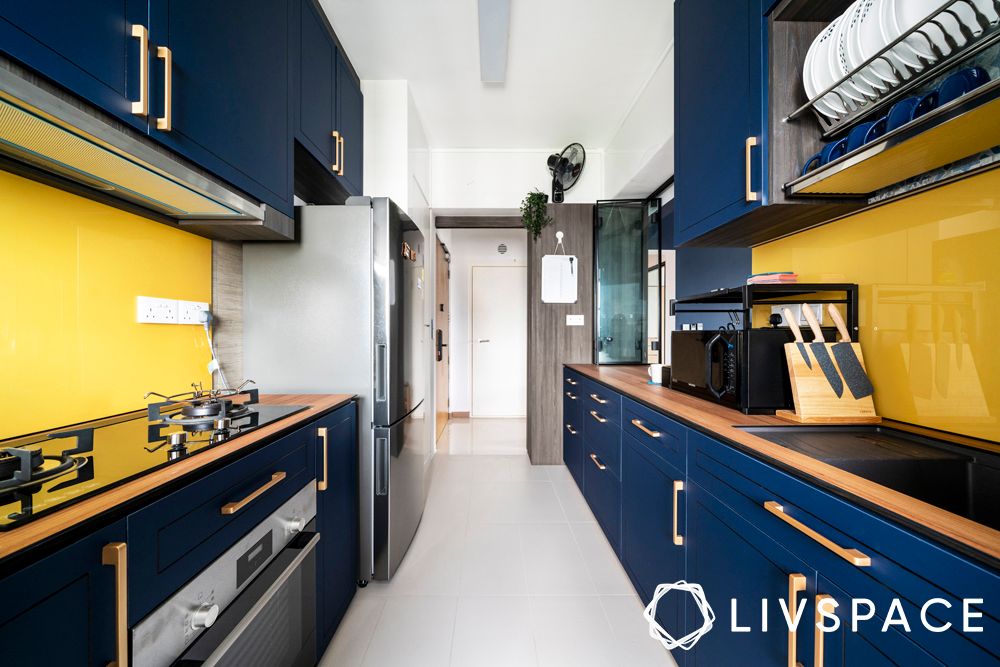 Preferred layouts: U-shaped, galley or island kitchens
Traditional Asian cooking requires a lot of preparation and the aromatic spices and smell of ingredients tend to waft in the air. Hence, if you know you're going to indulge in regular, heavy-duty cooking, then you need an enclosed kitchen which is well-ventilated. A closed U-shaped kitchen or galley kitchen works best in such cases due to the following reasons:
It's the ideal layout to create an efficient working triangle and promotes ease of movement
Spacious kitchen design that allows maximum workspace
In galley kitchens, counters run parallel to each other that makes it easy to do different tasks at once
Also read What is a Kitchen Island and Why Do You Need One?
#3: When you're too lazy to maintain your kitchen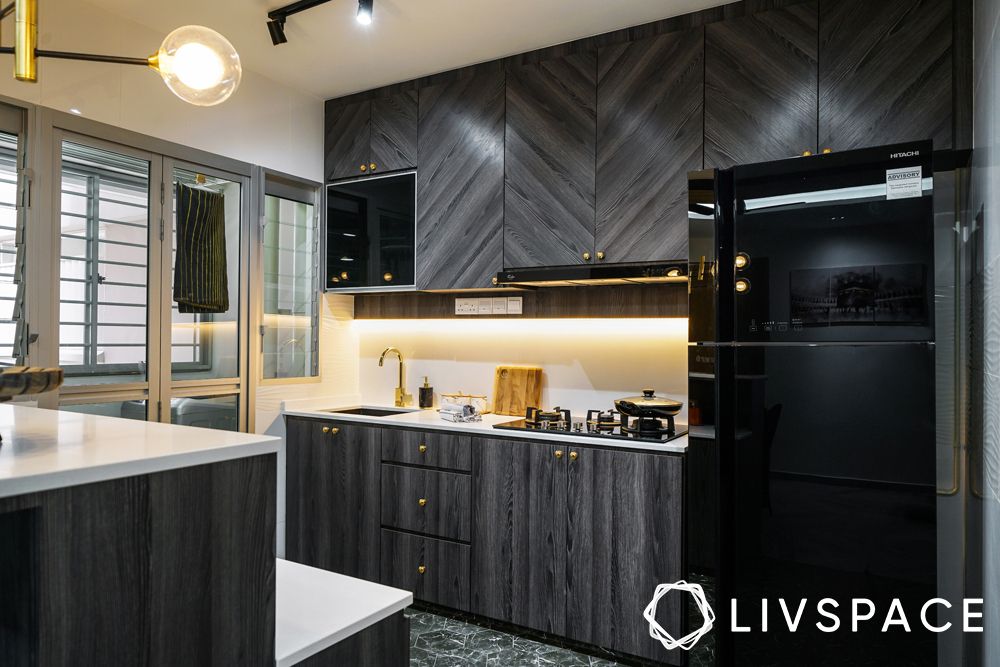 Preferred layouts: L-shaped or One wall kitchen
So you're a no-fuss cook or mostly do not prefer spending a lot of time cooking or rather cleaning up after cooking. We feel you! You could opt for a one-wall kitchen so that you do not have to worry about cleaning a lot of countertops. Steer clear of full fledged kitchens that can be a nightmare to maintain if you're not into it. Here's why a one wall kitchen or an L-shaped kitchen is your best bet:
One-wall kitchens are efficient and space-saving
Reduced working footprint by offering a linear space to work in
You can add a compact dining table right in front, so you don't have to carry dishes around anymore
#4: For those who require ample storage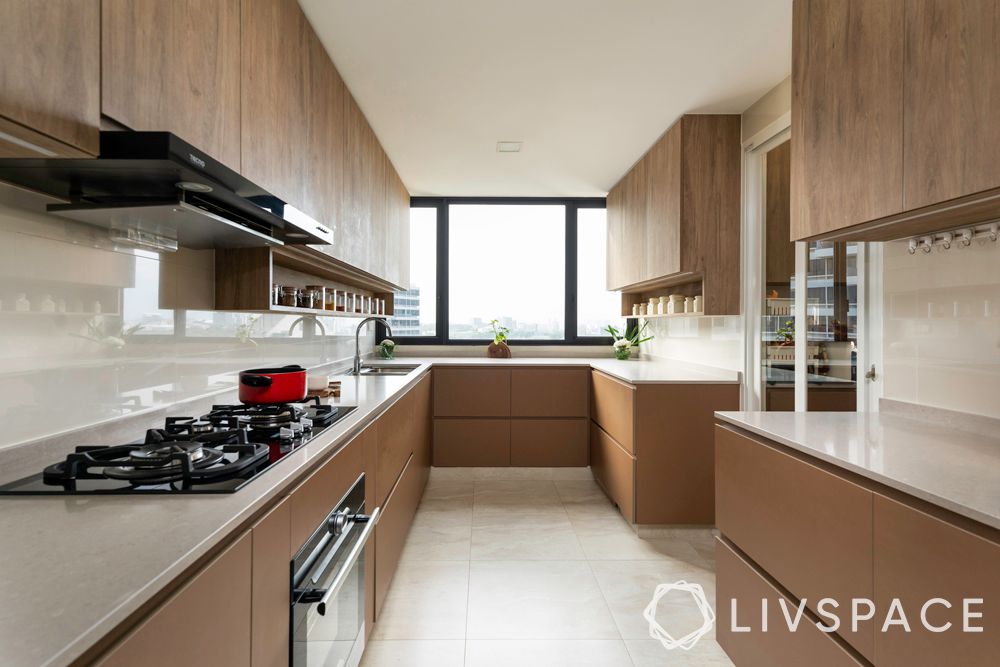 Preferred layouts: U-shaped or G-shaped kitchen
Like every other task or hobby, cooking is one such hobby that can get serious. And if you are really passionate about cooking, then you will realise that you need a lot more space than you think. Be it perishables or non-perishables, you would probably love having ample storage space. If your BTO kitchen design permits, you should work around with a U or G-shaped layout. Here's why:
They provide more wall space to have ample cabinets and shelves
In a G-shaped kitchen you can have a breakfast nook or extra counter space to work on
There's enough space to get kitchen storage accessories and utilise corners
#5: Style-conscious or show kitchen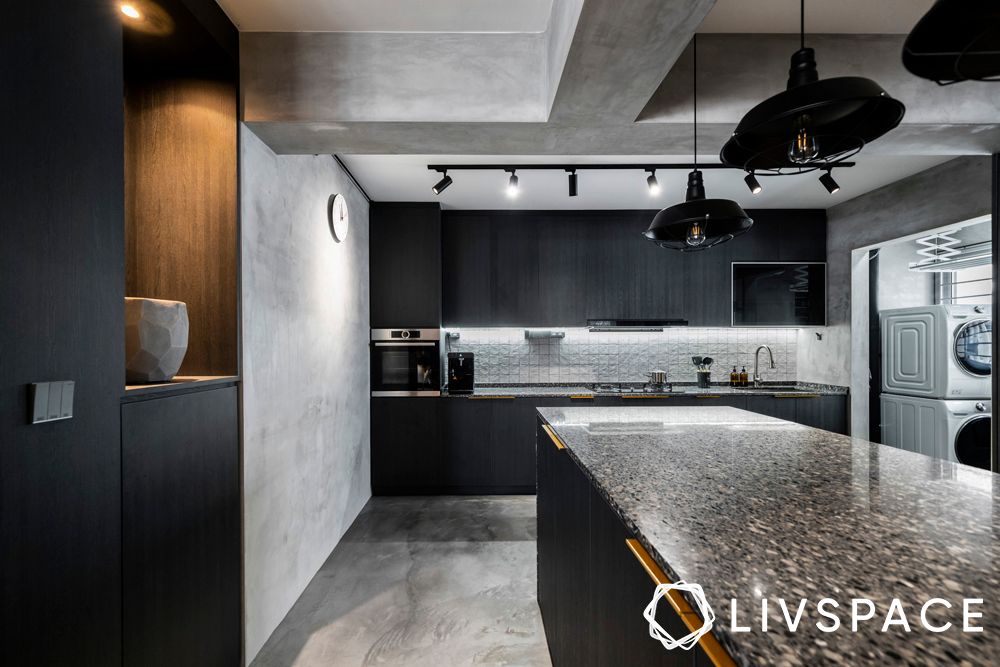 Preferred layouts: One wall or island kitchen
Let's face it – not everyone is a great cook or strives to become one. Why should your BTO kitchen design take a backseat because of this? We suggest you opt for a simple one wall kitchen or an island kitchen. For the simple reason that these will give you an opportunity to pretty-up your kitchen area. And your snacks and nuts can be placed right there so they are easily accessible. You can choose the colours, finishes and lighting that would make your kitchen a showstopper. Check out the benefits:
One wall kitchens are rather small-scale layouts that do not require extensive work
Island are a great aesthetic addition to your BTO kitchen design
One wall kitchens are compact and easy to navigate across
#6: Social butterflies at work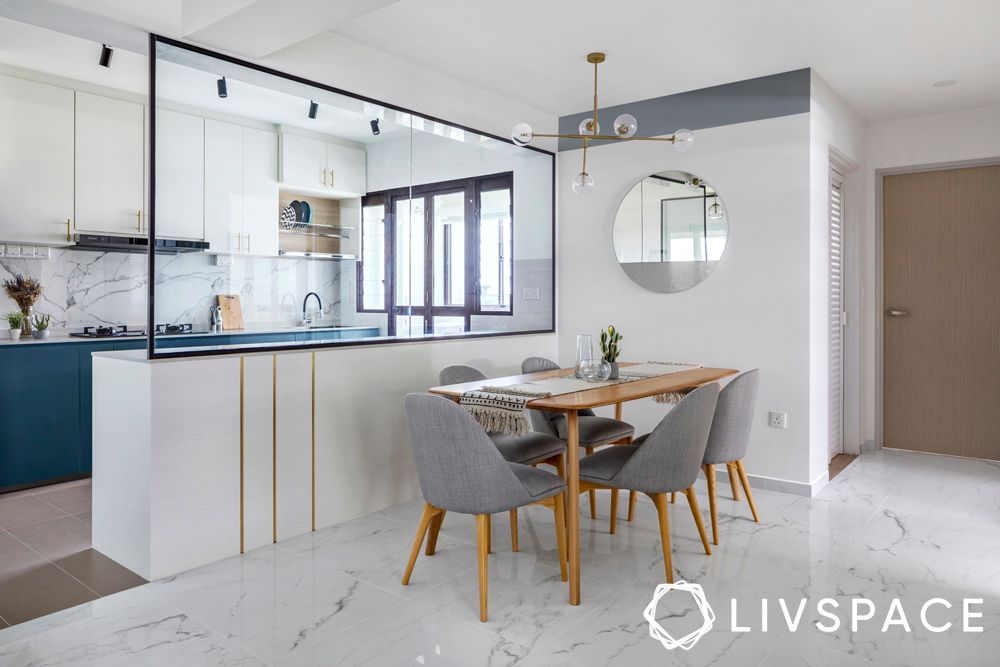 Preferred layouts: Semi-open kitchen
Calling all the social beings out there: Where you at? Does your BTO kitchen design reflect who you are? If not, then we recommend you read this. You are someone who cannot miss any opportunity to miss out of chatter, even if you're in the kitchen. Your friends and family think you're the ideal host because you interact with them while preparing those lip-smacking snacks. For this, we suggest you opt for a semi-open kitchen. Here's how and why:
Semi-open kitchens allow you to feel connected with everyone outside
A glass partition lets you see what's happening and be a part of it
You do not have to bother about putting up doors
Check out how we designed this kitchen in this BTO: This Cool-toned Home Is What Dreams Are Made of.
We hope you now know how to work around your BTO kitchen design to customise it according to your preferences. Check this out to know What is the Best Lighting for Kitchens and Where to Use Them?
Send in your thoughts and suggestions to editor.sg@livspace.com.