Planning to get a kitchen renovation but not able to figure out the perfect kitchen countertop material? We've got you covered. Getting the right kitchen countertop surface should be at the top of your priority list. If you cook your own meals, you're well aware that the kitchen countertop takes on a lot of the heavy lifting when things get chaotic, whether it's food prep or serving as a second dining table in an open kitchen.
In any case, a number of materials, including engineered quartz, laminates, KompacPlus, solid surfaces, stainless steel, natural stone, and wood can be used to outfit a robust kitchen framework. In this story, we've compiled a list of kitchen countertop materials to help you choose the best one for your needs!
1. Engineered Quartz Kitchen Countertops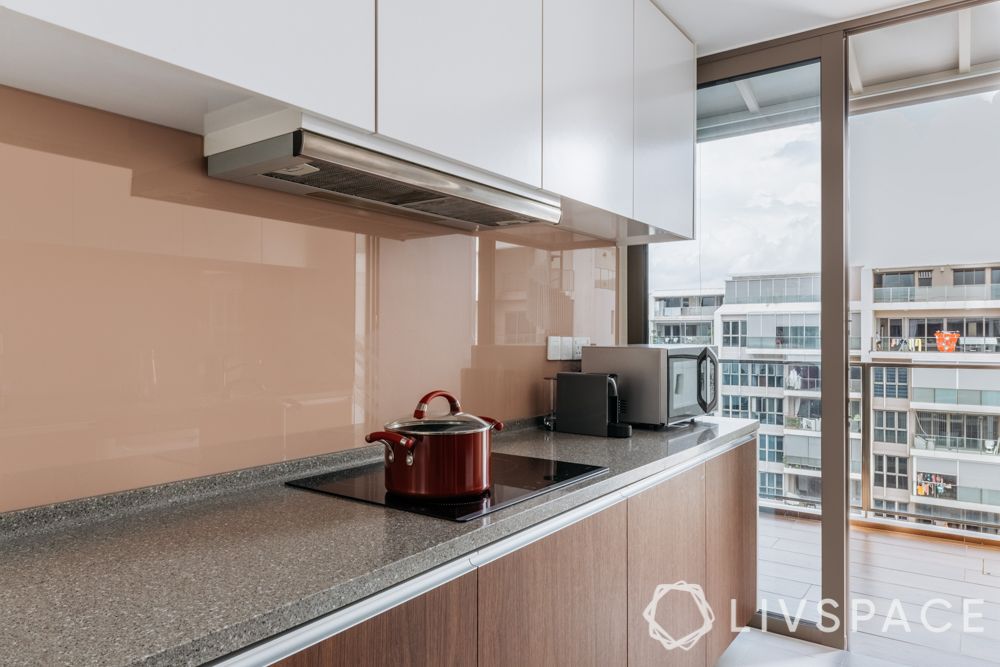 Let's start by explaining what exactly engineered quartz countertops are. To create engineered quartz kitchen countertops, crushed natural quartz is combined with polymer resin. As a result, this combination makes for the perfect countertop design material. It has a high level of endurance and is available in a wide range of hues.
Adding to the advantage, engineered quartz surfaces are not as permeable as natural quartz surfaces. So you'll not have to worry about difficult-to-remove stains or moisture-driven bacterial growth on this surface.
| | |
| --- | --- |
| Pros | Cons |
| Stain, scratch and impact-resistant | Costs are higher than alternative solutions |
| A wide spectrum of hues can be used. | Sewn-in seam joints are visible. |
| Non-porous and hygienic | Not much resistant to heat due to resin |
ALSO READ: 10 Ways Experts Recommend to Widen Your Compact Kitchen. Pick One That's Best For You
2. Solid Surface Countertop Design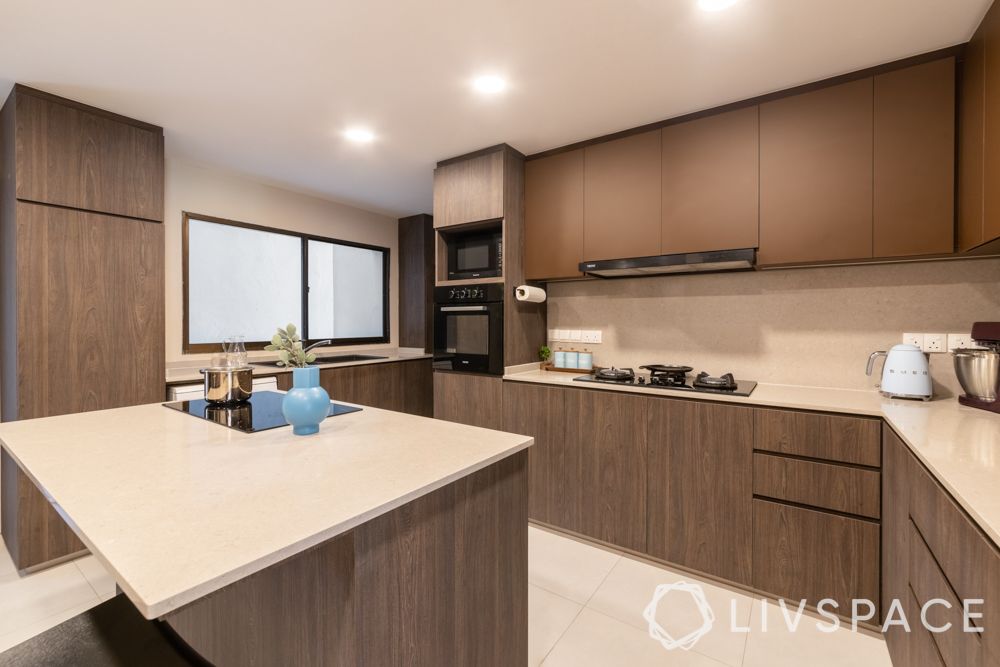 The solid surface kitchen countertops are mostly made out of Corian, a thick layer of synthetic acryl PMMA (33%) and natural minerals (66%). This countertop material, thus, is nonporous, antimicrobial, and a low-maintenance option for small kitchen designs.
Although solid surface materials are not as durable as their available substitutes, they are the easiest to repair, which makes them a dependable choice. Moreover, you can also scrub or sand the burned or scratched layers away for an almost new look.
Solid Surface
Pros
Cons
Durable kitchen countertop design material
Not heat-resistant and impact-resistant.
Variety of colours and patterns to pick from.
It is not stain-resistant.
Can be made to look marble or concrete.
3. Laminate Kitchen Countertops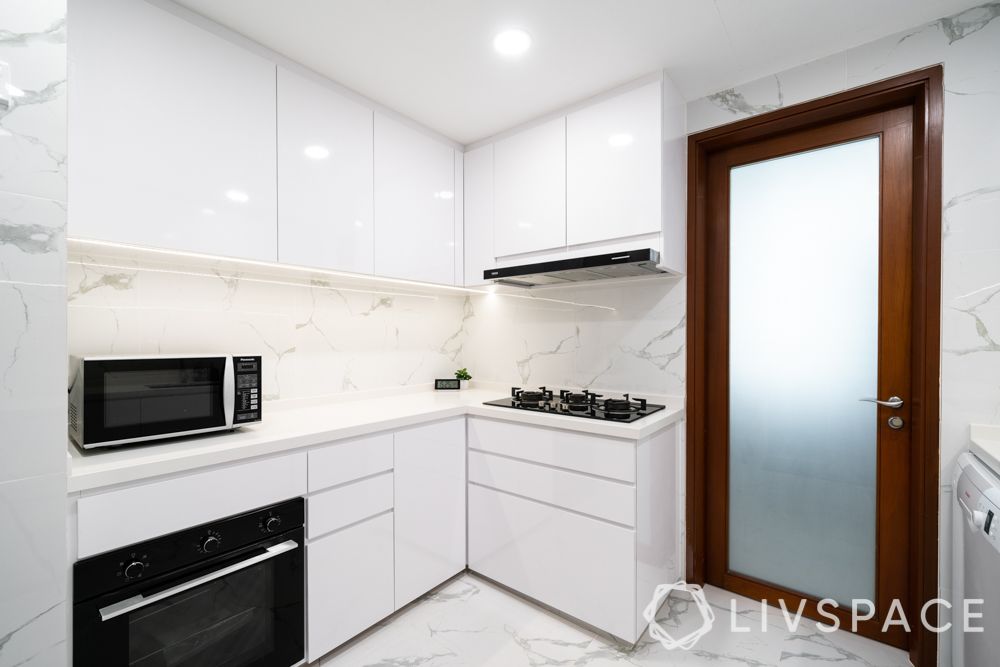 Multiple layers of melamine resin and kraft paper boards go into making laminate kitchen countertops. It is much more cost-effective than other surfaces. So, if you're looking for a budget-friendly countertop design material, this is the one to choose.
Adding to the advantage, it's maintenance is quick and straightforward. In order to maintain your laminate surface, all you need is warm water, soap, and a little wash down with a sponge or cloth.
Laminates
Pros
Cons
Replicates appearance of expensive natural materials like marble and wood
Direct contact with sharp objects, such as blades or scissors, can result in chips.
Long-lasting and non-porous
Laminates may melt if they come into direct contact with hot utensils for a long time.
Resistant to heat, discoloration, and spills
It might warp over time.
4. Natural Stone Kitchen Countertops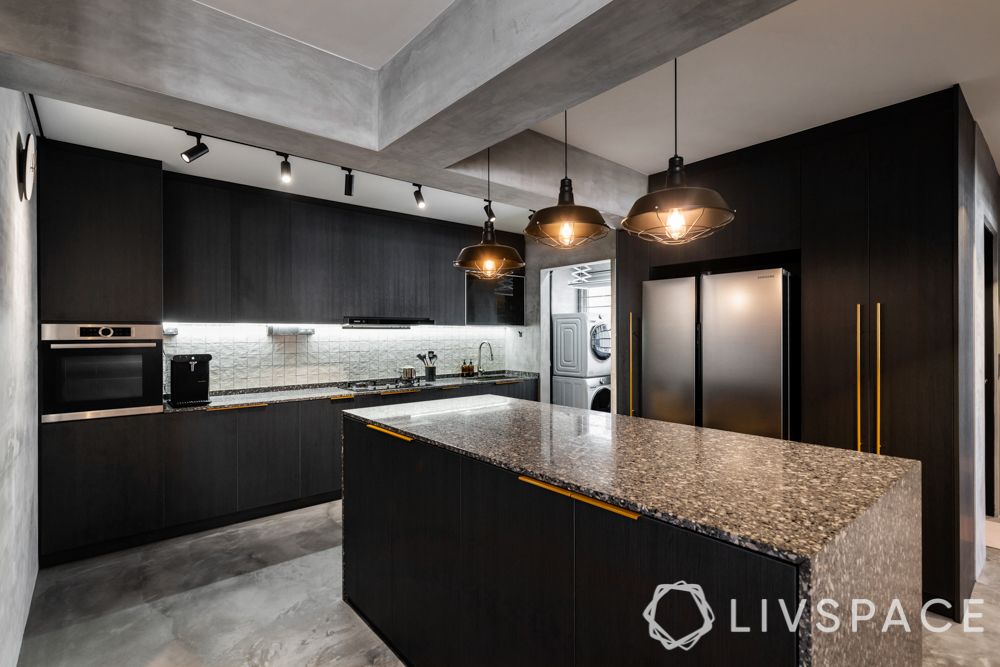 When we talk about using natural stones in countertop design in the kitchen, we primarily talk about granite or marbles as they are the most popular and durable choices. Since granite and marble kitchen countertops are typically composed of natural stones, they are considered to be more eco-friendly. So, if you're concerned about the environment, this is the best option you should consider.
Natural Stone
Pros
Cons
Appears to be elegant
It might be quite costly.
Wide choice of colours to choose from.
Should be cleaned as quickly as possible.
They are durable and may last for years.
Professional installation is necessary.
ALSO READ: Want a Beautiful Kitchen Backsplash on a Budget? Here are 7 Ideas
5. KompacPlus Kitchen Countertops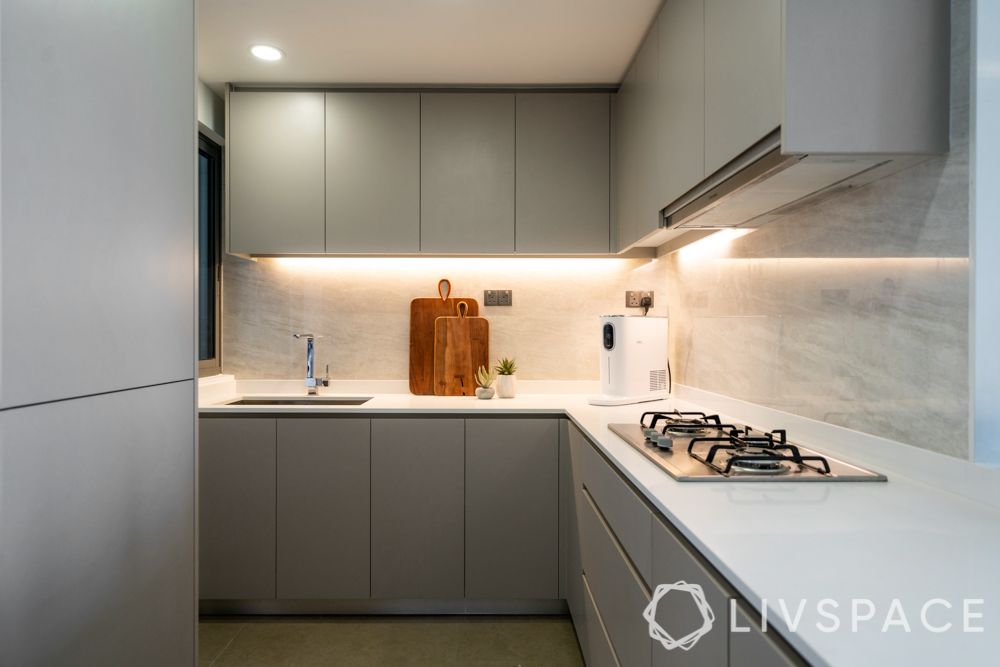 KompacPlus (also known as KompacTop), as a kitchen countertop material, is a good choice as it is durable and gives an impression of wood or laminate. It's billed as a "replacement for normal kitchen countertop surfaces." It's also not necessary to remove the existing countertop design in order to install KompacPlus as it can be readily added over the existing counter.
KompacPlus
Pros
Cons
Non-porous, heat, impact, scratch, stain and water-resistant
Limited designs; there aren't many options.
Easy to clean and maintain.
Sewn-in seam joints are visible.
Can decorate floor, walls, and furniture.
Quite prone to discolouration.
6. Wooden Kitchen Countertops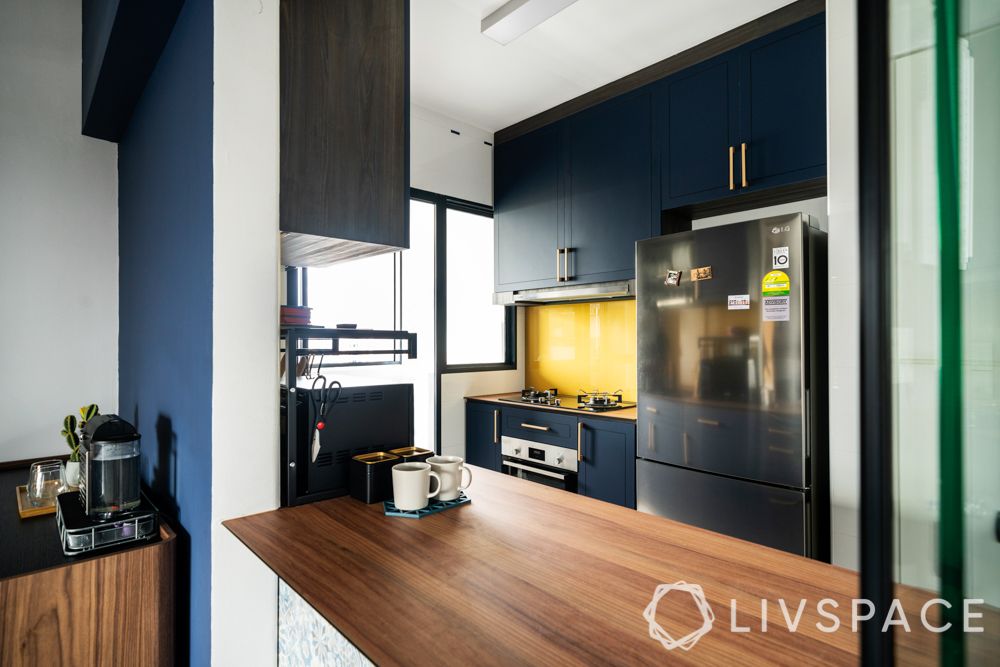 Almost no two identical boards of wood, just like no two pieces of natural stone, have the same pattern. Countertop designs made of wood or butcher block will undoubtedly add character to your kitchen.
However, wood, as a countertop material, has the same flaw as natural stone: porous layers. Therefore, to protect wooden countertop and keep water from leaking into wood counters, you need to use a non-toxic sealer.
Wood
Pros
Cons
Different qualities can be achieved
Gets stained and scratched easily.
Can last up to 20 years.
Expands and contracts with temperature
Clean using regular household cleaners
Damaged with long exposure to moisture
7. Stainless Steel Kitchen Countertops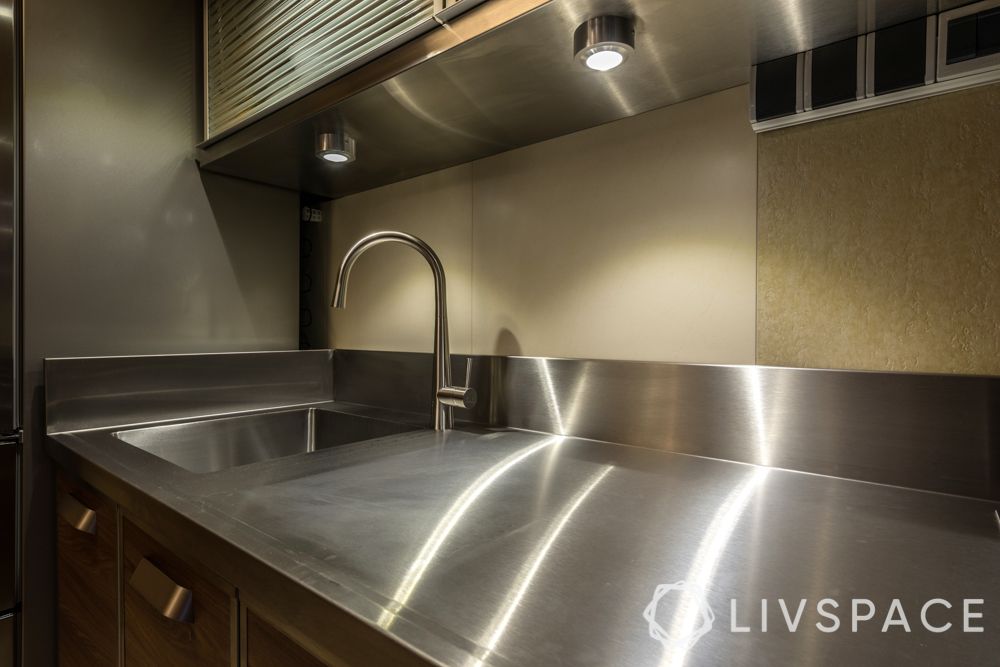 Stainless steel kitchen countertops are popular in commercial kitchens, where functionality is prioritised over appearance. In a contemporary small kitchen, however, a stainless steel countertop design can seem stunning when paired with the right cabinetry and flooring. as a result, stainless steel counters are more expensive than quartz and natural stone. However, the cost is justified because this material is exceptionally robust and heat & rust-resistant.
Stainless Steel
Pros
Cons
Tailored to match needs of kitchen.
Can harbour bacterial growth easily.
Easiest surfaces to keep clean
Scratch-prone; gets dingy with time.
Water, stain and heat-resistant
Susceptible to dents.
ALSO READ: Top 10 Fabulous HDB Kitchen Renovation Tales You Shouldn't Miss!
To summarise, before finalising your kitchen renovation plan, it is critical to weigh the benefits and drawbacks of each kitchen countertop material. Please let us know what you're looking for in a renovation and we'll offer you a free, no-obligation quote. Send us a note right now!
Book an online consultation with Livspace today. Delivering safe home interior design has been our No. 1 priority. Click here to find out how interiors are being delivered following all safety protocols.
so, please let us know how these suggestions worked out for you on editor.sg@livspace.com.