When it comes to any design style, it is easier to recognise it when you see it rather than read about it. Therefore, we thought it would be best to explain them with the help of the kitchens we've designed so far. You will be surprised to hear that you might not know your kitchen design styles so well after all. Moreover, this is your chance to try out a new style for your kitchen interior design. Check out these interesting kitchen design styles and features that you can add to get the look.
#1: Modern Kitchen Design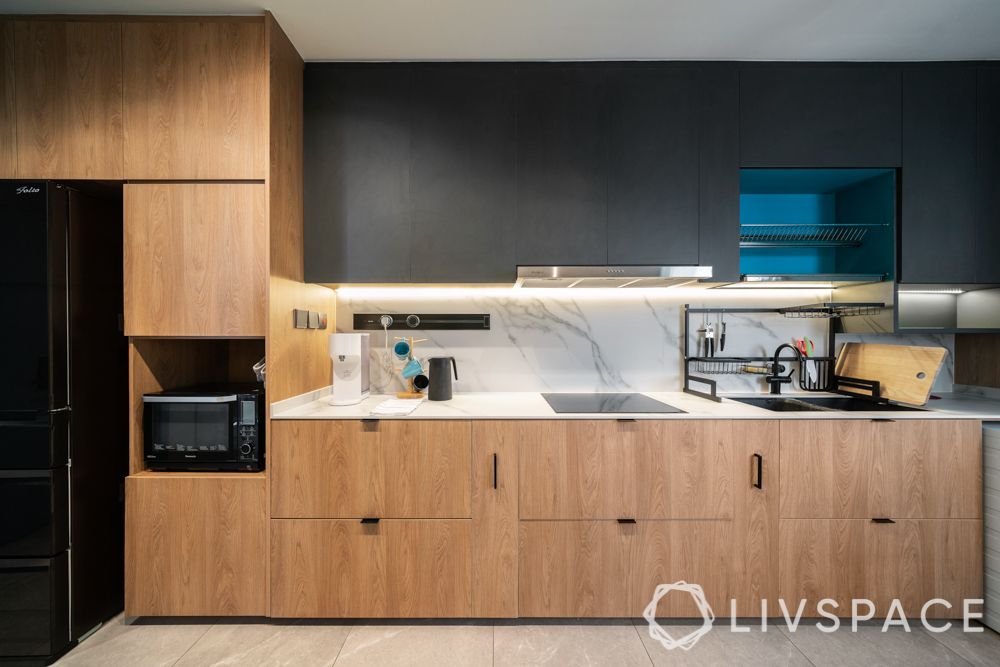 Modern kitchen design style embodies sleek sophistication and a clean look sans any adornment. You can introduce pops of colour in a modern kitchen design and emphasise high-quality materials. Think frameless cabinetry, simple hardware and largely neutral colours when envisioning modern kitchen ideas. Use a combination of ambient and task lighting that accentuates the seamless look of your kitchen.
Features You Can Explore for Modern Kitchen Ideas
Sleek and sophisticated
Luxurious, high-end materials
Clean lines
Minimal look
Looking for more modern kitchen ideas? Check out What is Modern Kitchen Design and How to Get the Perfect One?
#2: Traditional Kitchen Design Styles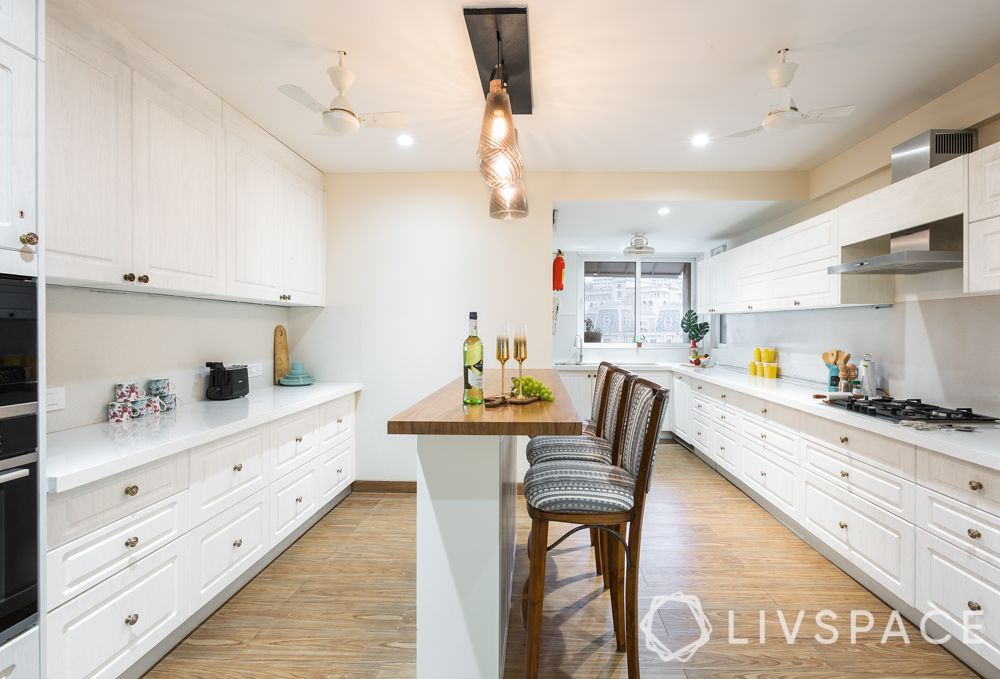 Traditional kitchen design styles make use of classic design elements with a dash of fresh colours for a timeless look. Therefore, you can use white as the predominant colour that provides visual appeal and a sparkling vitality. Try details like shaker-style cabinetry and panelled or glass cabinet doors for more personality than modern kitchen ideas offer. As for the countertop, such kitchen design styles definitely call for some timeless marble.
Features To Explore for Traditional Kitchen Design Styles
Elegant and timeless aesthetic
Clean and inviting vibe
Hints of Modern American design elements
#3: Contemporary Kitchen Design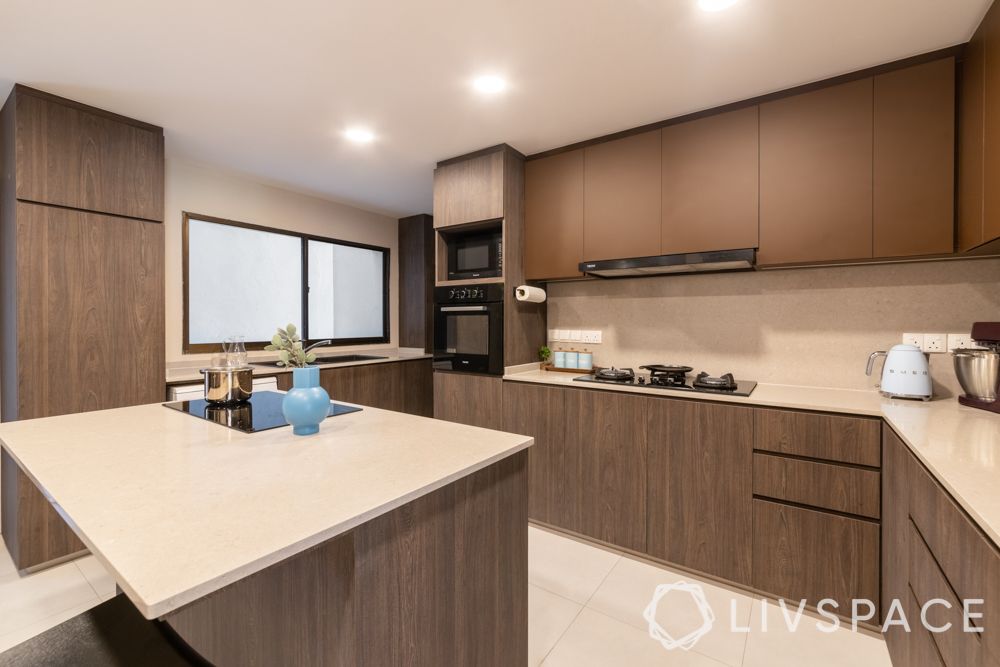 Contemporary kitchen design by rule is very clean and sleek. While modern kitchen interior design style and contemporary kitchen design overlap sometimes, the latter is often more playful in form and finishes. Keep it simple with smooth finishes, and minimal patterns and texture.
Features of Contemporary Kitchen Design
Artistic elements
Straight and horizontal lines
Uniquely bold simplicity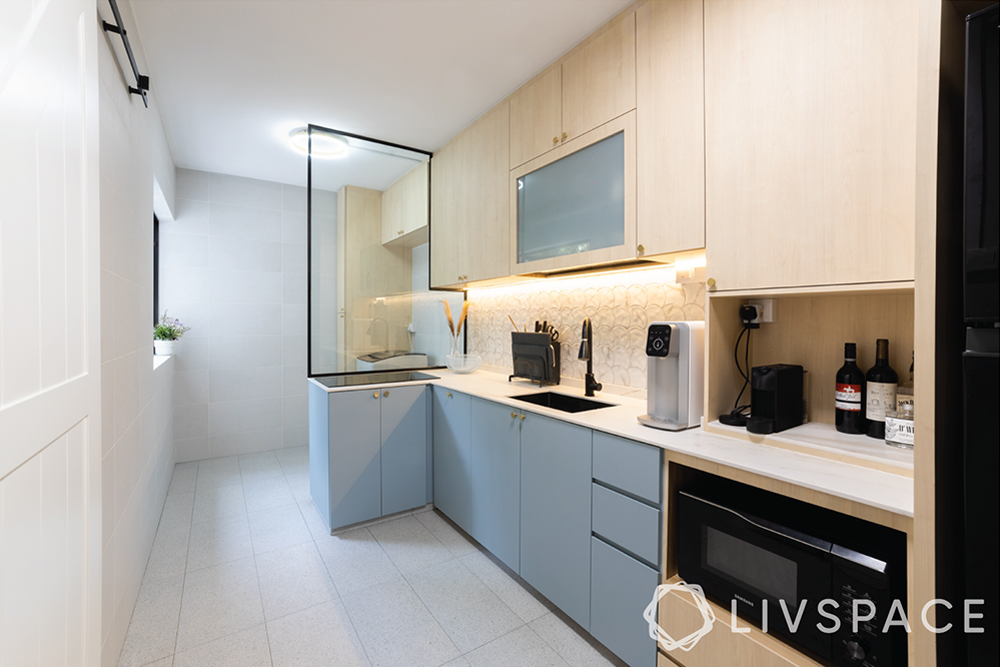 Scandinavian design by definition is a design movement characterised by simplicity, minimalism and functionality. It is very popular since it treads the path of clean lines and functional spaces. In kitchen design styles, this effect is very useful and makes the space look better than ever.
Also, natural light is central to Scandi kitchen interior design so keep a large window or carve out one. Also, whites or neutrals with seamless finishes (no visible handles and smooth surfaces like acrylic) are preferred.
Features of Scandinavian Kitchen Design
Light and bright (plenty of light wood)
Straight lines
Minimalist (uncluttered)
#5: Farmhouse-Style Kitchen Design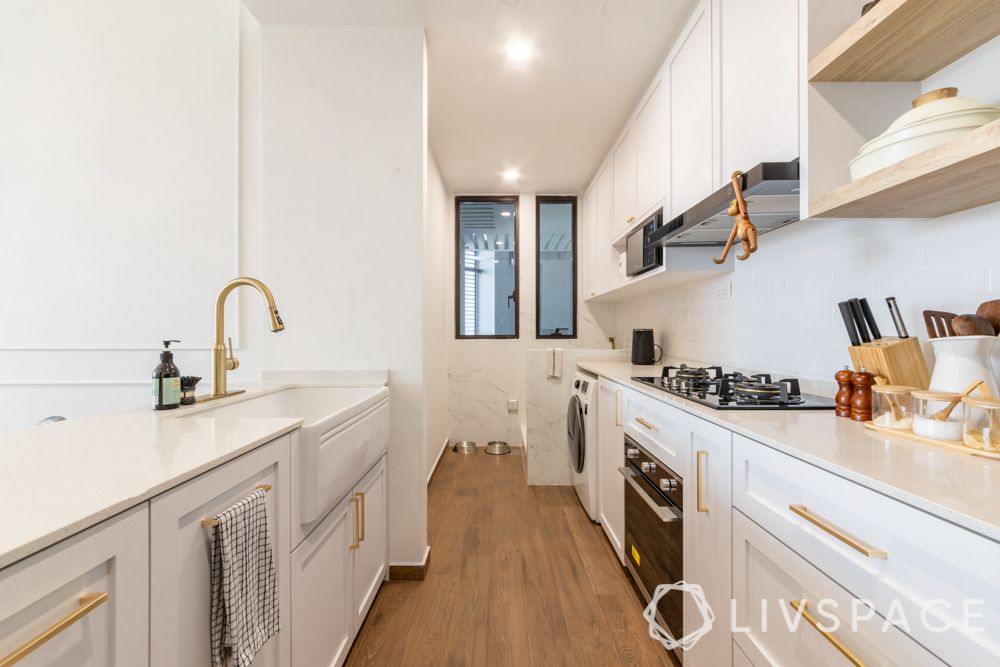 Cosy, happy and unpretentious, a cottage kitchen takes us back to simpler times that evokes a sense of a happy-go-lucky lifestyle. Marked by soft colours, vintage cabinetry, wooden flooring and dated accents, this kitchen interior design style is unique.
Also, you can put woven baskets and delicate china sets on display. Brick accents and vivid pops of radiant colours are all fantastic components in this kind of kitchen style.
Features of a Farmhouse-Style Kitchen
Intimate and cosy environment
Highly decorative
Natural and premium materials
#6: Eclectic-Style Kitchen Design
Coming to one of the most fun and adventurous kitchen interior design styles out there—Eclectic style. It is an ultimate study in mixtures, contrasts, composition, and scale. Therefore, bold paint choices and various textural elements are commonly incorporated within eclectic kitchen design styles. The trick here is to be a rebel with a cause. As this style is essentially personal, no two eclectic kitchens look the same.
Features of an Eclectic-Style Kitchen
Multifaceted approach
Highly personalised and curated
Visually stimulating
#7: Industrial Kitchen Design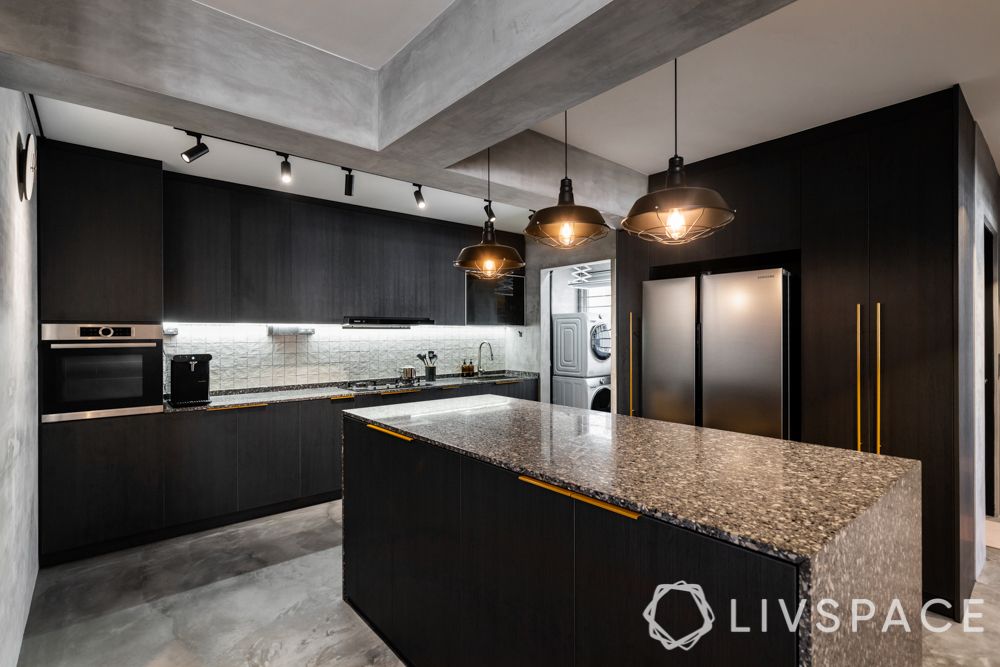 One of our favourites in this list is the Industrial kitchen design. We are huge fans of this style ever since we have seen our designer work his magic in this kitchen for a client. Would you look at the lovely outcome? There's a lot of beauty in the unfinished look of an industrial kitchen design. Black metal lights and fixtures and a distressed or membrane finish, cement screed walls and flooring and the overall unfinished look are the highlights of this style.
Features of the Industrial Kitchen Design
Lots of brick, metals and wood
Open concept
Darker lighting
#8: Mediterranean-Style Kitchen Design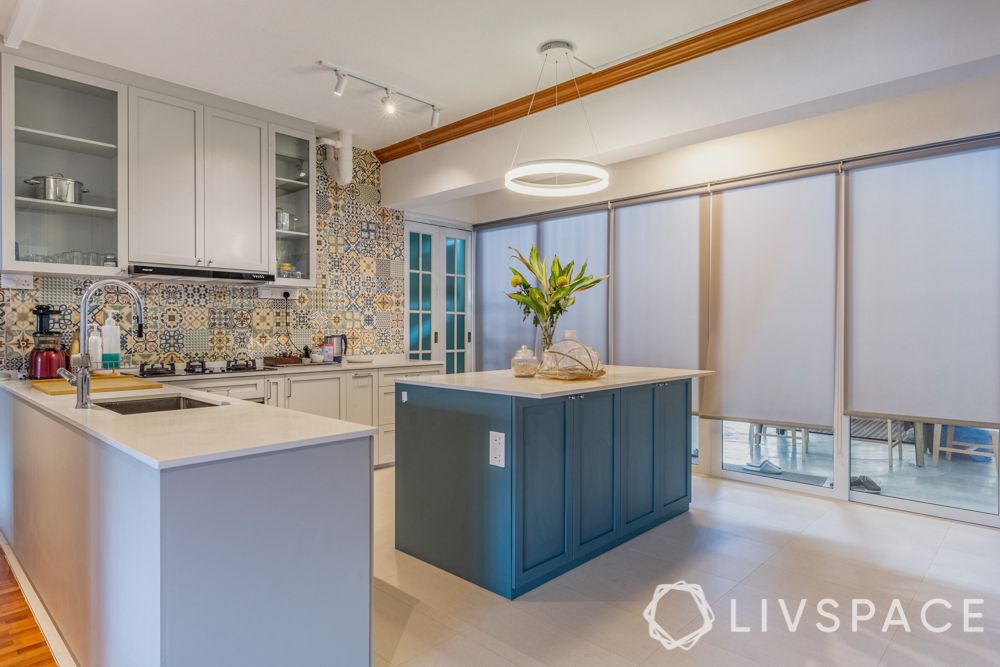 Mediterranean kitchen design styles have classically Grecian styling notes that are reminiscent of art and culture. So, it incorporates bold colours with earthy undertones that make for a perfect combination. Moreover, visual interest is of paramount importance in a Mediterranean style kitchen. You will often find décor accents like terracotta tiles, intricate mosaics and stunningly unique backsplashes in these kitchens.
Features of Mediterranean-Style Kitchen Design
Intricate and high-quality details
Old-world opulence
Bold colors paired with earthy neutrals
#9: Shabby-Chic Kitchen Design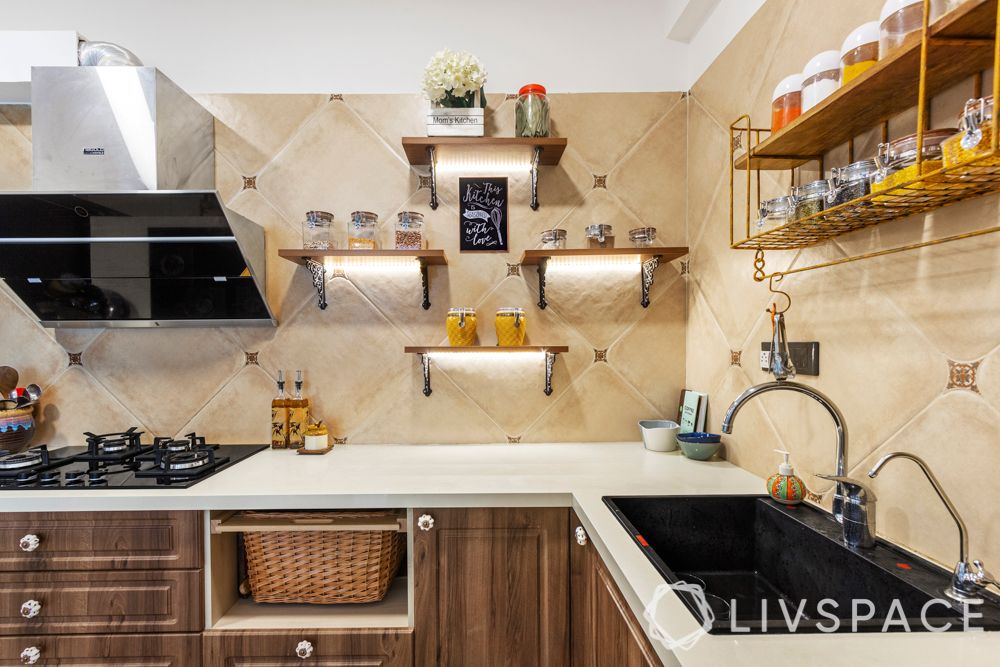 A shabby chic look can give an old kitchen a facelift without any structural renovation. So, if we were to explain the shabby-chic style in brief, it would be a look that you can pick out of a garage sale. Therefore, think of your kitchen as a cosy and personal space which has jars and jars of your favourite spices and pickles that sit on pretty open shelves. There are no major rules to follow when it comes to this unique kitchen interior design style.
Features of the Shabby-Chic Style
Old decor elements: distressed table, flooring and cabinets
Old knick-knacks that you'd find in a pawn shop or garage sale
How Can Livspace Help You?
If you enjoyed reading about these kitchen interior design styles, we are sure you will love this too: 10 Interesting Interior Design Styles That You Need to Try at Home. If you want your home to be just as beautiful as the images in this article, then look no further. Book an online consultation with Livspace today. Have some comments and suggestions you'd like to share with us? We're all ears! Feel free to write to us at editor.sg@livspace.com.