Designing a kitchen can be a tricky task especially when it comes to planning out a functional one. Apart from this you will need to look into durability, maintenance and cost of each element. However, finding perfect countertops should be on top of the list. It is one of the most load bearing surfaces in the kitchen and is more prone to scratches and stains than any other part.
Investing in a good quality countertop made of quartz or wood will last longer and give your kitchen a distinctive design.
Take a look at these 10 countertop materials to make the right decision!
#1: Granite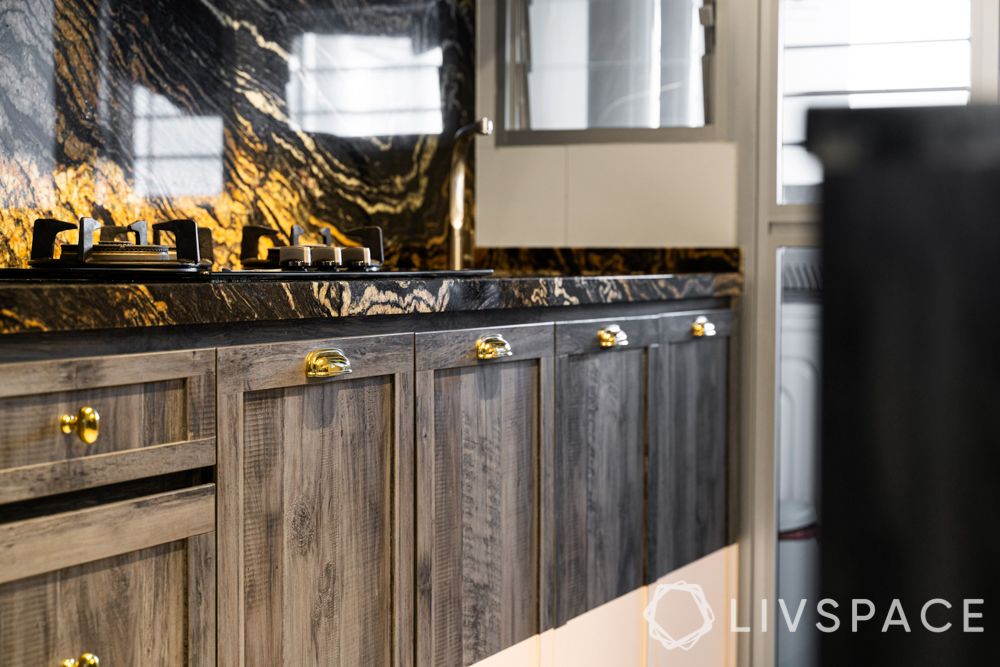 Let's start with a popular one! Granite is one of the most favorable materials for its hygienic, durable and low maintenance properties. Subsequently, it comes in a variety of colours that range from white to black and even pink. The minerals that make up granite give it its unique colours.
Pros:
These countertops are extremely durable and stand up well to a kitchen's wear and tear
It is fairly scratch-resistant
Granite is heat-resistant making it perfect to place hot pots and pans directly onto its surface
Granite is also stain-resistant, if sealed properly
The leftover material can be used in a variety of elements like flooring, backsplash, bathroom counters, etc
Cros:
Granite ranges from mid to expensive on the cost side
These countertops need to be sealed often to prevent stains and bacterial growth
The corners are prone to cracks and chips, if struck by a sharp object
Maintenance:
Along with its durable features, granite also happens to be low maintenance. It's unlikely that you will need to repair a granite countertop, but it can crack or get chipped.Sealed countertops resist dirt and spills thereby, reducing the growth of bacteria. However, this sealing process can be easily done by you at home once you have seen a professional do it.
#2: Soapstone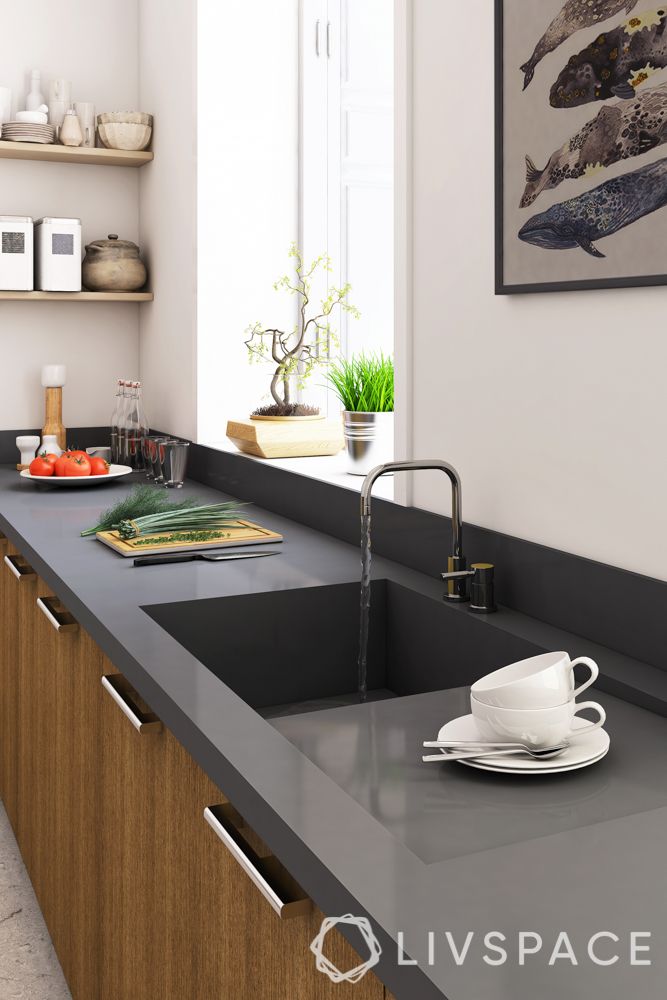 Soapstone is a mineral made of steatite. The name soapstone comes from its texture. Give it a feel and you will notice that it is quite similar to stone. Apart from soapstone countertops and sinks, this mineral is also used by sculptors for its soft, malleable properties.
Pros:
Soapstone is a natural stone, therefore it has unique patterns and textures
It is not at all porous and does not stain or harbour bacteria
It's durable and heat-resistant
Cons:
Since the stone is soft, it is susceptible to cracks and damage
It only comes in shades of grey
If the material is not smoothened properly, it can damage glassware
It is more expensive than other materials
Maintenance:
Soapstone requires more maintenance than most other countertop materials. Furthermore, it should be regularly treated with mineral oil to ensure that it darkens evenly over the years. This oiling process also removes water stains.
#3: Marble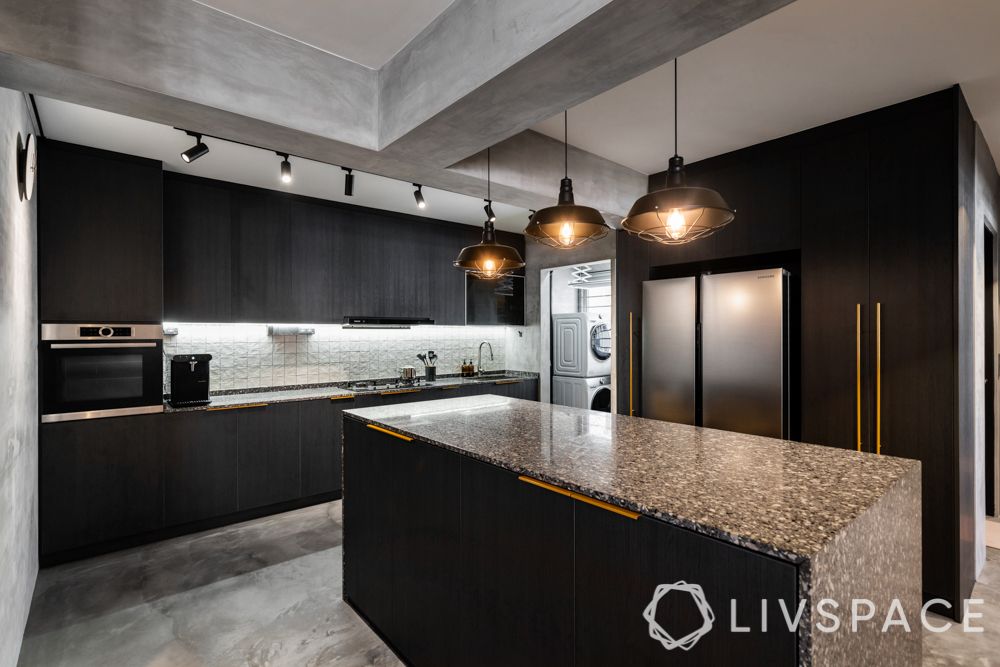 What's not to love about marble! It's a symbol of luxury, making it perfect for almost all design styles. There are numerous varieties of marble which come in a spectrum of colours. Installing a marble countertop requires plenty of thought. The colour, pattern and veining of the marble makes for most of the design.
Pros:
It can increase property value as people look for homes with marble features
No two slabs of marble are the same, giving every countertop a unique look
It's a feasible option in the long run, if maintained well
Cons:
It's an expensive stone. However, with its wide range of varieties, you can find affordable options as well
Its high porosity makes stains seep down into the marble
It is not scratch- resistant
Maintenance:
Since liquid can seep into the stone, it will require an alkaline mixture that will gradually pull out the stain. Cleaning a marble countertop requires professional skill. So, it's best to leave it to them.
#4: Quartz or engineered stone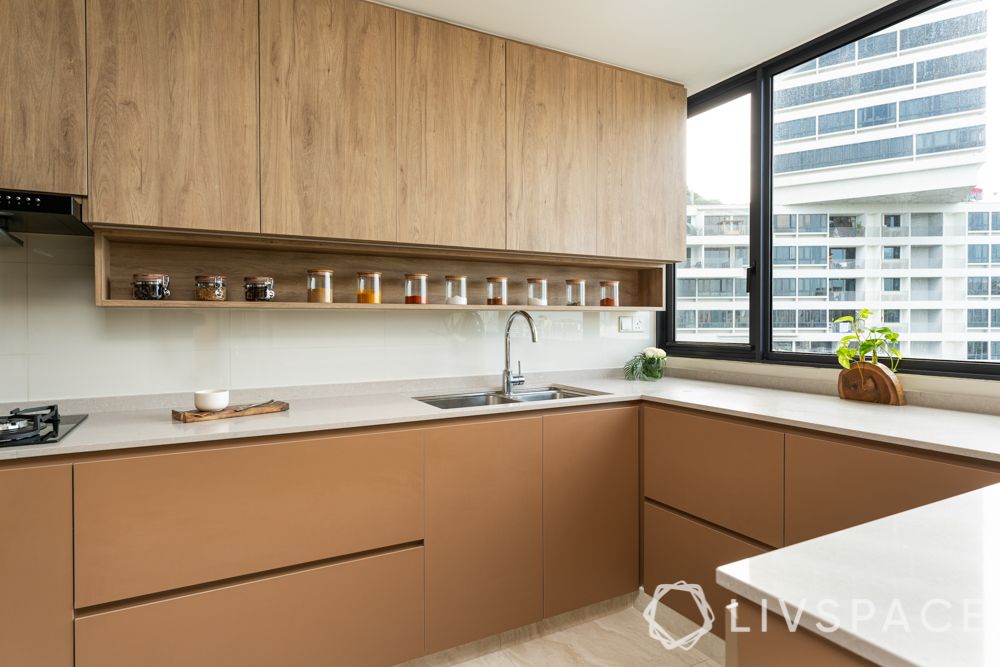 Quartz, unlike its natural stone counterparts, is an engineered stone. It is often compared to granite. Unlike granite, it is not a 100% natural stone. It is made up of fine stone particles bounded by plastic resin. They can be made in a variety of designs and colours. Therefore, it's the perfect choice for modular kitchens.
Pros:
Quartz is non-porous and stain-resistant, making it low maintenance
It's a sanitary option as it does not harbour any bacteria
Quartz is an environment-friendly material
It's highly customisable
Cons:
Works for contemporary designs with its upscale look
Does not offer a natural look like marble and granite
It is not as heat-resistant as granite
Maintenance:
Stains can be cleaned with warm water and soap. However, light coloured countertops should be wiped down everyday with a soft, damp rag. Avoid using acidic cleaners on quartz.
#5: Solid surface material or Corian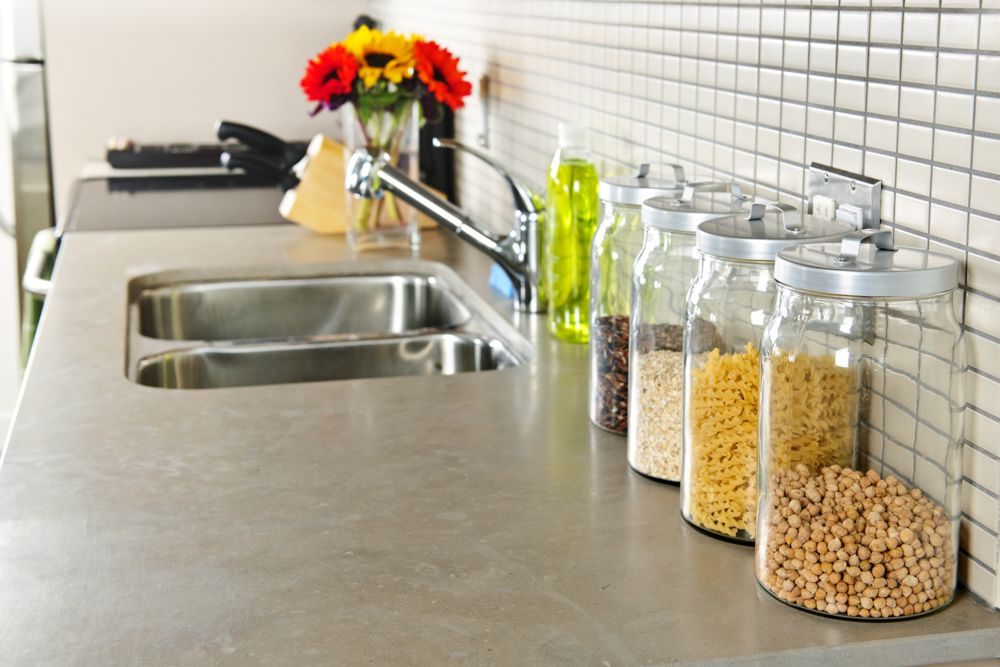 Originally a product of DuPont, Corian countertops are a popular option among homeowners. It is made of solid stone and acrylic polymers. Furthermore, this customisable countertop can be cut to match any bathroom or kitchen countertop.
Pros:
The colour is uniformly distributed, therefore it does not fade over time
Can be formed into any shape with a seamless finish
It is non-porous
Colours and textures can mimic more expensive stones
Cons:
It is not heat-resistant as it has components of plastic in it
It is not scratch-resistant
Corian material an expensive countertop option
Maintenance:
Corian countertops are easy to clean. A simple damp cloth and soap can do the trick. However, cleaners with bleach can cause patches or form a film on the countertop. Consequently, deeper dents and scratches will require buffing and professional help.
#6: Ceramic tile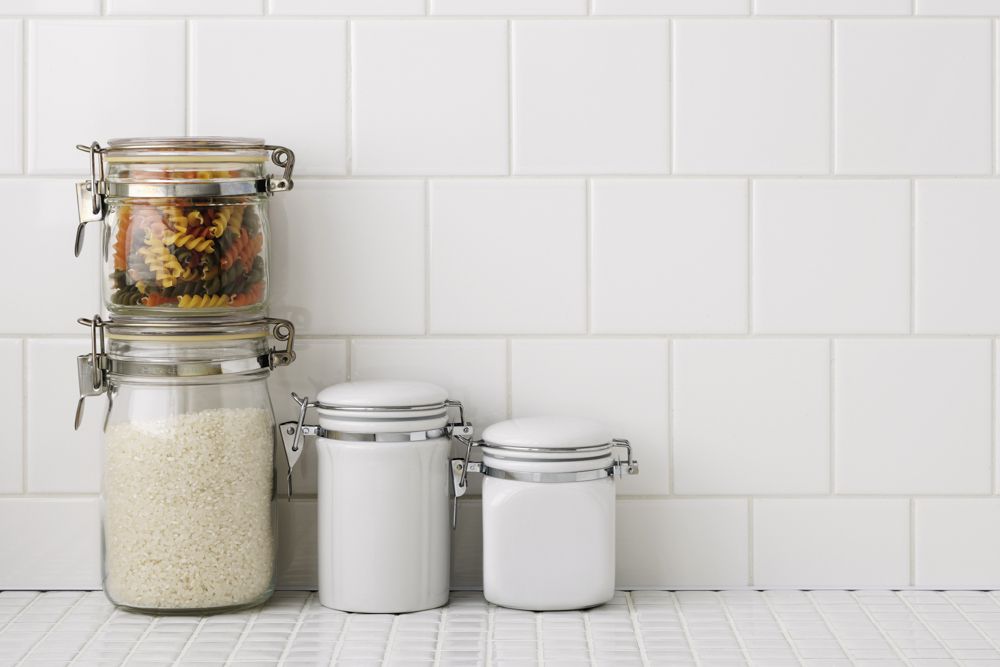 Ceramic tiles are not just for floors and backsplashes. They are now a popular option for kitchen countertops. Clay, sand and water are molded into squares and baked in a kiln to form tiles. On the other hand, porcelain tiles are made of denser clay. Therefore, you can opt for ceramic tiles if you want a terracotta finish or porcelain for a sleek white or grey look.
Pros:
Glazed tiles are water-resistant and perform well in highly humid conditions
It can last decades if maintained properly
It does not attract dirt and dust
If damaged, it's easier to replace one or few tiles
Cons:
Cracks and grout lines should be sealed often
It is not the most heat and scratch resistant option
Ceramic tiles are susceptible to harbouring bacteria in nooks and corners
Maintenance:
We recommend sealing the grout lines to prevent moisture from seeping in and causing any damage. However, it can be easily cleaned with simple cleaning liquids like a vinegar and water solution.
#7: Laminate
Great at imitating any of the above materials, laminate is your go-to option for a lookalike design. A laminate countertop is made of layers of plastic that are bonded together to form a solid surface. Moreover, they come in a wide variety of colours, patterns and textures.
Pros:
It is an affordable option for a countertop
Can be installed without professional help
It can give your kitchen a designer look
Cons:
Laminate is not an environment-friendly option
It's lightweight, making it a less durable option
It will have to be replaced every few years
Laminate countertops are not heat and scratch resistant
Maintenance:
It is best to use mild soap and water to clean this material. However, long exposure to water can damage the surface. Subsequently, dried food and grease can be removed with a scrub or sponge.
#8: Wood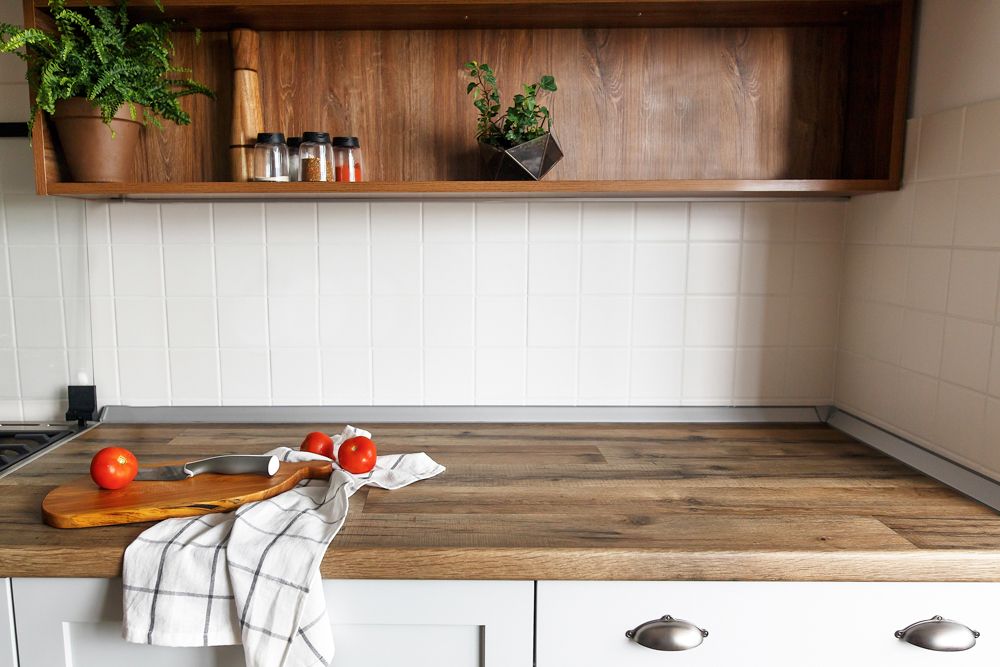 Eclipsed by grand stones and man-made materials, wooden countertops are often overlooked. They can give an organic and rustic look to any kitchen. While they are favoured for their looks, it is also an inexpensive option for a budget-friendly kitchen.
Pros:
It is a cost-effective option
It imparts texture to a kitchen design
Wood can be easily installed and replaced
It absorbs sound
Cons:
It is not heatproof, making it a combustible material
Liquids can damage wood and cause joint separation
It can expand in humid weather causing the shape to warp
Maintenance:
Unpolished wood needs regular oiling. Whereas, polished wood needs retouch every 5-6 years. Water must be wiped away quickly. Opt for thicker countertops to avoid or lessen changes due to humidity.
#9: Stainless steel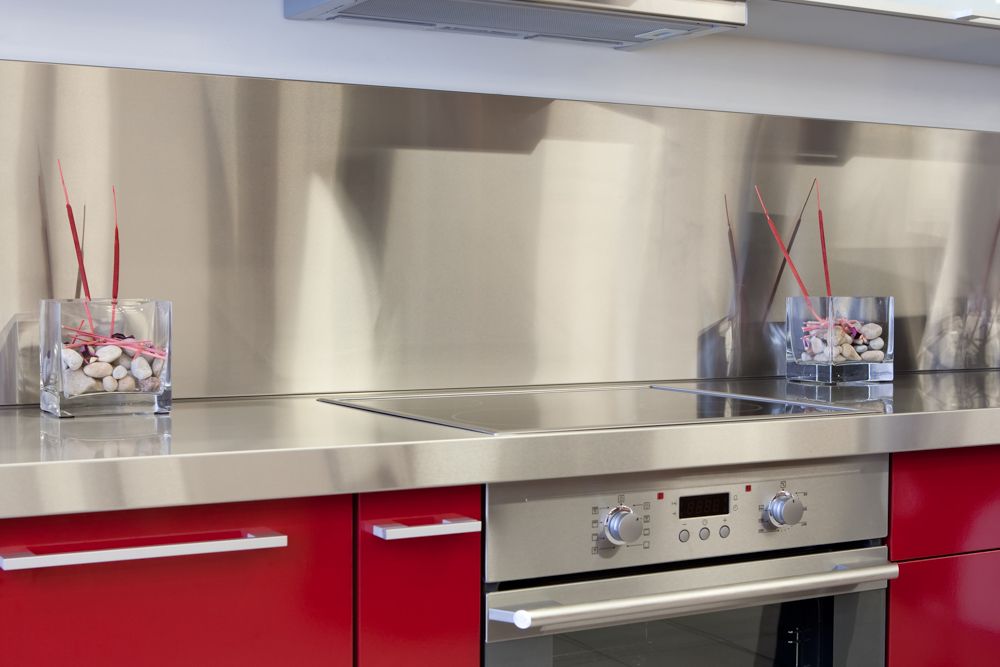 There is a reason every professional grade kitchen is designed with stainless steel. It's the most resilient option for a kitchen and food grade stainless steel is your best option. They also come with integrated sinks.
Pros:
It can be custom-made to fit any kitchen
It is one of the easiest-to maintain countertops
Stainless steel is water, heat and stain resistant
Cons:
If not cleaned properly, stainless steel can harbour bacteria on its cold surface
They are not scratch-resistant and can look dull over time
It is susceptible to dents
Maintenance:
In the short run, these countertops are the easiest to wipe down and clean with a microfiber cloth. Moreover, you can use strong acidic cleaners for stains. However, in the long run, as it is easily dented and can get scratched, the entire countertop will have to be changed.
#10: Concrete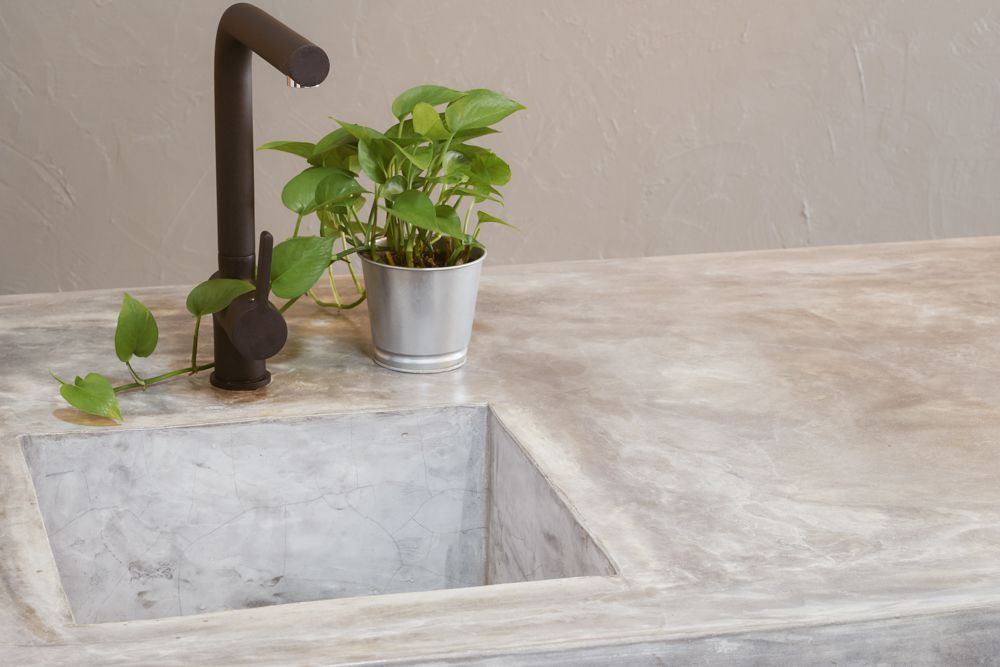 Concrete is more than a construction material used for slabs and building foundations. Giving anything an authentic industrial look, concrete is a premium material that requires skill to install. This material can withstand extreme weather conditions. Therefore, making it the perfect option for outdoor kitchens.
Pros:
It can be measured and made by the manufacturer or installed on-site
Concrete can be shaped and installed in any nook and corner, creating an exact match for your kitchen
It is considered as a premium material for countertops
Cons:
It is an extremely heavy and durable option
Installing concrete countertops might require reworking the flooring and cabinets due to its weight
It's an expensive option
Pots and pans can create clanging noises
Maintenance:
Ensuring the countertop is sealed can save it from strong stains. However, using a brush or scrub can take off dry food and stains. Moreover, sealing and waxing this material is a monthly task that should be followed religiously.
If you're looking to redesign your entire kitchen, check out How to Zero in on the Perfect Kitchen for Your Home
Send in your thoughts and suggestions at editor.sg@livspace.com.