Do you love having pristine white interiors at home, but cringe at the idea of maintaining that shine and gloss? Well, if white is your soul colour and you cannot help but have an elegant ivory kitchen in glossy or matte finish, maintaining that can be a daunting task. Maintain white kitchens like a pro with just a few simple tips.
Fret not! Here are some super helpful tips to keep that white kitchen spotlessly clean.
Why Do White Kitchens Start to Yellow?
Exposure to direct sunlight can cause painted or laminated wood.
The residue of the cooked meals like grease particles land on the cabinets and turn them yellow.
Quick, No-Fuss Tips to Maintain White Kitchens As Good As New
#1: Protect from Direct Sunlight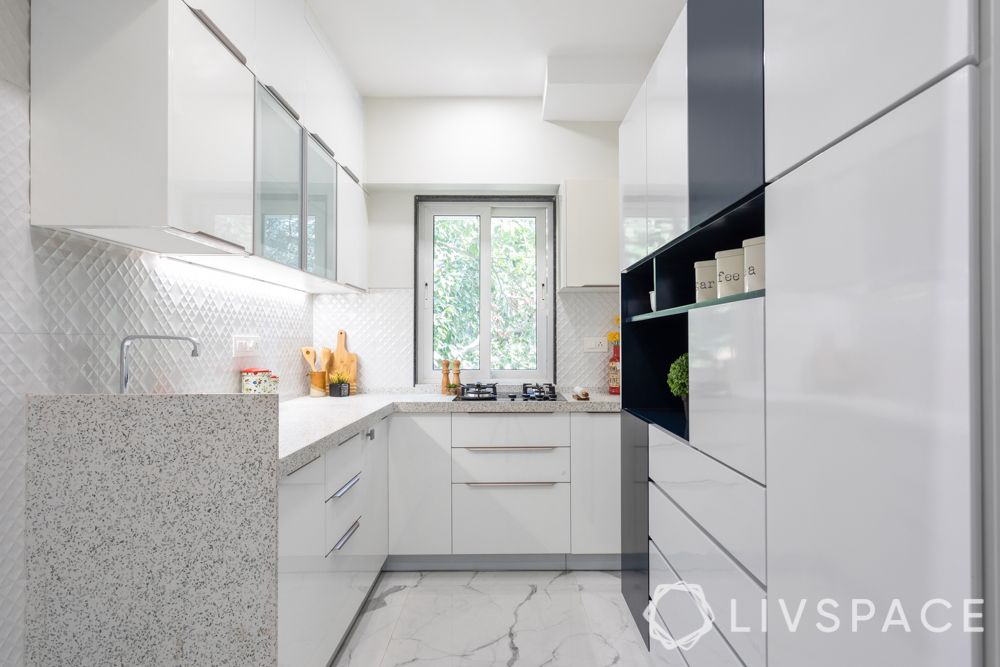 One of the main reasons why white cabinets turn a dirty yellow is exposure to direct sunlight. Yes, the sun is not only harmful to our skin, but it can also affect white kitchens too! Protect your shiny white kitchens from the harmful effects of the sun by using drapes, sheers or blinds. This will not only tone down the harsh light but also add a beautiful texture to your kitchen.
#2: Exhaust it Out
The exhaust fan does not just save your lungs from all the fumes that are produced while you cook. It is also responsible for making your kitchens less oily and greasy when used well. The mouthwatering aromas rise into the air as soon as you start cooking and since they have to land somewhere, their favourite place is your countertops! Switching on the chimney/exhaust fan will make sure this does not happen.
#3: Humble Home Recipe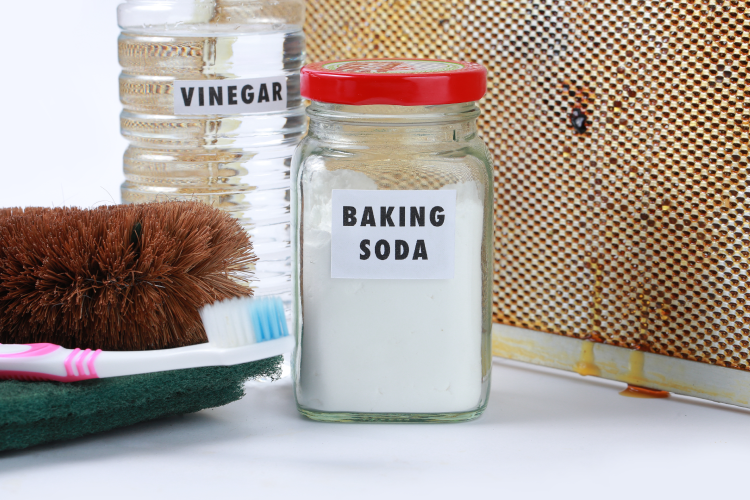 Do you have white tiles installed in your kitchen? Well, you must be wondering day in and day out, how to keep those grout lines from forming ugly stains. We suggest you use a homogenous mixture made up of vinegar and baking soda, and with the help of a toothbrush, you can scrub away those dirty stains! Hello, sparkling backsplashes! Lemon can also act as a substitute for vinegar. Find more tile cleaning tips here.
You can use the same mixture to clean the laminates too. All you have to do is scrub it with a nylon brush. After cleansing, leave it to dry for sparkling cabinets.
#4: Sinks that Shine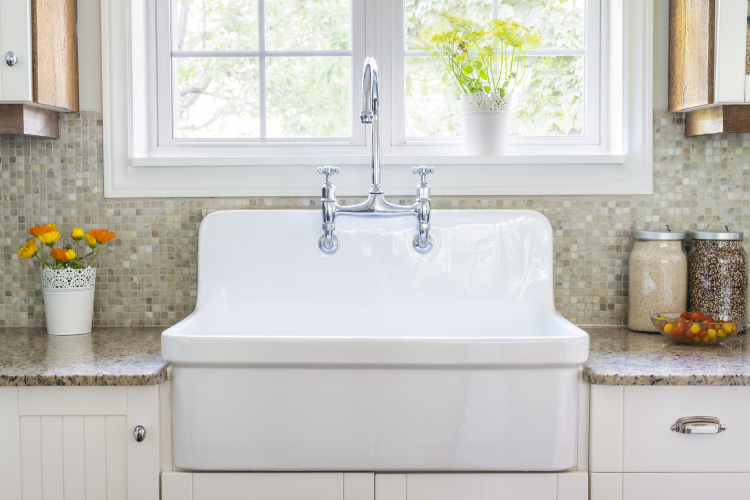 Well, for ceramic sinks that are pristine white, we do not suggest any harsh industrial chemicals. They will do more harm than good to the sink. To get rid of tough food stains from your kitchen sink, try using a mixture of white vinegar and lemon juice. Spray it on the stains and leave it for some time. You should have a sparkling sink in no time!
#5: Make it a Routine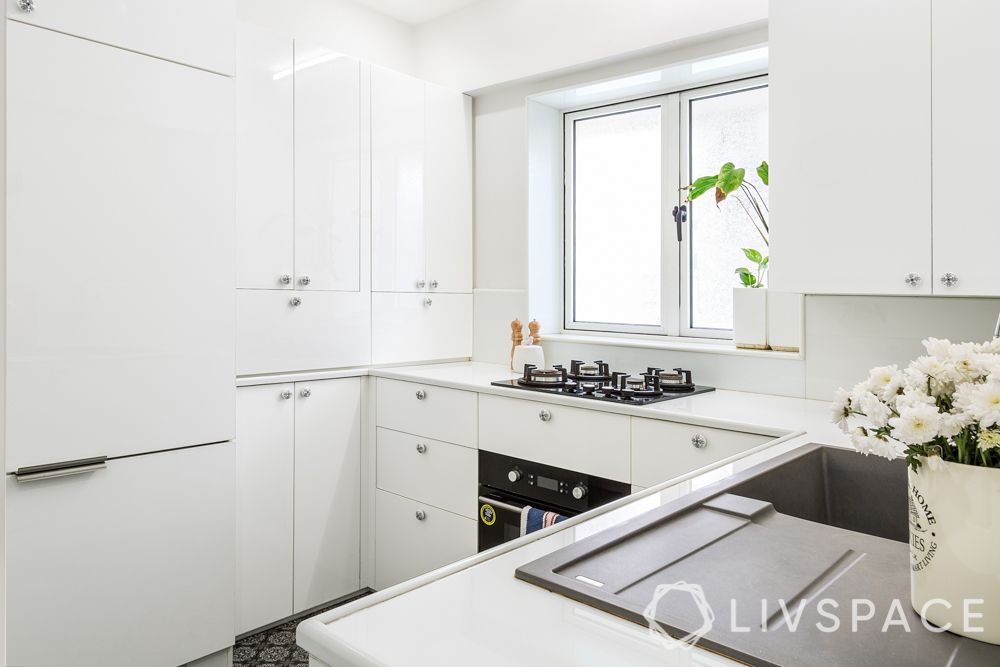 Of course, there's no better way to maintain white kitchens than to clean them regularly and diligently. Stock up on house cleaning detergents and basic cleaning materials, and you should be good to go. Something as simple as warm water and a soft washcloth can do the trick.
Additional tip: clean spillage immediately to prevent it from seeping into your counters.
Things You Must NOT Do To Maintain White Kitchens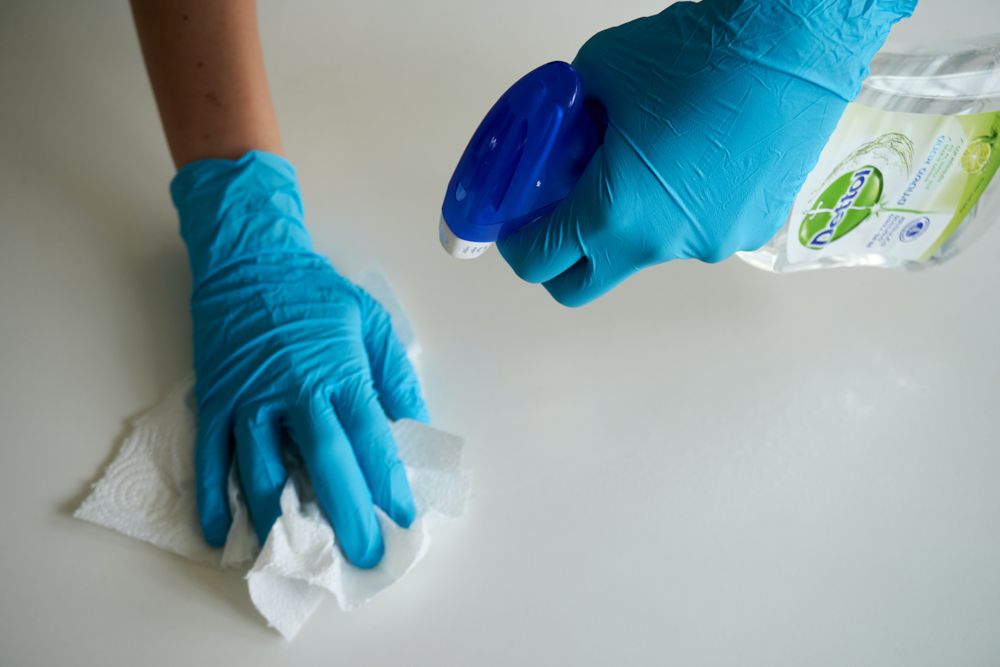 #1: Soaking your cabinets: The water or cleaning mixture must be sprayed and wiped off the cabinets while cleaning. Do not drench the cabinets as it could damage them.
#2: Letting the water run into the hinges: Water can corrode hinges. So, avoid spraying a lot of water on the hinges.
#3: Missing to clean the glass: If your cabinets have glass insets, forget not to clean them. Use the same cleaning supplies to wipe away any dust or grease particles.
#4: Skipping deep cleaning: Yes, cleaning the cabinets every now and then is not enough to maintain a clean white kitchen. Therefore, you must follow a deep cleaning ritual once or twice a year.
Check out this smart home:
You are now ready to go all white in your kitchens and take your home design to another level of contemporary aesthetics. For more tips, check out How to Decorate Your White Kitchen & Make It Stand Out