Under-cabinet kitchen lights are a very practical and convenient lighting option. However, unlike a typical screw-in light bulb, their setup and installation is a little more difficult. This story will assist you in selecting and installing the correct under-cabinet lighting system for your kitchen. Read on!
What Are Under-cabinet Kitchen Lights?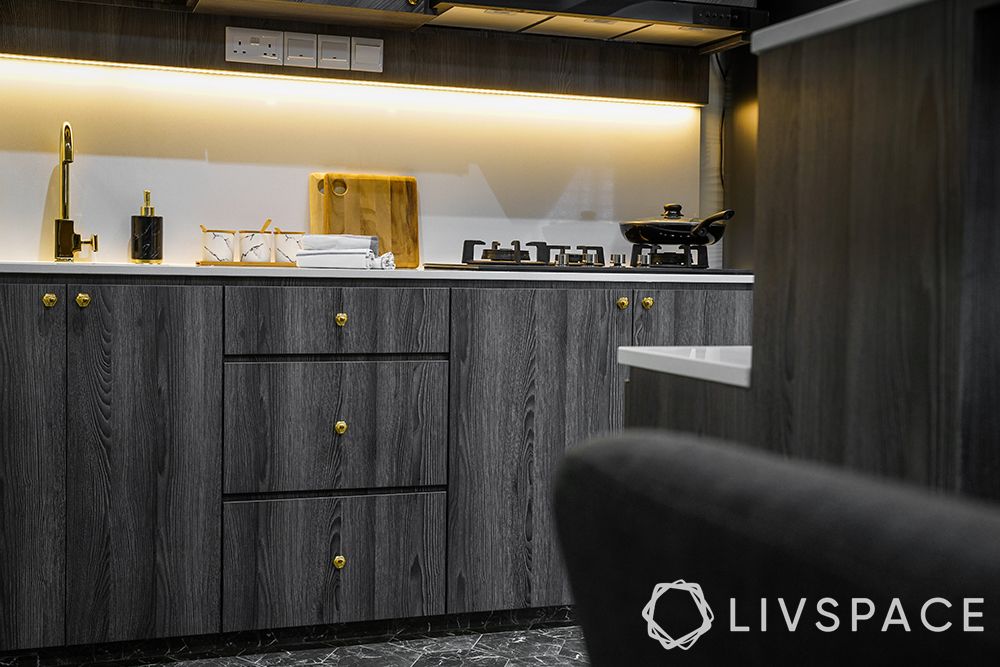 Under-cabinet kitchen lights, as the name implies, refer to light fixtures that are typically fitted beneath upper-wall kitchen cabinets, lighting up the space directly below. These concealed fixtures are able to fit in without being intrusive or clashing with the existing decor. They're typically used in kitchens, where more brightness is needed for reading food recipes and preparing them. An under- cabinet kitchen lights system not only illuminates your area, but it is also one of the most cost-effective methods to increase your home's resale value.
ALSO READ: Which Is the Best Lighting for Kitchens and Where to Use Them?
Advantages of Under-cabinet Lights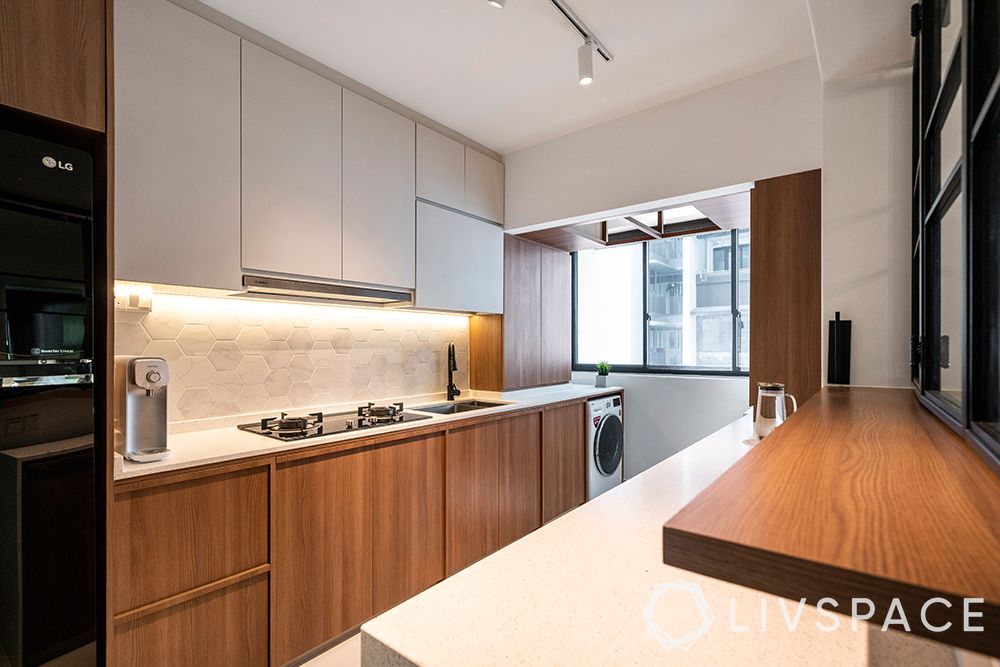 There are various advantages to using under-cabinet kitchen lights. Here we've listed a few:
To begin with, under-cabinet kitchen lights are cost-effective. Rather than installing a ceiling fixture or an entire lamp fixture, under-cabinet lights can be fitted directly into an already-existing cabinet. As a result, when considering the entire cost of materials, under-cabinet lighting can be highly cost-effective.
Under-cabinet kitchen lights are a great way to save energy. The term "efficiency" does not always apply to electrical efficiency, but rather to the fact that under cabinet lighting distributes light to only where it is required (i.e., the kitchen counter) without much "wasted" light that pours across the room.
Under-cabinet kitchen lights are aesthetically pleasant. One notable reason is that under-cabinet lights are positioned on the underside of cabinets and are usually totally hidden. They not only brighten your kitchen and add to the overall ambiance, but also raise the resale worth of your home.
Types of Under-cabinet Kitchen Lights
a) LED Puck Lights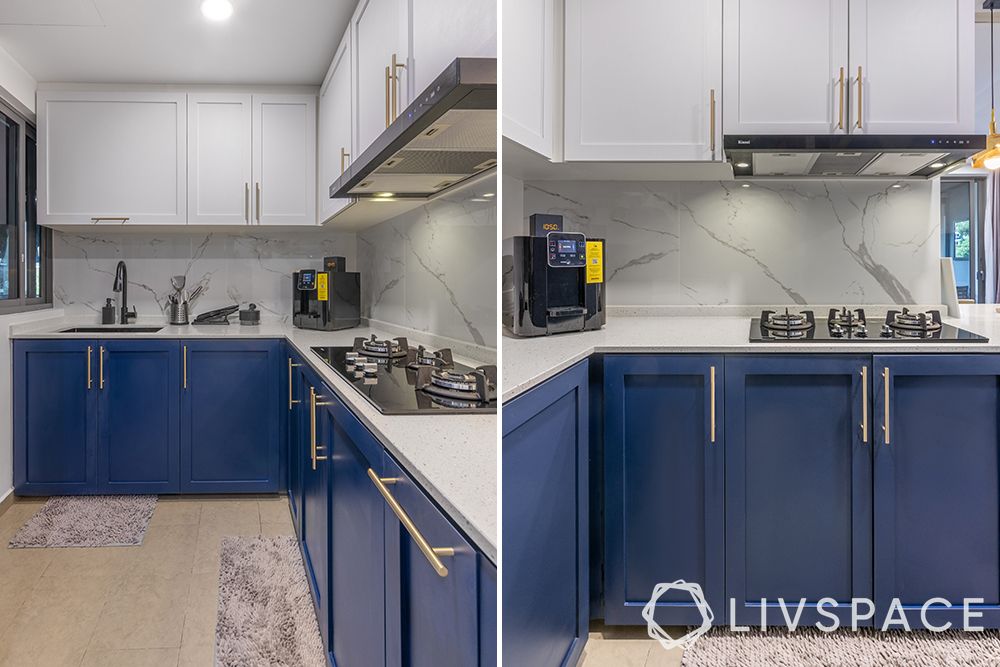 Under cabinet illumination with puck lights has long been a popular choice. They're small, cylindrical lights with a diameter of 2 to 3 inches. They usually employ halogen or xenon bulbs that produce roughly 20W of light. Small screws are used to attach puck light fittings to the underside of cabinets.
LED puck lights now dominate the market and provide good lighting while using a fraction of the energy. They dissipate a rough triangle-shaped, directed beam under each puck light. These kitchen lights produce a more dramatic impact, akin to spotlights. However, keep in mind that you'll need the right number of puck lights with the right spacing, because the areas just under the puck lights will be light "hotspots," while the sections in between will be darker.
ALSO READ: Which is the Best Kitchen Layout & How to Make the Most of It
b) LED Light Strips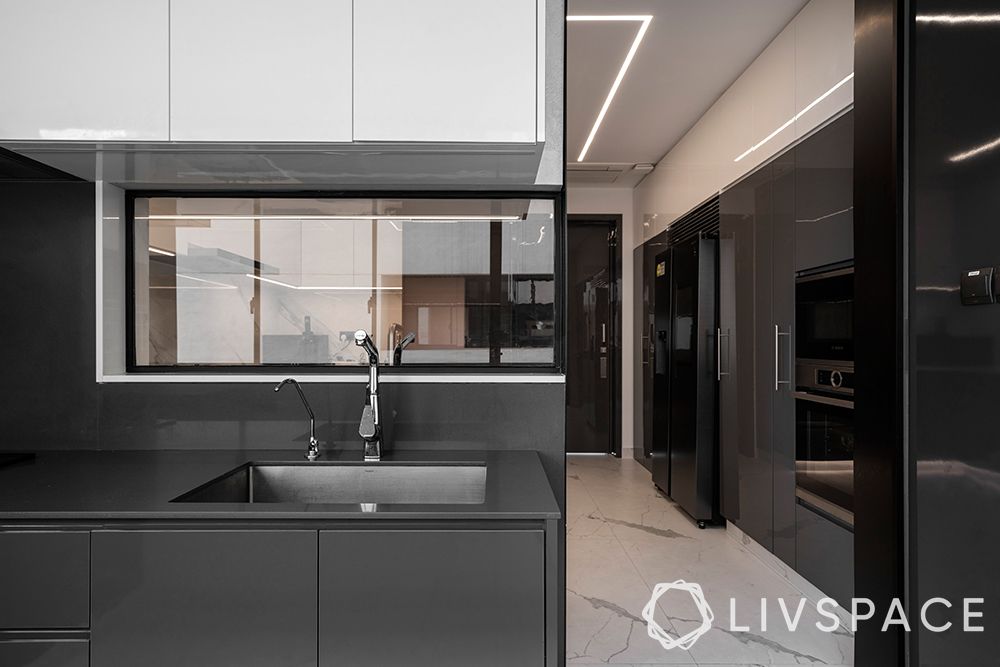 LED strip kitchen light systems generate functional under-cabinet illumination. These under-cabinet lights are often sold in 16-foot reels and are incredibly adaptable, allowing them to be mounted to the underside of almost any surface or turn around corners. One can also cut them to custom lengths, connected for longer runs, and used in a variety of applications, including below counters and toe-kicks, and cove and tray ceilings. Toe-kick kitchen lights, which are placed near the floor, create the illusion of floating cabinetry. They can be used to add depth and define edges under islands and bars.
c) LED Bar Kitchen Lights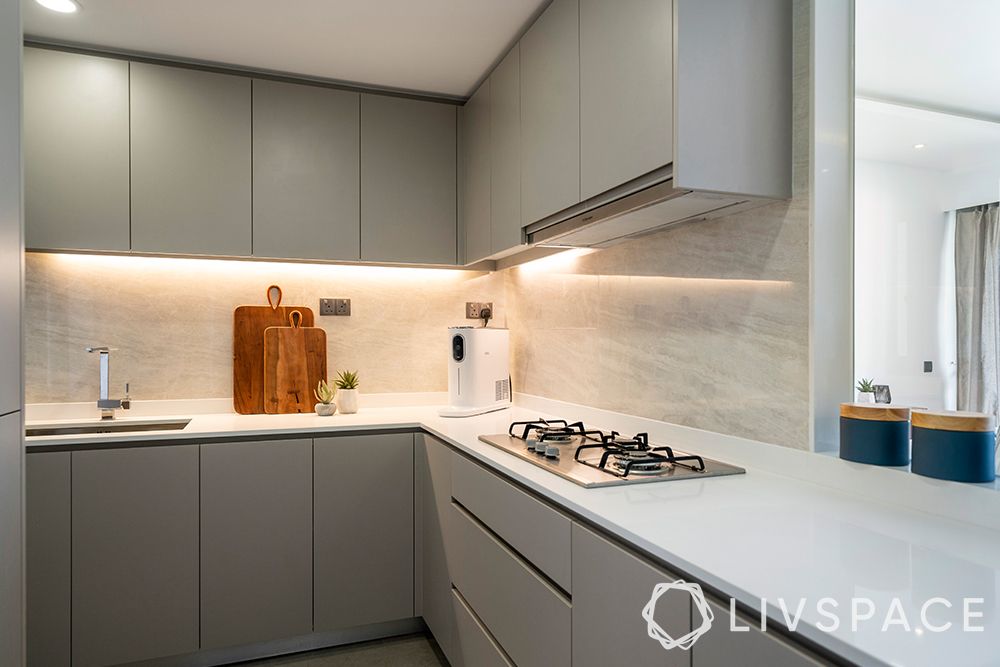 Another option for under-cabinet lighting is LED light bars. Integrated LED light bars are available in lengths ranging from 6 to 48 inches and have a robust exterior. Unlike puck lights, which produce "hotspots" of light, linear lamps distribute light uniformly across their whole length, resulting in a more even and smooth light distribution.
These kitchen lights provide more light than LED strips and are also a little easier to clean. Some LED light bars also support daisy chaining, which means that numerous light bars can be connected in a row. This simplifies installation by eliminating the need to run separate cables for each fixture. LED bar under-cabinet lights, especially when lighting a broad area, can be a far more cost-effective choice.
d) Traditional linear Under-cabinet Lights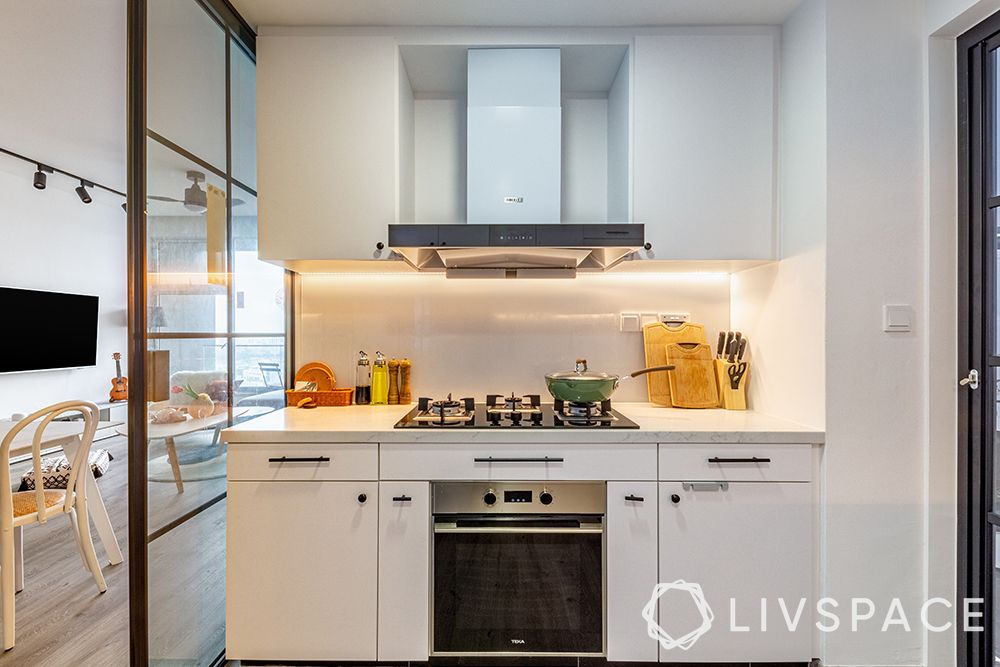 Traditional LED linear under-cabinet kitchen lights are the most common choice for high-functioning areas such as counters, sinks, and stoves. These kitchen task lights illuminate dark shadows and dim areas created by cabinetry, bathing your desk with light. They produce a smooth, uniform light dispersion by emitting light equally across the entire length of the fixture. They come in lengths ranging from 8 inches to 40 inches, are very efficient, long-lasting, and have low operating costs and produce little heat. These traditional kitchen task lights provide an excellent light output and quality, and they're quite simple to install.
How to Select the Perfect Colour for LED Under-cabinet Kitchen Lights?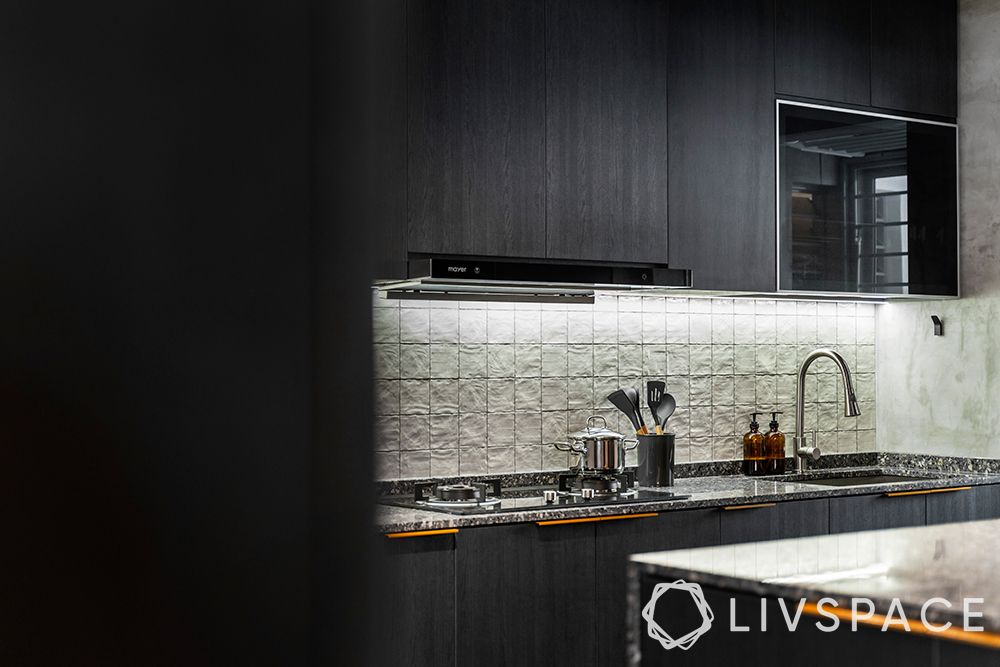 Keep in mind that when it comes to LED colour selections, there are two factors which you need to consider, the right colour temperature and CRI. We recommend a CCT (correlated colour temperature) of 3000K to 4000K for kitchen applications. If you use the space for food preparation, light below 3000K will create a warm, yellowish tint, making colour vision difficult. Since the rest of your home's lighting is most likely between 2700K or 3000K, installing something below this for the kitchen will likely result in an unpleasant hue-mismatch.
ALSO READ: 9 Great Kitchen Design Styles: Which One Should You Try?
The second factor to consider is the Colour Rendering index (CRI). CRI is a 0-100 scale that measures how accurately items appear under different lighting conditions. The higher the score, the more accurate the representation of how the thing would seem in natural light. So, how much is enough? We recommend a CRI of 95+ for colour precision and enhanced appearance.
The bottom line is that your knowledge, experience, your timeframe and budget, all play a role in the installation process. You might be able to install your LED under-cabinet lights on your own if you have electrical knowledge. Feel free to contact Livspace for assistance with product selection, a price, or to create a lighting layout at any time. We'll help you select the best LED under-cabinet system for your needs. All you have to do is book an online consultation with our design experts to get safe and quality interiors. You can learn more about COVID-19 safety protocols here.