Modern PVC kitchen cabinets are very popular because of their affordability, easy availability and durability. But what exactly is PVC? It's a widely produced polymer known as polyvinyl chloride, and has been traditionally used in construction, healthcare, automobiles and other sectors. But it's not just pipes that are made of PVC. We've noticed a trend that is catching on in interior design – and it has taken the shape of PVC kitchen cabinets.
A PVC kitchen cabinet design is not only a pocket-friendly option of furnishing the kitchen; it's also super easy to clean and maintain. If you are sceptical about this material, we have a detailed guide highlighting important features of the material and all that it entails.
PVC Kitchen Cabinets – Varieties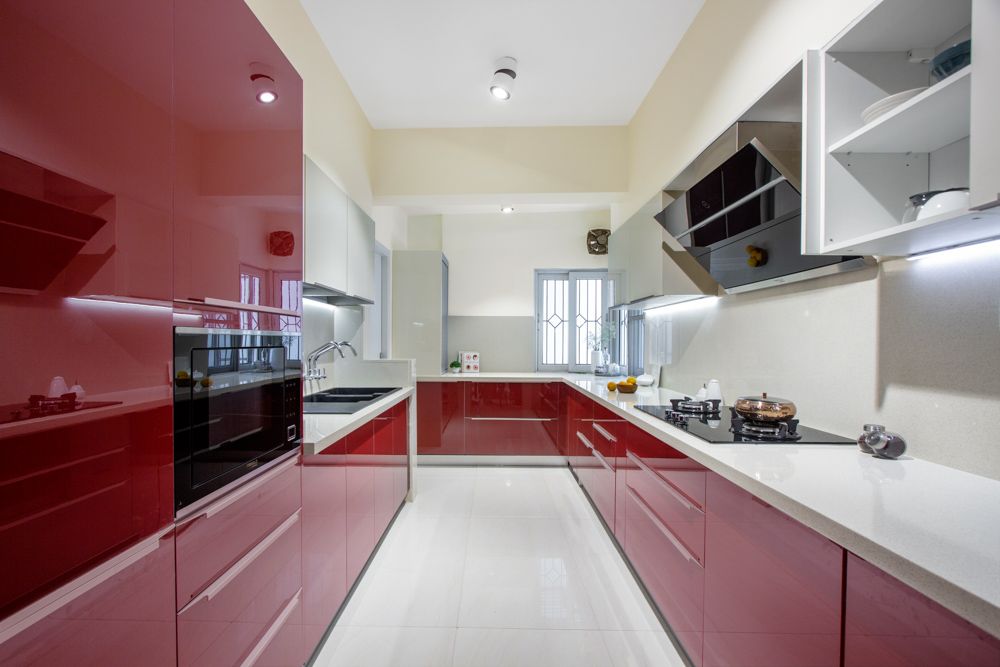 When it comes to PVC kitchen cabinets, the market currently has two varieties – hollow boards and foam. Hollow board is lightweight and economical, and like its name suggests, is hollow. PVC foam boards, on the other hand, can be thicker, thus making them sturdier than hollow boards.
However, the use of PVC foil is noted mainly in creating membrane-like finishes for shutters. At Livspace, that's what we do to give your shutter finishes an edge over the rest.
What Are the Characteristics of a PVC Kitchen Cabinet Design?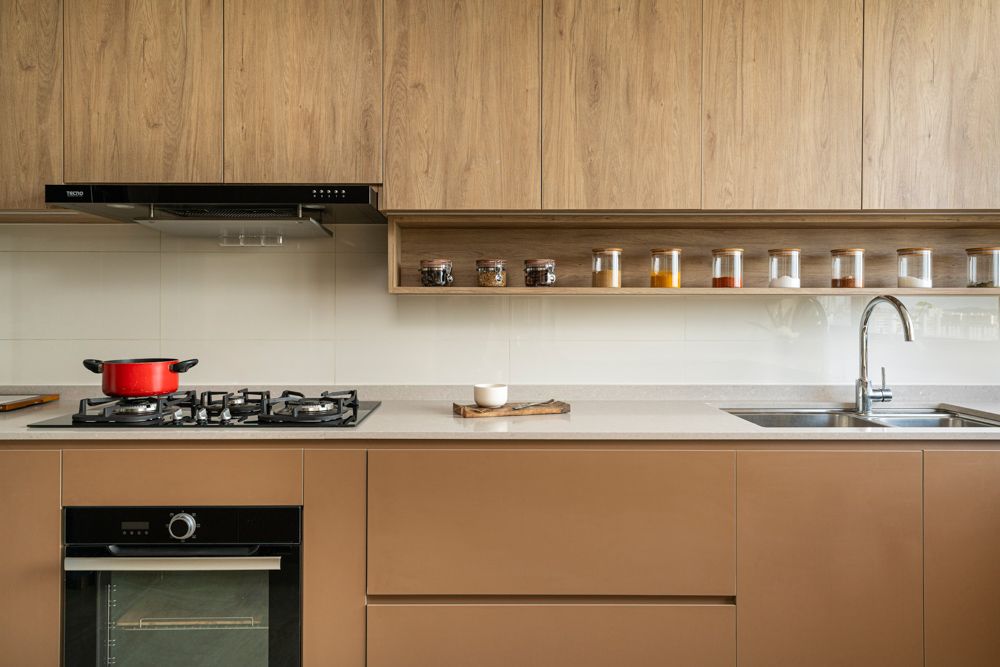 We suggest foam boards as a preferable option when it comes to choosing PVC cupboard designs for your kitchen. That's because they can make for sturdy cabinets, as hollow boards are typically not thermal or fire-resistant. Foam boards, on the other hand, are usually insulated against heat and are fairly fire-resistant. It is also considered to be a non-toxic, anti-chemical and corrosion-resistant material. This ceates creating hygienic conditions to handle your food in.
What is the PVC Installation Process?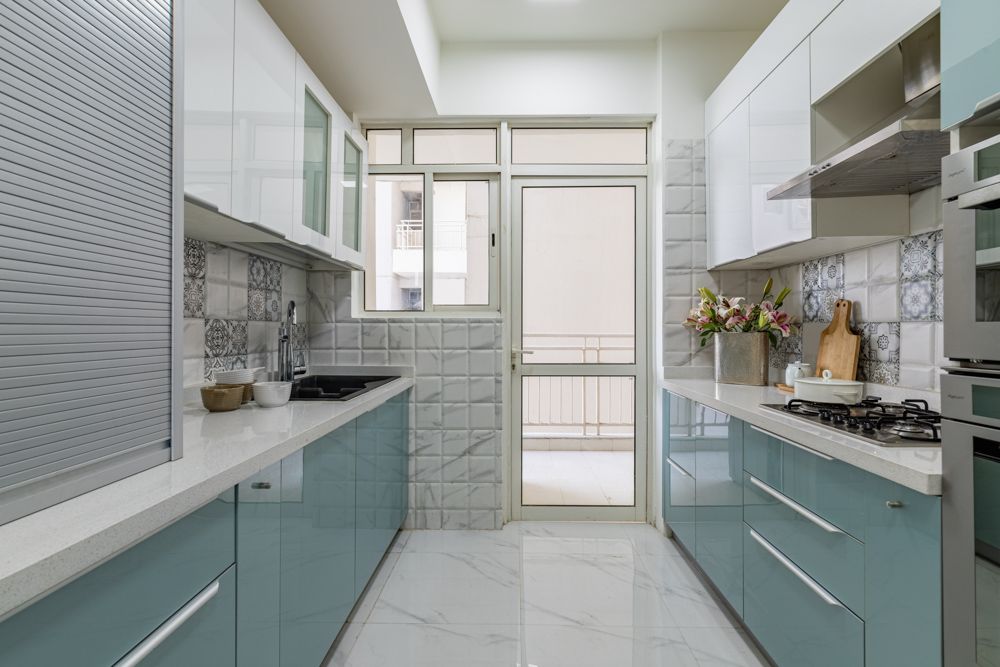 One of the biggest advantages of PVC is its ease of installation. It's available as ready-to-fit boards that usually do not require any further finishing. In fact, PVC is available in an array of colours and does not need laminates or add-ons to make it look beautiful. Since the material is lightweight, it is also easy to work on. However, PVC foam boards require the right expertise for installation, as improper finishing can result in irreversible damage to the cabinet.
How Durable are PVC Cabinets in Kitchens?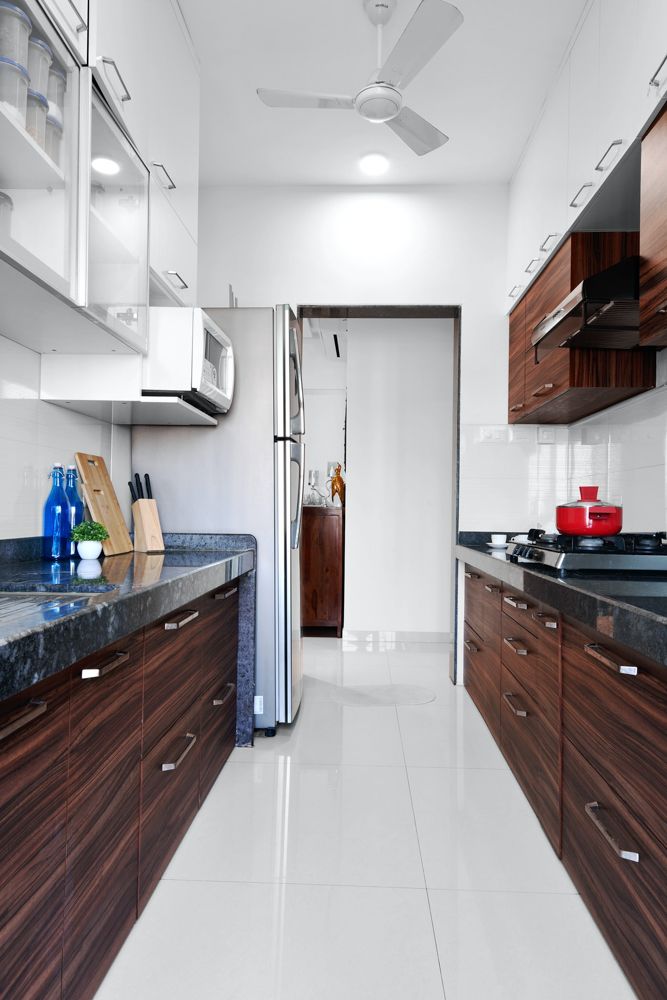 When it comes to the sturdiness of PVC kitchen designs, choose the foam board as it can hold more weight compared to the hollow PVC variant. However, when it comes to its usage, we recommend using it in rented homes. You might want to consider modern PVC kitchen cabinets as a short-term investment, as the cabinets may sag over time. In worst conditions, the damage can be irreversible, if not cared for or maintained well.
Also Read: What Is PVC Laminate and Where to Use It?
PVC Kitchen Cabinet Material vs Other Materials
1. PVC vs Wood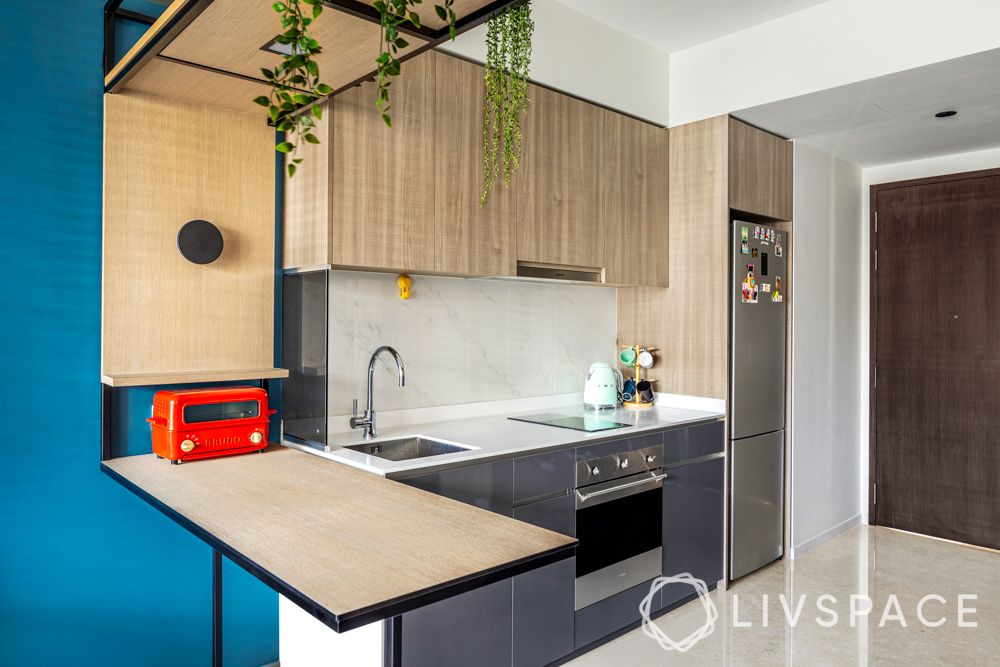 PVC kitchen cabinets are chosen for their affordability, durability and easy availability over materials like wood. However, that's not all. Modern PVC kitchen cabinets are preferred as they are more lightweight.
Wood, if not maintained well, tends to invite termites. So, in a tropical country like India, it's better to opt for plastic cabinets that are considered termite-proof.
PVC material is also able to withstand a lot of heat damage and certain levels of surface damage. The same cannot be said for wood.
2. PVC vs Aluminium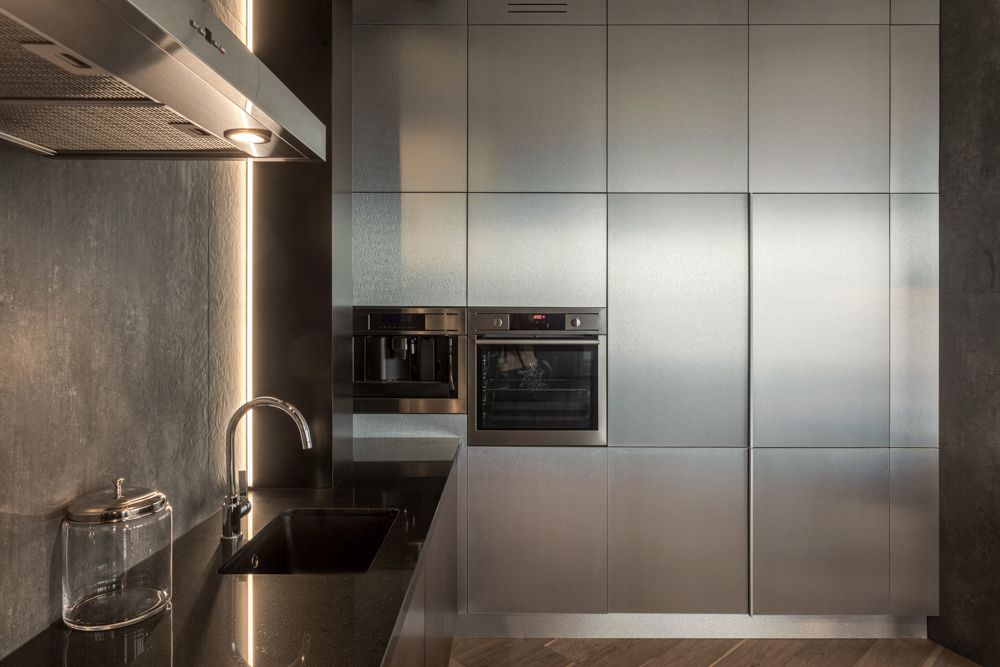 Choosing PVC cabinets or cupboards for a kitchen might be better for you in the long-run as it's waterproof and termite-proof. But the same can be said for good aluminium kitchen cabinets. Then, where lies the difference?
As you know, PVC kitchen cabinet design can get discoloured over the years, if not maintained well. With aluminium, the chances of that happening are low. However, if not maintained well, good aluminium cabinets can sustain dents, scratches and uneven bumps.
3. PVC vs Metal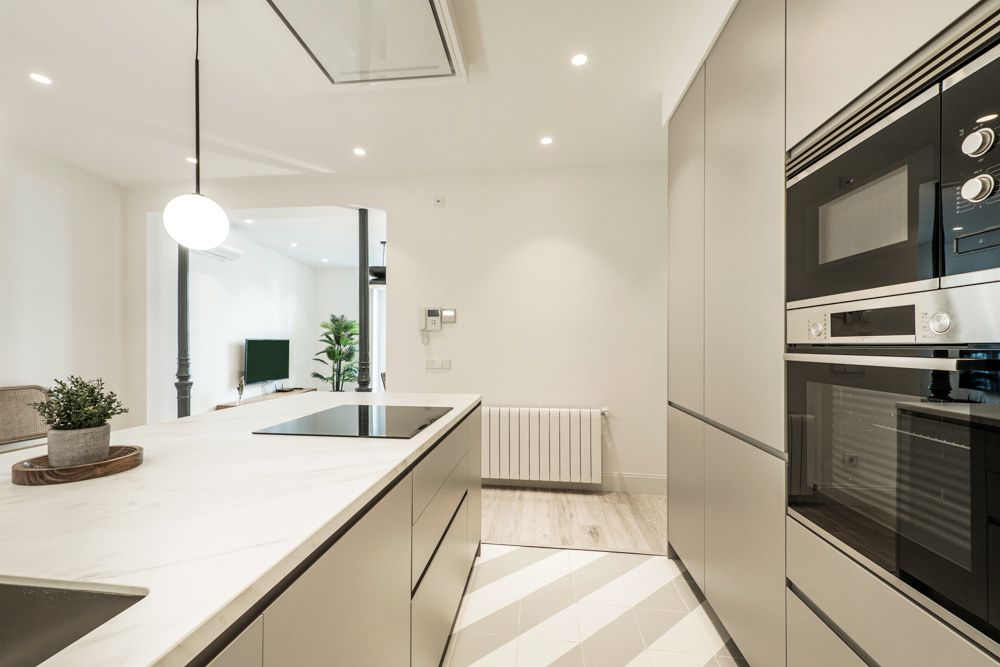 Both PVC and metal made modular kitchens remain unaffected by heat and humidity. However, metal is available in a limited number of colour options whereas with PVC, you can be spoilt for choice!
Moreover, plastic PVC cabinets do not rust, unlike metal. In fact, metal made cabinets might require frequent polishing to avert rust. Metal also tends to be noisier than PVC made modular kitchens.
PVC Membrane Finish vs Other Finishes
1. PVC vs Acrylic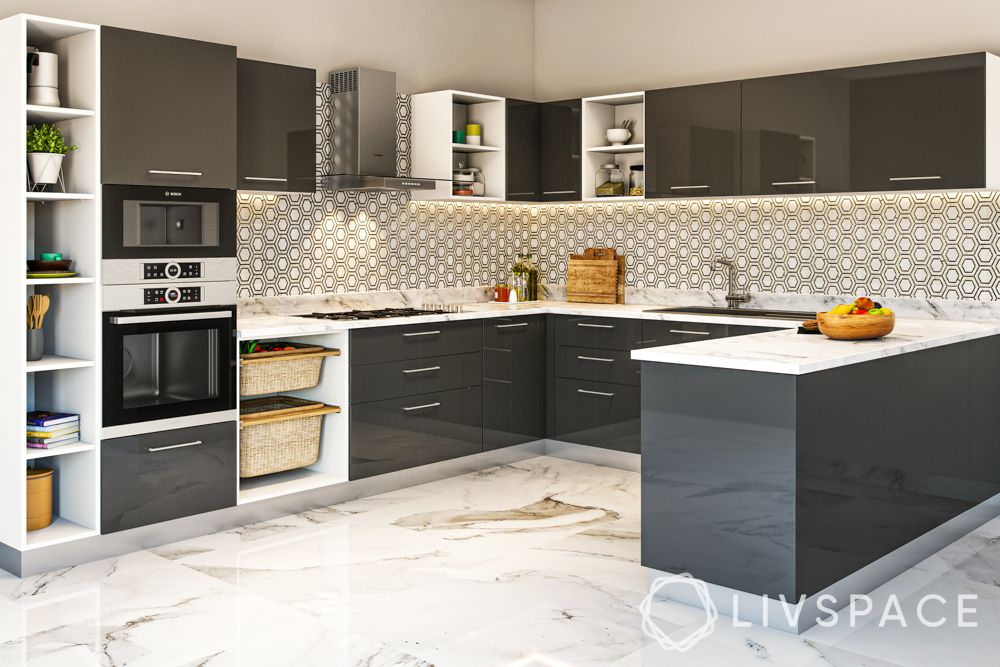 Acrylic finish is quite a popular finish for modern modular kitchens for its highly glossy and reflective surface. However, choosing PVC for a membrane-like finish for kitchen cabinets, doors and wardrobes can do you good. That's because PVC is easier to maintain, affordable, durable and overall a good bargain.
So, you get what you pay for! While the gloss might not be as aesthetic as an acrylic finish, it's still great and gives your modular kitchens an edge.
Also Read: An Ultimate List of Materials for Your Kitchen & What to Use
3. PVC vs Laminate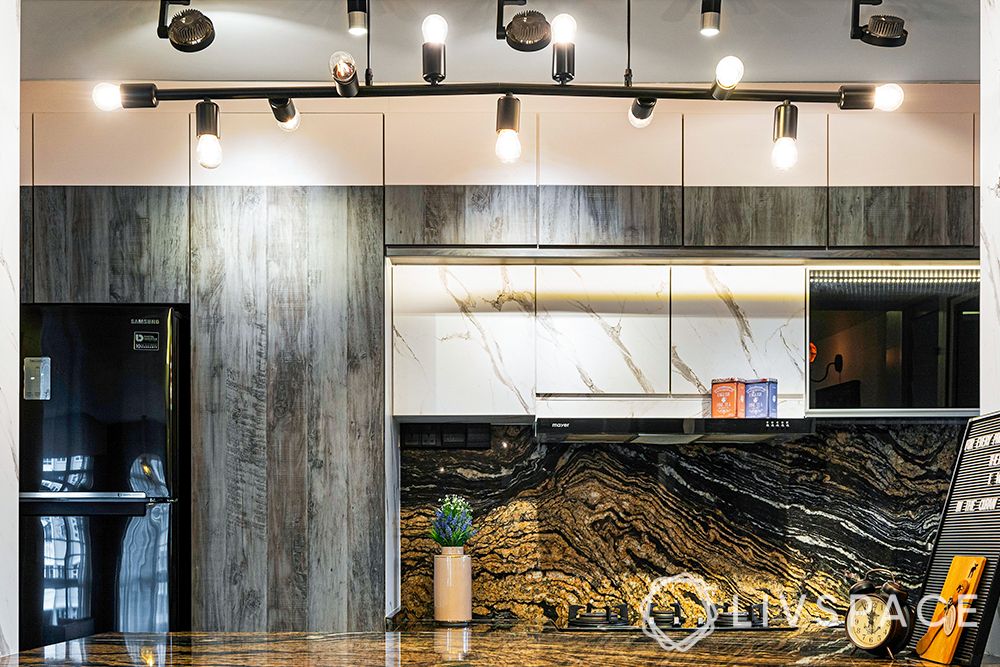 It's a close call when it comes to choosing between PVC and laminate as finishes for your kitchen cabinets. Both are affordable, durable and easily available.
In fact, you can incorporate PVC on your shutter designs or profiles, so as to stand out and break the monotony of plain shutters. If you're looking for custom decorative layers over your plywood, try PVC laminate material for kitchen cupboard designs!
Pros and Cons of PVC Kitchen Cabinets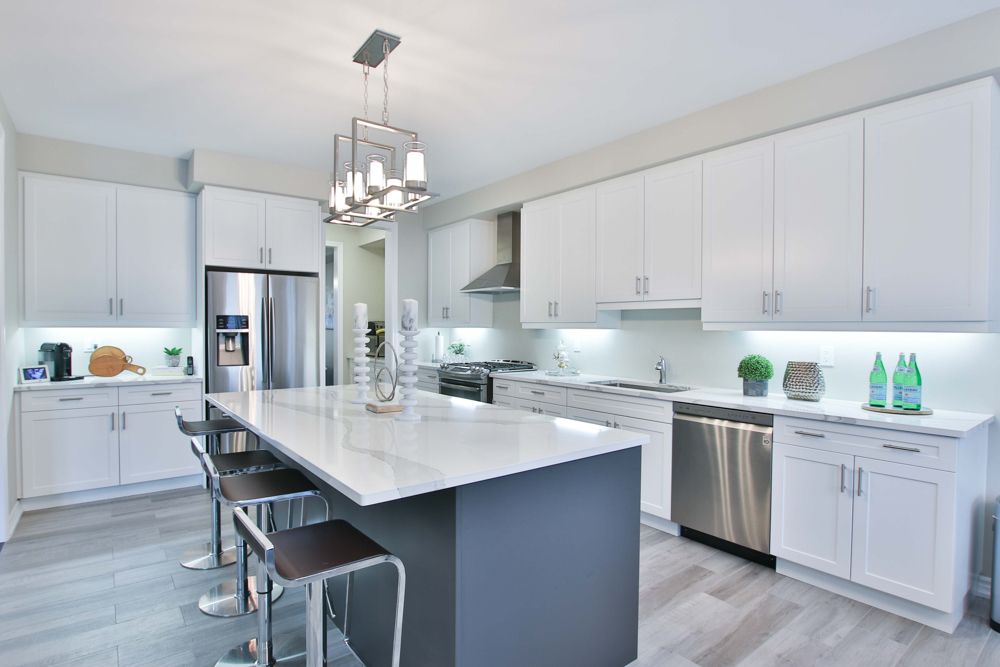 | | |
| --- | --- |
| Pros of PVC Kitchen Cabinets | Cons of PVC Kitchen Cabinets |
| Easy and quick to install | Prone to damage, if not maintained |
| Economic option | Prone to deformation, if not installed well |
| Moisture-resistant | Not typically fire-resistant |
| Termite-proof | Prone to attracting insects, if not cleaned well |
| Available in many colours and do not require separate finishes | Might get discoloured over the years, if not maintained |
| Foam boards can hold a lot of weight | |
| | |
What's the Price of PVC Kitchen Cabinets?
Compared to other commonly used modular kitchen cabinet materials, PVC kitchen cupboard designs are an economical option. Here's a breakdown of shutter finishes in order of popularity:
Laminates
Polymers
PVC Membrane
Acrylic
PU
Veneer/ Laccquer Glass
In short, PVC kitchens are gradually penetrating Indian households as they can be more economical and sturdier. Whether you should choose PVC material for kitchen cabinets depends on your usage and budget. We hope our guide helps you in making an informed choice. For more, read our ultimate guide to kitchen materials.  
Best PVC Kitchen Cabinet Designs for All 6 Kitchen Layouts
There are 6 types of kitchen layouts that are popular. A straight kitchen is typically a one-wall kitchen that's perfect for compact Indian families. An L-shaped kitchen is the most popular layout because it has a place for everything.
A U-shaped kitchen is best for creating an ideal golden triangle, whereas a parallel kitchen is great for storage. Both the island kitchen and peninsula kitchen have an extra functional countertop. The peninsula kitchen however, has a countertop that is attached to a wall. Now that you know about all the 6 kitchen layouts, here's a look at PVC kitchen cabinet designs for each layout.
1. Straight Kitchen Layout With PVC Cabinets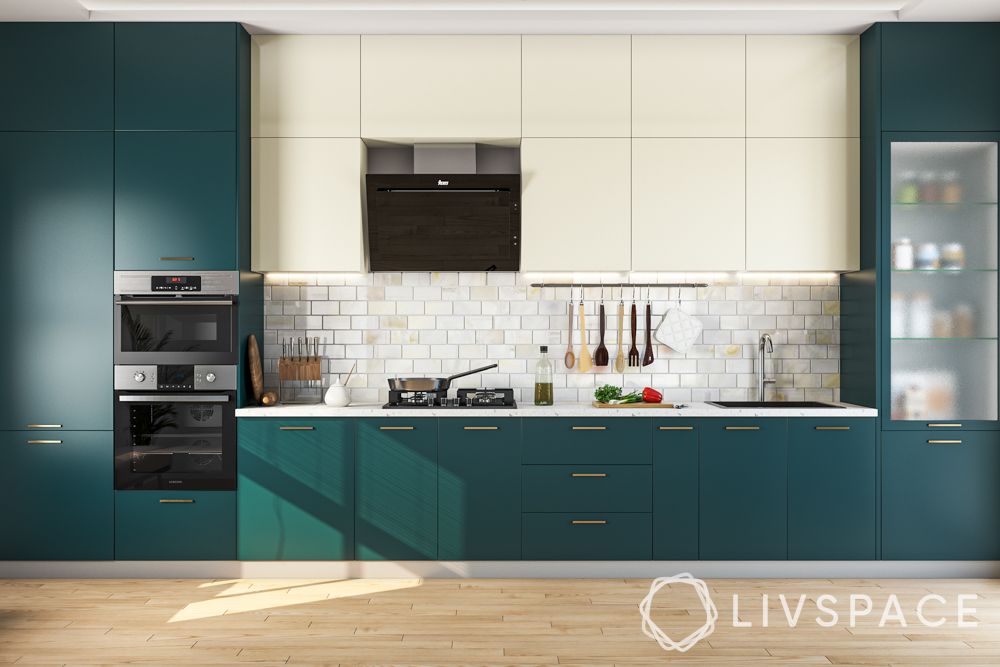 This green one-wall kitchen showcases an array of PVC kitchen cabinets and PVC kitchen cupboard design in a matte finish. Bold and beautiful, isn't it?
2. L-Shaped Kitchen Design With PVC Cabinets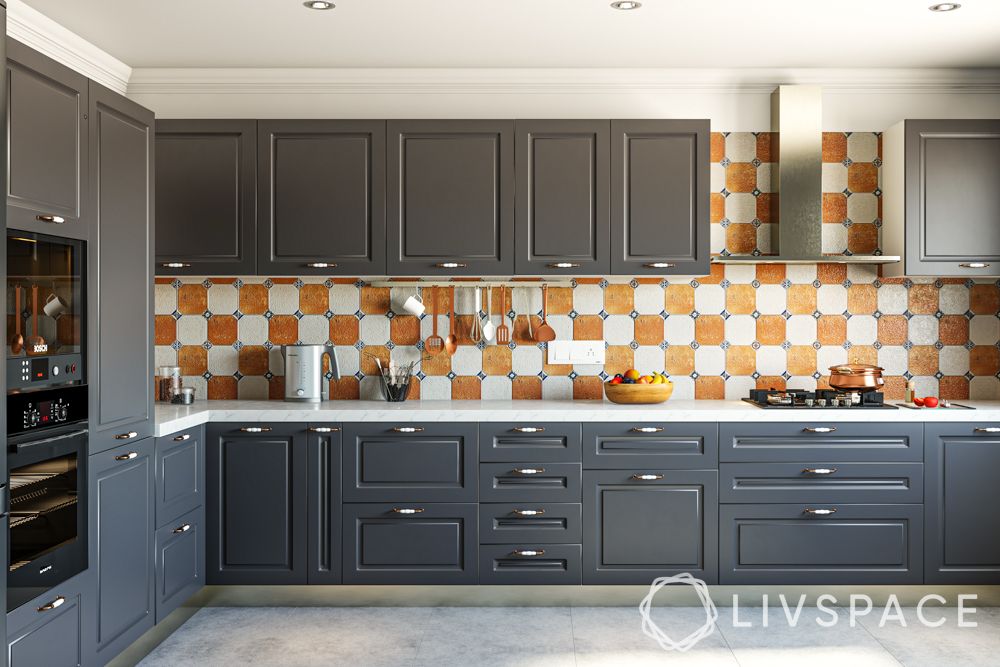 This dark grey L-shaped kitchen has a PVC membrane finish in medium gloss. Also, it's perfect for stirring a sensible yet sophisticated picture.
3. U-Shaped Kitchen With PVC Modular Kitchen Cabinets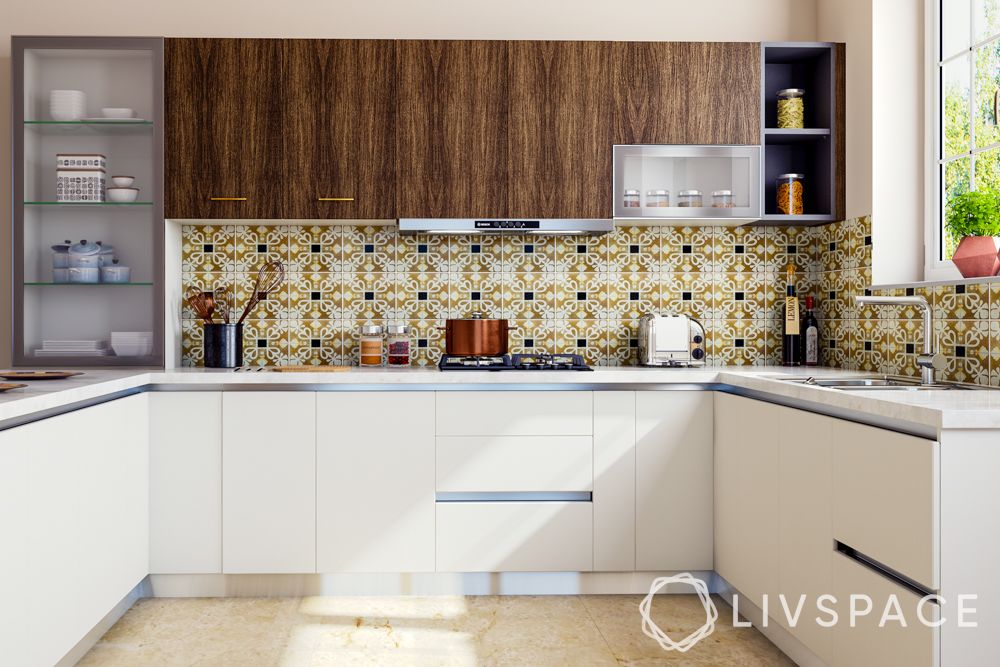 This white U-shaped kitchen has modern PVC kitchen cabinets that you're bound to love. Also, take a look at the PVC cupboard design for this kitchen, and you'll know it furnishes a rich and inspiring look.
4. Parallel Kitchen With PVC Kitchen Cabinet Design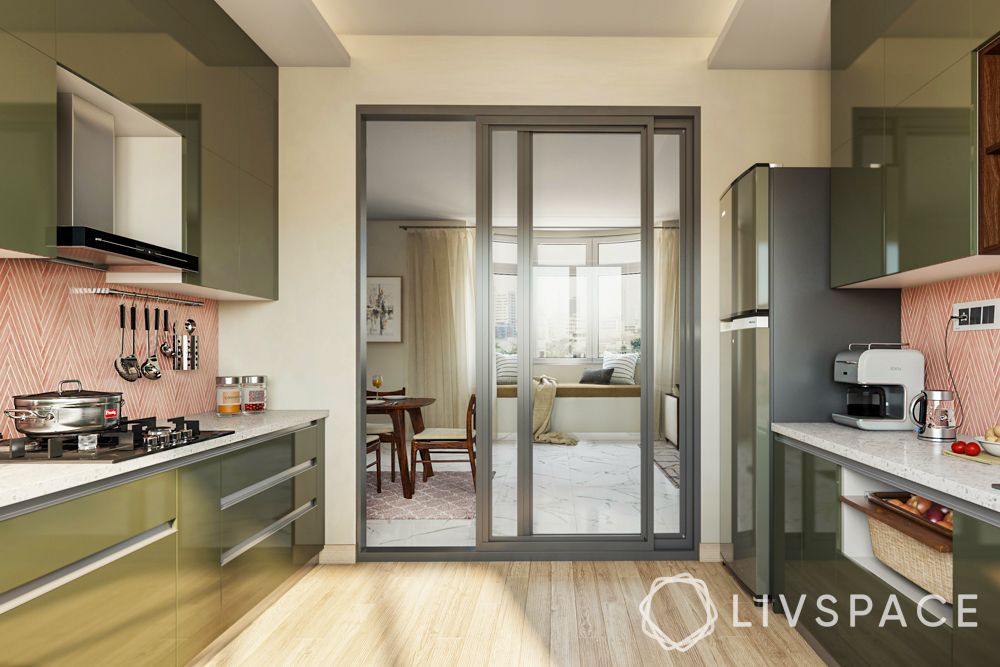 As you can see, this olive green double-toned parallel kitchen uses a PVC kitchen cupboard and PVC cabinets. These pieces are known for their affordability, durability and ease of maintenance.
5. Island Shaped Kitchen With PVC Cabinets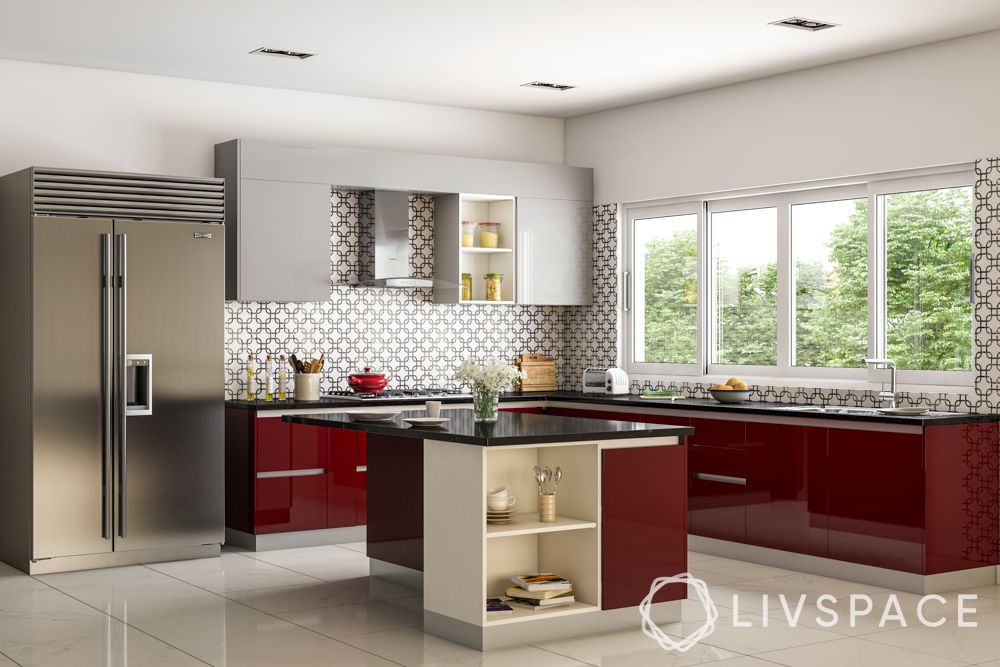 While it's believed that modules with acrylic finish have a high gloss and a highly sophisticated look, PVC kitchen cabinet designs like the one above can also provide that glossy look. In fact, PVC cabinets are available in a wide range of colours and finishes, from matte to glossy.
6. Peninsula Kitchen With PVC Cabinets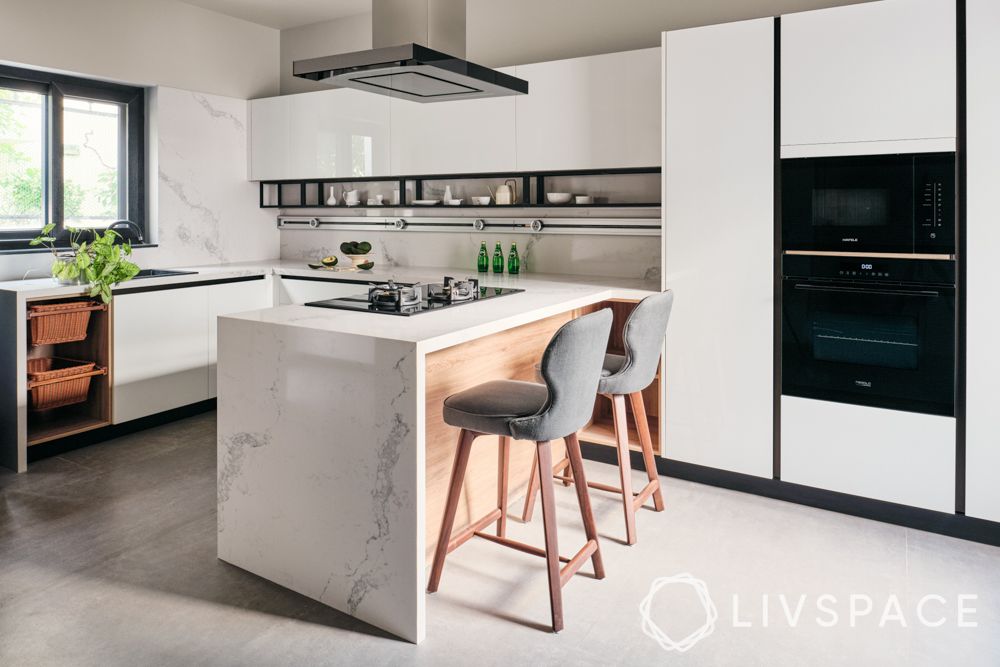 This white peninsula kitchen uses the right mix of PVC cabinets and cupboards to create a storage-efficient kitchen that won't burn a hole in your pocket.
Check out kitchen design ideas:
How Can Livspace Help You? 
We hope you found our ideas useful! If you want beautiful interiors for your home, then look no further, book an online consultation with Livspace today. 
FAQs
1. Is PVC Board Good for Kitchen Cabinets?
PVC boards are good for kitchen cabinets, as PVC plastic cabinets remain unaffected by heat and humidity.
2. Which Is Best, PVC or Plywood?
PVC is known for their longevity and durability. They are moisture-resistant, heat-resistant and flexible. In fact, you can cut or shape a PVC board however you want. The same cannot be said for plywood. Hence, PVC is the best option in comparison to plywood.
3. Are PVC Cabinets Waterproof?
PVC plastic cabinets are actually waterproof because they are made of plastic. So, it's always a great option for your modular kitchen.
4. Is PVC Furniture Cheaper Than Wood?
PVC furniture is very cheap in comparison to wood. In fact, there's a huge difference in pricing, with PVC being the more economical option for most modular households.