For most homeowners, home interior design is a high-value investment. Our research shows that the majority of Indians who own a house get its interior done just once in their lifetime. That statistic tells a lot about how the decision to renovate is made — very carefully and after extensive research. So, if you need a reason to choose Livspace interior design over others, we give you 146! 
Interior Designer Vs Carpenter
Carpenter Design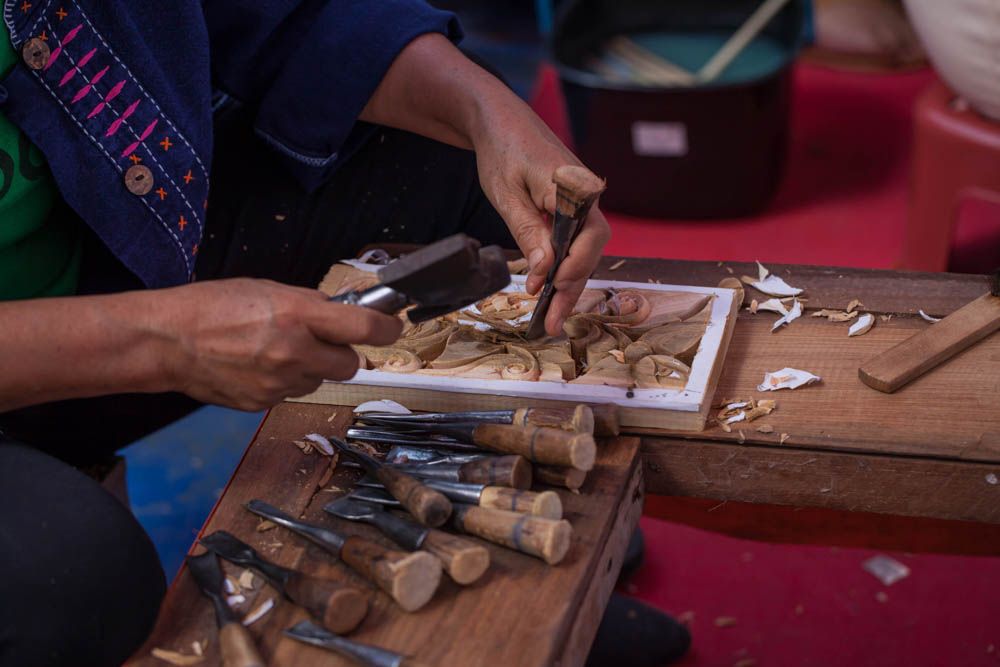 When it comes to the interior designer vs carpenter debate, there are a lot of things to take into account. The local carpenter will seem like the easiest option when we think of getting furniture for our home. Experienced carpenters might even advance their roles to carpentry design work and general supervision. They also tell you the type and quantity of materials you would require and give a timeline for the project. But have you ever thought about any guarantee that you can get on carpenter furniture? Maybe the wood looks good but what if the joints or the hinges fail? How many types of quality checks happen for carpenter furniture? Spoiler alert! You wouldn't need to worry about all these issues with Livspace interior design delivery.
Carpenters Interior Design Initiatives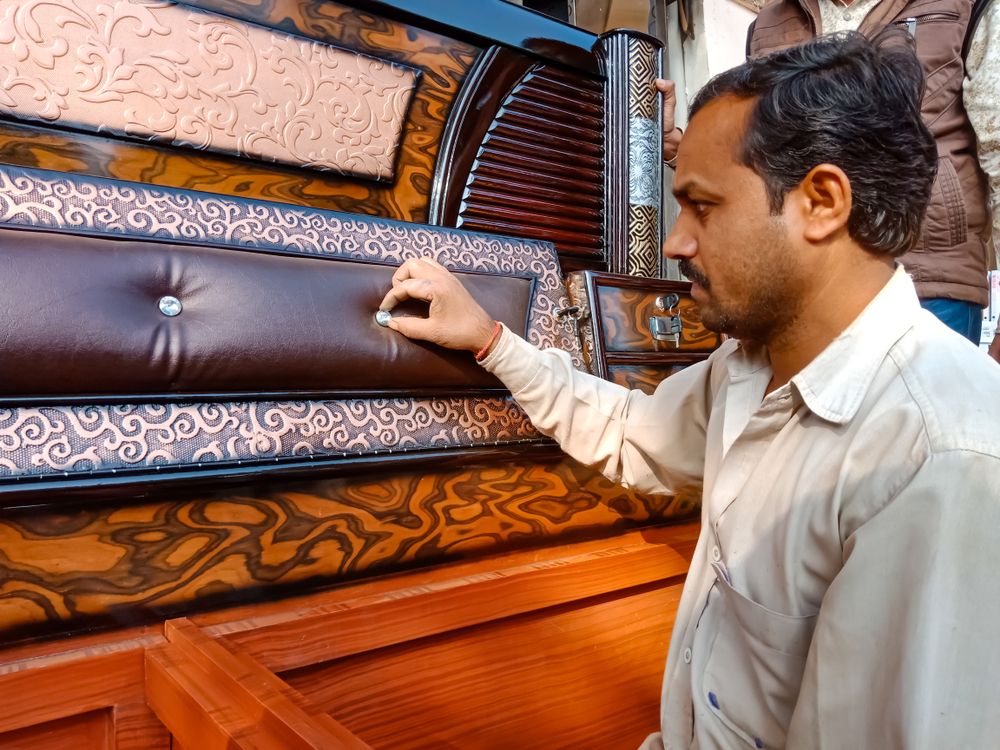 So, how far do you think carpenters design initiative extends? While carpenters construct, install and repair furniture, have they researched the market for new technologies? These technologies can offer durability, hygiene and safety with the carpenter design they do. If you have ever hired a carpenter before, you already know that there's a considerable amount of running that is involved in the process. This leads to many last-minute solutions and temporary fixes before the final delivery. You have to be on your toes all the time and follow up daily. On the other hand, you get guaranteed superior-quality furniture and installation with weekly updates from Livspace interior design.
Carpenters will only do so much to make sure that your furniture and fittings are sturdy. Consider this while weighing the pros and cons when it comes to the interior designer vs carpenter decision.
Carpentry Design Work Process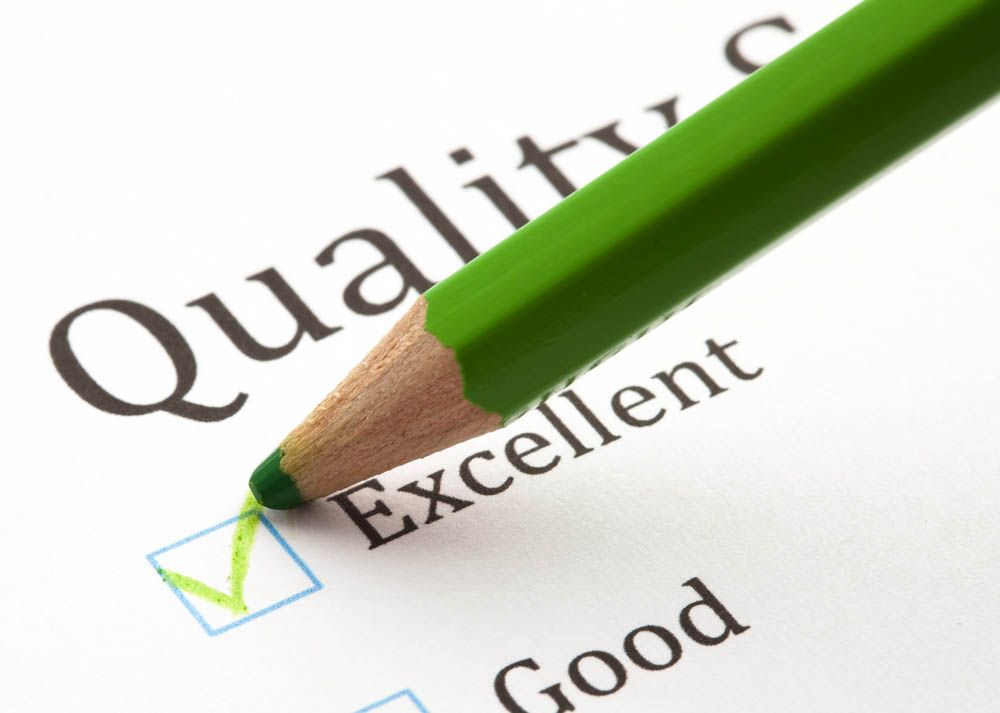 Apart from the basic types of quality checks by carpenter during the handover, what about the routine checks before furniture installation? You should, ideally, get assurances from to all types of quality checks. These include visual and hardware checks along with the checking of the finishes, construction and composition. Livspace interior design also involves post-installation checks like smooth working, alignment and so on.
Livspace vs Carpenter
Livspace interior design follows a sophisticated, customer-centric procedure to deliver its services across India, Singapore, Malaysia and Saudi Arabia. Our state-of-the-art products guarantee durability, hygiene and safety and are delivered with flawless finishes. 
Livspace Quality Checks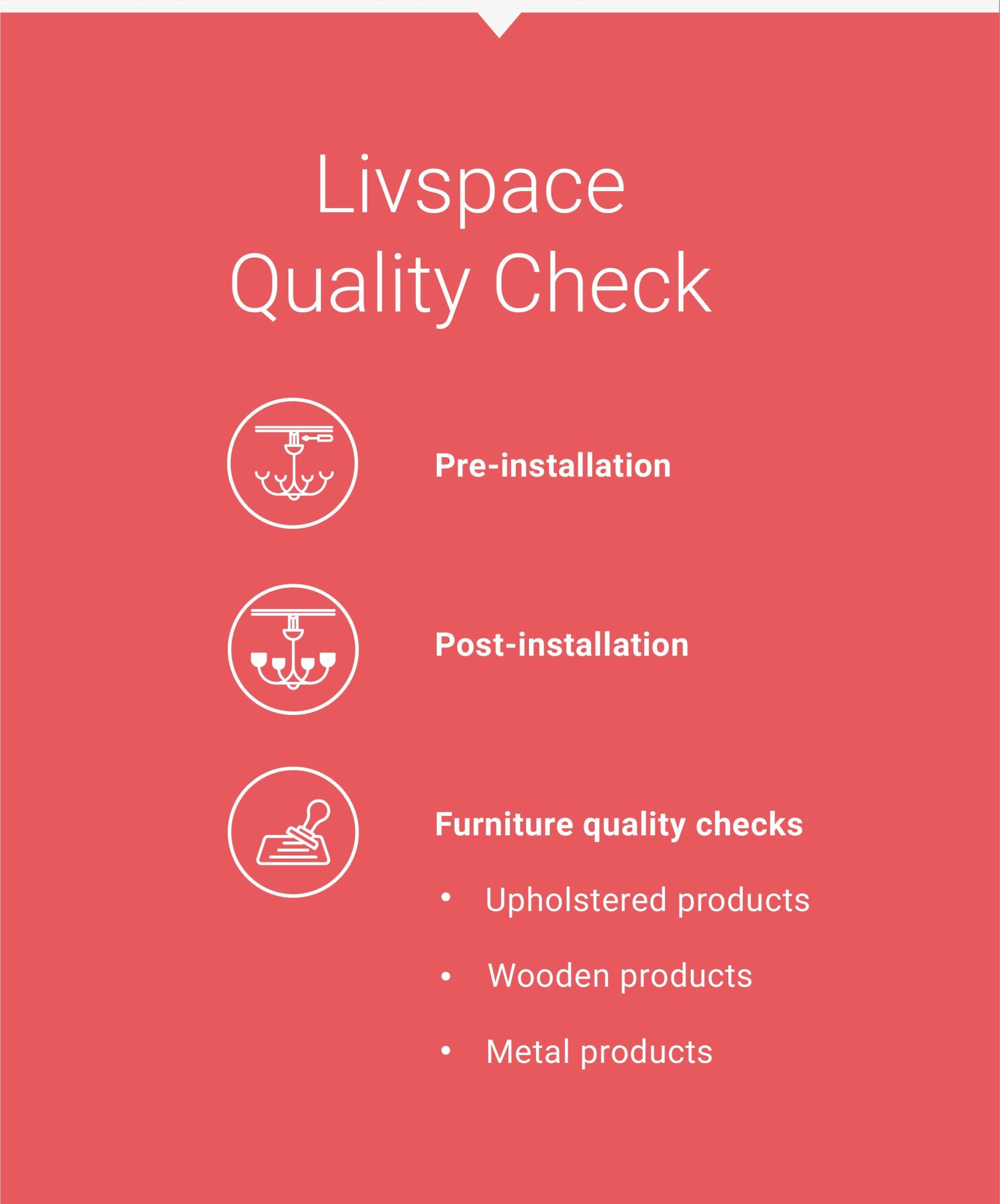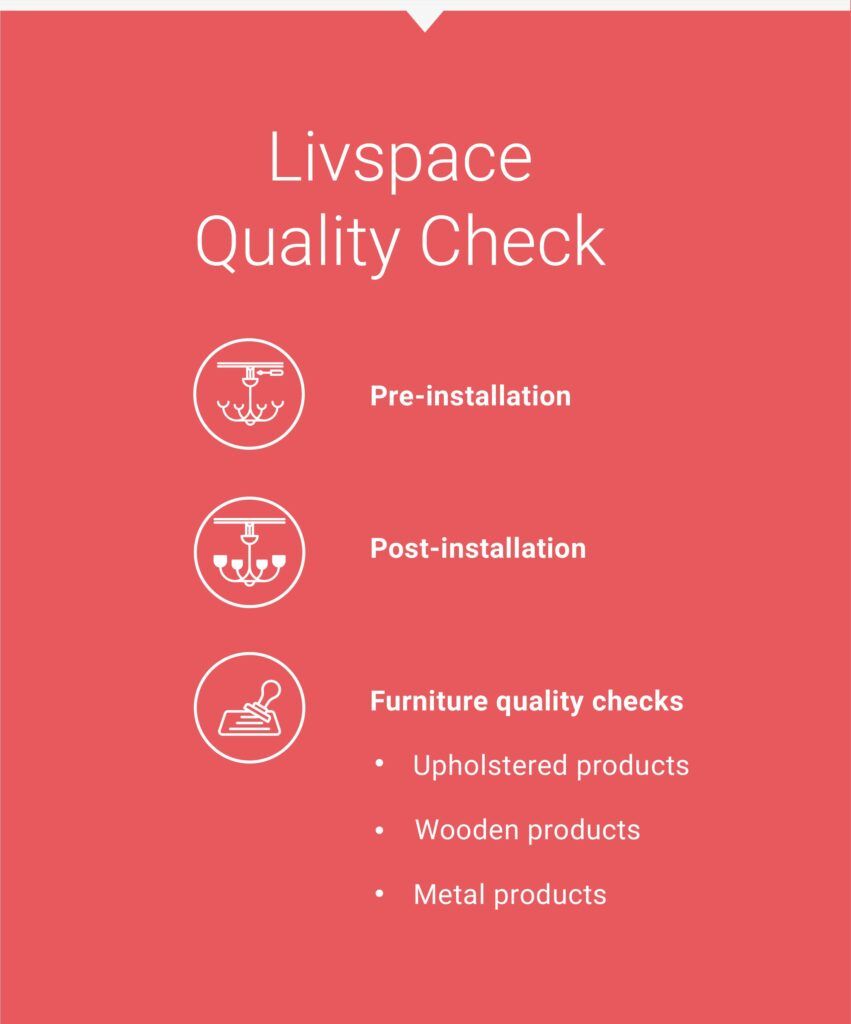 At Livspace, we want homeowners to be completely satisfied with the quality of the products and finishes we offer. For this, we have various types of checks for every piece of furniture that you buy from us. To be precise, Livspace interior design includes 146 quality checks for everything. Let us elaborate this so that you know what we are talking about. Some of the checks that we do include:
Pre-Installation Checks
Visual check of exposed surfaces to detect and correct dents, uneven surfaces, bubbles and chippings in panels.
Our DuraBuild cabinets are tested to tolerate every weather condition and high levels of humidity.
All wooden board edges go through trimming, pasting and rounding of corners to ensure a flawless finish.
Visual checks also ensure the panel finishes are free from defects, scratches, cracks etc.
We check the panel finishes for colour and pattern/grain as per the design intent.
We also check the shutters for opening, grain orientation, profile, finish and shade variation. This is to ensure that the design intent is as per the customer requirement.
We also test our hardware, right from the advanced connectors to soft-closing hinges, for durability.
Additionally, visual checks to ensure that glass/mirror surfaces are free from scratches, patches and corner chipping.
Checking Membrane finishes by Livspace interior design to ensure they are free from wrinkles, air pockets and dust. For this we use our anti-bubble technology.
Mandatorily, a surface check of PU finishes.
All the finishes built using AquaBloc technology are tested.
Checks are done to make sure there is no shade variation, colour dripping and pinholes.
Furniture check for buff marks and paint peel-offs.
We also make sure that edge sharpness and uniform edge radius is maintained in all shutters.
When It Comes to Modular Livspace Interior Design, Some Checks Deserve Special Attention
#1: Water Dip Test: Makes sure the edge band doesn't allow water to seep through the panels, thus increasing the product lifespan.
#2: Edge Band Pull Test: If the edge bonding is strong, the band will withstand daily wear and tear for a long time.
#3: Stability Test: Makes sure that the cabinet does not overturn.  
#4: Shutter and Drawer Cyclic Test: Guarantees that the hinges and hardware will stand the test of time and heavy usage.  
#5: Horizontal and Vertical Force Test: Ensures that the hinges don't come out even in stressed conditions. Livspace interior design creations are meant to withstand tragic accidents.
#6: Leg Strength Test: Makes sure that the cabinet stands even under stressed conditions.
#7: Drop Test: Ensures that your cabinets can withstand rough usage without sustaining structural damage.
#8: Shelf Load Test: Ensures that the shelves can hold the weight of even the heaviest items you keep on them.
Post-Installation Checks
We ensure proper installation of every module.
We carry out checks for complete accessories and drawer movement after installation is complete,
Livspace interior design uses soft closing hinges/channels.
We do shutter alignment checks to maintain everything is in place.
We also ensure that the skirting is complete.
A thorough check of handles and locks.
A complete product demo to the customer during installation.
Furniture Quality Checks
Product measurements for flawless Livspace interior design.
Later, our carcass construction check.
Foaming checks like recron filling.
We test workmanship for holes, tears, dirt, as well as stains.
Physical tests on finished sofas to check for stability and strength.
We involve you in some checks, for example the raw materials check.
Stability and alignment of the products check.
There are also certain acceptance and rejection criteria that we follow.
Also, some rigorous and separate quality checks for metal products.
Why So Many Livspace Quality Checks?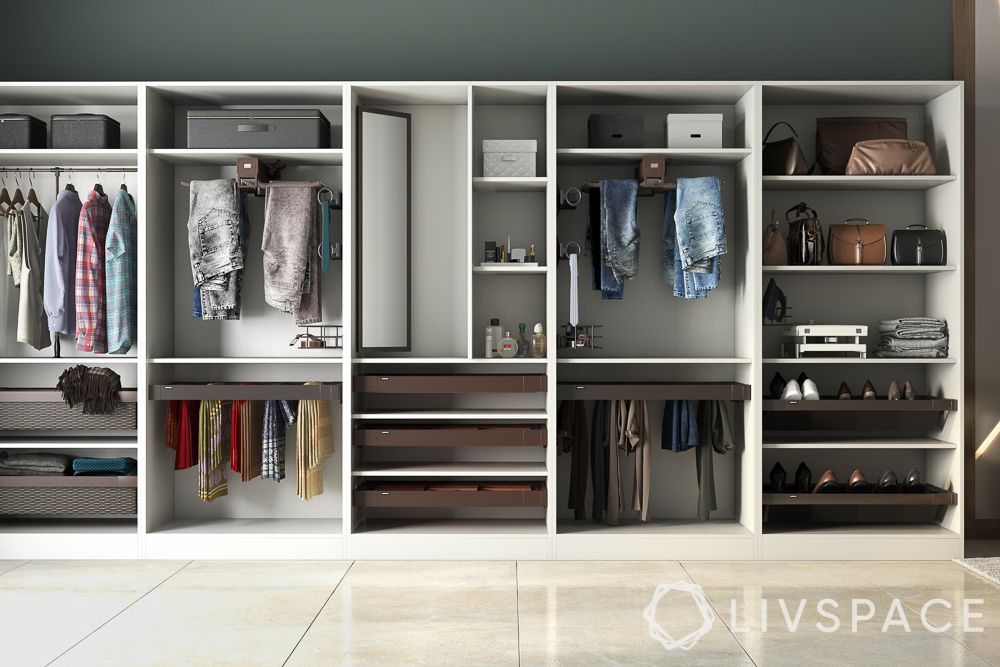 Have we got you thinking that how will all these Livspace quality checks make a difference for you? Well, if you want your furniture and interiors to be long-lasting, then these checks will definitely ensure that. You will also not have to deal with any noisy doors, cracking legs and other tragic design mistakes. Every piece of furniture will go through rigorous testing and in the end, you will have a flawless Livspace interior design that will last you a lifetime!
Read more about Why Livspace Modular Furniture is Your Best Bet at Durable Home Furniture.
How Can Livspace Help You?
We hope you found our ideas useful! If you want beautiful interiors for your home, then look no further. Book an online consultation with Livspace today. Delivering safe home interiors has been our No. 1 priority. Click here to find out how interiors are being delivered following all safety protocols.