Living in a home plagued by poor quality interiors can be as haunting as any ghostly presence! But how do you identify what constitutes "bad quality" before planning your interiors? We discuss 5 red flags that you need to keep an eye out for to steer clear of the ghosts of subpar home interiors. Plus, discover how Livspace's innovative solutions are the green flags that ensure a spook-free interior experience!
Home Interior Quality 🚩#1: No Moisture-Resistant Core Materials
After your bathroom, your kitchen is the room that is most exposed to moisture. Prolonged exposure to moisture can damage your cabinets. Additionally, it can also cause warping and cracking as well as the growth of mould. Therefore, you should opt for moisture-resistant materials like plywood, MDF and HDF.
Livspace's Green ⚐: Quality Checks and AquaBloc Technology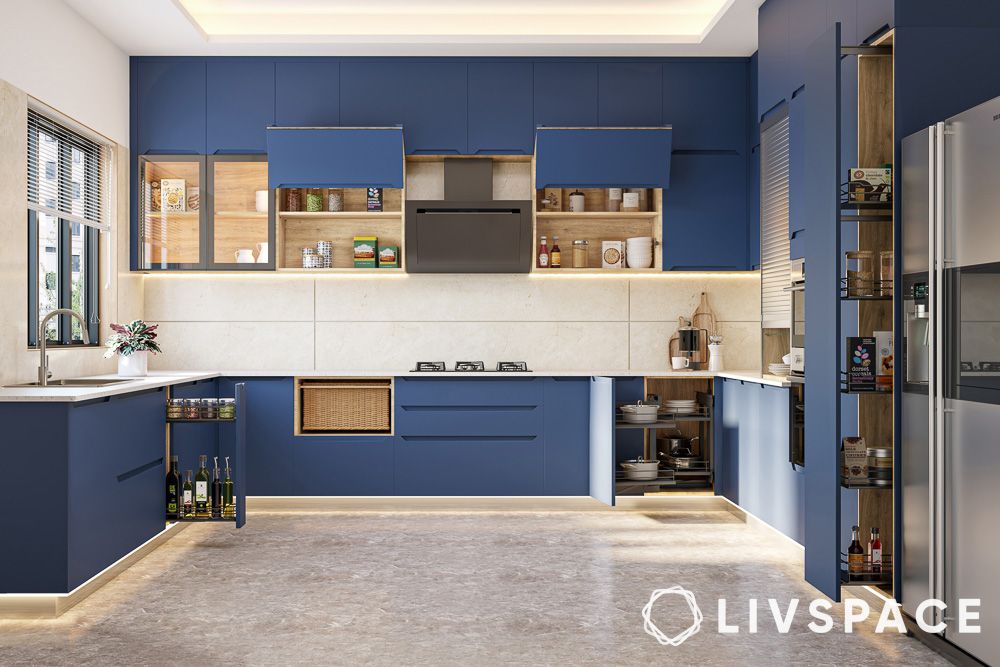 Livspace ensures that you don't have to encounter this red flag in two ways. Our cabinets and units go through multiple quality checks. In addition, our cabinets are equipped with AquaBloc technology. This seals off the panels, which prevents moisture from entering the core.
Home Interior Quality 🚩#2: No Warranty
Whether you are investing in a new washing machine or your home interiors, a warranty is essential! A major red flag in interior design is the absence of a proper warranty. This is because a warranty protects your investment. Additionally, it also ensures the quality of the materials you are receiving.
Livspace's Green ⚐: Warranty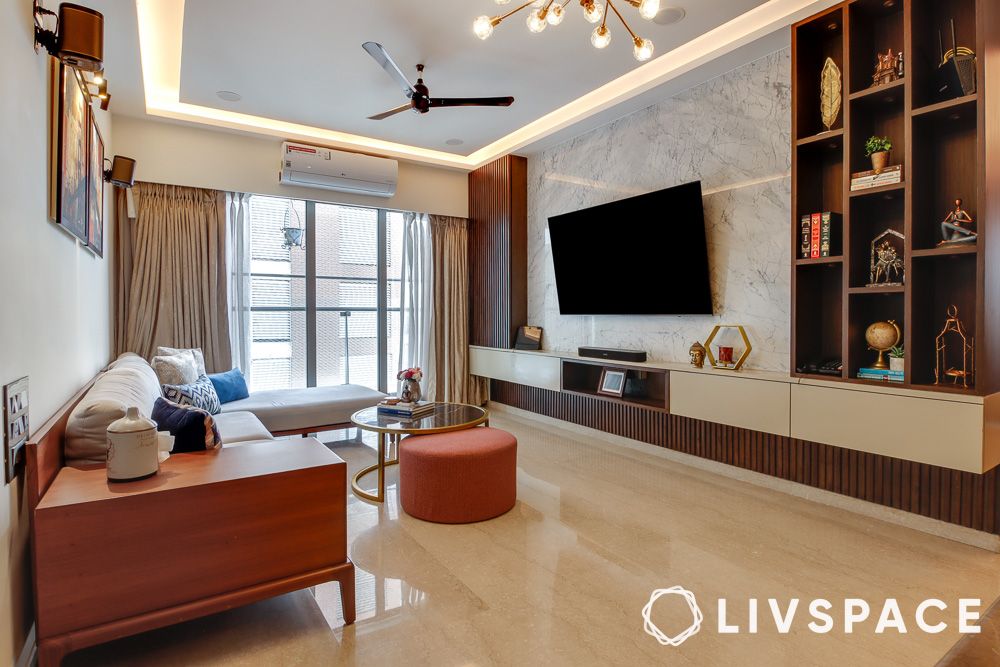 At Livspace, we promise that you don't need to face the nightmare of a home design not covered by a proper warranty. Here are the details of our unparalleled warranty:
| | |
| --- | --- |
| Modular Kitchens (Aarambh and Premium) | Flat 10-Year Warranty |
| Modular Wardrobes | Flat 10-Year Warranty |
| Modular Storage | Flat 10-Year Warranty |
| Semi-Modular Products (Metal-Based) | Flat 10-Year Warranty |
| Livspace Sofas | Upto 3-Year Warranty |
| Livspace Furniture | Upto 1-Year Warranty |
| On-Site Services | Upto 1-Year Warranty |
| Home Improvement Solutions | Upto 10-Year Warranty |
Home Interior Quality 🚩#3: No Quality Checks
Interior design is a substantial investment, and therefore demands durability. Inadequate quality checks raise red flags, hinting at potential longevity issues. Quality checks not only help in guaranteeing that all the measurements are correct, but also ensure that the design meets your requirements.
Livspace's Green ⚐: 146 Quality Checks
Livspace offers 146 quality checks across various points, like manufacturing, delivery and installation, to ensure durable interiors. Some of these quality checks include:
Visual check of exposed surfaces
Testing hardware functionality
Checking shutter alignment
Checking products for unintentional bending or sagging
Ensuring no visible cracks
Home Interior Quality 🚩#4: Substandard Materials With Blister Bubbles
When purchasing furniture like wardrobes or kitchen cabinets, you want them to have a beautiful, flawless finish. However, using poor-quality materials can lead to unsightly bubbles on their surface, affecting the overall appearance of the product.
Livspace's Green ⚐: AntiBubble Technology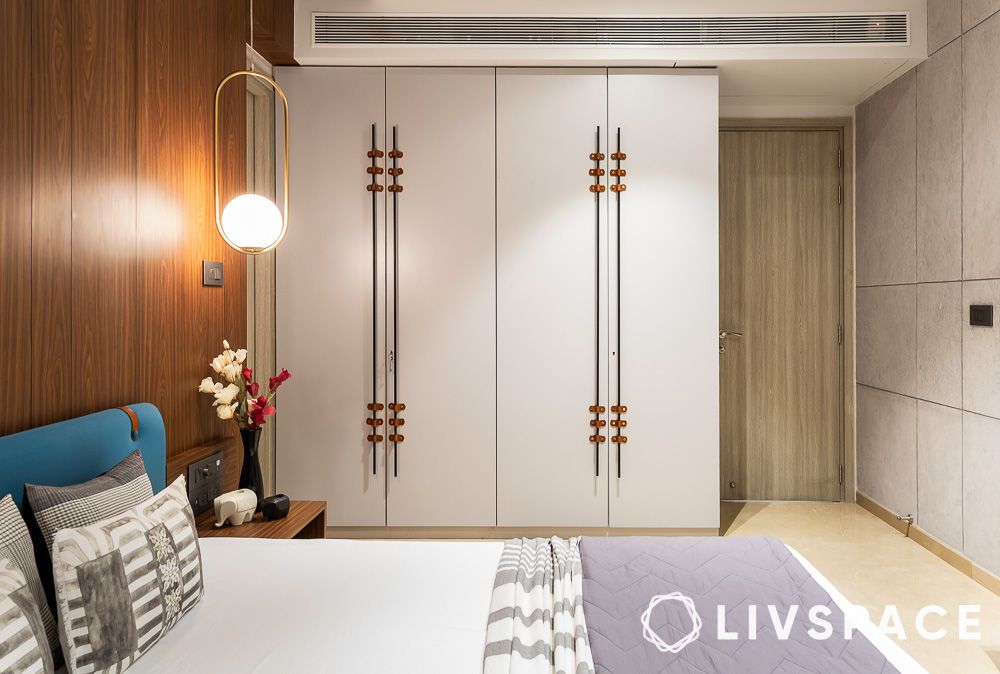 At Livspace, our products come with the revolutionary AntiBubble technology. We use a low viscosity synthetic resin material which allows the laminate to sit on the core material, without any bubbles. Additionally, this also ensures that the laminate does not peel off.
Home Interior Quality 🚩#5: No Durability
Are your cabinets getting jammed? Wardrobe hinges or channels not working properly? These are common quality issues homeowners face daily. Moreover, longevity becomes a major concern with poor-quality interiors.
Livspace's Green ⚐: DuraBuild Technology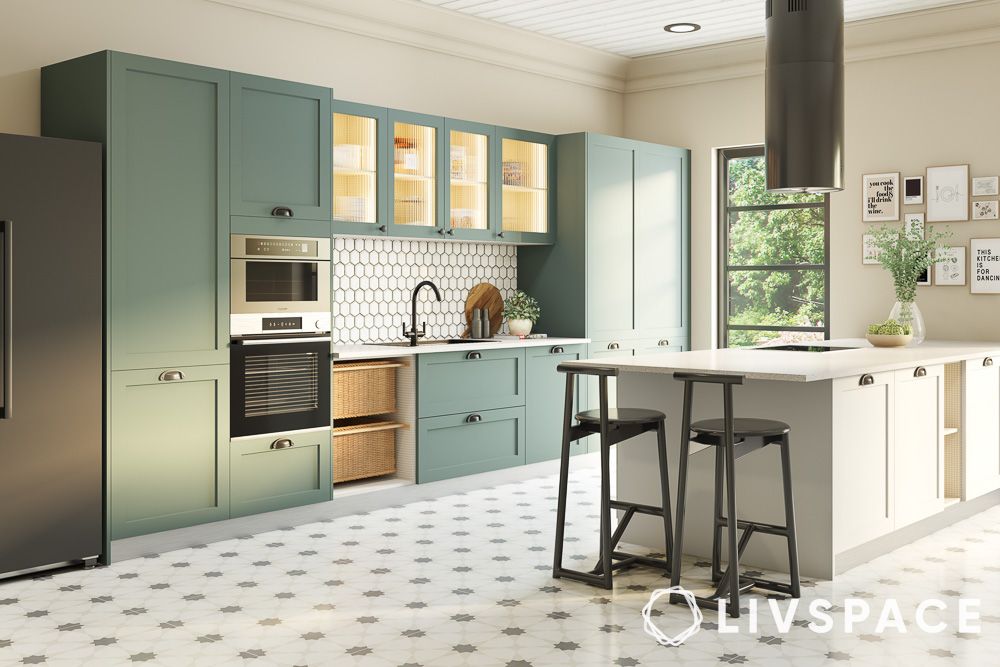 With our revolutionary technology called DuraBuild, we ensure that you do not have to face the inconvenience of poorly designed cabinets. DuraBuild offers several benefits like:
Highly durable cabinets. Additionally, soft-closing hinges
Increased load-bearing capacity
No transfer of dampness
How Can Livspace Help You?
Wide Reach: Operating in 4 countries and 50+ cities, we ensure accessibility and convenience for you
Proven Happiness: Over 75,000+ happy homeowners, a testament to our commitment to delivering satisfaction
Expert Guidance: Our dedicated designers can turn your vision into reality, crafting the perfect home for you
If you want beautiful interiors for your home, then look no further. Book an online consultation with Livspace today.
Disclaimer: All contents of the story are specific to the time of publication. Mentions of costs, budget, materials, finishes, and products from the Livspace catalogue can vary with reference to current rates. Talk to our designer for more details on pricing and availability.