Every blank space in your home is an opportunity to get cracking on creative ideas. This is especially true when it comes to using a POP design for bedroom interiors. Be it a POP wall design for bedroom interiors or a false ceiling, it's bound to elevate the look of your bedroom. In fact, it can also do so without compromising on functionality or eating up too much square footage! Isn't that great?
So, if you thought the application of POP was only limited to the living and dining areas of your home, we're here to show you otherwise. Let's take you through the various styles of master bedroom POP design, so you can plan your own POP design for bedroom interiors. 
1. What Is POP?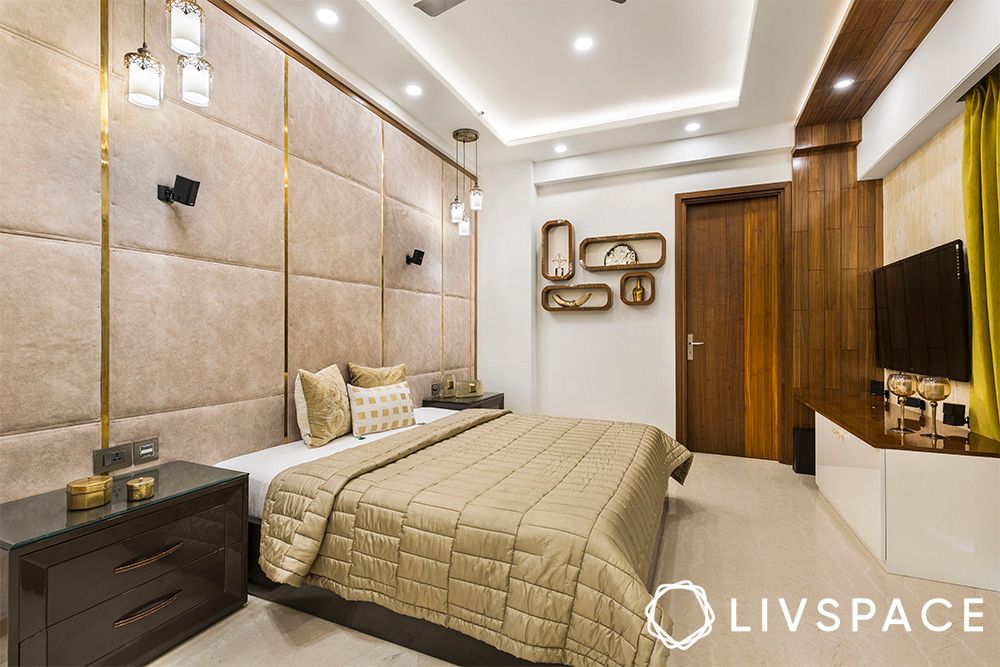 In layman terms, POP or Plaster of Paris is nothing but a quick-setting plaster that hardens upon exposure to water and then dries to give you a sturdy mould. In terms of application, POP is typically used in false ceiling designs and other decorative finishes for home interiors. 
Rather than just using  POP design for bedroom ceilings, you can also use them  as decorative wall trims. Check out the latest POP design ideas to revamp your home interiors for more inspiration on POP.
2. Why Do You Need POP Design for the Bedroom?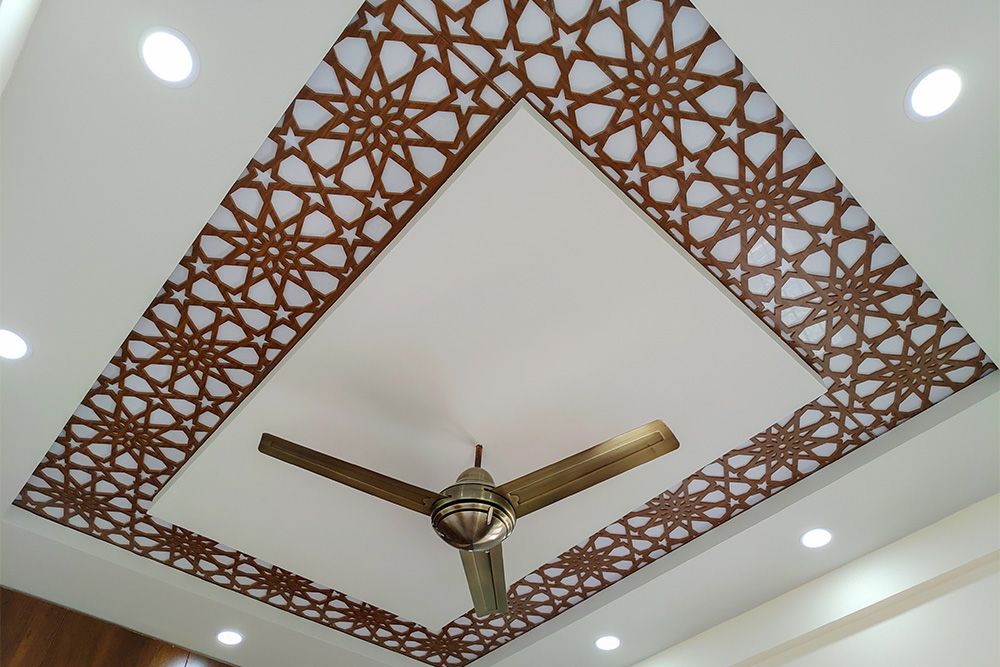 Since POP is known to lend a decorative touch to your interiors, it only makes sense to use it in your false ceiling design. But do you really need to invest in a POP design for bedroom ceilings? This depends entirely on how you want to decorate your space. If you don't like the look of exposed wires from ceiling lights, a POP design for bedroom ceilings can be ideal. Similarly, if you just want to add some interest to an otherwise plain room, consider going for a master bedroom POP design.
3. Tips to Choose a POP False Ceiling Design for Your Bedroom
Select colour palettes that complement each other, or go for colours that can add contrast to your POP design for bedroom interiors. 
If you want to decorate a plain POP design for bedroom ceilings, you can play with paint to give it a clean and tidy finish.
A POP design for bedroom interiors can be visually heavy. If you don't want this element to be the sole statement in the room, go for a bedroom POP design that's simple. In terms of a POP colour design for bedroom ceilings, you can embrace lighter shades for smaller rooms. 
Also Read: How to Pick False Ceiling Designs for Different Rooms in Your Home
4. 10 Master Bedroom POP Design Ideas You Can Explore 
#1: A POP Design for Small Rooms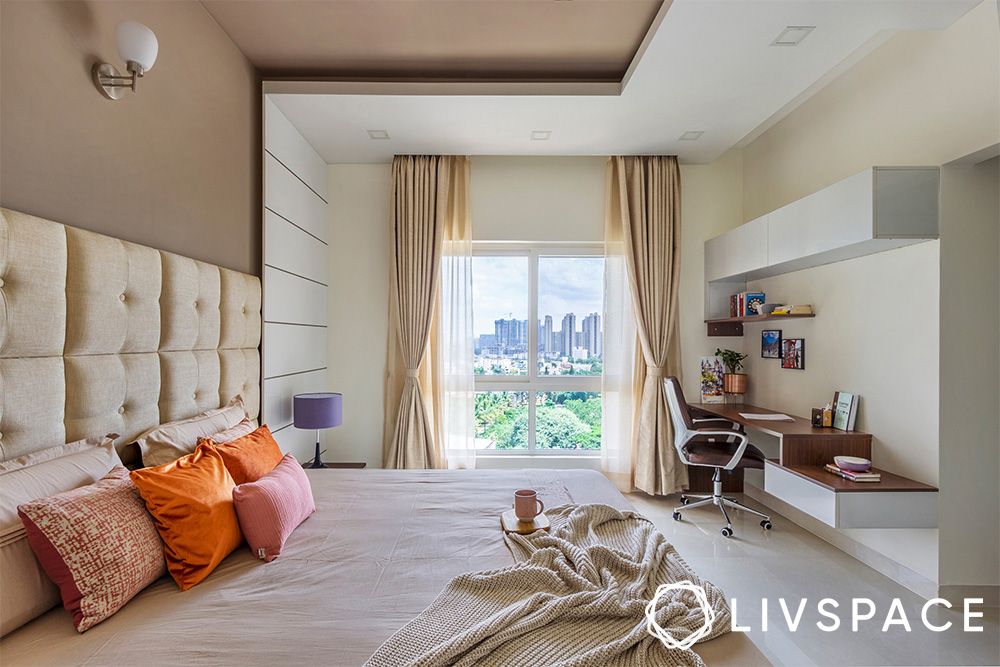 A POP design for bedroom ceilings adds extra depth to a room, no matter how big or small it is. If you have a smaller room, go for a simple design that doesn't crowd the ceiling area. You can also account for a ceiling fan by building the ceiling design around it. Moreover, while choosing your POP colour design for bedroom ceilings, stick to lighter shades in compact spaces. 
#2: POP Design for Bedroom With Fan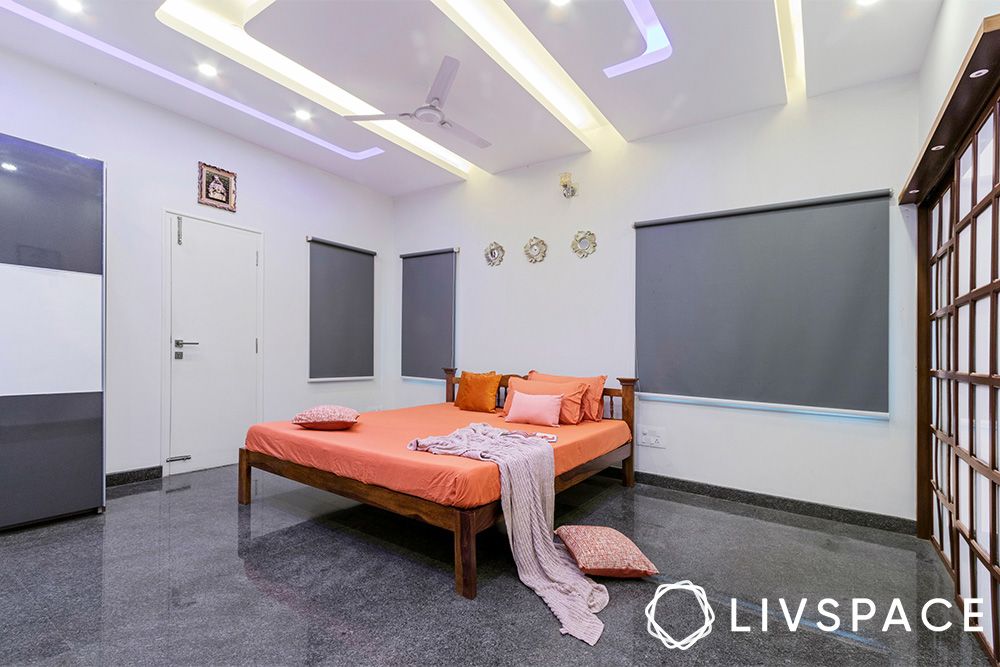 Looking for a POP design for a bedroom with a fan? You've come to the right place! Consider going for a simple down ceiling design with central placement for your fan. You can also add recessed or cove lights to the POP design to give it more character. 
#3: POP Ceiling Designs That Work Well for Master Bedrooms
Circular POP Ceiling Designs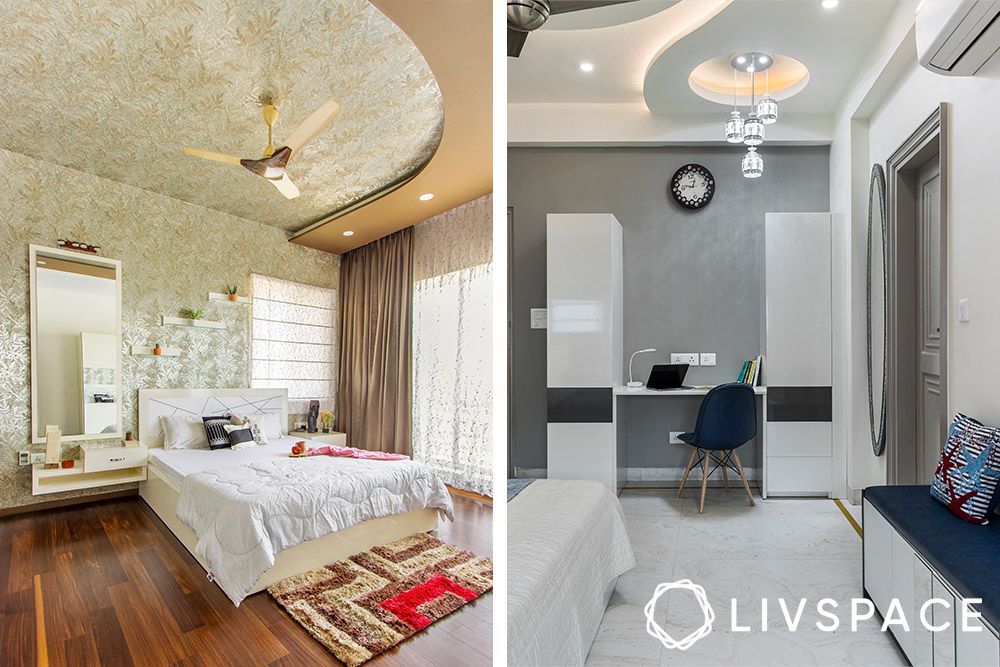 What you see above are examples of peripheral ceiling designs made of POP. Since they aren't full-fledged ceiling designs that cover the entire area, they are relatively less expensive. This would be a good design to choose if you're looking for an affordable POP design for bedroom interiors. They look stylish and add a certain element of luxe to your interiors. 
Square POP Ceiling Designs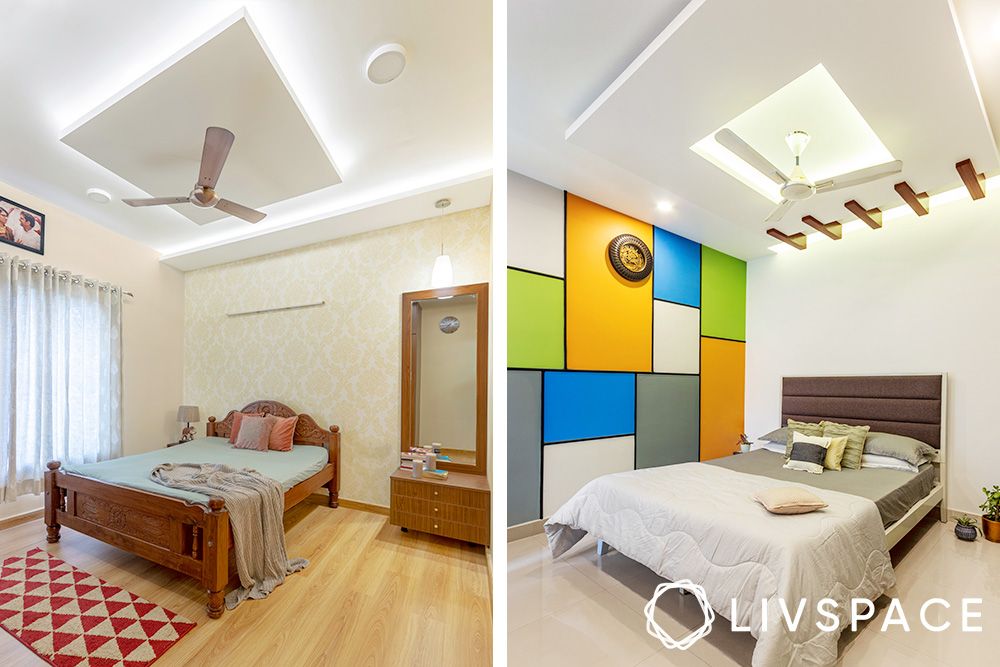 A square POP design for bedroom ceilings is probably one of the more commonly known styles of false ceilings. This is largely because it's a basic design that doesn't make the space look too cluttered. Highlight your square POP design for bedroom ceilings with cove lights around the edges to create a soft glow. 
Zigzag POP Ceiling Designs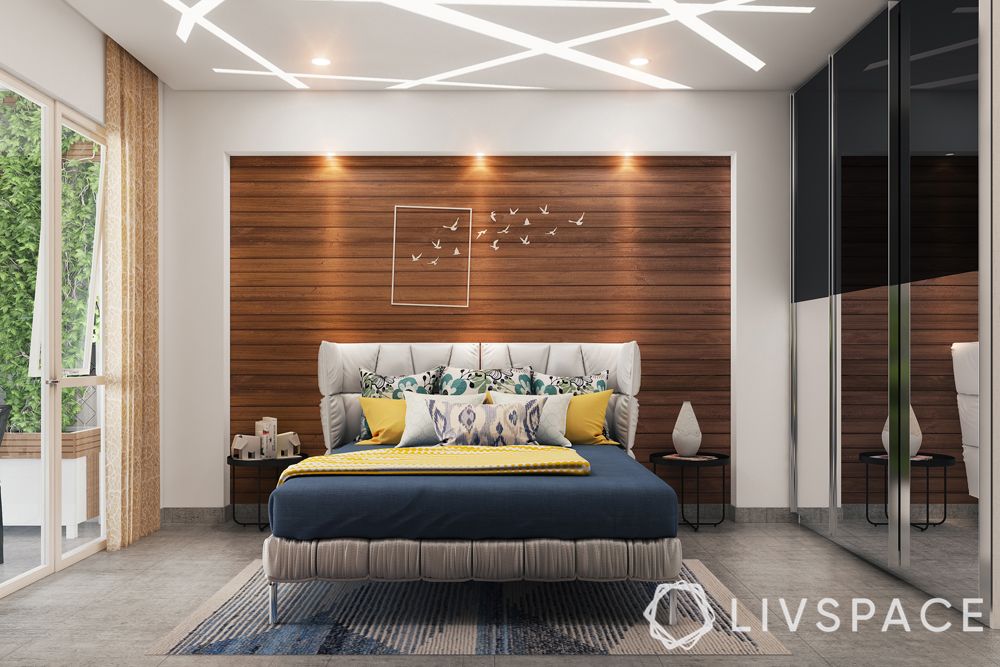 Here's a design for those of you who love to experiment. Ditch the basics and embrace the new with a zigzag POP design for bedroom ceilings. Since this style can add a lot of visual interest to the space, be sure to downplay the rest of your interiors to retain this as a highlight. 
#4: Modern POP Design for Bedroom Ceilings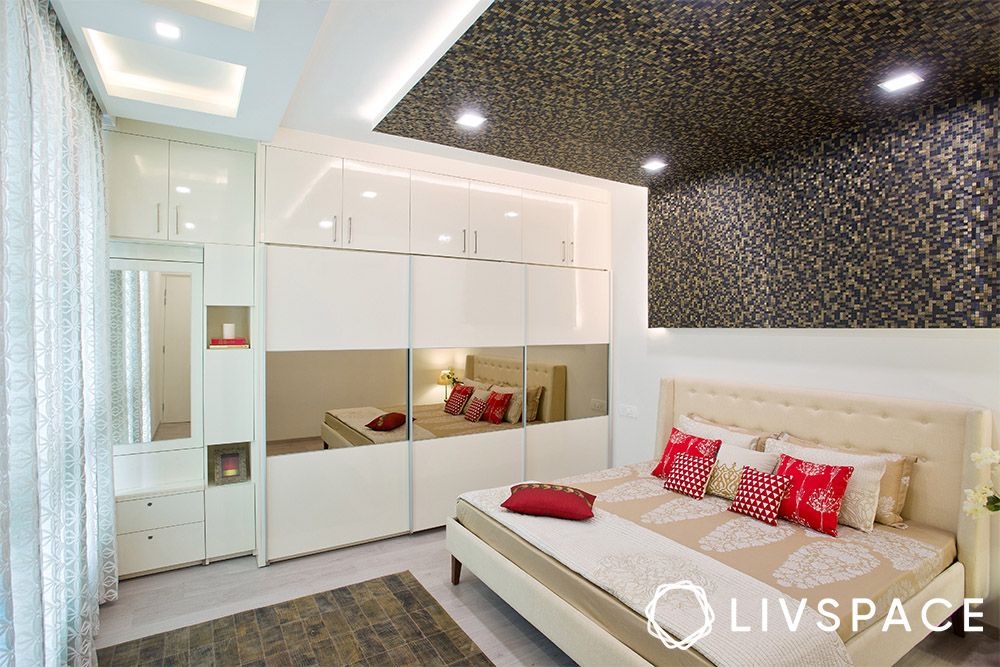 Want to turn your ceiling into a statement piece? Then you should definitely  pick the above ceiling design for your room. Notice how this POP design for bedroom interiors uses a different colour palette compared to the rest of the room? This mosaic-style finish on the POP helps add contrast and texture to the space. 
Also Read: Ultimate POP Design Guide for Indian Homes: Is it the Better Option?
#5: POP Design for a Bedroom With a Chandelier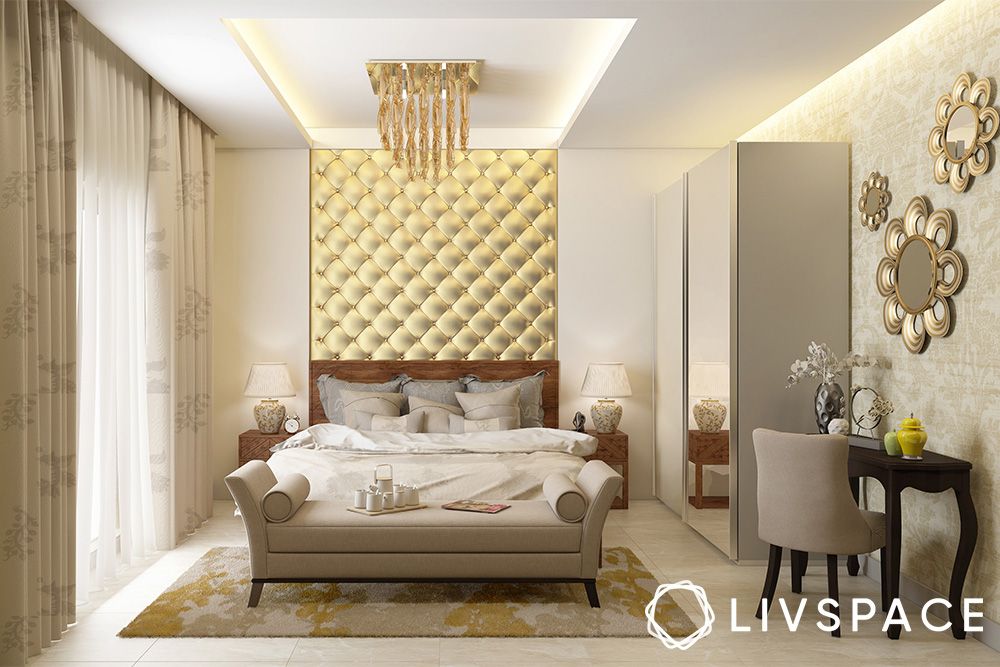 A little glitz and glam never hurt anybody. Especially when paired with your POP design for bedroom ceilings. If a plain white ceiling design is one of your pet peeves, why not luxe it up with a chandelier? Go for one that has gold accents to further complement the light colours in your POP design for bedroom interiors.
#6: Plus Minus POP Ceiling Design Ideas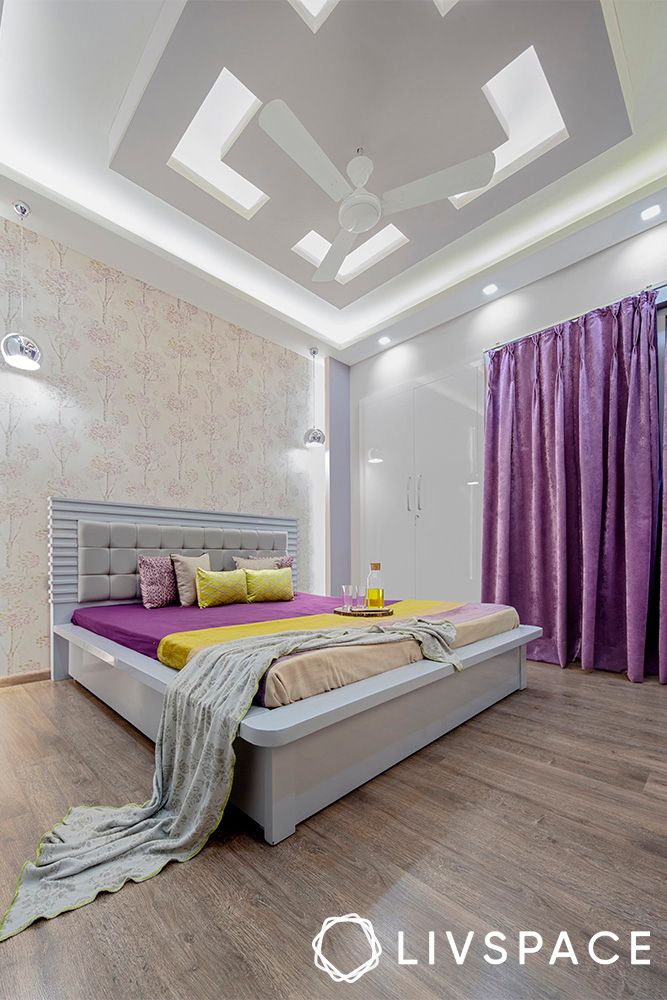 Visually, a plus minus POP design for bedroom interiors strikes a balance between positive and negative space. There are many designs this style can take on, but you'd mostly find them in box shapes or slightly atypical designs. 
#7: Simple Bedroom POP Design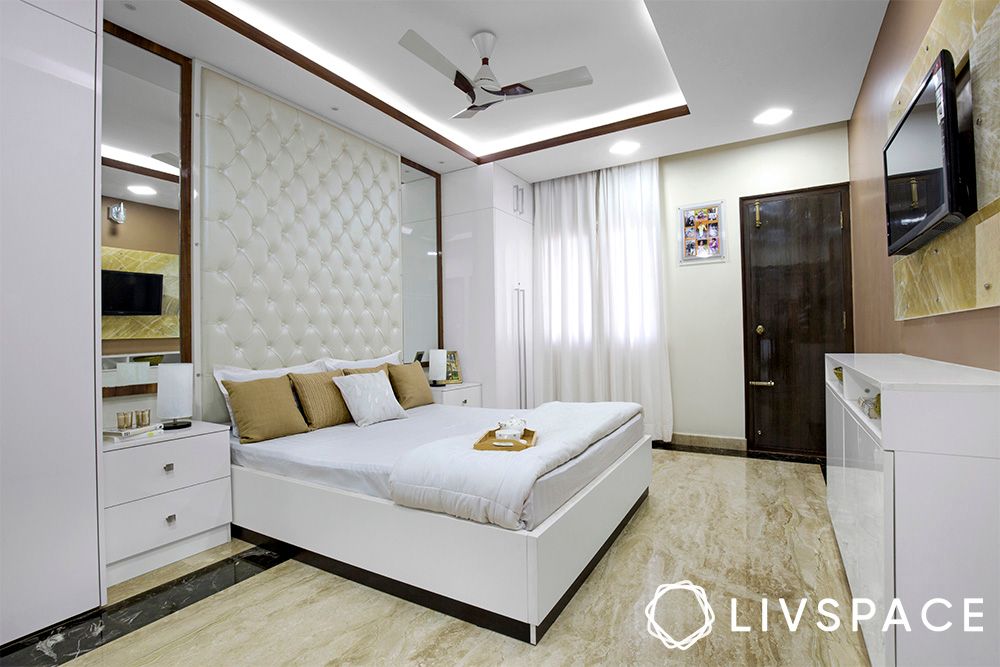 If you're planning on doing up your bedroom with many textures and materials, you might want to keep your ceiling design simple. Let the rest of the room speak for itself when you opt for a simple POP design for bedroom interiors. This way, you can even play up your headboard design to add more character to the space. 
#8: Fun POP Ceiling Designs for the Kid's Bedroom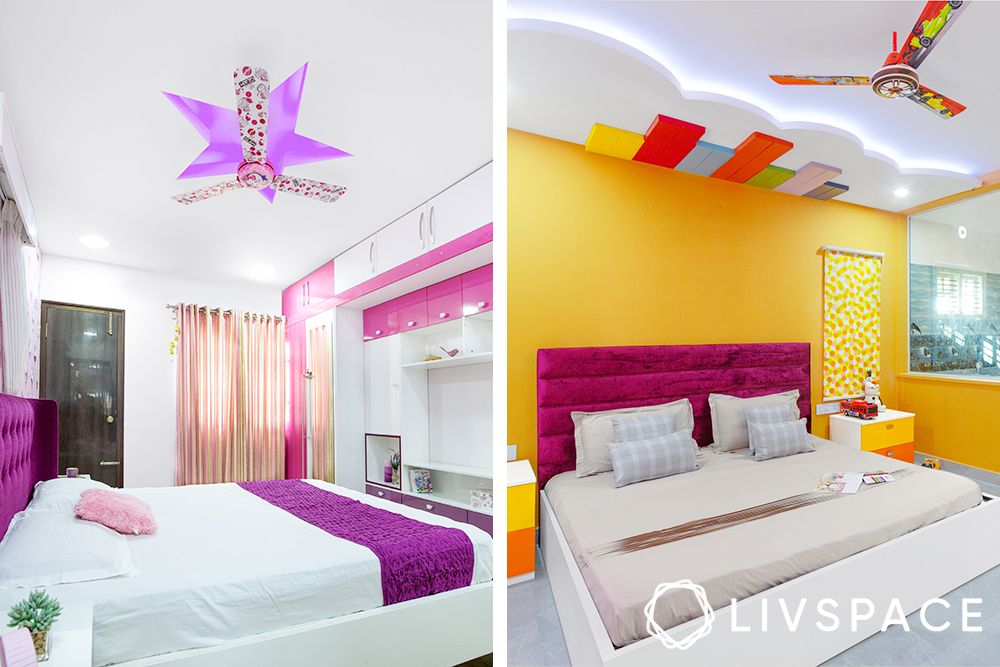 POP has a special place in kids' rooms because you can use them to create several fun themes, such as clouds or starry skies. You can customise the POP design for bedroom ceilings in innumerable different ways to match the overarching theme of your child's bedroom. 
#9: POP Wall Design for Bedroom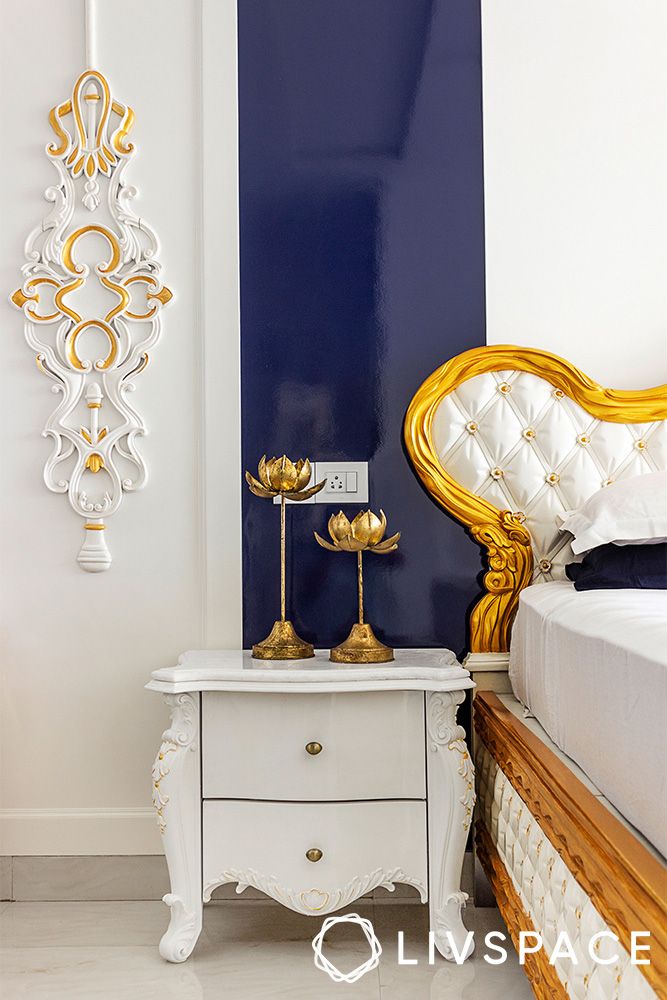 Thinking of adding an accent piece but not sure what it should be or how permanent you want it to be? Wall POP design for bedroom interiors to the rescue! It can be as intricate or bold as you want it to be. For the minimalists, using a single colour and playing with detailed designs can leave you with a statement piece that's custom-made.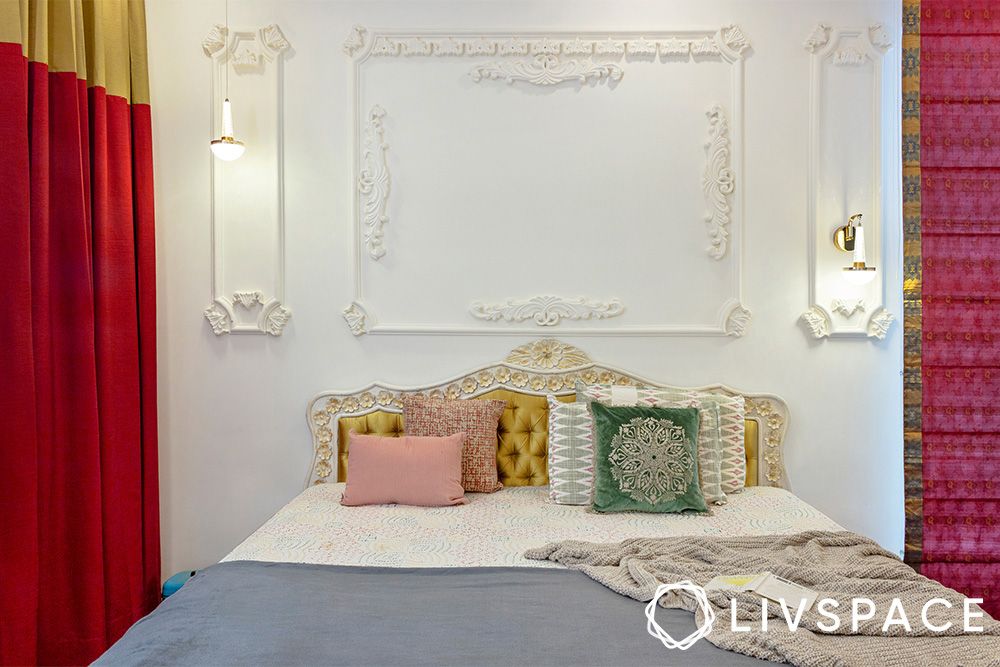 Just like you can turn your ceiling into an accent piece, you can do the same with your walls. A  wall POP design for bedroom interiors can instantly elevate the look and feel of your room without eating up too much space. The usual way to use POP on walls is as wall trims reminiscent of Victorian styles.The modern way is to use POP for criss-cross designs, or use portrait moulds with an accent colour. 
#10: POP Design for Ceiling to Wall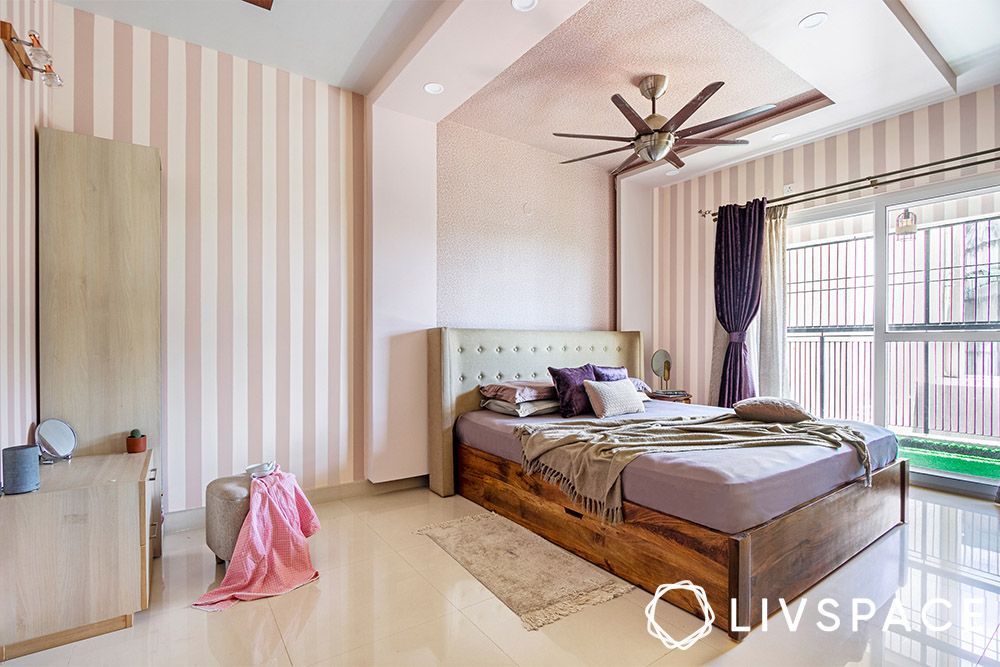 Consider using POP to connect the ceiling and wall if you want to change things up. The perks of this material are that you can douse it in all the colours you need to make the room interesting. Introducing spotlights and raising the panels off the wall ever so slightly will add extra dimension to the POP design for bedroom walls.
How Can Livspace Help You? 
We hope you found our ideas useful! If you want beautiful interiors for your home, then look no further. Book an online consultation with Livspace today. If you have any thoughts and suggestions you'd like to share with us, we're all ears! Drop us a line at editor@livspace.com.
FAQs
1. Which is the Best Colour for POP Design?
Light colours like white and cream are ideal since they can make the space look brighter. 
2. What Does POP Mean in Interior Design? 
POP stands for Plaster of Paris and is a hardy mixture used in making decorative structures. 
3. Which is Better: POP or PVC?
PVC is a more durable and cost-effective option, whereas POP is fire-resistant and can also be used to insulate heat. 
4. Is POP Good for Ceiling Designs?
As long as you go for high-quality POP, it can be a great material for your ceiling design. 
5. Can You Paint a POP Ceiling?
Yes, POP ceilings can be painted on if you choose to customise it with specific colours 
6. What Are the Benefits of POP Ceilings?
POP is lightweight and fire-resistant, making it a great addition to your ceilings without compromising structural integrity.