Did you know that POP, or Plaster of Paris, is a great material for creating unique and detailed designs? This is because POP is a malleable material, allowing it to be bent and shaped into distinct patterns. Be it in the form of a false ceiling or as the latest POP design for bedroom interiors, it's a fantastic decorative element to consider.
Let's take a look at some of the best POP designs for your bedroom, so you'll know what to pick the next time you choose to renovate or design your home.
1. What Is POP?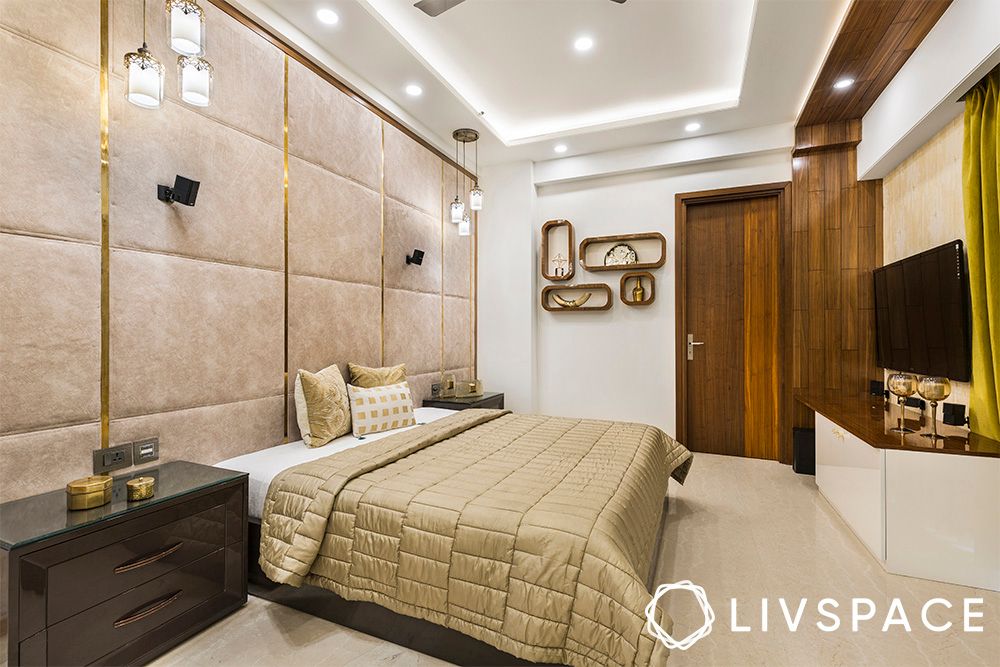 In layman terms, POP is a quick-setting plaster that hardens when wet and dries out to give you a sturdy mould. POP is typically used in false ceiling designs and other decorative finishes to style your interiors. Besides using a POP design for bedroom ceilings, you can also use it as decorative wall trims.
2. Why Do You Need POP Design Accents for the Bedroom?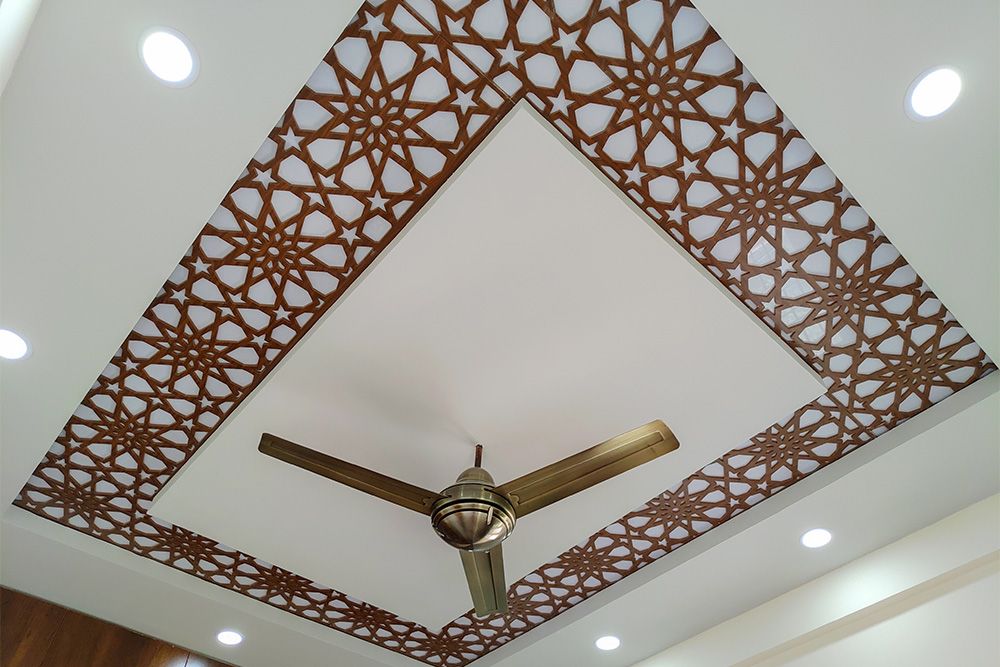 Since POP can lend a decorative touch to your interiors, it only makes sense to use it in your bedroom's false ceiling design. You can also use it to conceal unsightly wires from ceiling lights and fans. Moreover, if you just want to make a statement in a plain room, consider going for an intricate master bedroom POP design.
3. POP Design Ideas You Can Explore for Your Master Bedroom
There are many different ways to use a POP design in your bedroom. Let's take a look at some clever ideas for some design inspiration:
#1: A POP Design for Small Rooms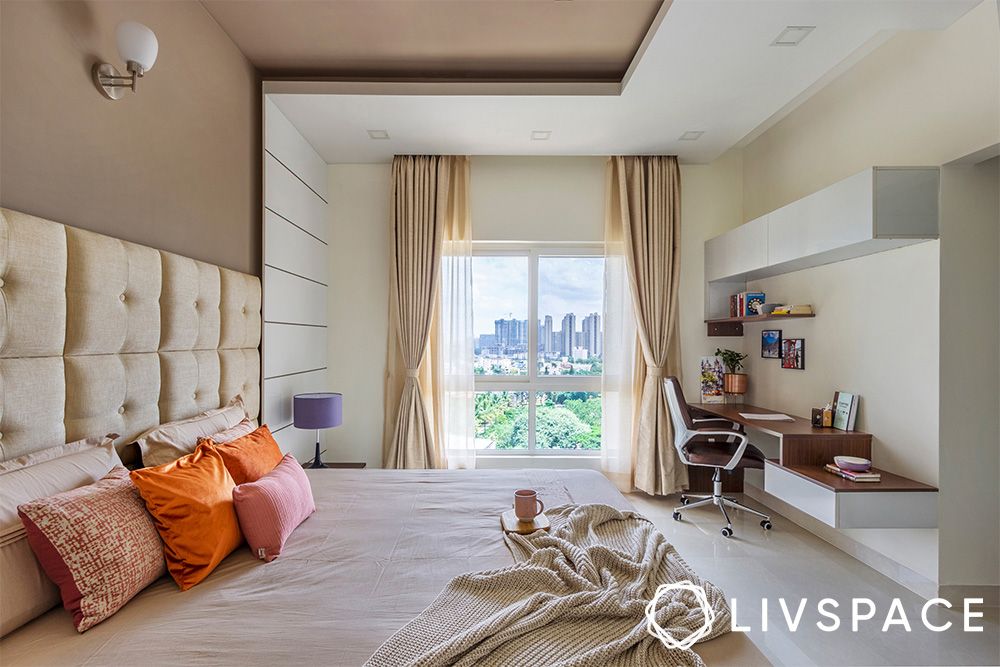 With a POP design for bedroom ceilings, you can add extra depth to a room, no matter how big or small the space is. If you have a smaller room, go for a simple design that doesn't clutter the ceiling.
Additionally, while choosing the colour for the POP design in your master bedroom, stick to lighter shades as they can make compact spaces look more spacious.
#2: POP Design for a Bedroom With a Fan
If you're planning on adding a false ceiling to your space, you might be looking for a POP design for a bedroom with a fan. Consider going for a simple down ceiling design with a central placement for your fan.
#3: Circular POP Ceiling Designs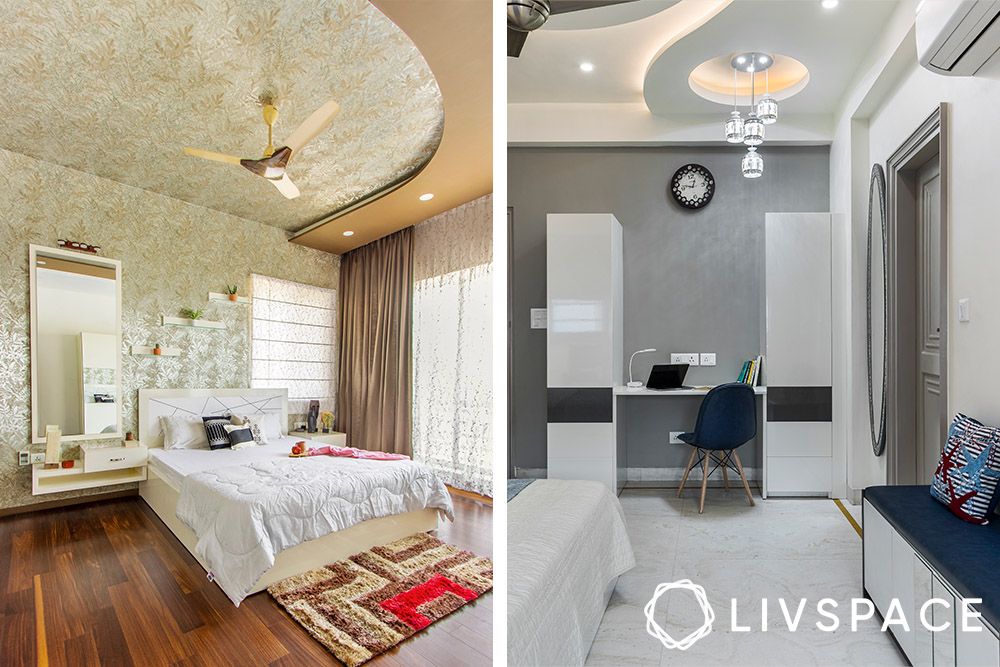 What you see above are examples of circular or curved bedroom ceilings made of POP. This would be a good design to choose if you're looking for a unique POP design for your bedroom interiors. Not only do they look stylish, but they also help add a certain element of luxury to your space.
#4: Square POP Ceiling Design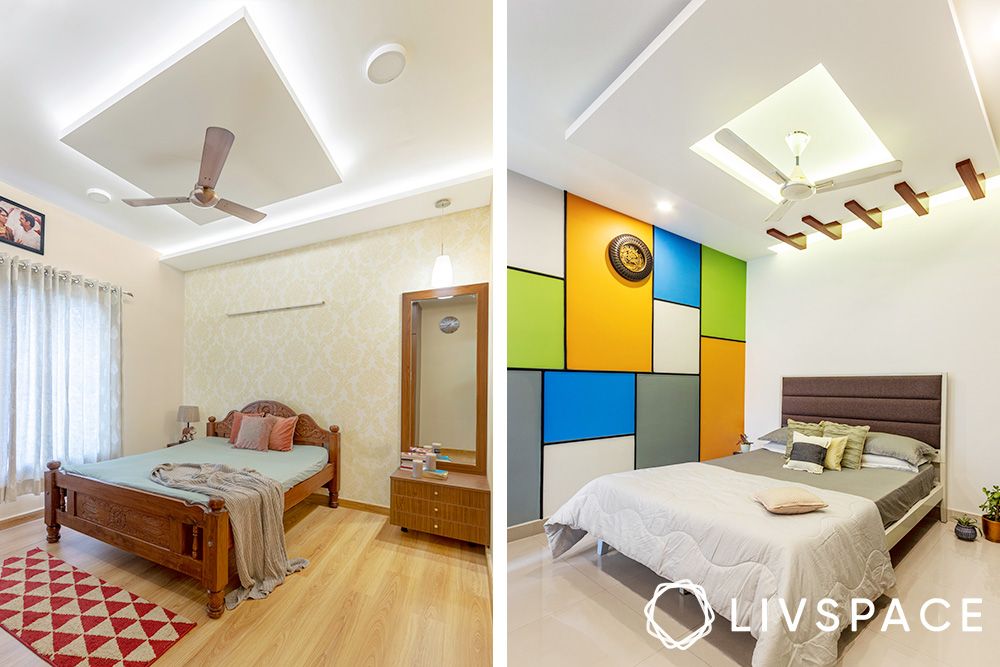 A square false ceiling is a nice and simple type of POP design for your bedroom ceiling that can work wonders. This is largely because it's a basic design that doesn't make the space look too cluttered. Highlight the square POP design for bedroom ceilings with cove lights around the edges to create a soft glow.
#5: Zigzag POP Ceiling Design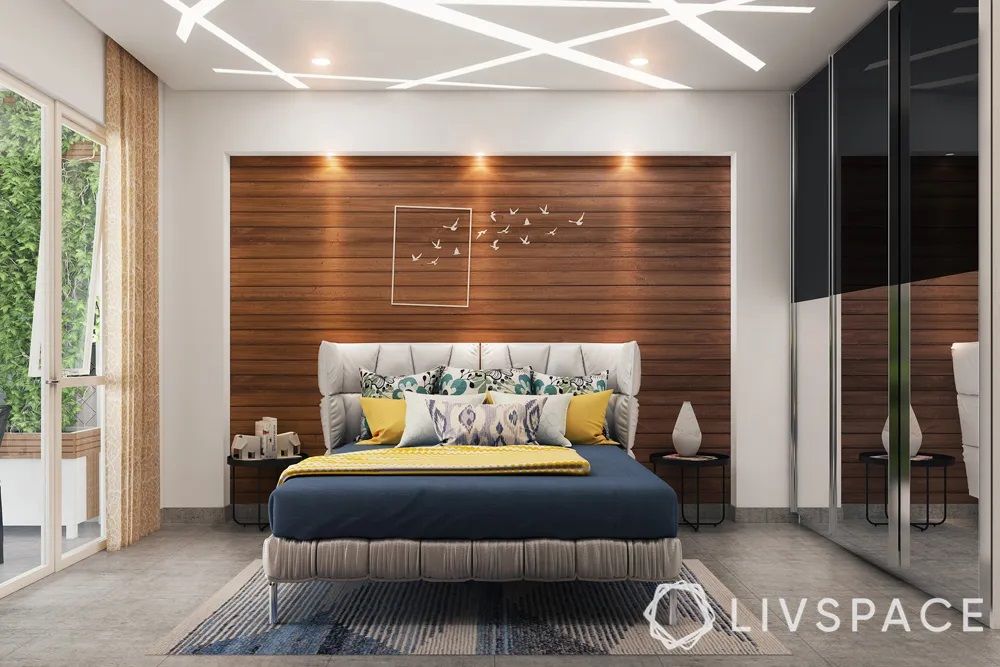 Here's a design for those of you who love to experiment with different styles. Ditch the basics and embrace the new with a zigzag POP design for your bedroom ceiling. Since this style can add a lot of visual interest to the space, be sure to keep the rest of your interiors simple to retain this as a highlight.
#6: A Modern POP Design for Your Bedroom Ceiling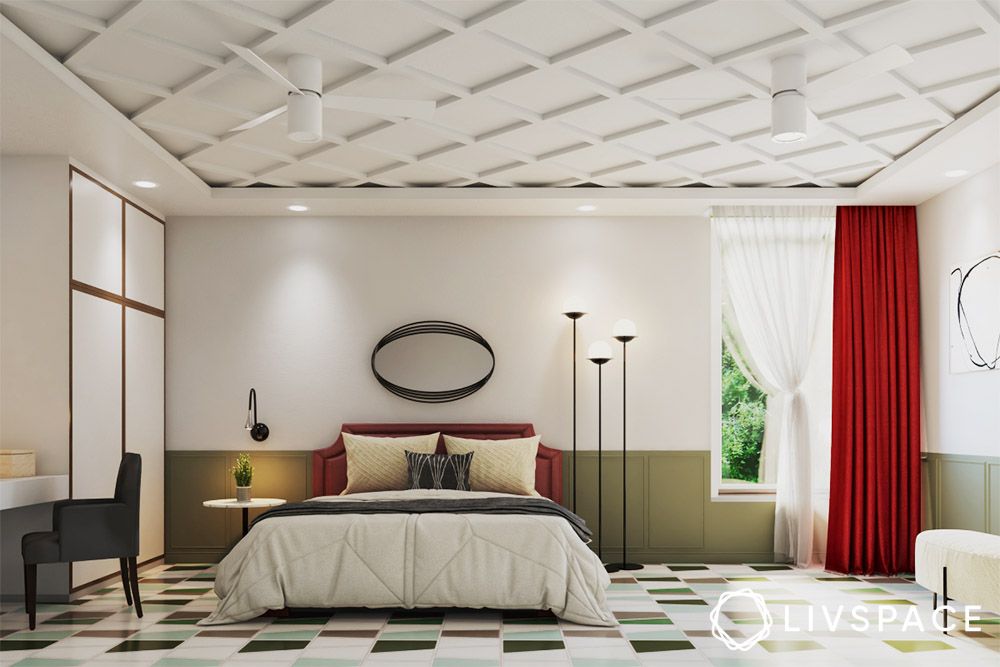 Want to turn your ceiling into a statement piece? Then you should definitely pick the above ceiling design for your room. This type of POP design for bedroom interiors can add an interesting visual texture to your space owing to the sharp geometric design that draws attention.
Also Read: 20+ Incredible POP Designs for Ceilings That Will Amaze You
#7: POP Design for a Bedroom With a Chandelier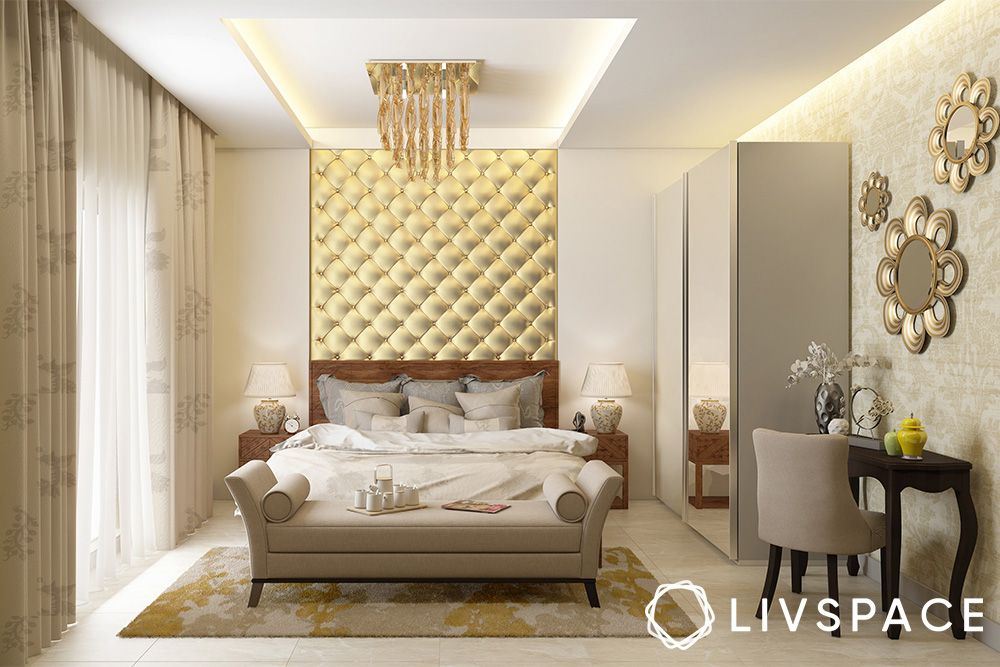 A little glitz and glam never hurt anybody, especially when paired with a POP design for bedroom ceilings. If a plain white ceiling just doesn't do it for you, why not luxe it up with a chandelier? Go for one that has gold accents to further complement a white POP design for your bedroom interiors.
#8: Plus-Minus POP Ceiling Design
Visually, a plus-minus POP design for bedroom ceilings helps strike a balance between positive and negative space. There are many designs this style can take on, but you'd mostly find them in box shapes or atypical patterns.
#9: A Simple POP Design for Bedroom Interiors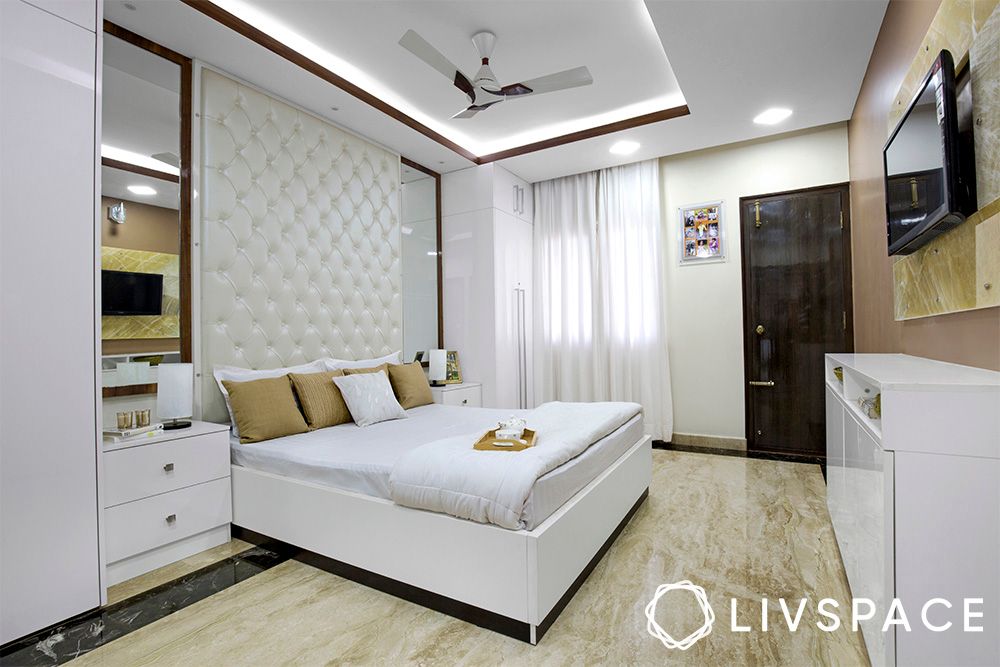 If your bedroom already has many visual textures and patterns in it, you might want to keep your ceiling design simple to avoid clutter. Opt for a simple POP design for your bedroom interiors and let the rest of the room speak for itself. This way, you can even play up your headboard design to add more character to the space.
#10: Fun POP Ceiling Designs for the Kid's Bedroom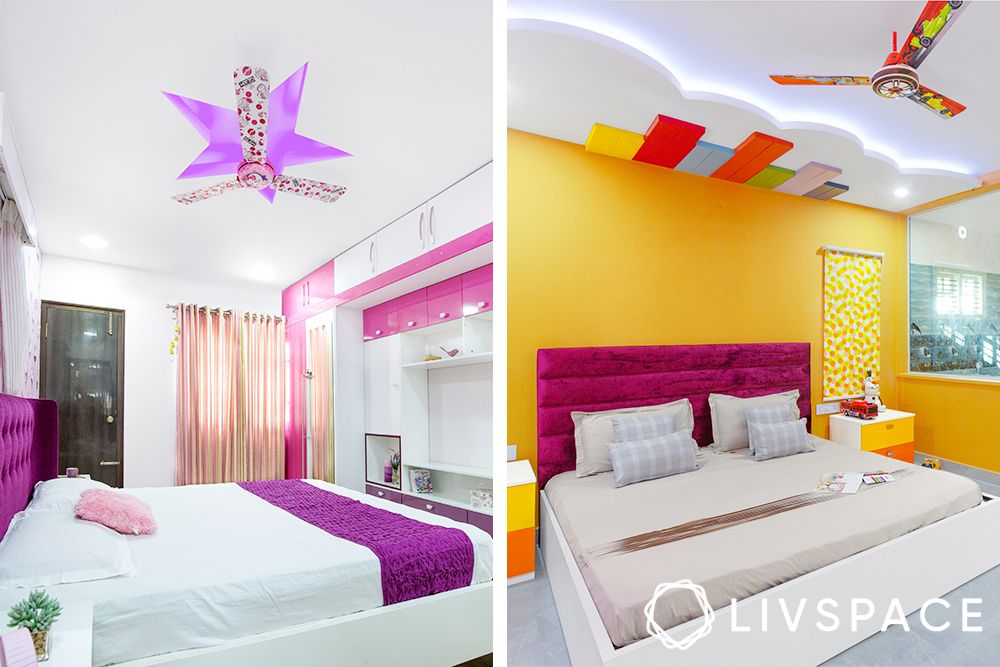 POP has a special place in kids' rooms because you can use them to create several fun themes, such as clouds or starry skies. You can customise these POP designs for bedroom ceilings in different ways to match the overarching theme of your child's bedroom.
#11: POP Wall Design for Bedroom Decor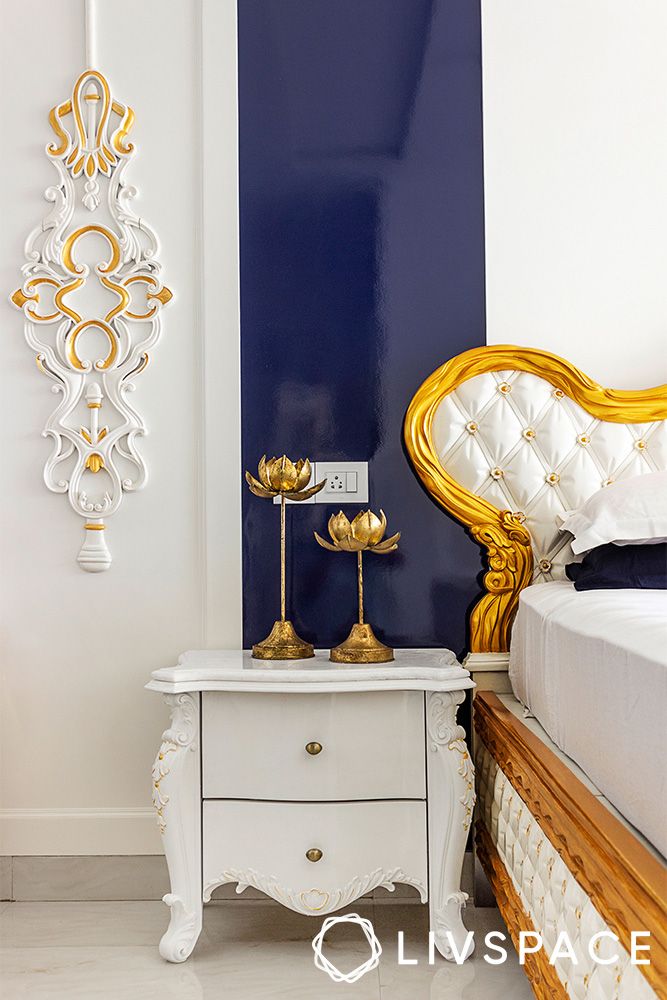 Thinking of adding an accent piece but not sure what it should be or how permanent you want it to be? Here come POP wall mouldings to the rescue! They can be as intricate or bold as you want the design to be.
For the minimalists, using a single colour and playing with detailed designs can leave you with a statement POP wall design for your bedroom.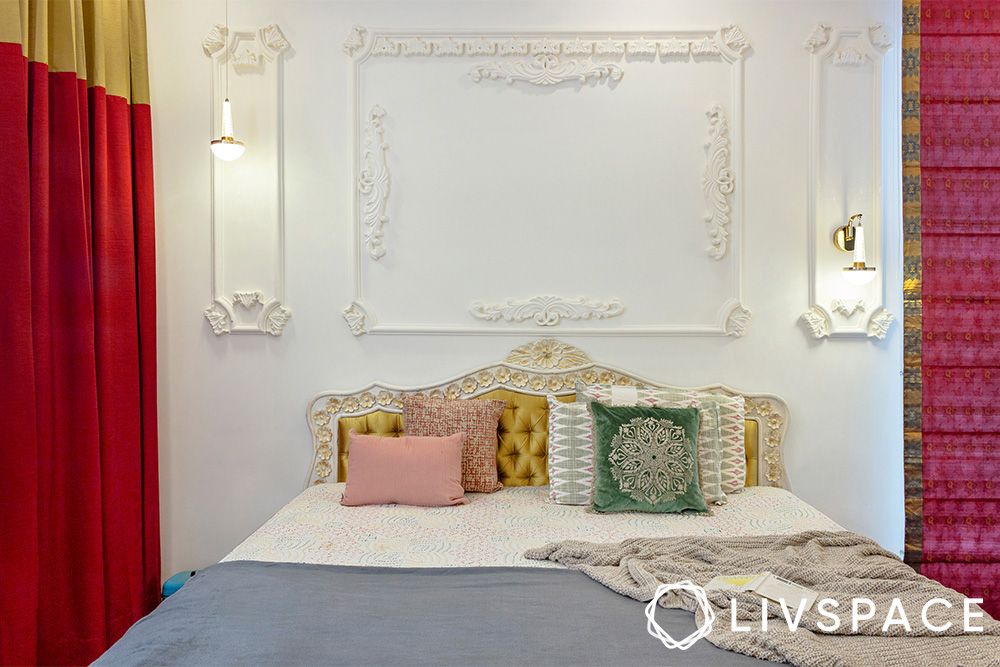 A POP wall design for bedroom interiors can instantly elevate the look and feel of your room without taking up too much visual space. You can also get creative and use POP mouldings to create Victorian-themed trims.
#12: Wall-to-Ceiling POP Design
A floor-to-ceiling design is a great way to add visual depth to the room. It draws the eye upwards and creates the impression of a higher ceiling. Don't be afraid to embrace a mix of textures and patterns to keep things interesting. This bedroom plays with a mix of stucco textures and stripes in calming shades of pink to create visual interest.
A Few More Examples of Master Bedroom POP Designs to Consider
Design
About
Stucco POP Design
Stucco is a plaster that can be used to give your walls a bumpy,
textured finish. You can pair your POP wall mouldings with a
stucco-finish wall for a textural element.
Coloured POP Design
POP can be painted in a variety of colours to give it a unique
and trendy look. Consider painting it in a bold colour for a
statement look, but bear in mind that dark colours may make
your space look smaller.
Textured POP Design
POP wall mouldings can be designed to create unique patterns
and shapes with different visual textures.
Coffered POP Design
This is a classic 3D false ceiling design that can help create the
illusion of a more spacious room. It follows a grid-like pattern
with recessed square or rectangular panels.
Tray-Type POP Design
A tray-type false ceiling essentially looks like an inverted tray
that drops from your true ceiling. It covers the edges of your
ceiling and has a recessed middle portion.
Geometric POP Design
This style of false ceiling can be a mix of patterns and lines
that are symmetrical. However, they may be visually
overpowering in small spaces.
Please note that all the images used in the article are for representational purposes. These false ceiling designs can be created using POP; however, gypsum is a more cost-effective material to use. POP is typically the preferred choice for complex or detailed false ceiling designs.
Also Read: Trending Gypsum Ceiling Design Ideas to Make Your Home Look More Elegant
4. What Is the Process of Installing a POP False Ceiling for a Bedroom?
As per your design, the ceiling is marked with lines and the drop from the true ceiling is determined using a water level device (the water level ensures that your ceiling is evenly installed)
Your ceiling is framed using GI (galvanised iron) channels as per the line markings. This forms the skeleton of your false ceiling
As per your design requirements, the electrical work is then completed
Next, a GI mesh is fixed to the frame and POP plastering is done according to the design
Final finishing is done with the help of paint
5. What Are Some Precautions to Take While Installing POP?
It's important to ensure the water level marking is done so that the false ceiling is levelled. If precaution is not taken, you might end up with an undulated false ceiling, which won't be very aesthetic
GI framing and anchoring needs to be done to the ceiling using anchor fasteners placed at equal intervals. You also need to be sure that it's well supported using peripheral channels for the walls
Make sure you're using the right GI channel gauges for the best results
You should choose your false ceiling design as per the electrical service requirements so that the design can support the electrical work needed
The quality of the POP used is very important. Ensure that the POP has sufficient time to cure before finishing the false ceiling, as it may crack later on if it hasn't set properly
6. How Long Does a POP False Ceiling Design Last?
With the help of high-quality materials, your POP false ceiling can last up to 10 years or more. Be sure to invest in high-grade materials to prevent the need for frequent renovations.
7. What Are the Pros and Cons of Choosing a POP False Ceiling for Your Bedroom?
Advantages
Disadvantages
POP is a highly durable material.
Can be relatively more expensive
than other materials, but offers
durability.
The installation process is fairly easy.
The process can be labour-intensive,
but the end result is long-lasting.
POP can help improve the aesthetics
of your home and add value to the
property.
POP may take longer to cure in
humid climates, but is
water-resistant* once installed.
The material is water-resistant
compared to gypsum boards.
Heavy lights may damage your
POP false ceiling if you do not
plan your ceiling design around
your electrical requirements.
POP is mouldable and works well
for detailed or complex design
needs.
You can easily repair a POP false
ceiling in the event of damage.
*POP is relatively more water-resistant compared to gypsum boards.
8. Tips to Choose a POP False Ceiling for Your Bedroom
Select colour palettes that complement each other, or go for colours that can add contrast to the POP design for your bedroom interiors
If you want to decorate a plain POP design for bedroom ceilings, you can play with different types of paint to give it a unique look
Use POP for your false ceiling if you want an intricate or detailed design as this material offers high malleability
Decide what lighting and electrical fixtures you need and create your false ceiling design around it. Your false ceiling design will need to match the exact scope of electrical work before it is installed
Also Read: How to Pick False Ceiling Designs for Different Rooms in Your Home
9. How to Choose the Right Colour for Your POP Ceiling Design?
You can easily paint over POP with any type of paint. In most Indian homes, white is the most common paint colour chosen for these type of false ceilings.
Check out some stunning bedroom designs here:
How Can Livspace Help You?
We hope you found these POP design ideas useful! If you want beautiful false ceilings and wall mouldings for your home, look no further. Book an online consultation with Livspace today. To know how our customers feel about working with us, check out these Livspace reviews for more details!
Have any thoughts or suggestions you'd like to share with us? We're all ears! Drop us a line at editor@livspace.com.
Disclaimer: All contents of the story are specific to the time of publication. Mentions of costs, budget, materials, finishes, and products from the Livspace catalogue can vary with reference to current rates. Additionally, please note that the designs showcased within the story are subject to availability and will vary based on the year the homes were designed in. Consult our designers for more details on pricing and availability.
---
Popular Services:
Modular Kitchen Designs | Wardrobe Designs | Bathroom Designs | Master Bedroom Designs | Living Room Designs | Pooja Room Designs | TV Unit Designs | False Ceiling Designs | Kids Bedroom Designs | Balcony Designs | Dining Room Designs | Foyer Designs | Guest Bedroom Designs | Window Designs | Flooring Designs | Wall Decor Designs | Wall Paint Designs | Home Wallpaper Designs | Tile Designs | Kitchen Cabinet | Home Office & Study Room | Home Interior Designs
Popular Locations:
Interior Designer Bangalore | Interior Designer Mumbai | Interior Designer Pune | Interior Designer Chennai | Interior Designer Hyderabad | Interior Designer Gurgaon | Interior Designer Delhi | Interior Designer Ahmedabad | Interior Designer Vadodara | Interior Designer Kolkata | Interior Designer Thane | Interior Designer Navi Mumbai | Interior Designer Coimbatore | Interior Designer Lucknow | Interior Designer Patna | Interior Designer Nagpur | Interior Designer Chandigarh
Popular Stories:
2 BHK Interior Design | 3 BHK Interior Design | 1 BHK Interior Design | Interior Design Cost In India | Painting Cost Per Square Foot | False Ceiling Cost | Bathroom Renovation | Sofa Design Ideas | POP Design for Hall | House Paint Colours | Main Door Design | Granite Countertops | Vastu For Home | Cool Wallpapers | Types of Kitchen Layout | Types of Flooring | What Is Plywood | Pooja Room Vastu | South Facing House Vastu | Which Plants Are Good for Home Vastu | Vastu Tips for Home