If you are looking for new ways to decorate your living room, consider a POP design for hall (Plaster of Paris). From wall accents and back panels, to false ceilings, POP designs lend themselves to versatile uses that elevate the ambience of any living room. If you are looking to latest POP design for hall ideas, this article will help you understand the best POP design for your hall and where you can use it.
Where Can You Use POP Design In Your Room?
Make A Grooving Wall In the Hall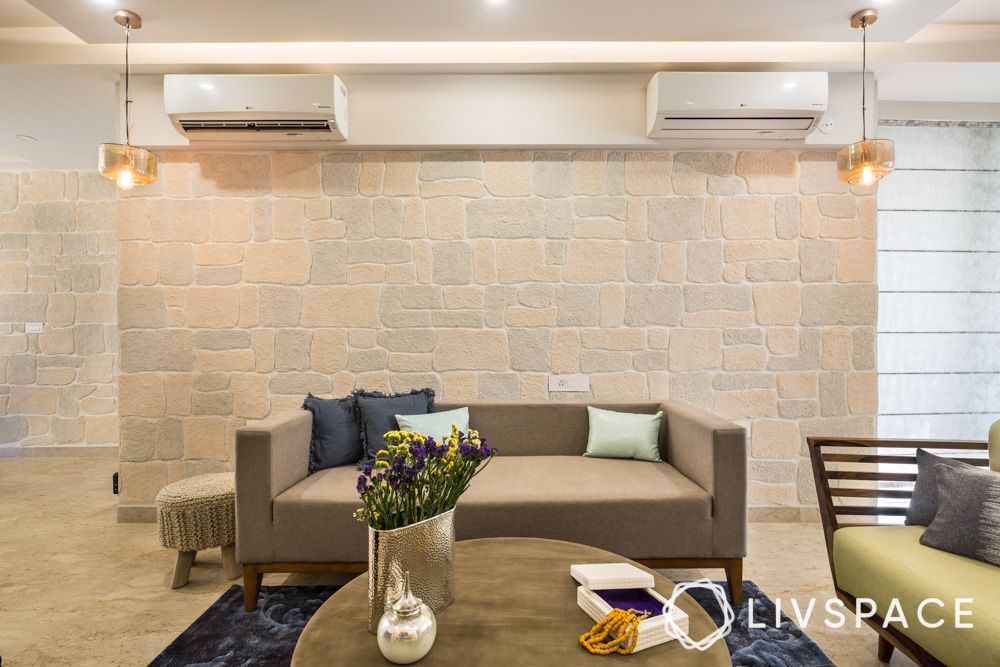 Wall grooving can create an interesting backdrop for the living area. With geometric lines that complement the patterns scattered throughout the room, these POP designs introduce both style and texture. Use a muted color for the floor-to-ceiling design, and pair it with brightly colored furniture. A minimal yet sophisticated design, it is sure to wow your guests.
Use POP Tiles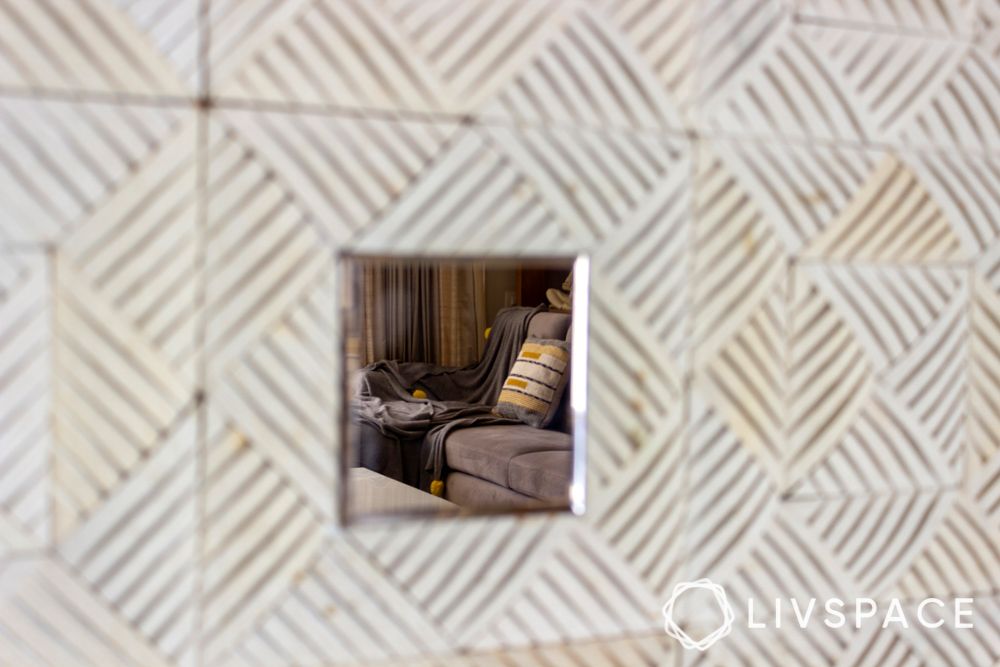 Textured wall tiles are one of the most interesting POP designs that introduce dynamism and movement in an otherwise plain wall surface. Embellished with mirrors, this POP design makes way for a living room that is spacious, luminous, and engaging; one that matches the creative pomp of the rest of the space. Coupled with statement lighting, chandeliers, art pieces, and family photographs, these tiles will create a sense of delight every time you catch a glimpse of yourself.
Use POP Designs to Make the TV Unit Back Panel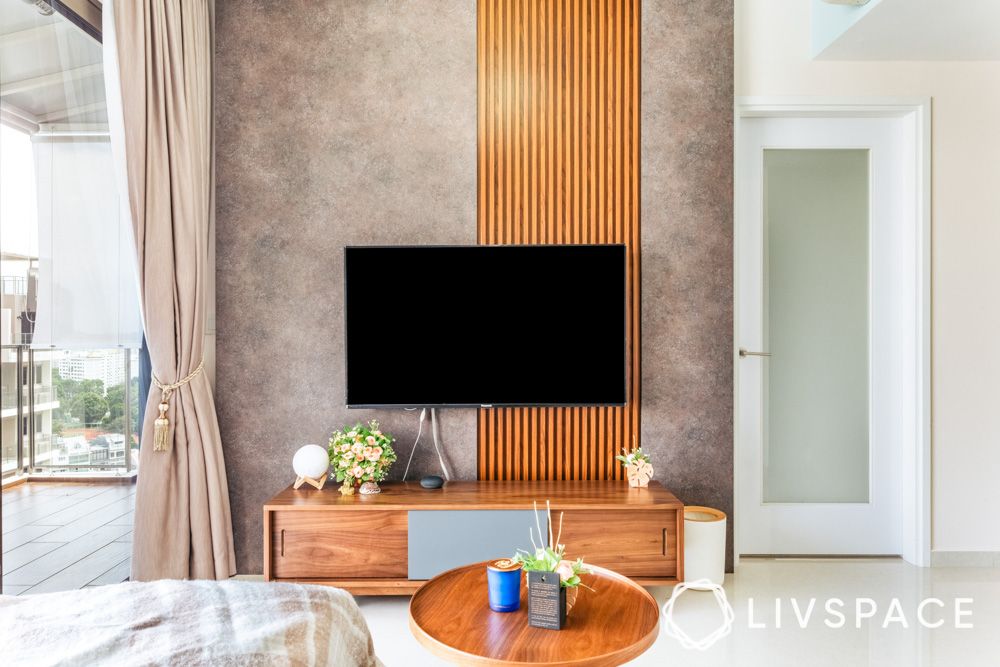 In this POP design, the engraved negative space of the TV unit adds depth and dimension to the living room. With its open wooden cabinets and soft pastel decor pieces, the space comes together in a rustic and minimalistic style. If you do not want to opt for larger investments such as a wall or ceiling touch up, redoing the back panel of your TV unit is a simpler and more economical way to introduce POP designs in your decor.
Construct POP Ceiling Design For Your Hall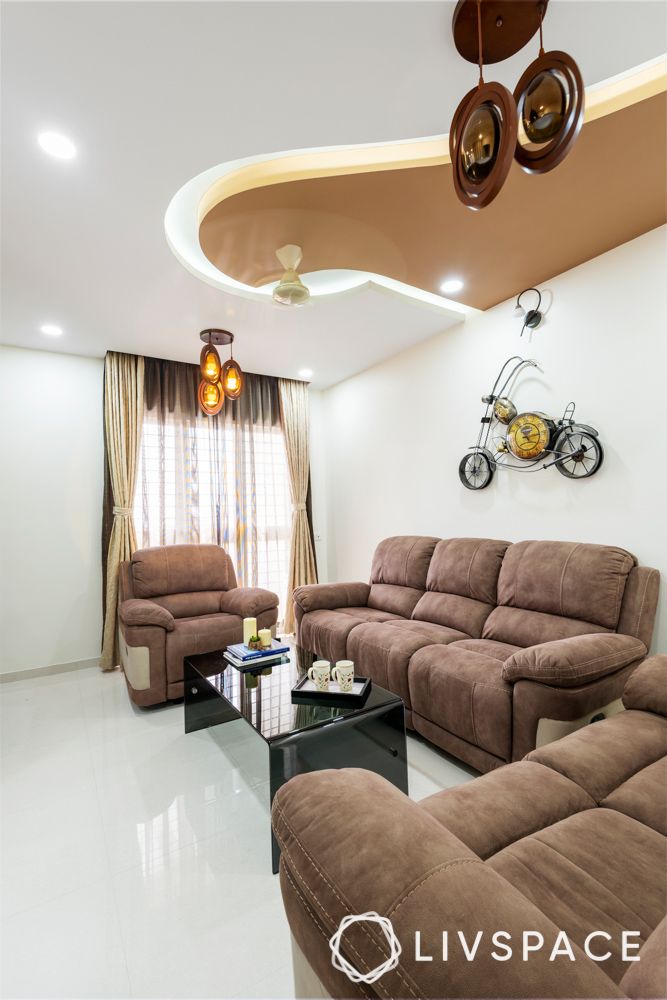 False ceilings with the tiniest of details can break the monotony of a muted stretch of space. But, to add the right zing to your interior, the POP ceiling has to blend seamlessly with the walls. Drawing the eyes upward, POP false ceiling with rich patterns can create a look that is regal and warm. Along with the POP designs, consider spotlights which add to the drama, making the space appear larger, and timeless.
Shape POP Design To Be Your Accent Feature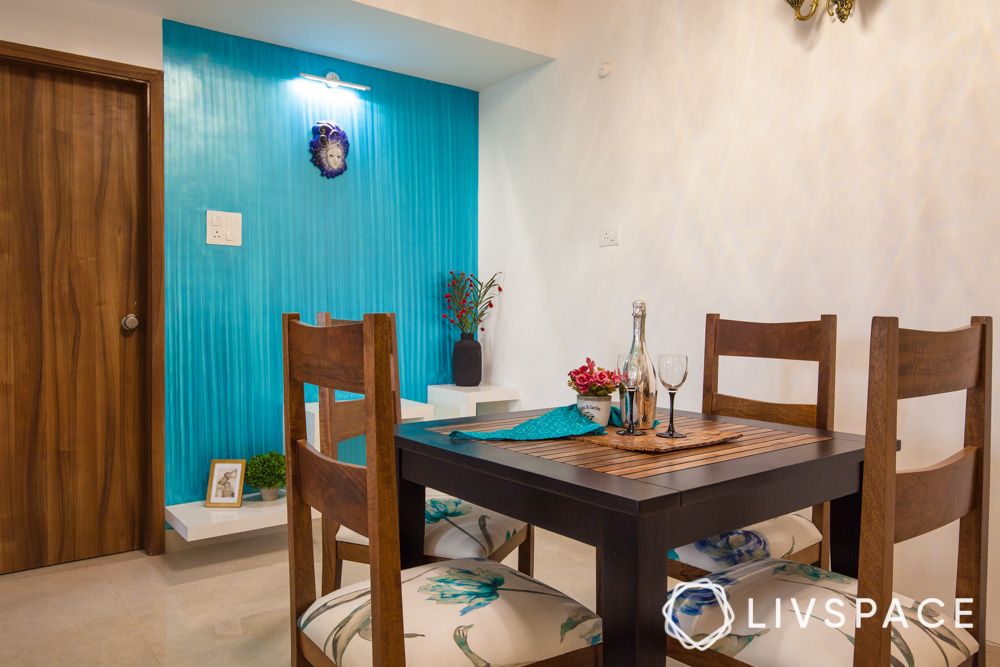 If you are the free spirited kind, looking to infuse a touch of your unique personality in your home interior, this design is probably for you. Quirky, inventive, and improvisable, wall accents can be a breath of fresh air in living room décor. POP wall plates add a pop of colour and character, enlivening the space with elegance. Add accent pillows, curated books and other accessories that complement the wall accents, to elevate the look.
Popular POP Design Ideas for Your Hall:
#1: Box in the Plus Minus POP Design for Hall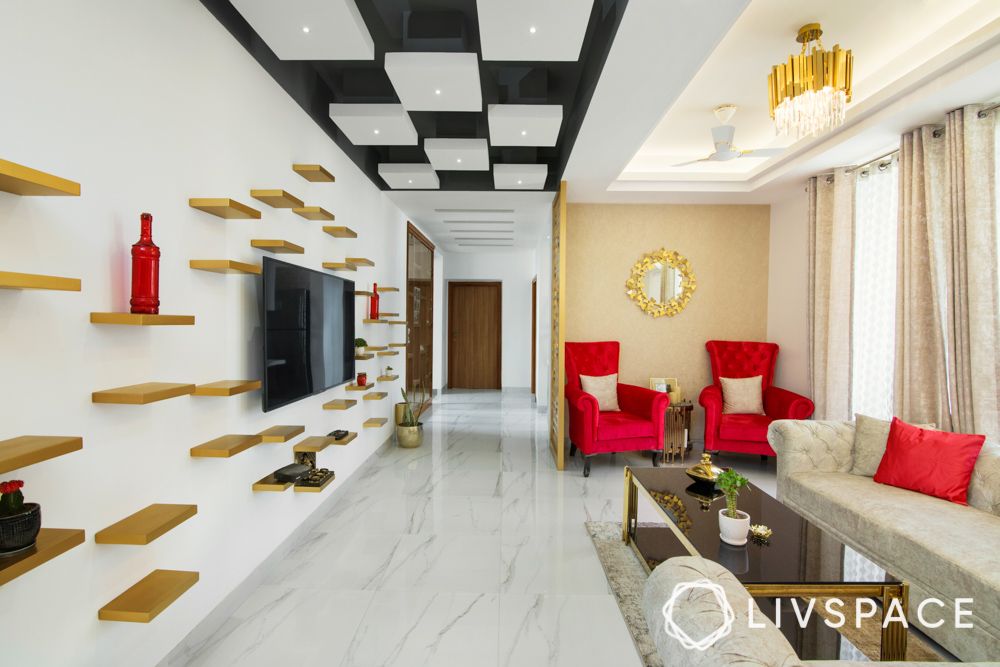 The Plus-minus POP is made from Plaster of Paris (POP), also known as gypsum plaster. It is a versatile material and can be used in to shaped any type of design. Thus, we see quite an incredible use of plus minus POP design here where the protruding squared ceiling steals the show away.
#2: Light Up the Ceiling of Your Small Hall With LED Lights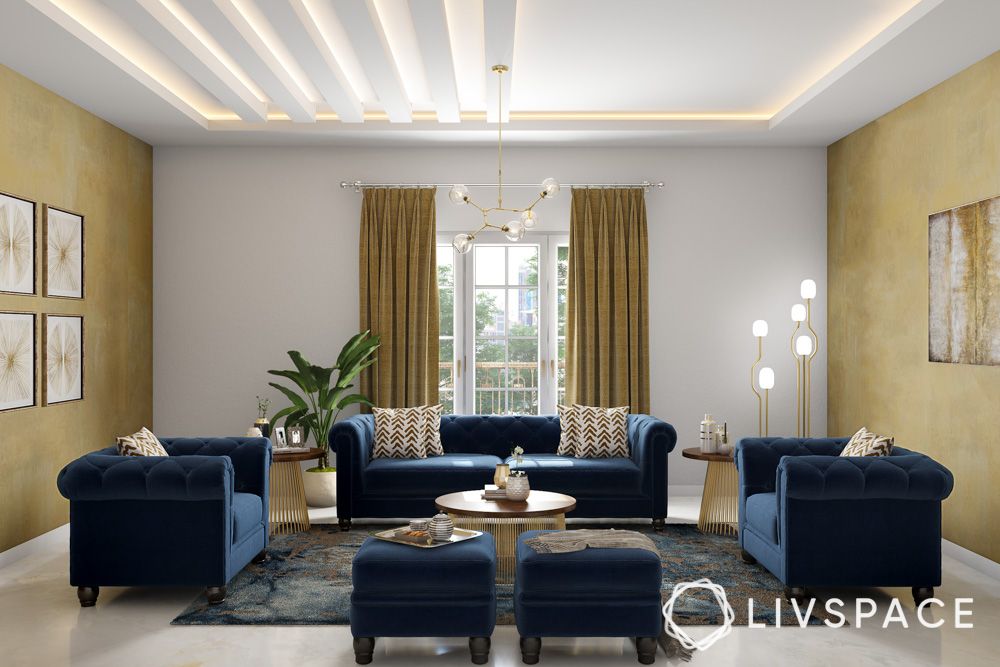 More homeowners are opting for LED lights as they are energy savers. They are also a sustainable option as opposed to white tube lights. You can now incorporate them in your ceiling design too and save up on electricity bills.
#3: Incorporate Your Fan With POP Design for Hall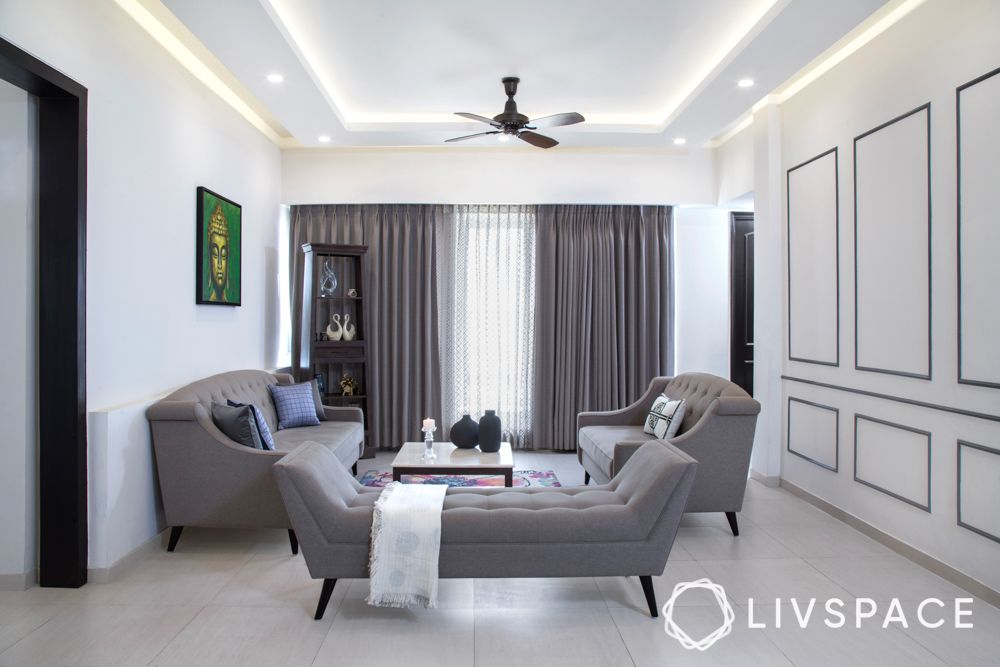 Nothing will tank the look of a POP hall ceiling. You can easily install fans and other functional pieces on the ceiling without being anxious about it ruining the look. The above example proves that.
#4: Border Up Your POP Ceiling Design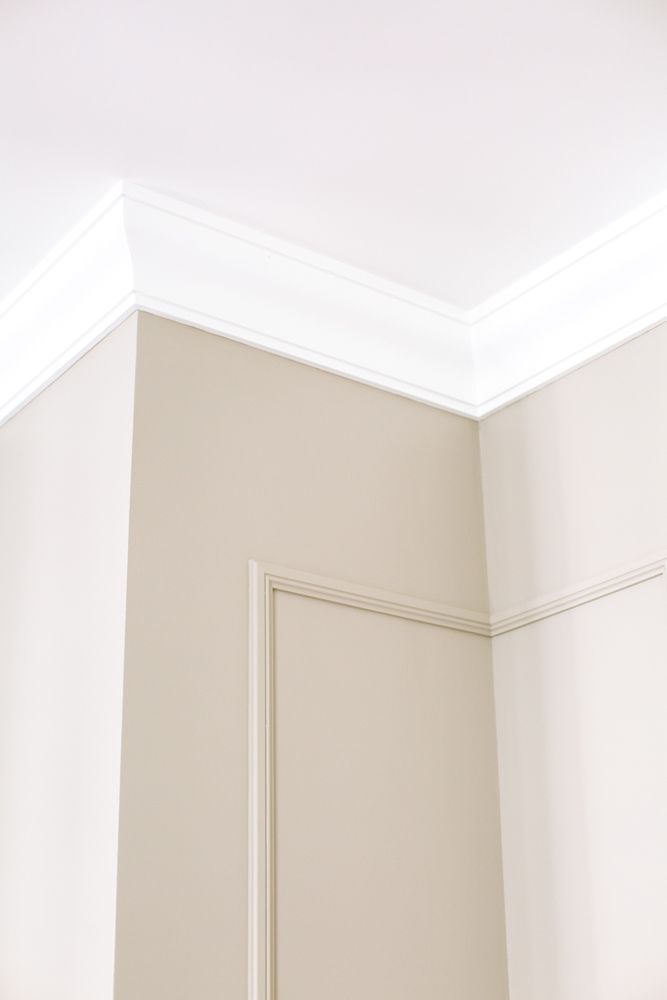 A lot of work on the ceiling in a small hall space may look visually overwhelming. To avoid it, try out a border ceiling POP design for your small hall. It will give your walls the character it needs without looking overwhelming.
#5: Best POP Design For Hall With Wood Finish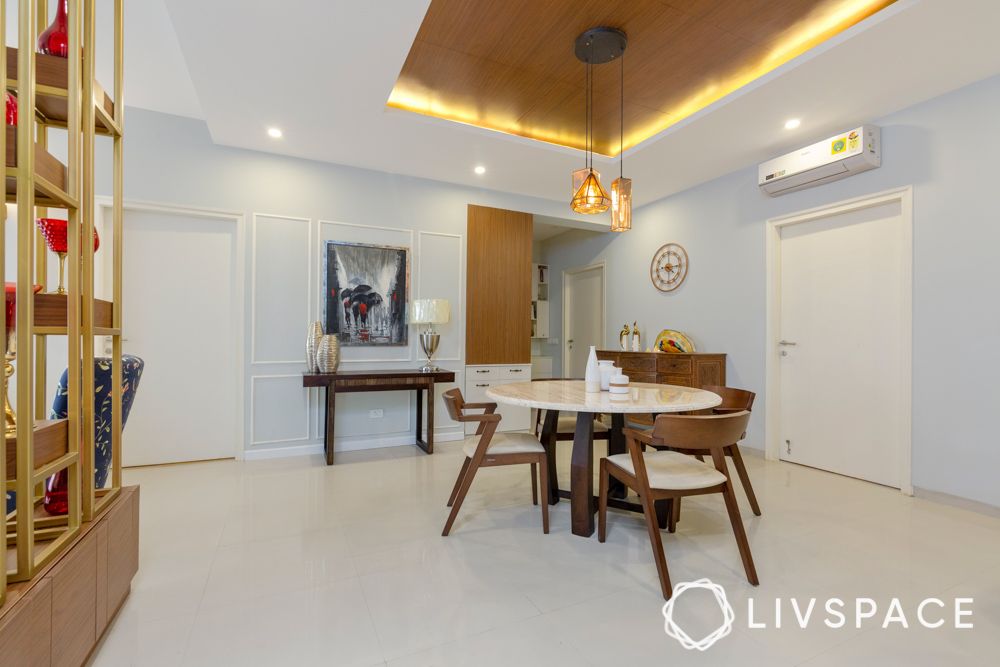 A lot of homeowners combine wood with their POP ceiling design in the hall. Why? Wood finishes in India exude an air of opulence. Wood has great insulation properties. Thus, it is a win-win from both sides of form and function.
#6: Make Your Simple POP Design for Hall Timeless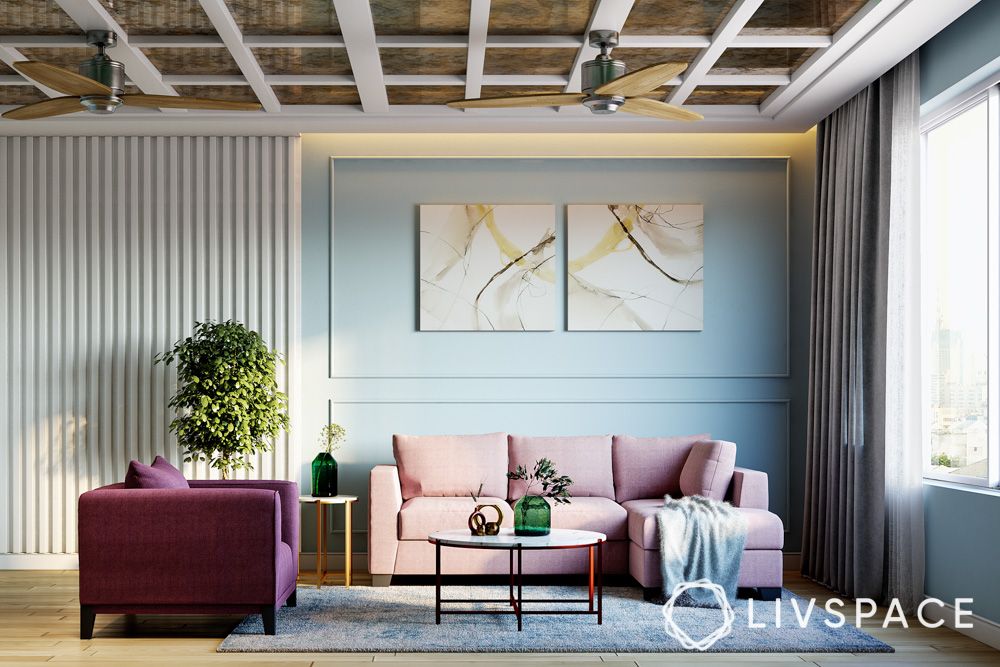 Want to know how one can make the best of POP in your hall? Use a classic design that will never go out of fashion. One example of this is square ceiling design. The intricate design is a stunner.
#7: Get the Latest POP Design for Hall With Rectangle Shape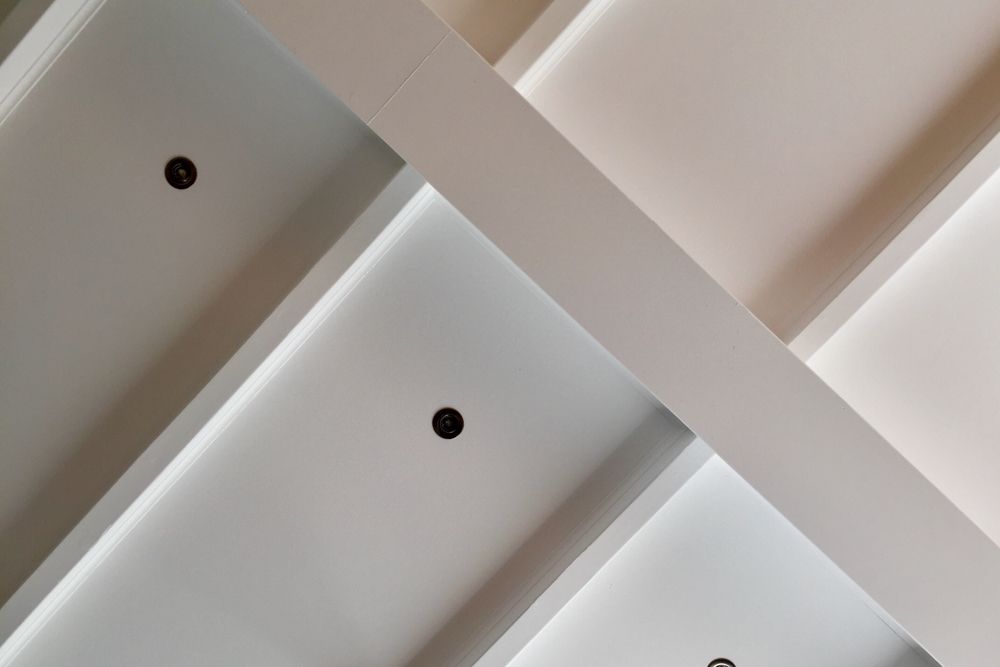 If you are looking to experiment a bit with simple POP design for hall, you can opt for rectangle shapes. This not only works well for your ceiling, it can also translate well on any of the wall backdrops.
#8: Traditional POP Ceiling Design Fit for Royalty
The latest POP design for hall can see mirrors making an appearance. Mirrors are compatible with POP and it adds quite a glamourous look to the ceiling as well. They easily open up the space as well due to their reflective qualities.
#9: Combine Gypsum With POP Design for Hall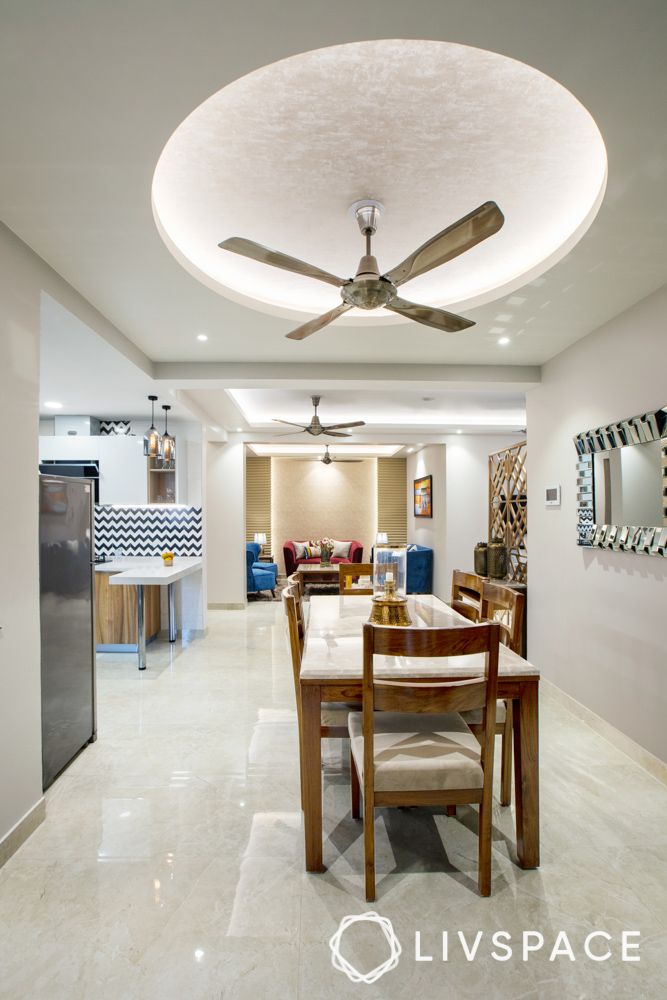 Gypsum, a naturally occurring mineral, is changed to boards to be used in the ceiling. They are known for their durability, cost-effectiveness and excellent insulation qualities. Combined with gypsum, it makes for excellent ceiling designs with great properties to boast about.
#10: Paint Your Ceiling POP Design for Small Hall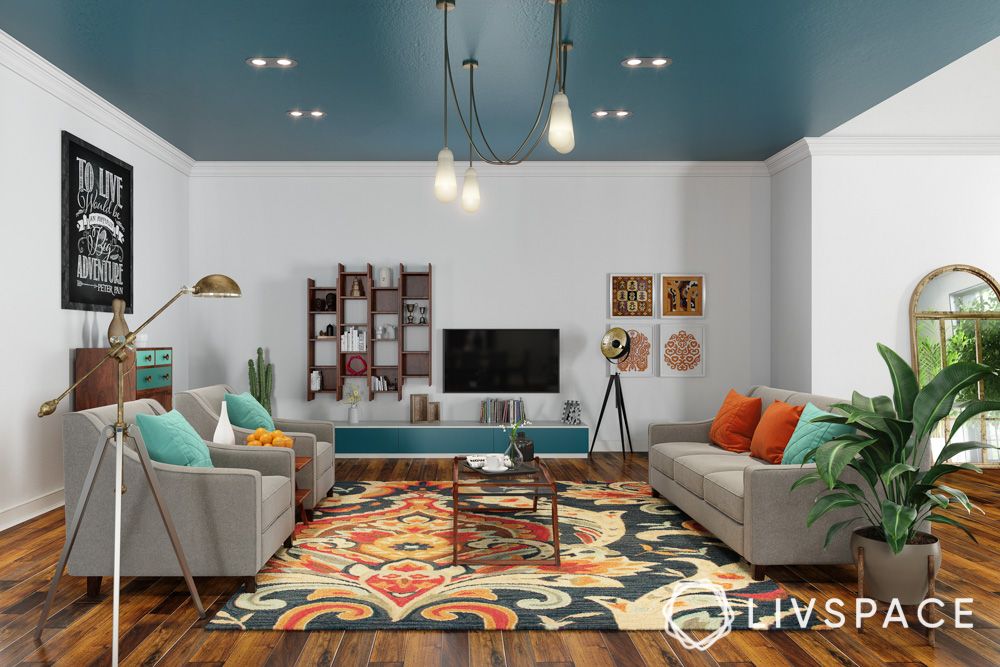 Looking to add some character to your POP design for hall? Opt for a painted ceiling. It will instantly add some character to the room, making itself the focal point. You can also opt for coloured patterns or shapes.
#11: Go Minimal on POP Ceiling Design for Hall
When it comes to modern homes, the stress is to keep the look complementary and visually airy. Thus, a minimal ceiling POP design for a small hall is a godsend. You do not need fancy shapes and sizes, just ample lighting and it will transform the whole look of the room.
#12: Get The Best POP Design for Hall With Apt Lighting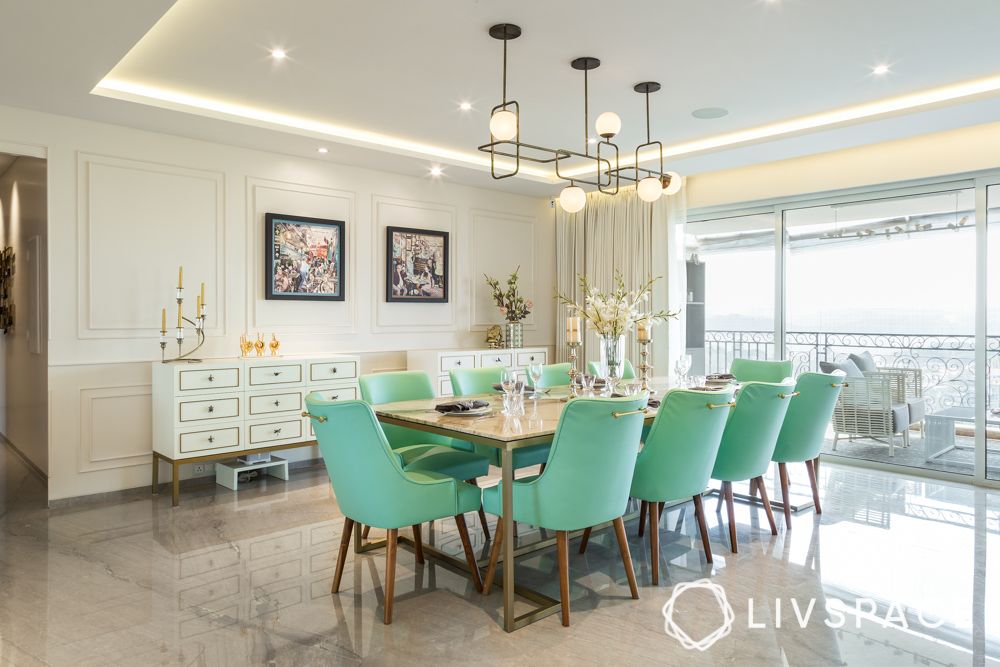 The best POP design for hall make sure your room gets ample lighting. So, to make lighting choices that not only brighten the place, but add character to it, is the right thing to do. Opt for fancy chandeliers and watch the space gleam.
#13: Add Character to the Room With Latest POP Design for Hall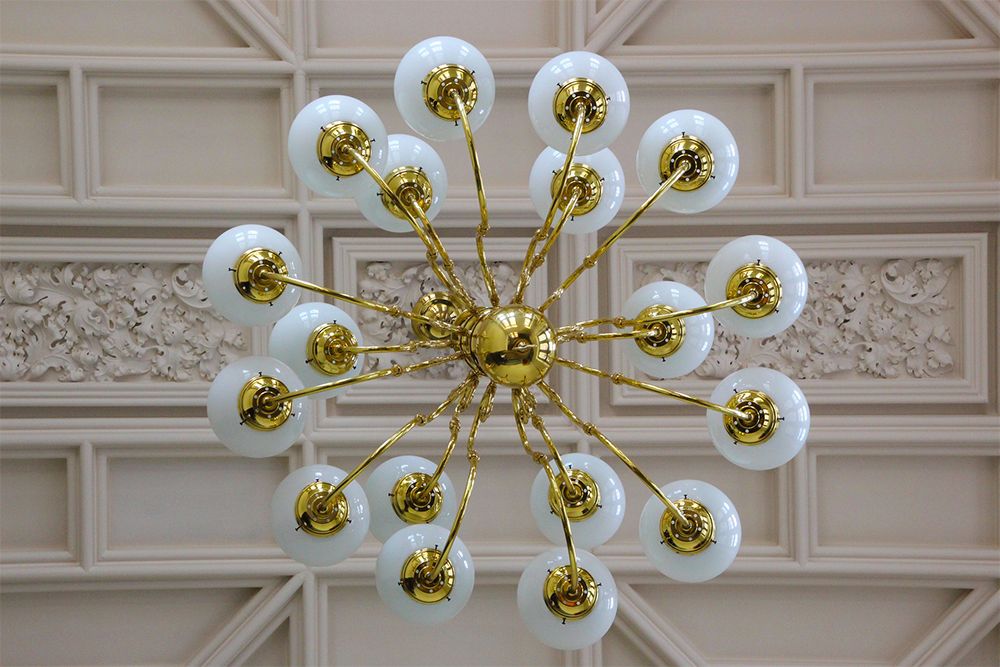 Since POP is such a versatile material, it would be the waste of its potential if it is not experimented with. For example, look at the above ceiling design. It has intricate designs and complements the chandelier well.
#14: Enhance Simple POP Design for Hall With Decor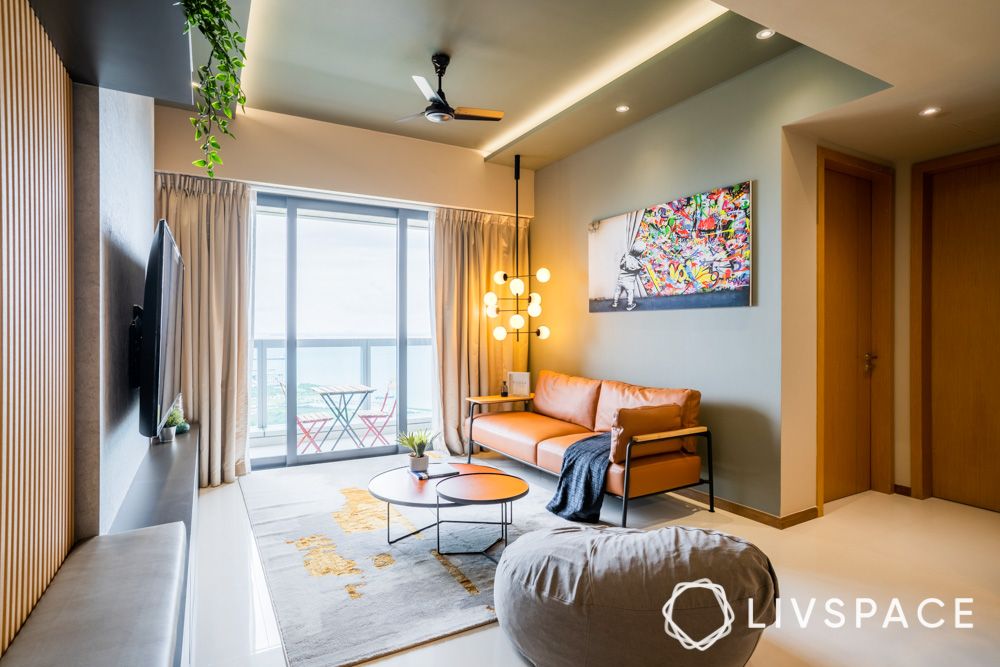 Once you have chosen to go for a simple POP design for hall, you can still give the look a much needed boost with colours and patterns. Do not shy away from dipping brushes into quirky colours and painting.
#15: POP Design Ideas for a Large Hall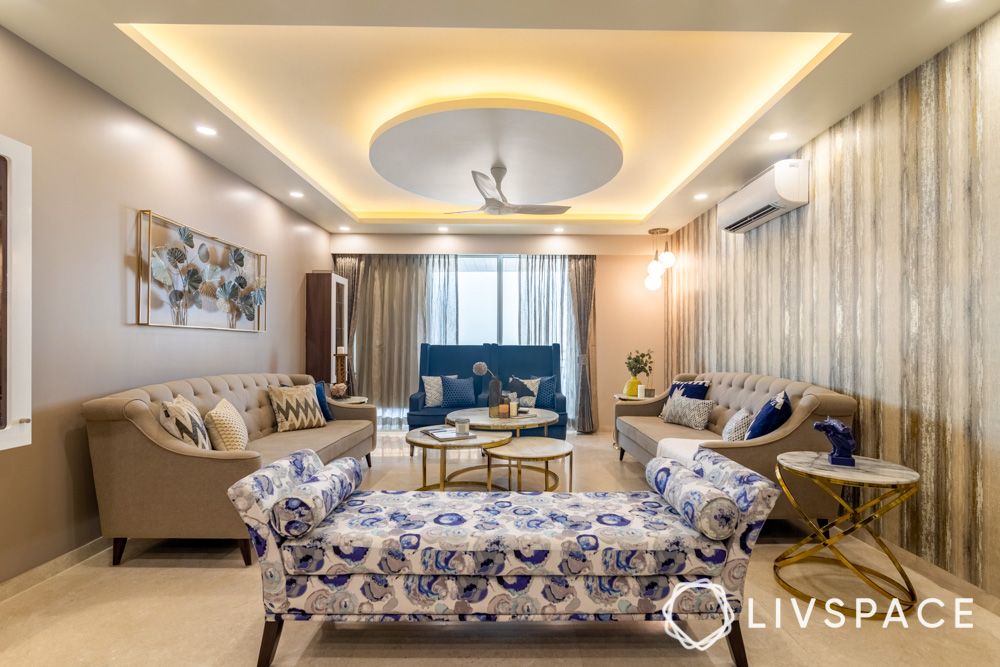 Large spaces can easily use latest POP design for hall. You can see, for example, how this modern Indian home has mixed shapes. This enhances the look of the ceiling and gives aptly lights up the room.
#16: Give Your POP Design for Hall An Artistic Finish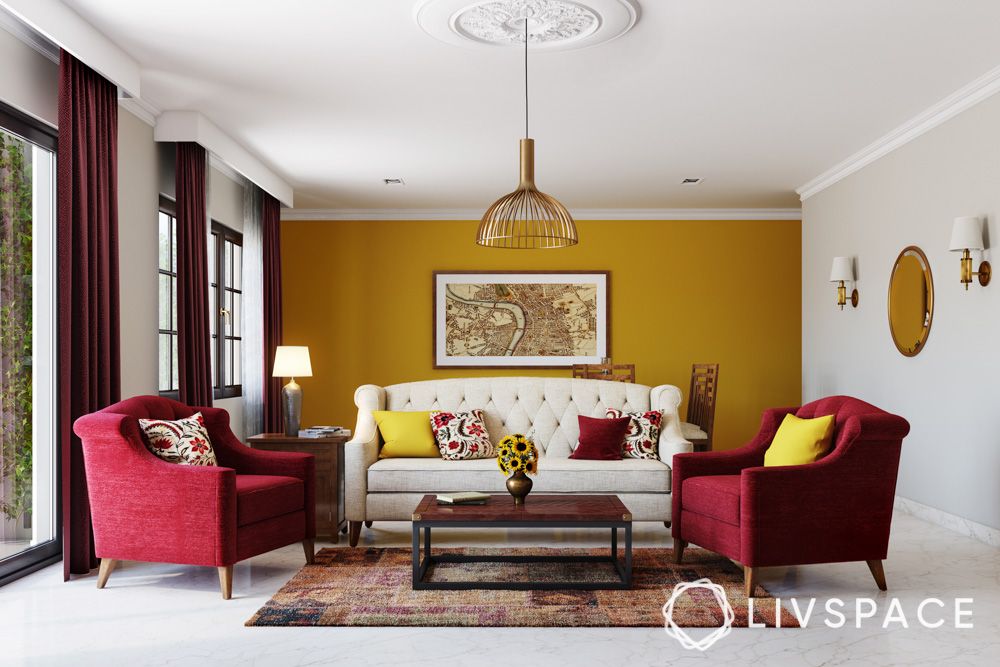 As pointed, one can always opt for intricate designs with POP. If you are going for a modern house with a hint of vintage, you can use the example above. It uses a floral pattern to bring the viewer's eye to the ceiling.
The perfect, creative POP design is waiting for you. Choose the right option to pique the interest of your guests, and play around with the details to complete the ensemble. If you liked this article, also check out 18+ incredible POP design ceiling ideas that will make you go wow.
Check out false ceiling designs:
How Can Livspace Help You?
We hope you found our ideas useful! If you want beautiful interiors for your home, book an online consultation with Livspace today.