No matter how elegant a ceiling looks, it is one of the most overlooked areas of a home. Some homeowners do recognise the potential this element can have in a space and opt for a false ceiling design to enhance its look a little. But is that enough? After spending a part of your budget on false ceilings, does it not make sense to highlight it using some strategic lighting? Additionally, the wiring for this new lighting system can be hidden flawlessly behind your false ceiling. Hence, here we are, with some stunning false ceiling light designs that can transform a room and set the right mood for the space.
What Are False Ceiling Light Designs?
Ceiling lights, in general, are used to provide 4 kinds of lighting in your home: ambient, task, accent and decorative. Why do you need these different kinds of lights in the first place? Good question, and we'd love to answer that for you. The thing is, you don't always need one powerful ambient light to light up the whole room evenly, do you? Sometimes you need a dim decorative light, or a small focussed light that can highlight only one part of the room.
That's when these other lights (task, accent and decorative) come into play. You don't use all of these lights at once, you use the right ones at the right time of the day, not just to make your home look pretty, but to save energy. Ambient lights alone can consume a substantial amount of power, even if they are LEDs. This is because their purpose, unlike accent and task lights, is to brighten the whole room at once.
Can We Install Ceiling Lights Without a False Ceiling?
Technically, yes. You can fix ceiling lights without a false ceiling too. But the catch here is that you'll need to drill new holes in your reinforced concrete ceiling to install the fixtures. In fact, if that wasn't all you've to try your best to hide wires with PVC conduits (which, let's be honest, don't really do their job that well). So, in short – it's just better to get that false ceiling and highlight it with some of our best false ceiling light designs that come in a wide range of budgets.
If you've scoured the market for lights, then you already know about the wide array of light fixtures available. And even if you haven't, here is what you need to know:
What Are the Different Types of False Ceiling Lights?
#1: Cove/Strip Lights for False Ceiling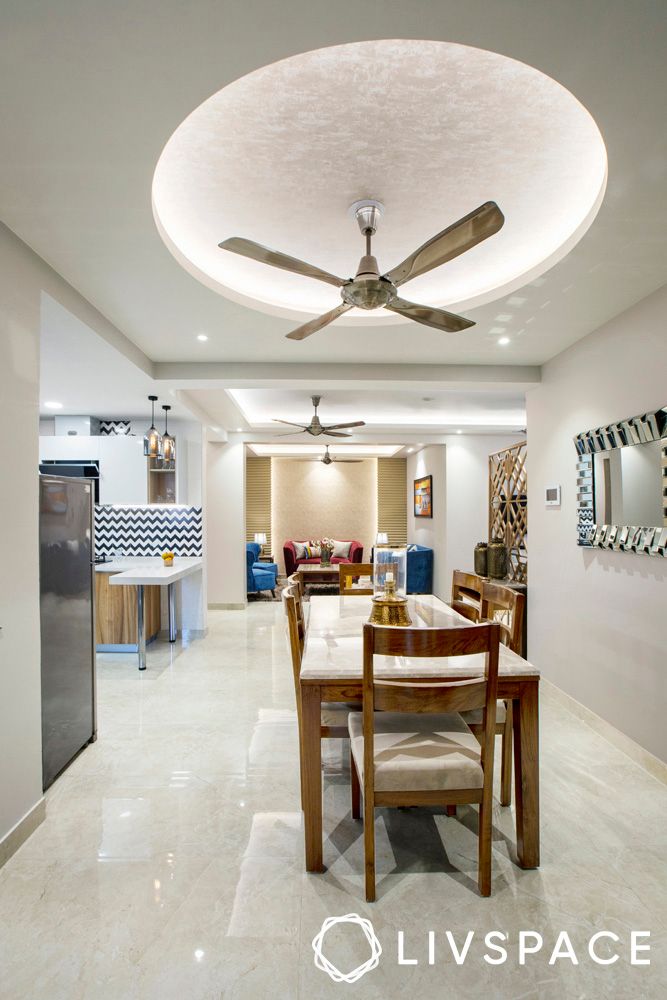 Ever wondered how a soft, diffused light is emitted from a false ceiling? You can use strip lights, like cove lights, in your false ceiling to get that effect. By concealing the strip lights above the crown moulding (in the cove), or on a ledge in the false ceiling, you can enjoy a luxurious and hotel-like setting right at home!
Since this design gives an indirect false ceiling light, it is not harsh on the eyes and adds a warm glow that looks inviting. These types of false ceiling lights are perfect as mood/accent lights to set the vibe when visitors come over. You can use them in any part of your home that you'd like to highlight.
Power Consumption: Strip lights consume 4.8 watts and upwards
#2: LEDs/Recessed Lights for False Ceiling
What's the difference between LEDs and strip lights for false ceiling? Recessed lights are singular bulbs that can be fitted into recesses/holes in your ceiling. Strip lights, on the other hand, are attached to a ribbon-like circuit board and need to be connected to a pre-existing power source.
If you have to choose, then know that recessed lights are made for ambient lighting for your living room false ceiling or to illuminate the rest of your home. But for compact rooms with low ceilings, an indirect lighting source like cove light is the best fit. The arrangement in a grid pattern can give it a rather modish look.
Power Consumption: LED lights/spotlights for false ceiling consume 5 watts and upwards
#3: Backlit False Ceiling Panels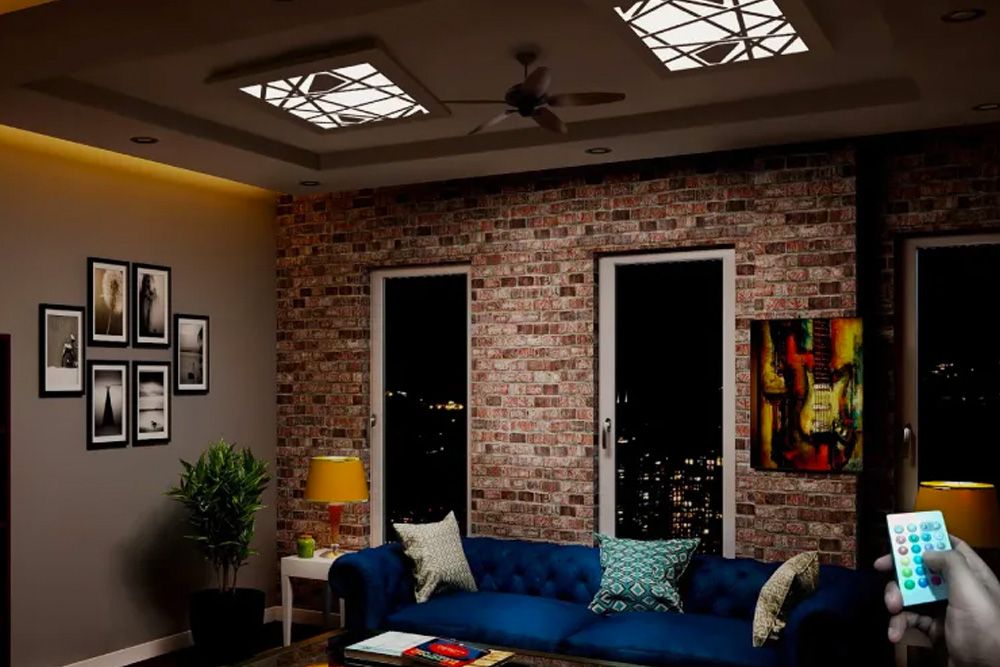 Now, the installation of cove lights and LED lights can be quite a task when you're renovating. However, backlit panels can be easily installed in just 30 minutes as they are factory-finished. And the best part? These false ceiling light designs can act as ambient, decorative and accent lights. They're quite the rage these days, and you won't regret the choice!
This living room profile light ceiling design looks edgy and stunning. For a decorative ambience, RGB lights of 15 different colours can be turned on with a remote control. However, if you're looking to keep the lighting simple, ambient white light is also a choice. The stylish pattern on the panels is a trendy design that offers an elegant vibe.
For those who can't build a false ceiling separately in their home, a backlit panel can work wonders. The standard sizes are relocatable as they are ready-made. Furthermore, they come with coves where you can fit in the false ceiling LED lights for a soft glow.
Power Consumption: Backlit panels use LED tubes that consume 7 watts and upwards
Eye-catching and flamboyant ceiling designs with POP ceiling light options can add to the glamour quotient of your home. Pick wisely to give your home that extra glow.
"Since backlit panels are factory-finished, the products can be guaranteed to be of better quality. The installation is also hassle-free making it a handy option for clients."

– Jay Sah, Founder & CEO, MyCeiling Pvt Ltd
#4: Chandeliers for False Ceiling Light Designs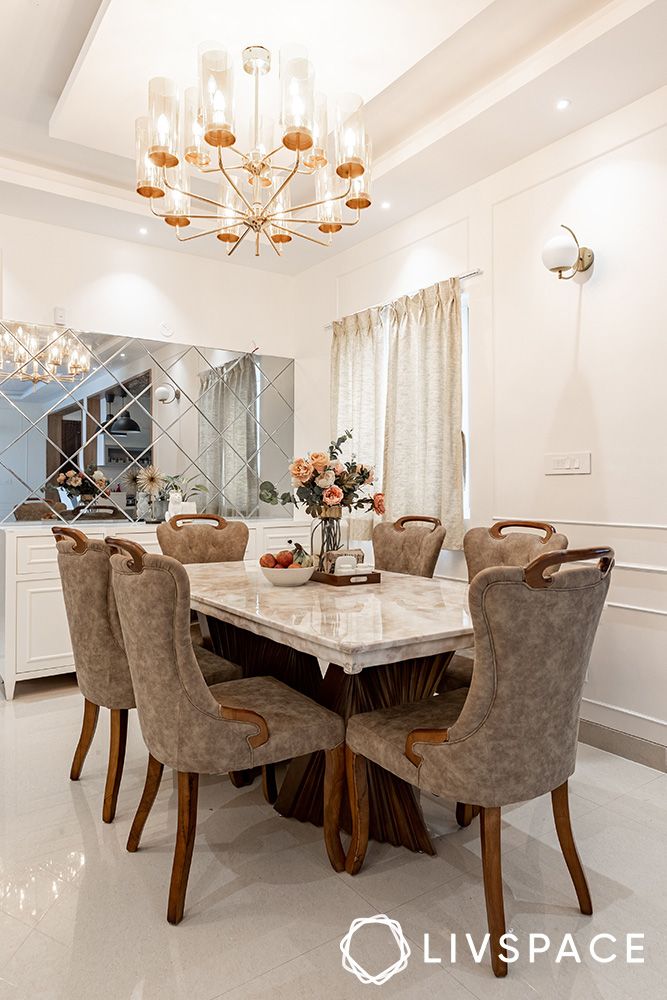 When it comes to lights, chandeliers can be one of the most luxurious design elements in your home. They can transform the look of a space instantly. People choose to install these in their homes even without a false ceiling. The truth is, chandeliers can be heavy, and that makes it difficult for a typical gypsum false ceilings to hold their weight. Hence, sometimes, these lights are fixed directly onto the original ceiling and the false ceiling is built around it.
Most chandeliers these days use small LEDs with different colour combinations and permutations to offer various kinds of lighting options to the likes of you and me. Generally, they give out blue neutral and warm lights. These false ceiling lights are best suited for your living rooms and dining rooms.
Power Consumption: Chandeliers consume 15 watts and upwards
Also Read: 20 Bedroom Ceiling Design Ideas for You
#5: Pendant False Ceiling Light Designs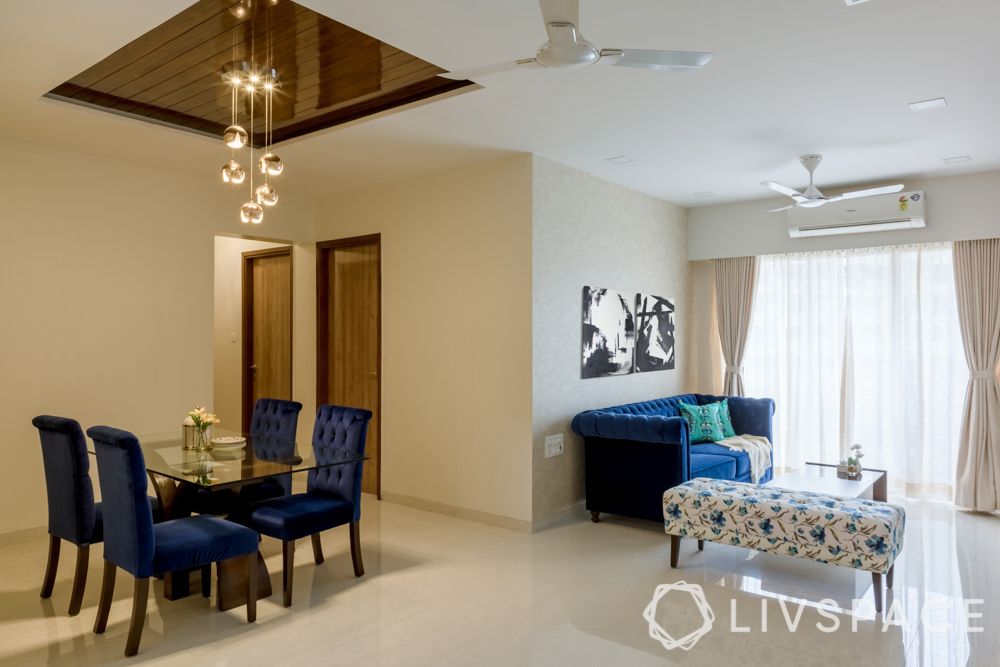 Pendant lights are sleeker (lightweight) and cost-effective when compared to chandeliers. Maintaining these false ceiling light designs is also straightforward. Moreover, it is convenient to get them repaired or change a bulb when you have to.
Since these false ceiling light designs usually hang lower than other lights, they add dimension to your interiors and help connect your ceiling design with your walls and furniture. If your fixture is moderately long, then you can use it in the centre of a room, but if it is close to your eye-level, we recommend you install it in a corner.
Pendant POP ceiling light designs have a distinct contemporary look which suits most kinds of interior design styles. This also the reason a lot of homeowners prefer to buy these for their bedrooms and sometimes study tables. These lights can be used as accent lights in your bedroom and task lights in your study rooms.
Power Consumption: The LED bulbs in the pendant lights consume 4 watts and upwards
#6: Track Lights for False Ceiling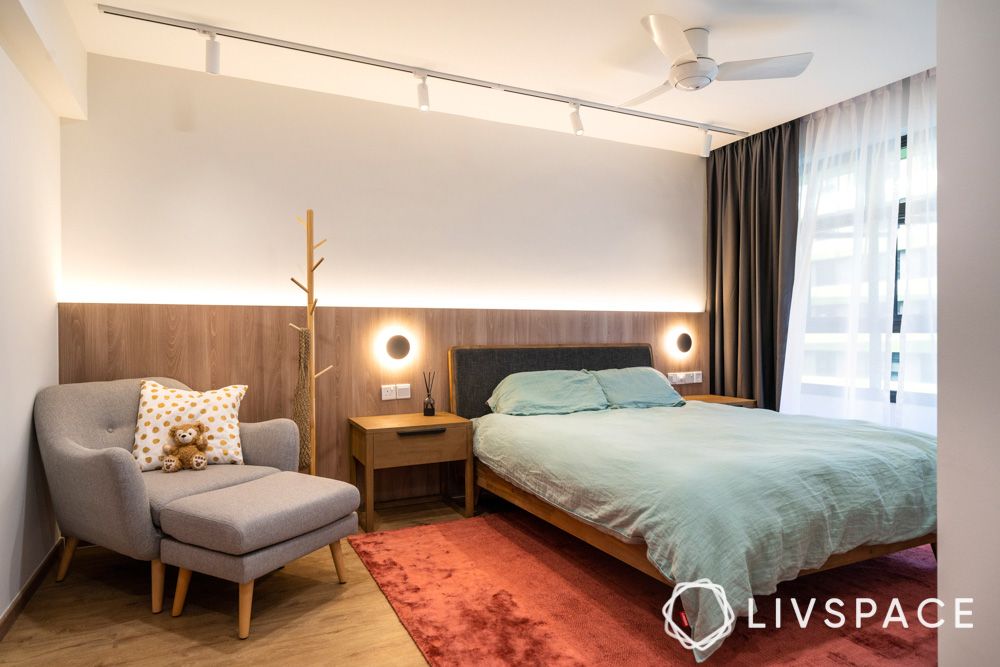 These lights are fairly easy to install, and they offer you a better control on the amount of light every corner in your space receives. These false ceiling lights usually have LED chips instead of bulbs, so their repair isn't as conventional. But on the brighter side, chips usually last for more than 100,000 hours so, the events in which you'll need to change the chips will be rare.
Track lights are multifunctional as well. Thanks to the current technologies, track lights can emit enough light to be used as ambience lighting. Apart from this, the tracks and pivots make it convenient for you to use them as spotlights, accent lights or task lights.
If you're buying small tracks with 2 or 3 lights in it, then they can easily become one with their surroundings. But if you are buying larger tracks, then these lights are hard to blend with your interiors unless they are contemporary or industrial in style.
Power Consumption: Track lights consume 5 watts and upwards depending on the number of LED bulbs or chips used
#7: Flush Lights for False Ceiling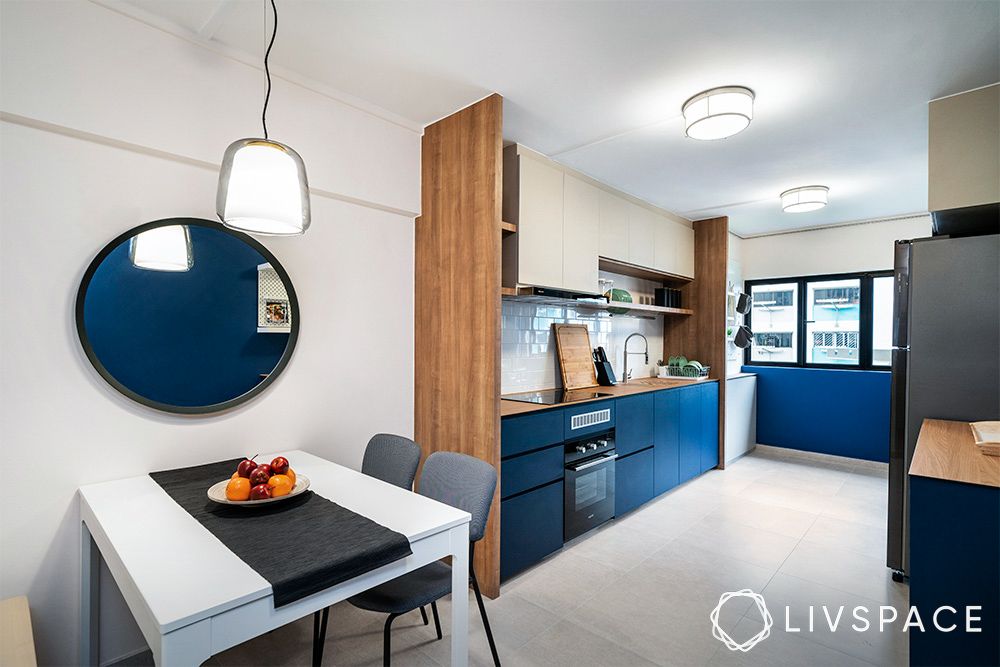 These are the most basic false ceiling light designs that use higher power bulbs. They can emit a light that's bright enough to light up one entire room. For an even distribution of light around the room, we recommend you use at least 2 of them in one room. The light from one single source can fade and get dimmer in the corners otherwise.
Since every room needs ambient lighting, if not task, accent and decorative lighting, you'll find these in all households with ceiling lights. You can install the lights without a false ceiling as well, but if you want to place these lights strategically, then you'll need a false ceiling to hide the wires.
The lighting fixture, in the picture above, is a full-flush light that can throw light evenly in all directions instead just straight down. This is why they are the best ambient lights for false ceilings in any room in your house.
Power Consumption: Flush lights consume 10 watts and upwards
#8: Island False Ceiling Light Designs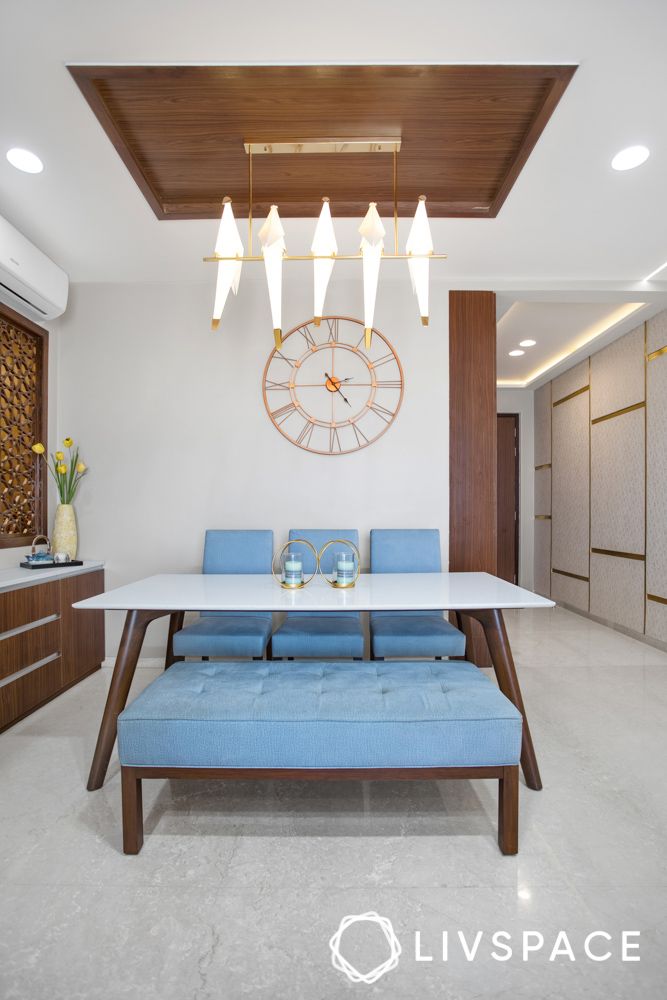 We have covered chandeliers and pendant lights that have a similar application in our homes. It's time we told you about the island lights as well, because our modern homes with clean straight lines don't always appreciate these graceful yet rounded lights.
Island lights generally have an elongated form to mimic either your island false ceiling or your kitchen island. Using fixtures in this configuration helps unify your interior design with your false ceiling lighting design.
These lights come in a variety of styles to mix with your interiors – intricate, maximalist, minimalist, contemporary, industrial or eclectic. These false ceiling light designs make for an easier and more appealing alternative to chandeliers.
Power Consumption: Island lights consume 4 watts and upwards
#9: Gimbal False Ceiling Light Designs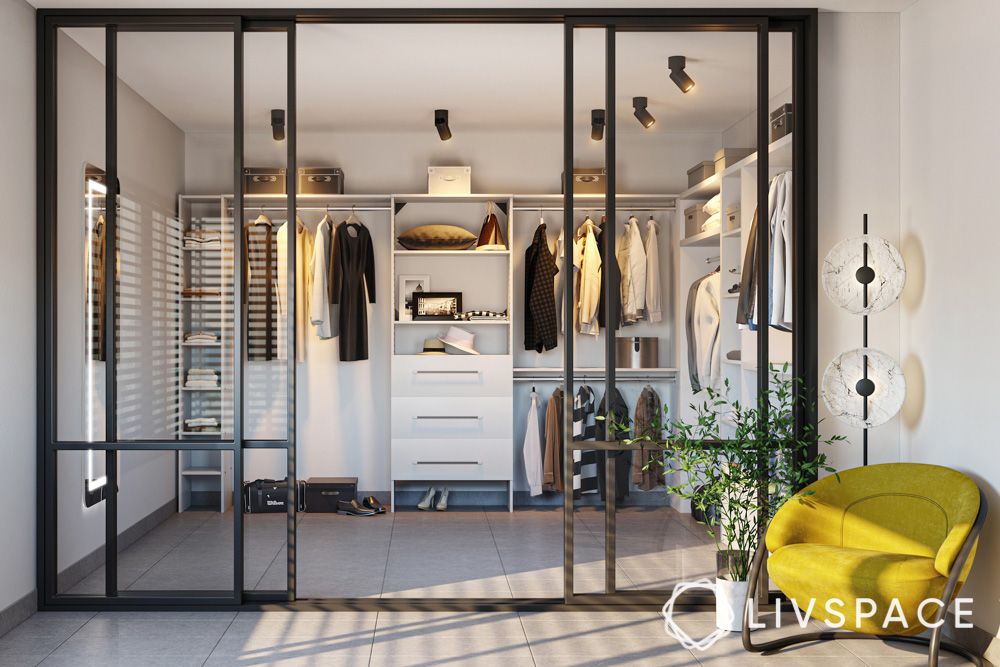 These are just a better version of spotlights that have this swivel mechanism to make them more dynamic. You can rotate/pivot them to focus on one particular area in your room and highlight it.
There are many varieties of gimbal lights to choose from in the market, but the common ones are the industrial telescopic ones and the seamless recessed ones. The only thing that differentiates them is the body of the fixture, they are otherwise just chip-on-board LEDs.
You can use these as nightlights, spotlights and accent lights in almost all regions of our home. They last for a long time and can be replaced when the time comes. Also, it is always good to buy a few extra ones to replace later because by the time you have to change one of these, their design might be outdated and unavailable in the market.
Power Consumption: Gimbal lights consume 3 watts and upwards
If you liked these suggestions, then you can find more similar inspiration here: Make Your Home Lively With These 9 Types of Ceiling Light Design.
Check out false ceiling designs:
How Can Livspace Help You?
We hope you found our ideas useful! If you want an elegant home, then look no further. Book an online consultation with Livspace today.
Wondering how our customers feel about working with Livspace? You can check out the Livspace reviews here!
Send in your comments and suggestions at editor@livspace.com