Any blank space is an opportunity to flex creative muscles and change up your home interiors. But too often, homeowners look to the walls and the flooring rather than at what's over their head– the ceiling. This oft-neglected space is one of the key elements of a bedroom, one that can tie an entire decor scheme together in a flash. If you're keen on revamping your bedroom ceiling, we've got your back! Here are some modern bedroom ceiling designs that'll inspire you to look up!
Modern Bedroom Ceiling Designs #1: Put Up a False Ceiling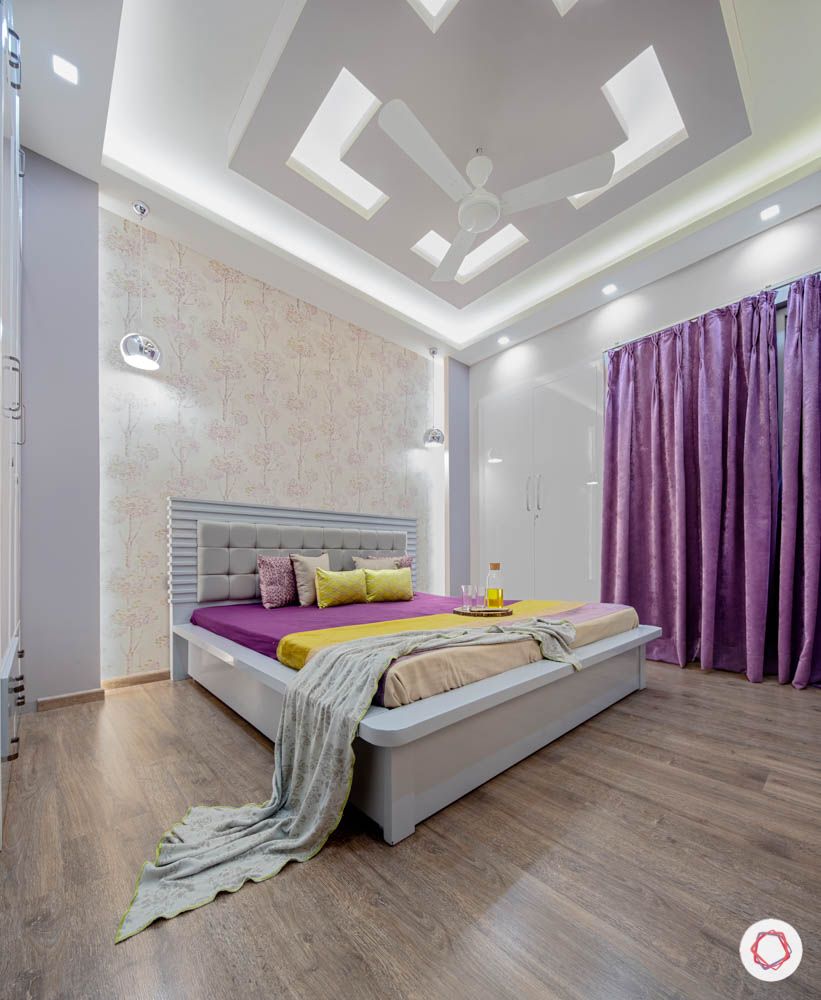 A decor statement that needs no introduction, false ceilings are modern bedroom ceiling designs that permeate a lot of Indian homes. They're stylish, durable and highly customizable, right down to the colour and shape. Depending on the impact you're hoping to create, you can opt for pared-down, layered or shaped false ceilings. This decor idea has many perks– it keeps the temperature well-regulated and supports sunken and ambient lighting without throwing up tonnes of wires. If you want to find out more about false ceilings, check out this guide to perfect the false ceiling design for your home.
Modern Bedroom Ceiling Designs #2: Throw Some Paint Up There
And not just any old colour– why not go for something daring while you're at it? Painting the ceiling isn't the first thing on most homeowners' minds but it offers up the opportunity to incorporate colour without going overboard. It adds a personal touch, creates a focal point to the room and draws the eyes upwards, making the space seem larger than it is. Using jewel-toned or regal colours will bump up the luxe appeal of your bedroom without breaking the bank– it's a win-win!
Modern Bedroom Ceiling Designs #3: Bring in Earthy Tones with Rafters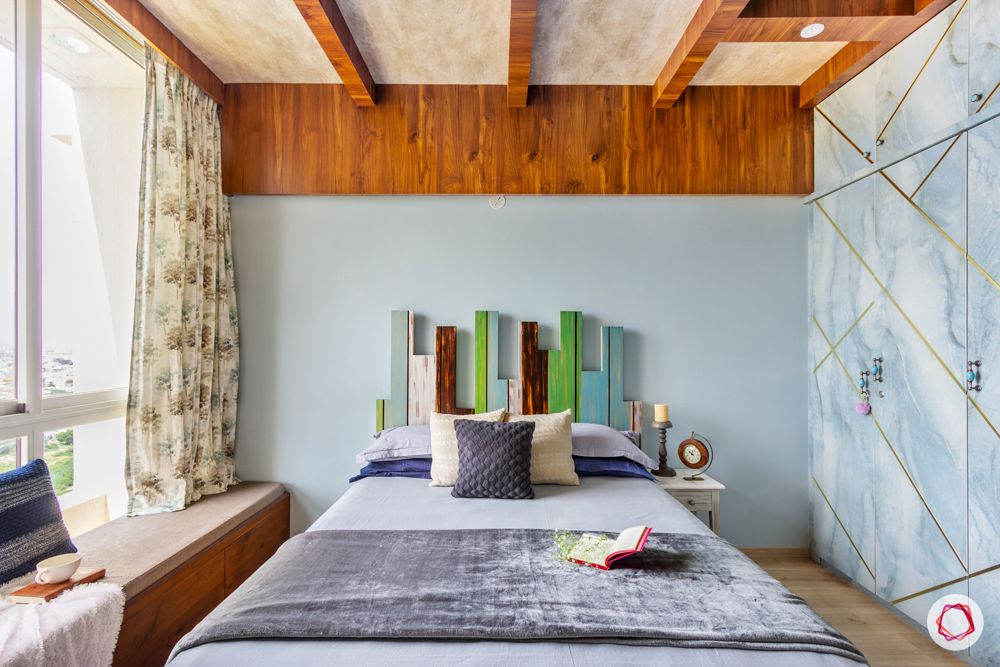 Earthy tones work wonders when it comes to softening up the look of a room; however, it may not be the first choice of material for many homeowners. If you'd still like to channel a rustic touch, wooden rafters come highly recommended. These wooden beams deck up the ceiling without looking over the top and distracting from the rest of the interiors. Exposed rafters also have an industrial aesthetic to them– perfect if you're opting for a more androgynous feel to the space.

Modern Bedroom Ceiling Designs #4: Add Some Panelling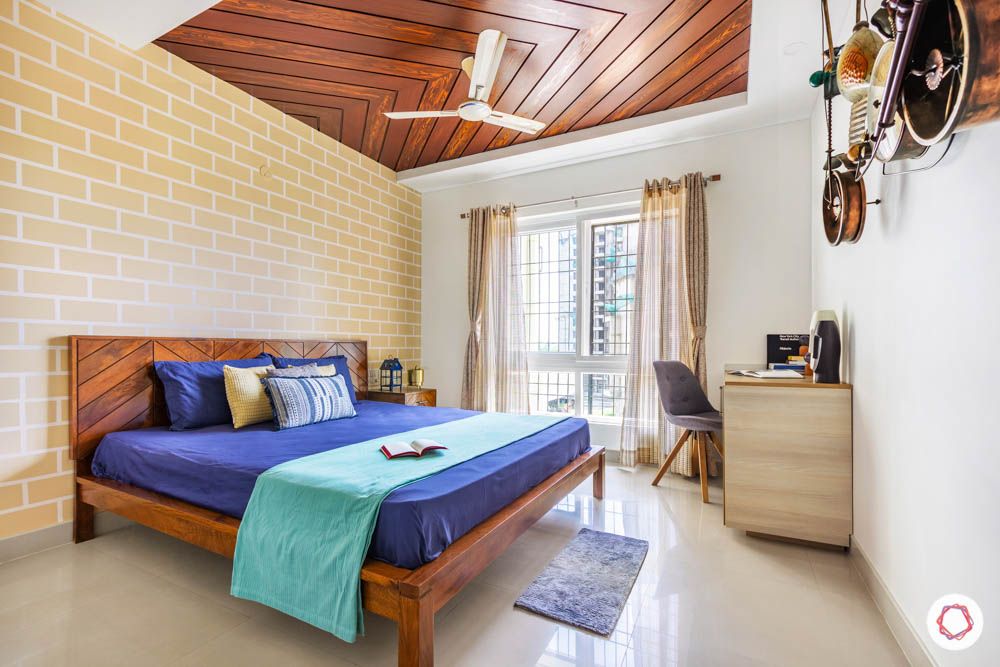 If you love wooden elements on your ceiling a little too much, chances are bright that you will not be satisfied with just wooden rafters. In this case, consider using wooden panelling on your bedroom ceilings for some added drama. On the ceiling, this wooden panelling makes for a warm and cosy-looking space. What we love about such ceilings is how effortlessly they fit into any room – modern, contemporary or traditional, without looking out of place!
Modern Bedroom Ceiling Designs #5: Stick on Some Wallpaper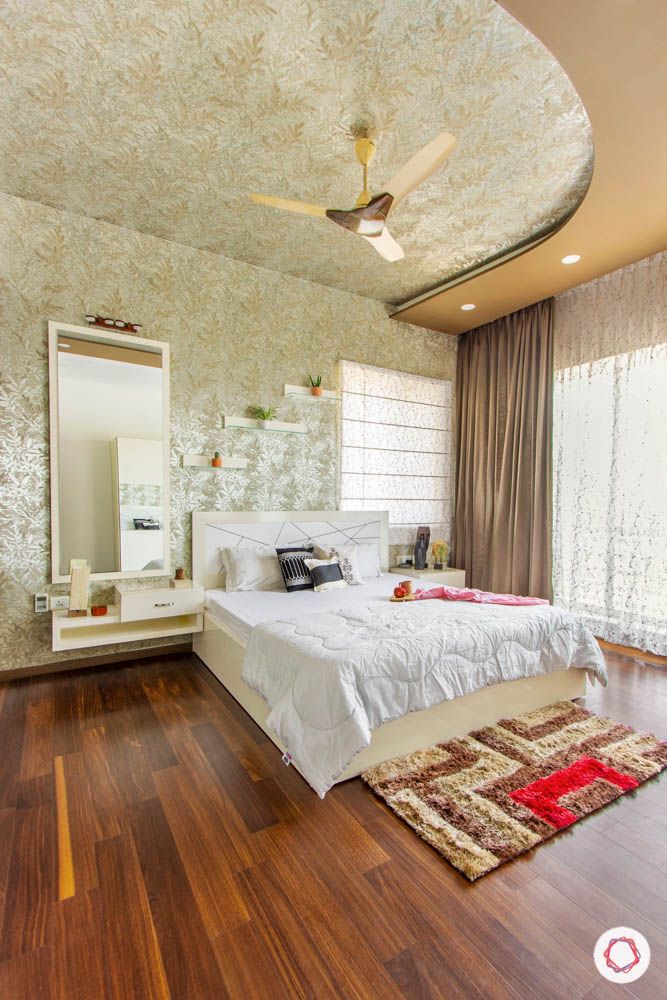 Go bold or pare it back– there's really nothing you can't achieve with some high-quality wallpaper. What's more, they're even capable of taking your ceiling from drab to fab, instantly. For a drastic change, bright floral or patterned wallpapers work best; softer colours are ideal to draw focus to the height of a room without any pomp and show.
Modern Bedroom Ceiling Designs #6: Turn on the Lights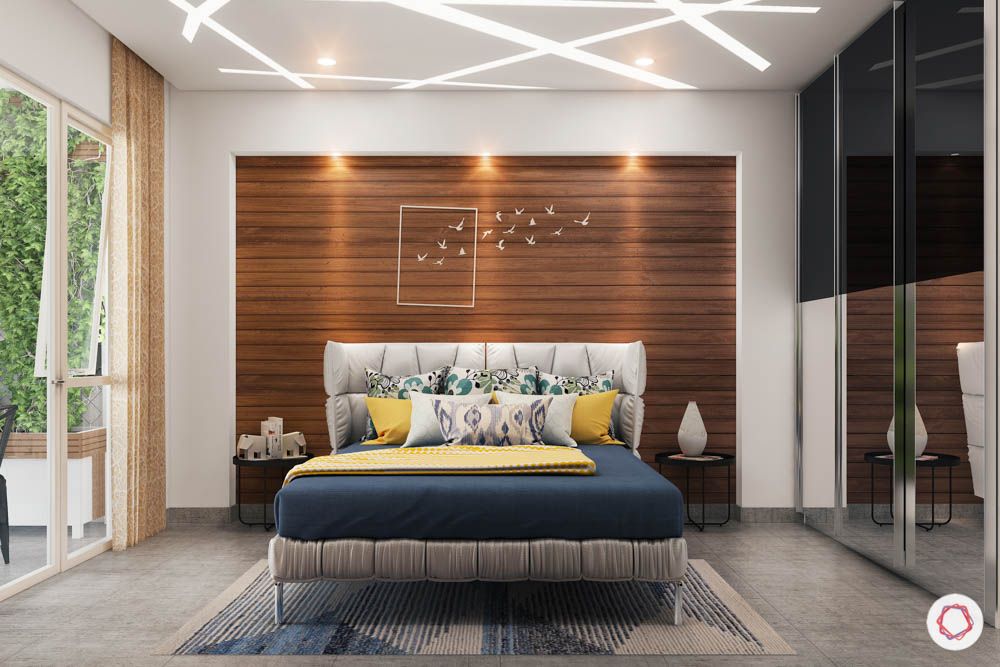 Lighting is one of the most important decor elements in a bedroom– it can make or break the look and feel of the space. To dress up your ceiling while also setting the mood for relaxation and respite, consider adding functional yet fancy lights. Structured pendant lights sit well with contemporary rooms, while sunken lighting achieves even lighting without the fuss. Whichever way you go, paying keen attention to the ceiling lights can enliven the space.
Ceilings are often untapped real estate in homes– woefully so, because they bring so much potential to the interior design game. By experimenting with modern bedroom ceiling designs, you're all set to make a huge impact on your home's visual appeal! Want to check out more interesting ceilings? Check out Bye, Bye, Boring Ceilings!
More false ceiling designs:
Send in your comments and suggestions.