No matter the size of your bedroom, your bed often forms the focal point of the space. Since this is the first thing you might see when you walk into a bedroom, your bed headboard design can be a crucial element of design. The style and design you pick can further accentuate or tone down the look of your room. So, it helps to know exactly what design to use in different types of rooms.
While you might already be familiar with basic bed headboard designs in India, there are a few unique styles you can try too. Let's take a look at some interesting bed head designs from our Livspace homes:
Bed Headboard Designs That Are Perfect for Indian Homes
#1: Traditional Carved Headboard Design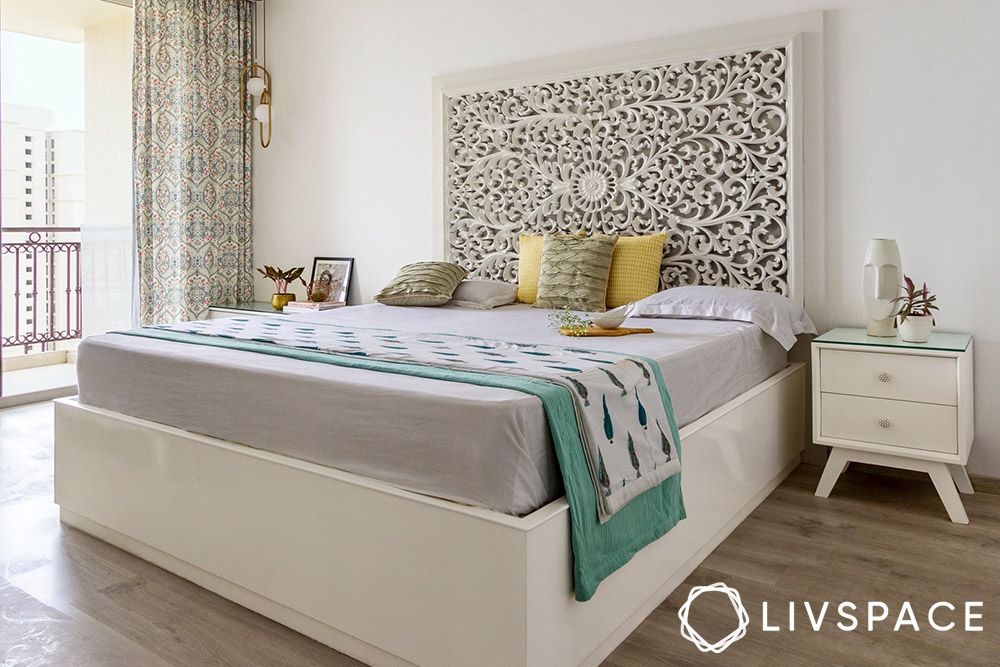 Intricate botanical patterns add a touch of ethnicity, perhaps even a bohemian chic vibe, to this bed headboard design. Though this style carries its own personality, you can also customise it to suit modern tastes. For a slightly more modern headboard design, paint it in white to complement modern interiors.
#2: A Mid-Century Modern Woven Bed Head Design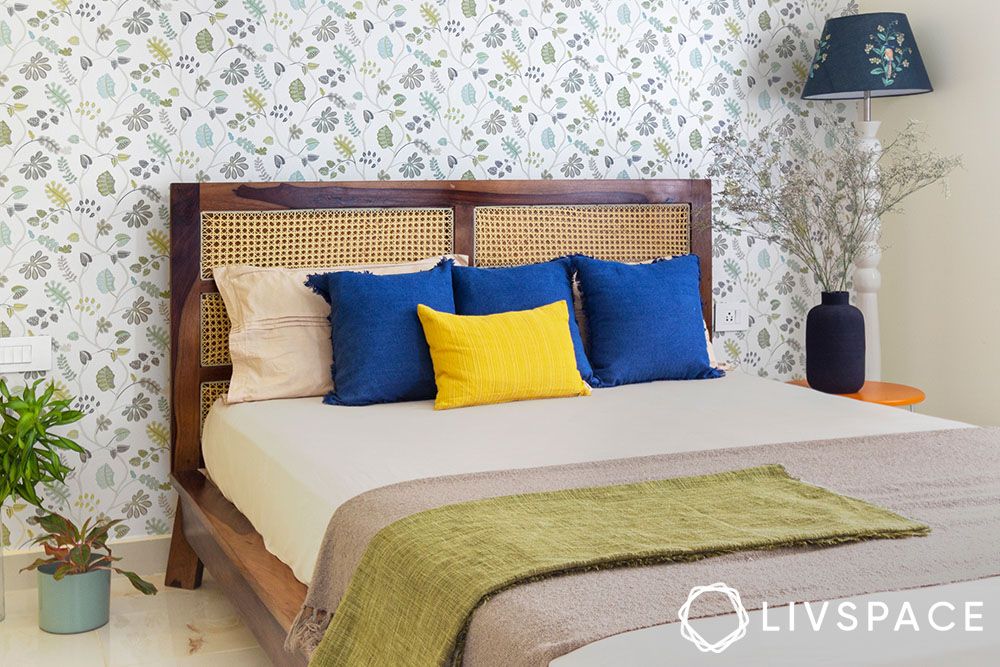 This rustic bed headboard design is sure to remind you of idyllic days that you may have spent at your grandparent's home. Heighten that nostalgia by combining your bedroom headboard with chintz wallpaper for a cosy theme. If you'd like to keep it natural, consider using materials like rattan or cane for the woven mesh inlay of your headboard.
#3: Add Some Rustic Character to Your Bed Headboard Design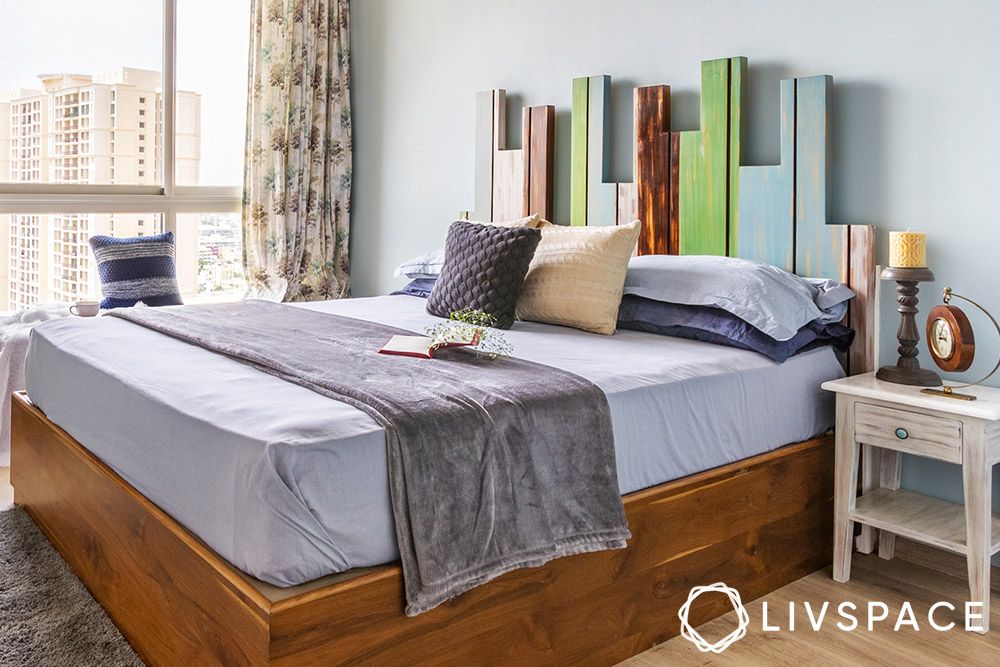 Tired of exploring boring and basic headboard designs that are commonly seen in many other homes? Why not experiment with colour and atypical shapes like this bed headboard design.
This colourful and asymmetrical bed head design acts as an eye-catching focal point. Not only that, it can also lend a playful, eclectic vibe to your space when combined with large, open windows and wooden furnishing.
#4: Go Luxe With a Velvet-Upholstered Headboard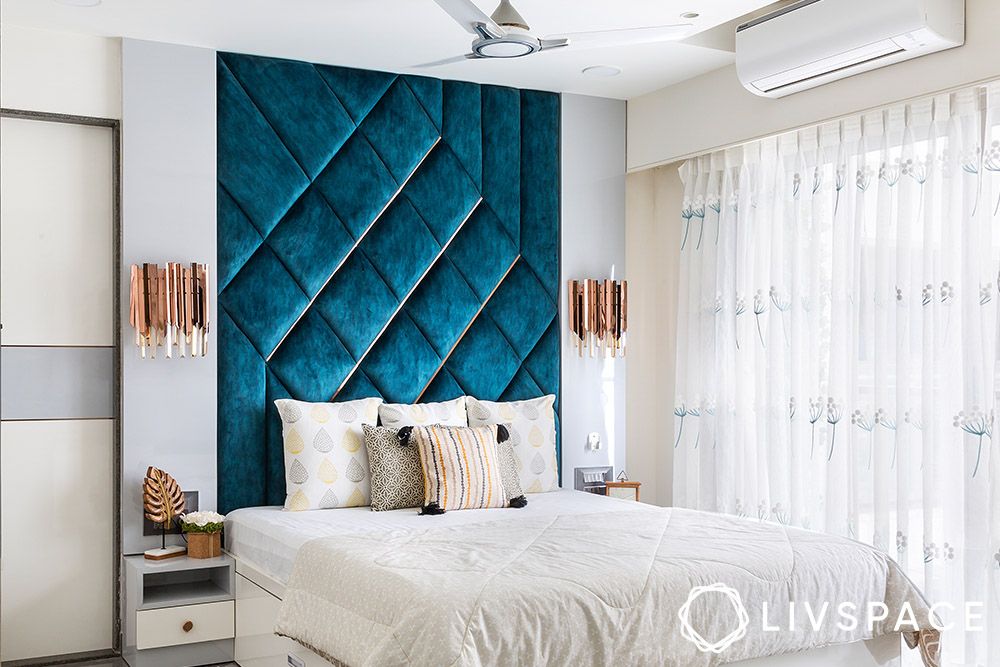 Add a sophisticated touch to your walls with luxurious art deco bed head designs. It's all in the textures, so be sure to play up materials like velvet for that luxe look. Subsequently, use rich bold colours like green, red, or blue to make a solid statement. To tie the look together, go for gold accent wall sconces or brass ornaments as decor.
Also Read: We Bet You Can't Name More Than 4 of These 13 Iconic Beds!
#5: Make Your Modern Headboard Design Pop With Some POP Material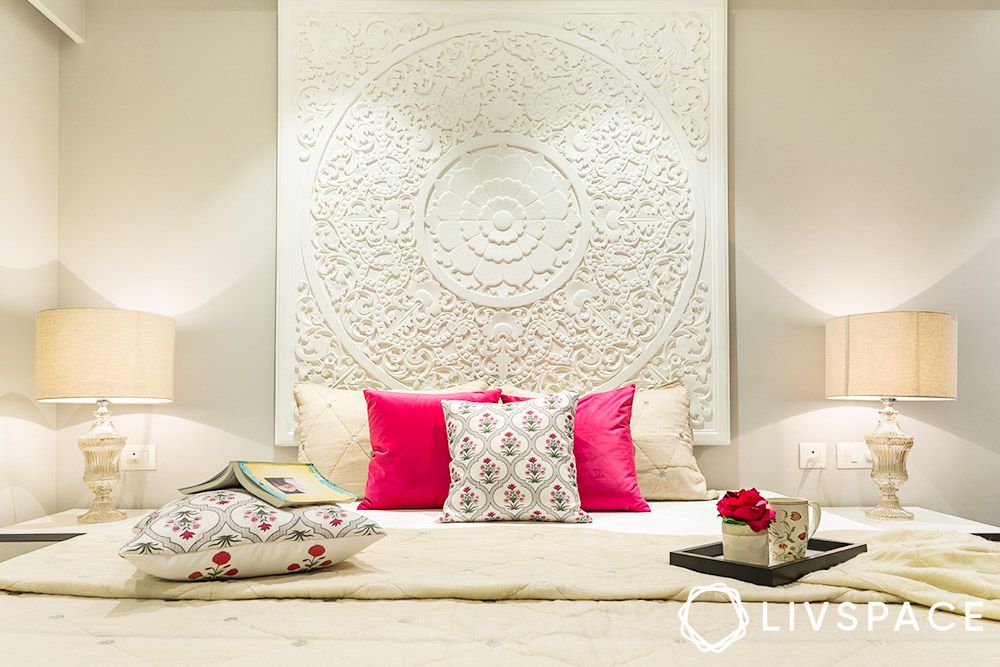 Besides putting up artworks on your wall, there's another way to decorate them. In fact, this method can even double up as creative bed head designs! Consider using a bit of POP (Plaster of Paris) to create an intricate mould for wall art.
You can either place this on your ceiling or on the wall behind your bed to create the impression of a headboard. If you're going with white POP, be sure to accessorise the rest of the room in pops of colour to add visual interest.
#6: Wraparound Headboard Designs Embrace You With Their Curved Edges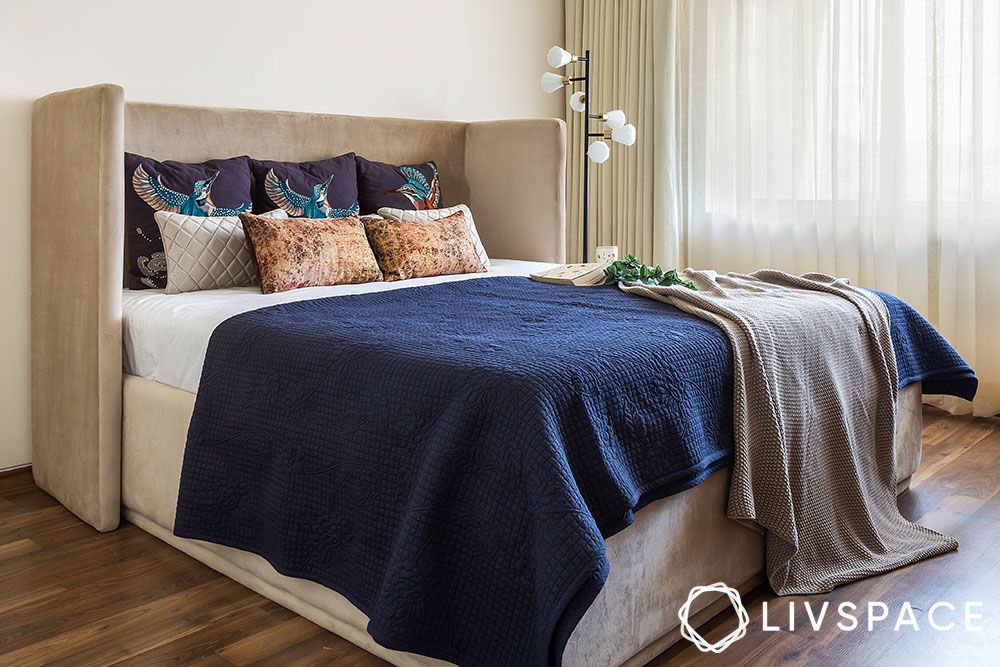 More often than not, we find ourselves lost in the embrace of a comfortable bed, especially on dreary weekday mornings. So, why not boost the cosiness of your bed headboard design by introducing curved edges?
While tufted upholstery and curved edges tend to look stately, they can still pass for a modern headboard design. Opt for neutral wall colours or simple wallpapers to ensure there's no visual clutter.
#7: Get Timeless Appeal With Canopy-Style Headboards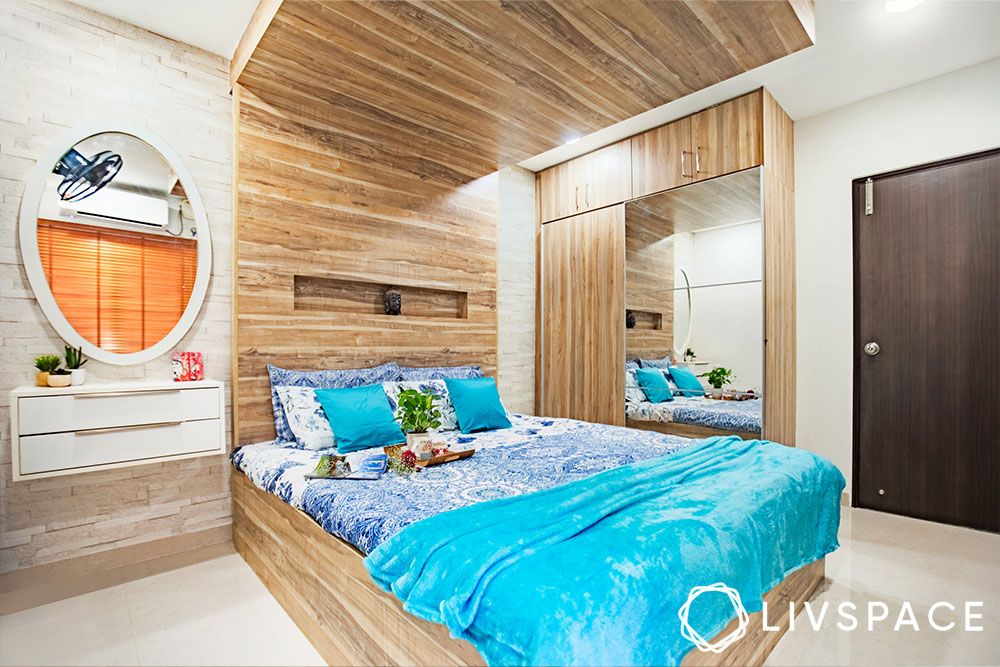 What do you visualise when you think of a canopy? Does it look like a cascading net, or are you reminded of trees on a boulevard? However you visualise it, it still takes up space above you and has a cosy vibe to it. And now, you can even recreate the look of a canopy using an extended bed headboard design!
This style of bed headboard designs extend beyond the wall and go right up to the ceiling, stationed above the bed below it. Besides adding character to the space, it can also help elongate the room. Due to its vertical length, it creates the illusion of height, which can be great for rooms with a low ceiling.
#8: Extend Multipurpose Utility to Your Headboard Design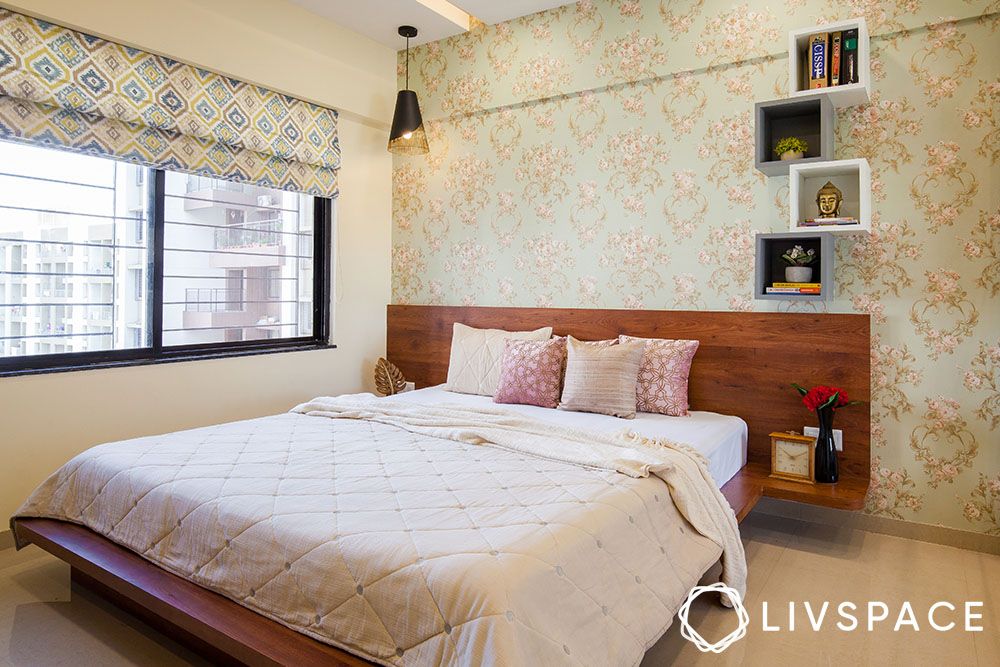 There's nothing more frustrating than not being able to find matching furniture for something in your room. This is especially true when it comes to your bed frame, as you'd want bedside tables that support the overall theme.
This bed headboard design removes the struggle of finding matching bedside tables for your room as it comes with its own storage. As it extends on either side, this headboard ensures that there's ample space for your phone and other items. Take advantage of its short height by putting up floating shelves to hold your potted plants and travel souvenirs.
#9: Explore Cushioned Panelling for a Luxe Bed Headboard Design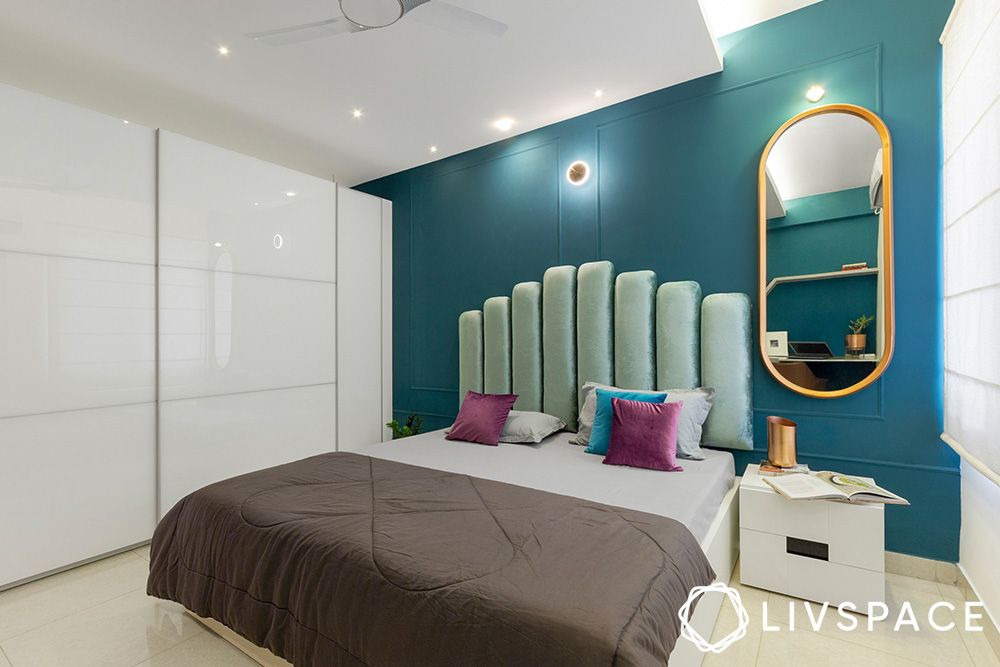 Vertically arranged upholstered velvet slats are quirky yet graceful, creating a relaxing space. Moreover, owing to the cushions, they can also be a comfortable backrest for reading or watching movies in bed. If you're interested in a modern headboard design that encapsulates the opulent style, this one's for you!
Also Read: 15+ Bedroom Wall Design Ideas to Put Stunning Back Where It Belongs
#10: Stick With Tufted Upholstery for Your Headboard Designs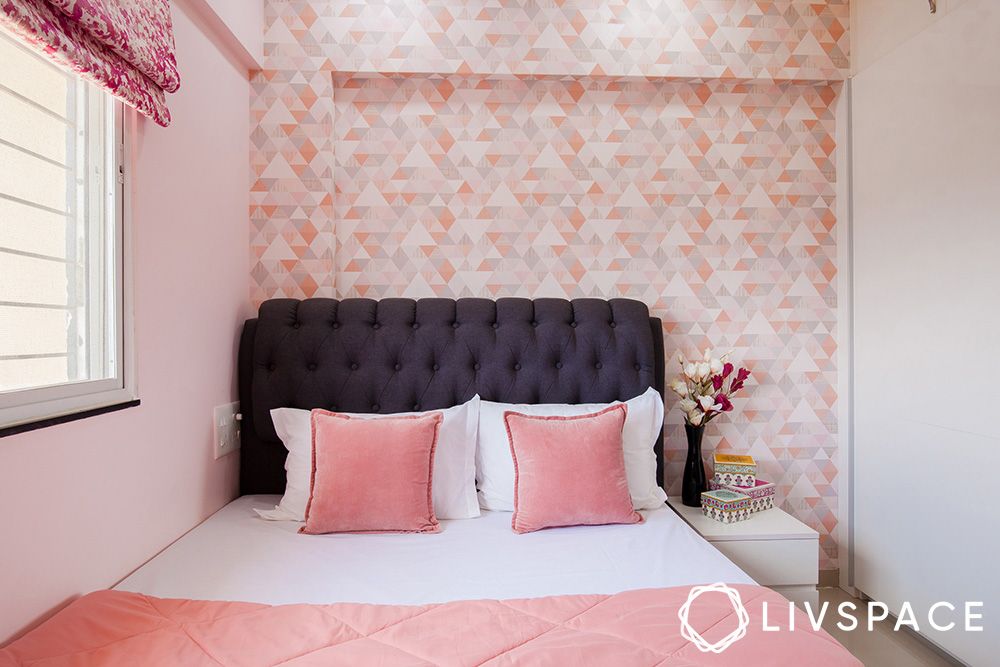 In line with keeping it comfy and cosy, you can also explore a tufted headboard design instead of cushioned panelling. It's a simple yet effective way to add elegance to your bedroom.
The tufted design can attract a lot of attention, making it the focal point of the room. If you're not a fan of maximalism, keep the rest of your room simple to prevent this bed headboard design from overpowering your space.
Unique Headboard Design Ideas to Consider
#11: A Bed Backrest Design Illuminated By Ambient LED Lights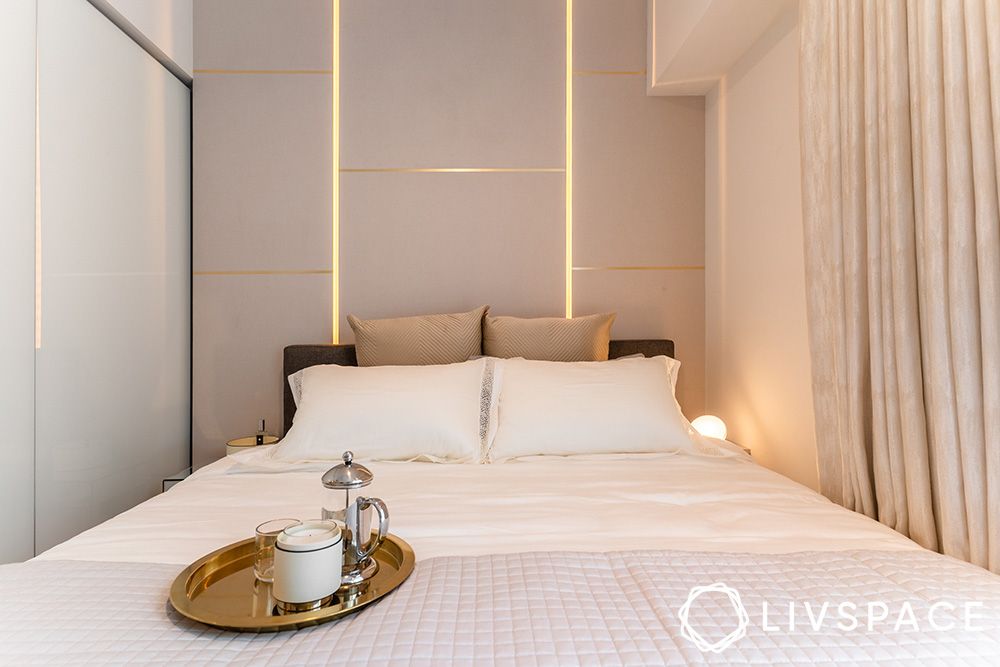 Looking for a bed headboard design that can set the right mood in your room? You might want to consider going in for an LED panel wall as your bed backrest design. These LED strips help add ambient lighting to your space, ideal for winding down after a long day.
#12: Embrace Antiquity With a Colonial-Style Bed Headrest Design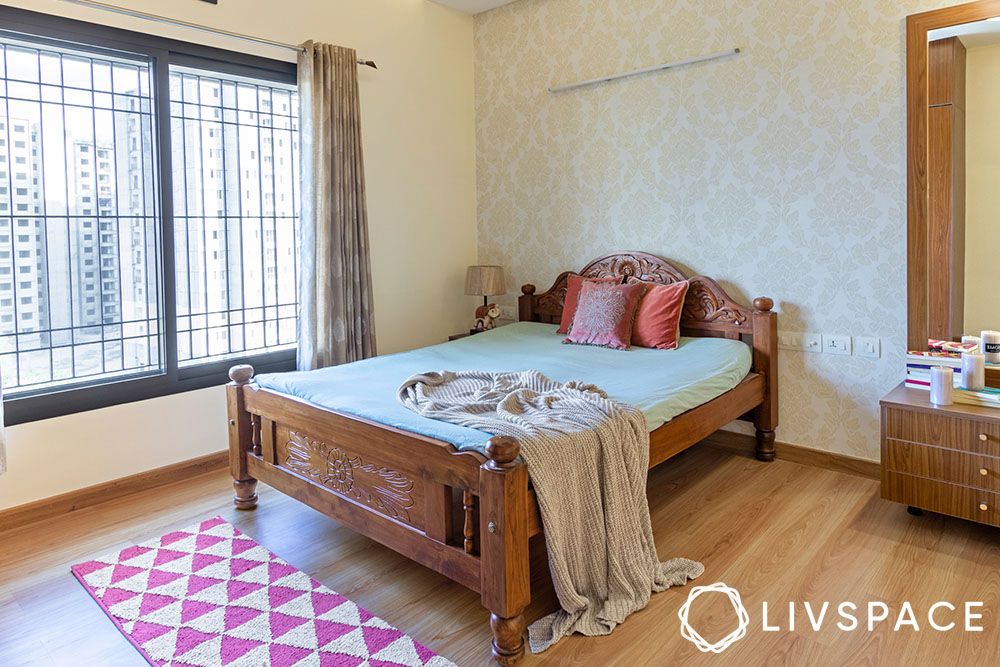 There's something charming about the way antique furniture complements modern interiors. The way it's carved and designed adds volumes of style to the room it occupies. If you want to get that colonial-style look you might have seen in decor magazines, now's your chance.
Pick out a four-poster bed with a carved headboard design to make a bold statement. You can further accentuate the look with subtle wallpaper and antique decor items.
#13: Add Uplights to Your Bedroom Headboard for Mood Lighting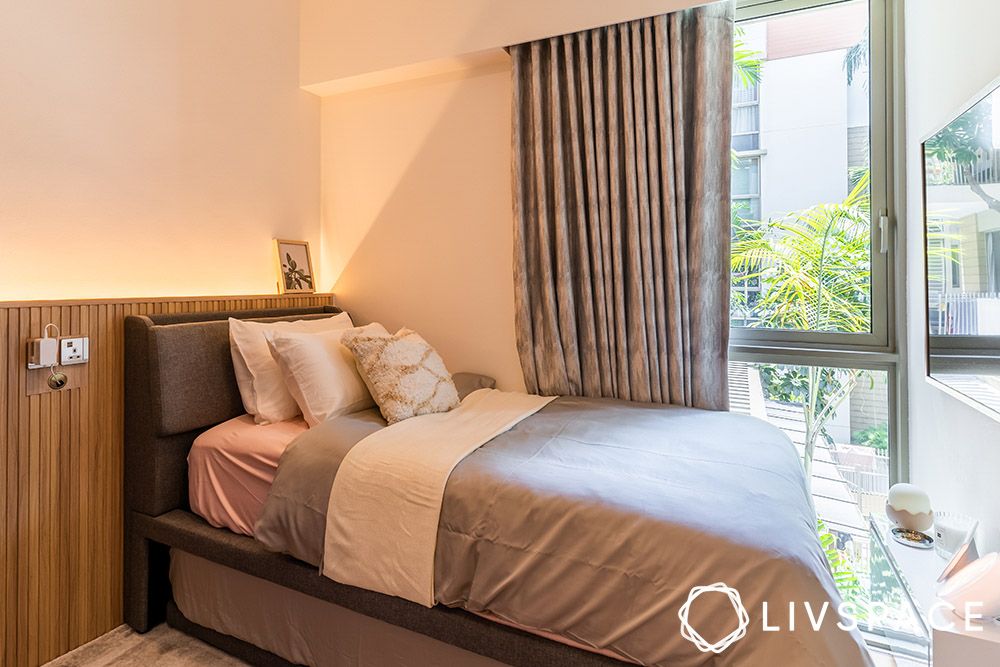 The wrong lighting can make it hard to wind down and relax in your bedroom. White lights that are in your direct line of sight can be overwhelming as well. Instead, consider softening the intensity of your room lighting by placing them behind your headboard.
This helps throw the light upward and casts a soft, warm glow around the room. What's more, the light doesn't directly hit your eye either, which is ideal for creating a cosy vibe.
#14: A Simple Slatted Bed Head Design Perfect for Minimalist Interiors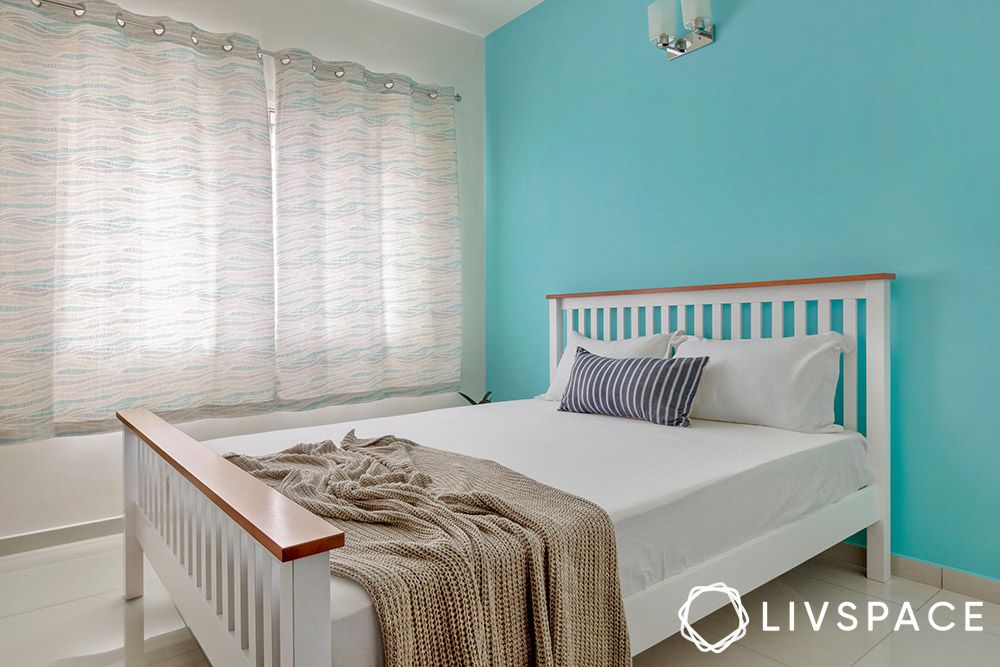 For those of you who like to keep things simple, a minimalist slatted bed head design works best. You can also make a statement with your simple bed headboard design by using textured pillows and detailed bed accessories.
#15: Here's What Headboards for a Double Bed Can Look Like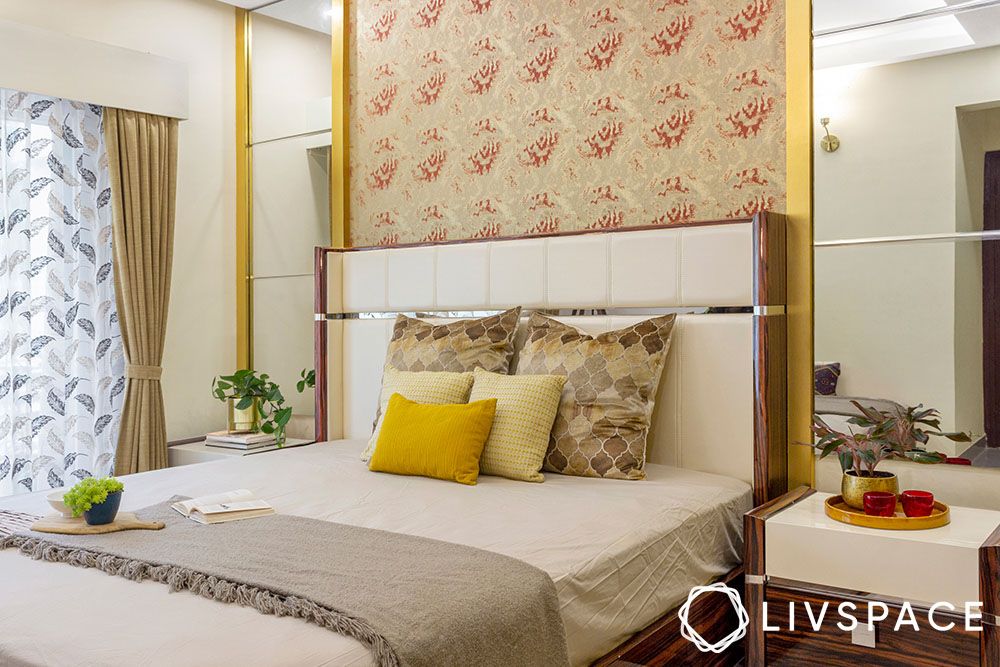 The bigger the bed, the more imposing your bed headboard design can be. However, this doesn't mean it'll entirely overpower your space, either. It's just a matter of picking the right design. Here's where it might help to go for a bed headboard design that doesn't draw too much attention.
Stick to minimalist colour palettes and a simple design and allow the rest of your interiors to take centre stage, especially if you have a feature wall.
#16: A Modern Headboard Design With Built-In Storage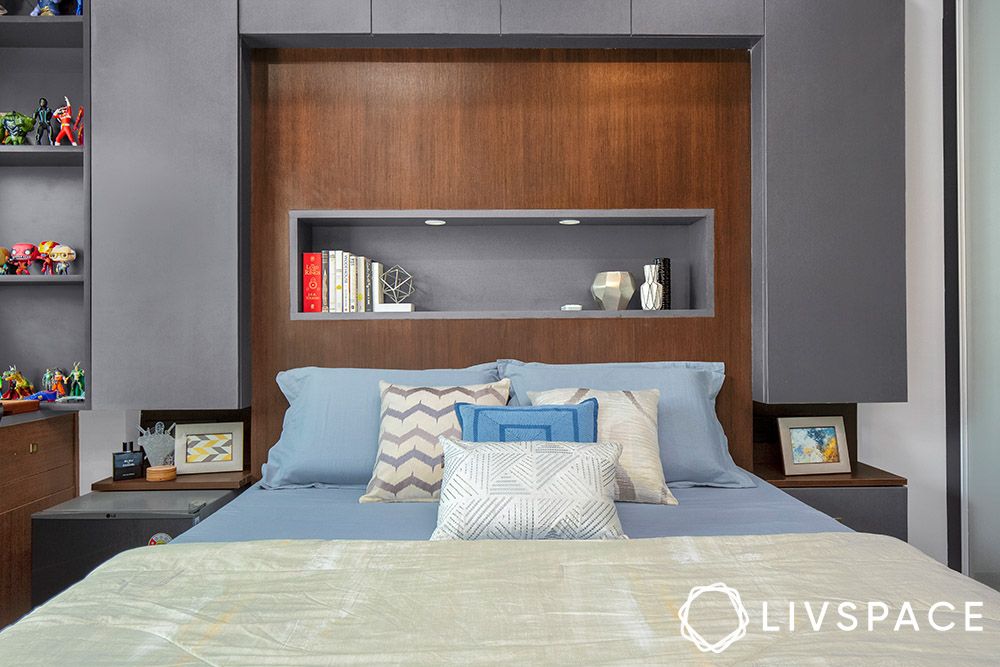 For an easy-to-maintain modern headboard design, consider using a wall niche with built-in storage. This way, you won't have to worry about the upkeep of your bed headboard design since it is a part of the wall. You also get the added bonus of storage in your bed head design!
#17: Stay Classic With a Stylish Bedroom Headboard Design
If you've ever wanted to live in a fairy tale, now's your chance! This classic-style bed headboard design is the perfect addition to an all-white bedroom. Notice how well this bedroom headboard design pairs with the bedside tables and wallpaper to create a cohesive look? You can recreate it with a framed headboard and matching furniture sets.
#18: Lean Back Into Your Cosy, Full-Length Bed Backrest Design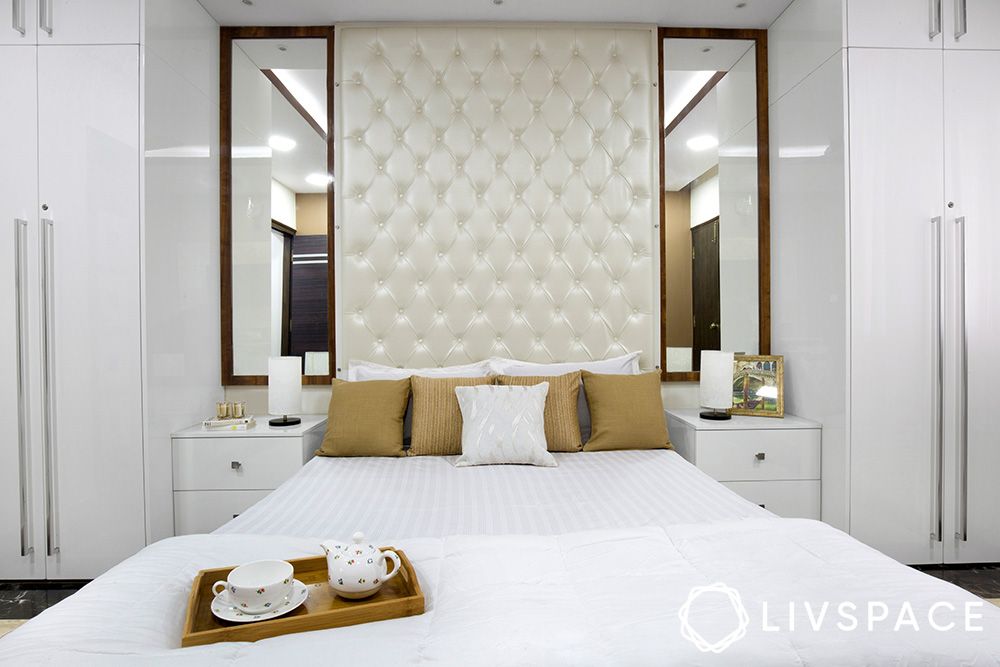 Love staying up all night reading a gripping book? You can protect your posture with a full-size bed backrest design. However, if you are opting for this style, be sure that your bed headboard design is made of soft materials that can also offer support. A firm tufted or upholstered bed backrest design might be ideal for this.
#19: A Bed Headboard Design That's Straight Out of Bridgerton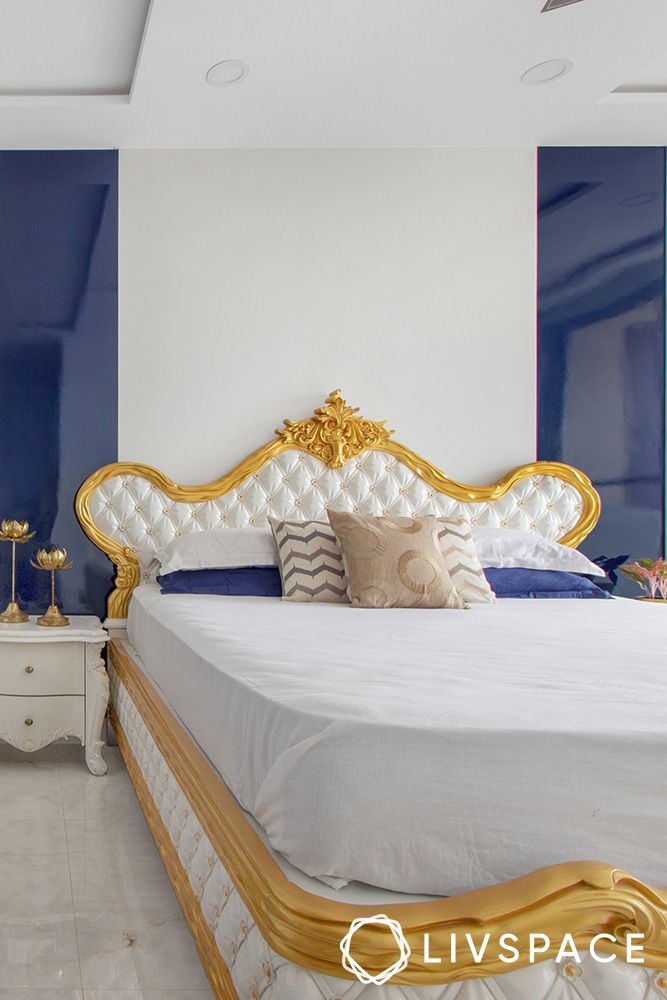 Here's where you can go all out with your double-bed headboard design if you're going for a regal theme. Embrace shades of white, gold and blue for a hint of royal glam. However, avoid crowding the room with other statement pieces and allow the double-bed headboard to speak for itself.
#20: A Bed With a Headboard Design That Matches Its Interiors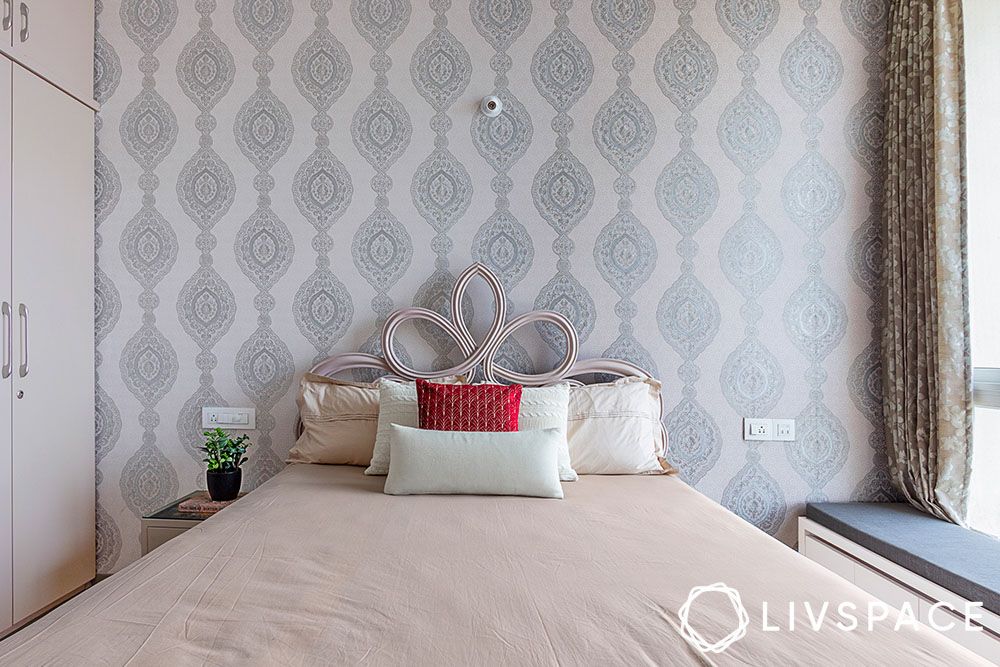 Matching your bed with the rest of your interiors is always a nice feeling, especially if you enjoy continuity in design. You can get the look by pairing your bed headboard design with colours or textures that complement each other.
#21: Get Creative With a Butterfly-Themed Headboard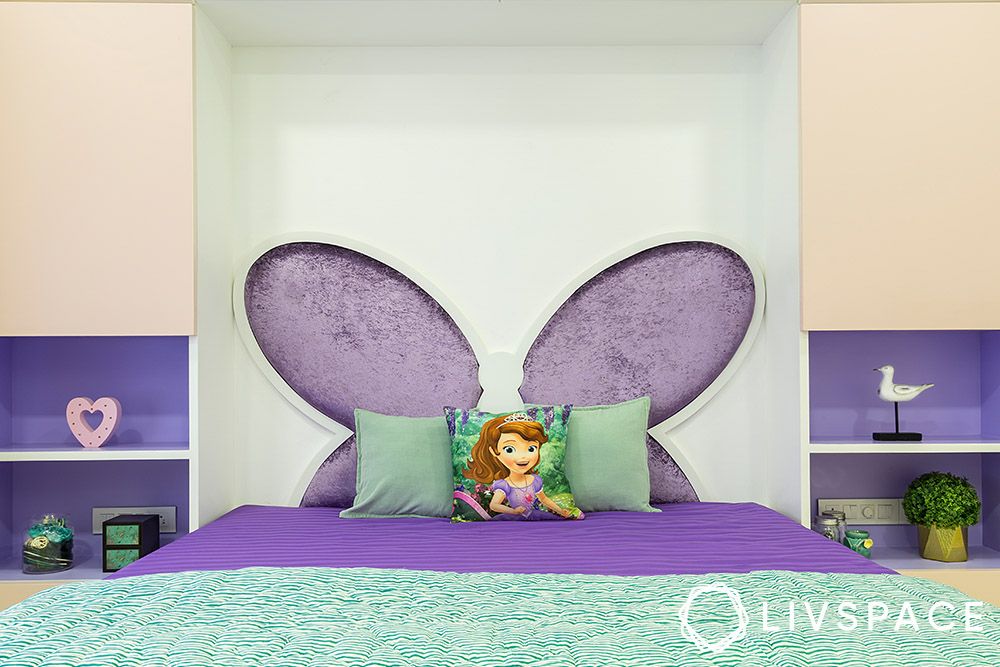 Whether you're looking for a bed headboard design for your child or for yourself, some themes are timeless. Though a butterfly themed headboard might not be everyone's cup of tea, it's a nice way to relive childhood dreams.
If you'd prefer something more subtle, you can also go for headboards with curved or rounded edges that offer a similar vibe. Also, consider padding or cushioning the wings for added comfort.
#22: Wall Panelling as a Half-Height Headboard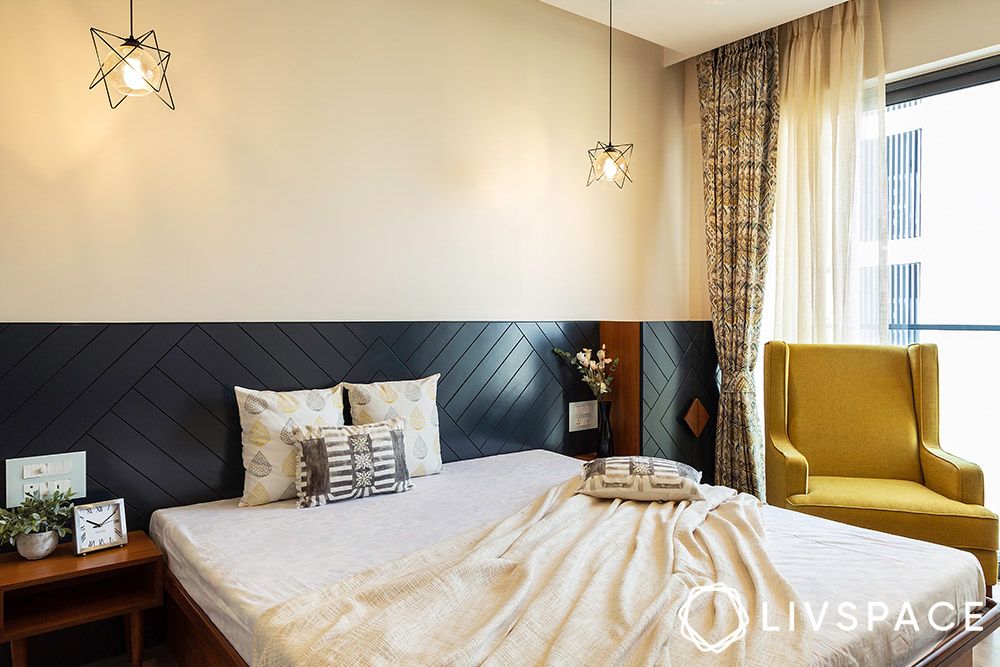 What if you could get the benefit of wall panelling and a headboard in one unified design? You'd definitely want to try it out, especially if you're on a limited budget. By doing so, you can get the benefit of both elements without splurging on them separately.
So, all you need to do is pick out the wall panelling of your choice and place it on the lower half of your bedroom wall. Since it covers the entire wall's width, it can also double as a subtle wall accent.
#23: Introduce Some Wall Art Into a Plain Headboard Design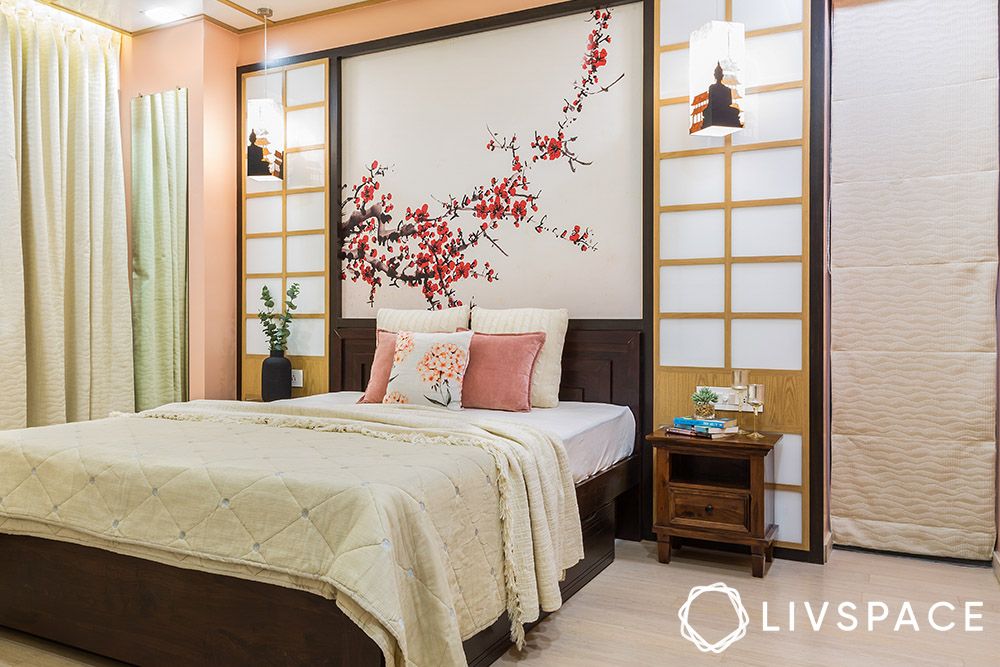 Art is a great way to liven up plain furniture. Take a look at this bedroom, for example. Though plain, this bed headboard design is complemented by a wall painting of cherry blossoms. When you look at them together, it looks almost as if the painting is framed by the headboard below it.
Together, these elements create a unique approach to styling headboards. So, if you have a wall mural in mind that you'd like to try out, consider this method!
#24: Love Latticework? A Jaali Headboard Design Is Perfect for You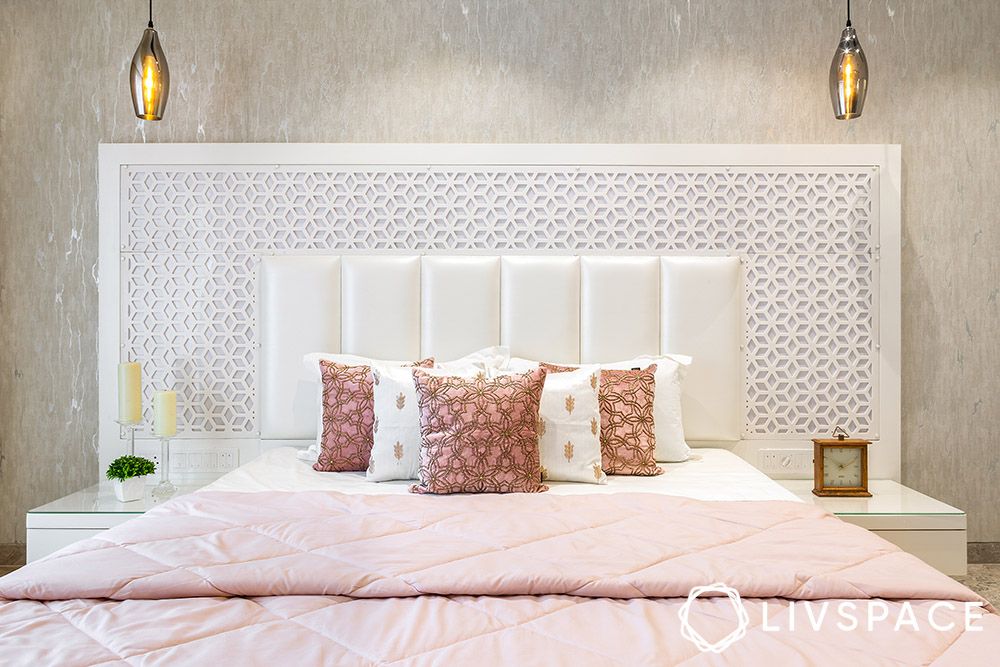 If there's one element that's common in most Indian homes, it's a jaali. Besides decorating your common areas or helping you partition your rooms, you can also use this wondrous decor element in your headboard.
Pick out your preferred jaali pattern and use it to inlay your bed headboard design. Alternatively, you can also consider adding backlights to it for a unique look.
Check out stunning bedroom designs here:
How Can Livspace Help You?
We hope you found these bed headboard design ideas useful! If you want beautiful interiors for your home, then look no further. Book an online consultation with Livspace today.
Have any thoughts or suggestions you'd like to share with us? We're all ears! Drop us a line at editor@livspace.com.
Disclaimer: All contents of the story are specific to the time of publication. Mentions of costs, budget, materials, finishes, and products from the Livspace catalogue can vary with reference to current rates. Talk to our designer for more details on pricing and availability.