Large or small, beds are often seen as the focal point of your bedroom. Therefore, your bed headboard design plays a crucial role in crafting the perfect space for you to unwind in. You might already be familiar with basic headboard designs but how about dabbling in some curated styles too? We hope you're ready to take notes because here are 10 unique bed headboard design ideas to help you choose the style that perfectly suits you.
#1: For Lovers of the Traditional Style, Carved Wood Headboard Designs Never Go Out of Style
Intricate botanical patterns add a touch of ethnicity, perhaps even a bohemian chic vibe to this bed headboard design. However, for a modern headboard design, use neutral white walls and furnishings with just a few pops of colour such as pastel yellow throw pillows, patterned curtains and cyan bedsheets.
#2: A Mid-Century Modern Bed Head Design Featuring Mesh Work
This rustic bed headboard design is sure to remind you of idyllic days that you may have spent at your grandparent's home; even more so when combined with the modern chintz wallpaper behind the bed and floor lamp next to it. Therefore, embrace the bucolic aesthetic with an antique overhead sconce, bright yellow wardrobe and a plethora of indoor plants.
#3: Add Some Character with Rustic Runes in Your Bed Headboard Design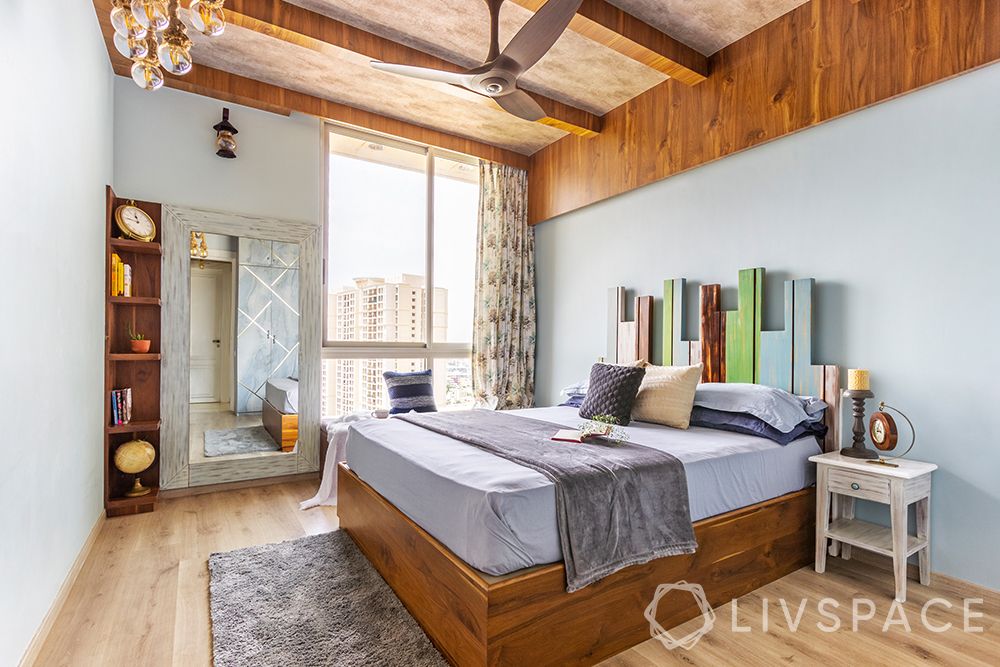 Tired of the boring and basic headboard designs that decorate most homes? If you like to experiment with colour and atypical shapes, this bed headboard design is for you. This colourful and asymmetrical bed head design acts as an eye-catching focal point, especially in compact bedrooms. It adds a playful, eclectic vibe, particularly when combined with large, open windows and a gorgeous wooden false ceiling.
#4: Satiate Your Appetite for Luxe Interiors with Velvet Upholstery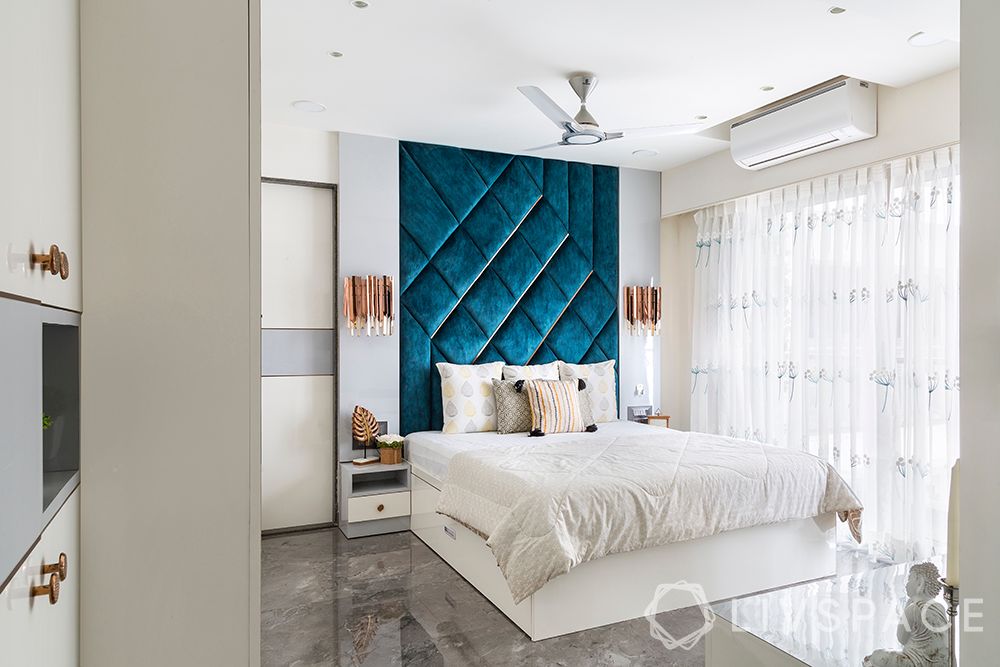 Add a sophisticated touch to your walls with a luxurious art deco-esque bed headboard design. Subsequently, create a dreamy bedroom by pairing beautiful, prussian blue, velvet upholstery with a dusky blue wall and floor-length white sheer curtains. Moreover, use rose-gold wall sconces or brass ornaments to add to the luxurious vibe of your bed head design.
#5: Make Your Modern Headboard Design Pop with Some POP Material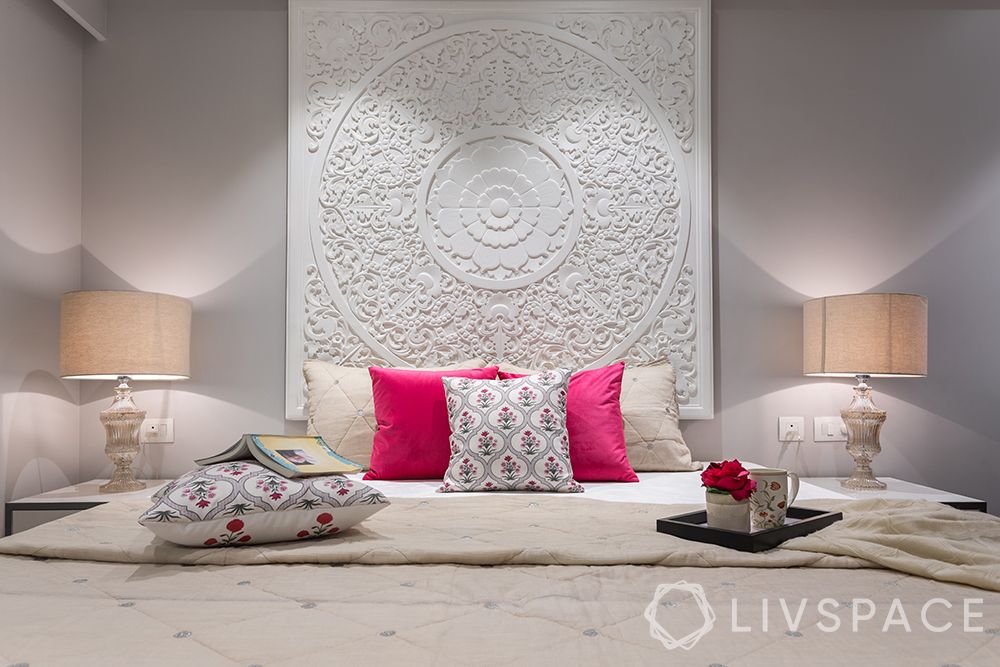 Hung from the ceiling and carved with an intricate floral pattern, this POP bed headboard design lends a romantic vibe to the bedroom. Furthermore, it is combined with pink accents such as the beige walls, lamps and bedding. Use hot pink throw pillows to further the room's charm.
#6: Allow Your Headboard Designs to Embrace You with Their Curved Edges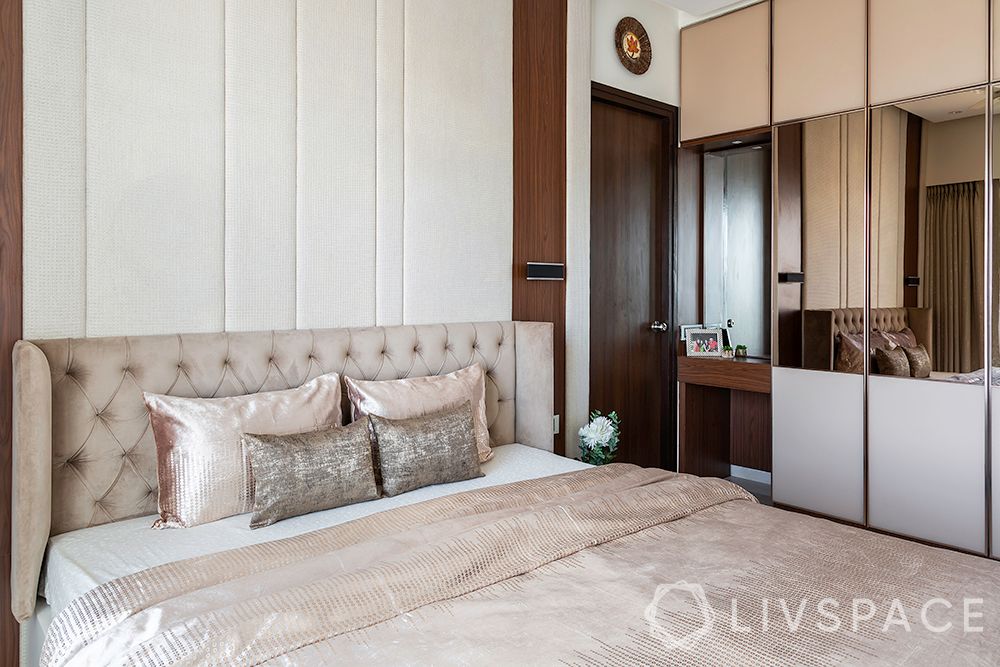 Most often than not, we find ourselves lost in the embrace of a comfortable bed, especially on dreary weekday mornings. So why not boost the cosiness of your bed headboard design by introducing curved edges? While tufted upholstery and curved edges tend to look stately, it can still pass for a modern headboard design. For this, opt for neutral wall colours or unobtrusive wallpapers to ensure the design stays cohesive.
#7: Canopy-Style Headboards Truly Know No Bounds as They Transcend Their Designs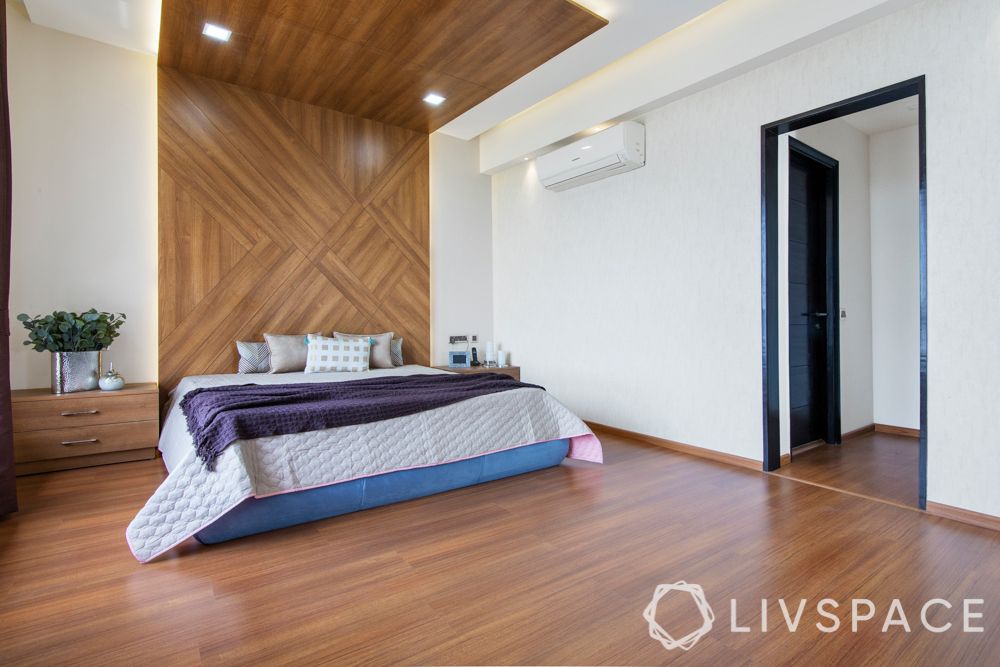 Make a bold design statement with a canopy-style bed headboard design that extends beyond the wall, right up to the false ceiling. Clever use of recessed lights adds vibrancy to the space while ensuring the room stays well lit. Retain focus on the bed headboard design by using subtle colour palettes for the rest of the room. You can also opt for accents such as wooden wall panelling or flooring, sleek mirrored wardrobes or a comfy chaise.
#8: Extend Multipurpose Utility to Your Headboard Design
This bed headboard design removes the struggle of finding matching bedside tables for your room as it comes with its own storage. Consequently, as it extends on either side, this bed head design ensures that there's ample space for your phone and other knick-knacks. Therefore, take advantage of its short height to put up floating shelves to hold your potted plants and travel souvenirs.
#9: Get Comfy with a Cushioned Panel for Your Bed Headboard Design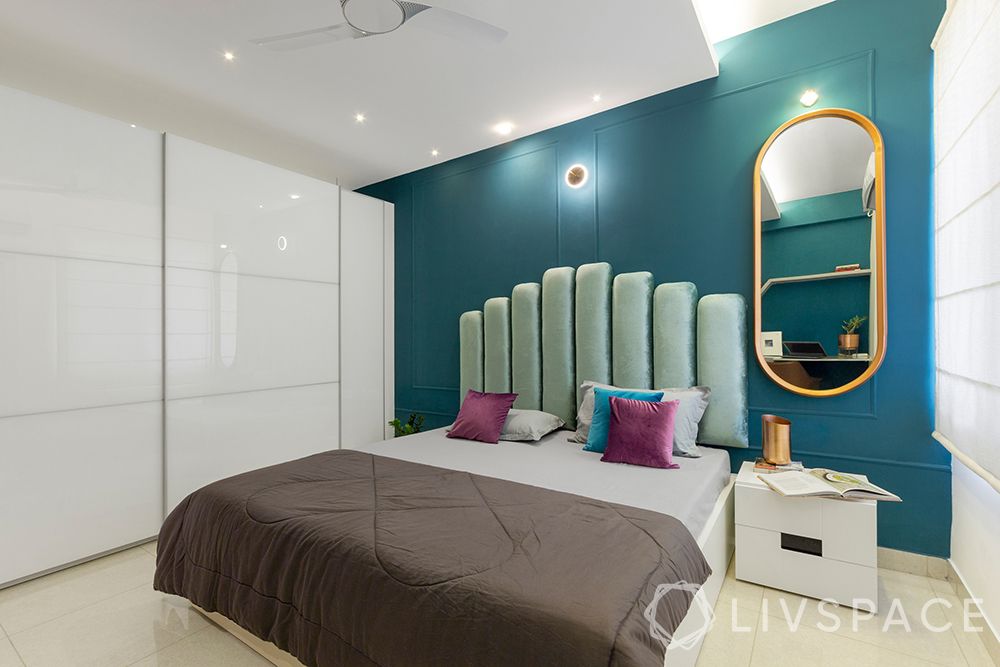 Vertically placed upholstered velvet slats are quirky, yet graceful, creating a relaxing space. Subsequently, the maroon throw pillows playfully contrast the blue walls and mint green headboard. Moreover, the large brass mirror, minimalistic light fixtures and the plethora of indoor plants enhances the spa-like vibe of the room. If you're interested in a modern headboard design that strikes all the right notes of the opulent style, this one's for you! 
#10: You Can Never Go Wrong with Tufted Upholstery for Your Headboard Designs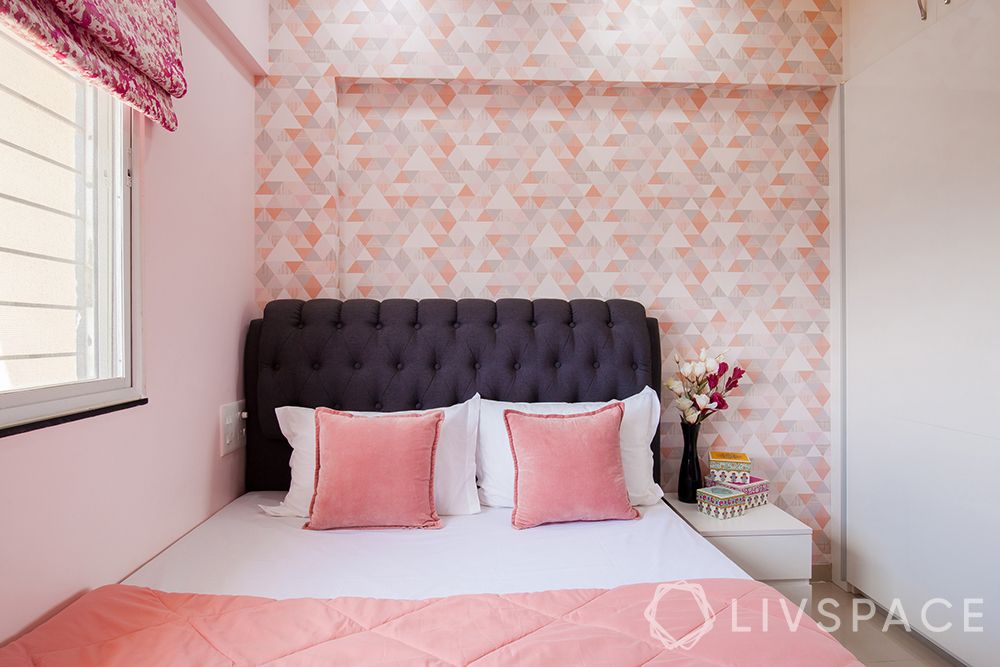 A tufted headboard design adds elegance to any space it occupies. Furthermore, pair it with abstract wallpaper and a good source of natural light to create a charming, intimate bedroom. Small decor pieces such as flower vases, table clocks or candlesticks can help add to the room's cosy aesthetic.
How Can Livspace Help You?
We hope you found these ideas on headboard designs useful! For more inspiration on all things bedroom design related, check out Tips to Design a Vastu-friendly Bedroom.
If you want beautiful interiors for your home, then look no further. Book an online consultation with Livspace today. To share any comments and suggestions you might have, feel free to write to us at editor@livspace.com.