Designing your wardrobe is no easy task. You can't go for a remodel every few days. That's why planning your wardrobe design ahead of time is a good idea.
This 'know your wardrobe design inside out' guide will have answers to all your questions related to wardrobe design. Without much ado, let's get started!
How to Plan a Wardrobe?
Planning a wardrobe should begin at home – obvious, isn't it? Prioritise your needs, mark your space and utilise all areas.
What's the First Step in Planning Your Wardrobe?
Firstly, you'll need to assess the space to find out the wardrobe size. This will also determine the wardrobe door design in terms of the number of doors and whether they will be sliding or hinged. For example, a two-door swing wardrobe will need a minimum wall length of 800 mm or 2 to 3 ft. But if you want two sliding doors, your room plan should be able to spare a minimum of 6 ft.
Are Sliding Wardrobes Good?
However, if the room is compact, it would be ideal to choose a sliding wardrobe design with mirror. This is because the swing doors need clearance space to open as they are hinged — 300 mm — making sliding-door wardrobe more space-efficient. Having a mirror on the wardrobe further helps make the room seem bigger than it is.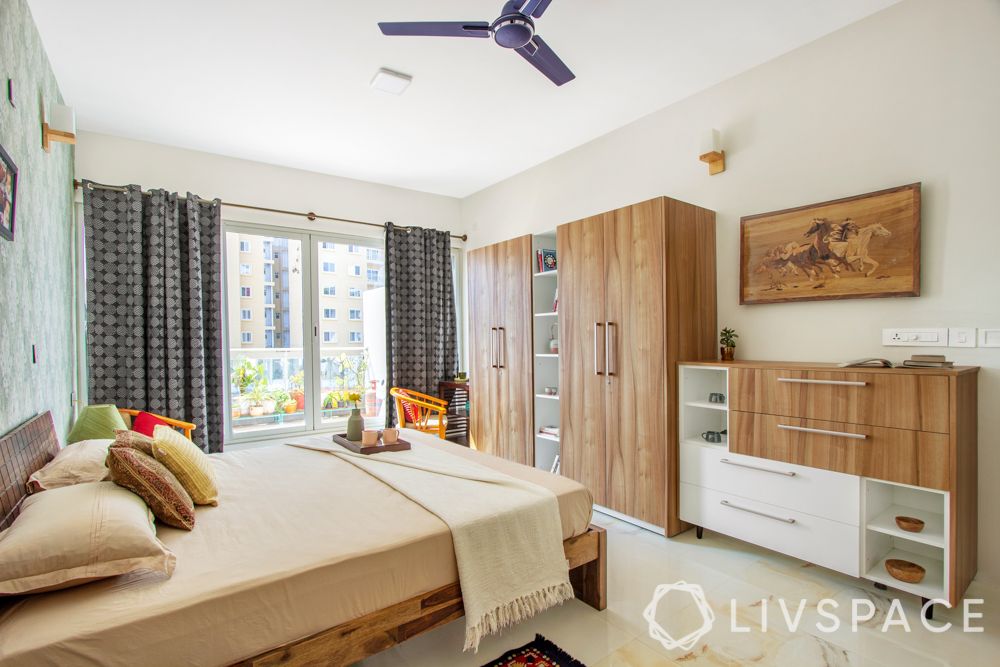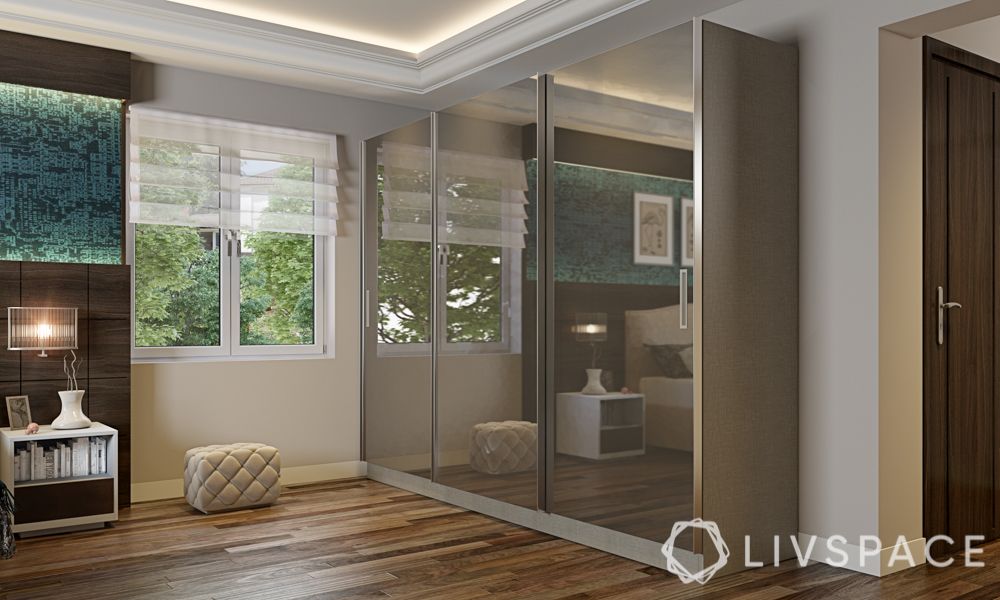 What Is the Ideal Wardrobe Size?
As for the depth of wardrobe, the standard 1.5 ft. is enough if you fold your clothes. But if you have coats and blazers or heavy dresses and saris to hang, then it is better to build 2 ft. deep frames.
What Is the Ideal Wardrobe Height?
Typically, the height of wardrobe varies between 7 and 8 ft. Anything lower than this can affect its ergonomic design and storage capacity.
Can My Wardrobe Design Be Custom-Made?
Livspace is known to play with standard wardrobe dimensions and engage the room elements in wardrobe to render unique aesthetics for its customers.
For more wardrobe design ideas, check out:
How Do You Make a Functional Wardrobe?
Also, if you require more storage, then opt for lofts. This will add to the wardrobe dimensions and consequently cost a little extra. But try to avoid sliding wardrobe designs with loft, as the runners on top of such a wardrobe need special reinforcement to bear the additional top weight.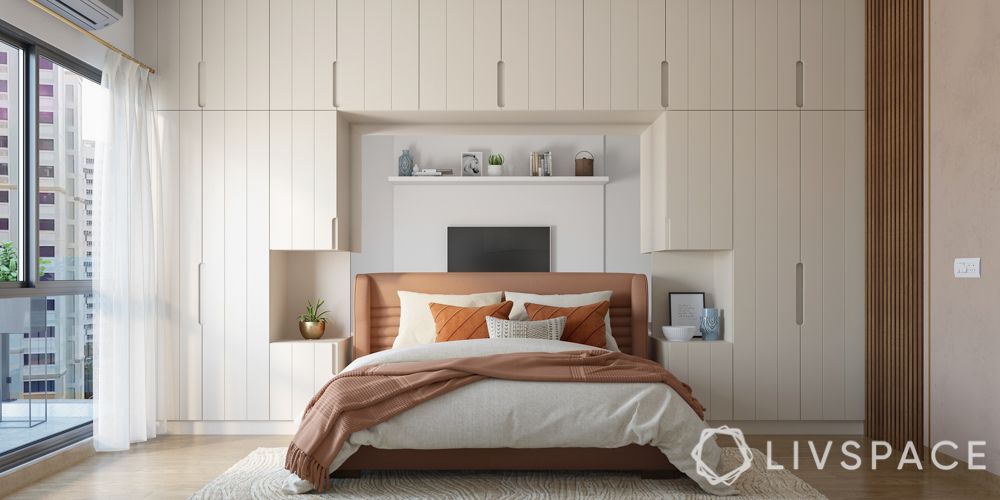 It is necessary you understand all the types of wardrobe design that will suit the layout of your room before you make a decision.
What Is the Best Material to Build a Wardrobe?
A wardrobe mainly consists of two parts — the carcass (the body frame) and the shutter. For the carcass, you have the options of MDF and plywood, whereas the shutters are made of MDF at Livspace.
We recommend MDF for the carcass not just because it's cost-effective, but because plywood tends to cave after a certain time.

Livspace
What Is the Best Finish for a Wardrobe Design?
You can choose between finishes like laminate, membrane, UV, acrylic, aluminium with glass, lacquer or mirror. Laminate and membrane are cost-effective and easy to maintain, as opposed to the other finishes.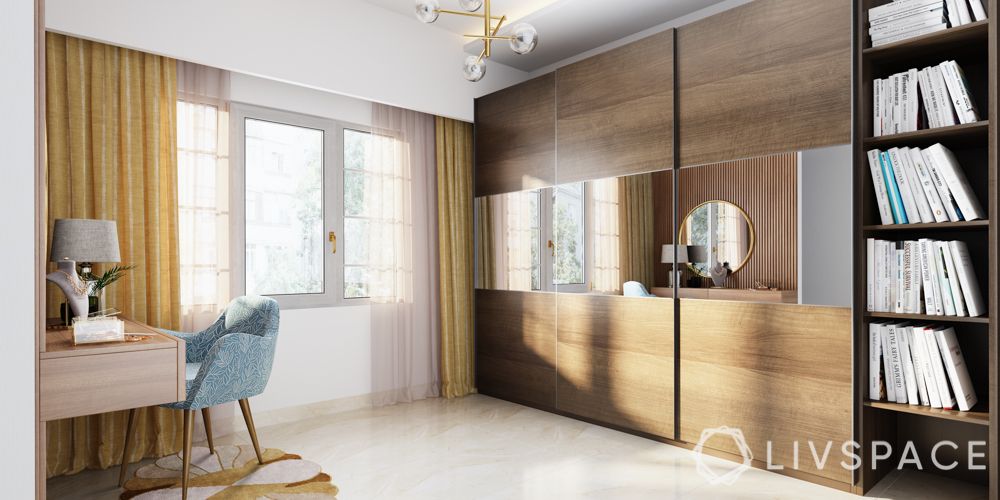 Also Read: Our 15+ Best Wardrobe with Mirror Designs for Your Bedroom.
However, if you want a classy look and don't mind spending some more, then acrylic, UV, glass and lacquer finishes are stunning options.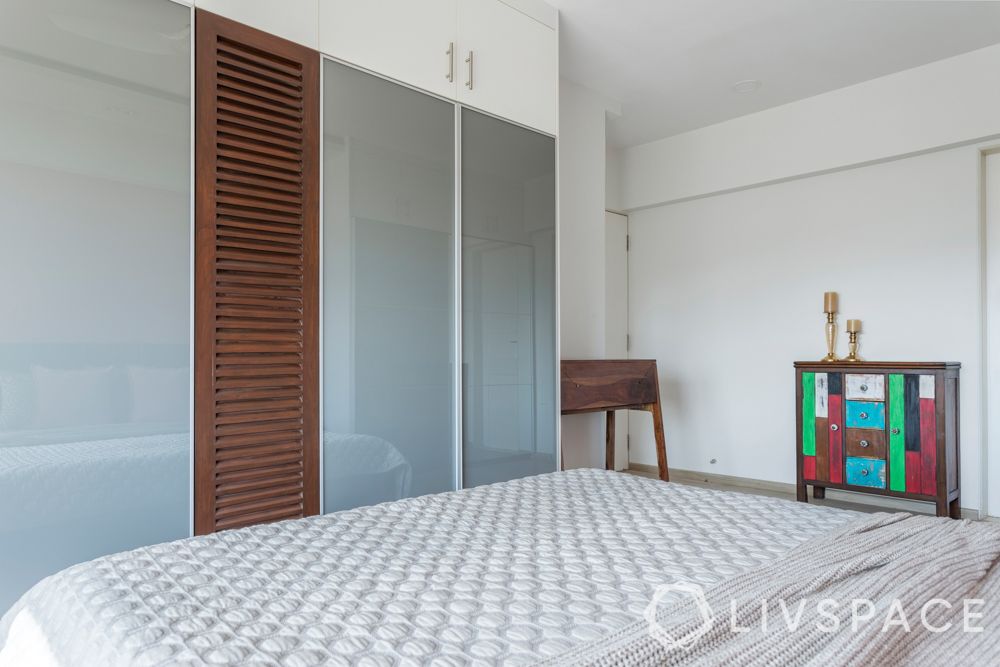 Currently, many homeowners are opting for mirrored finishes for their wardrobes as it can assist in quick dressing. While studs are used to attach the mirrors to the swing door, aluminium frames are used for the sliding wardrobes.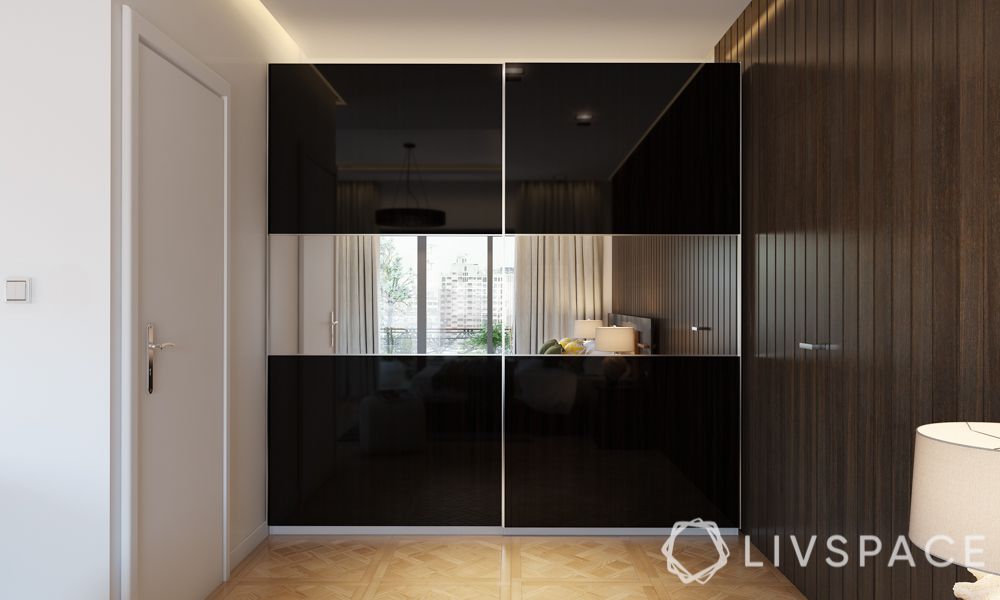 How Do I Get a Versatile Wardrobe Design?
The answer is by adding accessories.
You will find countless accessories to declutter and organise your wardrobe design inside. Here is a clear visual to help you with your wardrobe internal design.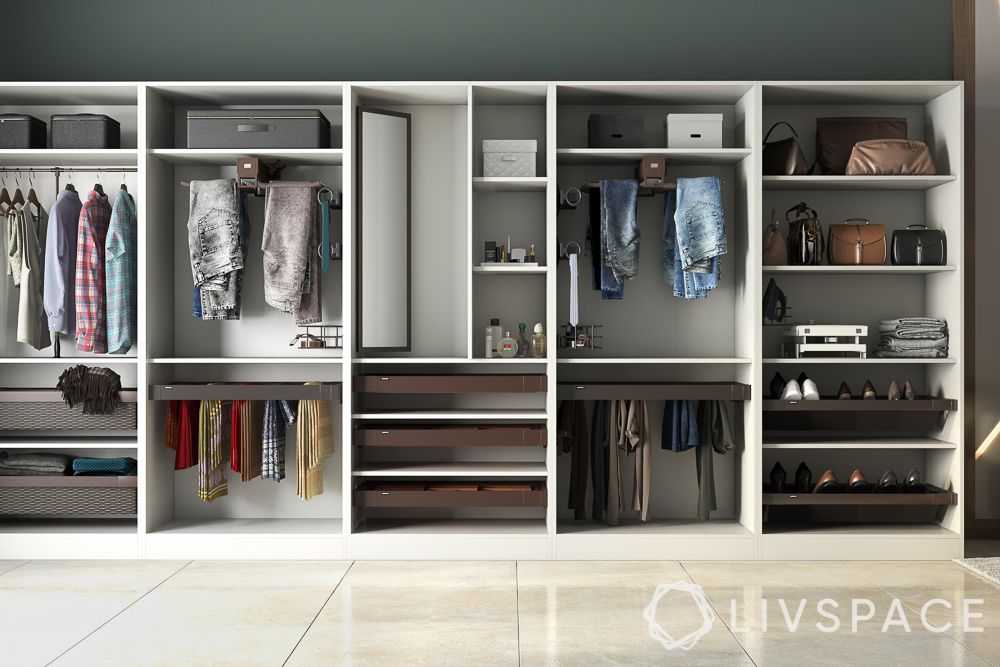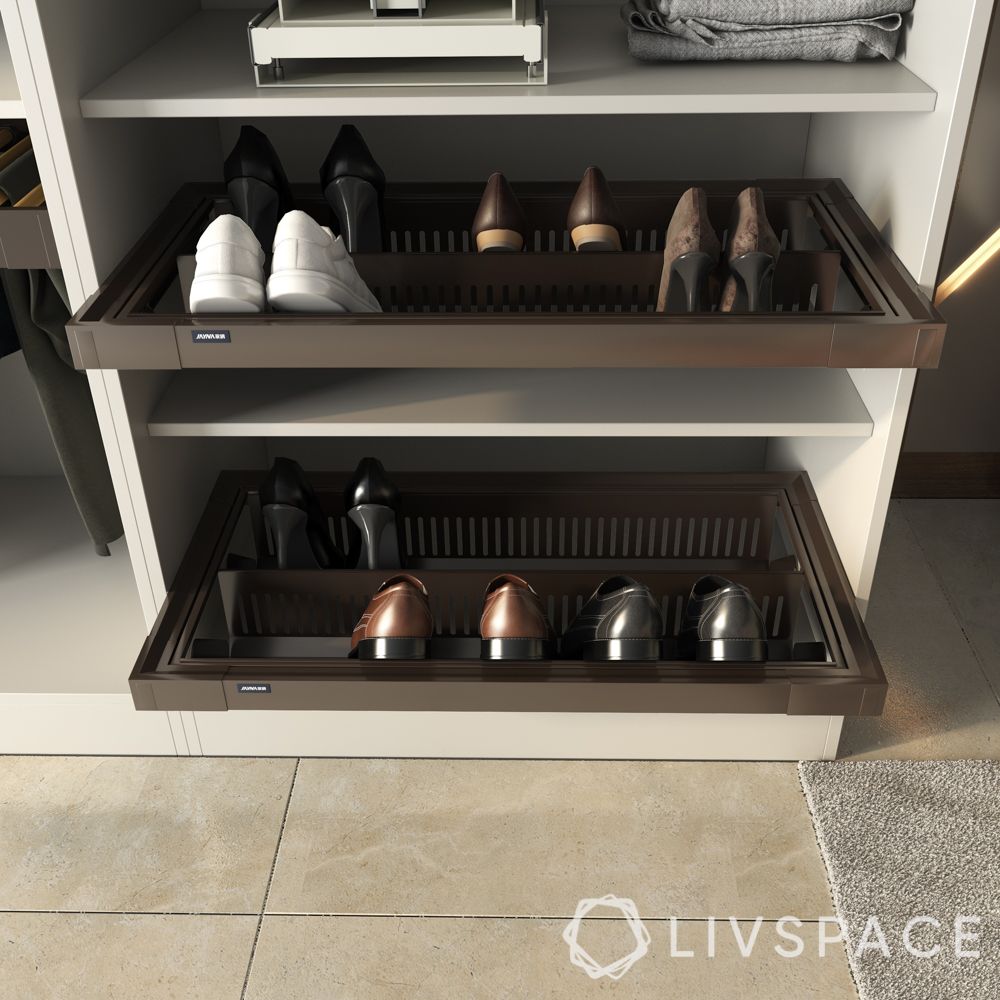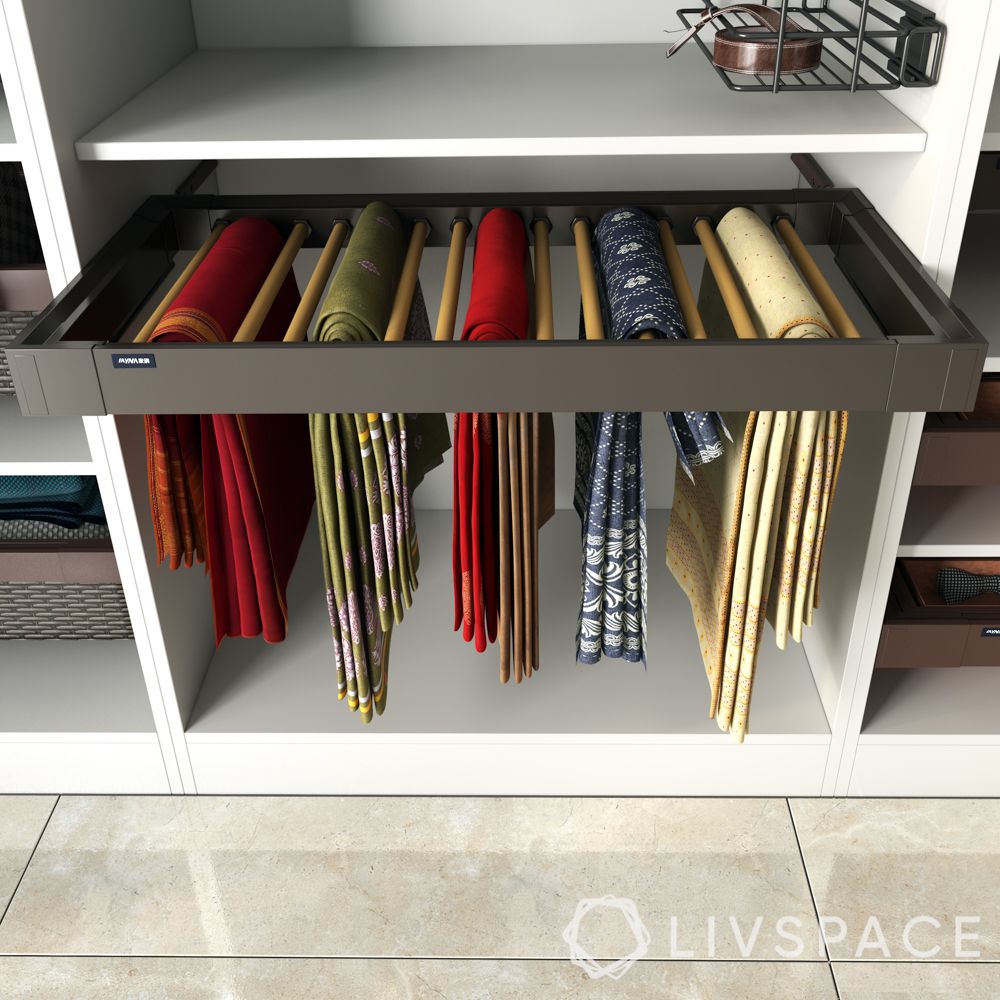 Wardrobe is not just about shelves, drawers and hangers. You can equip your wardrobe with accessory organisers, trouser hangers and many pull-out accessories. Discover 10 Smart Accessories to Add to Your Wardrobe.
How Do I Build a Budget Wardrobe?
You can build a budget wardrobe design by choosing a finish like laminate that's budget-friendly and yet stands the test of time. Here's a cost comparison of laminate wardrobe design and glass wardrobe design:
| | |
| --- | --- |
| Wardrobe | Purchase type |
| Swing Laminate | Budget |
| Sliding Laminate | Budget |
| Sliding Glass | Luxury |
Having a wardrobe is not just about functionality, but aesthetics too. Consult with your designer on customisation options to suit your family's needs and complement your interiors.
Which Types of Wardrobes Are the Best?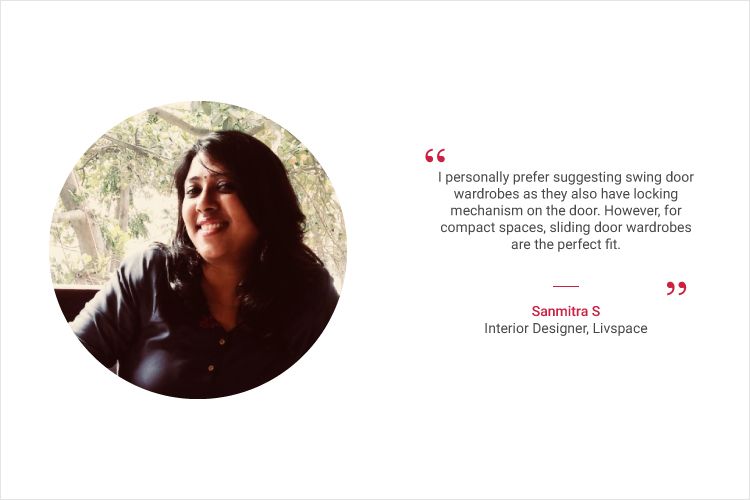 Sanmitra S is an interior designer with over seven years of experience in designing modular kitchens and wardrobes for high-end luxury brands. She is passionate about giving her clients their dream home and also loves music and books.
Also Read: 25+ Gorgeous Wardrobe Designs from Livspace We Love (Cost Included).
Check out more wardrobe design ideas:
How Can Livspace Help You?
We hope you found our ideas useful! If you want beautiful interiors for your home, then look no further. Book an online consultation with Livspace today. Delivering safe home interiors has been our No. 1 priority. Click here to find out how interiors are being delivered following all safety protocols.