If you look at celebrity homes for inspiration, their dressing rooms are to die for! Each item is organised neatly along with an array of shelves, hangers and drawers. What really catches the eye is the dressing unit neatly tucked in the centre like a showstopper. It isn't easy to replicate this in every home. However, we can try to choose the right wardrobe design with dressing table idea to make things a bit easier in the regular Indian homes.
Having a vanity unit built into your wardrobe makes it easy to get ready every day. For the times of elaborate dressing tables or vanity counters are long past. So, let's take a peek into some of the finest Livspace homes and how we made use of the wardrobe design with dressing tables in these spaces.
#1: Pink Wardrobe Design with Dressing Table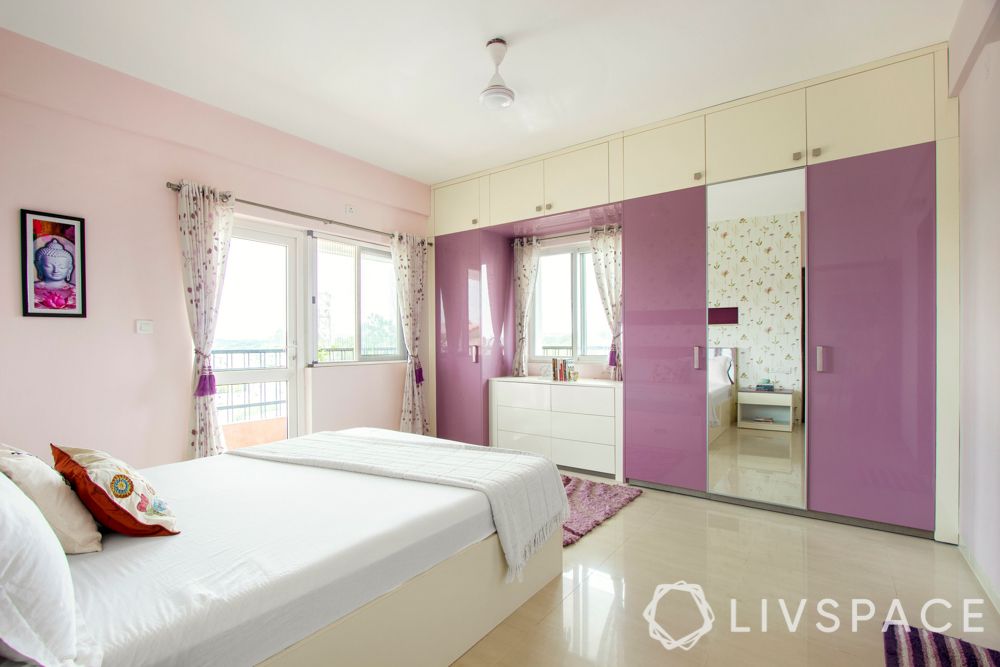 This pretty wardrobe with dressing table idea is tactfully made to reflect as much natural light as possible. The chest of drawers just below the window ensures the space is well lit while leaving an area to store cosmetics, fragrances and much more. The full mirror panelling of the wardrobe door is a handy addition, especially when you want to see how your #OOTD (outfit of the day) is coming along.
#2: All-White Wardrobe with Dressing Table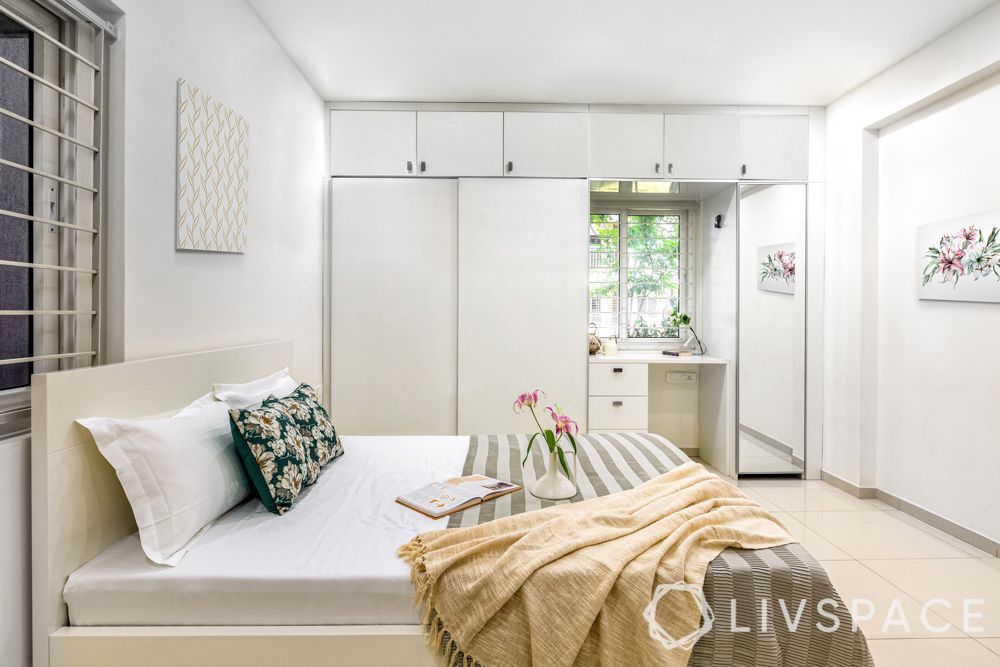 When you're short of space, a sliding wardrobe design with a dressing table is the way to go! A small platform neatly inserted in an alcove of the sliding wardrobe makes it easy to sit and get dressed. As a bonus, this can also be a handy study corner or desk just to spend time in. Add in some table mirrors, knickknack holders and you have your pretty wardrobe and dressing table combination.
#3: Vanity Mirror Next to the Mint-Coloured Wardrobe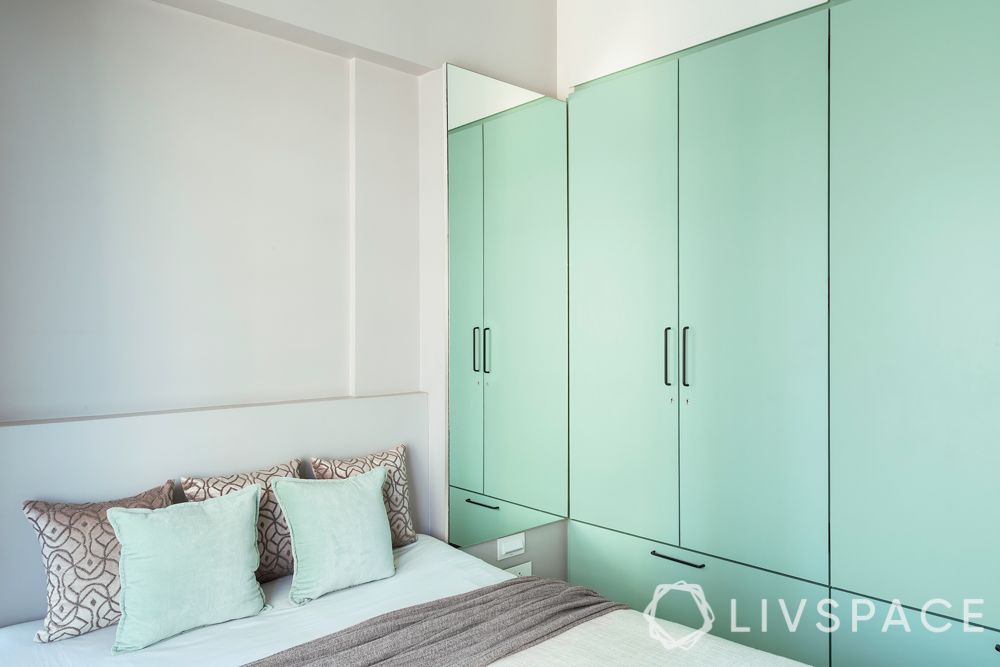 This room is a really compact one but look how smartly it has been designed. A mirrored door wardrobe kitty-corner to the actual wardrobe not just comes with storage space but also fits into small bedrooms with ease. The design is practical without disturbing the flow of the wardrobe or compromising on storage space.
Check out this video for more wardrobe design ideas:
#4: Walk-in Closet Cupboard with Dressing Table
Wondering why this space looks so tiny? It is because what you see here is a walk-in closet. The gold finish gives it an oomph factor that makes it stand out just right. The wardrobe is tucked into an alcove with parallel storage for optimum space and the dressing area is equipped with lights to make the corner bright and cheerful. The design is offset with handy drawers to store essentials in.
#5: Dressing Space with Seating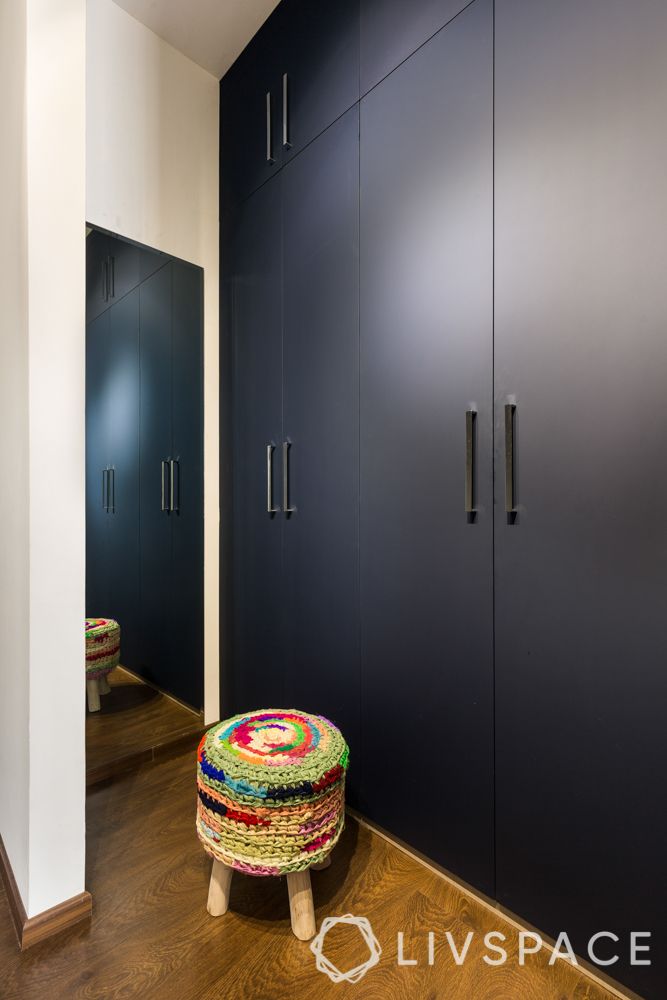 If you put your mind to it, nothing is impossible. This wardrobe design with a dressing table is simply made of a mirror placed beside the wardrobe with a stool to help you get dressed with ease. You can store all your cosmetics and grooming accessories in the wardrobe and use the tall mirror to see how well dressed you are!
#6: Dressing Table Attached with Wardrobe Design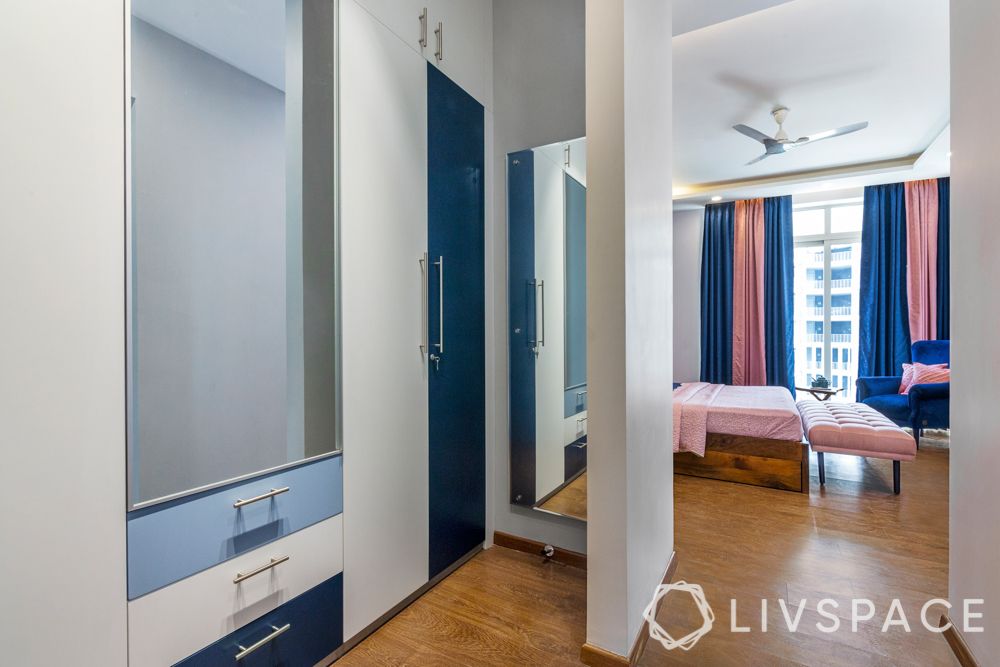 This master bedroom wardrobe design with a dressing table has not one but two mirrors strategically placed to give you the celebrity experience. In this walk-in wardrobe area, one is a full-length mirror that helps you see the outfit in all its glory while the one above the drawers helps in the easy application of your make-up. The design has enough room to bring in a settee to help you sit while you complete your beauty routine. The different-coloured drawers help you sort things easily!
#7: Wardrobe with Dressing Table by the Window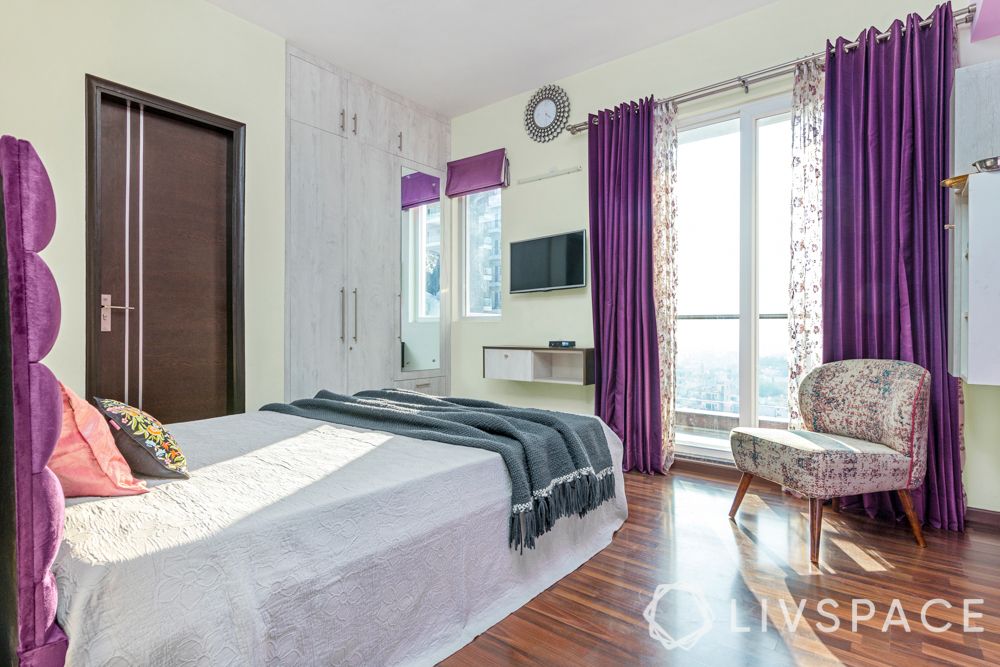 We find this wardrobe design with the dressing table refreshing for two reasons—it is right by the window—and it is easily implemented in a small space. The window brings in ample lighting to help you see well and brings in some fresh air. A simple mirror can make a big difference while getting ready, especially when you can find the accessories to get ready right behind it or next to it. This compact design is ideal for small homes that can't really afford to lose space with extra furniture.
#8: Wall-to-Wall Wardrobe with Dressing Table Design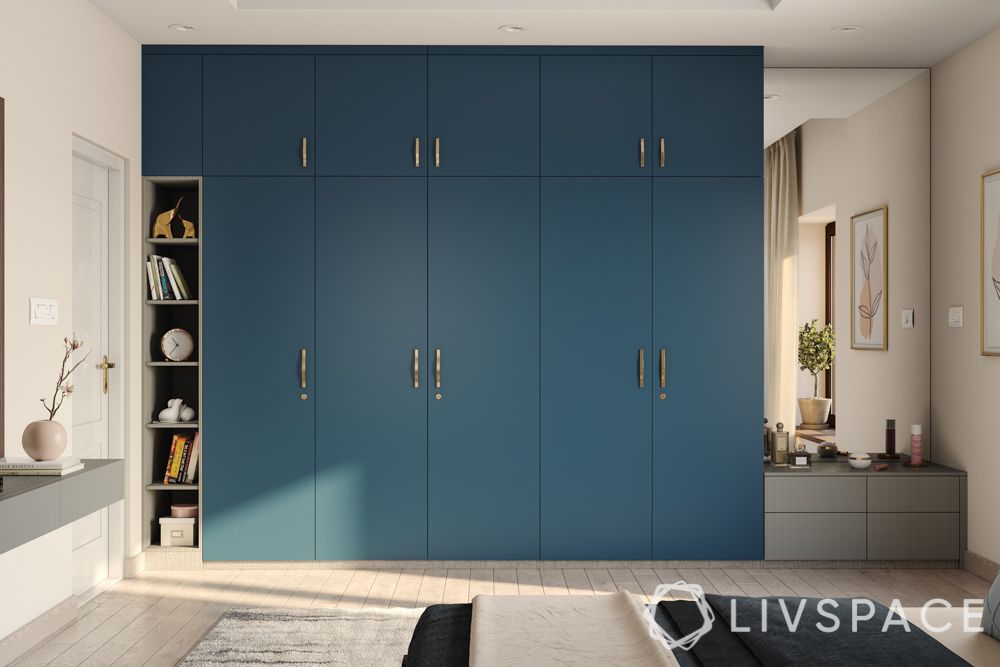 This wardrobe design with dressing table design charms you right away! It might be the ocean blue hue of the wardrobe, the golden handles paired with it or the well-placed full-length mirror. Whatever the reason, all these elements put together makes this wardrobe design with the dressing table look plush. You can get a look at your full outfit and enjoy getting ready in the corner. Either way, the design is functional and pretty.
Whether your home is compact or large, having a dressing corner is useful in making your space comfortable while you prepare for the day. A functional space with a touch of elegance can make your everyday routine and dressing up for special occasions really special.
If you need more inspiration, here are some Chic Dressing Table Ideas to keep you hooked!
How Can Livspace Help You?
We hope you found our ideas useful! If you want beautiful interiors for your home, then look no further. Book an online consultation with Livspace today.
Send in your comments and suggestions to editor@livspace.com