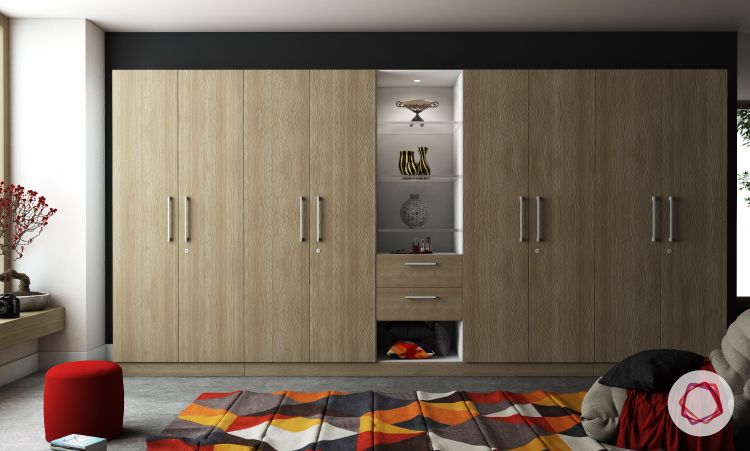 Have you been looking for wardrobe designs that are aesthetically appealing yet functional? We understand the importance of having the right kind of customized modular wardrobe that can literally store anything; from teeny tiny garments to bulky suitcases.
If you have a bedroom that is designed to perfection, then it's only fair to complement it with a chic wardrobe.
Below, we bring you 5 Livspace modular wardrobe ideas that are so stunning that you will drop your jaw every single time you use it.
Wardrobe design #1: Mirror, mirror on the door
A classy wardrobe like this mirrored sliding wardrobe is sure to act as a gorgeous asset to your bedroom. Finished in warm oaky undertones and two mirrored sliding doors, this extensive wardrobe is sleek and functional.
And the best part? The mirrored doors allow so much light to bounce off it, that your bedroom will only seem roomier than it actually is.
Wardrobe design #2: Grey matter
The lustrous grey beauty complements this neutral, fuss-free room in a subtle fashion. A built-in dressing table is the highlight of this modular wardrobe that is a boon when space is a huge constraint. The cove lights and mirrored shutter only intensify the glamour of this wardrobe.
We can't miss out on the lofts that save us the trouble of finding a dedicated corner for bulky luggage and spare linen.
Wardrobe design #3: All-in-one beauty
A modular wardrobe that makes a bold aesthetic statement is a great choice for contemporary interiors. We love the frosted glass that brings in visual drama, giving us a sneak peek of collectibles and souvenirs. This is a one-stop solution that promises to hold all your favorite items in style.
Wardrobe design #4: Folding shutters
If you're bored of the idea of sliding or hinged doors, folding doors are great when you want a wardrobe that's space savvy. This chic white wardrobe design ensures it doesn't allow the room to feel shrunken. If anything, neutral shades exude roominess.
Wardrobe design #5: The luxurious walk-in
We're head over heels with this walk-in modular wardrobe design that looks straight out of a magazine or a Hollywood movie. If you have a bedroom large enough to accommodate a walk-in wardrobe, then we vouch for this seamless beauty.
Sleek stainless steel handles perched on glossy wardrobe shutters display a high style- quotient. This walk-in wardrobe leaves no room for space woes.
Check out wardrobe designs:
We all need wardrobes. Because who wants to live out of suitcases? So the next time you're looking for built-in solutions for your home, head to the modular wardrobe section, because they are not just beautiful pieces of engineered wood, they are also extremely functional and designed for easy use.