Wardrobes are no longer just a functional storage space for our clothes and accessories. They have now also become integral to the aesthetic of our bedrooms. This has led to a change in the way we look at wardrobe colour combinations as well. . As such, choosing the right wardrobe colour is an essential part of designing your room. In this article, we show you 18 latest wardrobe colour combinations that will look stunning in your home.
But first, let's get some good-luck vibes with some vastu-friendly wardrobe colours:
Vastu-Approved Cupboard Colour Combination Ideas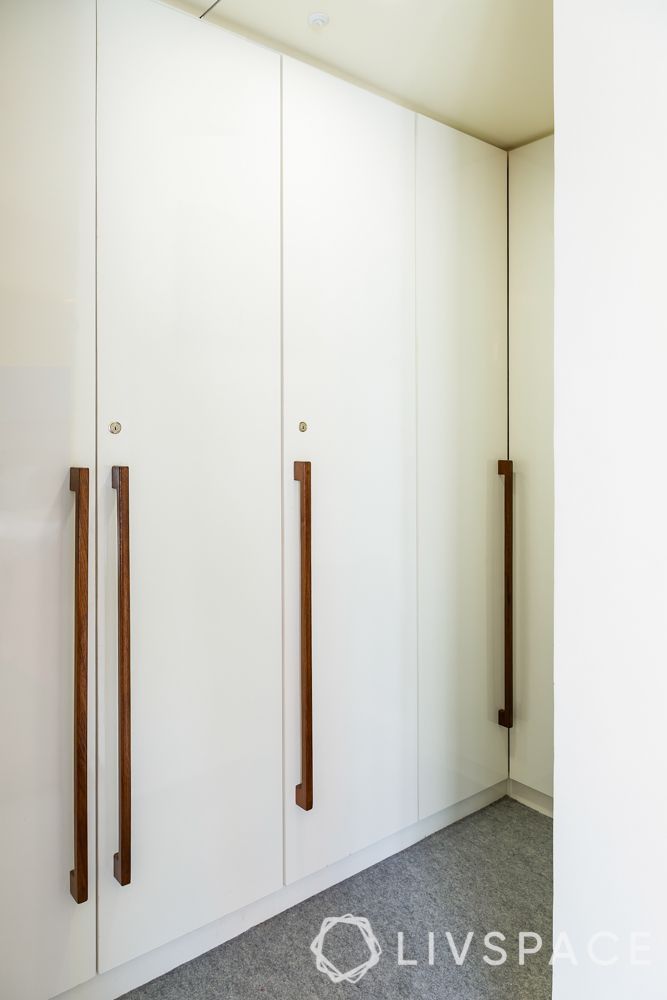 If you are looking for classy wardrobe colour combinations in laminate that are also vastu-approved, light wood finishes in neutrals and whites are good options. When wardrobes take up a considerable amount of space in a room, opt for a wardrobe colour that looks seamless and sleek. Moreover, wardrobe colour combinations that use neutral shades reflect light, making the room appear spacious.
Also Read: 35+ Latest Kitchen Colour Combination Ideas for Small, Medium and Large Kitchens
Master Bedroom Wardrobe Colours You Should Avoid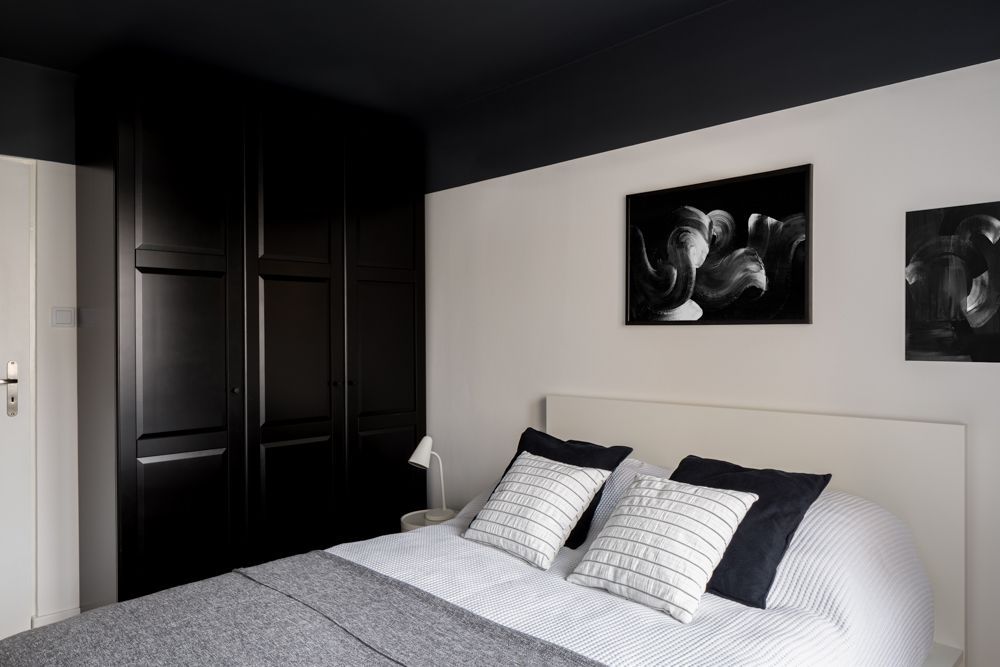 Always avoid dark or flashy colour options for the bedroom cupboard. A dark wardrobe colour, like red or black, signifies negative emotions like anger. Therefore, do not opt for deep and dark hues when it comes to bedroom wardrobe door designs. Moreover, dark colours can make the room look flat and smaller than it actually is.
The Best Wardrobe Colour Combinations for Indian Bedrooms
Now, let's look at some of the best wardrobe colour combinations from Livspace homes that are sure to grab eyeballs!
#1: Classy Wardrobe Laminate Colour Combinations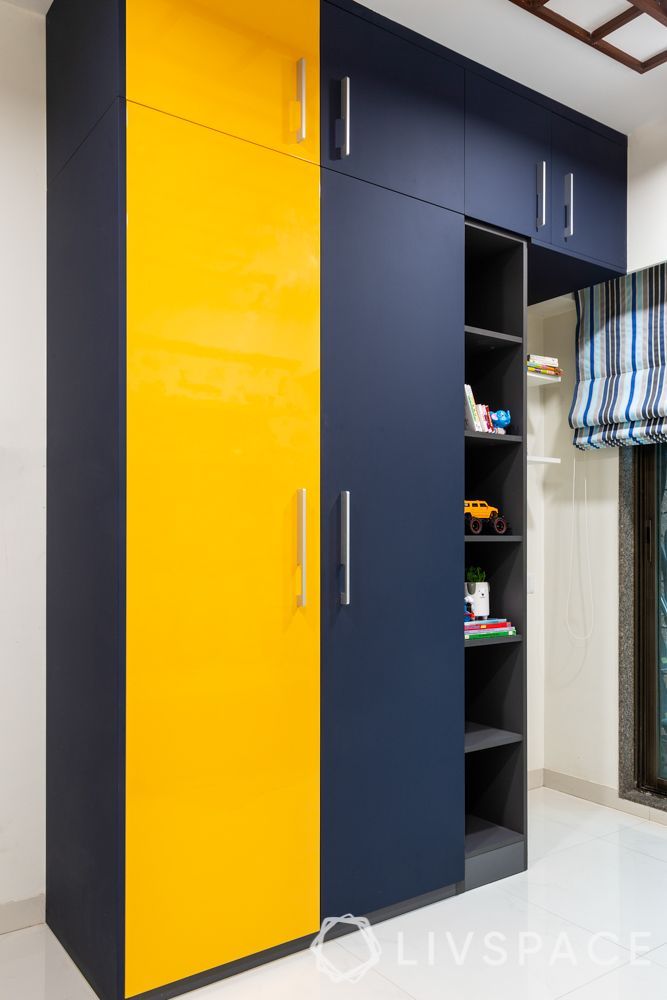 The one big advantage of using laminates is that they help keep your wardrobe cost low. And when it comes to colours, when the rest of the room is done up in muted tones of whites and neutrals, your best bet for your wardrobe colour design is a bold shade. And what can be better than midnight blue and peppy yellow? See how this wardrobe colour makes a bold statement in the otherwise all-white room?
#2: A Cupboard Colour Design With a Mirror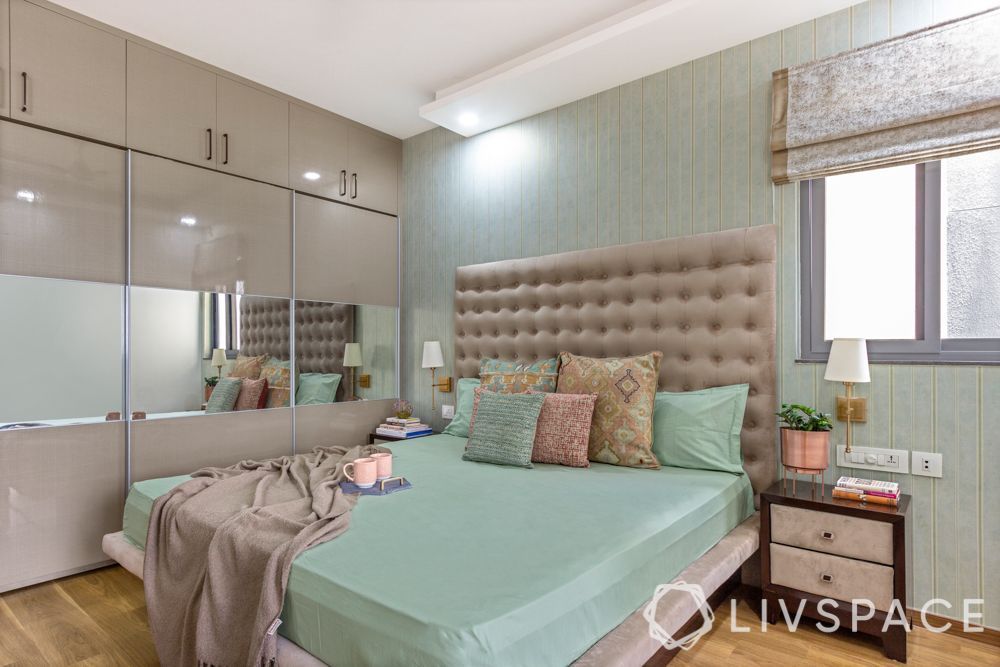 When it comes to mirrored surfaces and how they influence your bedroom wardrobe colour combinations, balance is key. It could be in terms of proportions, textures, colours or material. This room is the perfect example of how to balance your wardrobe colour and achieve a captivating look for your bedroom.
A muted shade like rose quartz works like magic with the burnished hues of wood or even with splendid whites or creams and creates a delicious mix of shades. This closet design with a mirror surface is great for creating a soothing mood, either in the master or even in the guest bedroom.
Pro Tip
Use this wardrobe design in small or compact bedrooms since lighter hues create the illusion of more space. Take a look at design tips for wardrobes to make them fit in the tiniest of rooms for more advice.
#3: Wooden Wardrobe Door Design for Bedroom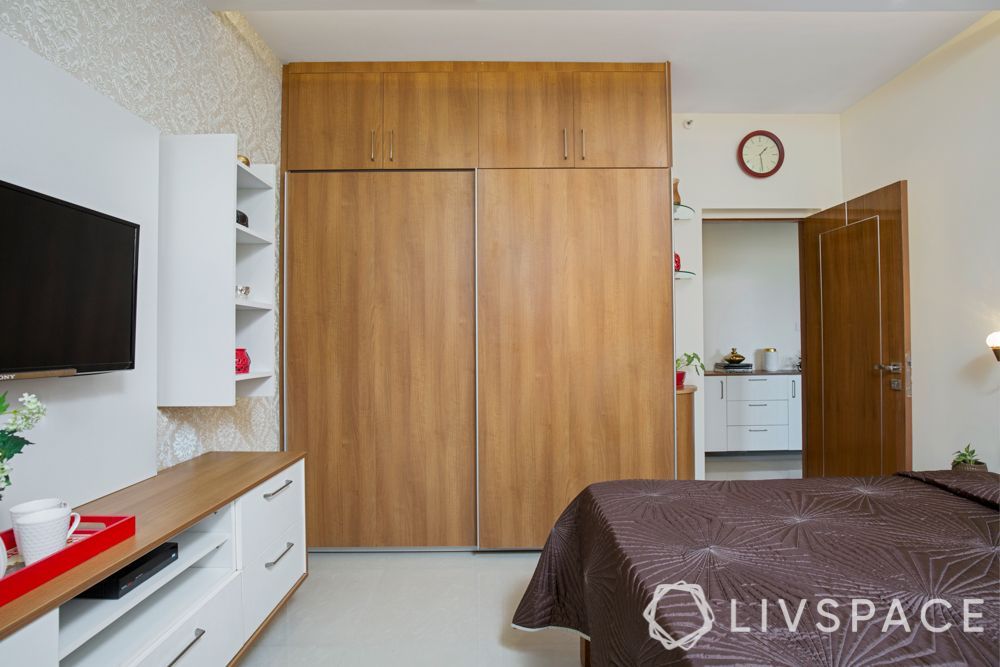 More so because we all know that going back to your roots and harnessing organic tones is timeless. Keeping that in mind, wood-finish cupboard laminate designs look classy and are an all-time favourite when it comes to Indian homes.
Match the wardrobe colour combination with the rest of the room and mirror your wardrobe's woody accents on the TV unit, side tables and mirror frames. Play up the earthy vibe of your room by using shades of brown on the walls. Shades of mahogany, cherry and oak give a twist to traditional Indian wooden cupboard colours, usually found in teak.
Also Read: 15+ Modern Almirah Design Ideas That Are Trending
#4: Panelled Glass Wardrobe Colour Combinations for Bedrooms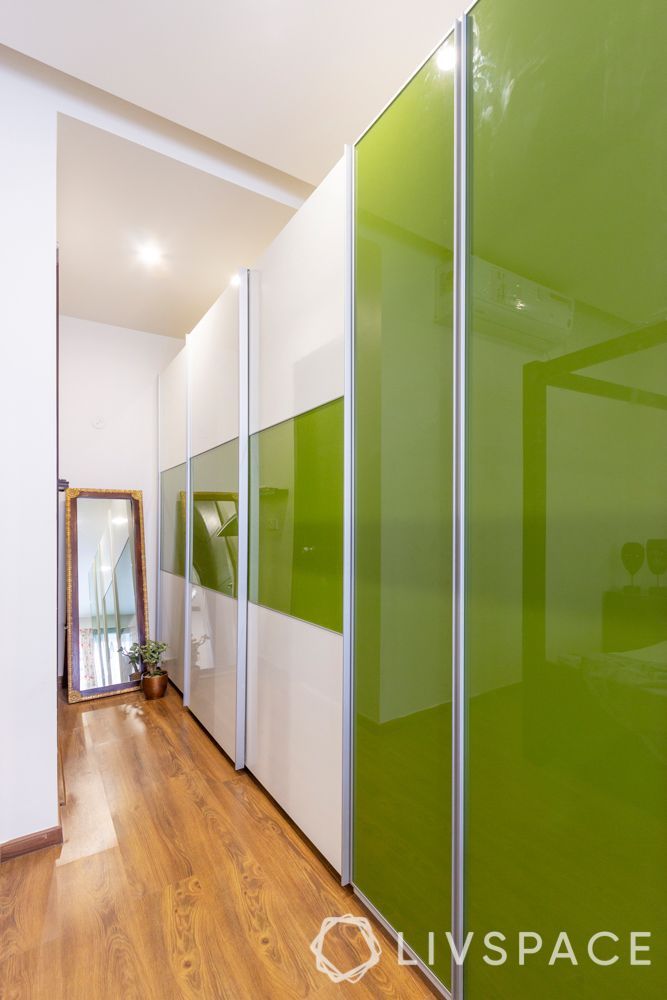 When it comes to the colour combination for wardrobe doors, you can play around and let your imagination run wild. Make it bright by using bold and happy colours or play the cool card with a clever mix of elegant shades.
Here, we've paired the greenest of greens with white, making it among the best wardrobe colour combination ideas that you should definitely bookmark! We love the wooden flooring and the full-length glass wardrobe design.
Go with a theme that you love and colour-block your wardrobe design to make things pop.
#5: A Modern Two-Colour Combination Wardrobe Design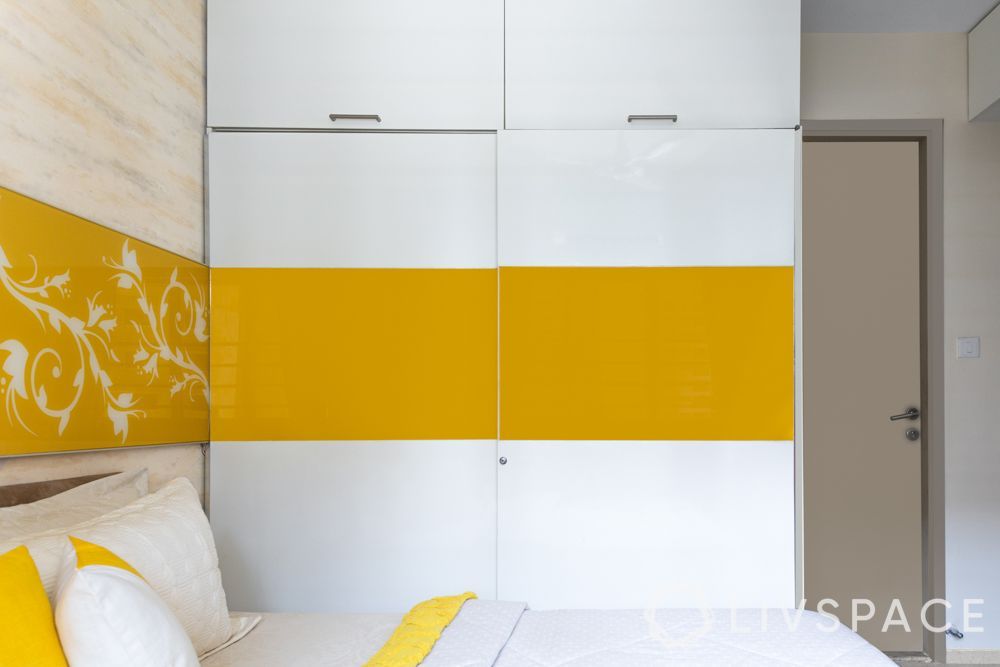 We love it best when the sun shines through our very own Livspace wardrobe! If you want to use bright colours in other places in your room, use it smartly. For instance, don't splash your walls with this sunny paint—you'll tire of it soon. But it will uplift your mood if it finds its way onto your headboard, as a wall accent, bed linen or even floor rug. But for us, the wardrobe wins hands down!
#6: Frosted Glass Wardrobe Design for Bedroom Interiors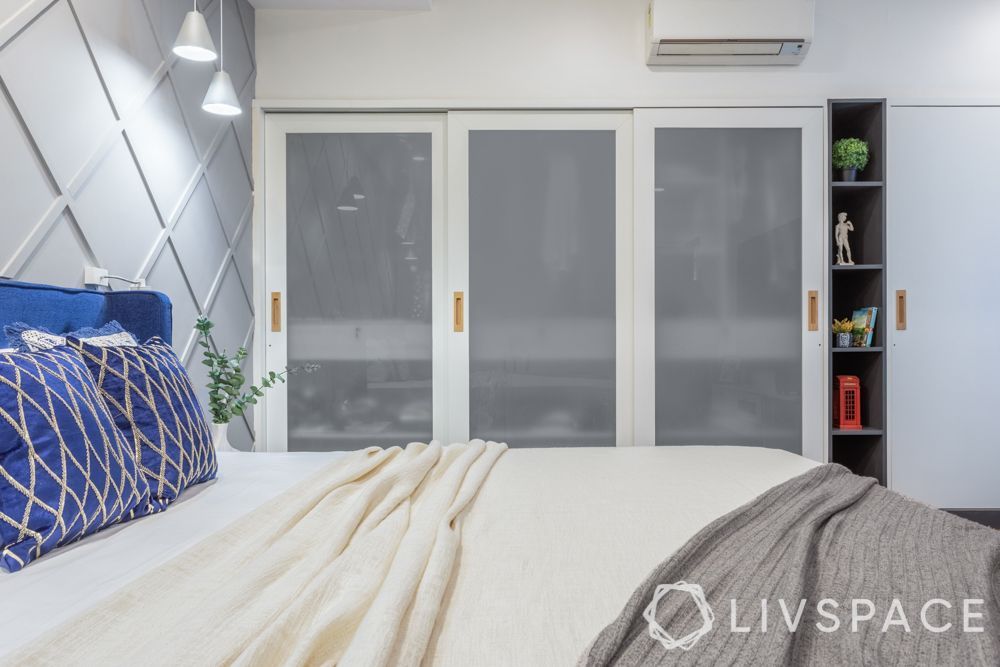 This one's a bonus for you. Sometimes, a wardrobe colour may seem overrated, which is why we have this little trick.
Frosted glass doors create a classic wardrobe for those who love a little peek-a-boo here and there. The best thing about this is that you do not have to worry about matching or complementing the interiors of your room with it. It looks good in any room.
Pro Tip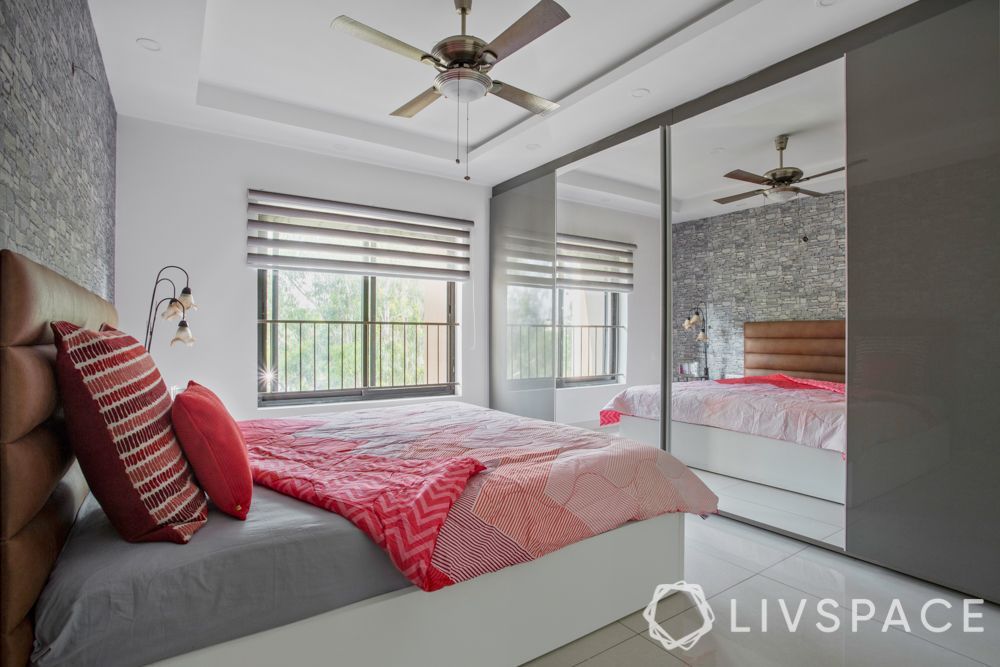 #7: Colour-Blocked Wardrobe Colour Combinations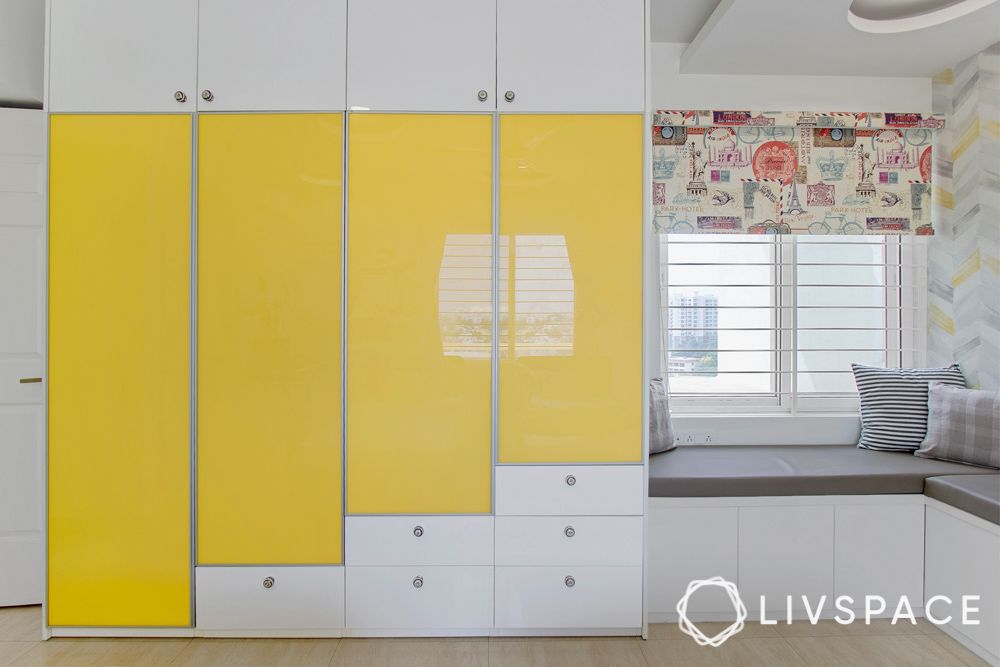 There is no one colour that can be considered as the best one for a wardrobe, but colour-blocking options are always a favourite! Such wardrobe colour combinations can be used to add a pop to your room or even make it look more understated and elegant. While colour blocking, remember to use complementing colours.
#8: Almirah Colour Combination With Border Highlights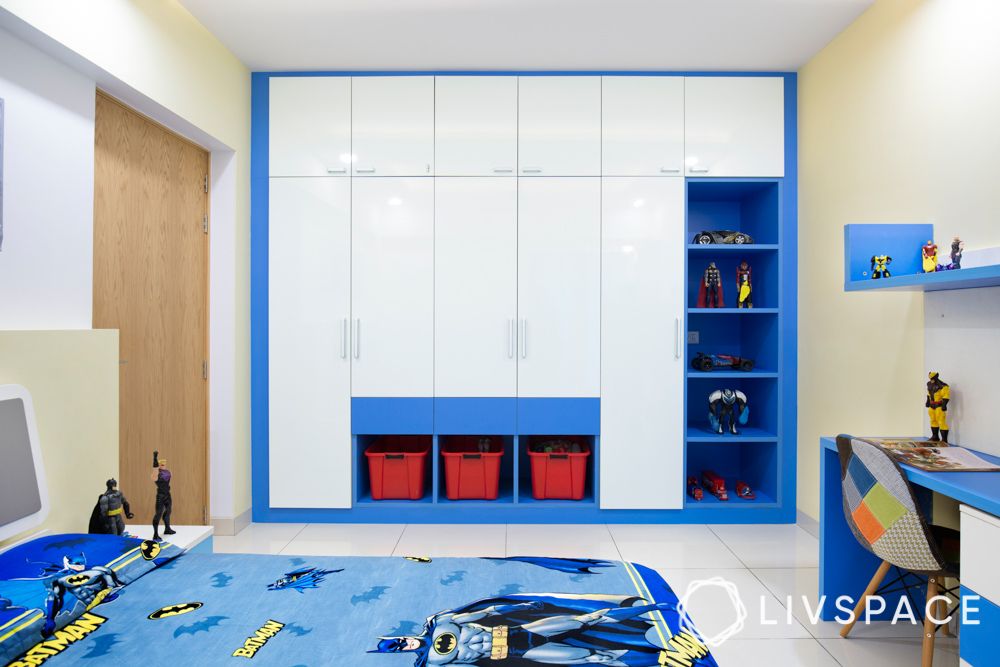 Not keen on a two-colour combination for your wardrobe design? Why not choose a wardrobe in a single colour with border highlights. We love how the blue borders make this white cupboard look more vibrant and striking. This is what we call minimalism with a dash of colours!
#9: Half-and-Half Wardrobe Colour Combinations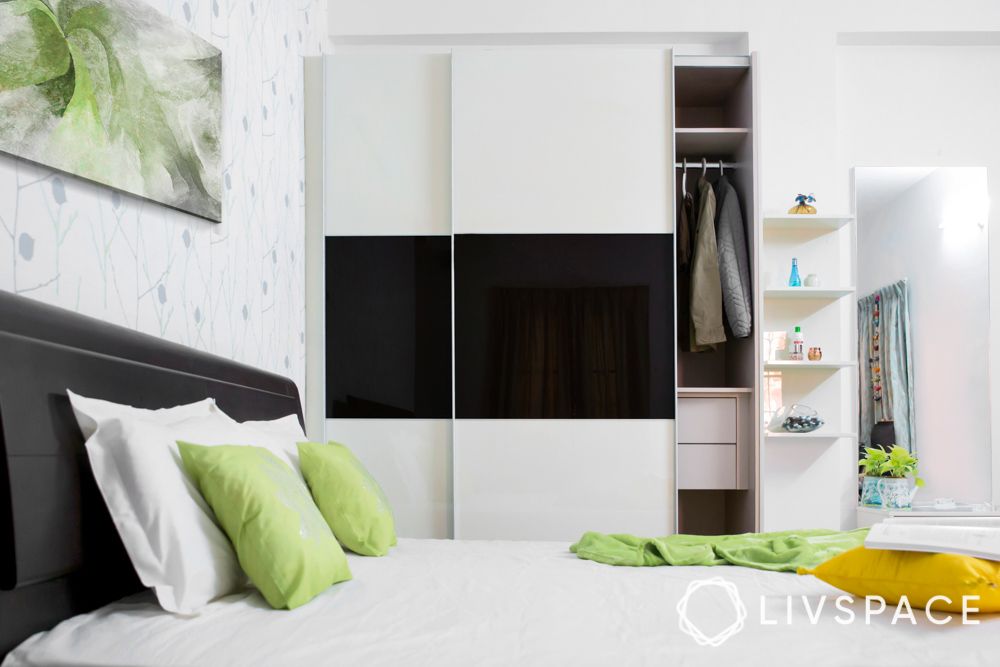 Wondering which colour is best for your wardrobe? Why choose one colour when you can opt for two? Go for a half-and-half wardrobe design in colours of your choice. If you want a contemporary look, a black-and-white almirah can look stunning in a bedroom.
#10: Pristine Shades of White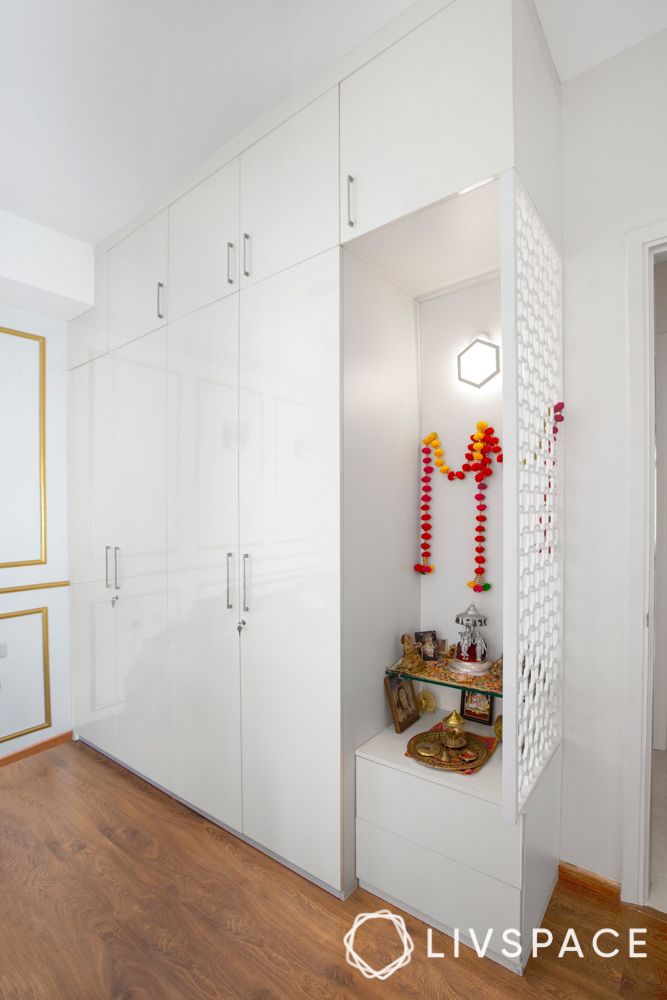 If you're confused about your wardrobe design's colour combination, choose white. White is a classic wardrobe colour that looks amazing with all types of interiors. Moreover, opting for a white wardrobe in a small bedroom can make the area look more spacious. Instead of only white, you can also choose varying shades of white.
#11: Wood and Mirror Wardrobe Combinations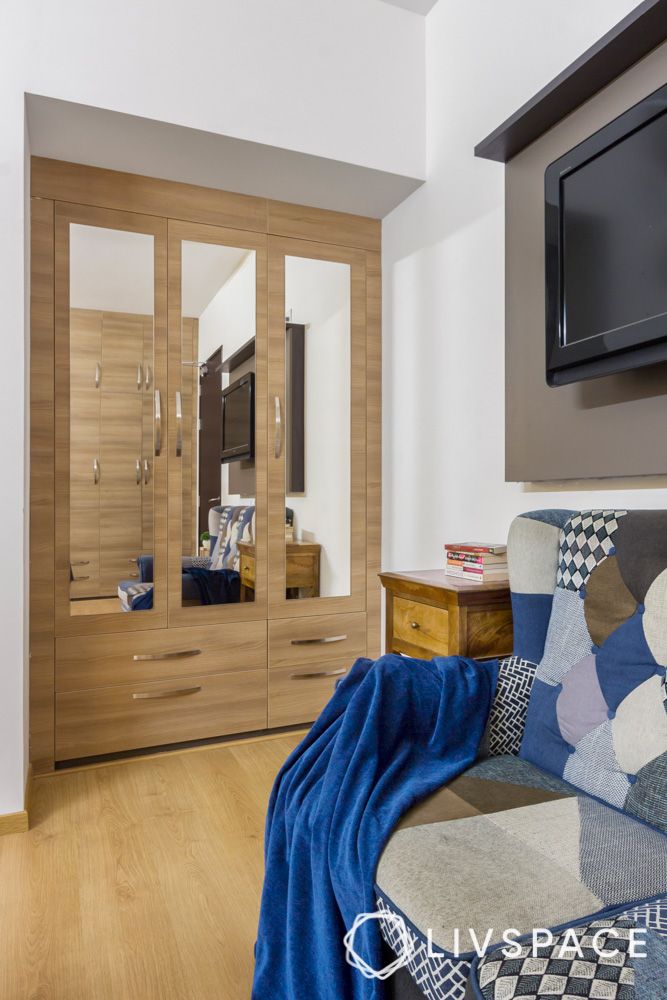 Apart from wardrobe colour combinations, you can also experiment with choosing more than one material. For instance, this wardrobe features light wood and mirror, giving it a classy and warm appearance.
#12: Glossy Modular Wardrobe Colour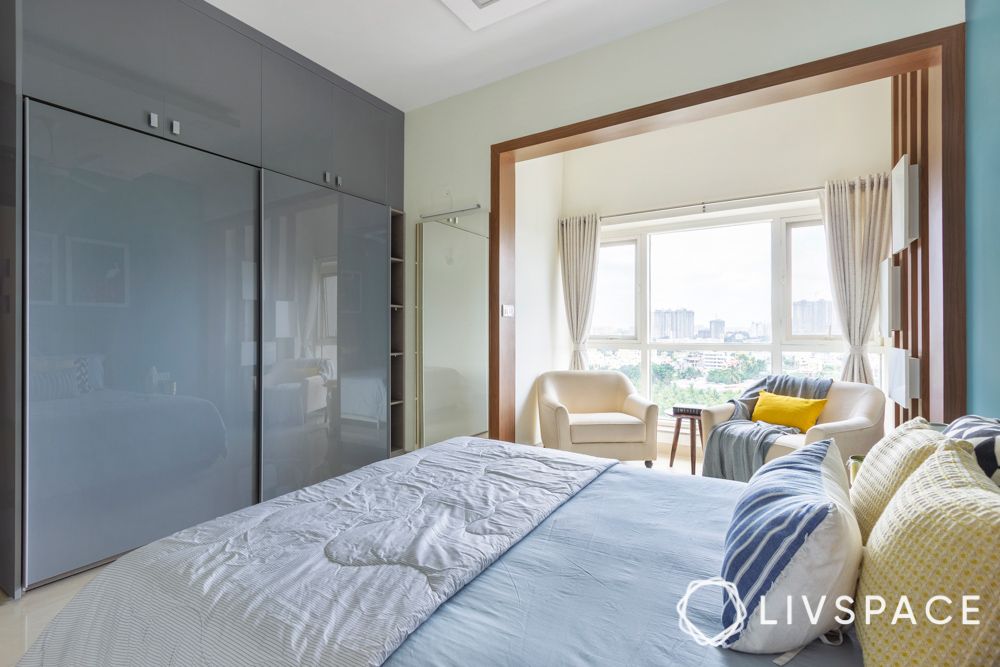 Single colours can be just as stunning as a dual colour combination for cupboards. If you have more contemporary tastes, choose neutral shades like greys, beiges and whites. In addition, glossy modular finishes work best for compact bedrooms.
#13: Multiple Wardrobe Design Colour Combinations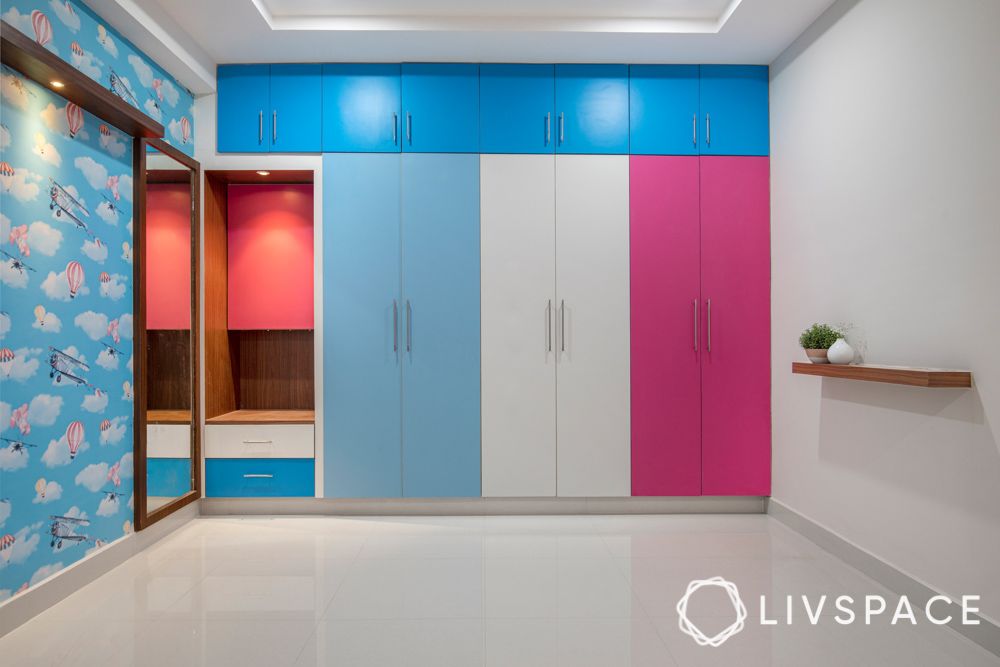 While dual colour combinations for wardrobes are quite common, how often do you come across an almirah with three colours? Multicoloured wardrobes, in vibrant shades like blue and pink, look amazing in kids' bedrooms.
#14: A Handleless Bedroom Cupboard in Blue
Want you a unique look for your wardrobe? Opt for a handleless design in a muted wardrobe colour like powder blue. If you have a small bedroom, a handleless almirah is one of the best options for you.
Wardrobe Colour Combinations for Kids' Bedrooms
#15: Multicoloured Wardrobe Design With Patterns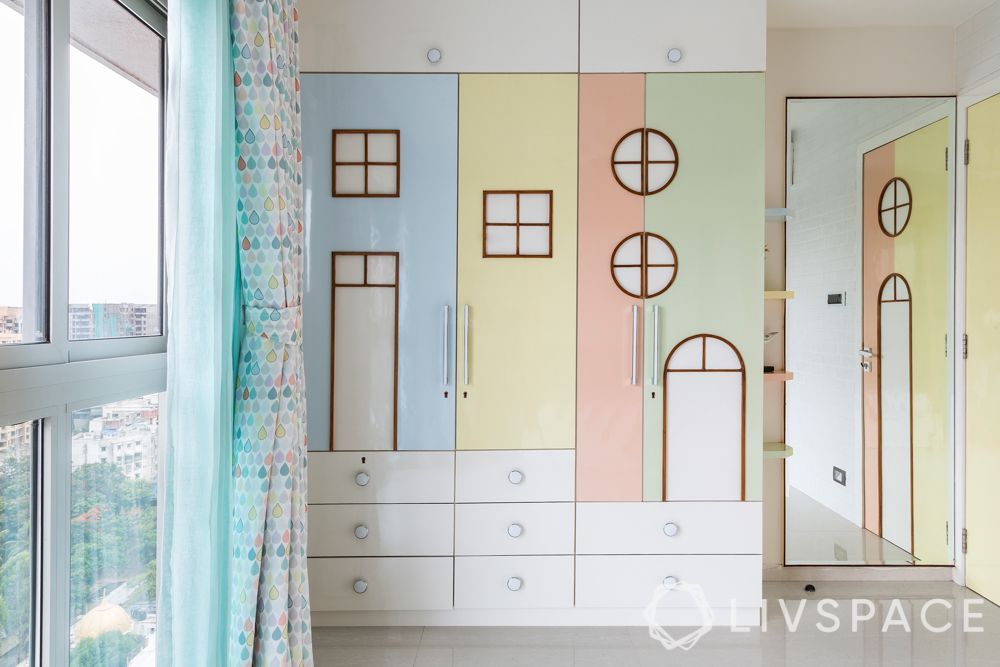 Design a room that your children will cherish for a long time. For a long-term option, select wardrobe colour combinations that are gender neutral and pastel until your kids can make a decision. The best wardrobe colour combination for your young ones would be multiple colours instead of just a single shade. In addition, you can also opt for unique designs or their favourite cartoon characters.
#16: Lilac and White Wardrobe Colour Combinations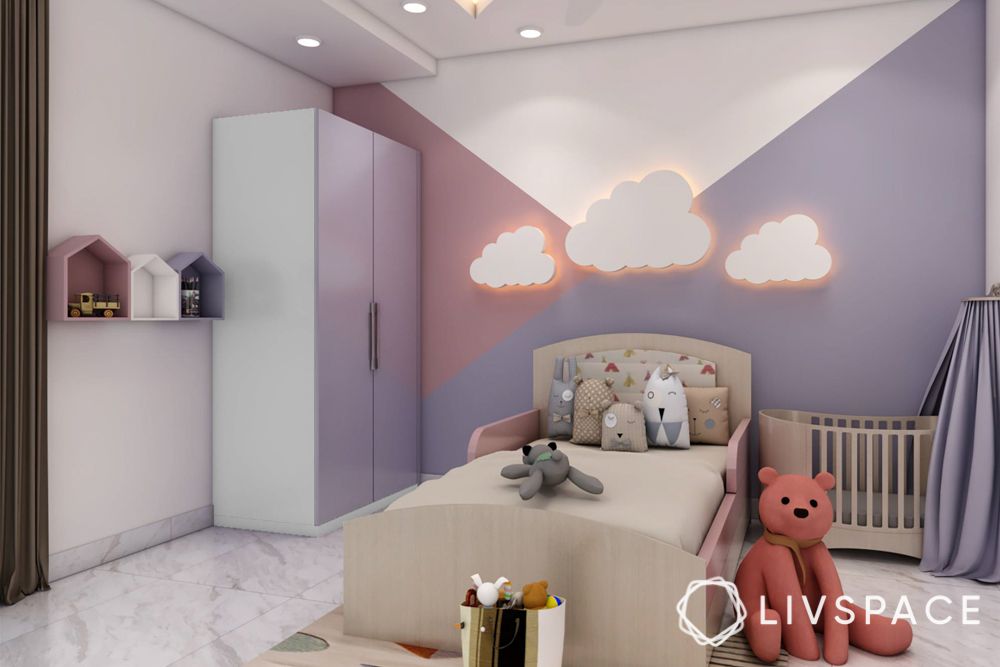 If you are looking for a modern two-colour combination for your kids' wardrobe design, choose lilac and white. Your little ones will surely love these unique colours. You can also use lilac as your wall paint and furnishings to complete the entire look.
#17: A Turquoise Blue Wardrobe Colour for Children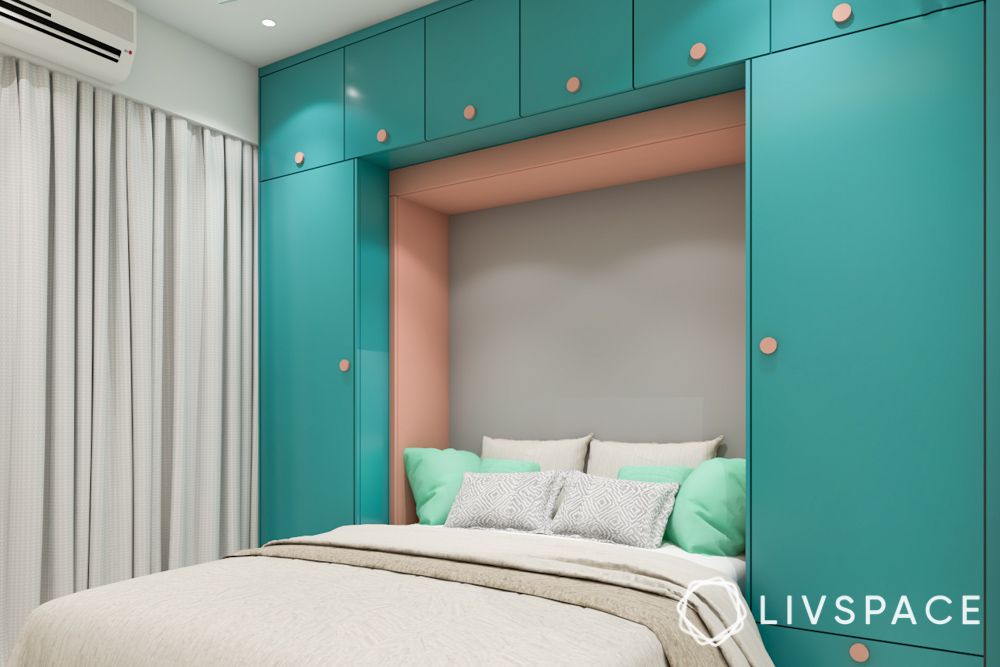 Who doesn't love this stunning shade of blue? Add a pop in your kids' bedroom with a turquoise blue wardrobe. A great hack for small bedrooms is to build a wardrobe around the bed headboard frame.
#18: Yellow and Grey Wardrobe Colour Combinations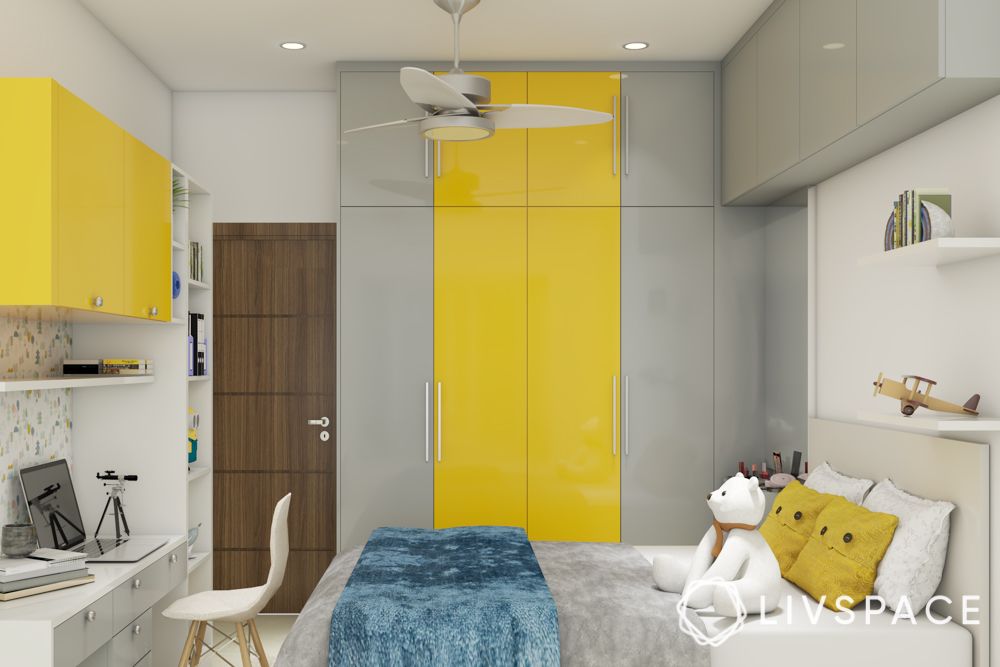 If you are bored with pinks and blues, go for something unique like a yellow and grey wardrobe. Such a colour combination is evergreen and will be liked by older kids as well.
If you found this article helpful, take a look at swing or slide open wardrobe: how to find the best fit for your home?
How Can Livspace Help You?
We hope you found our ideas useful! If you want beautiful interiors for your home, then look no further. Book an online consultation with Livspace today. Have any thoughts or suggestions you'd like to share with us? We're all ears! Drop us a line at editor@livspace.com.
To know how our customers feel about working with us, check out these Livspace reviews for more details!
Check out more wardrobe designs by Livspace:
Disclaimer: All contents of the story are specific to the time of publication. Mentions of costs, budget, materials, finishes, and products from the Livspace catalogue can vary with reference to current rates. Talk to our designer for more details on pricing and availability.