Have you been putting off decluttering and tidying up your wardrobe? Well, it's time to get to it. And we have just the right tips for you to accomplish this Herculean task. If you're a busy person and don't want to spend a lot of time and effort, you've come to the right place. Read on for the best wardrobe organisation tips.
Wardrobe Organisation Hack #1: Invest in Matching Hangers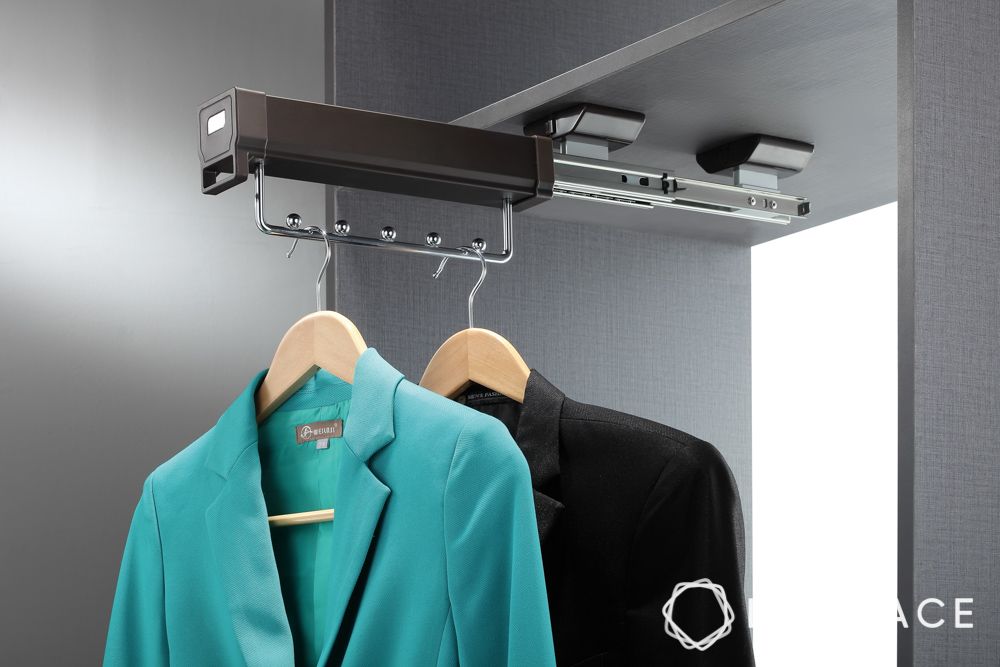 When it comes to wardrobe organisation, hangers are your best friend. However, the next time you go hanger shopping for your wardrobe, do not buy bulky hangers. Invest in some sleek and sturdy hangers that will allow you to hang them close to each other. This wardrobe organisation tip will help you maximise hanging space like a pro!
Wardrobe Organiser Ideas #2: Allocate Hanging Space for Long and Short Items
If you are looking for wardrobe organiser ideas, the first thing that you must remember is to plan your wardrobe space. Keeping long and short clothes together will ultimately create a mess. For proper wardrobe organisation, have separate areas for long and short clothes.
Also Read: 20 Stunning Wooden Wardrobe Design Ideas By Livspace For Your Bedroom
Wardrobe Organisation Tips #3: Add a Clothing Rack to the Corner of Your Room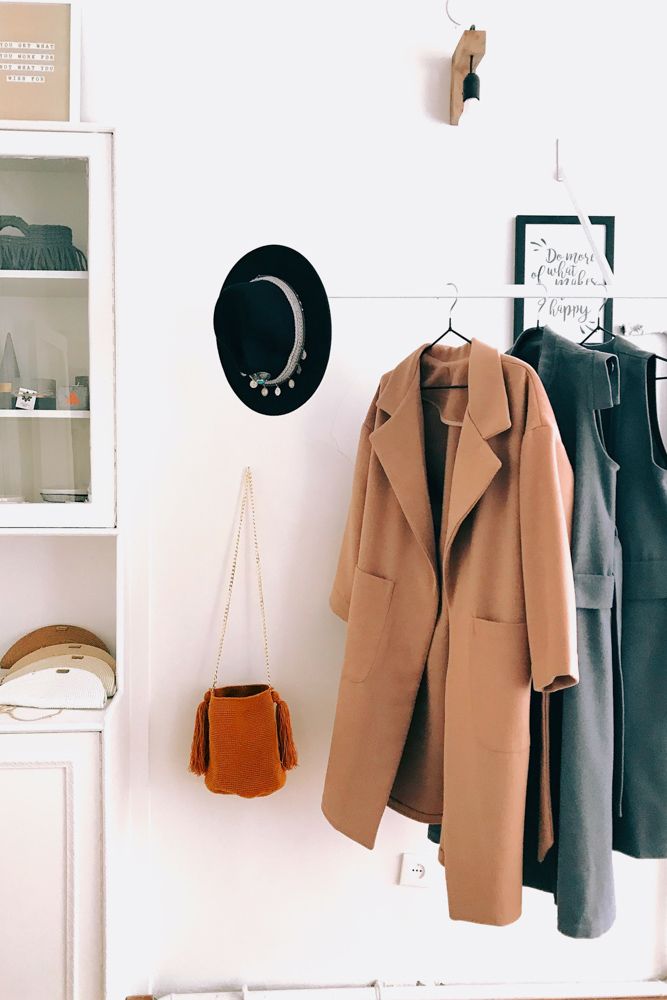 This is for the times when you run out of storage space in your wardrobe. If you are wondering how to organise a wardrobe when you have no space, invest in a clothing rack. A clothing rack can help in wardrobe organisation by allowing you some extra space to hang your clothes. For added convenience, hang your everyday clothes on this rack.
How to Organise Your Wardrobe Tip #4: Keep Seasonal Items Below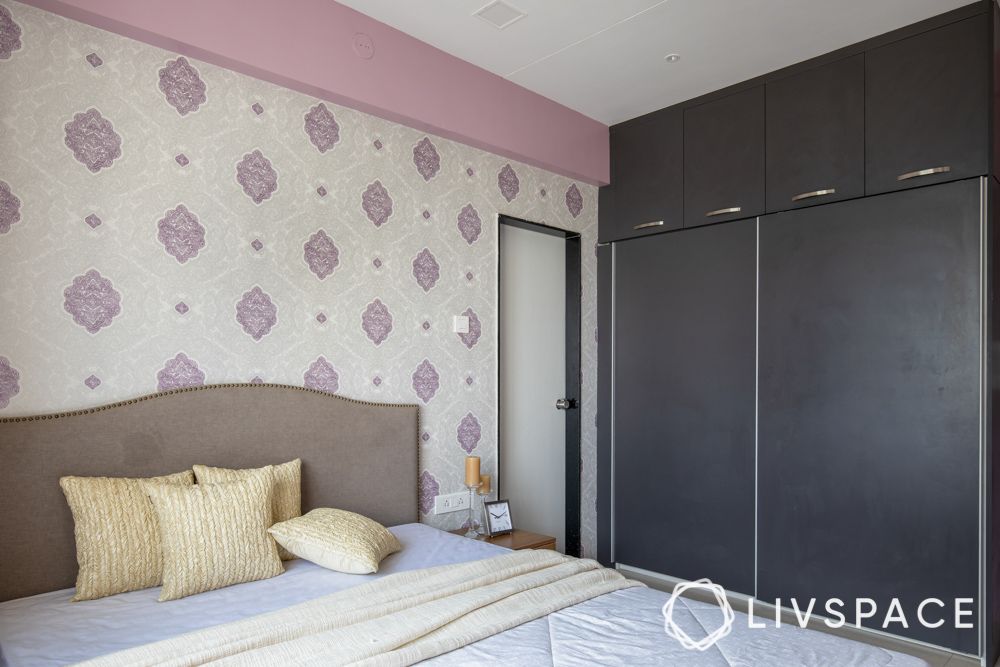 If you are wondering how to organise your wardrobe, the first thing you should do is segregate. Clothes and accessories that you use daily should be at a convenient position that you can reach easily. On the other hand, allocate the lowest and highest parts of your wardrobe for seasonal items like woollens, heavy blankets etc.
Wardrobe Organisation Hack #5: Add a Dresser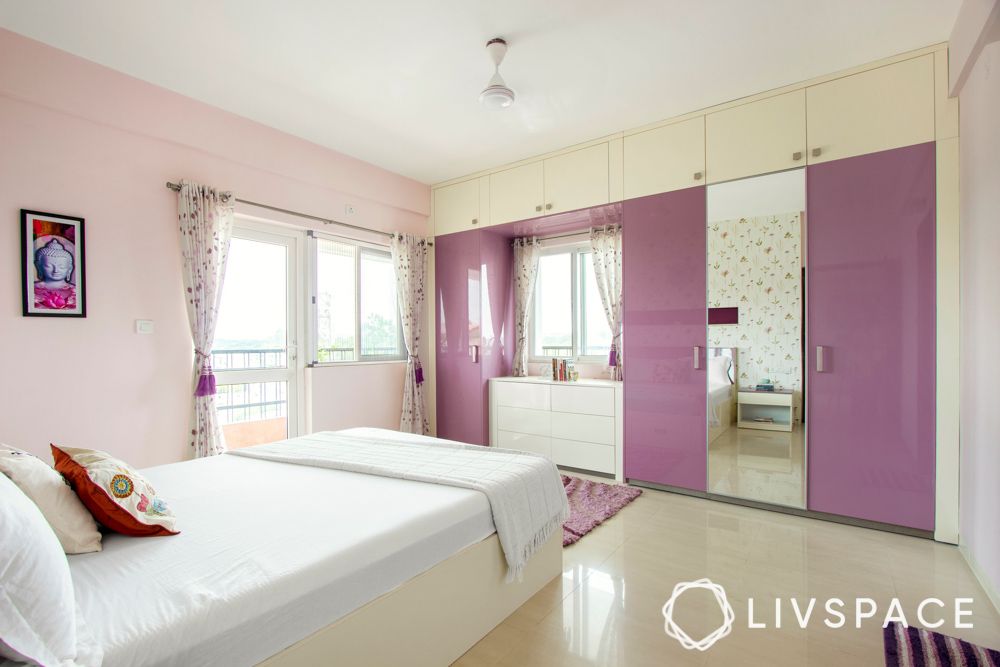 A large and spacious wardrobe can take up a lot of space in your bedroom. This leaves very little space for other essential furniture like a dressing unit. A great wardrobe organisation hack is to invest in a multifunctional unit like a wardrobe with dressing unit. This will not only save space, but also make it more convenient for you to get ready everyday.
Wardrobe Organiser Ideas #6: Colour Coordinate Your Wardrobe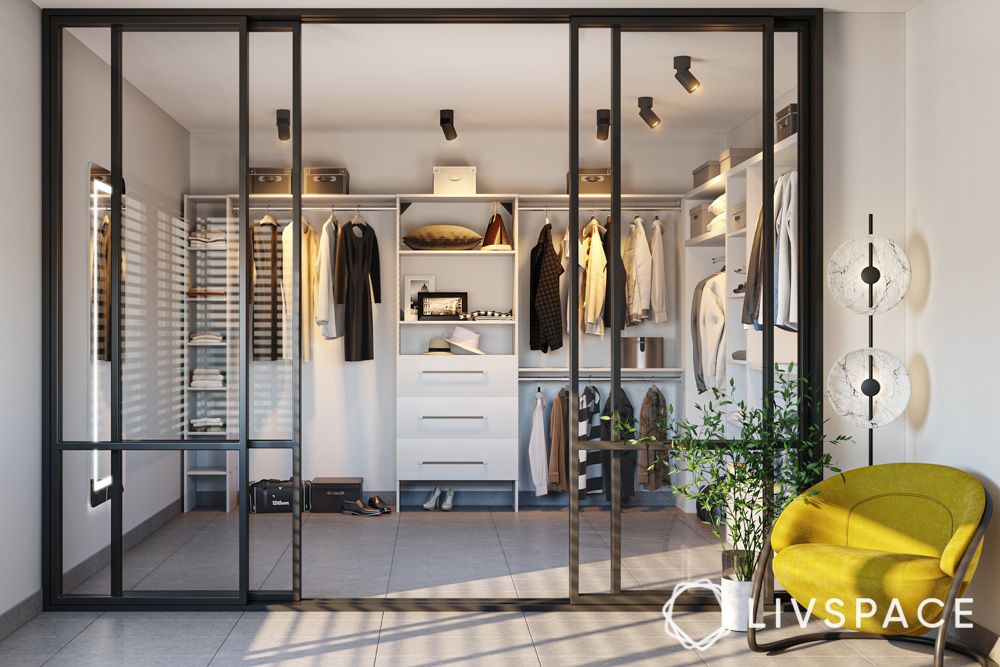 If you are confused about how to arrange wardrobe, begin with colour coordinating your clothes. This is the easiest wardrobe organisation trick that will help you get a neat and clean closet. You can also segregate and organise based on occasion, for instance, formal vs informal clothes.
Wardrobe Organisation Tips #7: Ensure You Are Folding Correctly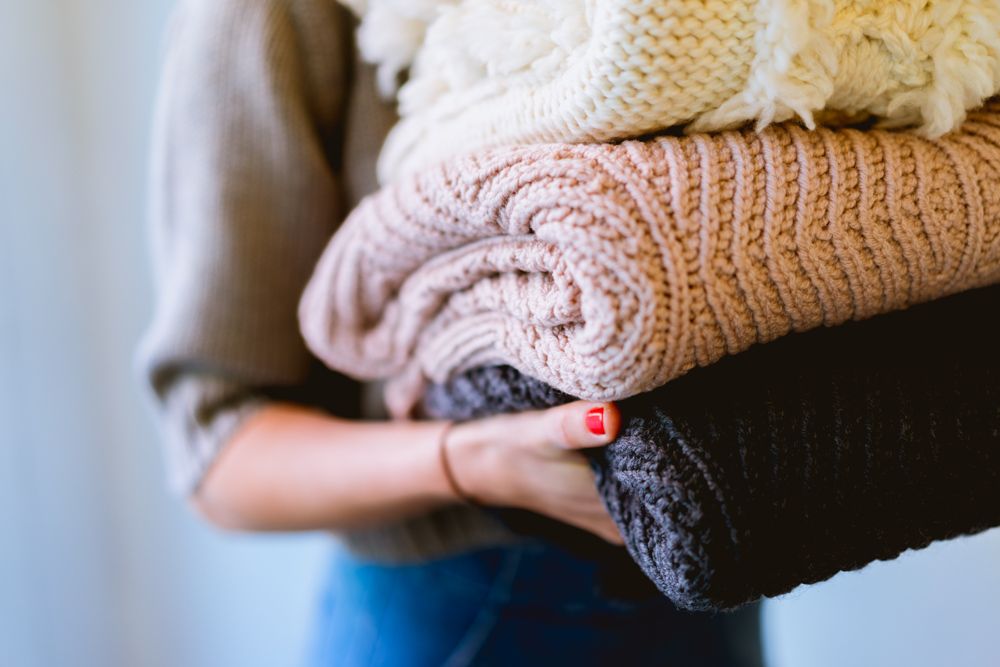 When it comes to wardrobe organiser ideas, folding it right always works. There are various ways in which you can fold your clothes to create more space. One of these is the roll up technique. Many people tend to feel that rolling up clothes will take up more space than stacking them up. Wrong! Rolling up clothes is a great wardrobe organisation idea when you want to save up space in your wardrobe. Try rolling your t-shirts and stacking them in the drawers. You will wind up with so much space in your wardrobe that it will leave you surprised.
How to Organise Wardrobe Tip #8: Use a Closet Organiser With Shelves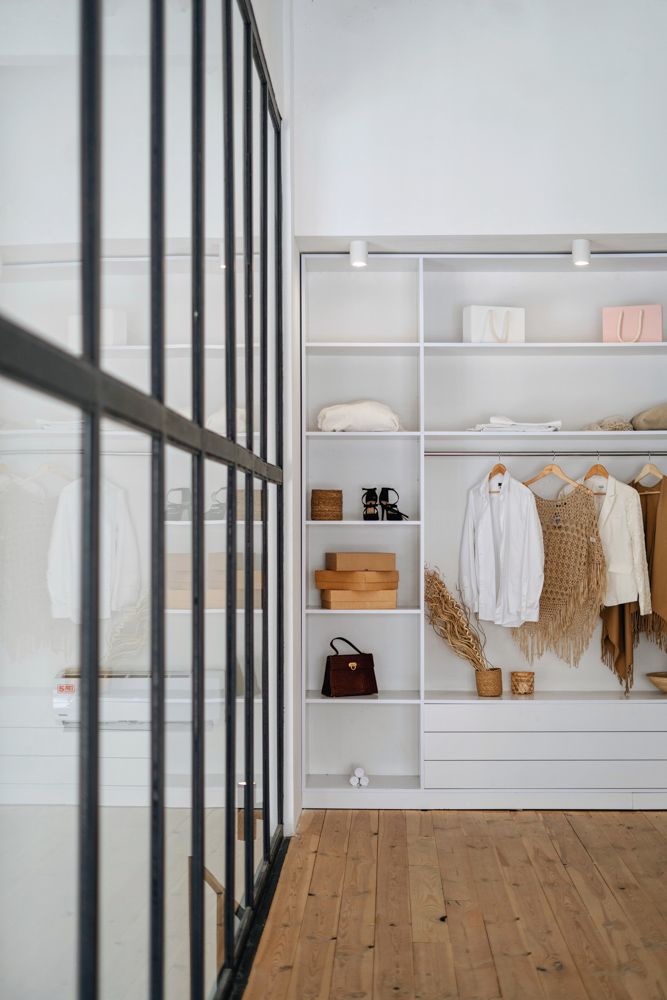 One of the most helpful wardrobe organisation tips is to use organisers in your closet. It can be very annoying to have small things like socks floating around in your large wardrobe space. Organisers with shelves can ensure that things stay where they are supposed to.
Wardrobe Organisation Hack #9: Use Acrylic File Dividers
If you want to know how to organise a wardrobe, start by first creating extra space in your closet. Apart from wardrobe organisers, you can also use acrylic file dividers. This helps in wardrobe organisation by creating segregated spaces for all your clothing items.
Wardrobe Organiser Ideas #10: Maximise Every Inch of Available Space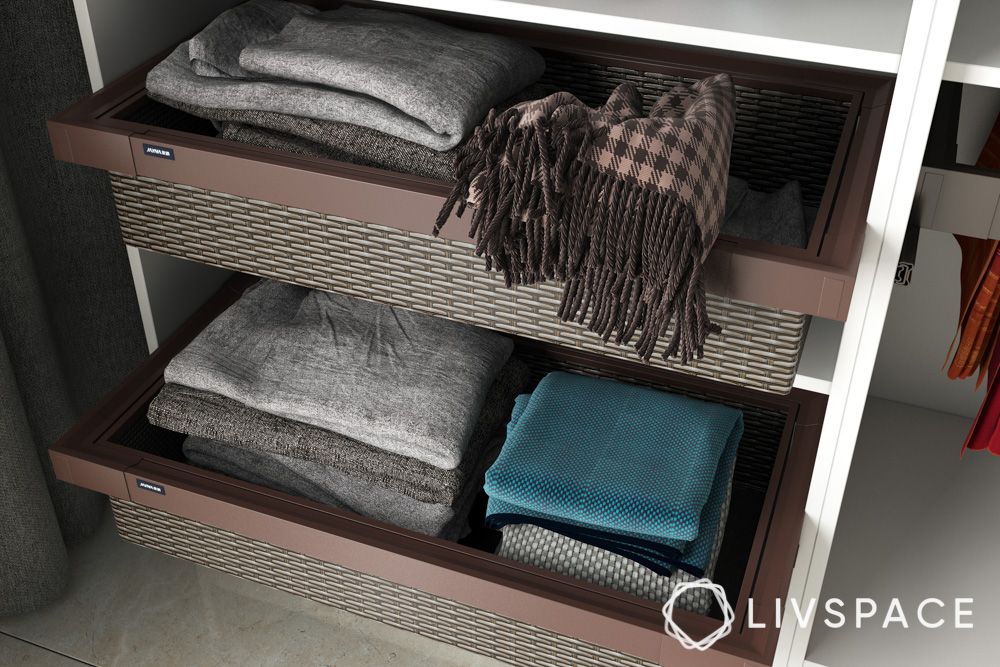 Whether you have a big wardrobe or a compact one, it always pays to have some extra space. If you want to know how to organise your wardrobe to maximise the space available, we're here to help! You can use wicker baskets to store your daily essentials in them, and you won't have to hunt for those socks every morning. Your innerwear can also be neatly folded and stored. Wicker baskets look neat and match almost all kinds of wardrobes.
Wardrobe Organisation Tips #11: Use Over-the-Door Organisers
If you want to make wardrobe organisation simple, use organisers, shelves and drawers. And over-the-door organisers are great wardrobe organiser ideas as they can create extra space for storage, especially for small cupboards. Use your over-the-door organiser to hang up your daily use clothes for convenience.
How to Organise Wardrobe Tip #12: Add an Island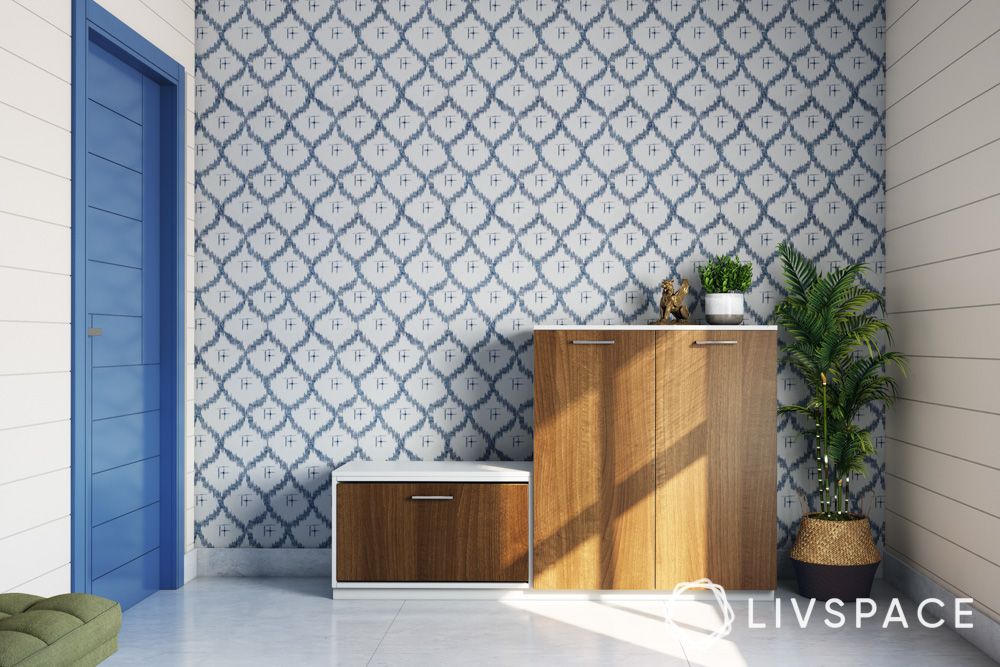 Who said islands are only for kitchens? If you have enough space in your room, you can add an island close to your wardrobe, for extra space. You can also create an island using a smaller storage unit beside your wardrobe, which will give you extra surface as well as storage space.
Wardrobe Organisation Tips #13: Store Bags Upright Using Dividers
Bags often take up a lot of space in your wardrobe. To have a more organised space, use dividers in between your bags to segregate them. This will also help you keep your bags upright, thereby reducing the amount of space they take up.
Wardrobe Organisation Hack #14: Make Use of Wasted Space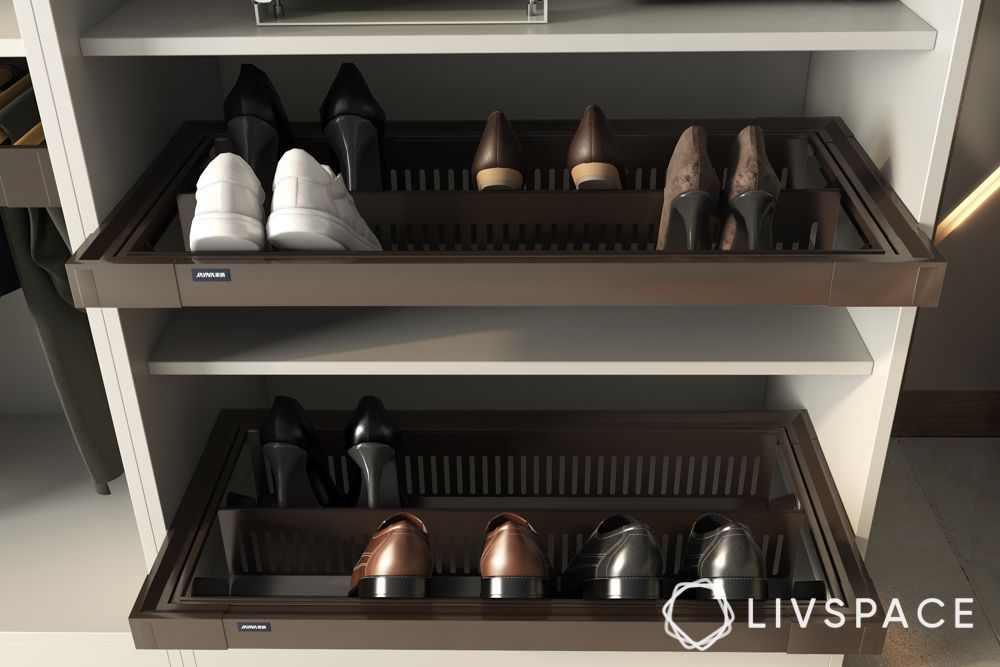 While deciding on how to organise wardrobe, we often don't utilise all the space available. You may not be aware, but dead corner spaces can also be used for storage. Corner units inserted into such dead spaces provide an extra area where you can store your clothing.
Also Read: 4 Steps To Help You Choose The Perfect Bedroom Wardrobe
Wardrobe Organiser Ideas #15: Invest in a Coat Rack
For clean and efficient wardrobe organisation, get yourself a coat rack. You can install one on your wardrobe door itself. Apart from coats, you can also use it to hang up your bags and accessories.
Let's be honest, wardrobe organisation is a huge task. These hacks are easy, doable and not time-consuming. Try out some of these tips and let us know how it went!
How Can Livspace Help You?
We hope you found our ideas useful! If you want your home to be just as beautiful, then look no further. Book an online consultation with Livspace today.
Wondering how our customers feel about working with Livspace? You can check out the Livspace wardrobe reviews here!