Looking for the perfect storage solution for your small bedroom? We understand your plight. Getting more storage may be tough in a small space but not impossible. With some creative thinking and professional help, you'll be able to get the wardrobe of your dreams. Here are 20 small bedroom cupboard designs that are practical and affordable too!
While all of these have been designed keeping in mind a compact Indian bedroom, you must pick the one that suits your style.
#1: Black Sliding Wardrobe With Mirror Panel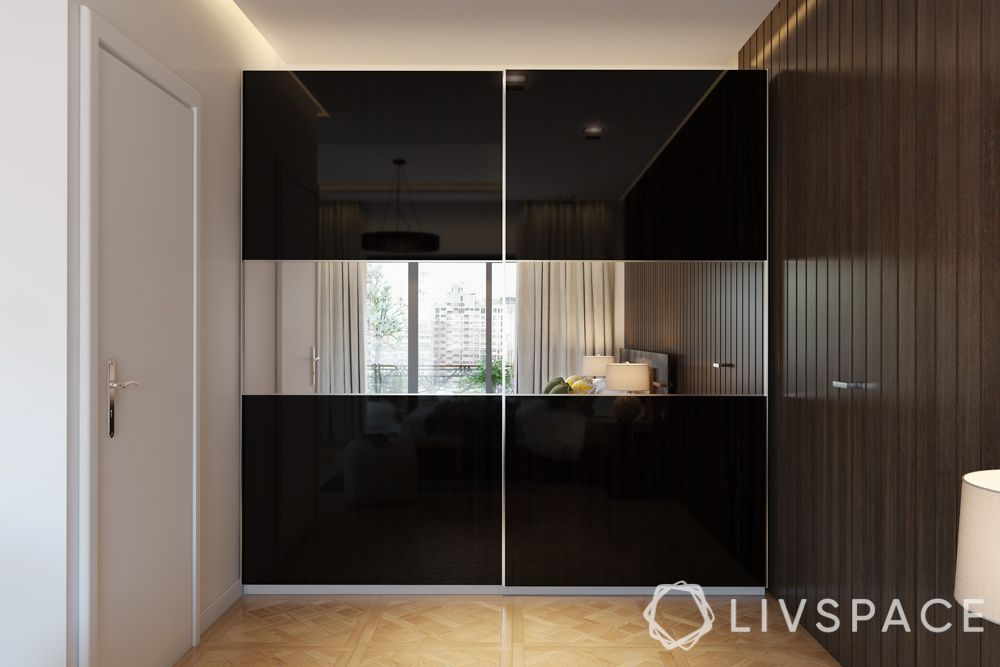 Many small homes use mirrors to create an optical illusion of a bigger space. This small bedroom cupboard design works like a charm in making the room look bigger and brighter.
#2: Lofts & Storage Around the Door
Making use of every corner and crevice is important to make space for storage in your small bedroom. This small bedroom wardrobe design uses the space around the door to create more storage units.
#3: Mirror Panels on Wardrobe With Glossy Finish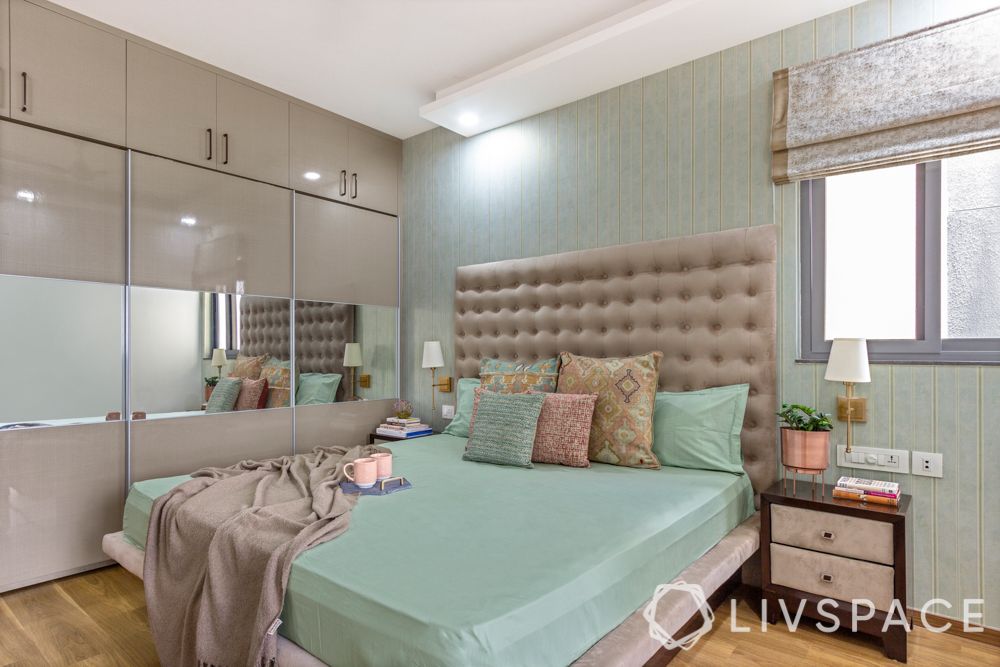 Tackling another problem in a small bedroom, this modern small bedroom cupboard design uses mirrors to reflect light. This not just makes the room bigger but also brightens it up considerably. The beige colour is also a great way for a light feel. Also, don't miss the glossy finish on the wardrobe.
Also Read: 25+ Wardrobes From Livspace we Love (Cost Included)
#4: Mirrored Wardrobe That Double Up as a Dressing Unit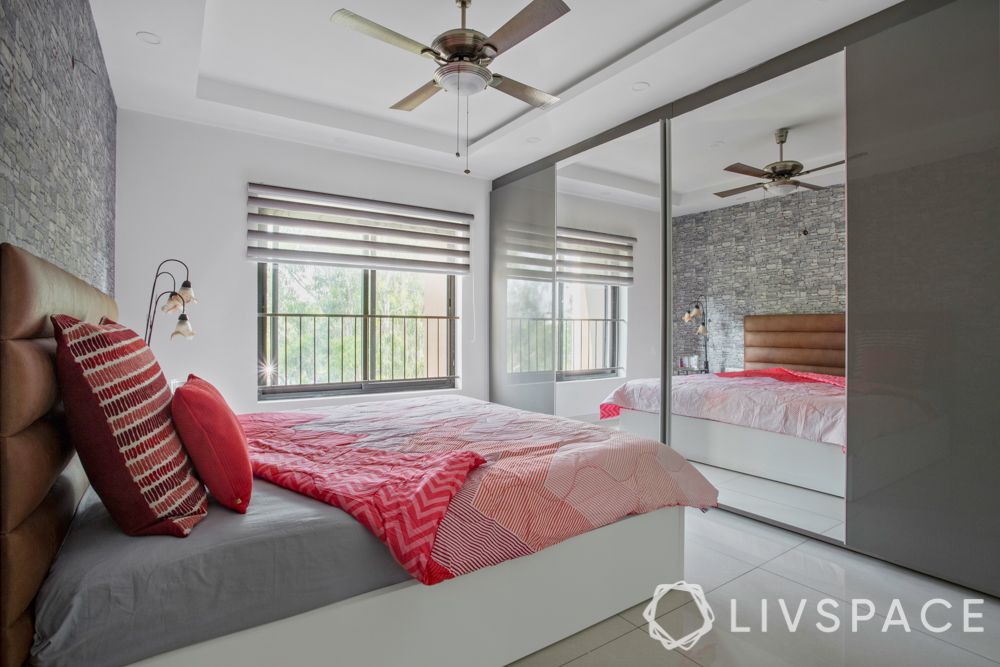 Multi-functional furniture makes things easier in small homes. They save space while efficiently using what is available. Thus, this mirrored wardrobe acts as a full-length mirror while dressing up. You can always store cosmetics, makeup and accessories in the wardrobe.
#5: Black Wardrobe With Sliding Doors and Lofts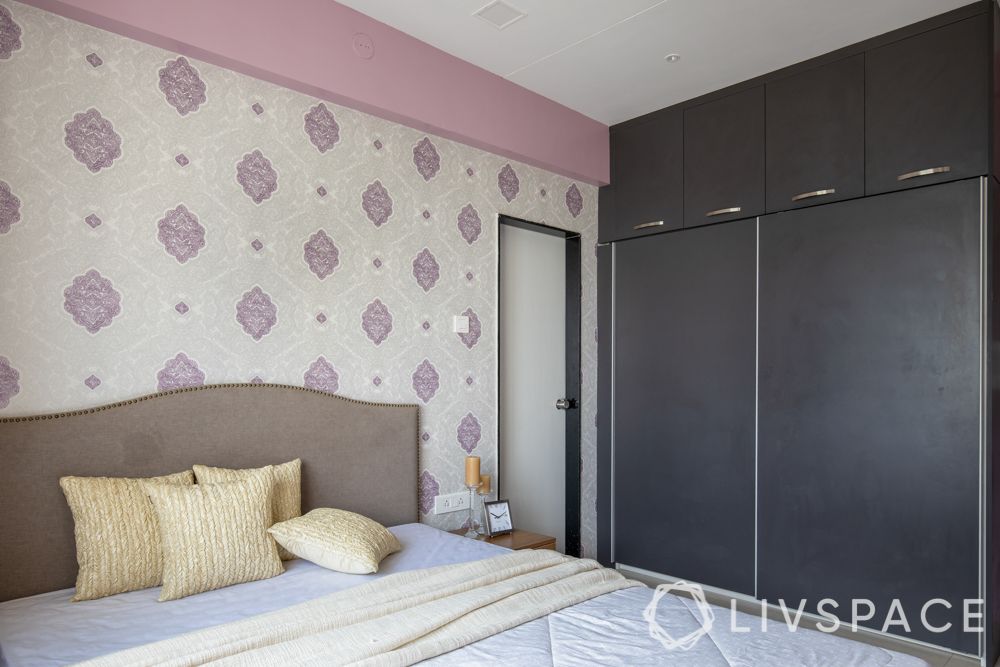 Sliding door small bedroom cupboard designs are considered optimal for small rooms. Swing door wardrobes require space in front of the wardrobe to open the doors. With a sliding door mechanism, we can easily eliminate this function.
#6: White Wardrobes With Mirrors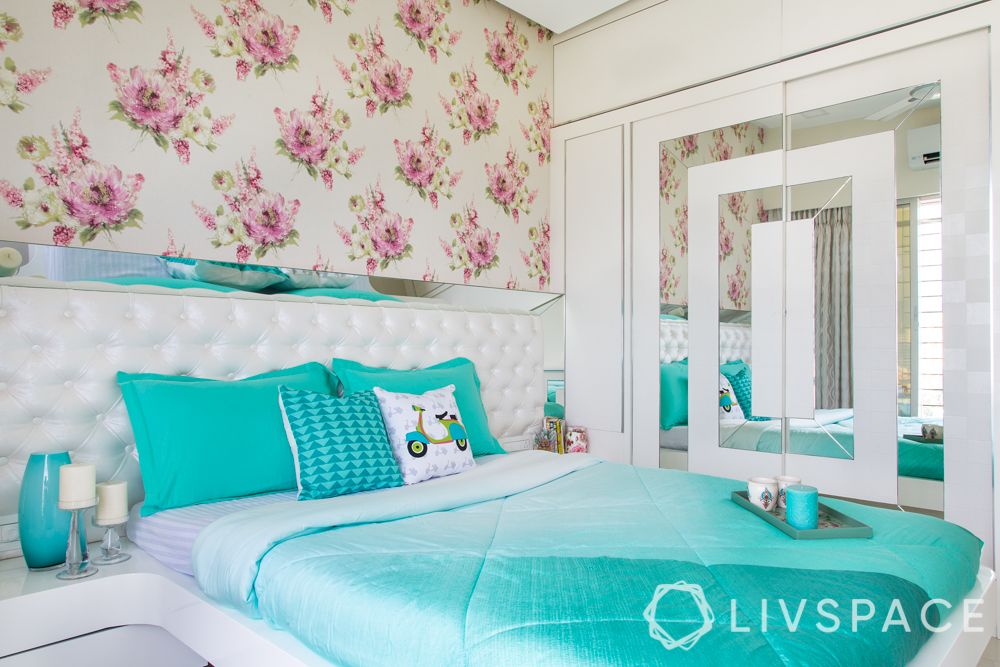 While choosing colours for your small bedroom, white always ranks high as it opens up space. With white, you don't have to worry about your room looking smaller or stuffy. A white wardrobe with mirrors works wonders for small spaces.
#7: Two-door Small Bedroom Cupboard Design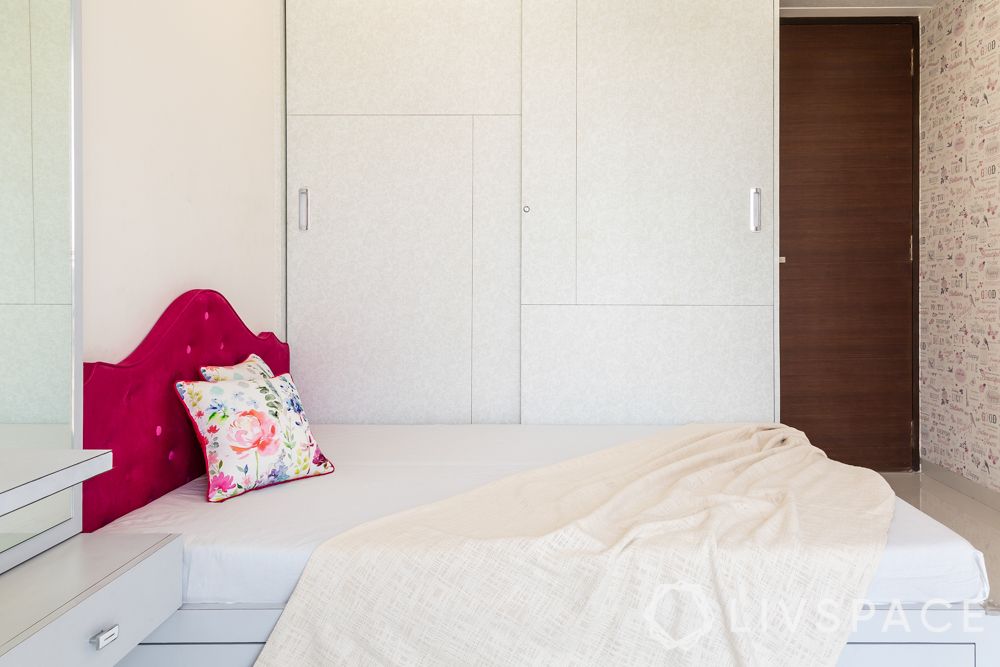 Designers usually suggest two to three-door wardrobes for smaller spaces as they don't require a lot of space to install. If you're using more doors, then pick out light colours, glossy finishes or a sliding door mechanism for a better fit.
#8: Frosted Glass Small Bedroom Cupboard Design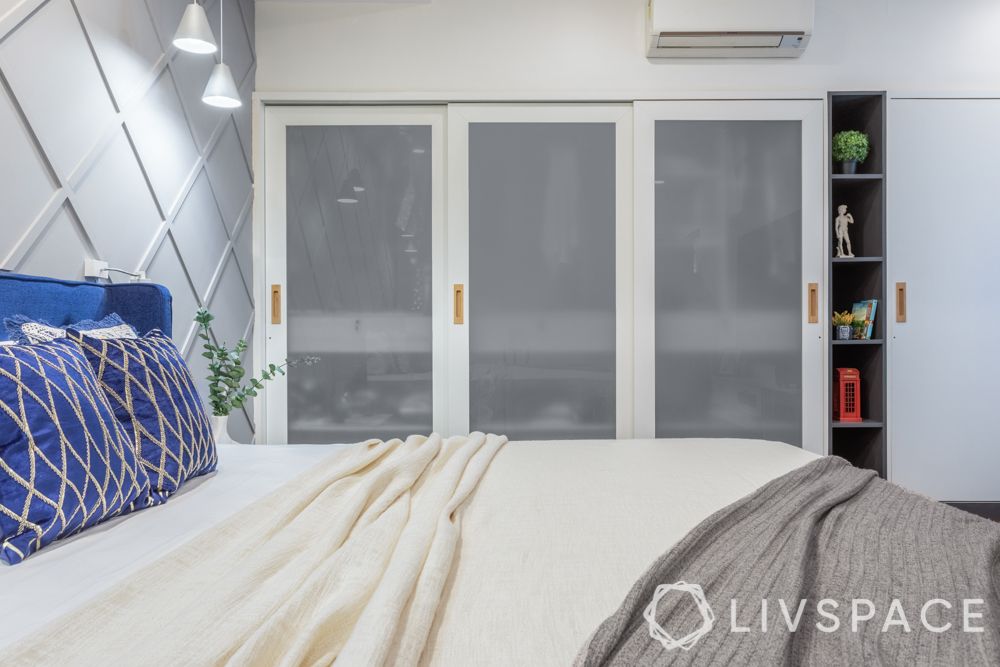 Even when you can't go for a bigger wardrobe design, choose internal organisation units that make it easy to store all your clothes and accessories well. You can have hangers, drawers with sorting units, belt holders and more that make arranging things fast. And, the frosted glass doors eat up less space in the bedroom too!
ALSO READ: 8 Stunning Wardrobe Design With Dressing Tables
#9: White Wardrobe With Multiple Divisions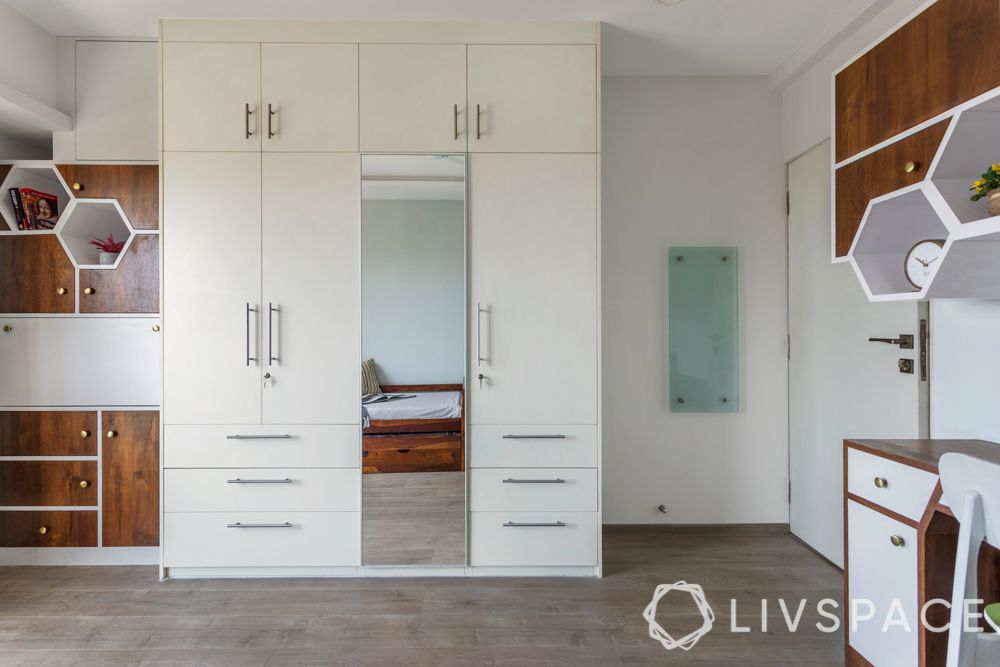 A small bedroom cupboard design for a couple needs to have his and her section for easy storage. This helps you keep things organized and find your things easily. This white wardrobe is divided into different sections including lofts, drawers, dressing mirrors and more.
#10: Mint Wardrobe Works With Attached Vanity Unit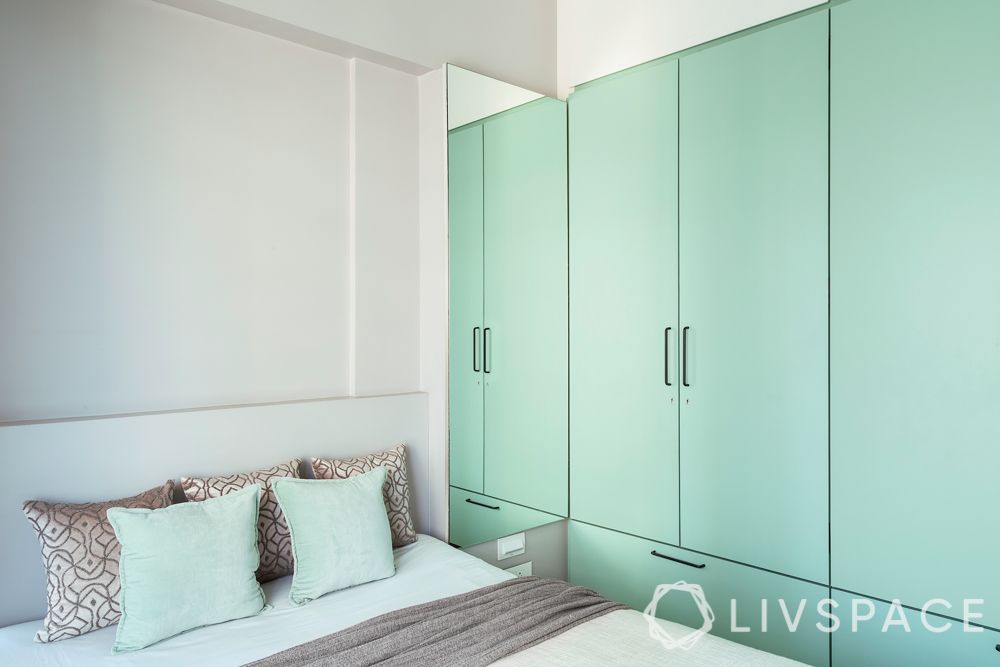 Light colours and pastels work well in small bedrooms. If you're choosing a bold colour, then opt for a glossy finish or combine it with mirrors. This makes the room airy, bright and opens up the space.
#11: Wall-to-wall Small Bedroom Cupboard Design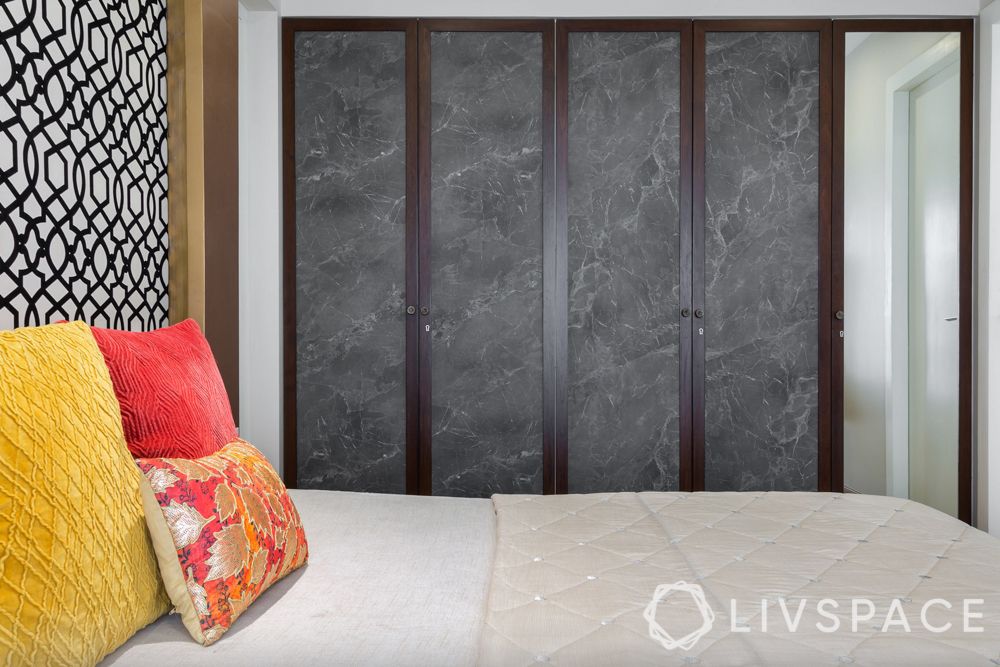 In a small bedroom, you cannot leave any space unused. The best way to make that happen is to use a wall-to-wall wardrobe design that fits in all your clothes, accessories and other things.
#12: White Sliding Wardrobe With Black Lacquered Glass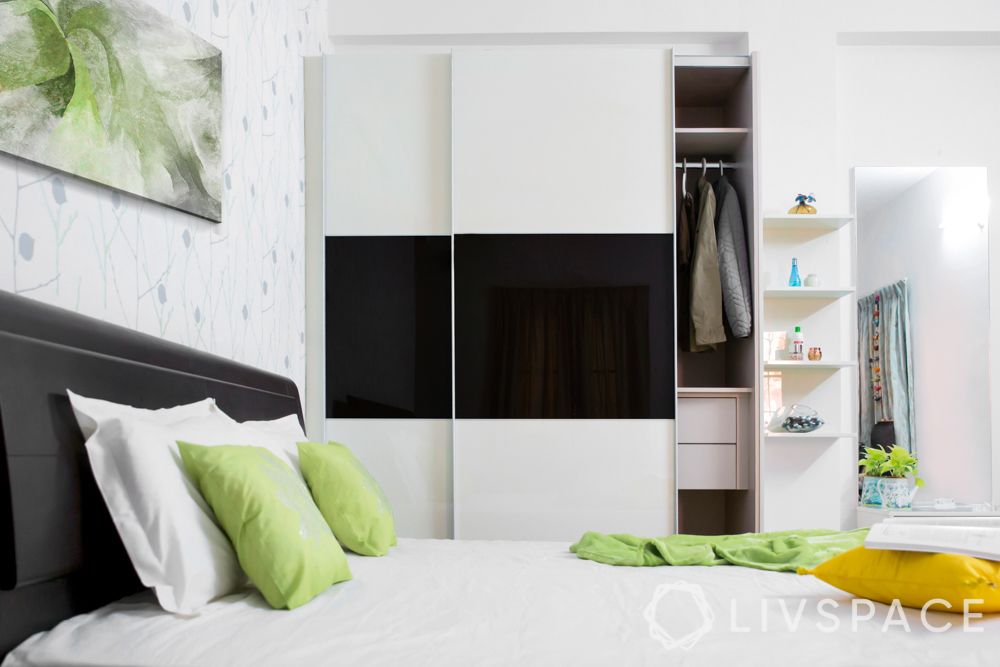 We also cannot forget about our prized possessions and personal decor. Whether it is a picture or a drawing, combining display units with your wardrobe helps you decorate your space better without having to bring in more pieces of furniture.
#13: Wardrobe Set Into Wall Niche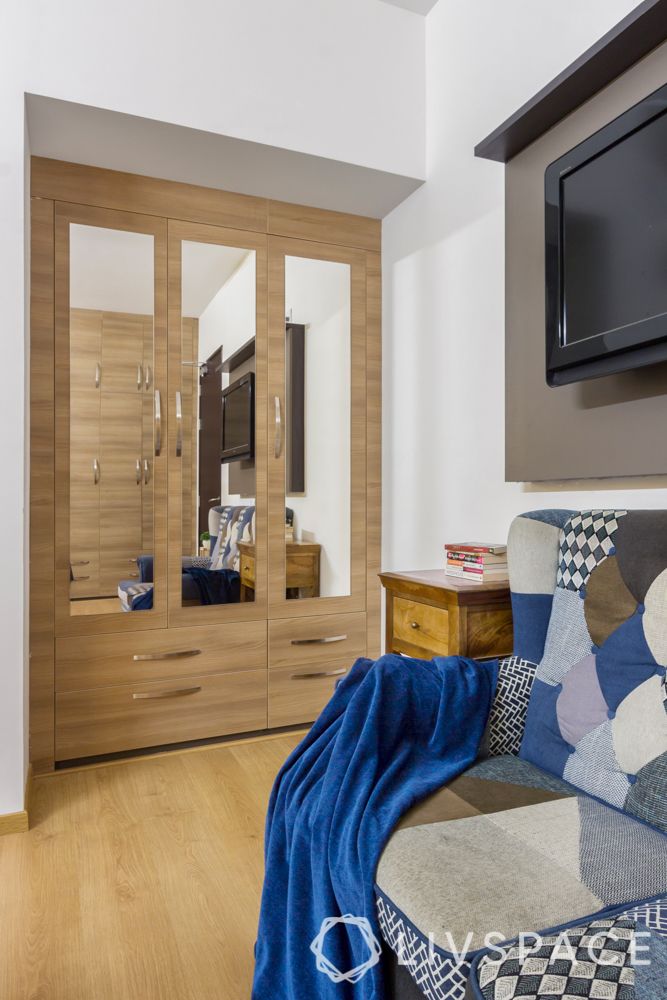 For a traditional look, use wood-like finishes for your wardrobe. Light-wooden colours paired with mirrors do not look heavy in your small bedroom. Instead, they accentuate the space. But, the coolest part about this wardrobe is that it has been set into a space within the wall!
#14: An All-White Wardrobe with a Pooja Unit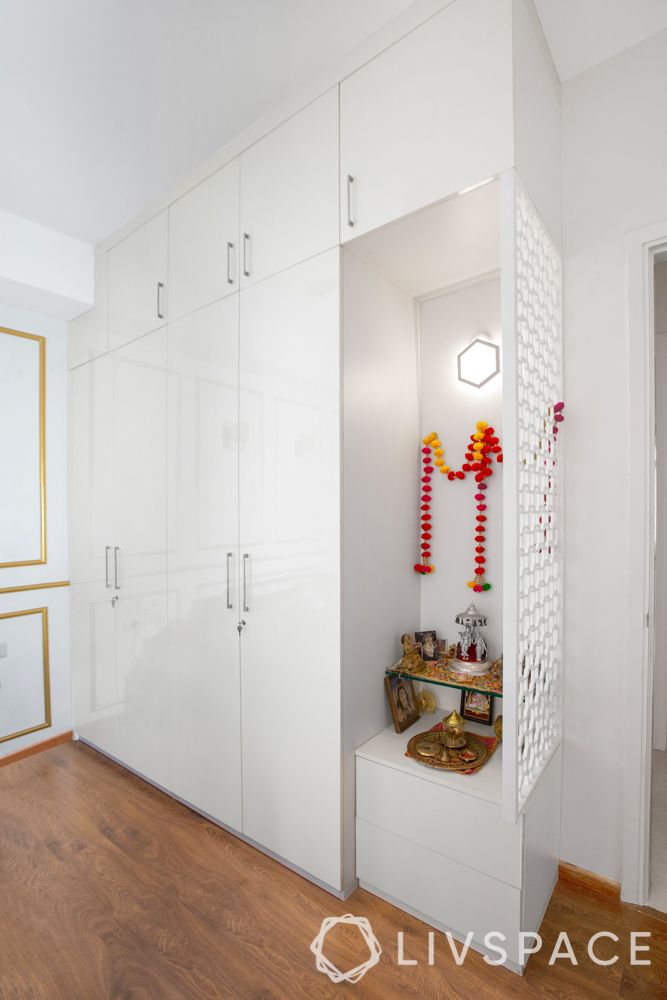 This design combines a pooja room into the wardrobe design. An all-white wardrobe works like a charm in the small bedroom but also is multi-functional with a built-in pooja unit.
#15: Wardrobe with Built-in Study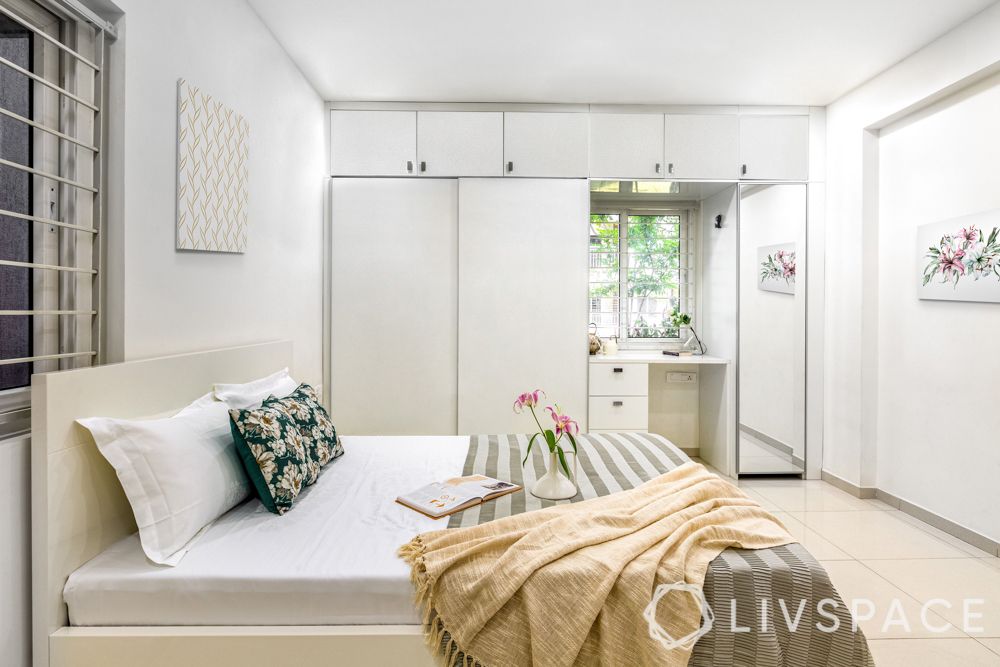 Another practical design that easily fits in a small study unit inside a wardrobe. The wardrobe is a combination of sliding doors, swing doors and lofts making it efficient for the small space with lots of storage options.
#16: Sliding Wardrobe with Lofts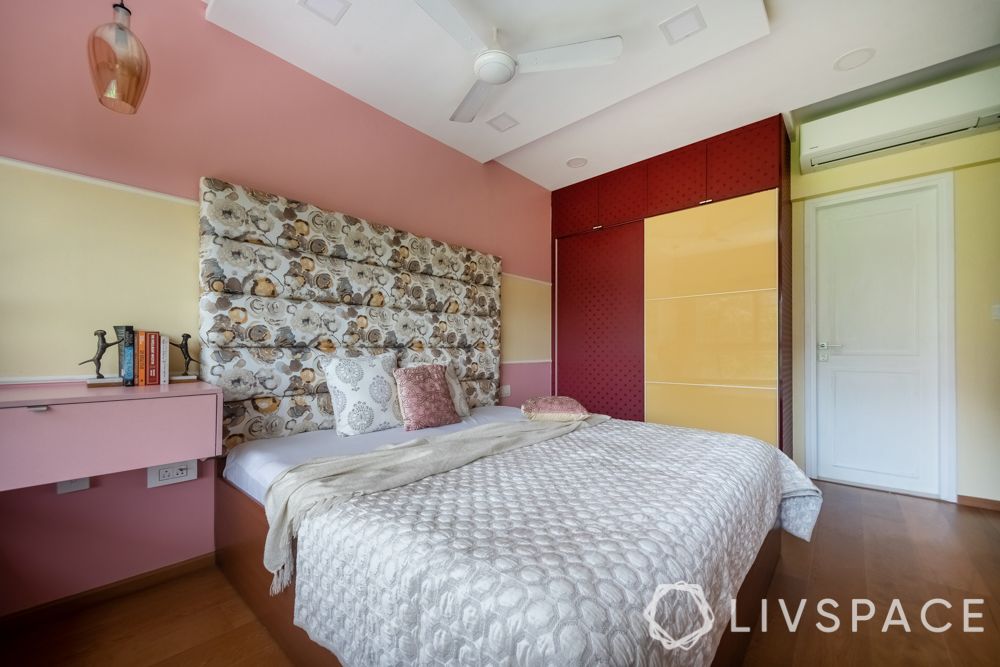 When you're running out of space, lofts are a great way to stow away luggage, rarely used items and more. In this design, we also love how the designer chose to pair two bold colours to balance the feel while making it look quirky in the small room.
#17: White PU-finish Wardrobe With Plenty of Drawers
This all-white small bedroom cupboard design obviously works well in a room with space constraints. And, don't we love the texture on it achieved using PU finish. However, the small dressing corner with handy drawers is what makes the space appear trendy.
#18: Wardrobes Flanking the Bed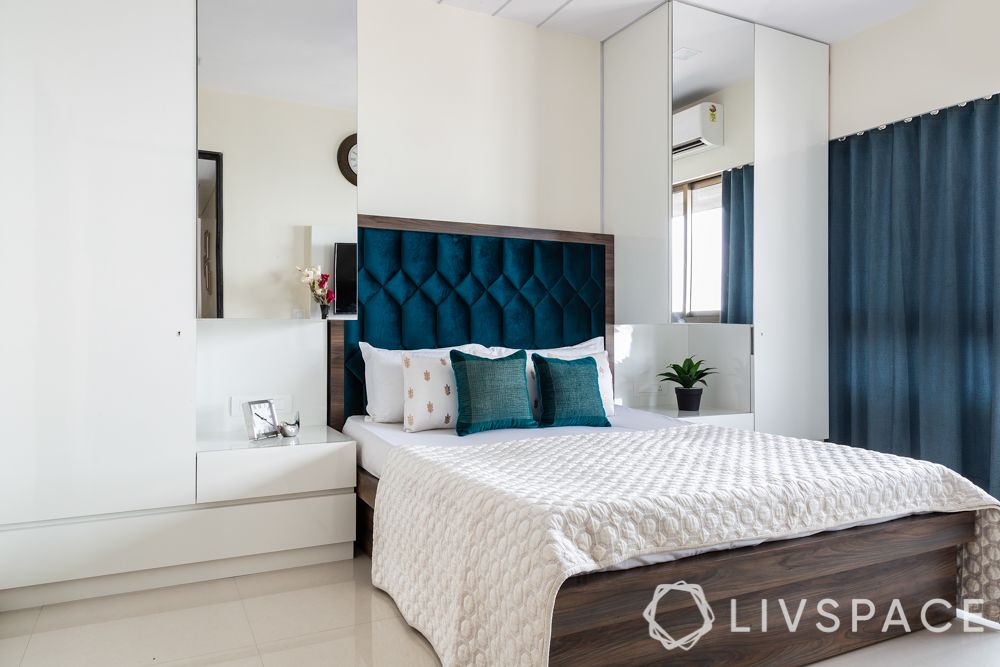 Wardrobes flanking the bed on both sides is a great way to save space. Also, movement around the wardrobe is easier as there is enough space ahead of the wardrobe.
#19: Wardrobe With Pull-out Features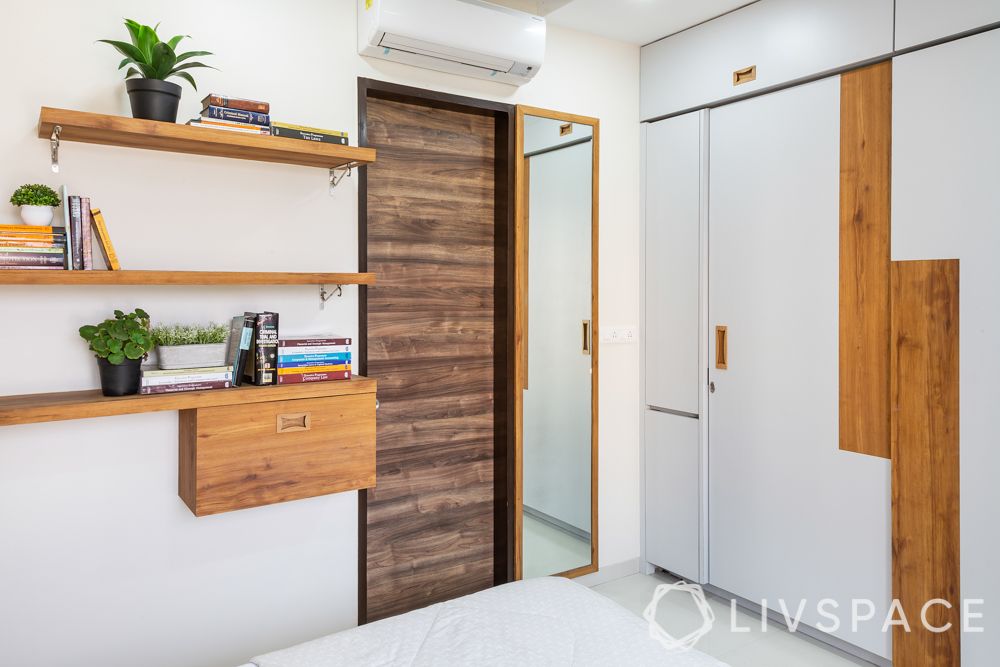 White and wood is a classic combination in furniture and wardrobes. This combination works beautifully in this small bedroom cupboard designs. But, it's the pull-out features, namely an ironing board and dresser mirror, that make it functionally sound.
#20: See-through Glass Doors for Corner Wardrobe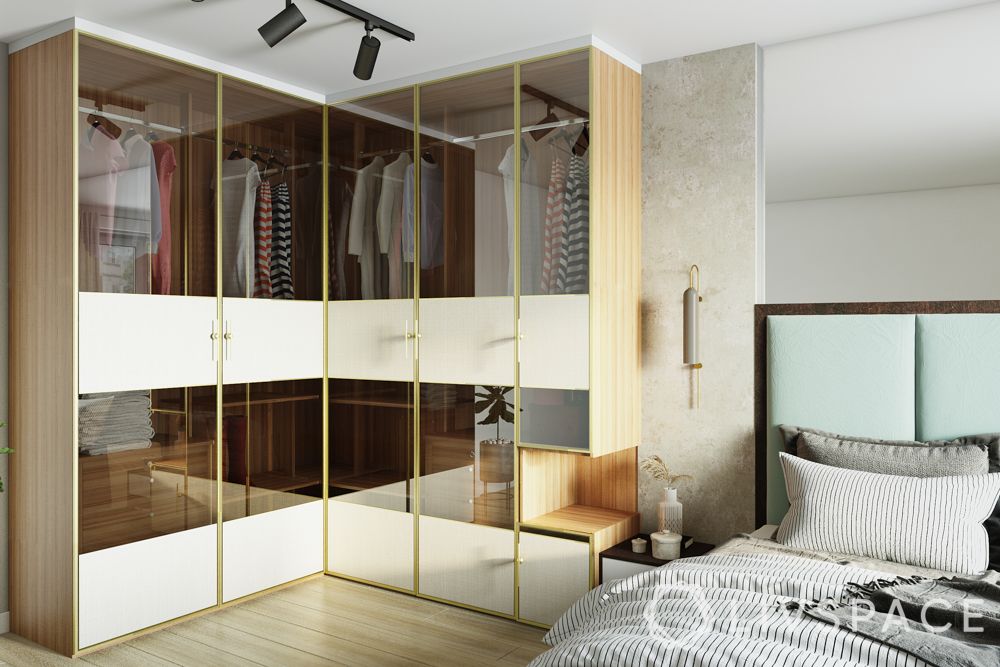 Another prevalent trend is to use see-through glass as wardrobe doors. This small bedroom cupboard design helps you look inside the wardrobe with ease as well.
More wardrobe design inspiration here:
There are many ways you can optimize small bedroom cupboard designs. Here are more hacks to use while designing your small wardrobe.
How Can Livspace Help You?
We hope you found our ideas useful! If you want your home to be just as beautiful, then look no further. Book an online consultation with Livspace today. Delivering safe home interiors has been our No. 1 priority. Click here to find out how interiors are being delivered following all safety protocols.
Write to us at editor@livspace.com with your suggestions and queries.