A sliding cupboard design is not just contemporary and cool to look at, it serves the purpose of being space-efficient. Most urban homes don't have the luxury of space to accommodate swing-door or hinged wardrobes (for designs, go here). If you're looking for space-saving storage solutions, sliding wardrobe designs should be on your list.
Also, modern sliding wardrobe designs come with an array of shutter options for you to choose from — membrane, laminate, PU and acrylic, mirrored, plain, frosted and lacquered glass. Take a look at some of our sliding almirah designs for bedroom interiors and pick your favourite!
White Sliding Wardrobe Designs
Since white sliding wardrobe designs are more common than any other colour or texture-finish designs, here are our best Scandinavian wardrobes for you.
All-White Modern Sliding Wardrobe Designs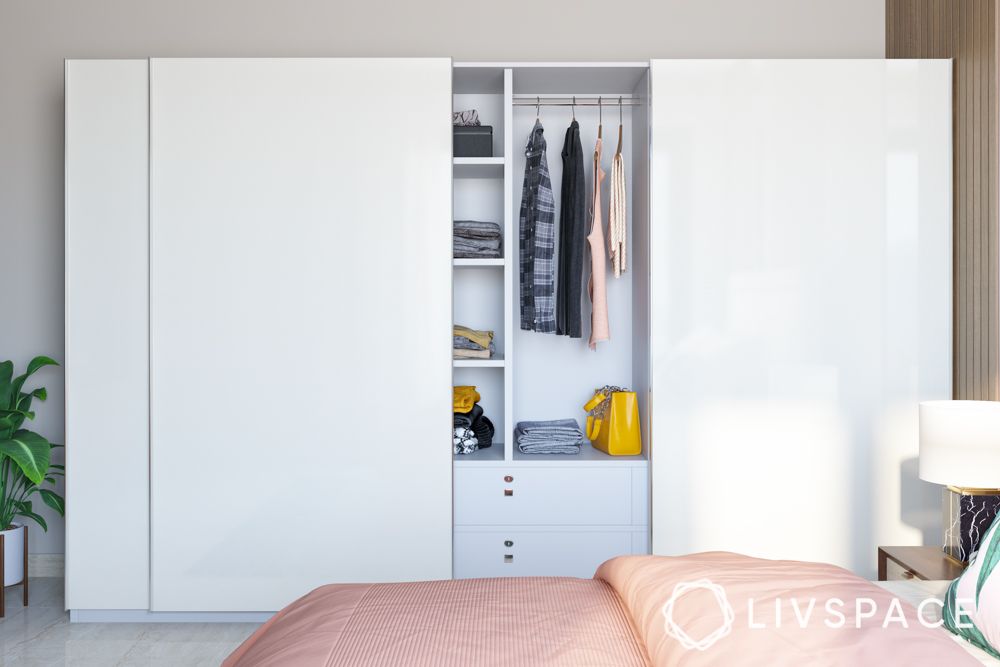 This sliding almirah design for bedrooms is simple but when planned and accessorised well, this sliding wardrobe design inside your bedroom can help transform it into a super-efficient zone. This one's a design for all ages!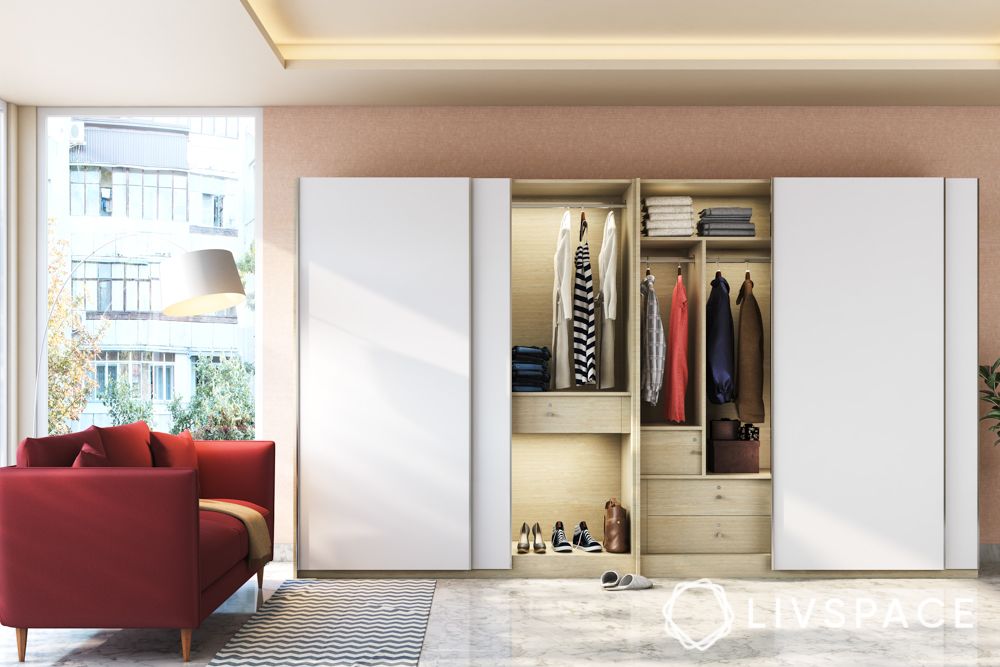 This white matte-finish Scandinavian wardrobe is the perfect addition to your guest room or compact bedroom. The contrasting wooden laminate used on the inside surface is a pleasant and impressive surprise for its users. Bid goodbye to storage woes with this sleek installation.
Customised White Sliding Cupboard Designs
There are many clever variations for the outer materials for your sliding door wardrobe design that can make it unique. Check out these out-of-the-box ideas.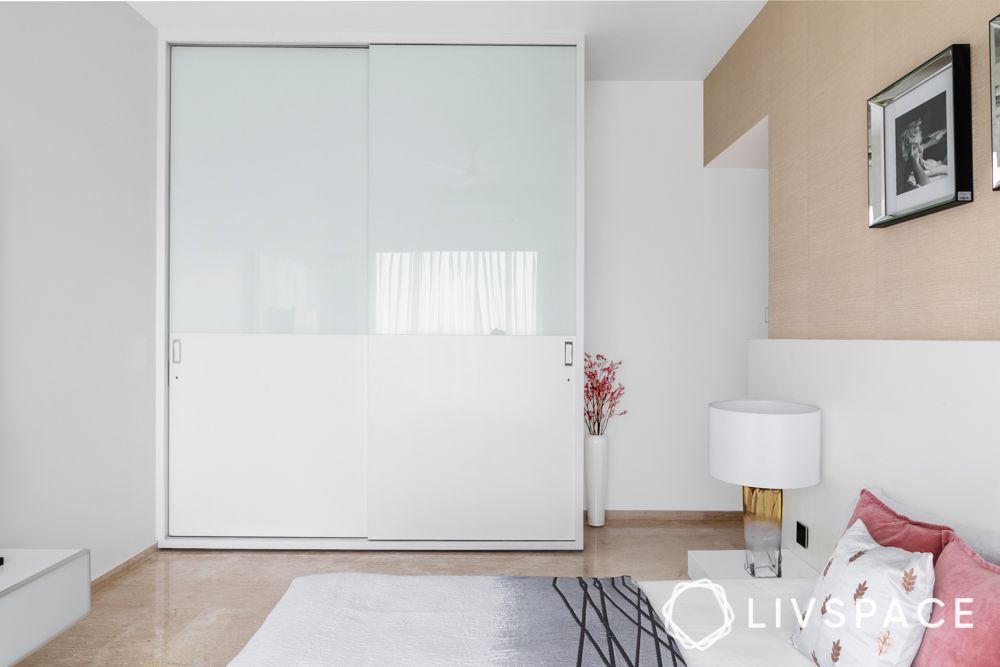 This half-and-half sliding door wardrobe design is made of white laminated ply and white lacquered glass. It uses a pleasant contrast of texture and finish to add interest in its design. There is a loft within this floor-to-ceiling sliding cupboard design to ensure optimum storage.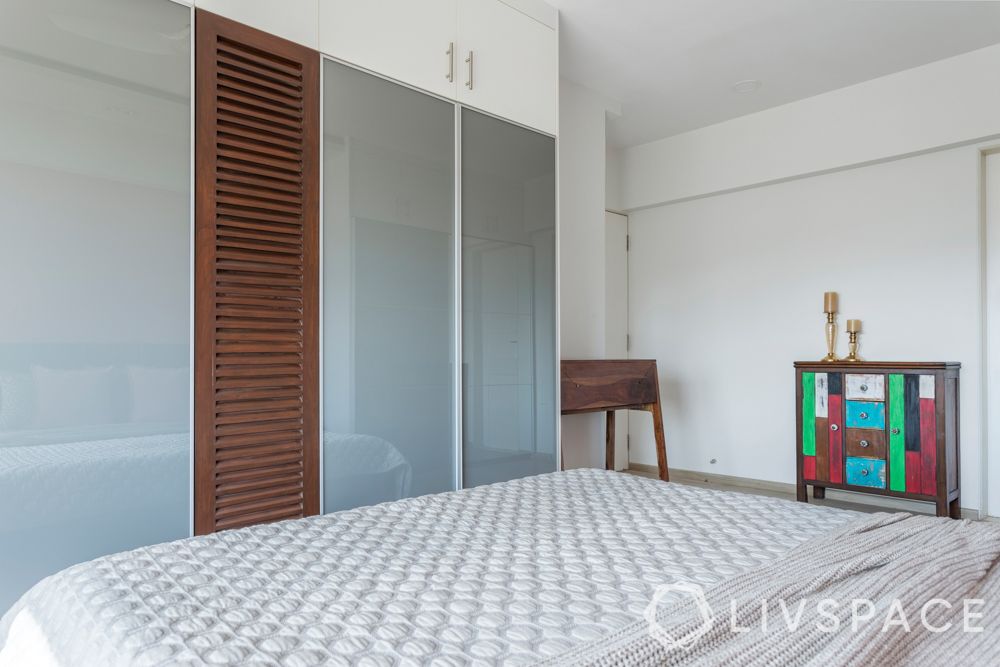 For compact bedrooms, it is best that you get a sliding wardrobe design with a loft to make room for more storage. For example, this white-lacquered glass sliding almirah design for bedroom interiors is relatively small and has a white laminate-finish loft mounted on its top.
Wooden Sliding Door Wardrobe Designs
Wood is the favourite material for us Indians when it comes to interiors. Here's how you can choose the right kind of wood for your sliding cupboard design to complement your bedroom.
Light Wood Sliding Almirah Design for Bedroom Interiors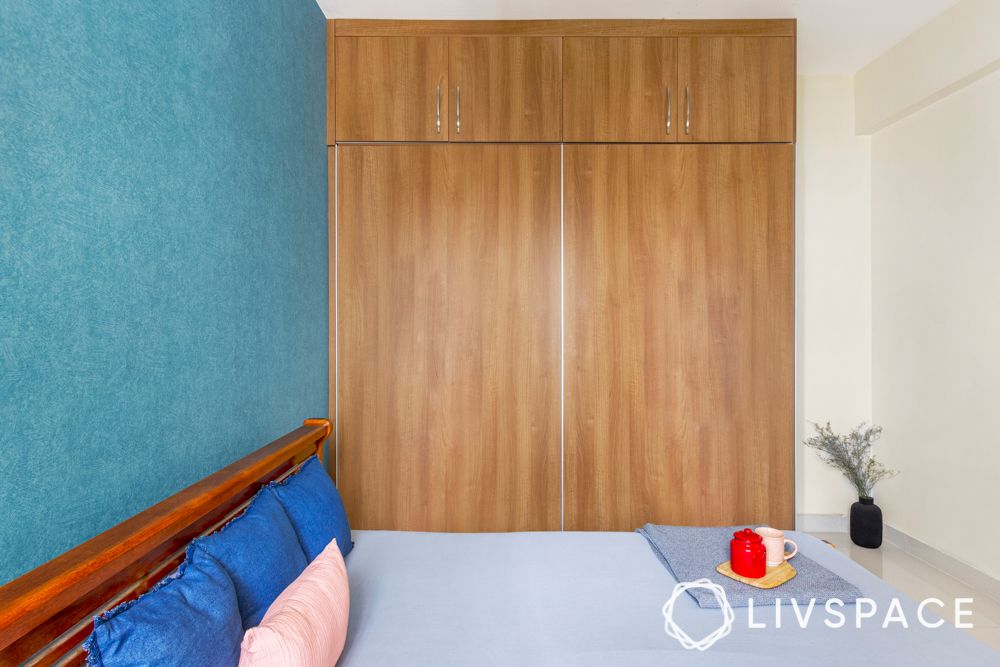 We love these shutters because they never require too much maintenance. The two-door wardrobe fits easily into most urban homes and provides space for all your necessities. The light wood laminate suits most colours and it looks best when used in combination with white or any bright colour.
Dark Wood Sliding Almirah Design for Bedrooms
For the conventional at heart, this dark sliding wardrobe with wooden grains on its shutter is the apt choice. It spells luxury without over-imposing. What's more, it goes best with light and pastel colours in your room.
Customised Wooden Sliding Cupboard Design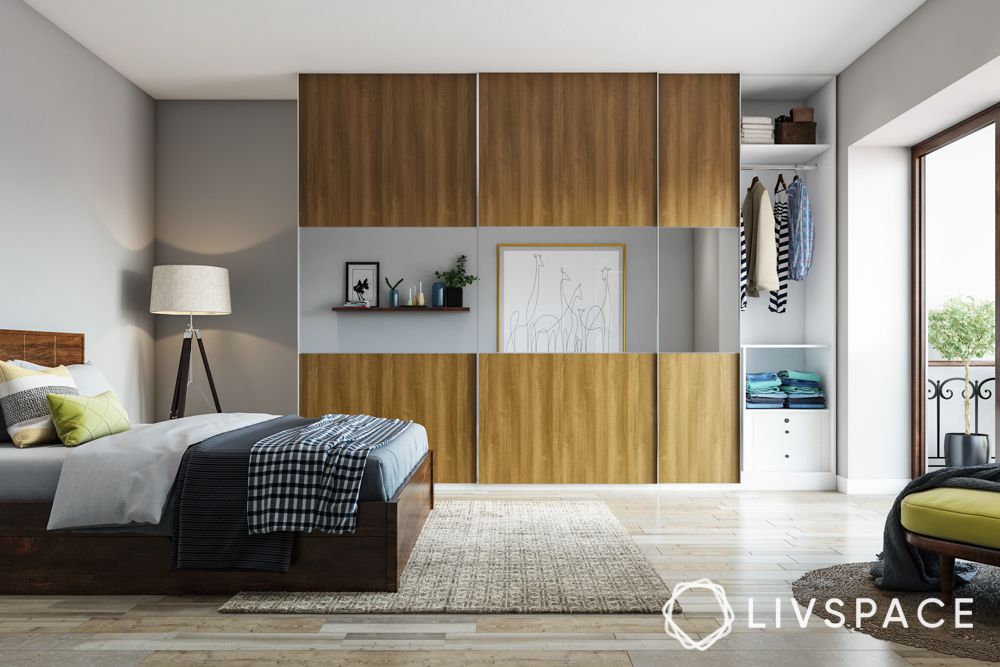 Placing mirrors panels in the middle of the wardrobe door is in trend. They make your room seem bigger and brighter. Try this combination panelling for your sliding cupboard design, especially if you have a compact space for a bedroom.
Other Colours and Finishes for Sliding Door Wardrobe Designs
Colours can breathe life into your bedrooms and since wardrobes occupy a big part of your space, you can use them to get the colour palette that you want. The colours can be chosen in most of the materials available for sliding cupboard designs. Since the finishes of these materials can determine if the colours are highlighted or subdued in your room, you must choose them with some deliberation. Check some of them out here:
Glossy Laminates
If you want to increase the brightness in your room and you are looking for an economical way to do so, then using glossy laminates is your solution. The variety in colours available for laminates is vast compared to other materials.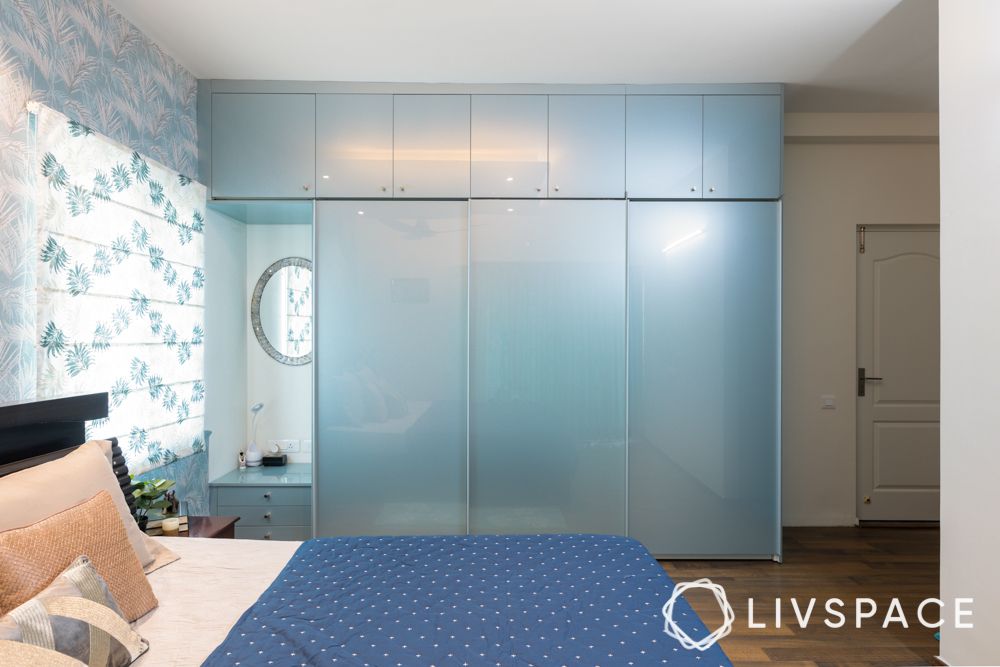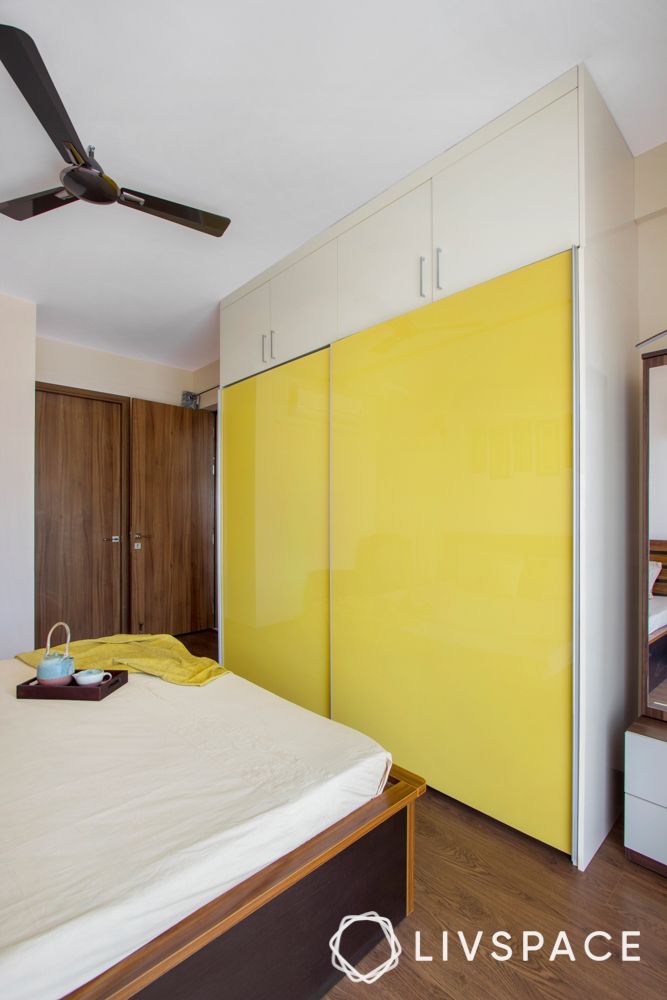 If you're one for subtle interiors with just a pop of colour, this sliding cupboard design will appeal to you. It boasts of great storage while being stylish. Add yellow accents around the room to really make it pop!
Textured Colour Laminates
When you want the colours in your room to reflect more luxury, try textured laminates. They add drama to your interiors and make your taste in design seem unique.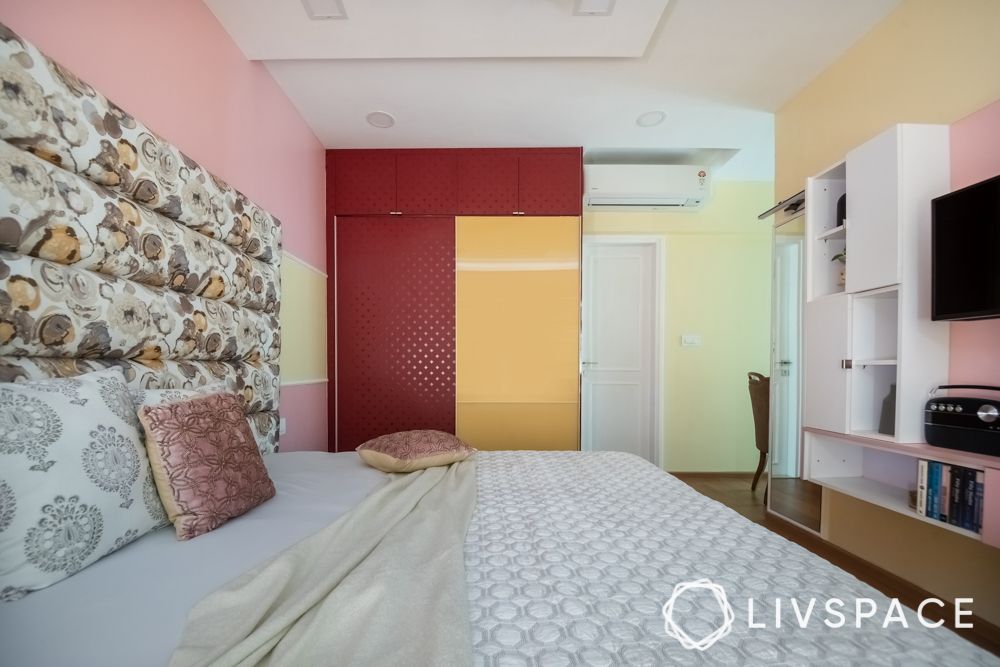 Matte-Finish Laminates
Some of you may not be a big fan of shiny surfaces and matte-finish sliding cupboard designs might be more to your liking. If that is the case, we suggest you get matte-finish laminates for your room to evoke luxury.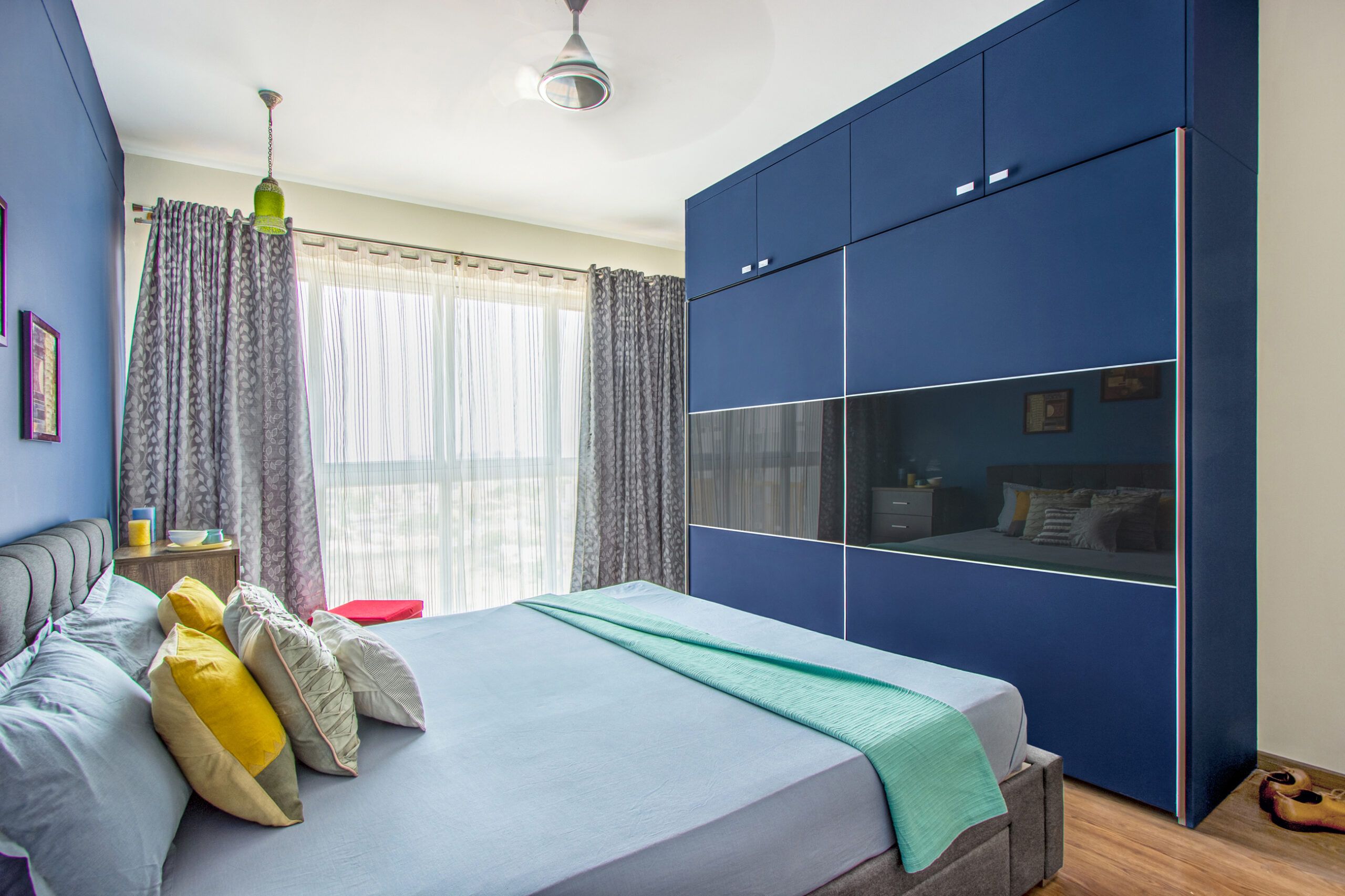 Mirror Panels for Sliding Wardrobe Designs
Full-sized mirrors in the bedroom are not only appealing, they are also practical and handy while dressing. Mirror-panelled sliding doors are a boon to compact bedrooms in such cases. We suggest you consider mirror panels along with coloured laminates when you're looking for sliding cupboard designs for your bedroom.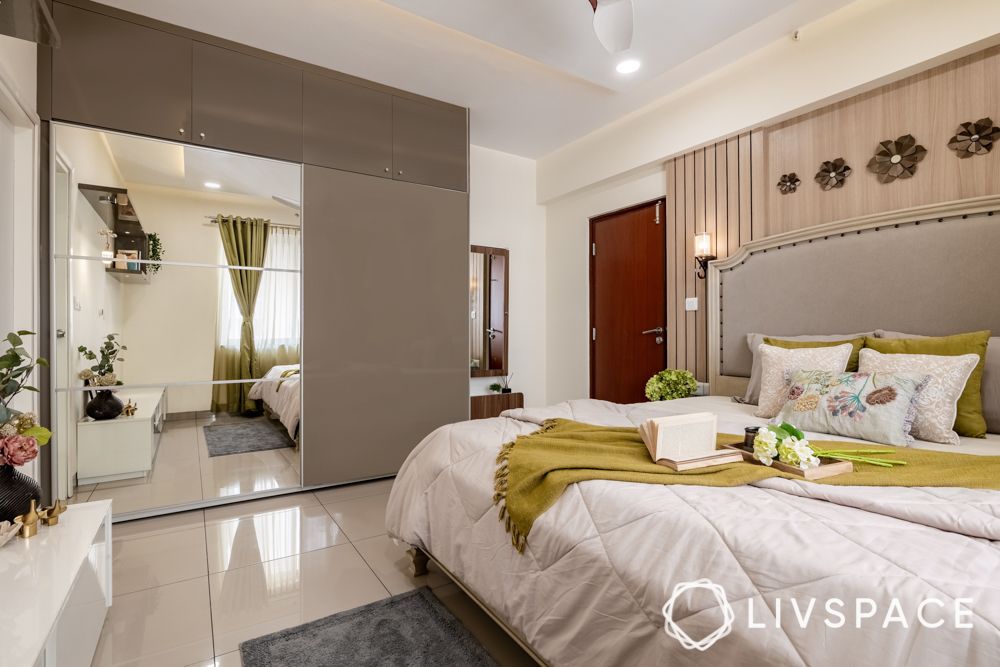 Lacquered Glass-Finish Sliding Cupboard Designs
Lacquered glass increases the visual appeal of your bedroom. Although they are not easy to break, you must be careful with the large panels. Apart from this, they are also moisture- and heat-resistant and hence quite durable.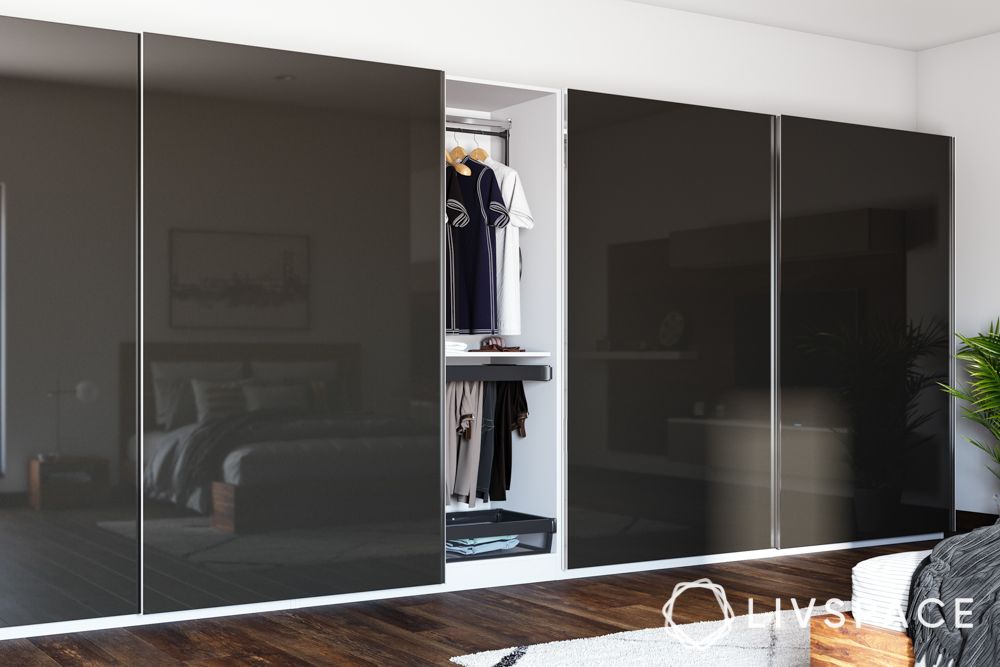 PU-Finished Sliding Wardrobe Design
PU paints have high resistance to abrasions, cuts and tears. PU can seal the inner material against all chemicals and hence is quite durable. It is expensive to get but yields the best results in your interiors. So if you can, go for a PU-finished sliding cupboard design.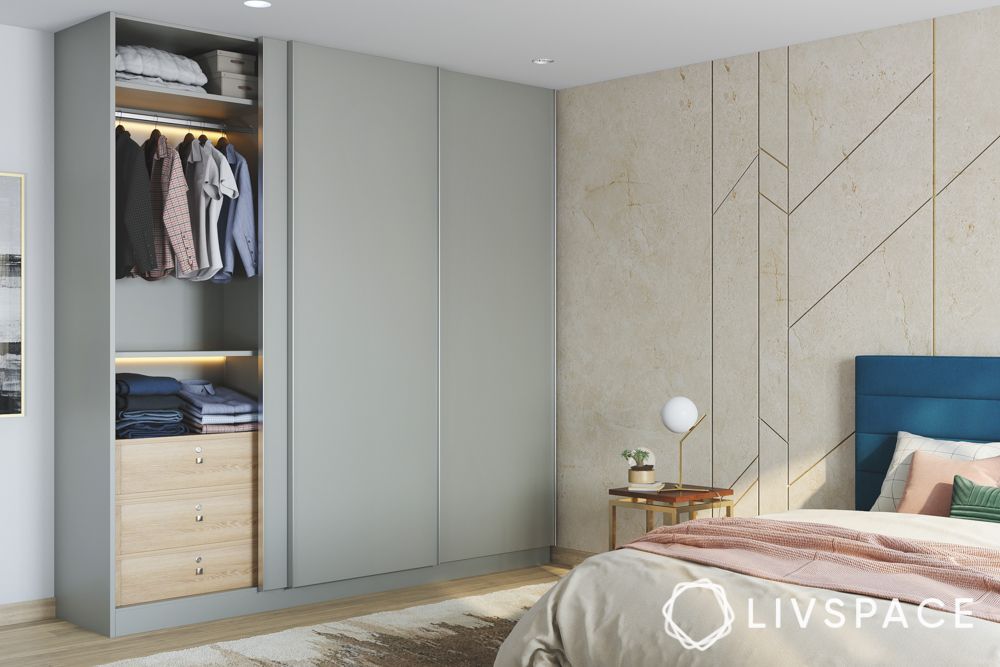 Sizes of Sliding Door Wardrobe Designs
Although the size of your room will dictate your cupboard's size, you should know that there is no rule on the number of doors you get for your wardrobe. There are wardrobes that have six doors as well.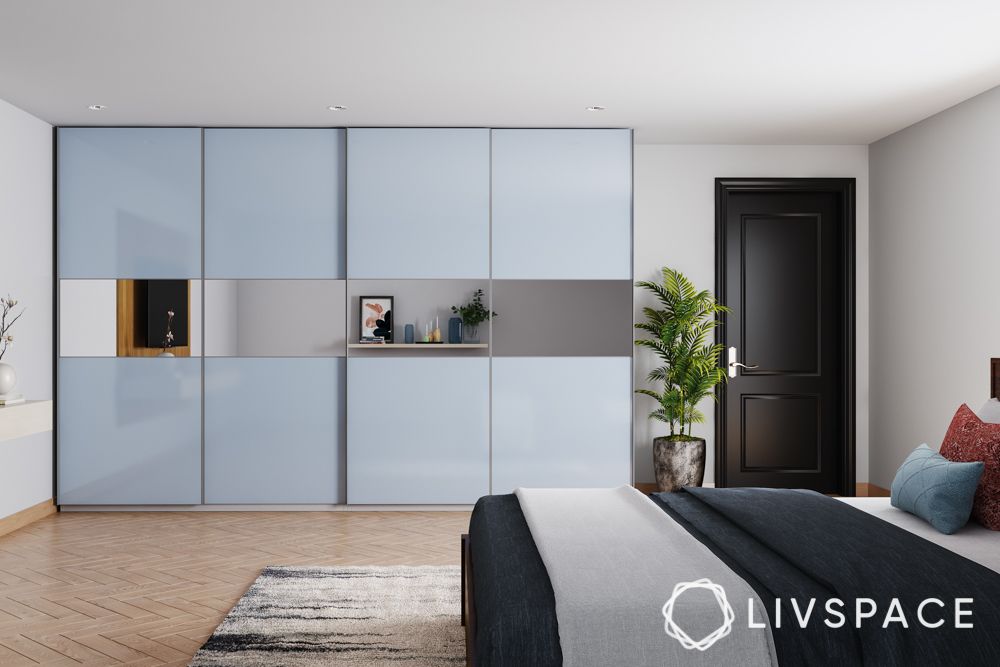 Transform your room with this fine installation! This four-door sliding wardrobe is massive and can hold all your clothes—casual and fancy—with ease.
Sliding Door Walk-in Closet Made of Glass
The sliding glass shutters in this walk-in closet are trendy and modern. Plan the sliding wardrobe inside design for maximum utilisation of space. You can also get these glass doors frosted in case you want your privacy.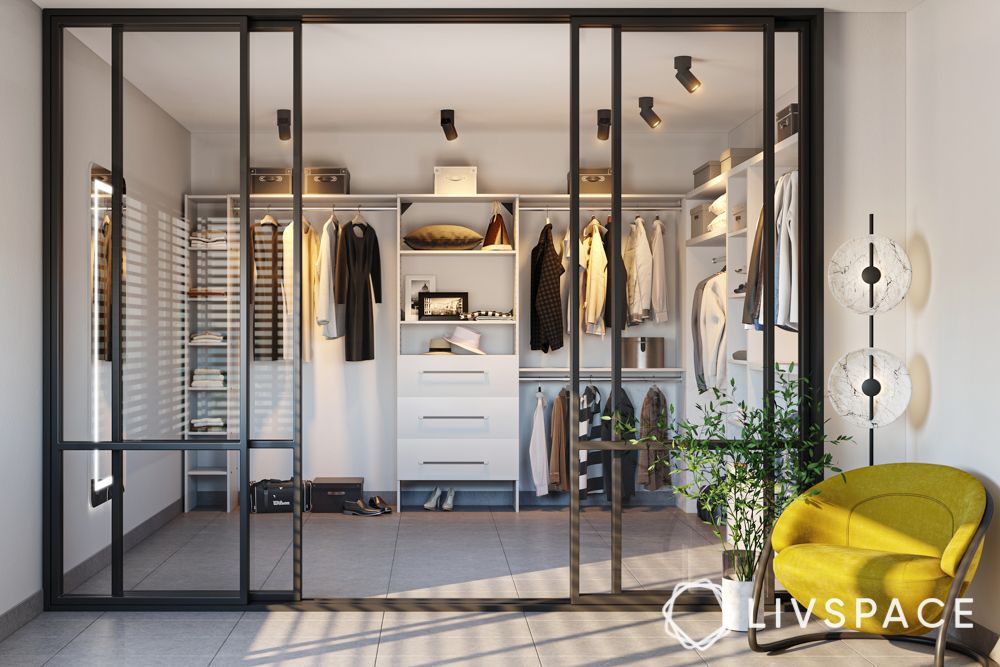 Fun Sliding Cupboard Designs for Kids' Rooms with Membrane Finish
When it comes to kids' bedrooms, it is crucial to play around with colours and keep the vibe of the room fun and experimental. So go ahead with crazy colours and designs. What you should know is that laminates aren't scratch-resistant and will start to look old soon in kids' bedrooms.
There is on other wardrobe finish that is durable in cases of such rough use—sliding cupboard designs with a membrane finish. The membrane film is scratch-resistant and can be cleaned with mild detergent unlike laminates. It is a little expensive compared to laminates but is much more durable, hence more cost-effective than laminates.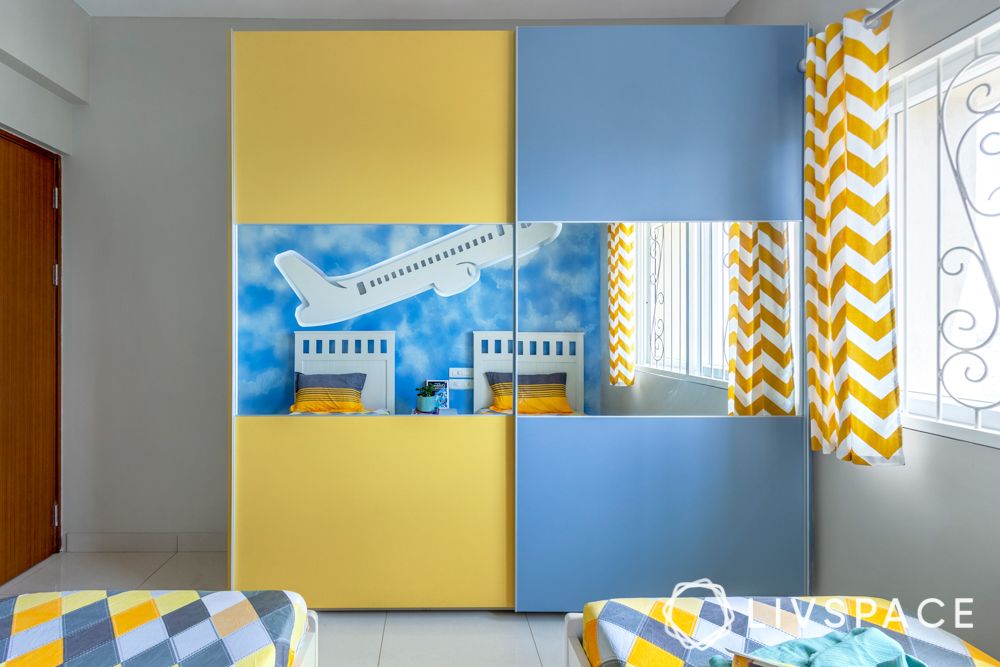 While we hope we have helped you with this article on sliding wardrobe designs, you can be sure we have more where this came from! You can read about combinations of wardrobe finishes or the 25+ gorgeous wardrobe designs (cost included) from Livspace.
How Can Livspace Help You?
We hope you found our ideas useful! If you want beautiful interiors for your home, then look no further. Book an online consultation with Livspace today.
Send in your comments and suggestions to editor@livspace.com