How often do you have to move your clothes off chairs and every other surface in your bedroom to make some space? A cluttered bedroom can be such a pain to live in! The simplest way to maintain a neat and clean bedroom is to invest in a good wardrobe. So, to inspire you, we have compiled the top 10 bedroom cupboard designs of 2021. In addition, we also spoke to our wardrobe design experts to predict the upcoming almirah trends of 2022. Read on to get all the details.
#1: A Wardrobe Design That Comes With an Airing Section for Used Clothes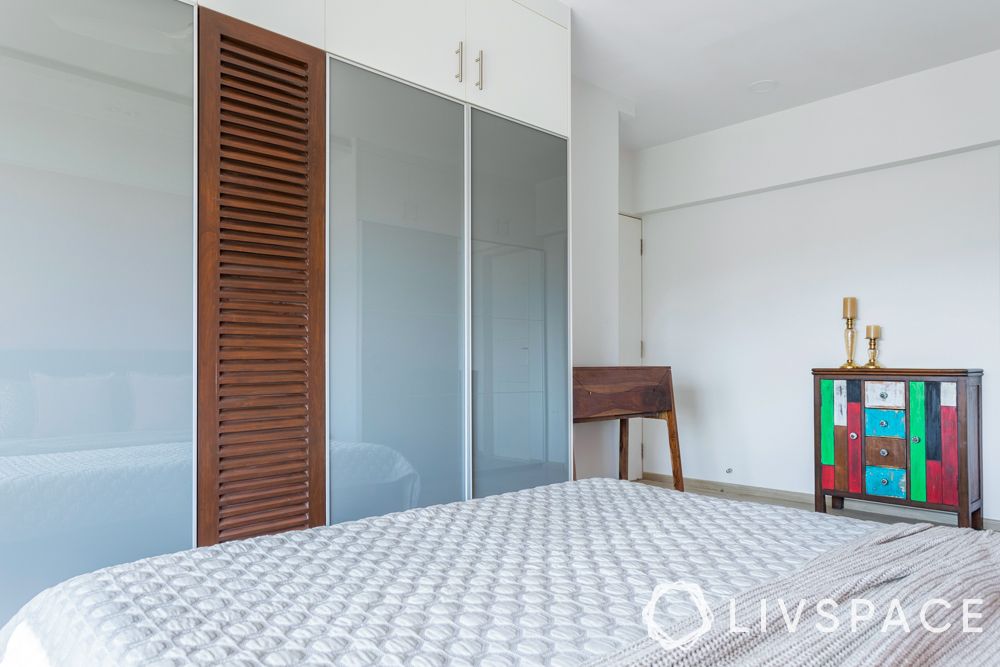 What we love
Among the latest wardrobe designs for bedroom 2021 shortlist is this answer to all your prayers — a wardrobe with an airing chamber! If you look around your bedroom, chances are that you will find at least one outfit lying around which you have worn only once and do not want to wash yet. By opting for a wardrobe with an airing chamber, you can keep such clothes in an organised manner and avoid clutter.
#2: The Perfect Wardrobe for a Compact Bedroom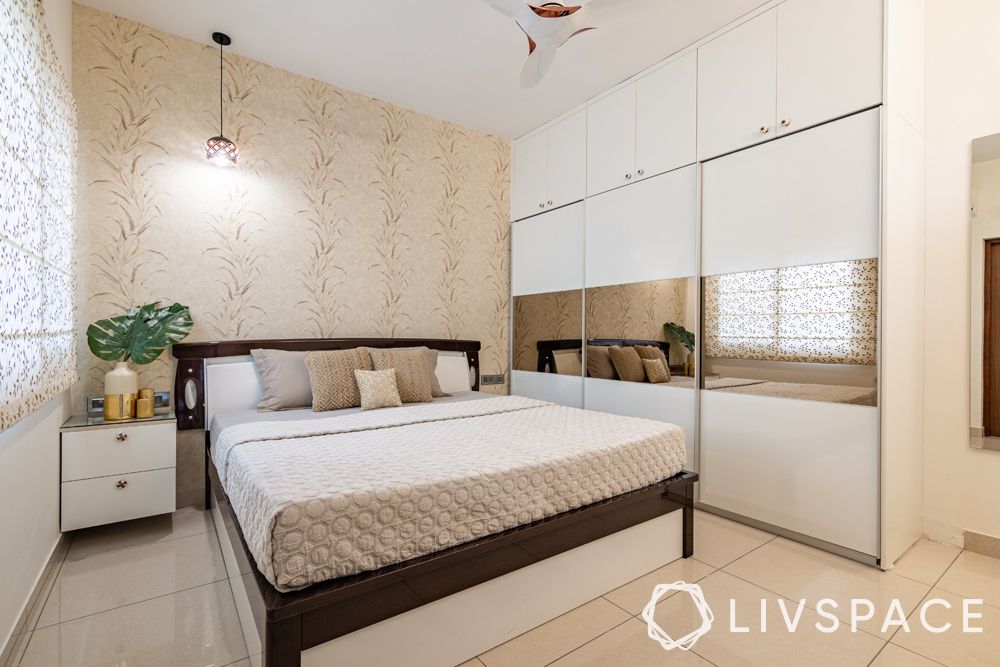 What we love
Having a small bedroom does not mean that you cannot have a spacious wardrobe. Amongst the top bedroom cupboard designs for 2021, this wardrobe is perfect for small homes due to several reasons. First, the white colour and the mirror panels make the space look bigger. Second, sliding doors make the most of the available space. Third, lofts add extra storage without taking up space.
#3: A Floor-to-Ceiling Design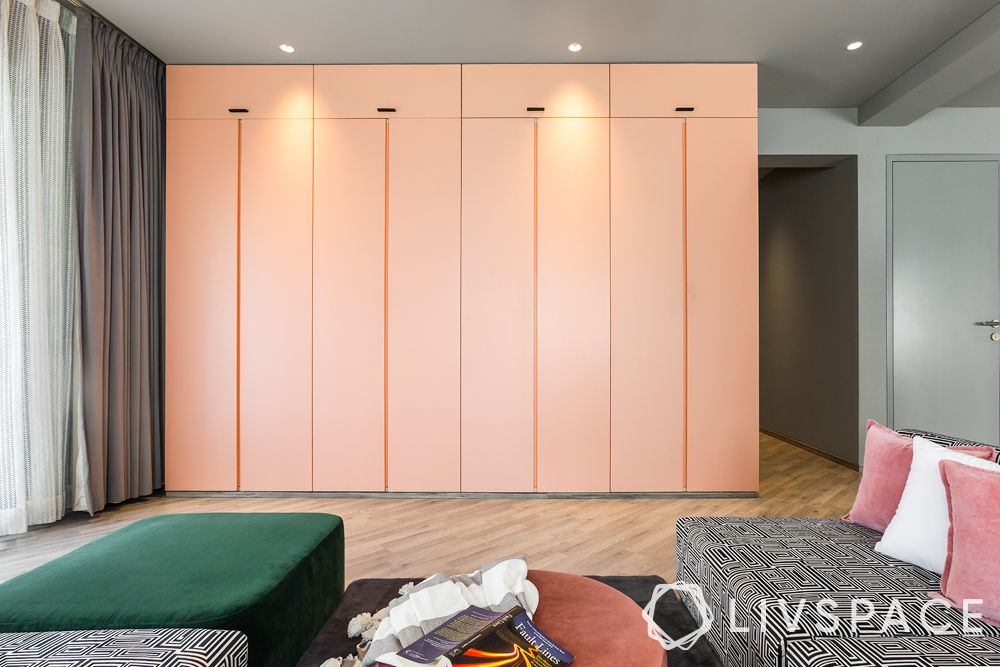 What we love
At first glance, this wardrobe design 2021 stands out for the lovely pop of pink. But there is more to it than what meets the eye! If you look carefully, you will notice that the wardrobe does not have any handles. This is because the almirah has push-to-touch doors for a seamless look. In addition, the wardrobe does not come with lofts. Instead, the floor-to-ceiling length ensures ample space.
#4: The Functional Wardrobe With a Study Unit
What we love
Amongst our favourite latest wardrobe designs is this cute and colourful unit. Perfect for your kid's room, this almirah design is a multifunctional unit that comes with a study unit built into the niche. Such a style is a great idea when you lack the space for both a wardrobe and a study unit. The pop of lime green makes it fun and quirky.
#5: A Wall-to-Wall Wardrobe Design That can Fit Inside a Small Bedroom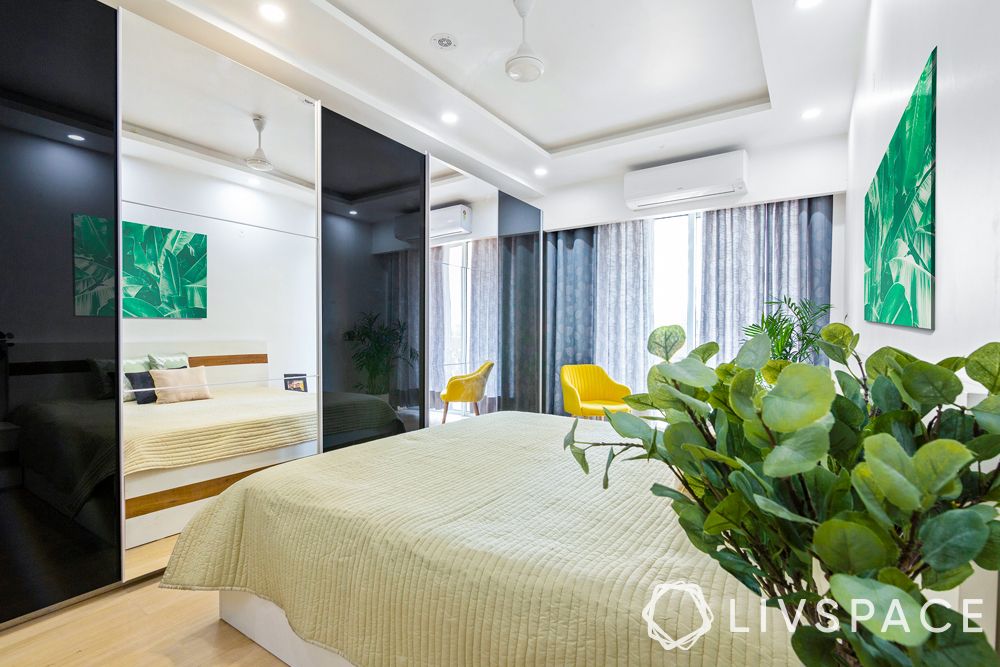 What we love
Who said that a massive wall-to-wall wardrobe can only fit in a large room? Amongst our top bedroom cupboard designs, this almirah actually belongs in a small room. The sliding door mechanism ensures that the wardrobe does not take up extra space. In addition, the use of mirrors and tinted mirrors on the shutters create the illusion of space.
#6: A Handleless Wardrobe Design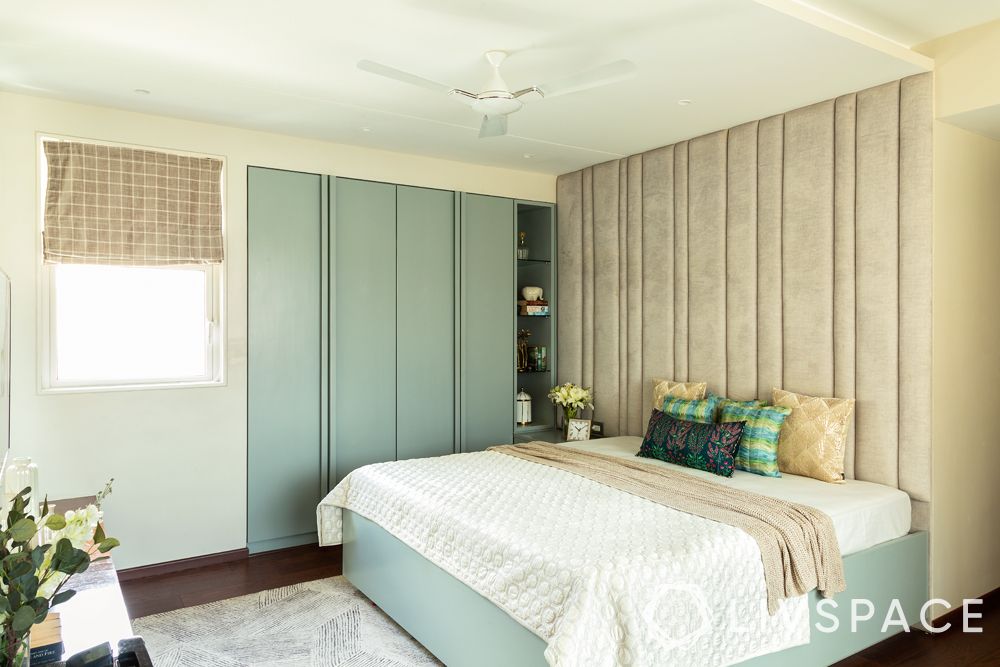 What we love
If you are looking for modern bedroom cupboard designs 2021, then opt for a wardrobe like this one. Handleless wardrobes are all the rage these days! The combination of the muted blue colour and the lack of handles gives this wardrobe a gorgeous minimal look. Going handleless is also a good idea when you have a compact space for your almirah.
#7: A Minimal Walk-in Wardrobe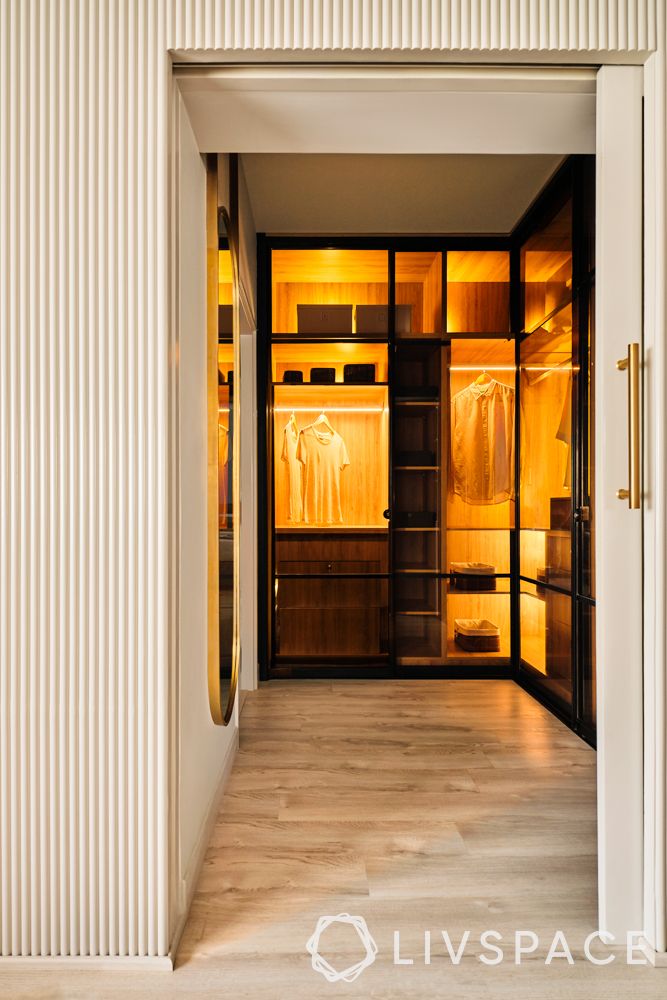 What we love
This may come as a surprise but we think walk-in wardrobes can also be minimal! The beige colour and the striated pattern on the wardrobe makes this one of our best bedroom cupboard designs of 2021. We also love how the wardrobe comes with profile lighting inside.
#8: A Wardrobe with Opaque Shutters
What we love
This wardrobe design 2021 is for all the fashionistas! Instead of hiding your smart clothes, opaque shutters can help you display them. However, if you are opting for opaque shutters, always ensure that your wardrobe is maintained well to avoid a cluttered look. Use wardrobe accessories to get the look right.
#9: The Wardrobe With Extra Storage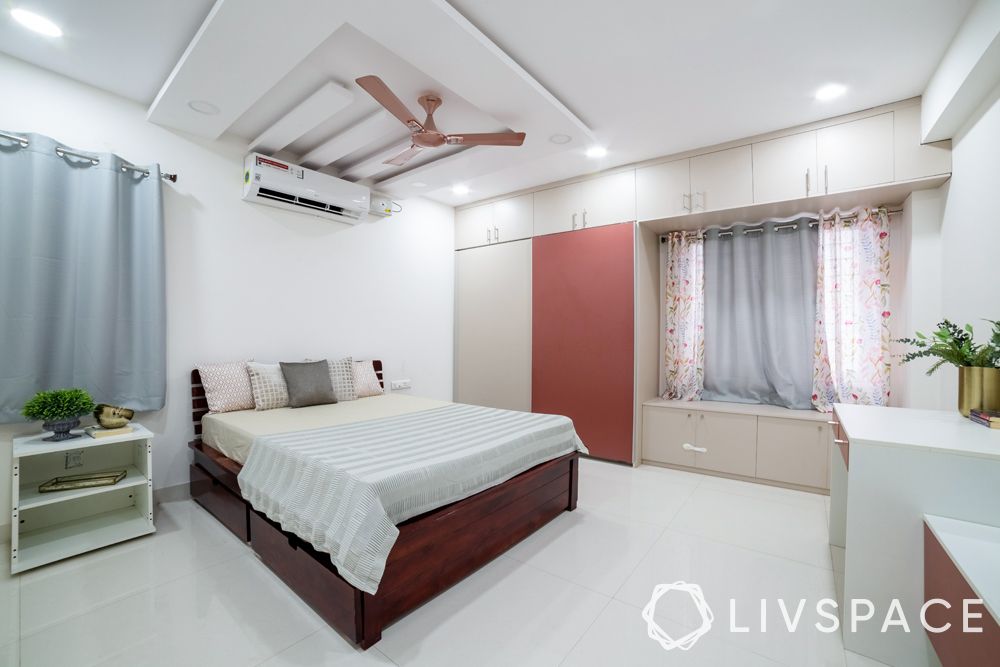 What we love
There is no such thing as too much storage! And when we look at the latest almirah designs for bedroom, most come with additional storage, to meet the present and future needs of homeowners. This wardrobe is special in the sense that it not only comes with wall-to-wall lofts but also additional storage under the bay seating area. Such a multifunctional design ensures that you can have maximum storage while avoiding a bulky and cluttered look.
#10: A Wardrobe With a Built-in Dresser Unit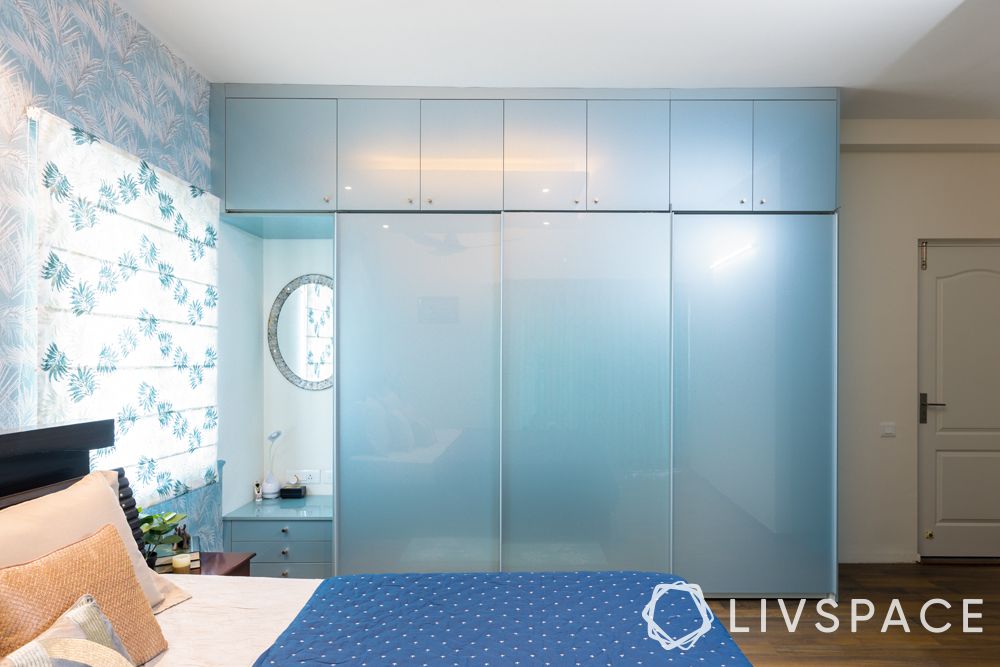 What we love
Nowadays, most apartments do not have the space for both a wardrobe and a dresser unit. As a result, homeowners are now opting for dresser units that are built into cupboards to save space. Just like this latest wardrobe design, if you have a small home, consider getting a sliding wardrobe with a built-in dresser fitted into a niche.
5 Wardrobe Designs That Will be Trending in 2022
Finally decided to purchase a new wardrobe? Before you do so, check out the bedroom cupboard designs that will be trending in 2022.
#1: The Louvre-Style Wardrobe Design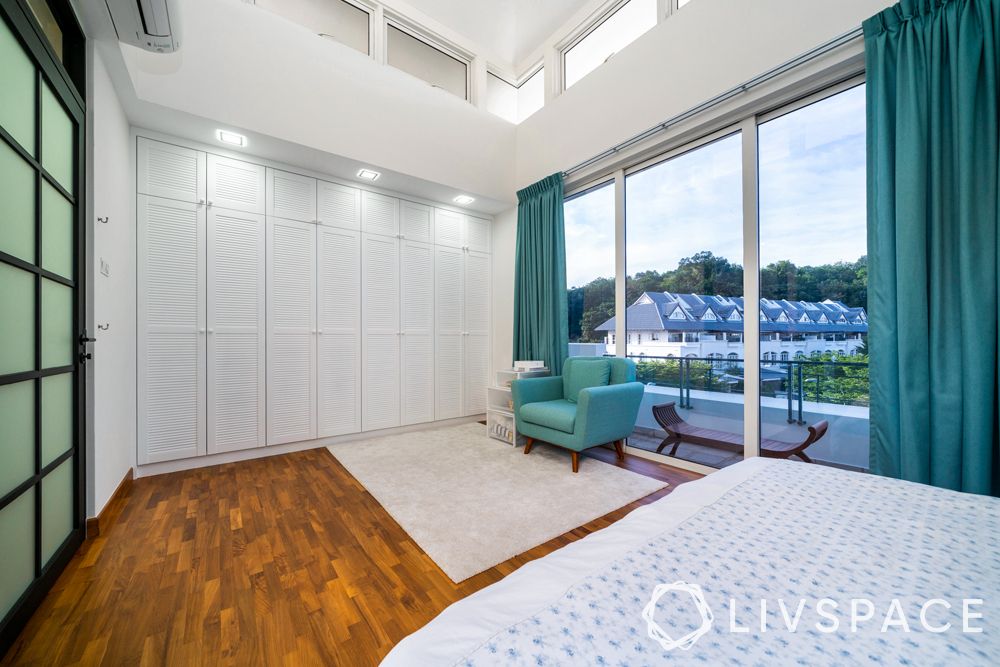 So, what is the louvre-style wardrobe? A louvre wardrobe door is basically one with narrow slits to let in air, as you can see in the photo above. The idea behind this style is to ensure that there is a continuous flow of air in and out of your wardrobe. This prevents clothes inside from smelling bad. As per our wardrobe design experts, louvre will be among the latest almirah designs for bedroom trending in the market, not only for the functionality but also for the delightfully minimal look.
#2: Classic Veneer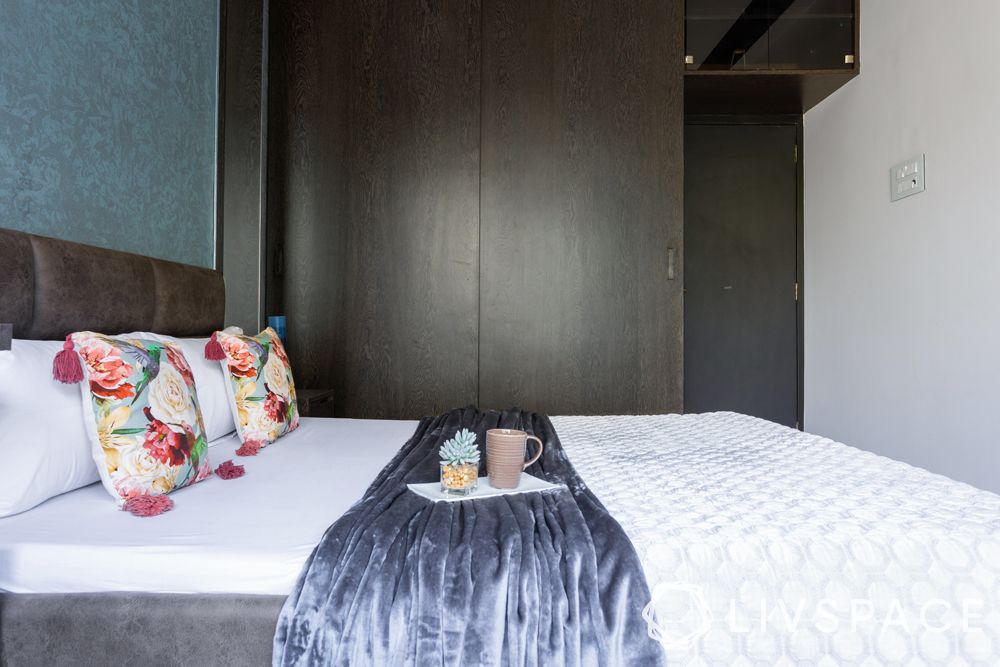 In the coming year, wardrobe designs in veneer will be trending. Veneer is a material that is made by glueing together thin slices of wood. The reason why veneer features amongst our latest wardrobe designs is due to its classic look. Similar to wood, veneer wardrobes look sophisticated and warm. Also, veneer is easier to maintain and more budget-friendly than solid wood. The best part of choosing a veneer almirah is that it goes with all kinds of interiors, be it Indian or Scandinavian!
#3: Pristine White Wardrobes with the Warmth of Wood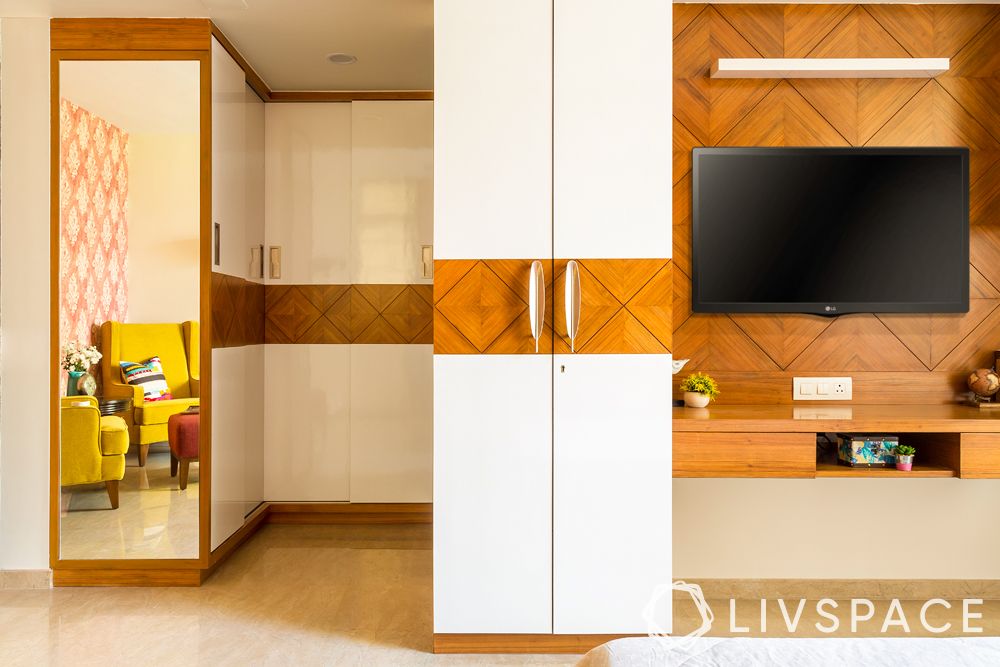 White hasn't always been a very popular colour amongst Indians due to the high level of maintenance it requires. But the new-age homeowner is increasingly opting for white in their interiors. The main reason for this is because white makes a room look bigger, a necessity considering the small size of our apartments. When we asked our experts about the trending bedroom cupboard designs of 2022, they mentioned that white wardrobes will be very popular. However, instead of going all-white, designs with elements of wood will be trending, lending a minimal yet warm look.
#4: Bold and Beautiful!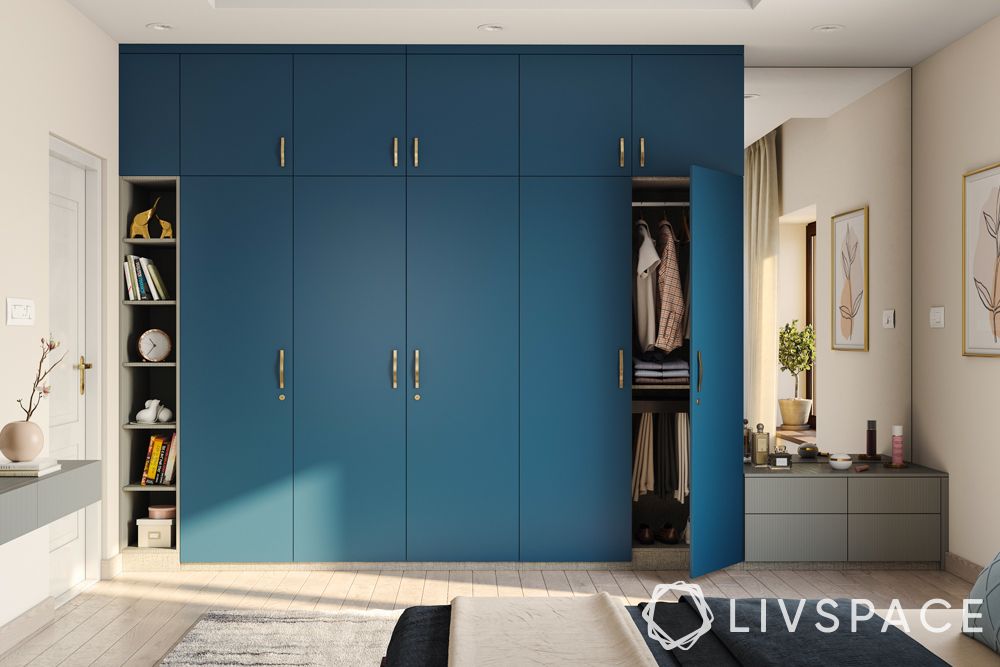 Minimalism is that one design style that was a rage in 2021 and will continue to be so in the coming year. However, Indians love a dash of drama and a completely minimal bedroom can never quite satisfy our aesthetics, leading to the rise of the Indian minimal style. A tenet of this style is to choose a neutral colour palette with brighter pops. And with this comes our next wardrobe design trend of 2022 — bold and bright colours. Since most homeowners will be opting for minimal interiors in subdues shades, wardrobes in vibrant colours will be popular, to add that pop.
#5: Wardrobes in Shaker Colours with Golden Handles
What are shaker colours? This terminology comes from the Shaker community, a self-sufficient group that believed in simplicity and natural living. They preferred using shades like red, yellow, green or blue for their furniture, in order to add depth while maintaining a natural look. In 2022, bedroom cupboard designs in shaker colours will be trending. in addition to this, gold handles and knobs will be popular as they will add a touch of glam.
Before investing in a new cupboard design, ensure you take into consideration the top designs of 2021 as well as the popular trends of 2022. If you need more inspiration, check out these 25+ wardrobe designs from Livspace.
Check out wardrobe designs:
How Can Livspace Help You?
We hope you found our ideas useful! If you want your home to be just as beautiful, then look no further. Book an online consultation with Livspace today. Delivering safe home interiors has been our No. 1 priority. Click here to find out how interiors are being delivered following all safety protocols.
Wondering how our customers feel about working with Livspace? You can check out the Livspace wardrobe reviews here!
We love hearing from you! Write to us with your comments and suggestions at editor@livspace.com