A mirrored wardrobe is favoured by most people because it is so practical. Be it a conventional hinged or a contemporary sliding wardrobe with a mirror, it is functional and space saving. Another advantage of having a mirror is that it will make your room look more spacious, which is a boon for compact urban homes. Take a look at some of Livspace's favourite wardrobe with mirror designs:
#1: A Grey Sliding Wardrobe with Mirror in the Centre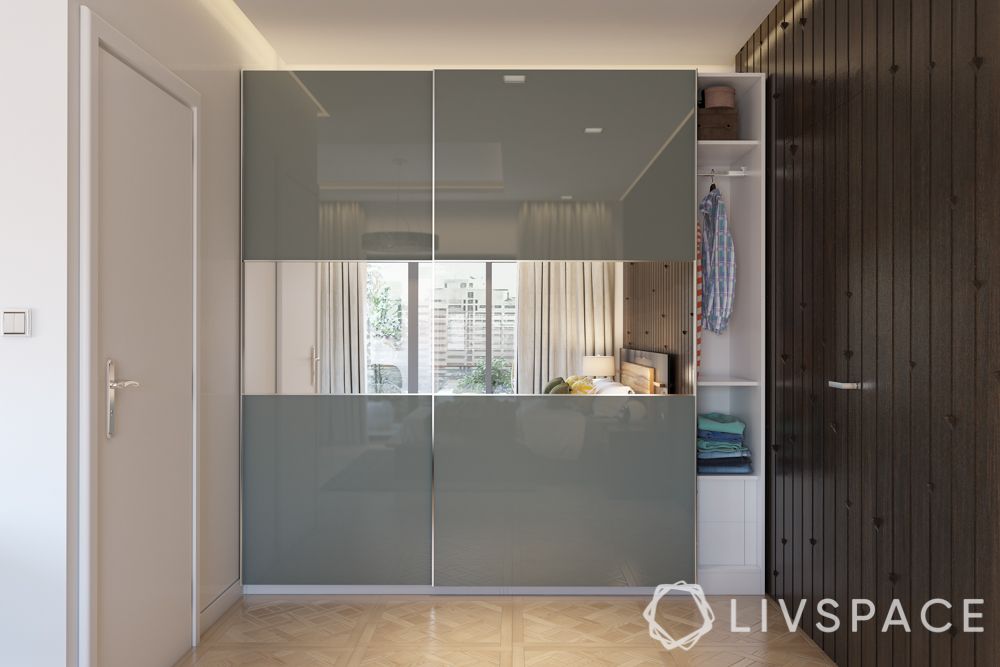 If sombre and contemporary is the mood you want to set, this sliding wardrobe design with mirror is a handy option. You don't necessarily have to have a floor-to-ceiling mirror. Speak to your designer and get it designed according to your taste. You can also answer these 9 questions to find your wardrobe design.
#2: A Lacquered-Finish Wardrobe Design With Mirror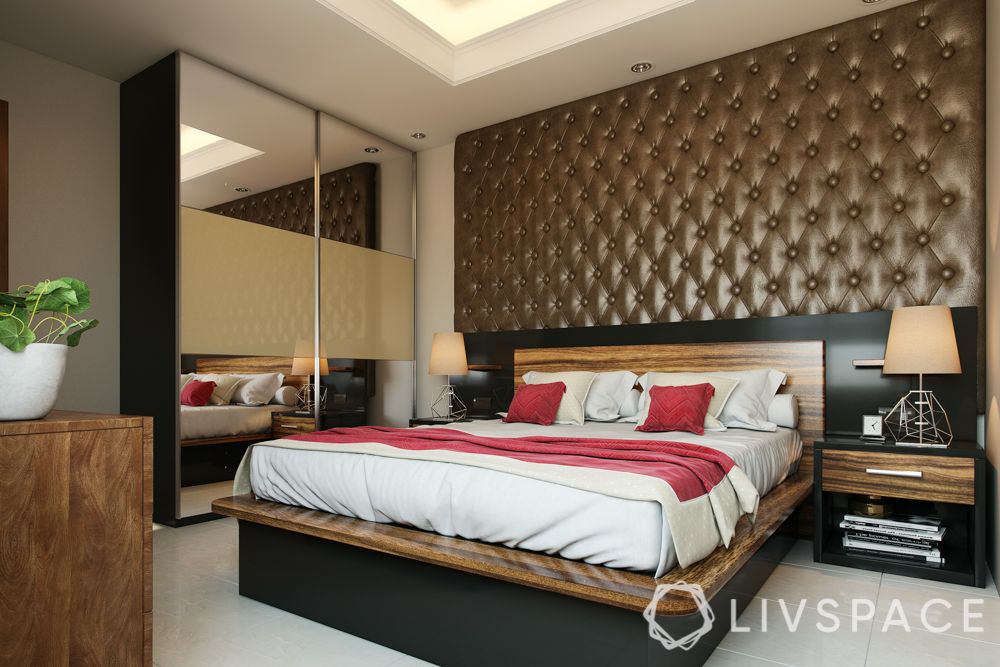 As opposed to the first option, this wardrobe design with mirror has a lacquered finish in the centre, in a colour that complements the room decor. It adds to the charm of the bedroom, don't you think?
#3: A Chic Wardrobe With Mirror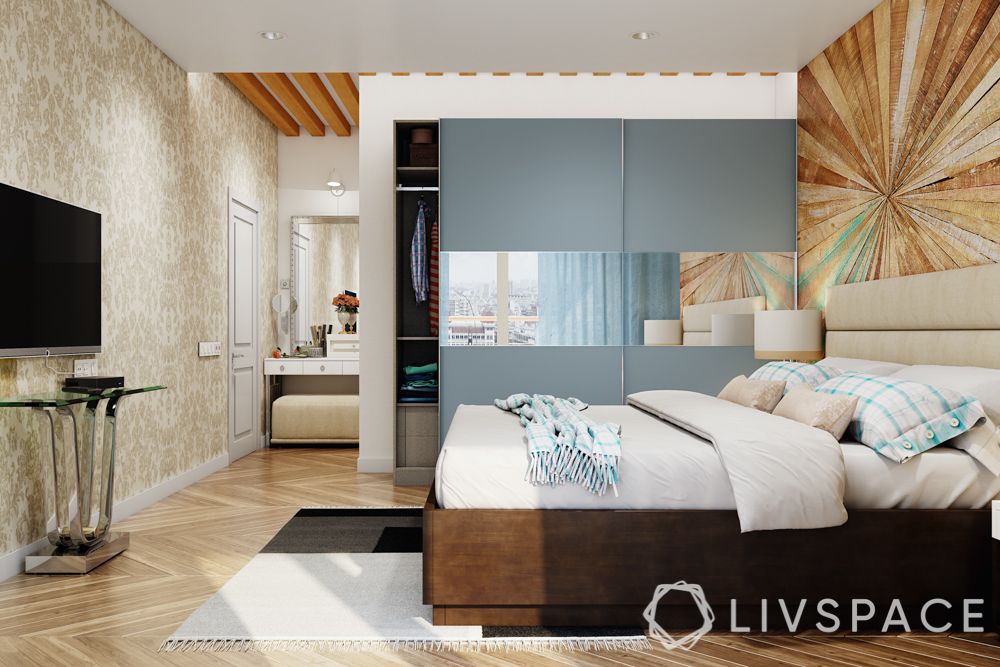 This wardrobe with mirror design is meant to be shown off! It suits any kind of aesthetic style seamlessly and saves a lot of space! The Wardrobe Colour Pops with the use of wall art and wallpaper.
#4: A Black Wardrobe with Half Mirrors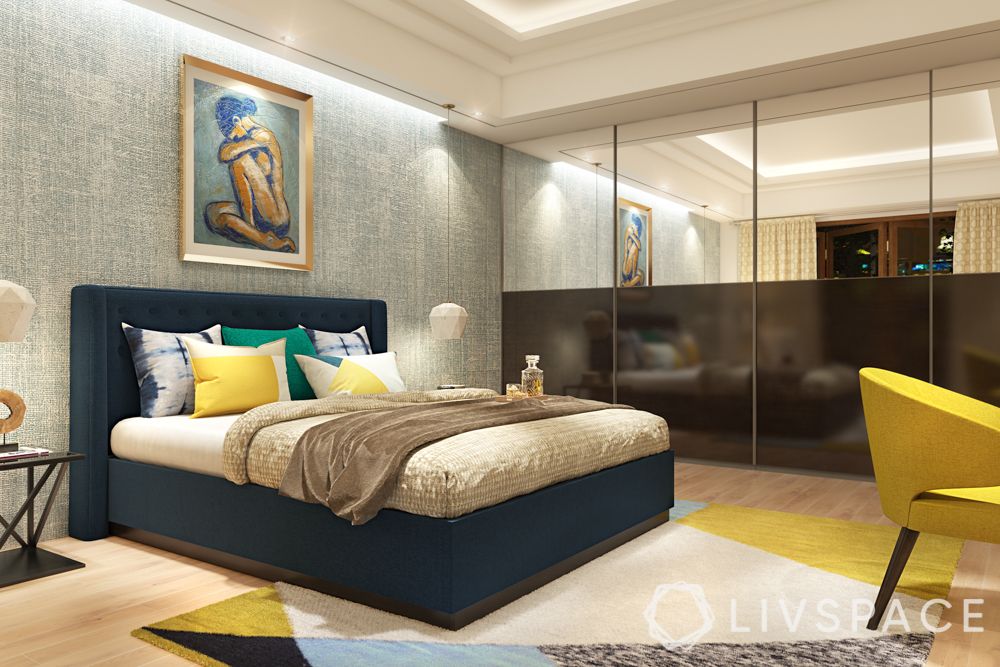 Doing up the top half of your doors with mirrors makes the room look visually light and spacious. You can choose from a range of colours for the lacquered half of your cupboard with mirror design. We recommend you go with a colour you'll never tire of since this is a long-term investment.
#5: A Pristine White Cupboard Design With Mirror in the Middle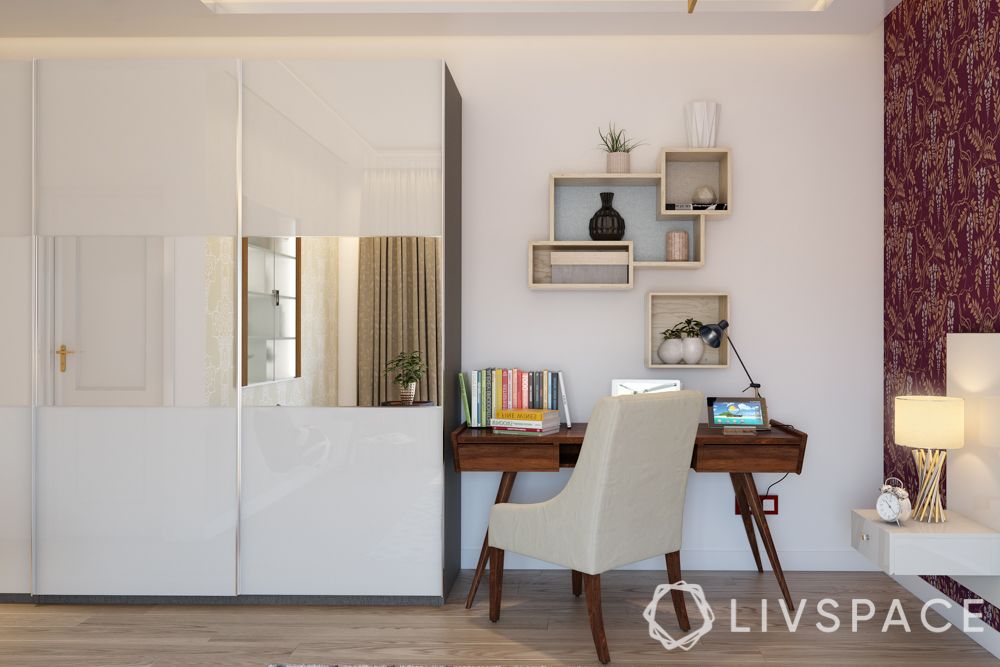 Sliding door wardrobe designs with mirror best suit small spaces like this. The white-plus-mirror combination for the wardrobe is a classic that will leave your room looking striking!
#6: A Sliding Door with Mirror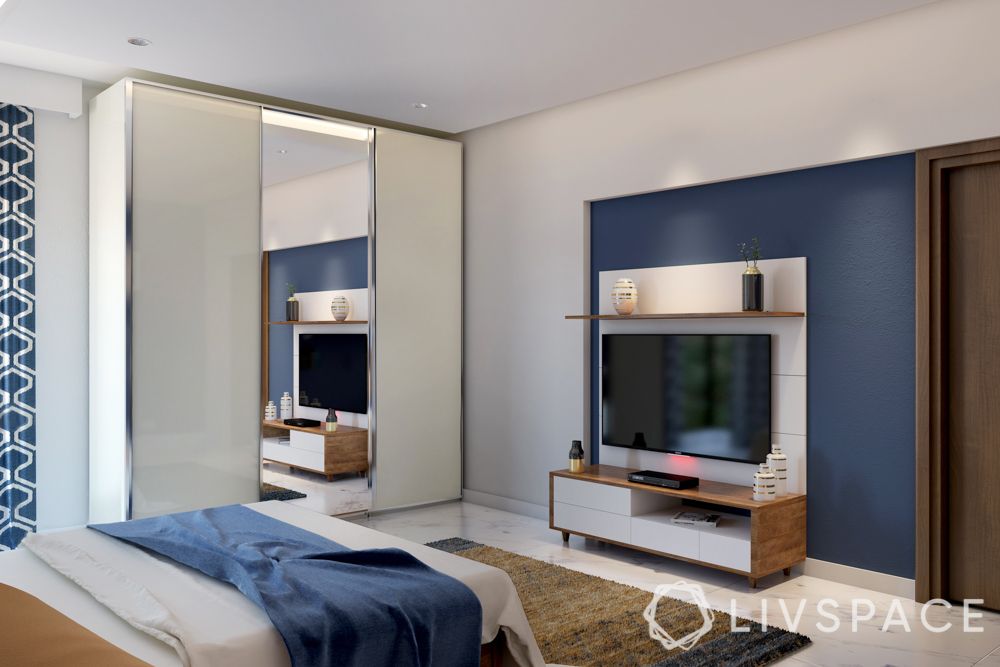 A cupboard design with a mirror on the sliding door in the centre is a smart move. It doubles up as a vanity unit while you can store all your make-up and accessories within.
#7: A Full-Wall Sliding Wardrobe with Mirror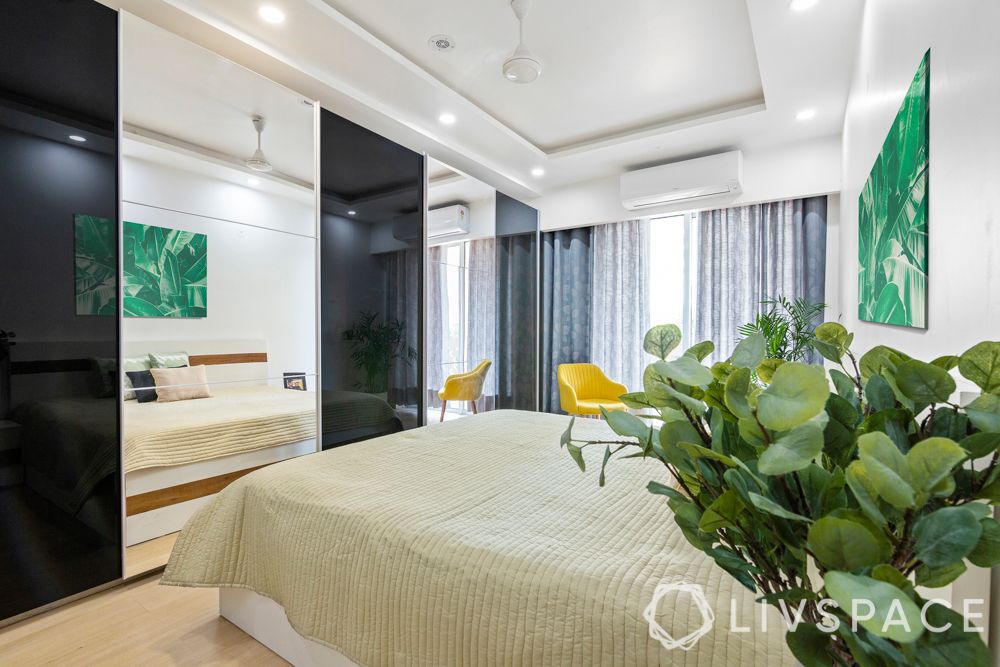 What a stunning piece of design! Covering one full wall, the massive sliding wardrobe with mirror is a classy addition to the bedroom. If you love full-length mirrors, this should be your pick. This is one of our favourite wardrobe designs for the bedroom.
#8: An English-Style Walk-In Wardrobe Design for Bedroom With Mirror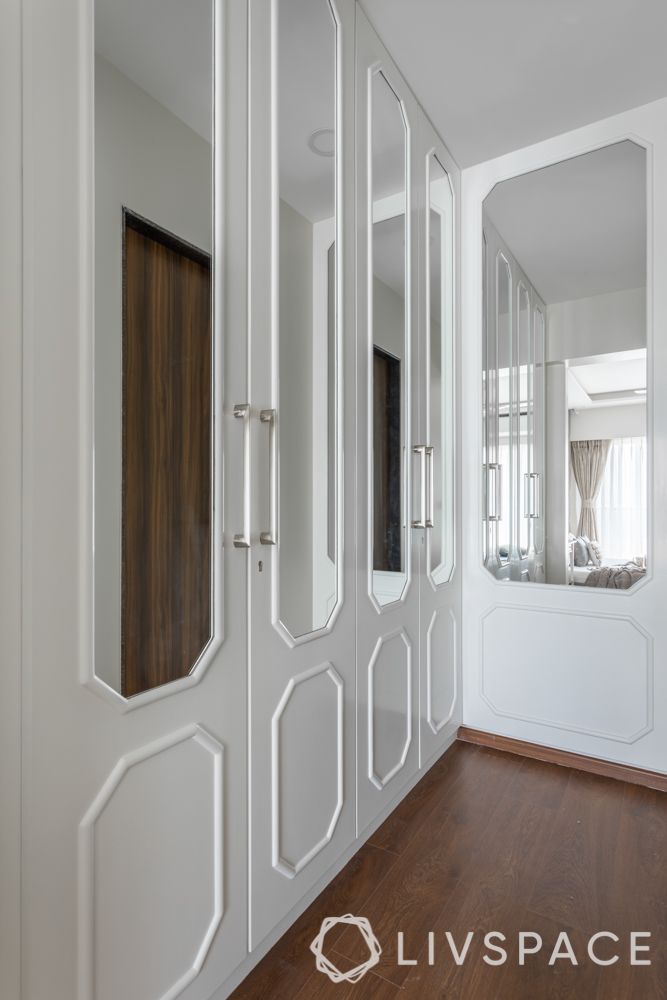 For Victorian vibes, mouldings are a great choice for your wardrobe design for bedroom with mirror. This white walk-in design here has been amped up in functionality by the mirror panels and mouldings for visual texture.
#9: A Beige-and-White Cupboard with Mirror Door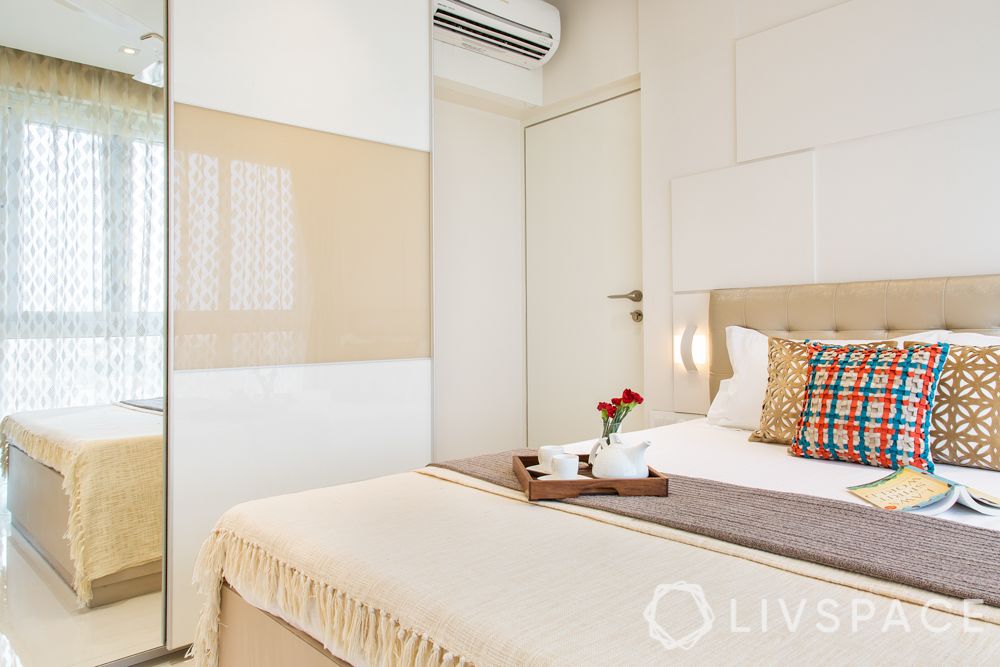 Small spaces like this bedroom benefit most from a sliding wardrobe design with mirror. You can also follow a muted colour scheme in your room for a more airy vibe.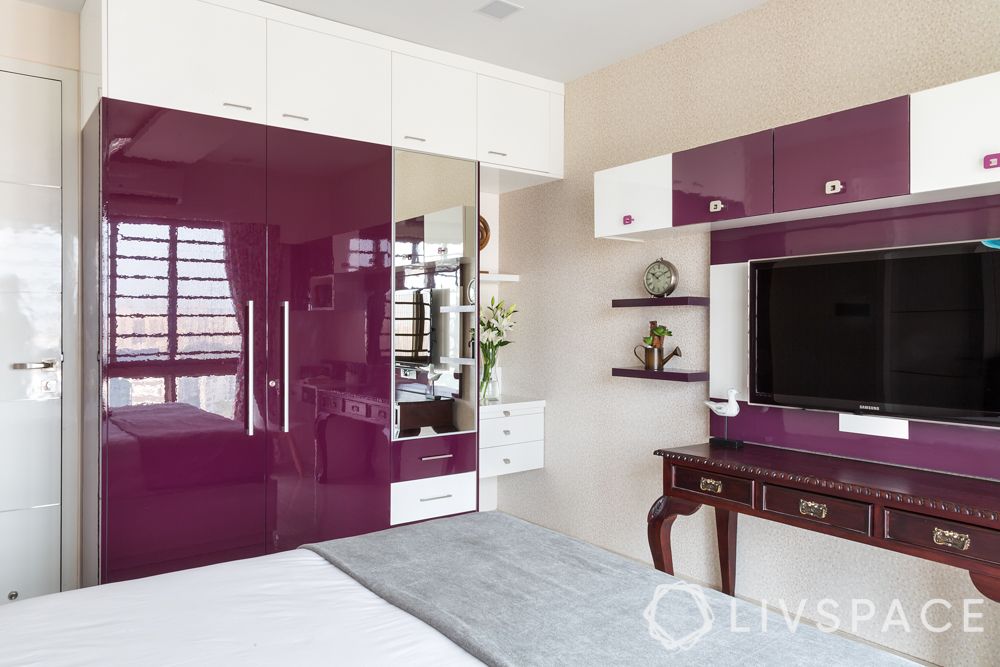 This wine-and-champagne-coloured cupboard with mirror has been colour coordinated with the entertainment unit. Using the mirror on one side helps turn it into a dresser.
#11: A Champagne Wardrobe with Sliding Doors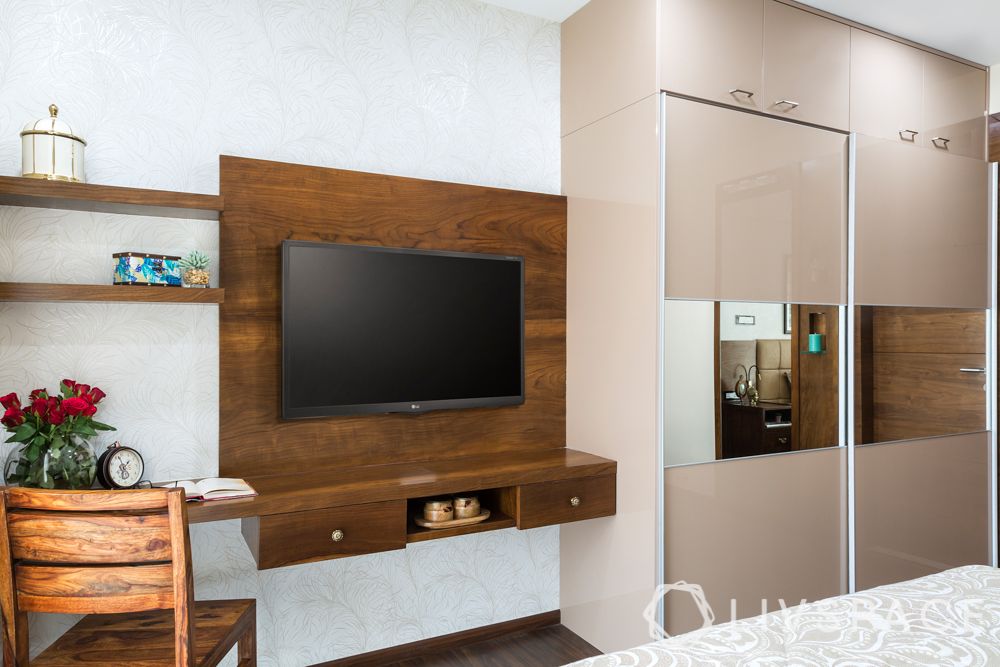 This champagne-coloured sliding wardrobe design with mirror has one in the centre is an elegant addition to this bedroom. It complements the wooden tones well and doesn't take up much space!
#12: A Black Armoire-Style Mirror Wardrobe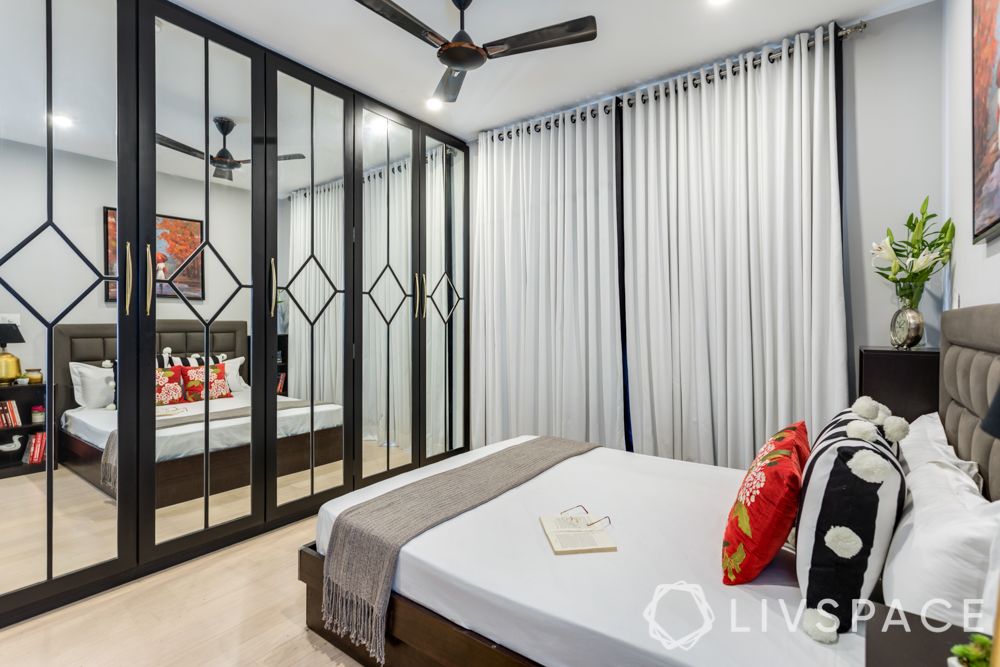 An armoire-style wardrobe design would be great for those who want a more conventional approach.
#13: Mirrors on All Wardrobe Doors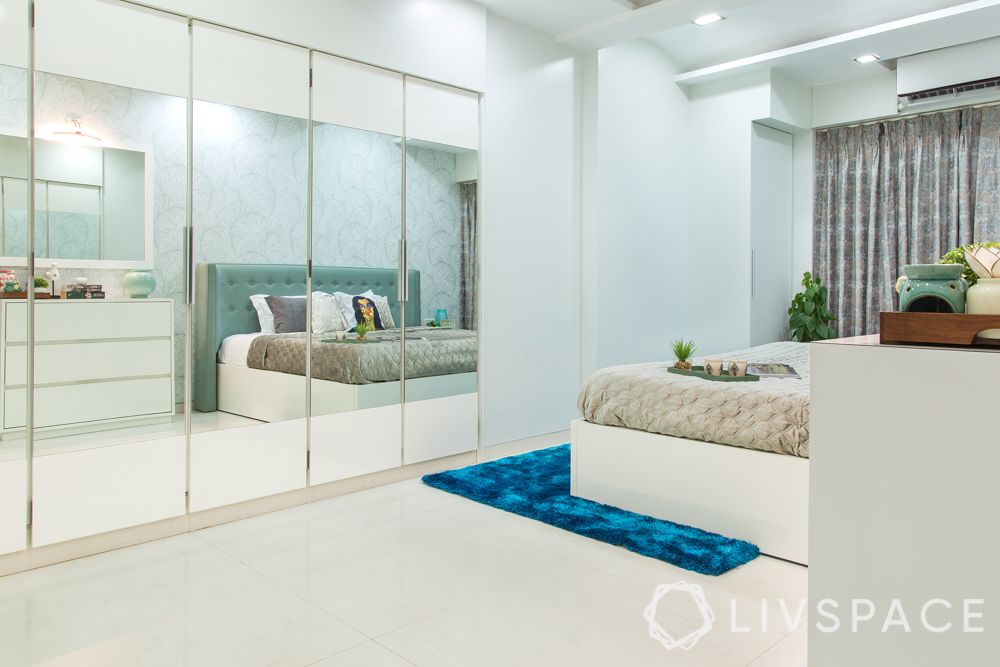 We highly recommend this design for compact urban spaces. The mirrored surface plays tricks on the eyes to make the space look bigger than it actually is. Choosing neutral shades will also help you experiment with colours in the room.
#14: A Yellow-and-White Colour-Block-Patterned Wardrobe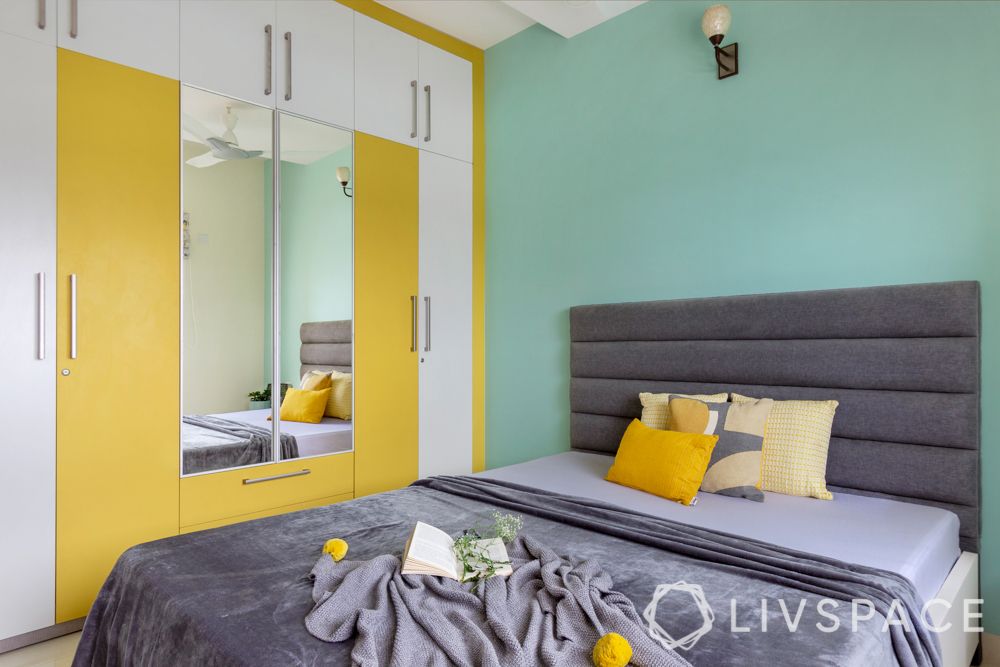 Mirror above drawers? Yes, please! If you are looking for a dresser-like unit with ample storage, this wardrobe with lofts on top is an excellent choice. Yellow adds a breezy vibe too.
#15: A Wheat-Coloured Wardrobe with Mirror in the Centre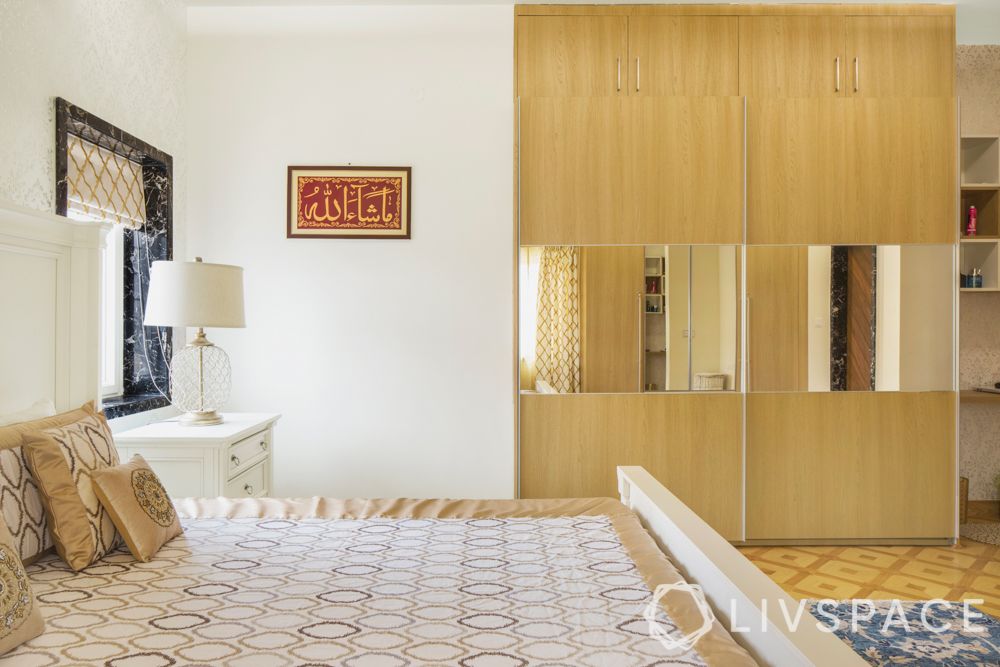 This muted and sober-coloured wardrobe caters to modern sensibilities. The wheat colour settles in easily into the room design and complements the shades employed in the fabrics and flooring.
#16: A 4-Door Sliding Grey Wardrobe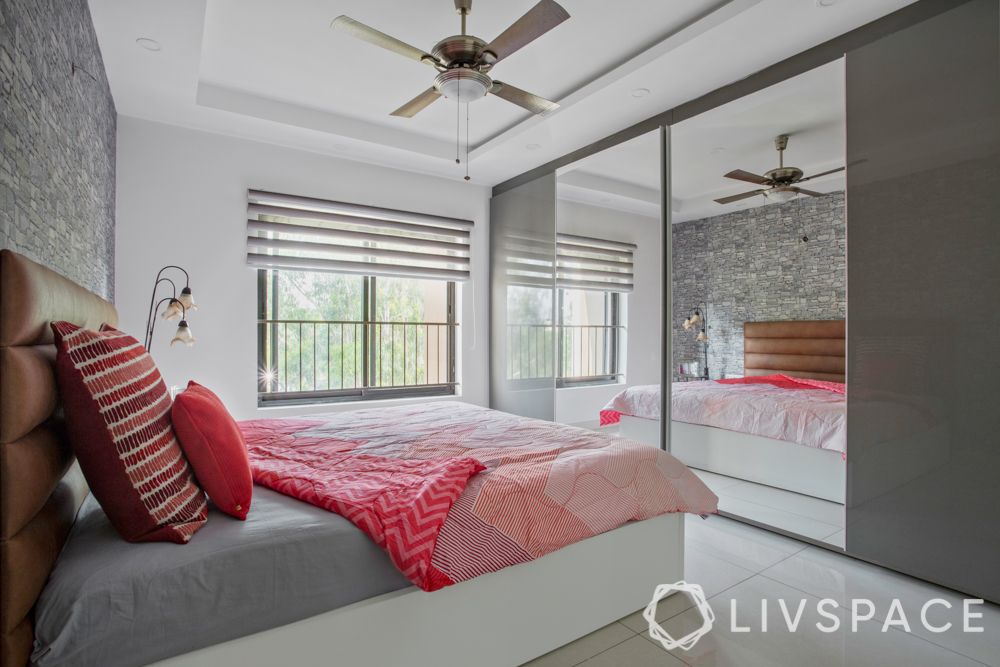 Talk about going big! This 4-door sliding wardrobe makes the most of the space available to give the inhabitants plenty of storage space. Also, this happens with no compromise on aesthetics.
#17: A Sliding Wooden Wardrobe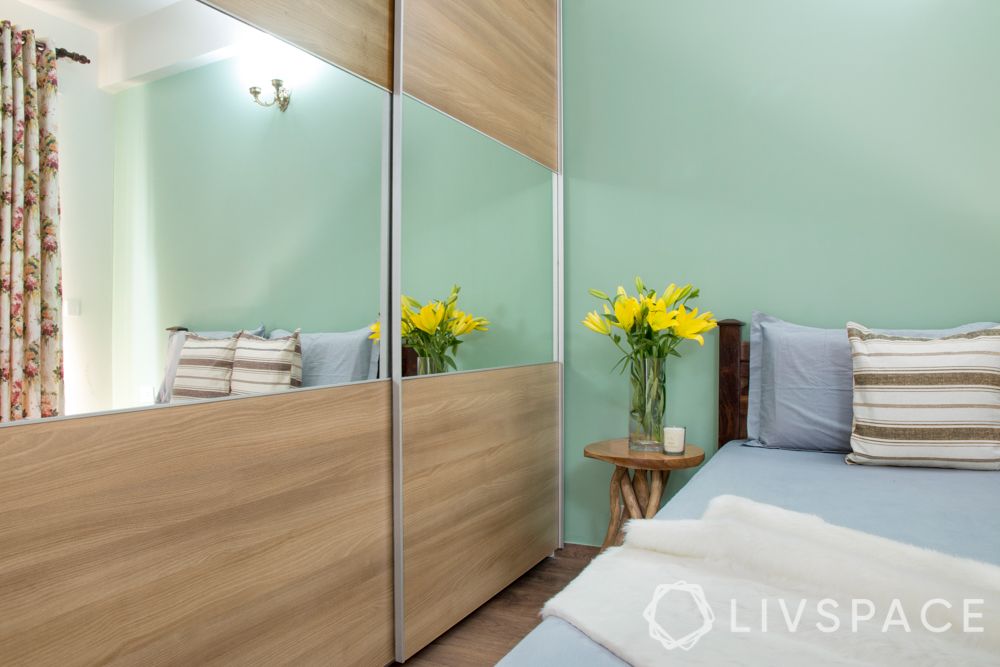 Wooden grains are also popular with our clients who opt for sliding wardrobes. While the mechanism is modern, the wooden grains keep the look traditional.
Love these wardrobes with mirror designs? If so, check out Sliding Wardrobes for more inspiration.
How Can Livspace Help You?
We hope you found our ideas useful! If you want beautiful interiors for your home, then look no further. Book an online consultation with Livspace today.
Reviews
Wondering how our customers feel about working with Livspace? You can check out the Livspace wardrobe reviews here!
Send in your comments and suggestions to editor@livspace.com