Getting dressed in the morning can feel like an entire workout in itself. Going back and forth from your styling appliances to your clothes can be quite a chore!. But dressing up doesn't have to be such a task, and that is why so many homeowners dream of having a walk-in wardrobe. Typically, a walk-in wardrobe is associated with space and luxury. However, this has recently been debunked. Modern architecture and interior design are experimenting with space to give everyone the benefit of a no-nonsense dress-up space, where all you need to get ready in the mornings is in one convenient place.
The modern walk-in wardrobe designs have three qualities: functionality, aesthetic and versatility. While the dimensions of the wardrobe depend on the bedroom, the aesthetic and the design are completely at your disposal to play around with. Let us look at some practical, beautiful and creatively used spaces for these walk-in wardrobes.
#1: Choose Functionality for Compact Spaces for Walk-in Wardrobe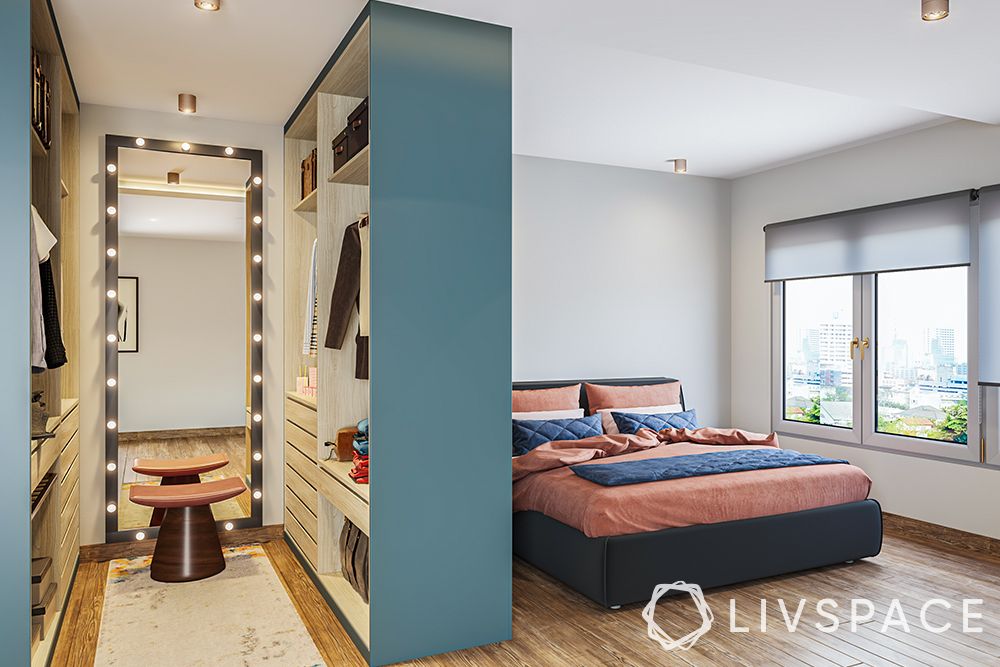 Compartmentalising your wardrobe essentials into a compact space isn't everyone's forte. It's not easy to plan and design your closet space such that it is functional and organised. But if you're crunching on space, and your bedroom leaves you a limited amount of space to work with for a walk-in wardrobe, it is not necessary that it can't match the wardrobe of your dreams.
Prioritise easy navigation over space when the space is limited. The central focus is to walk around and to be able to easily find all you need to dress up quickly. For instance, the focus of this particular walk-in wardrobe is clearly on the user as it is simple to navigate. Additionally, the mirror is in the middle and is a full-body one so that viewing your outfit is just as easy as finding it. Prioritise practicality.
#2: Focus on Making Your Walk-in Wardrobe Functional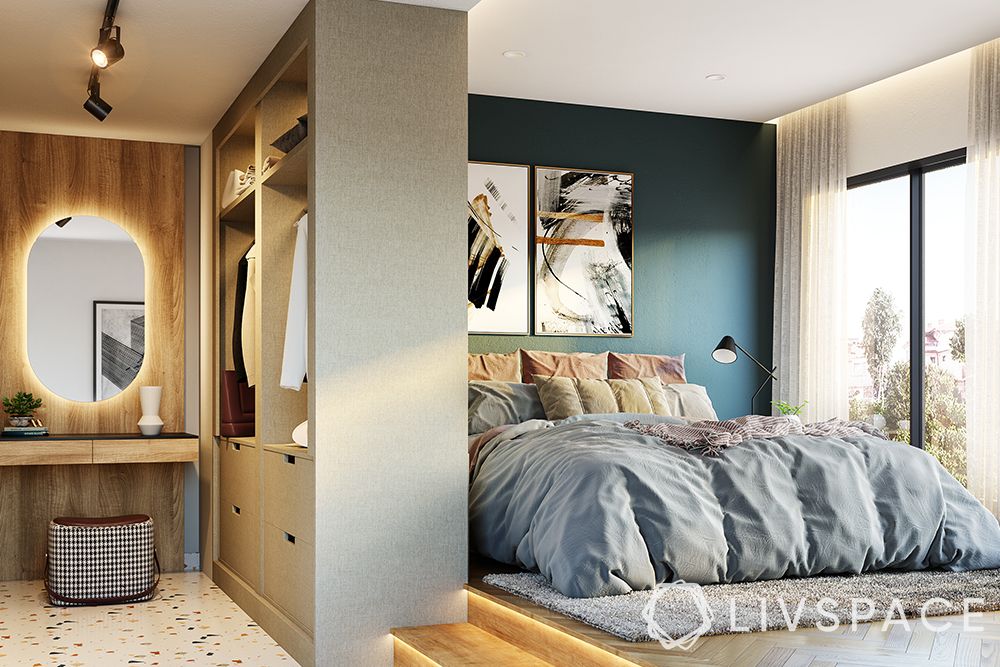 Another compact but aesthetically pleasing space that does not seem to look messy. Keeping the essentials on either side, the functionality is assorted, while the aesthetic is chosen according to the entire mood of the bedroom. The vibe is cosy and the elements for the walk-in wardrobe design are a blend of traditional and modern design. The wooden frame brings out the semi-rounded mirror and the backlight is a functional addition. Together with the tones of grey, it brings the entire room together. It works as a space that you can easily use, navigate through and also serves as a picture-perfect spot. It serves its purpose perfectly.
#3: Keep Your Walk-in Wardrobe Clean and Organised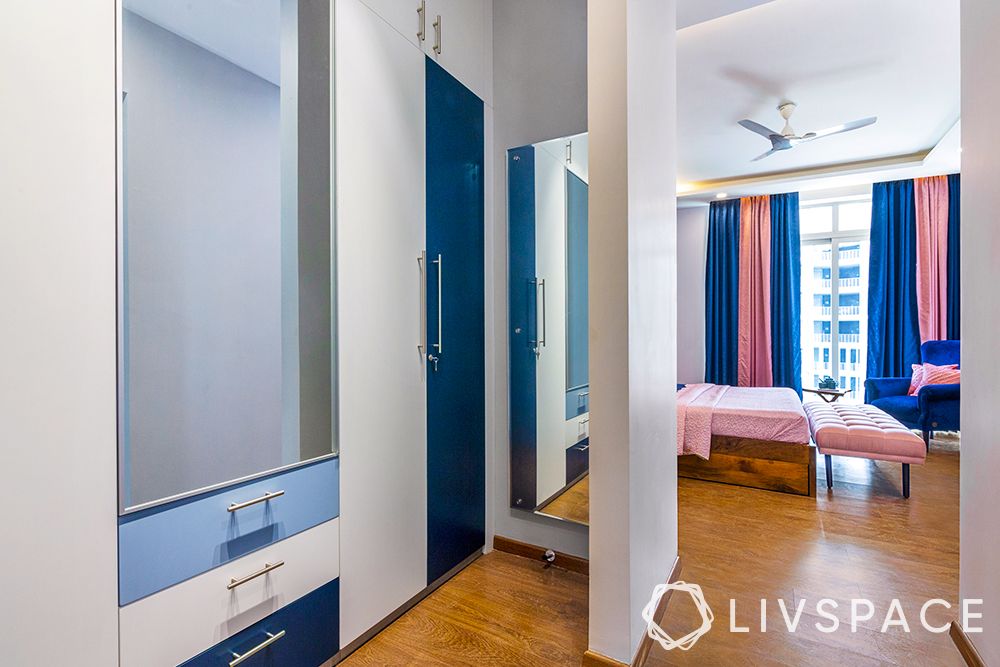 Here's an idea that breaks away from the typical walk-in closet design ideas. Minimalist interior design ideas more often than not experiment with the usage of space in unconventional ways This may be one of the most accurate examples of the same. The space to "walk-in" per se is available. However, the traditional feel of the closet with the doors is still made available through the sleek teal blue doors, and drawers. However, one must note that there is still a hint of modern elements in the design that don't resign the aesthetic to rely on traditional elements altogether. It is a play on functional space, as well as closed storage space.
#4: Don't Shy Away From Closed Walk-in Wardrobes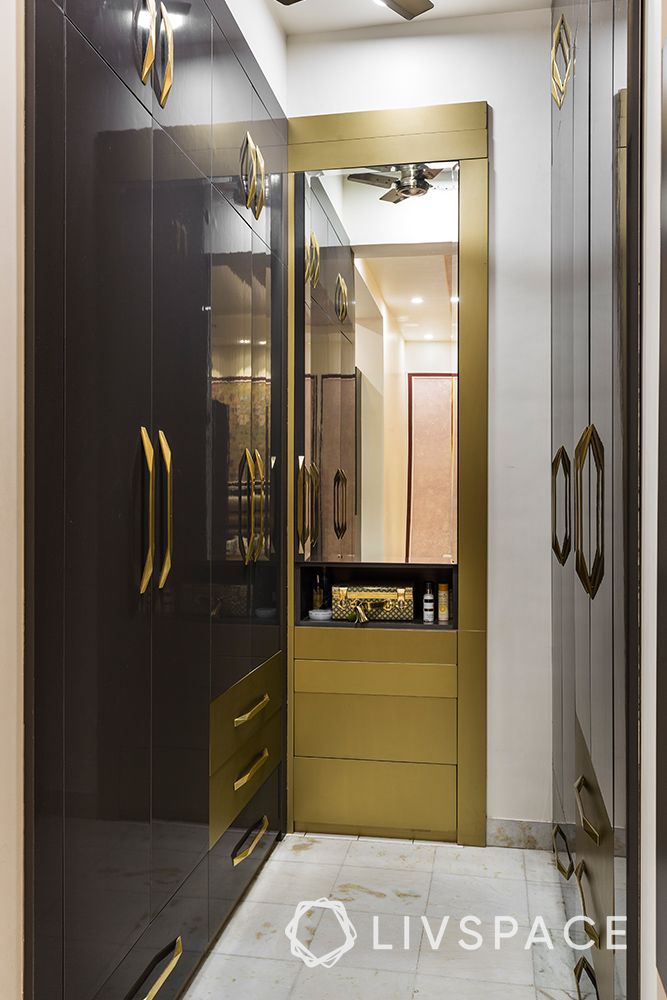 While a walk-in closet is more often than not synonymous with space, here is a way to go a different way with your walk-in closet design. Your walk-in closet can be compact and closed off from the other side of the bedroom as if it were another room altogether. This isolation allows you to create a dressing up space that is totally separate from the room, and also experiment with finishes and more in the same space.
#5: Bring Back the Walk-in Wardrobe Classics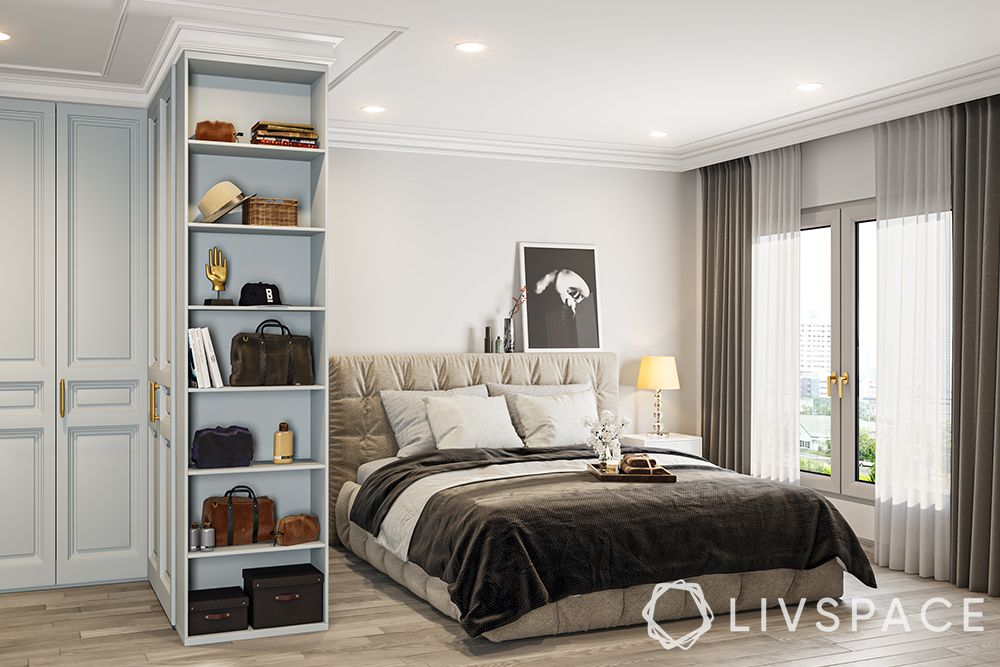 One of the most important factors about a wardrobe is utility. Mix and match your ideas for a walk-in closet design. For example, in the image, the walk-in wardrobe introduces a fusion of an open-spaced wardrobe in the vertical storage units and the use of classic closet doors for the rest of the storage space. This adds an exceptional dimension to your small walk-in closet, allowing you space to move about but also allowing you the convenience of accessibility.
#6: See More, Be More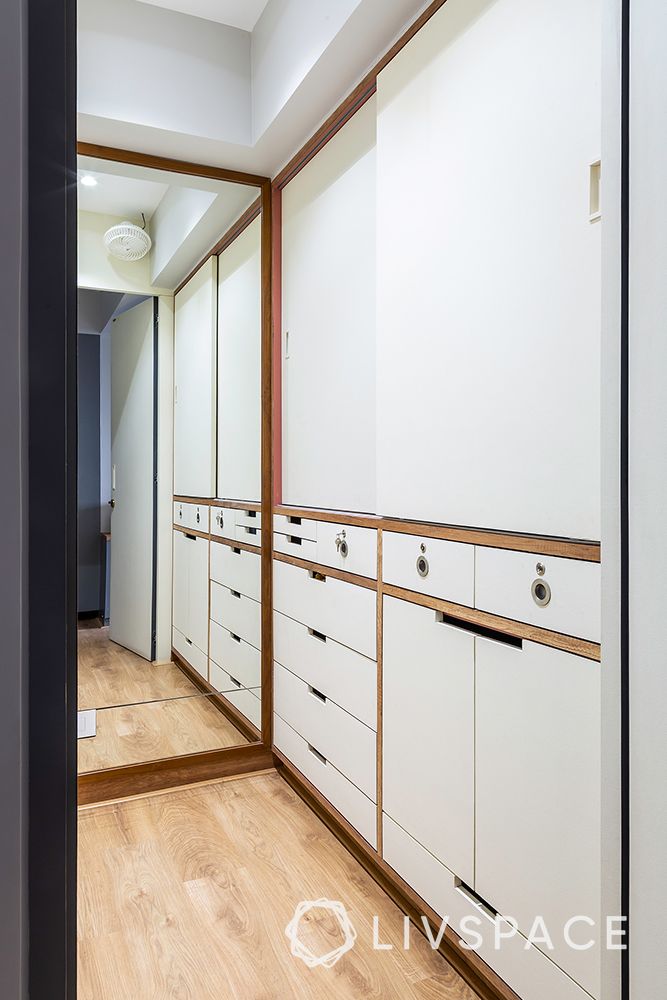 Adding a full-sized, ceiling-high mirror inside your walk-in closet adds a whole new level to the look and feel of your walk-in wardrobe. Mirrors have a wonderful way of exaggerating space and a full-sized mirror is the best option if your objective is to make your space look even more spacious. Similarly, sliding doors save space as they don't open outward, allowing you simpler access to your clothing, accessories and essentials. You can't go wrong with smart designs like these.
#7: Modernise and Improvise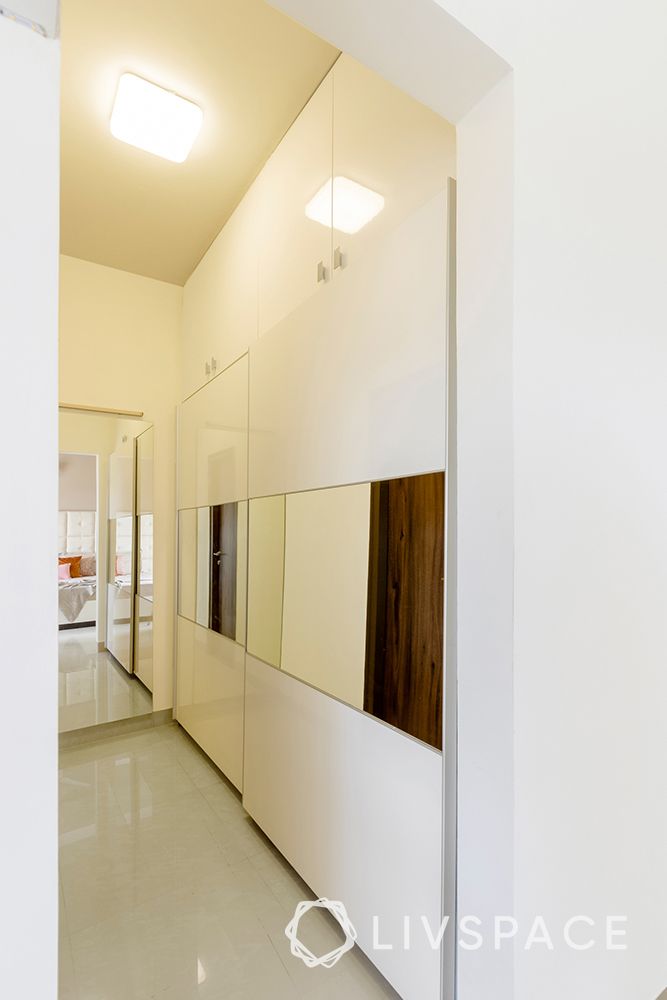 If you're looking to style your sliding doors, improvise by adding a semi-reflective or an opaque element in the centre or even ¾ of the wardrobe door works wonders for the look and feel of your walk-in wardrobe. This not only brings a classier look to your doors but also allows you to have a more reflective surface in and around your walk-in closet design.
#8: Don't Forget the Floors
While an all-white touch to your small closet designs is a wonderful idea, you can never go wrong with pairing it with the right flooring. A wooden finish against the clean and neat all-white doors of your walk-in wardrobe and the walls of your bedroom brings out the contrast quite nicely, while giving your entire room a holistic aesthetic.
#9: Contemplate Going Contemporary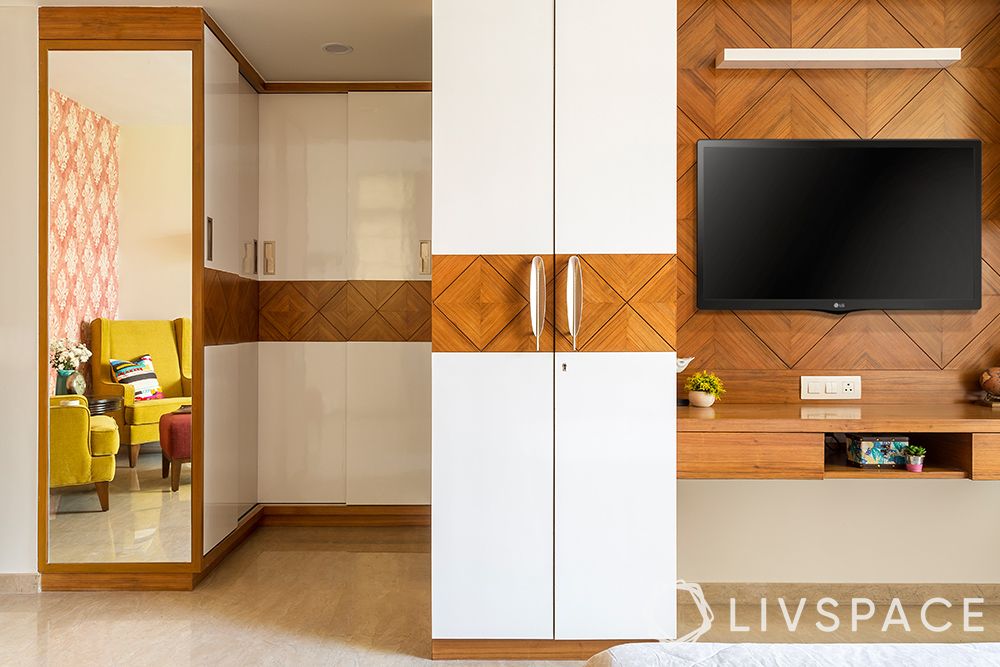 Traditionally, a walk-in wardrobe goes right around the corner of the bedroom, however, there is always a free hand when you have space to experiment with. For example, the wardrobe in the image is rooted in a contemporary design with semi-reflective white and brown shiny finishes and is located away from the bed, and in front of a seating area. Evidently, this as well as the angular positioning allows more space in front of the wardrobe.
#10: Introduce Accented Lighting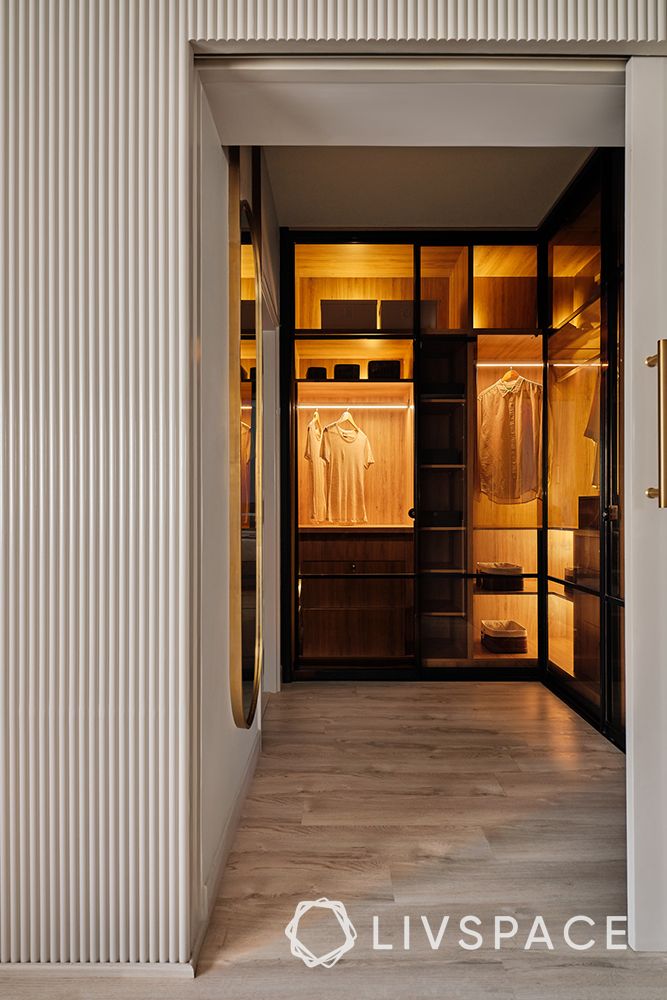 Accentuate the space inside your walk-in wardrobe with some accent lighting on the ceiling of each shelf and storage space. This not only gives your closet a classy and clean look, but it also illuminates your storage space, taking its functionality one level above the rest.
Want to know more about walk-in wardrobes. Read Can You Get a Walk In Wardrobe in a Small Room. Send in your comments and suggestions at editor@livspace.com. Wondering how our customers feel about working with Livspace? You can check out the Livspace wardrobe reviews here!
How Can Livspace Help You?
We hope you found our ideas useful! If you want your home to be just as beautiful, then look no further. Book an online consultation with Livspace today. Delivering safe home interiors has been our No. 1 priority. Click here to find out how interiors are being delivered following all safety protocols.