The world is divided into people who live to shop and people who shop to live. If you are in the second category, good for you! But, let me address my fellow shopaholics first as they are forever struggling to make space for their clothes and accessories. You need a sturdy and spacious wardrobe to accommodate your ever-growing 'wardrobe'. But, the wardrobe (that houses the 'wardrobe') is often overlooked. In fact, just space is not enough; optimising it is equally important? We say that a modern wardrobe design must come with all the essentials to make organisation an effortless task. 
So before we jump into these wardrobe essentials, let's take a look at the wardrobe trends 2021.
Modern Wardrobe Design Trends 2021
Here are the latest wardrobe design trends for 2021:
Modern retro is in! Wooden textures coupled with antique handles and contemporary colours will gain popularity this year
Japandi, a mix of Japanese minimalism and Scandinavian style is a rising trend in almirah designs. Heavily textured wardrobes that act as a focal point in a minimal bedroom mark this look
Bohemian is another style that is popular in 2021. Boho wardrobes feature geometric and abstract designs and artsy colours
Modern Wardrobe Design Must-haves
These are the almirah essentials that your modern wardrobe design must have to ensure that your almirah and bedroom both remain organised and clutter-free:
#1: For Clothing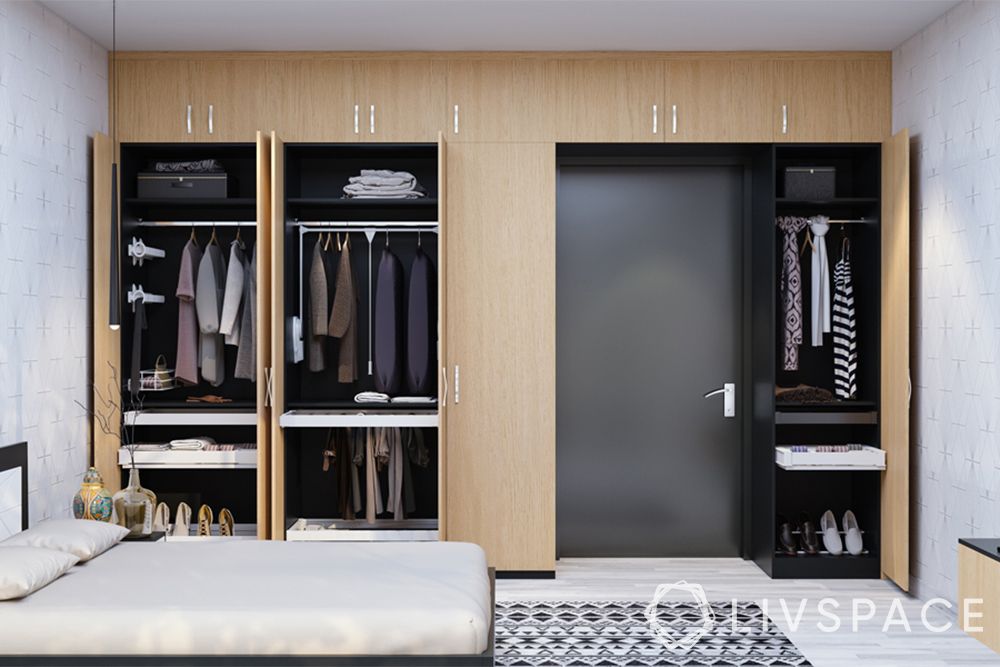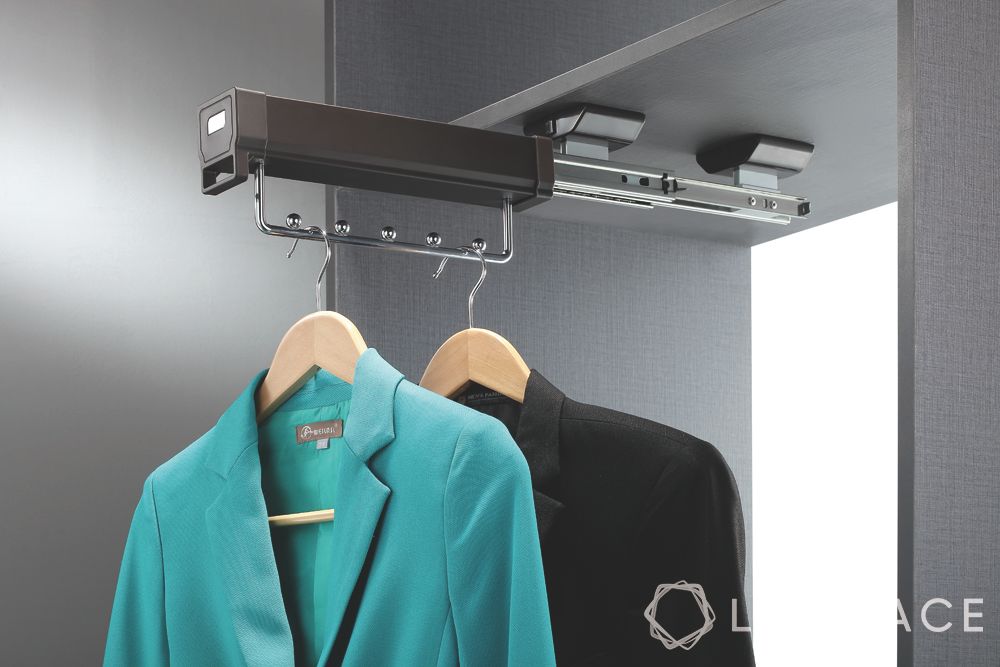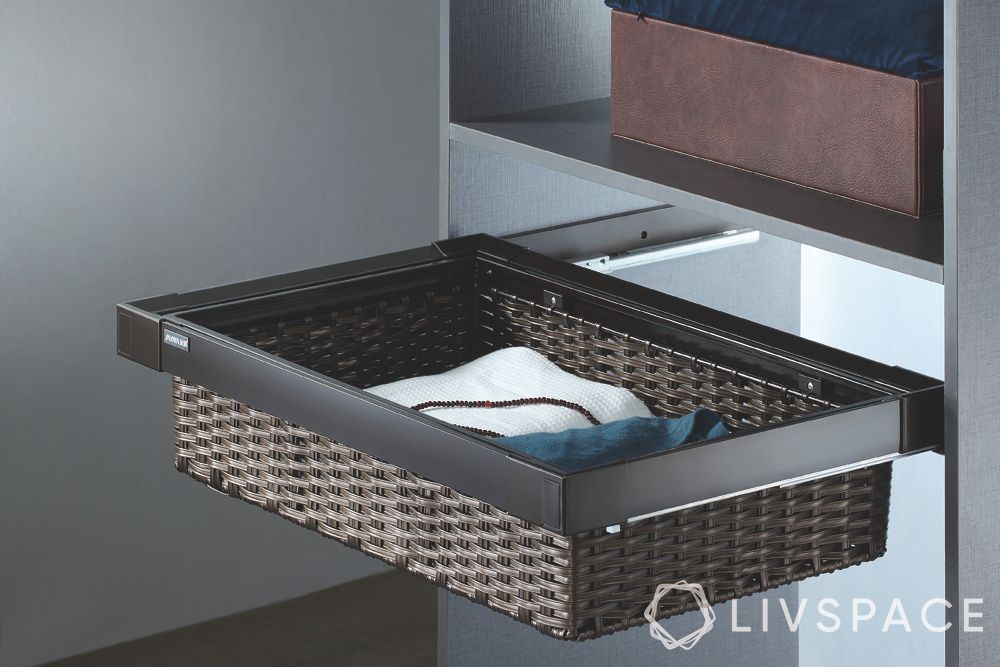 Storage Problem: Too many clothes, not enough space
Your clothes take up the lion's share of space in your wardrobe. Your mom probably screams at you every day for buying so many clothes when there is absolutely no space left in your almirah!
Solution: Hangers and wicker baskets
Hangers can give you that extra vertical space when that pile of folded clothes is tumbling out whenever you open your wardrobe. Apart from hangers, also invest in pull-out wicker baskets for your inners and other small clothing items.
#2: For Accessories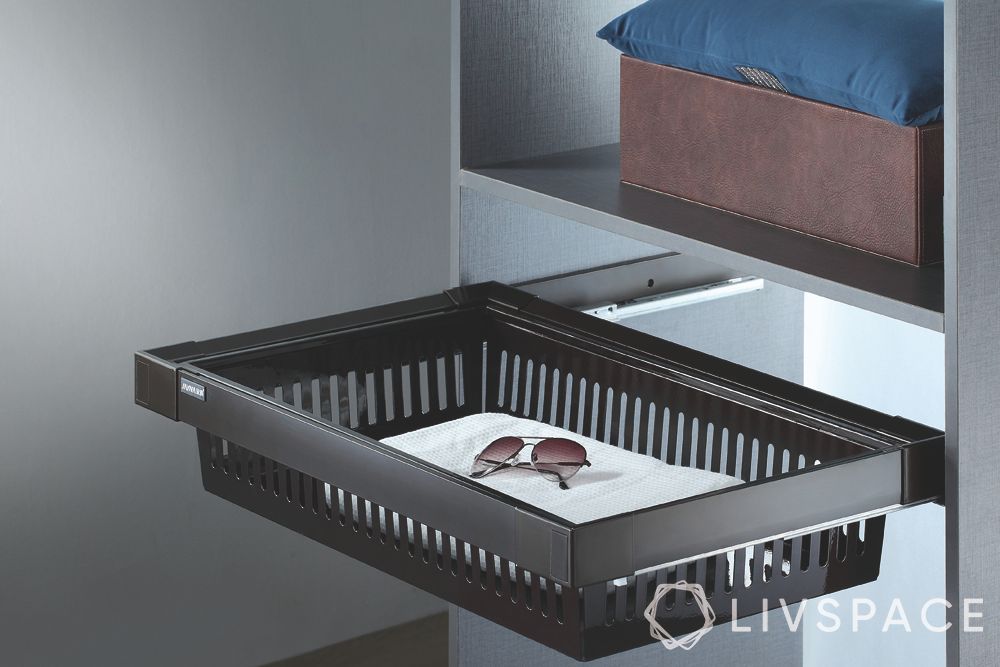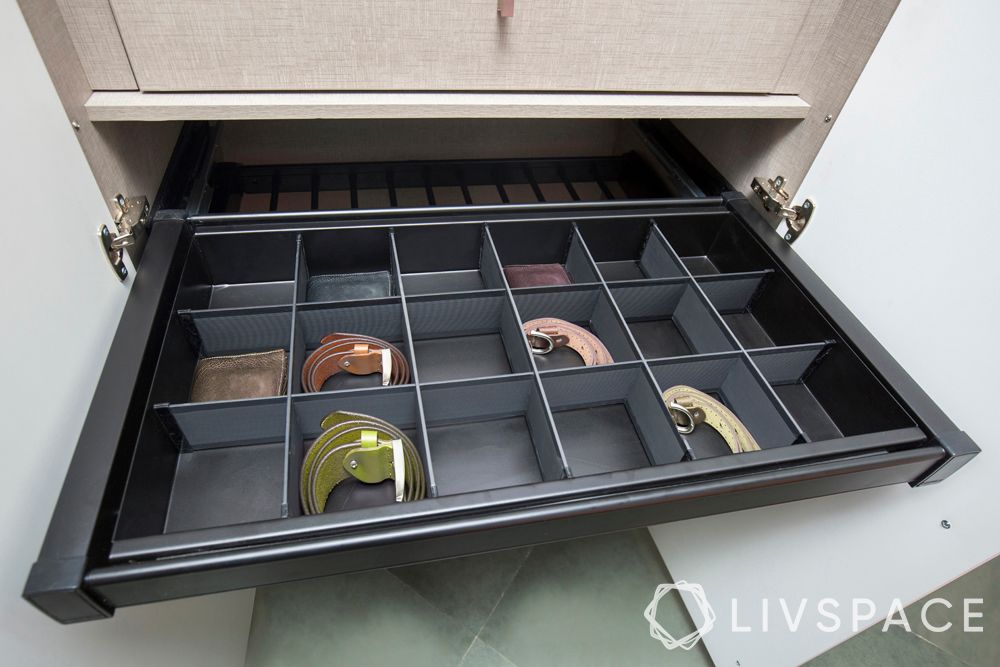 Storage Problem: No space to keep accessories without losing them
Not all of us have space in our room for a separate accessory cabinet. We need to make do with our existing wardrobes. So, how do you stop your accessories from getting lost amongst the vast multitudes of clothes you have accumulated over the years? 
Solution: Metal basket drawers and organiser drawers
A modern wardrobe design should necessarily have a metal basket drawer and an organiser drawer. This helps in keeping smaller accessories like sunglasses, cufflinks, ties, jewellery etc in an organised manner.
#3: Wardrobe Lofts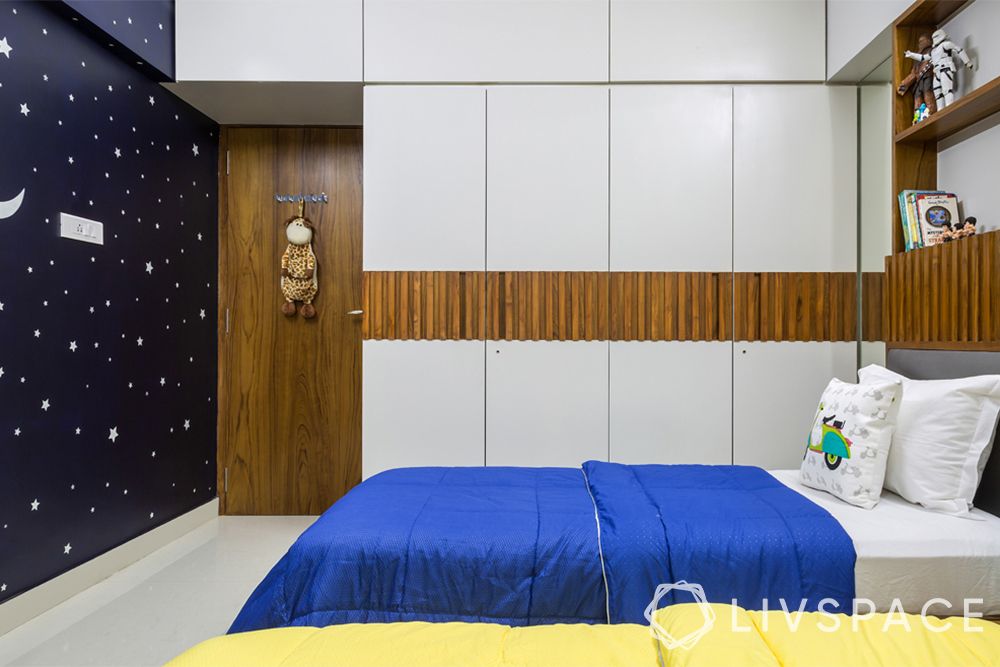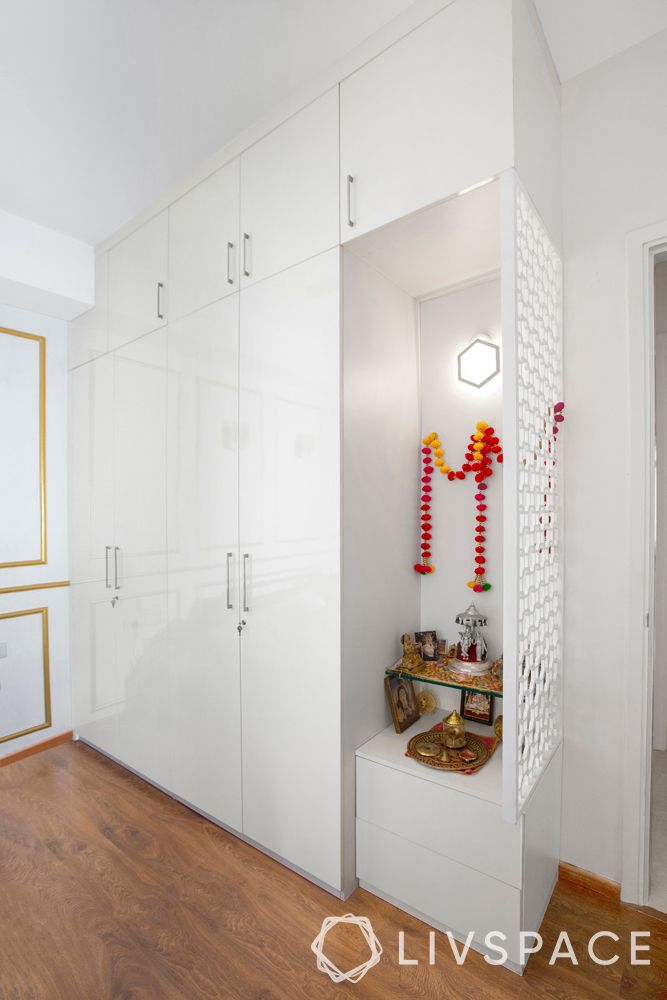 Storage Problem: Need for a space to store big items like luggage and rarely used heavy things like blankets and woollens
An important design insight that you should always keep in mind is that rarely used items should not take up space that you access every day. In other words, things like suitcases, blankets etc should be stowed away to be used only when necessary.
Solution: Lofts
Any latest wardrobe design will have a loft with it. Lofts are storage cabinets fitted to the top of your wardrobe. These ensure that you do not waste the vertical space. Lofts are the perfect storage solution for compact homes.
#4: For Shoes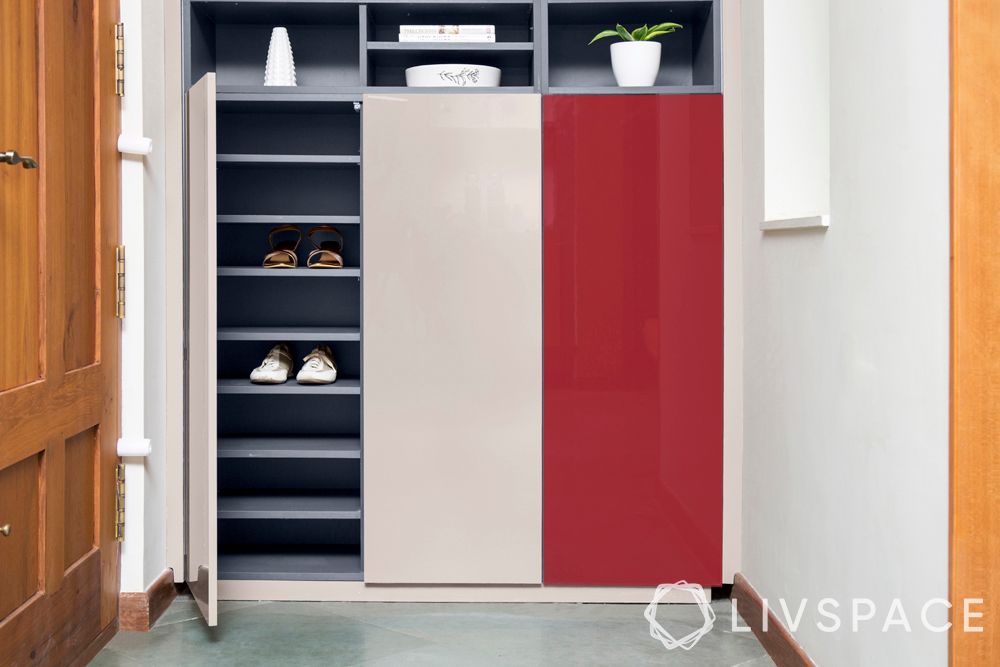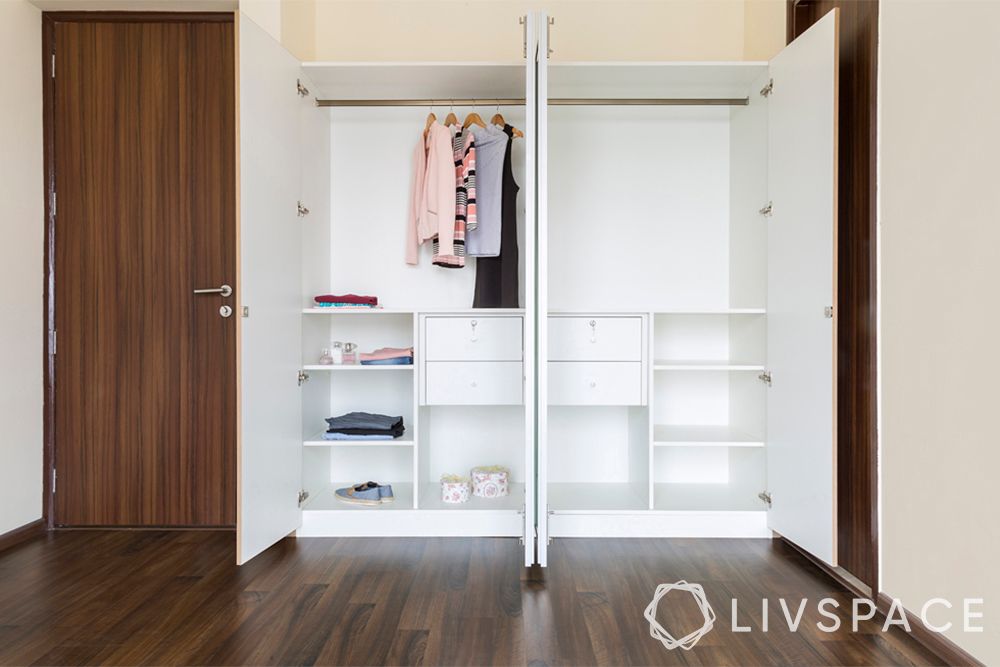 Storage Problem: No place to keep party and formal shoes which are not used very often
When you live in a small home, adding extra pieces of furniture is never a good idea. Now, when it comes to your shoes, you can get away with keeping your daily-use chappals outside your house. But, what about those stylish party shoes? Where do you keep them if you don't own a shoe cabinet?
Solution: Shoe racks in wardrobes
Is the lower section of your wardrobe rarely used as you hate bending over? This is the best place to add shoe racks and store your precious designer shoes! Also, you can slip on your pretty shoes easily without having to bend over. 
Things to Consider While Buying a Wardrobe
Now that you know about all the essential modern wardrobe design accessories, you can go ahead and buy a wardrobe. But, before investing in a wardrobe, keep these 5 things in mind.
#1: Wardrobe Opening Mechanism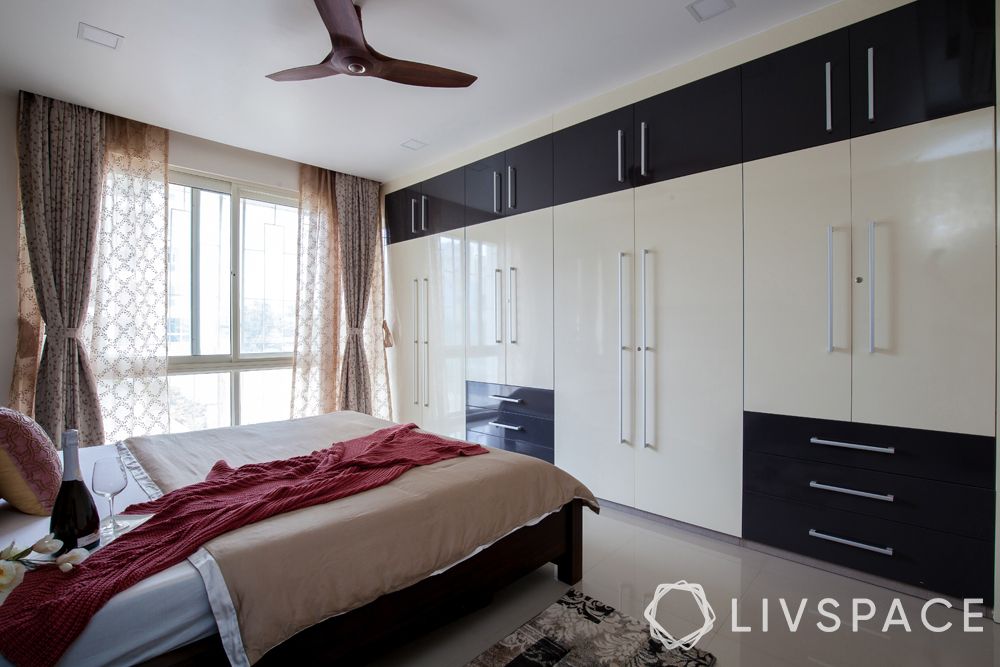 The first thing that you need to consider is what type of wardrobe you want. Do you want a sliding wardrobe or a swing door? You can also opt for a walk-in design if you have the space. For small homes, sliding wardrobes are the best option as they do not take up too much space. If you choose to go for a swing door design, remember to keep 36-48 inches of space in front of your almirah for the doors to open.
#2: Wardrobe Materials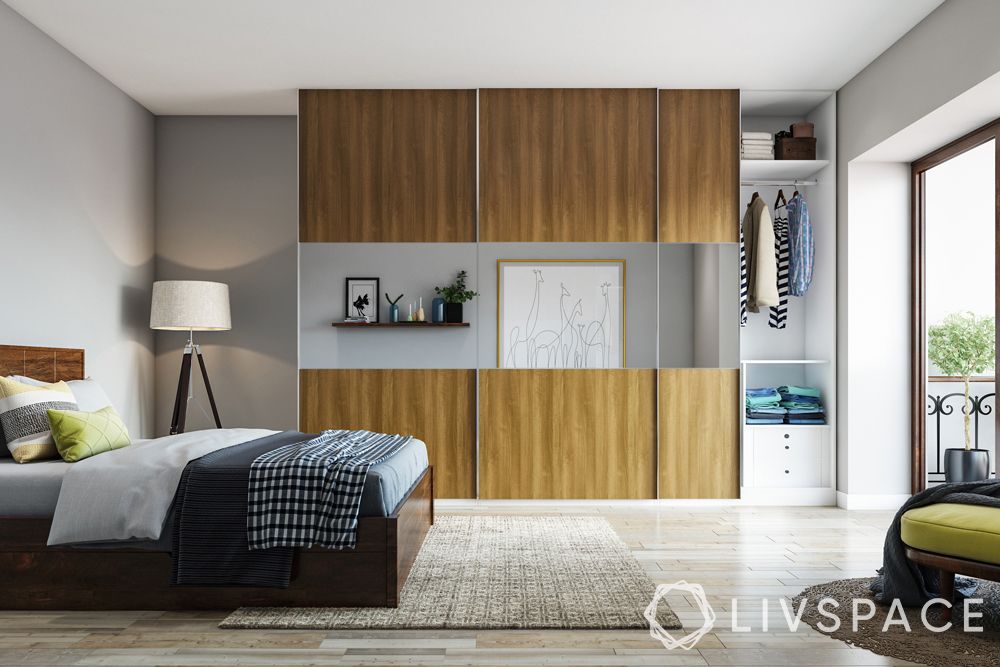 Next, we come to the material of your latest wardrobe design. The material of your almirah is a crucial decision that you must make as it will determine the cost, durability and maintenance of your almirah. Wood, glass, MDF are some of the popular choices; there are so many options available! While a wooden almirah will give your bedroom a warm, old-school look, MDF, being affordable and more ecologically sustainable might appeal to some. 
#3: Wardrobe Finish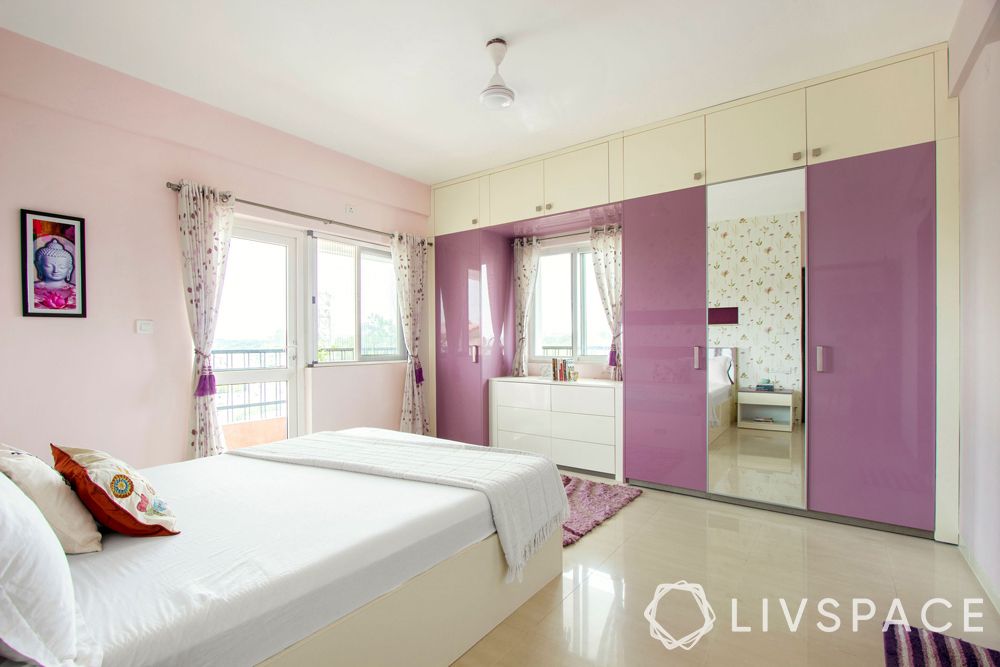 The material is not the only thing that affects the cost, durability and maintenance of a modern wardrobe design; the finish is equally important. Laminate, acrylic, membrane — you can choose from a wide range of finishes. If you are looking for budget and low-maintenance options, then laminate is a splendid choice. On the other hand, for something more plush and durable, choose acrylic.
#4: Budget for Wardrobe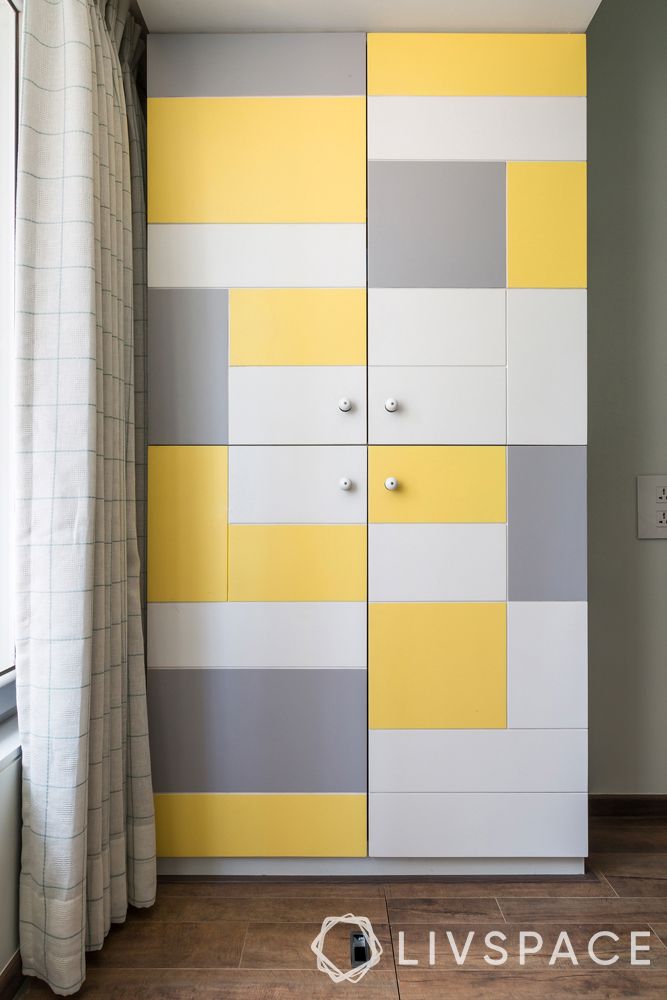 The almirah design you choose will ultimately depend upon your budget. Wardrobe cost ranges can vary by a great extent depending upon size, material, finish, design, type etc. From cost-effective options like laminate swing door wardrobes to high-end options like walk-in wardrobes in an acrylic finish, it all depends on your needs and budget. Remember that a closet is a long-term investment so you should adjust your budget accordingly.
#5: Size of Wardrobe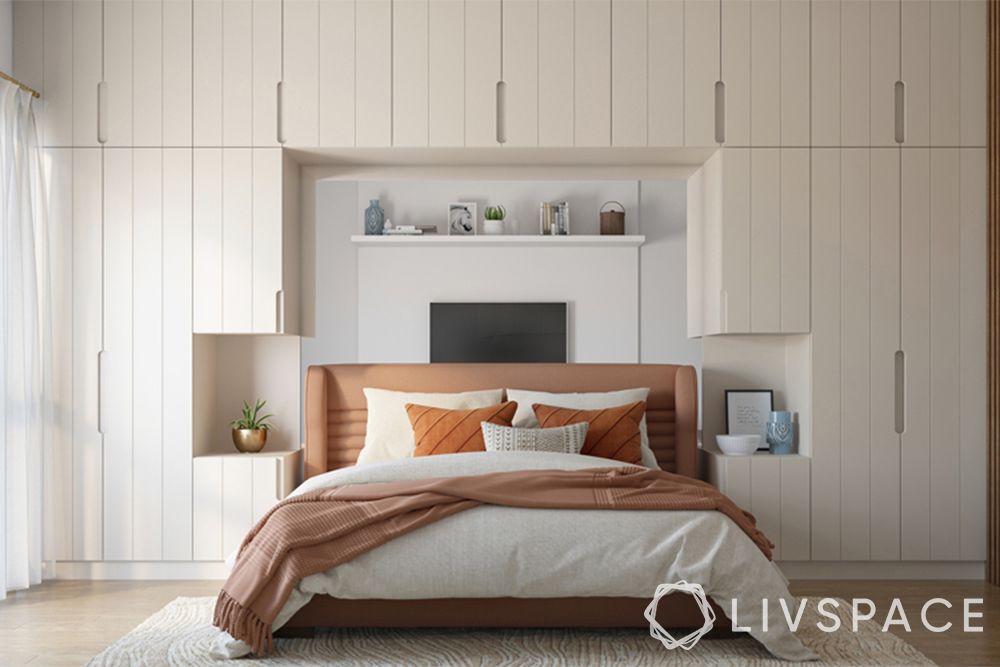 Finally, before buying a wardrobe, decide on the size. While choosing the size, you must also consider the dimensions of your bedroom. An extensive wardrobe in a small bedroom will look cramped. Ideally, the longest wall of your bedroom should be used for your wardrobe. Measure the area, take into consideration the amount of cupboard space you need and then decide the exact dimensions of your wardrobe.
A modern wardrobe design should not only be stunning but also functional, durable and space-efficient. At Livspace, we have a wide range of wardrobes that are sure to fit your needs. In case you are confused regarding which wardrobe to pick and how to design your home, our designers can help you.
Looking for the latest wardrobe design inspiration? Check out these 10+ trending almirah designs.
How can Livspace Help you? 
We hope you found our ideas useful! If you want your home to be just as beautiful, then look no further. Book an online consultation with Livspace today. Delivering safe home interiors has been our No. 1 priority. Click here to find out how interiors are being delivered following all safety protocols.  
***Colours and finishes are subject to availability. Please check with your nearest Livspace store to check availability.
We love hearing from you! Write to us with your comments and suggestions at editor@livspace.com