Almost every bedroom has a wardrobe and most often, there is enough space in your wardrobe to house your entire collection of clothes. Then why do we always feel like we can't get our wardrobe in order? It probably has something to do with how we plan and design wardrobe interiors.
Most homeowners spend a lot of time and effort deliberating on the finish and design of their wardrobes but don't do the same when it comes to wardrobe interiors. However, space optimisation within the wardrobe is of paramount importance. For example, did you know that you can actually have wardrobe accessories that help you store your trousers without getting creases?
There are many such accessories that can customise wardrobes for special storage needs, giving the user a seamless experience. So let us take you through 12 cool accessories that can completely transform your experience of storage.
#1: Folding Mirror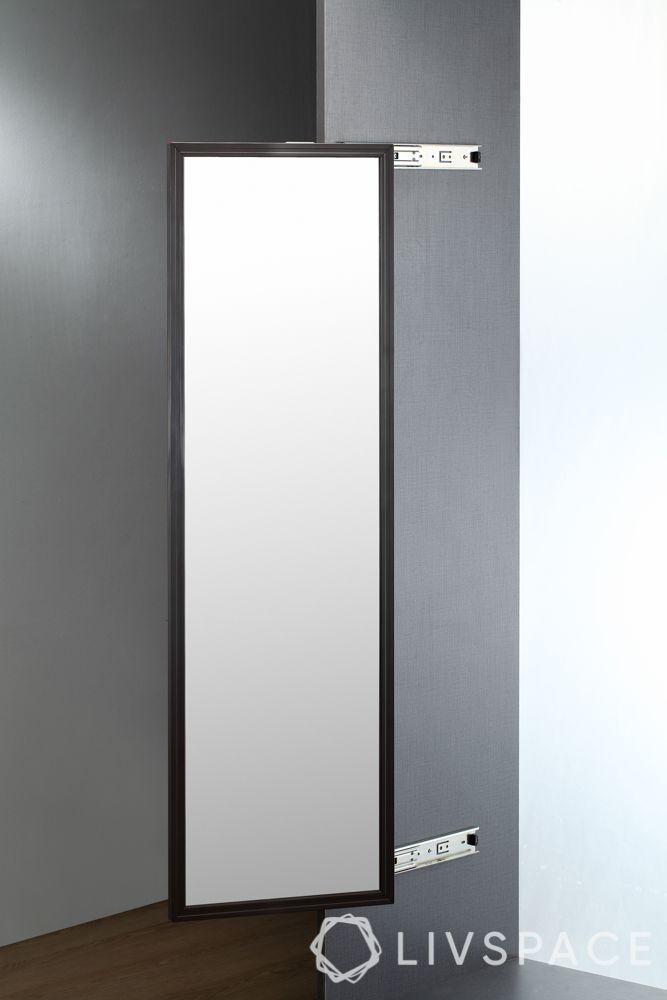 Storage Problem: Since most bedrooms these days are compact and don't have enough space for a full-fledged dresser, the vanity mirror is usually part of wardrobes. There are a number of ways to add a mirror to your wardrobe; the most common one is to opt for a mirror door. However, many homeowners are reluctant to do this for vastu considerations.
Solution: We suggest the pull-out mirror accessory that can be folded neatly into the wardrobe. It's a space-efficient solution for a full-length dressing mirror. Plus, it gives you the freedom to choose shutter finishes that go with the style of your bedroom.
#2: Trouser/Saree Rack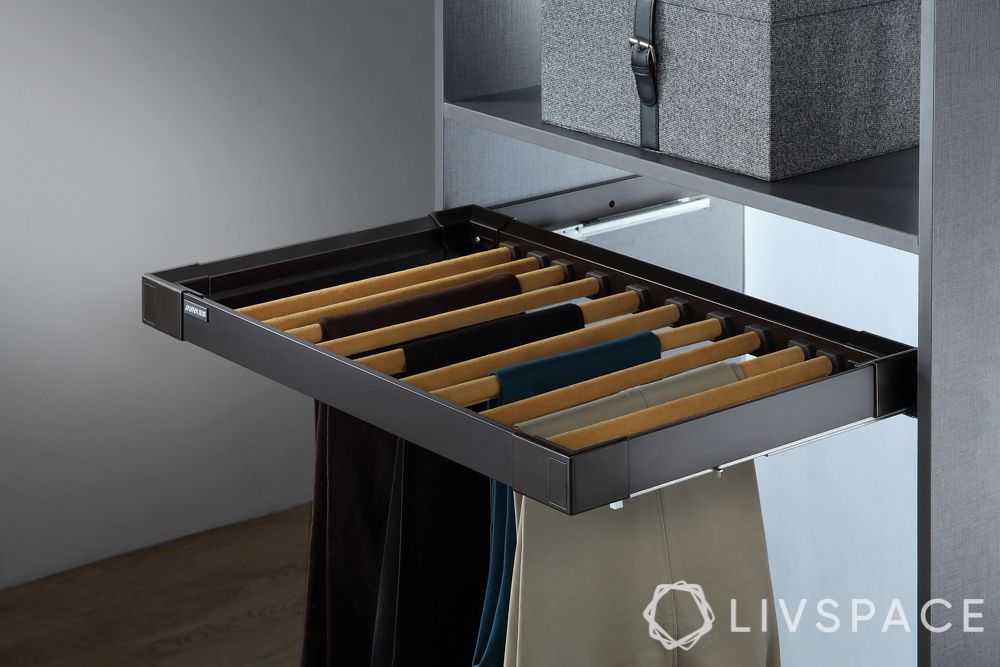 Storage Problem: This accessory single-handedly addresses three major pain points associated with wardrobe interiors. Firstly, the problem of using the lower modules of a wardrobe. When you have to bend so much to retrieve your things, you end up not using this space to the fullest. Secondly, the issue with ironed clothes getting creased as they are piled on top of each other. Last but not the least, if clothes don't have visibility, you tend to forget that they exist.
Solution: This pull-out rack ensures you don't have to bend over to access the lower parts of your wardrobe. It also ensures ironed clothes stay crisp, particularly trousers and sarees. Plus, it allows you to see each item of clothing separately!
#3: Pull-out Hanger Rail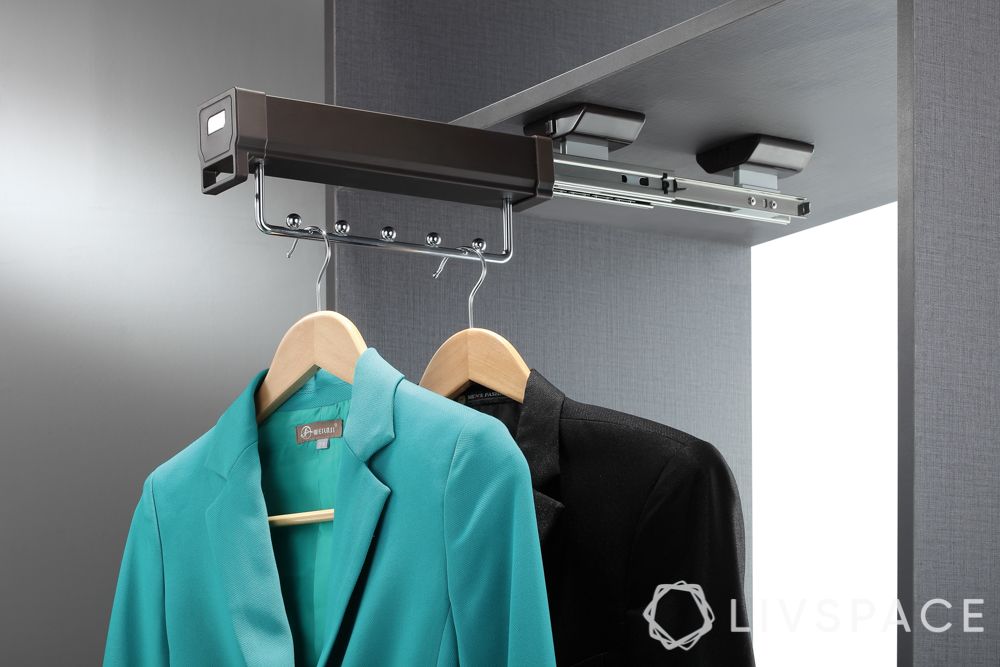 Storage Problem: If you have opted for a really deep wardrobe, there is a fair chance that your clothes might get hidden behind each other.
Solution: The top-mount hanger rail is particularly useful in this regard. The sliding mechanism allows you to draw out the hanger rail towards yourself so that you can see all your clothes. This also ensures your pressed shirts and jackets don't develop dog ears and bent collars.
#4: Organiser Drawer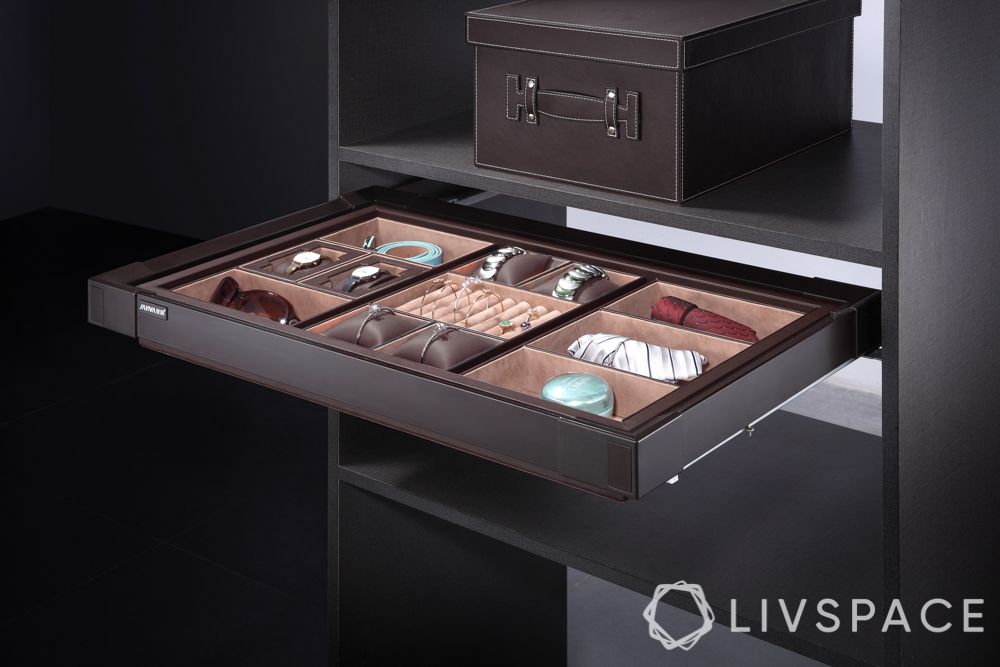 Storage Problem: We all know from experience that whatever goes into a drawer can never be found at the right moment. This is mainly because we use our wardrobe drawers as our go-to option for knick-knacks; we stow away tidbits into them without much thought or consideration. Hence, they turn into a mess of miscellaneous items that take forever to sort through.
Solution: The right way to deal with this wardrobe interiors problem is to install organiser trays inside drawers. This very useful accessory is made of MDF and lined with fabric. The compartments help you segregate important items like jewellery, cufflinks, ties, belts etc.
#5: Metal Basket Drawer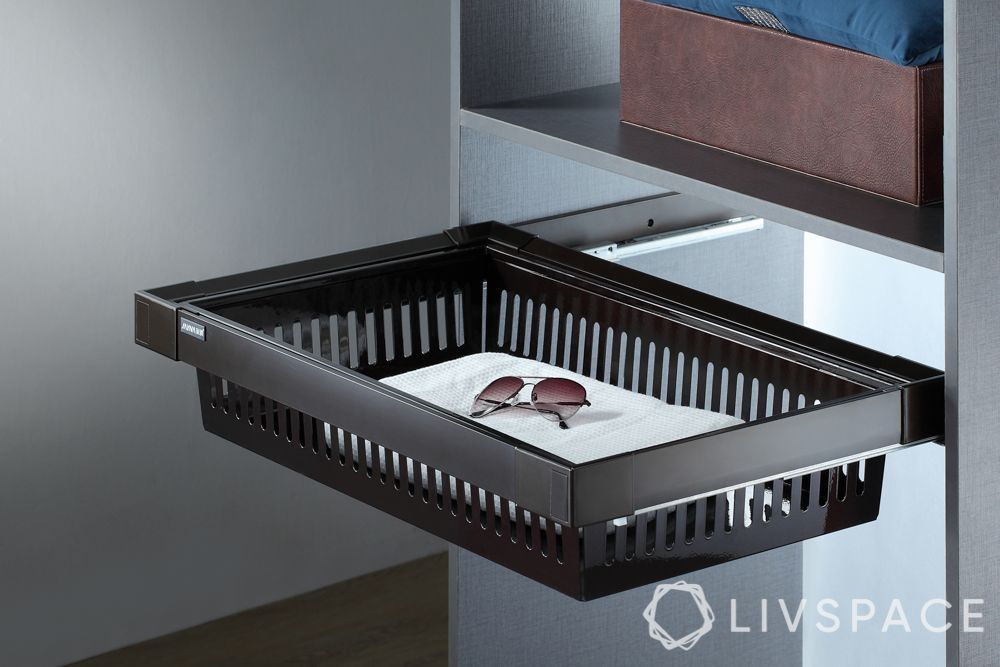 Storage Problem: Have you ever felt that there is a lot of space in your wardrobe but some of it is not usable? In fact, a wardrobe is not always used only to store clothes; we need storage space for other things too like bed sheets, bath linen etc. Do your wardrobe interiors accommodate these needs or are you still stacking towels right next to your pile of clothes?
Solution: We suggest you get a metal basket drawer if you like to segregate your linen from your clothes. This accessory makes it easy to separate space within the wardrobe and organise different items more efficiently.

#6: Trouser/Saree Hanging Shelf Top Pull-out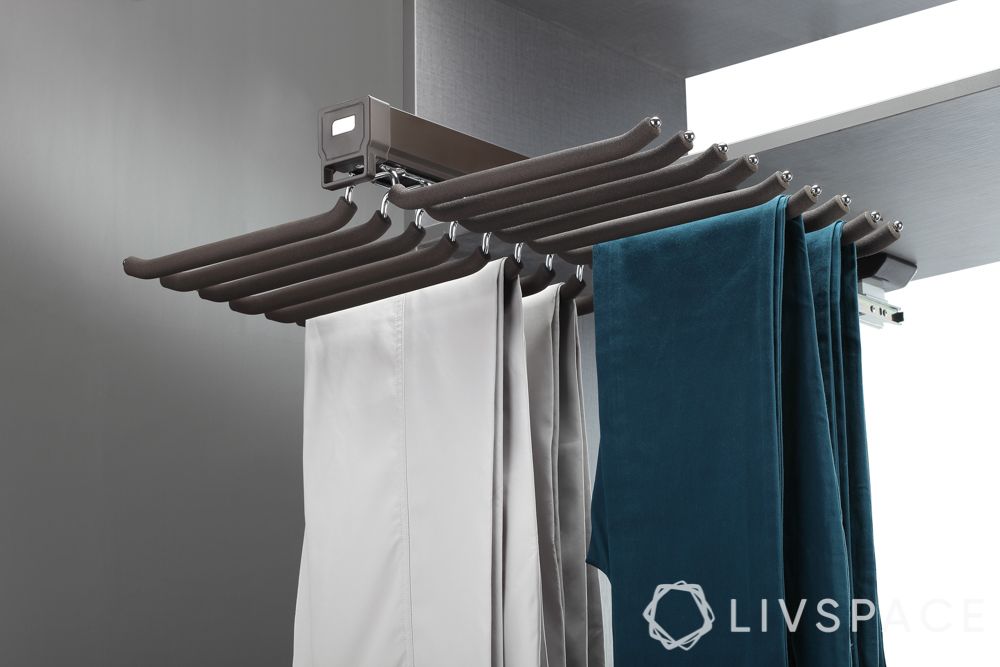 Storage Problem: It has already been established that trousers and saree fare much better when they are hung. However, if the pull-out rack for the same is installed in the lower part of the wardrobe (as mentioned above), you may not see the entire length of the garment while choosing it.
Solution: So if you wish to prioritise visibility in your wardrobe interiors, you should probably opt for the double pull-out rack in the top part of your closet. This choice depends on your lifestyle. For instance, if you wear sarees regularly, it would be an excellent design choice for your wardrobe.
#7: Shoe Organiser Drawer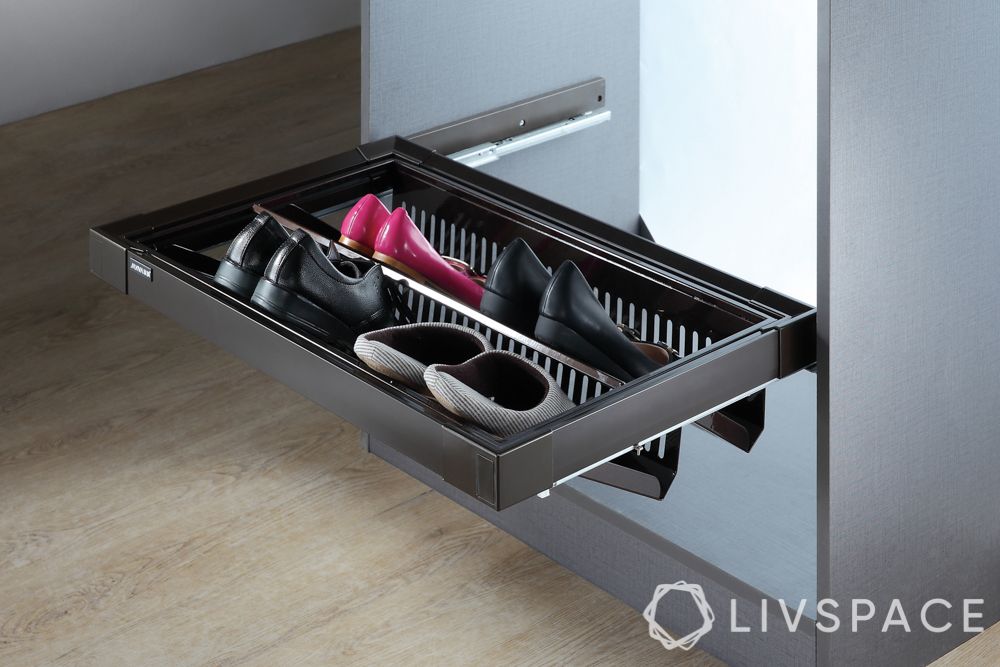 Storage Problem: As the saying goes, every woman (or man for that matter) needs a nice dress and a pair of shoes that makes her feel like a princess/celebrity! And we know it's always more than one special pair! But, you wouldn't want these special pairs to gather dust and grime with the other neglected shoes in a shoe cabinet, would you?
Solution: So make space for them in your wardrobe interiors. Most of us don't like to bend down and use the lowest parts of our wardrobes so often. Best to use this space for the shoe organiser drawer then. Stow away your Jimmy Choos and Steve Maddens here!
#8: Horizontal Hanger Rail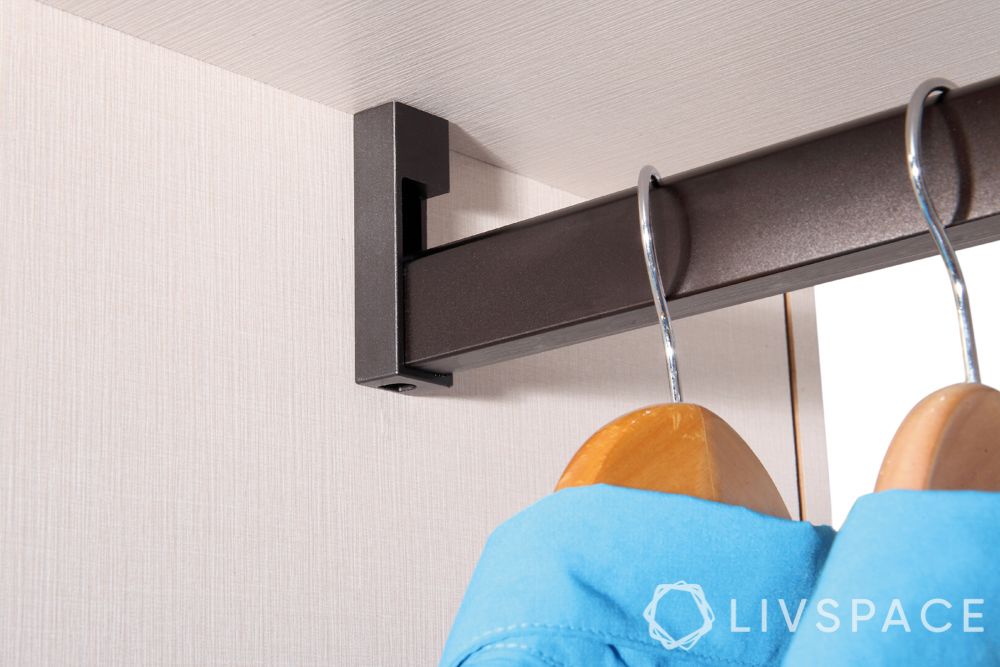 Storage Problem: Every wardrobe needs a good solid hanger rail that can bear the weight of our ever-increasing collection of clothes. This place is typically used for long dresses, coats, shirts etc.
Solution: This is a customisable accessory that can be tailored to suit your type of wardrobe. If you are not someone who wears many dresses, you should go for a shorter module that suffices for coats and shirts. However, a sturdy hanger rail is a basic feature for closets that should not be traded for anything else.
#9: Digital Safe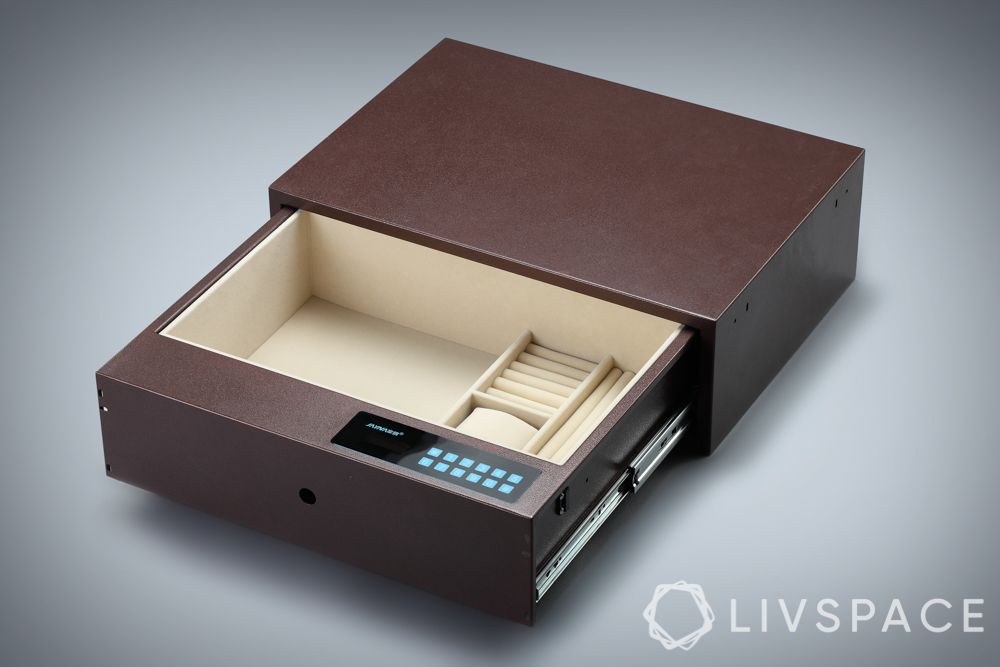 Storage Problem: In most Indian homes, jewellery is a regular item of storage. And it is usually stowed away in a secret place within the wardrobe. It's pertinent to understand that drawers or cabinets with locks can only provide a minimal measure of security.
Solution: If you want an advanced level of security for your valuables and important documents (like property deeds etc.) install a safe inside your wardrobe. With a password lock, this accessory keeps your valuables safe to a much higher degree than the regular lock and key units.
#10: Pull-down Hanger Rail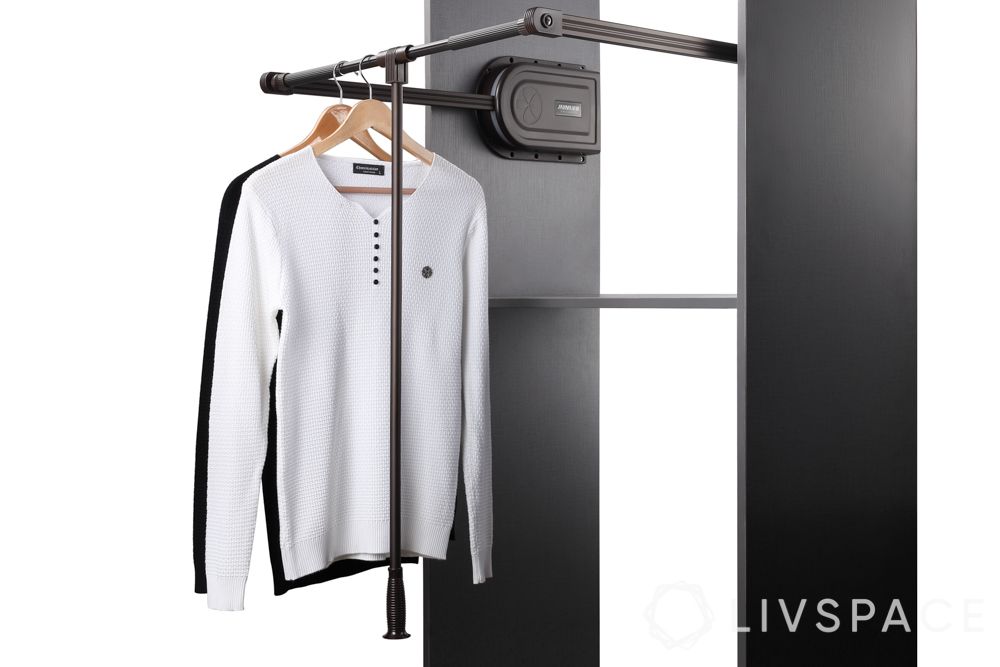 Storage Problem: If you are a short person, the world is not exactly a friendly place always. In fact, reaching out for things is one of the regular trials and tribulations of being short. Whether it is your kitchen cabinets or your closet, you have to constantly reach out for your own things.
Solution: This struggle can come to an end if you opt for a pull-down hanger rail in your wardrobe. This adjustable accessory comes with a pull-down mechanism that can be used to make your clothes reachable. This feature is also very useful for wall-to-ceiling wardrobes (without lofts) that have higher modules.
#11: Glass Basket Drawer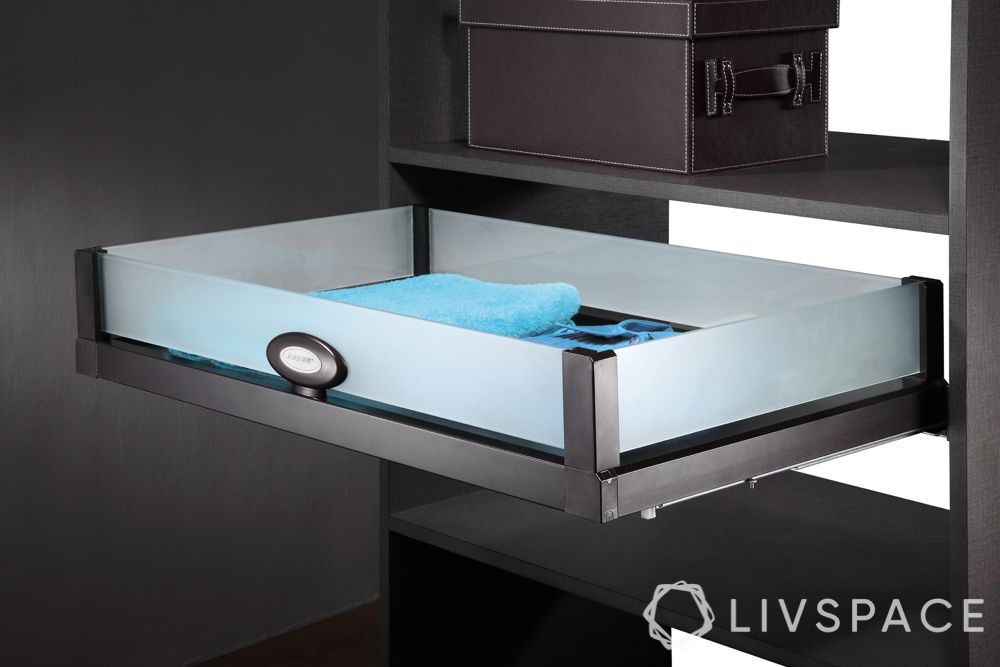 Storage Problem: Have you struggled to find a special place for your tiny things like clutches, watch boxes or undergarments? While you can stow them into a regular drawer, we know something sleek works better as a visual treat.
Solution: The chic glass drawer is the perfect space for your delicates. Tuck in your lacy undergarments or sleep wear here. You can find space for your sequined clutches or pen boxes here too!
#12: Wicker Basket Drawer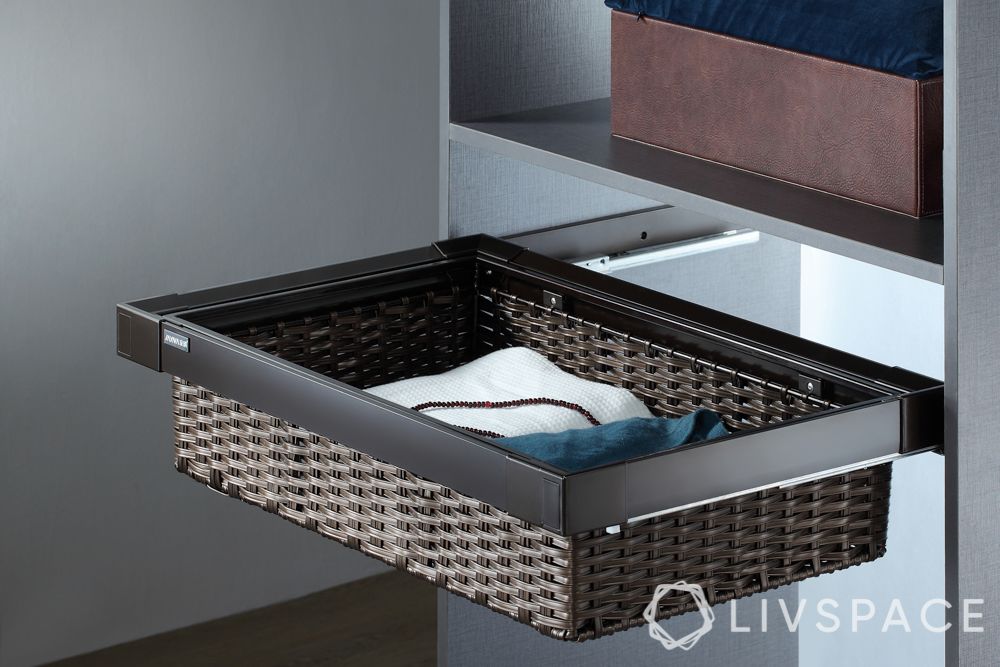 Storage Problem: Ever wondered where to keep clothes that you have worn once and intend to wear again? They are not dirty enough to go into the laundry basket but not clean enough to store with the freshly ironed clothes. Usually, we keep such clothes in a storage unit ingeniously called 'the chair.'
Solution: The wicker basket drawer is a practical and more organised replacement for 'the chair.' You can use it to keep clothes you have worn once but they are not dirty enough to wash. Since you are keeping unwashed clothes in this drawer, we have made sure that the drawer itself is washable!
If you enjoyed reading about these accessories that can optimise your wardrobe interiors, also explore Infographic to Iron Out All Your Wardrobe Organisation Woes.
Send in your comments and suggestions.