If you have been recently shopping for interiors, there's a high chance that you have come across laminates in one form or another.
Available in a range of decorative patterns and colours, laminate material forms the surface of a lot more products than you can imagine. Hence, it only makes sense to know everything about laminate, from what is laminate made of, to the features of this versatile material and tips on using it in your home.
What Is Laminate?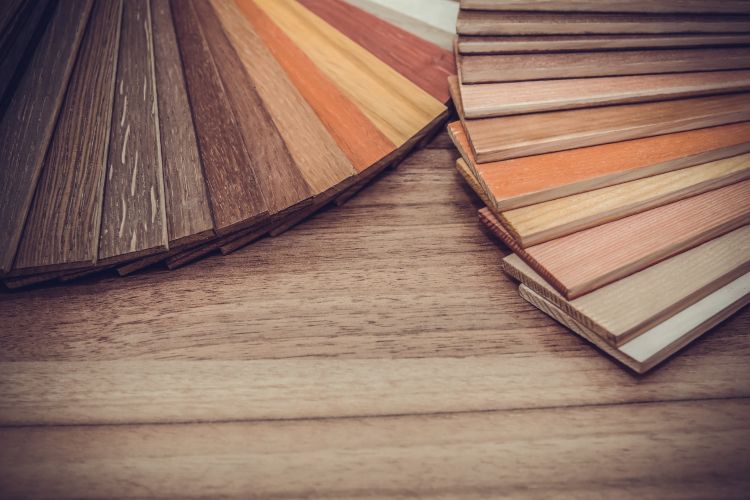 If you're new to the world of interiors, it's normal to wonder what is laminate. So, a laminate is the most commonly used finishing layer for MDF, plywood, particleboard, wooden furniture, wall panels and flooring options.
Essentially, a composite artificial material, it is made by pressing together thin layers of flat paper and resins. The upper layer is often printed with a decorative pattern or colour. The laminate cost per square foot lies between ₹56.25 per sq.ft. (high gloss laminate sheets price) to ₹350 per sq.ft. (PVC laminate cost).
How to Choose a Laminate?
With over 700 permutations and combinations, choosing a laminate can be confusing. We hear you, but fear not! Here are some tips to help you with the selection process:
You can use two solid colours to create pleasing combinations. But too much pop is time to stop!
If you've chosen a pop colour laminate for your cabinets, then go with a lighter tone laminate on the countertop and dado area.
For your base units, go for a darker solid colour as these laminated areas are used frequently, and they are more prone to getting dirty.
For more tips on how to choose a laminate, watch the video below:
What Are the Benefits of Laminates?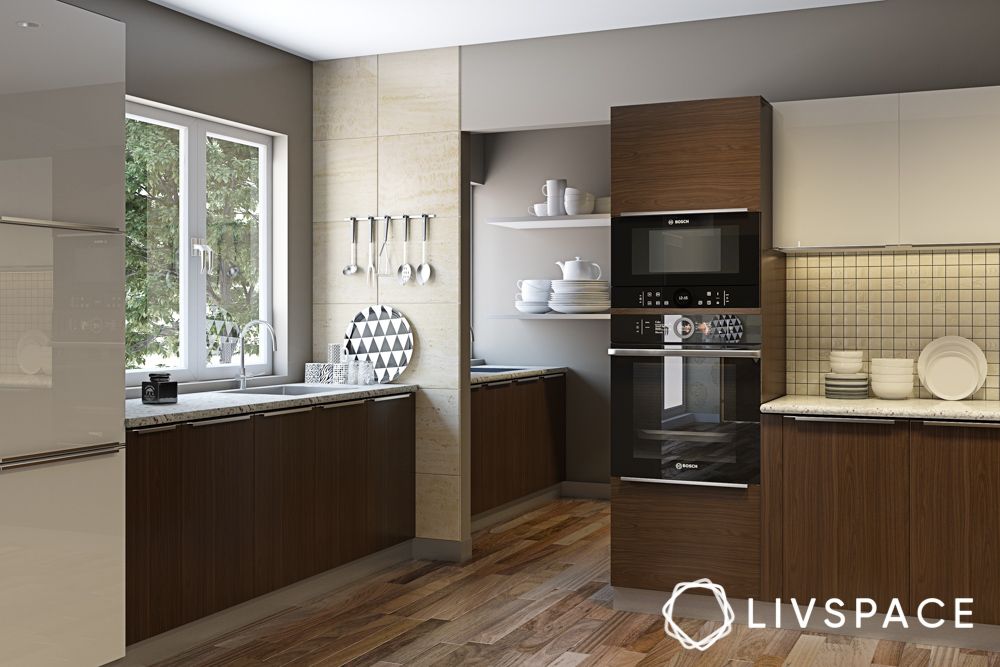 There are five major benefits of different laminate finish types, used for household purposes.
Natural appeal: Laminate is an engineered material with a natural appearance and feel. While being protected from the drawbacks of any other surfacing material, laminates give you the appearance of a natural surface.
High durability: Laminates are built to last. They are far more resistant to moisture, and wear and tear than other surfacing materials.
Low maintenance: Laminates are low-maintenance. You don't have to worry about scratches, stains, or following a rigorous maintenance schedule. You just need to wipe the surfacing for dust once in a while.
Pre-finished product: You don't have to worry about finishing details with laminate, unlike paint or tiles, which must be finished after application.
Economical: They are simple to install, saving you both time and money on labour.
Also Read: Is Laminate Flooring the Best Option for Indian Homes?
What Are the Types of Laminates Used in Interiors?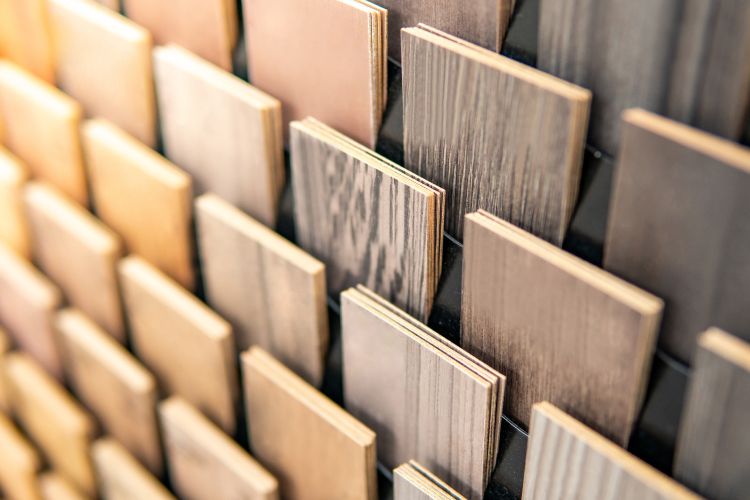 a. Decorative Laminates
These types of laminates have greater aesthetic appeal in terms of laminate finishes and patterns. Also, you can use decorative laminates for doing ornamental overlays on furniture. And there are so many to choose from as well! Take a look at some popular decorative laminates.
b. Industrial Laminates
These types of laminates have higher strength and are more resistant to wear and tear. Thus, they include high-performance ones which are fire retardant, antibacterial and chemical resistant for application in hospitals and other industries.
c. Compact Laminates
Also known as laminate boards, these types of laminates are fairly thick ones. That's why these boards are usually self-supporting, and you do not need to glue them onto any other material.
d. Post Formed Laminates
These flexible laminate versions are thinner than regular laminates. You can use them to wrap around tables, columns etc.
e. High-Pressure and Low-Pressure Laminates
Differing only in the pressure with which the laminate material is applied to a substrate, HPL is usually used with plywood while LPL finds its use with MDF.
f. Regular and Compact Laminate Sheets
Regular laminates are substantially thinner, with a maximum thickness of 1.5 mm. Compact laminates, on the other hand, have a maximum thickness of 30 mm. Designers use regular laminate sheets for stability and strength, whereas compact laminate sheets are also antibacterial, abrasion-free, water and fire-resistant.
Are Laminates Available in Different Colours?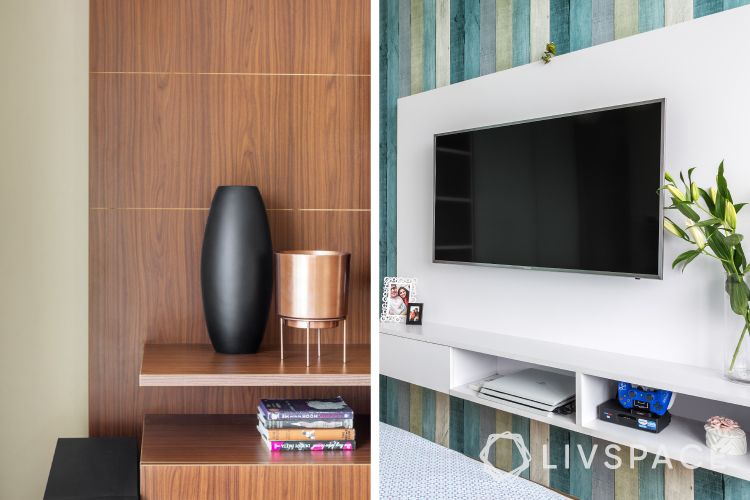 Yes. As different types of laminates exist, they can be found in a multitude of colours. In fact, laminates are available in a wide variety of patterns. So, if you want to simulate the appearance of solid wood textures and other natural materials, you should use laminates. They are also available in bright colours and funky motifs.
What Are the Types of Laminate Finishes?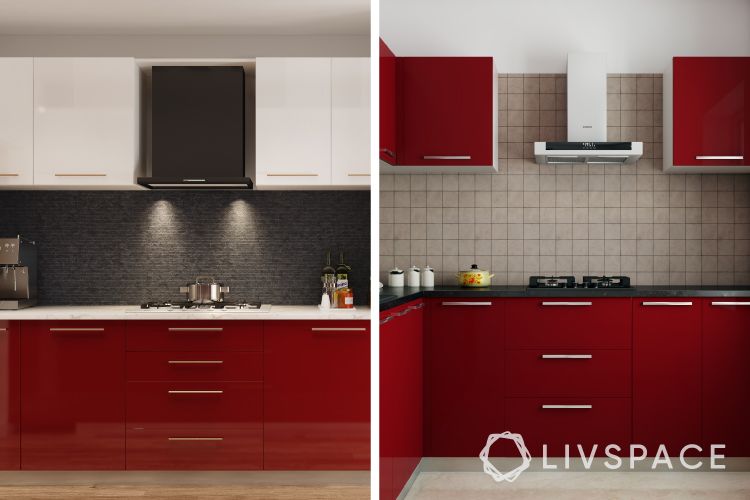 Although available in an array of finishes, the most common types of laminate finishes are matte, smooth, medium to high gloss laminate finishes. Implementation of furniture and wall panel ideas often use textured laminates, which replicate the tactile feel of natural materials. Popularly used textures include handscraped, rustic wood, metallic and leather finishes.
What Sizes Are Laminate Materials Available In?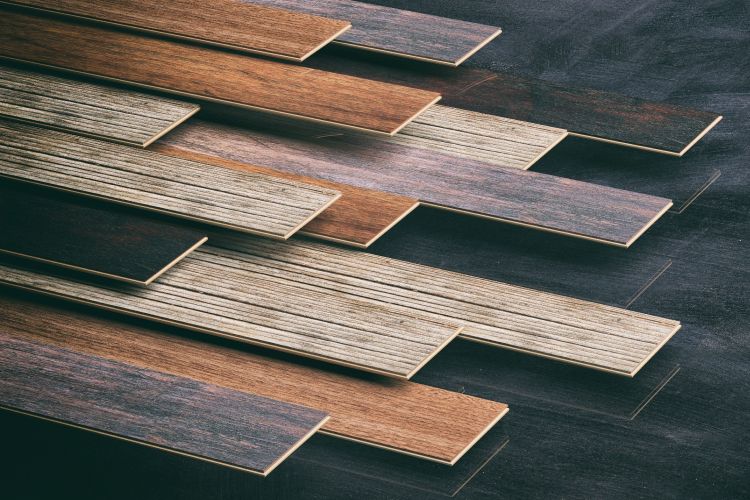 Laminate materials are commercially available in sheets, panels and boards depending on the type of application. The approximate size of sheets available is around 8 feet by 4 feet. Wall panels and boards are available as squares or rectangles in different sizes.
Also Read: What is Engineered Wood and Why It Is the Perfect Choice for You?
How Durable Are Laminates as Materials?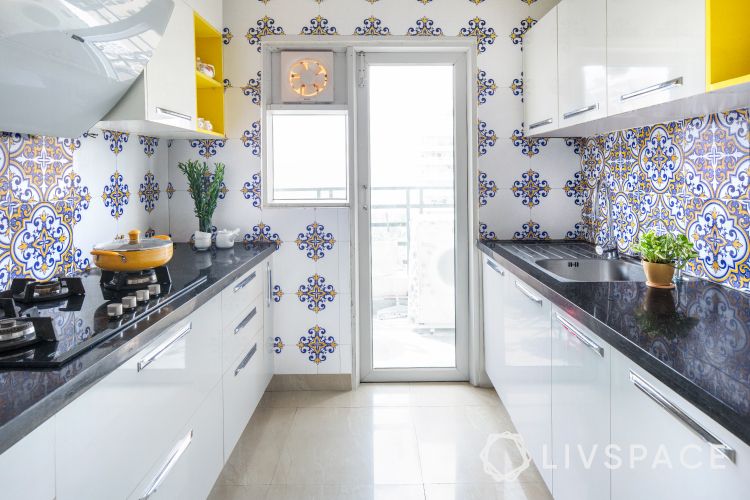 Laminates are fairly durable and scratch resistant. They are more resistant to wear and tear, moisture, and heat when compared to veneer and solid wood products. However, laminated surfaces are prone to chipping.
What Is Laminate Price Per Square Foot?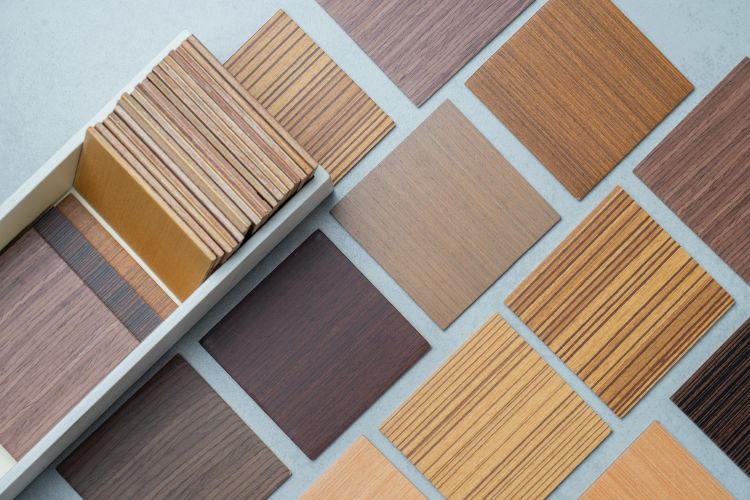 After learning about what is laminate and what are the types of laminates, it's necessary to talk about the laminate price per square foot. Laminate rates for sheets start at ₹56.25 per sq.ft. In India, laminate sheets are produced at a standard size of 8 feet by 4 feet, which hold an area of 32 sq.ft.
When we're talking about laminated materials, we've to admit that they are cheaper than veneers. Laminated wooden flooring is also an inexpensive alternative to solid hardwood floors.
Laminate Cost Per Sq. Ft. In Comparison to Other Finishes and Materials
Type of Finishes
Cost of Finishes
Matte finish laminate price
₹1800 per sheet;
or
₹56.25 per sq.ft.
High gloss laminate sheets price
₹2200 to ₹3000 per sheet;
or
₹68.75 to ₹93.75 per sq.ft.
PVC laminate price
₹4160 to ₹11,200 per sheet;
or
₹130 to ₹350 per sq.ft.
Acrylic
₹6000 to ₹9000 per sheet;
or
₹187.5 to ₹281.25 sq.ft.
PU Finish
₹280 to ₹400 per sq.ft.
Are Laminates Easy to Maintain?
Laminated products are easier to maintain and can last with just a few measures. Dust your laminated surfaces regularly. Clean with a mildly wet cloth and wipe dry with gentle strokes. Avoid using abrasive cleaners or steel wool scrubbers. Protect the surface from exposure to excess water and sunlight. For the proper lowdown, you can check out how to clean & maintain laminate surfaces.
How to Install, Repair and Replace Laminates?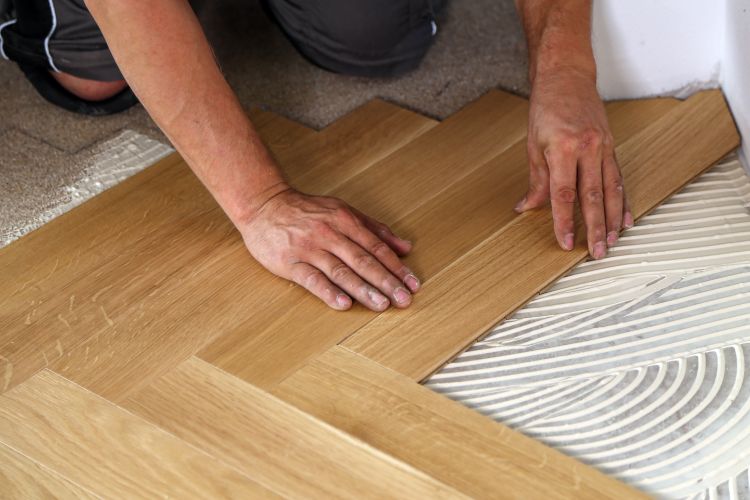 Flooring: It's easier to install laminated wooden flooring when compared to vitrified tiles or marble. You can interlock the boards using a tongue and groove joint. You can install laminate flooring on top of an existing floor, making them suitable for DIY refurbishment projects.
Furniture & Wall Panels: You can also fix laminated sheets onto furniture using high-grade adhesives. You've to replace chipped or warped laminates on furniture completely by stripping them off. It is best to hire professionals for this process, as it requires some finesse.
When to Use Laminate Finishes?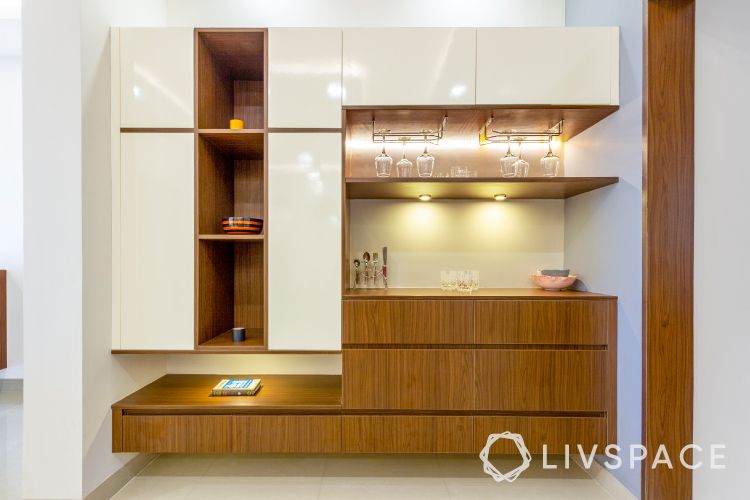 Decorative laminates such as high gloss laminate and marble finish laminate are perfect for everyday surfaces that see a lot of wear and tear – such as your living room or bedroom floor, table tops, cabinet shutters etc. They are also an inexpensive alternative to solid wood products when it comes to flooring. Patterned versions are a great way to liven up your furniture and add some interest to a space.
While these are available in a wide variety of realistic textures, they can sometimes have a rather plastic and mass-produced feel. If you're aiming for a distinctive, authentic look for a focal piece of furniture, go with veneers or solid wood instead.
Hence, to make a laminate purchase, consider all the above factors and your own custom requirements. Furthermore, always make sure that laminates used for kitchens, bathrooms and outdoor areas are of the requisite quality to withstand exposure to heat and moisture.
Also Read: Acrylic or Laminate: Which is the Better Finish?
How Can Livspace Help You?
We hope you found our ideas useful! If you want beautiful interiors for your home, then look no further. Book an online consultation with Livspace today. If you have any thoughts and suggestions you'd like to share with us, we're all ears! Drop us a line at editor@livspace.com.