The best cabinet and wardrobe finishes are not only about well-developed designs, but also about longevity and reliability. The types of wardrobe finishes and kitchen finishes determine how they look, as well as how they hold up to wear and tear. However, picking kitchen and wardrobe finishes can be a tough job when the market presents you with many options such as normal and 3D laminates for wardrobes, PU finish wardrobe and other types of wood finishes. We're here to help you pick the right kitchen and wardrobe finishes for your home!
What Are Wardrobe Finishes?
Here at Livspace, we've had a lot of experience making your interiors functional with modern storage options. Thus, we understand how important it is to make functionality meet aesthetics in your interiors. Also, kitchen and wardrobe finishes can make or break your home interiors in terms of its durability and aesthetics. The decision, of course, is in your hands, but our job is to give you an impartial overview of the different types of wardrobe finishes and kitchen finishes in the market. For all your FAQs on finishes, including cost estimates, take a look at the video above.
11 Best Types of Kitchen and Wardrobe Finishes
#1: Get Budget-Friendly and Latest Laminates for Wardrobes and Kitchen Cabinets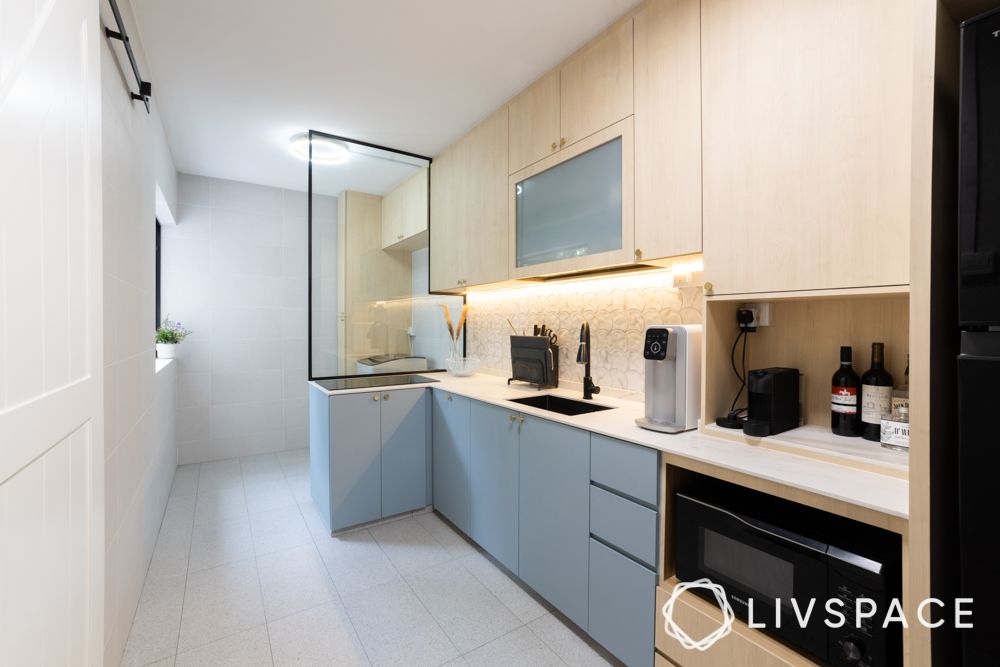 Whether we're talking about a laminate finish wardrobe or laminates for the kitchen cabinet, laminate is one of the most economical options, as the video mentions. There are a plethora of colours and textures that you can choose from, so you can choose which laminate is best for your wardrobe or kitchen cabinet.
The best laminate for wardrobes and kitchen cabinets should be durable and easy to maintain. This makes laminates an ideal choice for everyday-use furniture. Also, they are highly resistant to scratches, meaning you might get away with using them in kitchens, children's rooms or walk-in wardrobes.
Also Read: Here's Why Designers Recommend a Combination of Wardrobe Finishes
What are the Advantages of Laminate-Finish Wardrobes?
1. Easy to Clean
Laminate wardrobe finishes are easy to clean. You can just use a damp cloth to wipe it and then dry it with. Just make sure you don't leave the wardrobe dripping wet!
2. Scratch- and Shock-Resistant
Laminates are a better material than most solid wood options, as they can be scratch-resistant as well as resistant to shocks.
3. Moisture-Resistant
The latest laminates for wardrobe can withstand heat, moisture, and wear and tear. Being waterproof, they are more durable and last longer.
4. Cost-Effective
Wardrobe laminates are less expensive than the majority of other available options, including solid wood. As a result, they are increasingly the norm for flooring, decorative items, and kitchen cabinets.
5. Easy to Install
When laminates get cracked or warped, they are easy to install and fix. The broken piece can be quickly replaced with a new one.
6. Durable
Compared to real wood, they are more durable. They are scratch-resistant, can withstand heat, wetness, and wear and tear.
#2: Choose Easy to Maintain Acrylic Finish for Wardrobes and Kitchens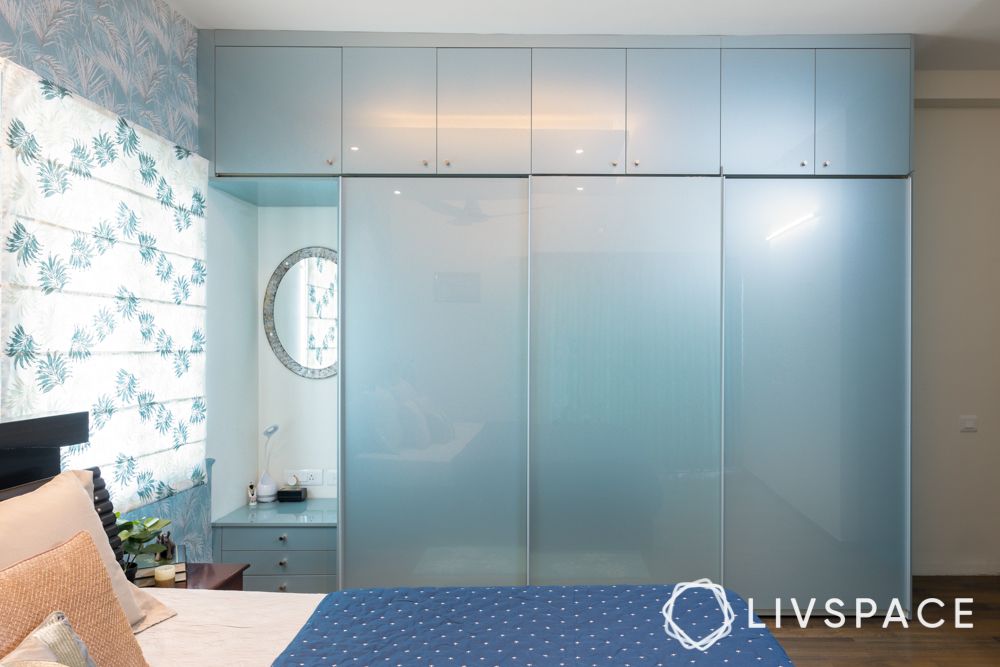 Acrylic is one of the most premium finishes for wardrobes and kitchens in terms of cost. The glazed finish that you get from this material exudes glamour and yet is easy to maintain. Keep in mind that these types of finishes are high gloss, and they might be prone to collecting fingerprints. However, worry not! You can easily wipe it down clean.
#3: Go Au Naturel With a Membrane Finish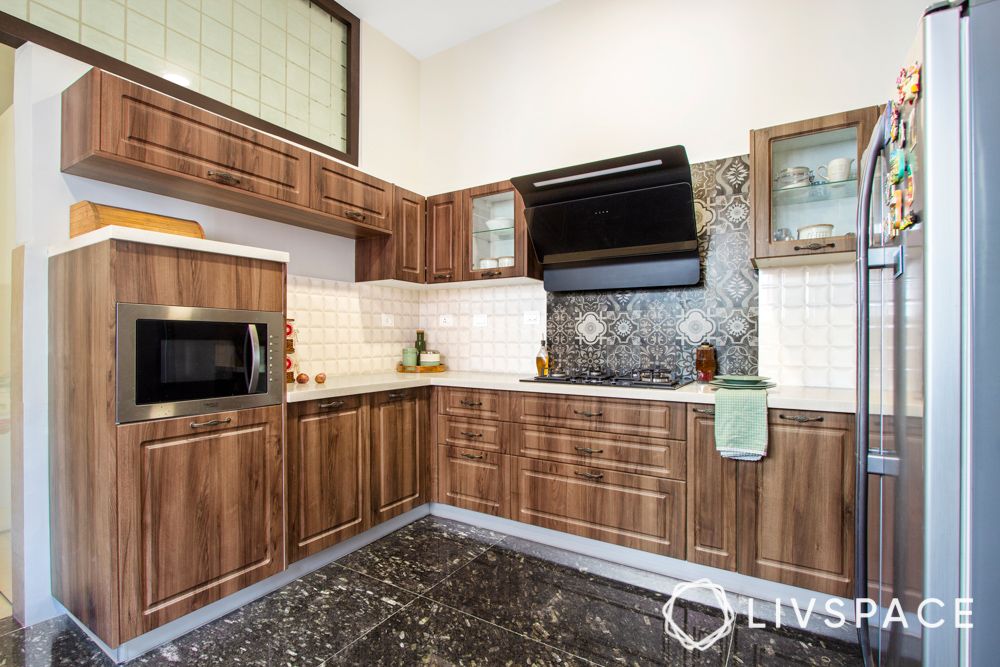 If you are going for a natural look for your wardrobe or your kitchen, then opt for a membrane finish. Available in wooden, matte and glossy finishes, it is one of the most popular finishes in the market. It is also water and weatherproof.
#4: Combine Flexibility and Durability With a PU Finish Wardrobe or Kitchen Cabinet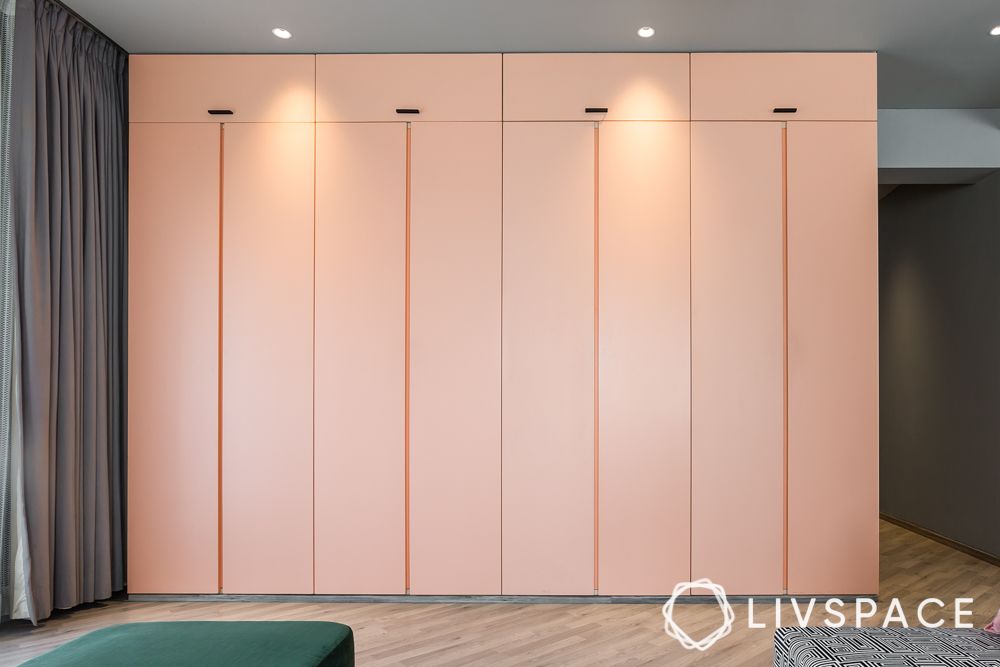 This solvent-based product creates a high-sheen finish when used for closet doors. It has a spectrum of sheen levels, from matte to high gloss, giving you a window for further customisation.
A PU finish wardrobe or kitchen is extremely durable and doesn't react to abrasives or acids. The glossy finish suits any style of design, from contemporary to old school. It creates a clear coating over the surface, making it durable and heat-resistant.
#5: Opt for a Veneer Wardrobe Finish if You Want More Options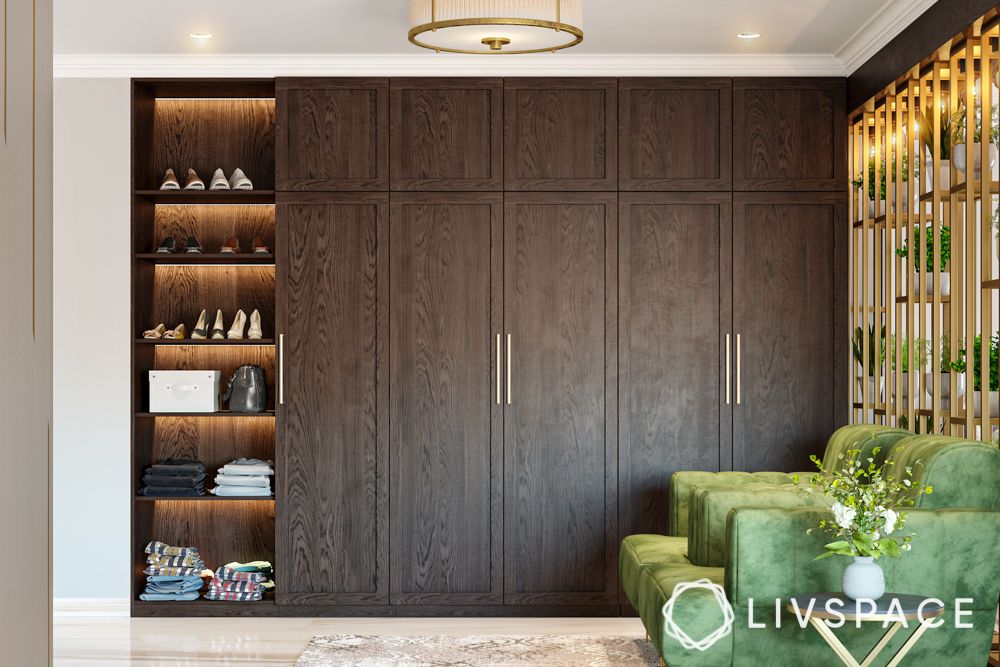 On a tight budget to afford any types of wooden wardrobe design? Veneer can be your saviour! The word 'veneer' is the term used for thin slices or panels of wood that are fixed onto sturdier platforms. Veneer strengthens the core material, making your wardrobe facade less likely to warp or develop cracks. That makes it easy to care for. Also, a veneer-finish wardrobe design is easy to work with, making it a popular pick among homeowners. It's best for wardrobes that have curves or rounded edges.
#6: Explore Wardrobe Designs With a Mirror Finish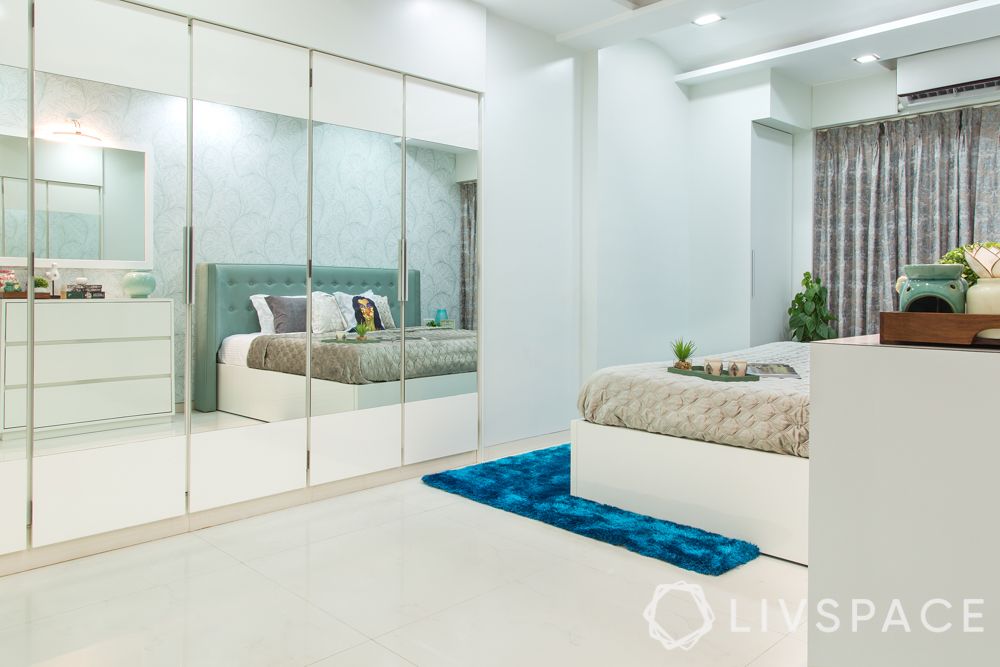 A material that does as much aesthetically as it does finish-wise, mirrors are increasingly becoming one of the go-to closet finishes to use. Mirrors can visually open up the room and reflect ambient light to make it seem more spacious. Due to this, mirrors work extremely well in compact homes or cramped spaces.
Also, mirrors can be cut into different shapes and they can be used with different core materials. This negates the need for additional mirrors in the room, making your wardrobe functional in more ways than one. Moreover, it's easy to maintain, too. You can just clean it with a glass cleaner and a soft cloth.
#7: Add Elegance to Your Home Interiors With a Glass Wardrobe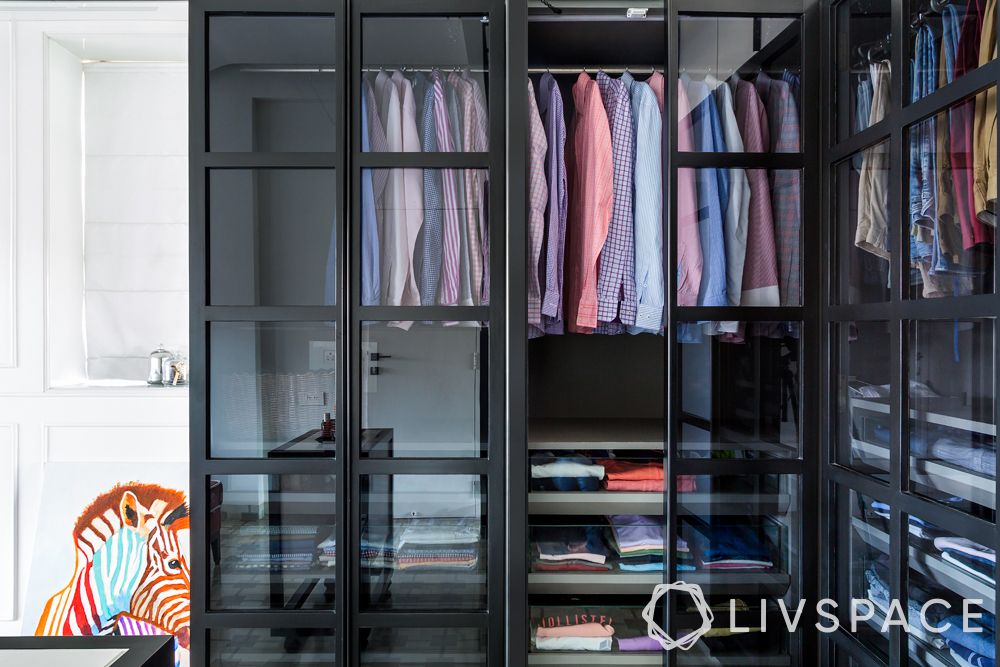 Wardrobes with glass shutters are a trending choice as they provide an elegant and open look. Glass finishes are available in many options. You can go for an opaque lacquered glass finish which ensures privacy or choose more transparent options like the one you see above.
However, the more transparent the glass, the more it demands constant maintenance (not just clean, Monica clean!). But, why do we love glass finish wardrobes? Glass is quite easy-to-maintain and is less likely to wear or tear. However, they can be an expensive choice for a wardrobe finish.
Also Read: We are Crushing on These White Wardrobes
#8: Go Bold, Go Matte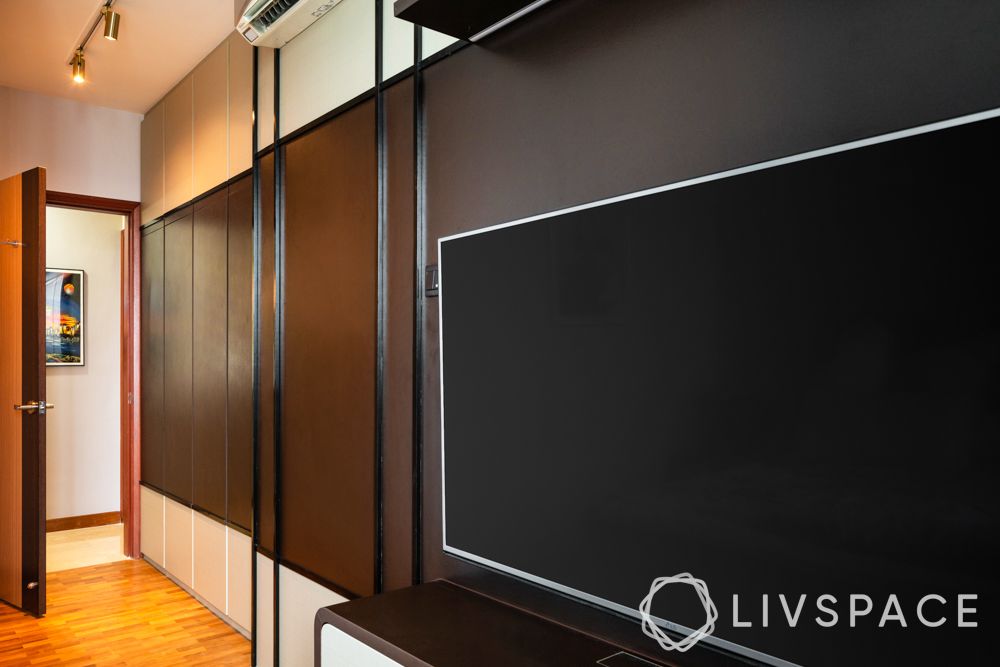 When you want the wardrobe to sing on its own, a matte finish is ideal, just lie this brown matte wardrobe. Your accessories may stand out and be highlighted more by a matte finish. It is among the most stylish and well-liked laminate options for wardrobes. They are more durable and easier to clean than other laminates.
#9: Add Structure and Depth With Textures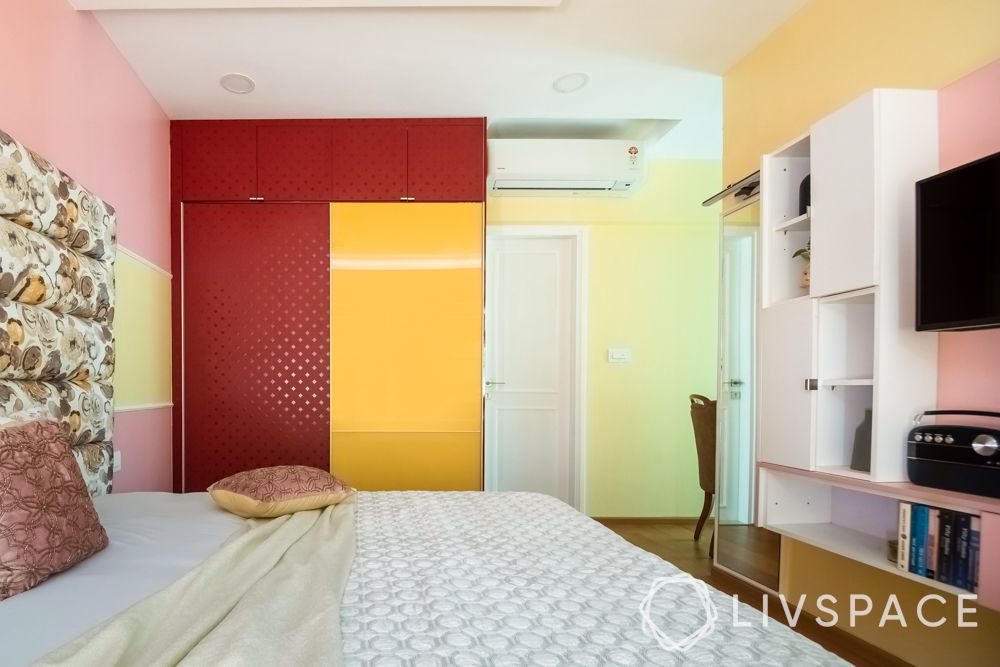 Textured cabinet and wardrobe finishes resemble natural surfaces like leather, raw silk, etc. in appearance. These textures are usually create using laminates that must be cleaned at least once every month because they collect a lot of dust and oil. These are tough, and smudges or fingerprints don't show up on them very easily.
#10: Add Shine to Your Bedroom With Glossy Finishes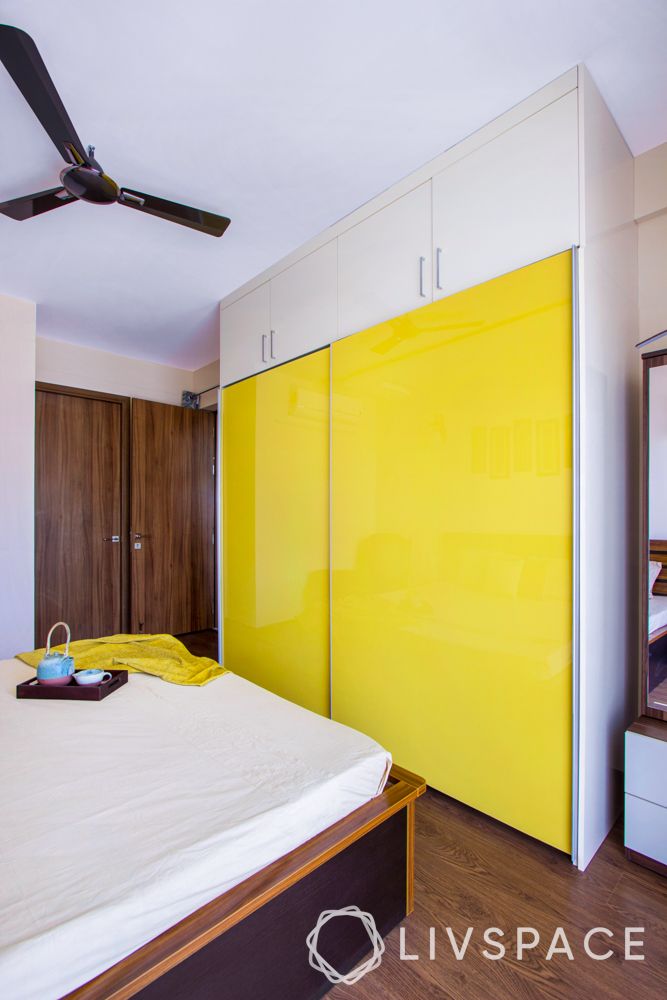 Glossy surfaces are highly reflective. Reflective surfaces are usually glossy laminates that can enhance the appearance of any decor. However, these laminates soon acquire smudges and fingerprints. Due to their reflected qualities, bright-colored glossy laminates can give your room a more prominent appearance.
#11: Go Vintage With Metallic Accents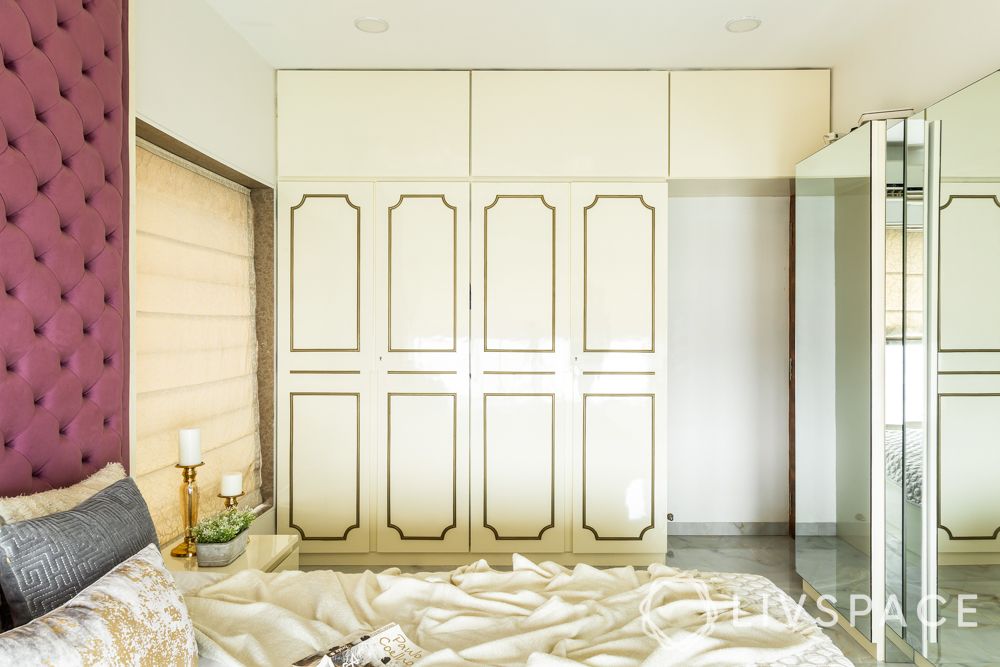 What comes to your mind when we talk about vintage wardrobes? Metals, right? Metallic wardrobe accents are available in colours like brushed silver, copper, gold, etc. These wardrobes cost a little bit more than average thanks to their vintage character.
Still confused about which laminate is best for wardrobe? Here is a table summary to help you pick out the best kitchen and wardrobe finishes for your home interiors.
Finish
Pros
Cons
Laminate
-Durable
-Easy to maintain
-Cost-effective
-Might be difficult to refinish
Acrylic
-Durable
-Easy to maintain
-Provides a premium look
-Might collect fingerprints
Membrane
-Durable
-Water and weatherproof
-Might get discolouration
(upon exposure to direct sunlight)
PU Paint
-Durable
-Heat-resistant
-Not completely resistant to chipping
Veneer
-Natural material
-Cost-effective
-High-maintenance
-Less resistant to heat
Glass
-Plush and airy look
-Lack of privacy
Mirror
-Aesthetically pleasing
-Creates an illusion of space
-Fragile
Matte
-Stands out
-Adds character
-Might make the room look compact
Glossy
-Stands out
-Gives room a prominent appearance
-Might collect fingerprints
Metallic
-Gives an expensive look
-Might be a little expensive alternative
Textured
-Adds character and depth to design
-Easy to maintain
-Need regular cleaning
Now that you know all about wardrobe finishes and laminates for the kitchen, pick what suits you the best. Also, learn How to Design the Wardrobe You Need.
Wondering how our customers feel about working with Livspace? You can check out the Livspace wardrobe reviews here!
How can Livspace help you?
We hope you found our ideas about how to choose laminate for wardrobes useful! If you want beautiful interiors for your home, then look no further. Book an online consultation with Livspace today. Have any thoughts or suggestions you'd like to share with us? We'd love to hear you out. Write to us at editor@livspace.com.