Don't you hate it when you open your kitchen cabinet to take something out and notice a large damp spot in the corner? Dampness in cabinets and furniture can result in both cleanliness issues and long-term damage. But we have a solution for you, and it's called HDF-HMR. This material is the next big thing in the world of furniture and materials. Teeming with questions, aren't you? We have answered them all here!
#1: What Is HDF-HMR?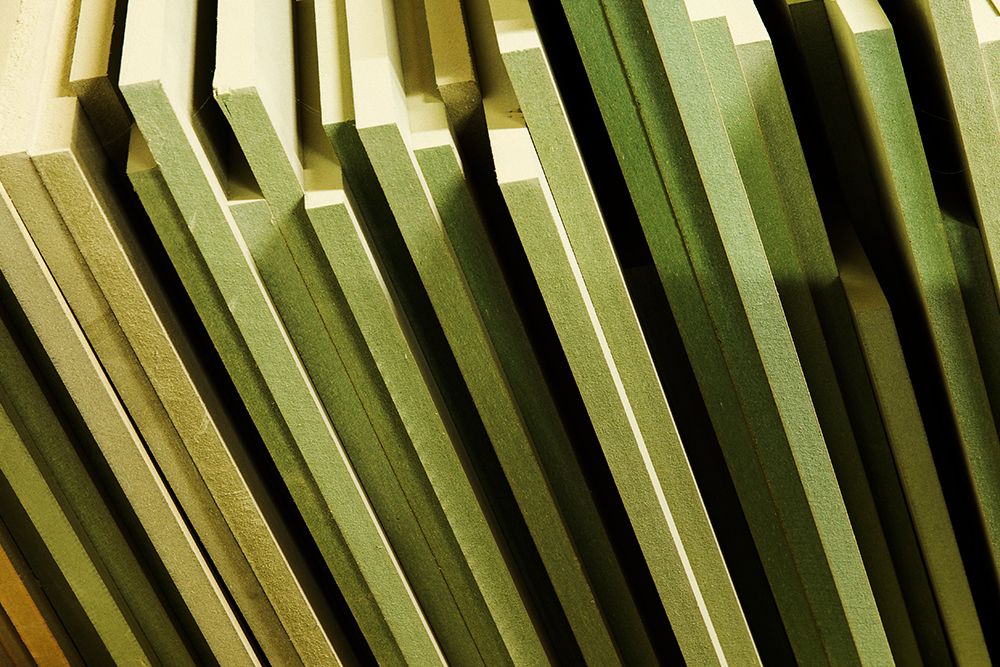 HDF-HMR stands for High-Density Fibreboard High Moisture-Resistance. These boards are made by combining wooden fibre chips and forest wood waste through a homogeneously constructed process. The fibre chips are pressed together to form a single layer, removing small wood content to form a robust, higher density board. These boards are mainly used in moisture and high-water intensity areas like the kitchen and bathroom.
#2: Difference Between MDF and HDF
HDF-HMR and MDF are hard to distinguish by the looks, since they are both formed by pressurising and heating wooden fibres with resin. But that's where the similarities end. High-density fibreboard is denser, stronger and more water-resistant than MDF and hence more durable as well. Watch this video on HDF-HMR to know more about the material.
#3: Advantages of HDF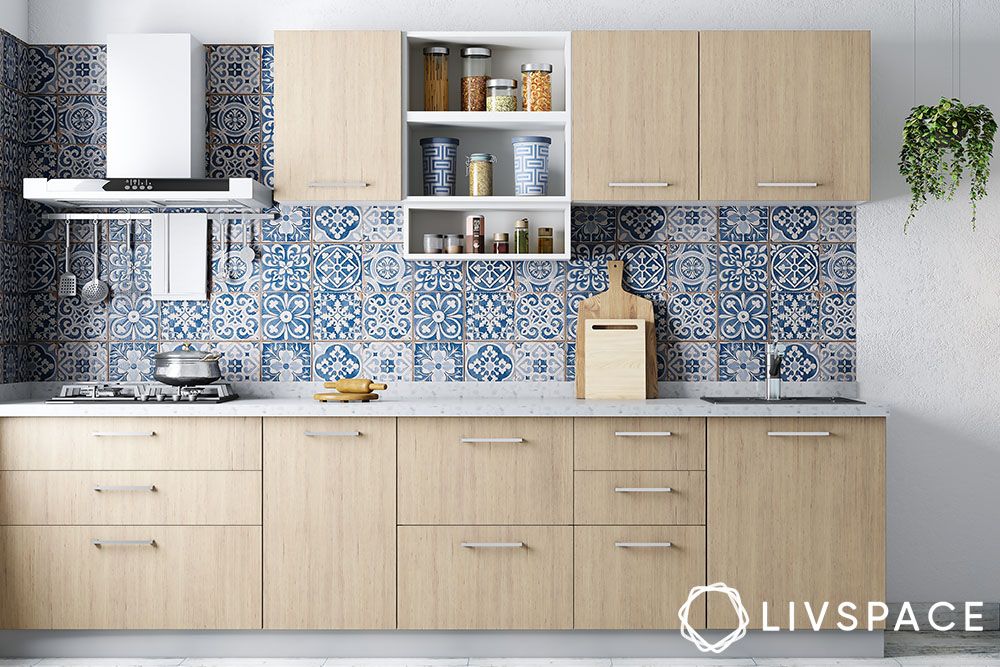 High-Moisture Resistance: Resins and binding agents make the high-density fibreboard moisture-resistant
Durability: High-density fibreboard is made from hardwood fibres and has a density of >1000 kg/m3
High Strength: High-density fibre bonding ensures screw holding capacity of up to 10 times more than plywood
High Usability: High-density fibreboard wood is durable and strong, ensuring that it can be used for a long time even in high-traffic and moisture zones like kitchens and bathrooms
#4: HDF-HMR Uses
Considering the fact that high-density fibreboard is both high density and moisture-resistant, the most common areas where this material is used are high traffic zones and places where there is more moisture. At Livspace, we are replacing the back panels of all our modular products (kitchen, wardrobe and storage) with HDF-HMR (5.5 mm thickness). The reason is that the back panel is closest to the wall, making it vulnerable to moisture. High density fibreboard, being moisture-resistant, ensures that the back panel and thereby the overall unit lasts for a long time. High-density fibreboards also come with 10 times more screw strength than other boards and plywood.
Uses of High-Density Fibreboard in Kitchen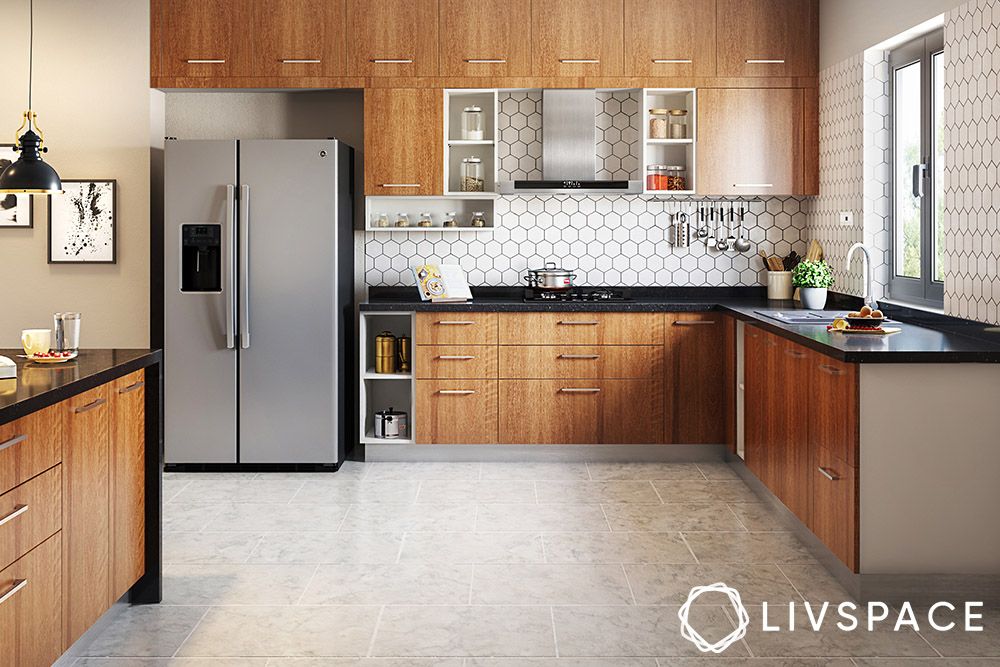 The kitchen is one of the highest traffic zones in your home. In addition, kitchen cabinets are also very vulnerable to damage due to water and moisture. As such, it is always a good idea to opt for high density fibreboard cabinets for your kitchen. While the high-density fibreboard back panel ensures durability, you can choose decorative finishes like acrylic for a smart and modern look.
Uses of HDF in Wardrobes and Storage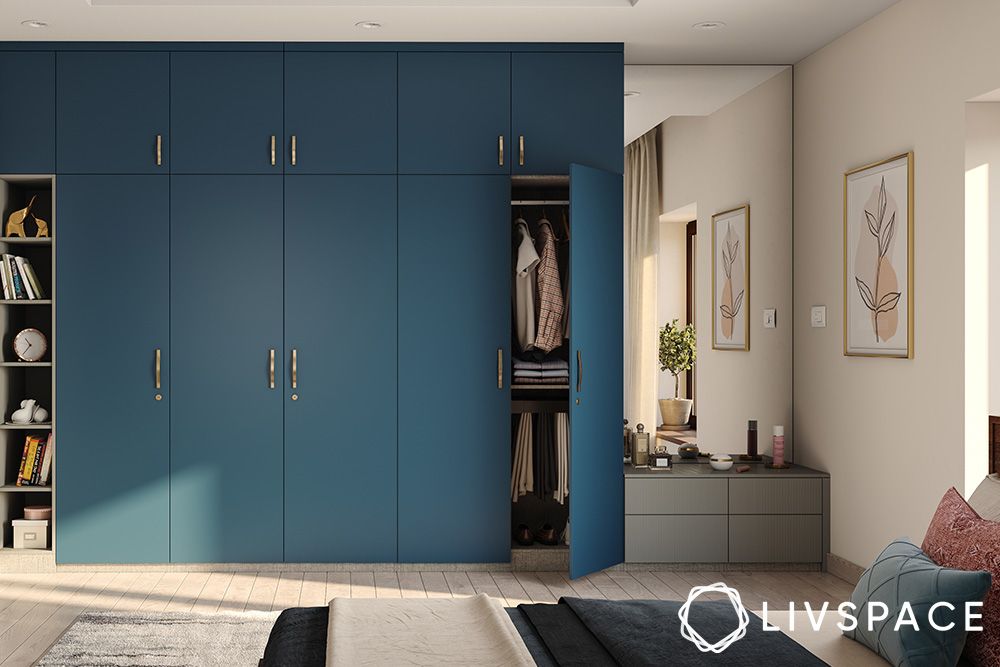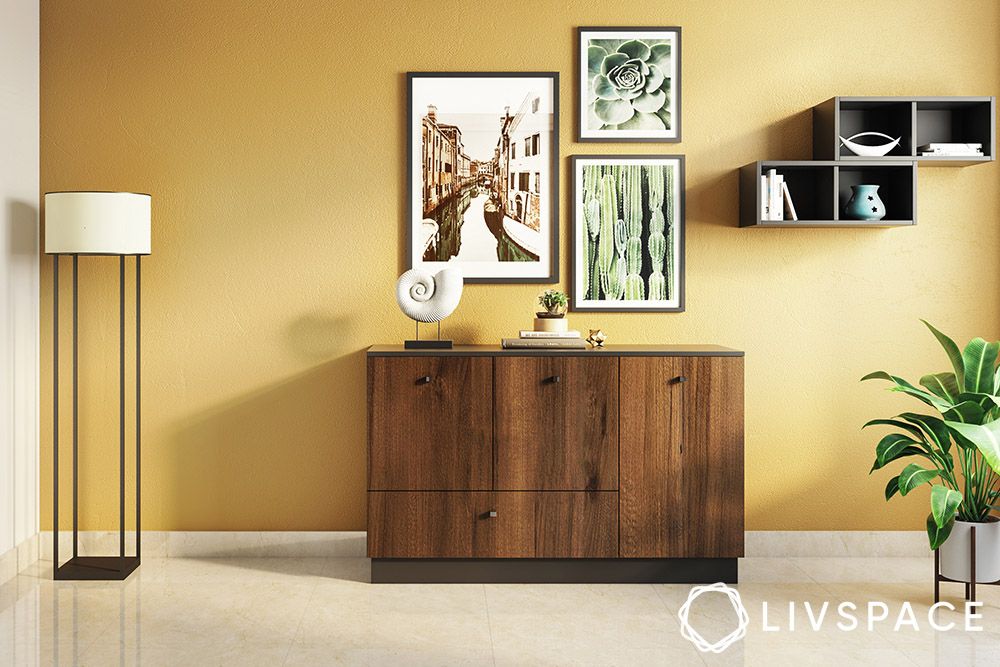 When you buy a wardrobe or a storage unit, you plan to use it for a long time (maybe even pass it on to your kids and grandkids)! But, if the core isn't strong, your almirah will not last very long. This is the reason high-density fibreboard is used as the back panel for wardrobes and storage units, to make them last a long time.
Other places where high-density fibreboard board is commonly used:
Bathrooms
Laminate flooring
Wall panelling
#5: HDF-HMR vs MDF
MDF
HDF-HMR
Medium-Density Fibreboard
High-Density Fibreboard and
High-Moisture Resistance
Made of hardwood and softwood
Made of wood fibres from forest
wood waste
Density is between 600-800 kg/m3
Density is above 840 kg/m3
Low cost
Higher cost than MDF
It isn't as long-lasting as HDF
due to lower density and moisture
resistance
Long-lasting
#6: HDF-HMR vs Plywood
HDF
Plywood
Made by compressing wooden fibre
Made of veneers (this wooden sheets)
Lack of natural wood grain texture
Has natural wood grain texture
Livspace's prelaminated technology
makes it highly durable
If laminated or veneered, can last for
over 50 years
Less expensive
More expensive
Used in high-traffic areas and places
where there is a high level of moisture
(Kitchens, bathrooms, laminate flooring)
Mostly used for making custom furniture
#7: HDF-HMR Cost
HDF-HMR is one of the most cost-effective fibreboard materials that are available in the market. It is much easier on the pockets as compared to all types of plywood while providing higher strength. The raw HDF-HMR cost starts from ₹18 per sq. ft. and a prelaminated one from ₹25 per sq. ft. The only material that is cheaper than HDF is MDF.
Cost of:
By using high-density fibreboard as the core material, you can protect your cabinets from moisture and decay and also make them last a long time.
How Can Livspace Help You?
We hope you found our ideas useful! If you want your home to be just as beautiful, then look no further. Book an online consultation with Livspace today.
***Colours and finishes are subject to availability. Please check with your nearest Livspace store to check availability.
We would love to hear your thoughts! Send in your comments and suggestions to editor@livspace.com