More often than not, sticking to a budget can be quite the task for most of us. Whether it has to do with your monthly groceries, recreational activities, or designing your home, a budget is always considered. The same goes for the modular storage solutions peppered across the interiors of this contemporary Chennai home. Tasked with finding the right budget storage solutions under ₹2.5 lakh, interior designer Meenal N proved that anything is possible with the right approach.
Join us as we take a tour of Aruna's Chennai home so you too can borrow some storage ideas on a budget from Meenal:
---
Who Livs here: Aruna Pugazh and her family
Location: Baba Nagar, Villivakkam, Chennai
Size of home: 3BHK
Design team: Interior Designer Meenal N and Project Manager Umar Ali
Livspace service: Living and dining room design featuring modular storage solutions
Budget: ₹
---
IN A NUTSHELL


Brief

To add budget storage solutions to the living and dining areas that complement the rest of the interiors

What We Loved

The interplay of brown and white colour palettes highlighted by gold accents in decor

Look Out For

– The wall-mounted pooja unit in the living room with a customised door design
– The use of matte wooden finishes to complement the neutral colour scheme

Smart Buy

The pooja unit with customised doors averaged at ~ ₹20,000



#1: Clean and Simple Modular Storage Solutions for the Living Room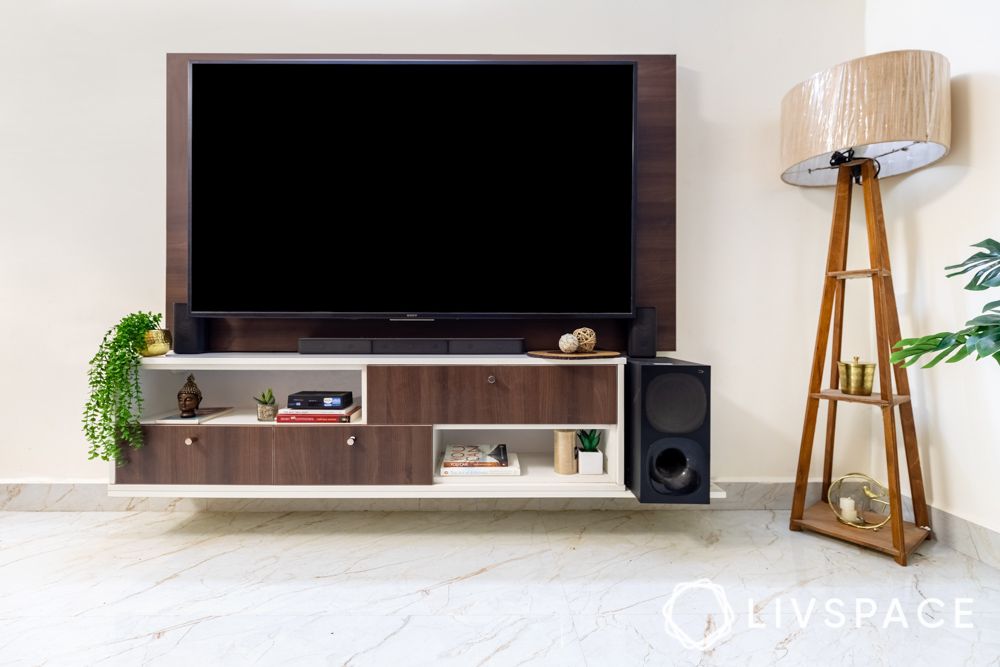 The home follows an open-layout scheme where both the living and dining areas coexist. Aruna was keen on optimising this space with modular storage solutions that complement the rest of her home. Here, Meenal opted for matte wooden finishes for all the cabinetry/panelling to create a cohesive look. In fact, the TV unit's design was relatively cost-effective compared to similar designs in the market, averaging at ~ ₹24,000.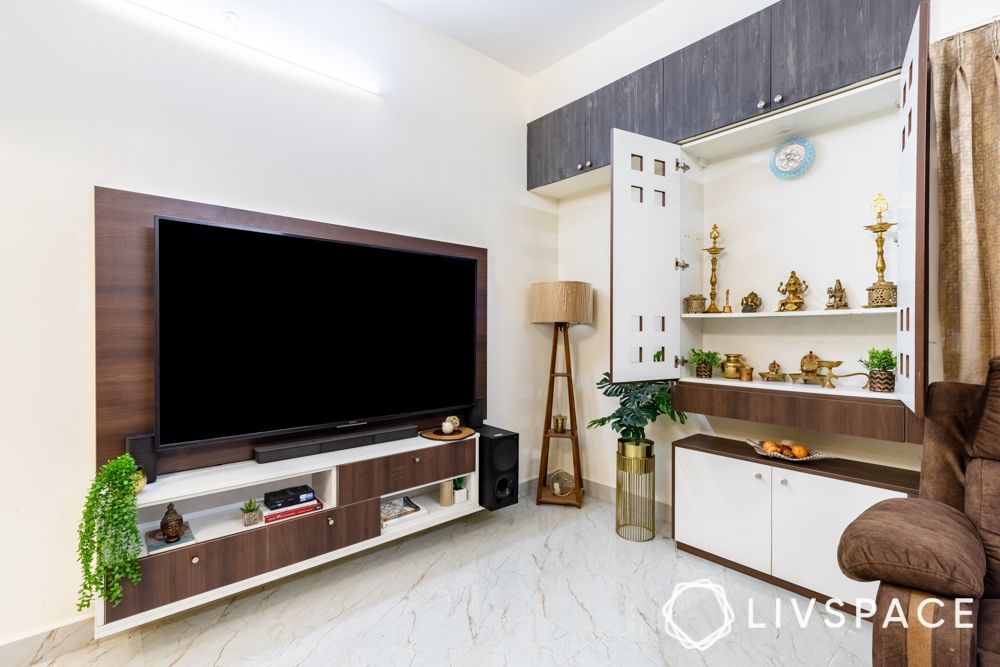 Since the home strikes a balance between contemporary Indian themes and rustic elements, the wooden finishes add a sense of warmth to the space. Like the finishes used for the TV unit, Aruna wanted all her budget storage solutions to match the new and existing furniture. To ensure consistency is maintained, Meenal used brown shades to complement the surrounding neutral colour palettes.
#2: Customised Pooja Unit Doors Add Interest to the Living Room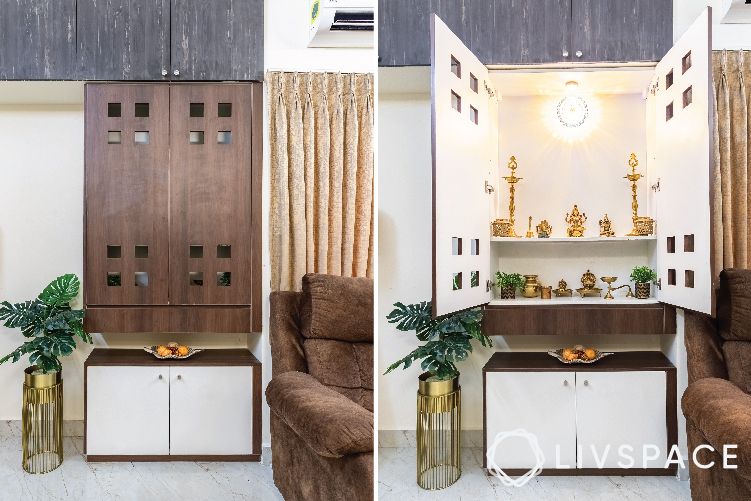 Drawing away from the usual suspects in the living room, the wall-mounted pooja unit adds so much character to the home. While the design of the unit comes from the Livspace catalogue, the doors were customised by Meenal.
This, in turn, slightly ran up costs since customised modular storage solutions require a bit of extra work. However, it certainly adds to the charm of the living room. Also, notice how the wooden panelling perfectly complements the loft cabinets both in colour and grain effect.
Also Read: Designed Under ₹2 Lakh, Elegance Meets Efficiency in This Chennai Kitchen
#3: The Shoe Cabinet at the Entrance Helps Keep the Entryway Organised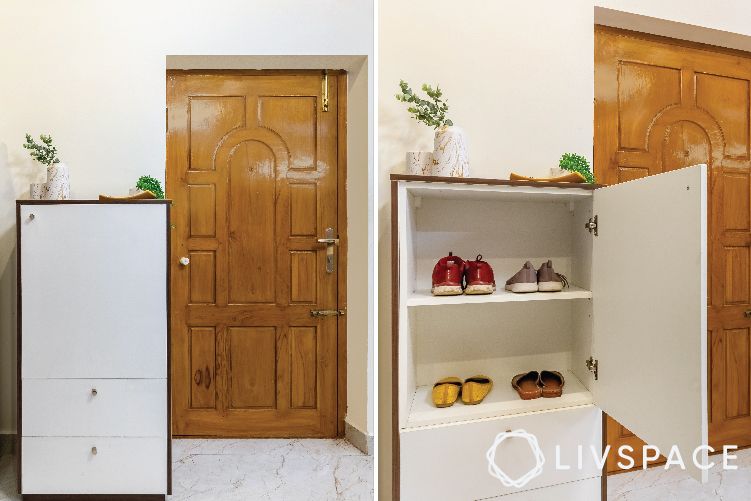 Nobody likes the sight of shoes strewn around the entrance of the home, it sets a bad precedent when people walk in. Likewise, what better way to organise them than with budget storage solutions like shoe cabinets! Moreover, if you have a pooja unit in the same space, you wouldn't want to risk leaving your footwear in front of your place of worship.
Meenal added a storage-intensive shoe cabinet right by the entrance to give the homeowners a fixed space to store their footwear. These modular storage solutions also help conceal shoes from the prayer area and tidies up the entire open layout.
#4: Make Room for Crockery With a Cabinet Perfect for Small Niches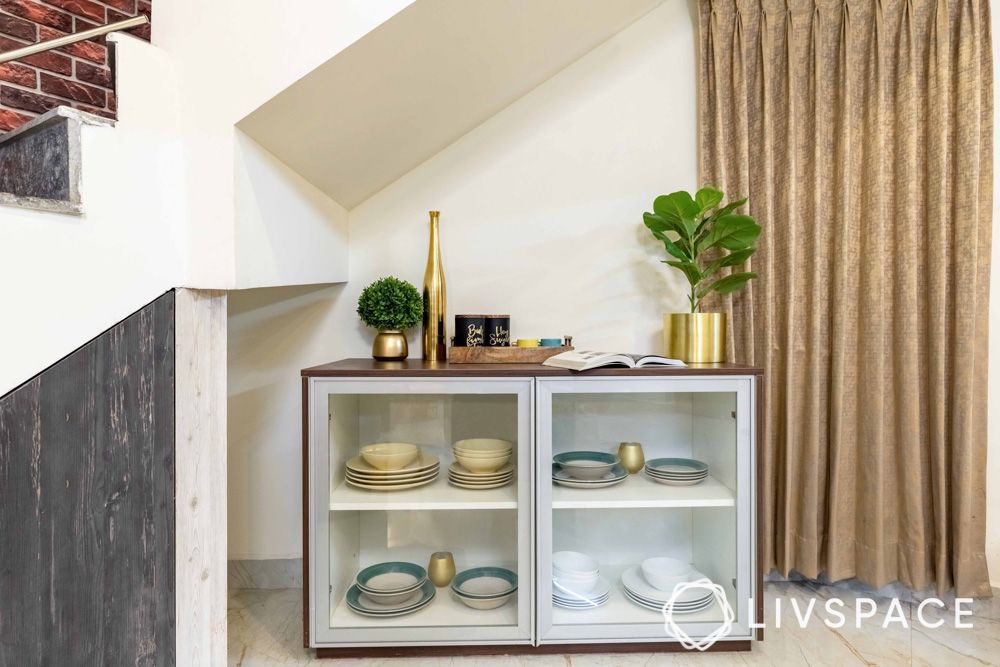 Among the many modular storage solutions in this open-layout room, we notice a crockery cabinet tucked in a cosy corner. Its basic design helps stow it away beneath the slope of the staircase without adding visual clutter to the space.
Another thing you might notice here is how the wooden finish pairs beautifully with the golden accents of the decor items. Since the homeowners were particular on using storage units that matched their new and existing furniture, Meenal kept these budget storage solutions simple with brown and white shades.
Designer Q&A
In conversation with designer Meenal, we asked her a couple of questions about budgeting and popular trends in Chennai. Here's what she had to say:
Q: What Are Some Tips for Budget Storage Solutions?
A:
Matte finishes are relatively more cost-effective compared to glossy finishes.
Standard modular storage solutions from the Livspace catalogue are better for a smaller budget; customisation can run up costs depending on the design.
MDF and particleboard can be more cost-effective for budget storage solutions, but HDF-HMR (high-density fibreboard high moisture-resistance) and plywood are recommended.
Embrace lighter colours to create the impression of a larger space if you live in a smaller home and cannot afford to make structural changes.
Q: What Trends Are Currently Popular in Chennai Homes?
A: Open kitchens have become more common with more homeowners embracing the layout. In terms of decor, wallpaper, track lights, and wooden furniture are more popular in Chennai homes. In fact, wooden finishes are typically more sought after than acrylic finishes, as they offer more authenticity to the design.
Furthermore, a lot of Chennai homes enjoy embracing Indian elements in design. This is where the use of wooden finishes and accents helps create the desired look.
How Can Livspace Help You?
We hope the storage solutions from this home in Chennai offer some insight into pricing. For more ideas, you might also enjoy how this 15-year-old home gets a vintage-inspired makeover.
If you want beautiful interiors for your home, then look no further. Book an online consultation with Livspace today. If you have any thoughts and suggestions you'd like to share with us, we're all ears! Drop us a line at editor@livspace.com.