A kitchen is a place which needs to be functional, beautiful and practical. Though it is among the smallest rooms in your house, it requires much thought for a perfect design. That's why Suresh Kumar, the homeowner, approached Livspace. He wanted a kitchen interior design in Chennai that's visually appealing and functional at the same time. Hence, he trusted us as the best kitchen interior designers in Chennai to put together efficiency and elegance in designing a modern, stylish kitchen for his 2BHK.
Designed under ₹2 Lakh, this compact kitchen design is a proof that your dream kitchen interior design cost in Chennai doesn't have to break the bank. So, let's take a tour of the beautiful kitchen interiors in Chennai.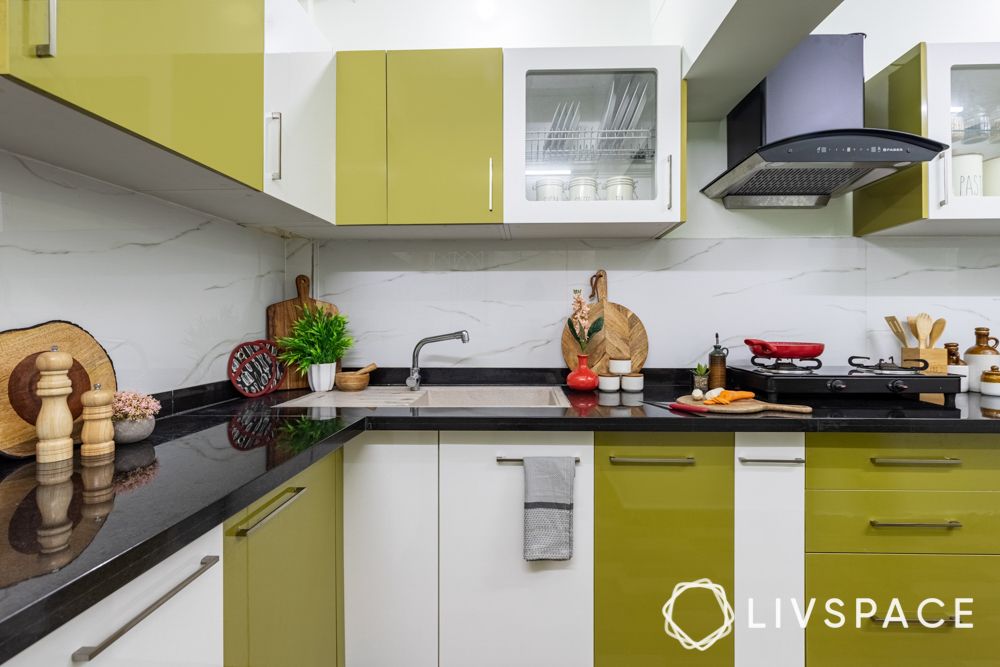 ---
Who Livs here: Suresh Kumar, his wife and their son
Location: Ambattur Industrial Estate, Chennai
Size of home: 2BHK
Design team: Interior designers Rashmi Shivaiah and Mayank Bharadwaj
Livspace service: Kitchen design
Budget: ₹₹₹₹₹
---
In a Nutshell


Design Brief
An efficient kitchen that's also elegant

What We Loved
The beautiful olive and white colour combination

Look Out for
-The white backsplash
-The laminate flooring
-The laminate cabinets

Biggest Indulgence
All black kitchen countertops

Smart Buy
Overhead cabinets with display shutters



5 Design Secrets From This Kitchen Interior Design, Chennai
Whether you need to cook for yourself or a crowd, bigger isn't always better when it comes to kitchen interiors. Accordingly, here are some more design secrets you can steal from this compact kitchen interiors in Chennai:
1. Try a Classic L-Shaped Kitchen Interior Design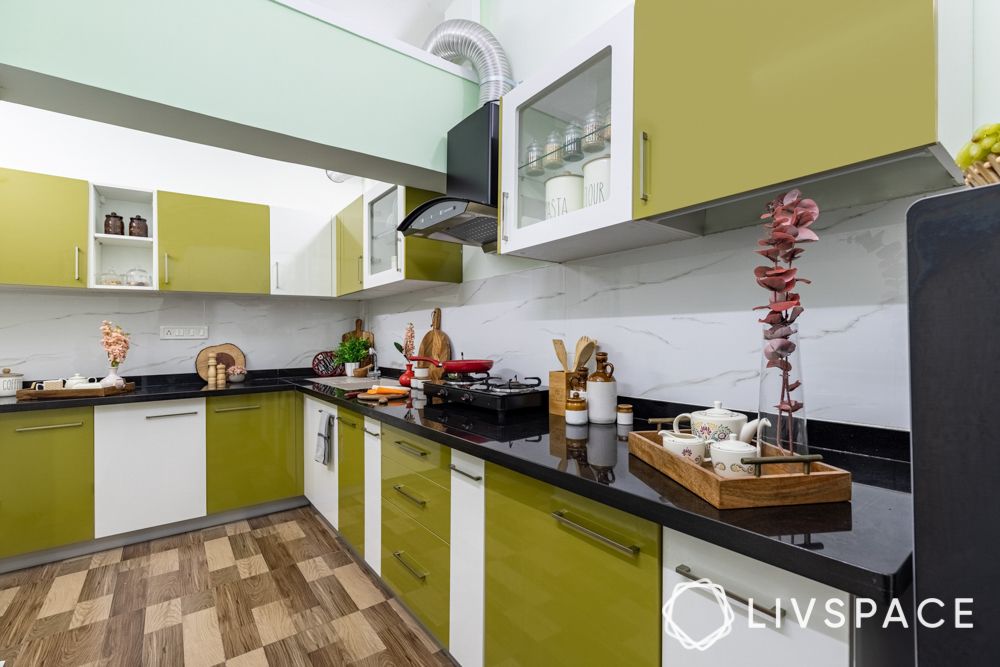 One of the most popular kitchen types that work well for small spaces, as recommended by kitchen interior designers in Chennai, is L-shaped designs. Further, they are seamless and streamlined.
When it comes to functionality, L-shaped kitchens are also one of the most ergonomically feasible kitchen layouts. So, it reduces walking time between kitchen stations, works for different sizes, and makes life easier. Accordingly, this kitchen interior design in Chennai has a classic layout, where one countertop is traditionally longer than the other.
2. Go All Modular for Convenience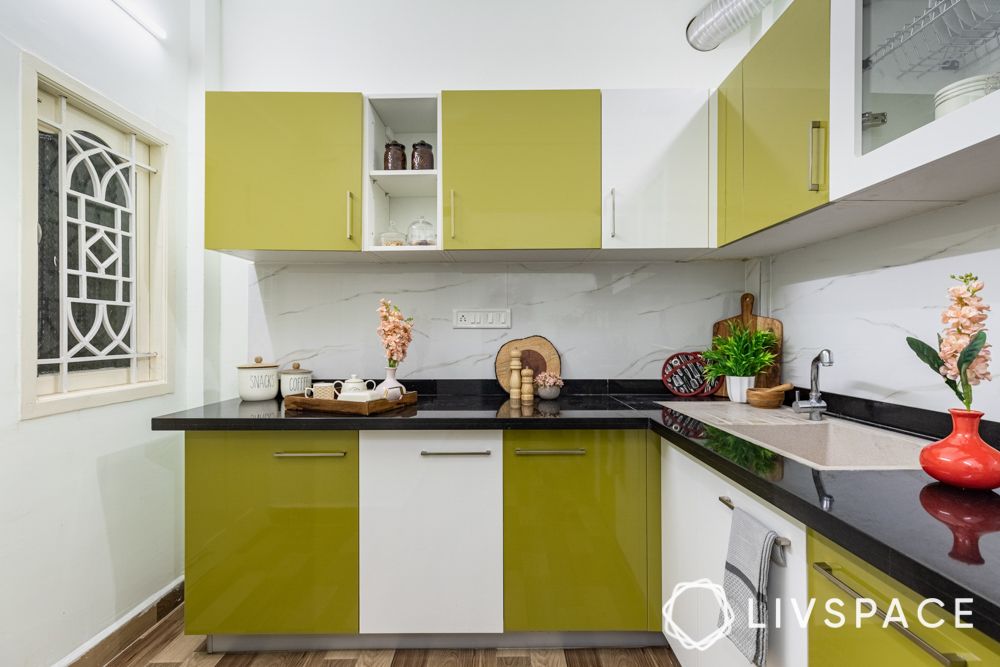 Contrary to popular opinion, a compact kitchen can actually be the epitome of efficiency. In fact, it helps focus on the essential, eliminate clutter and opt for a thoughtful design.
When you want a clean, lean kitchen, your best bet is to go all modular as this kitchen interior design in Chennai. Accordingly, this olive and white kitchen has glossy cabinetry that blends with the white backsplash and gives ample space for storage.
3. Cut Costs With MDF as the Base Material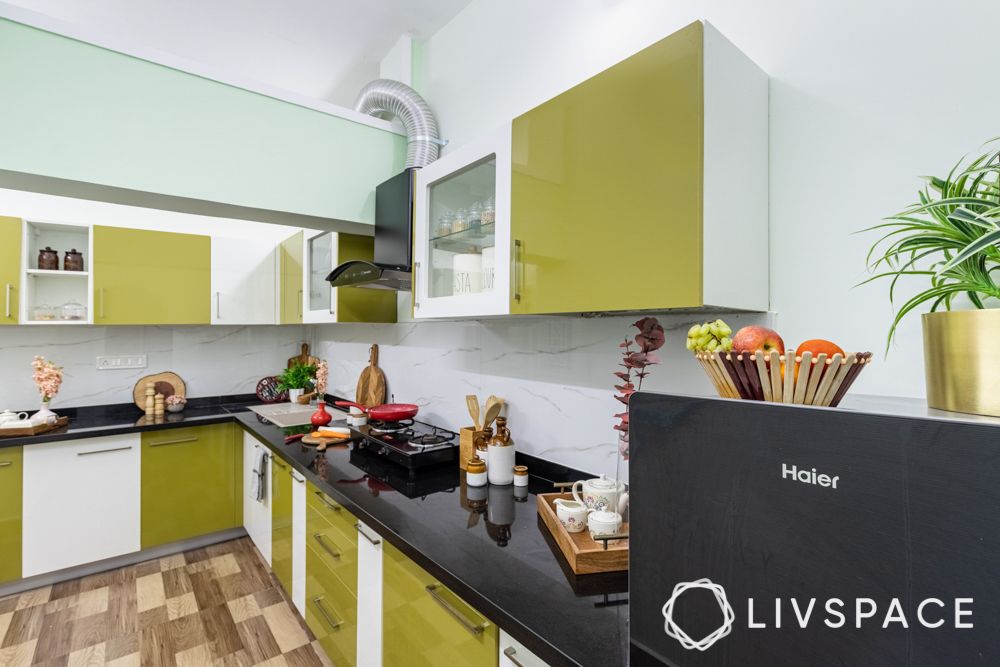 MDF is a miracle core material. While Indian carpenters have held an unfair grudge against it for years, this versatile core material (made of engineered wood) is actually better than wood. How? MDF material doesn't have knots, or blemishes and in general, happens to be more durable.
Accordingly, all the cabinets you see in this kitchen interiors in Chennai use MDF for longevity and durability. In fact, the kitchen interior design cost of this Chennai home also comes down: thanks to MDF. Moreover, Livspace's MDF happens to be moisture-resistant: all thanks to our Aqua-bloc technology.
Also Read: What is MDF Material? Why Use MDF for Home Interiors?
4. Choose Laminate Finish for High Footfall Areas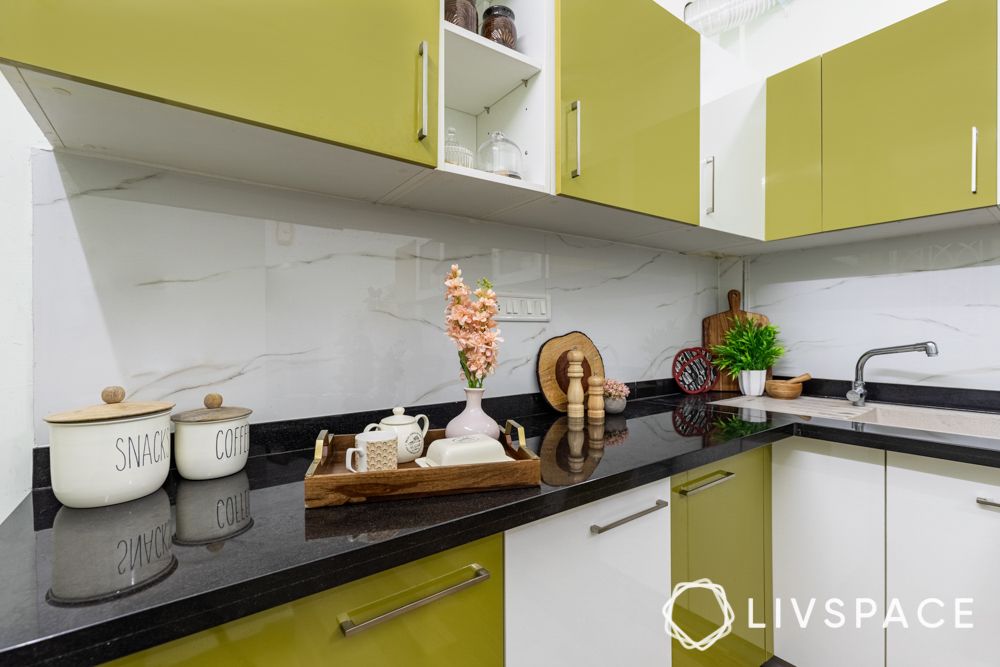 One of the most economical and elegant finishes that work well with all core materials happen to be laminates. Also, with over 700 permutations and combinations, laminates are best for everyday surfaces. That's because they can stand a lot of wear and tear, without losing their shine.
This kitchen interior design cost in Chennai comes down significantly, thanks to the olive and white glossy laminate finishes used in the cabinets.
5. Trust Laminate Flooring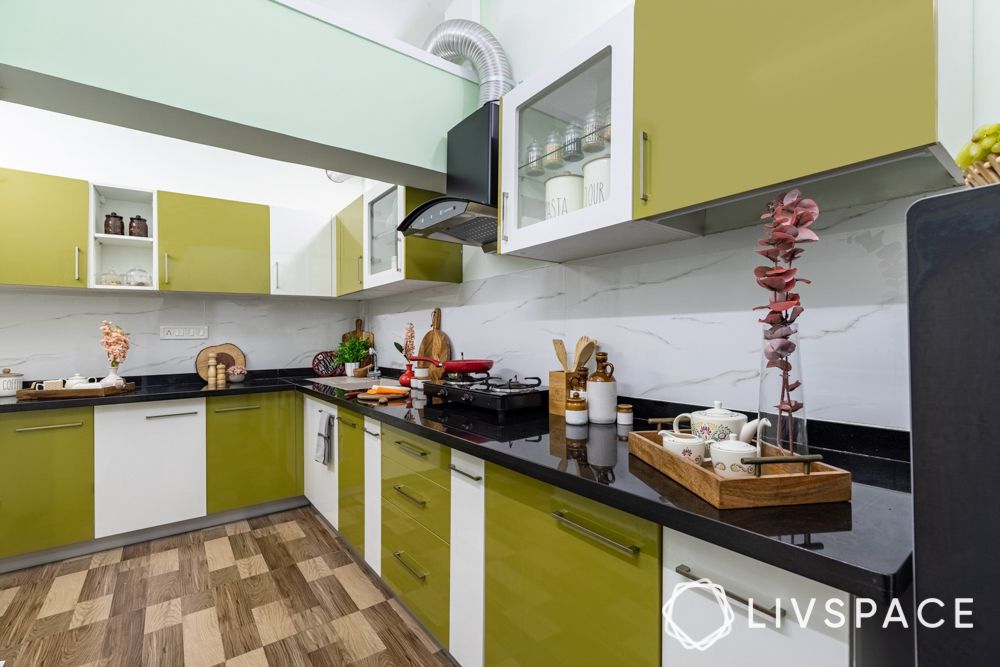 With a variety of patterns and colours, laminate flooring presents a plethora of choices to suit your personal tastes. However, that's not why this kitchen interior design in Chennai employed laminate flooring with a wood-like appearance.
The decision to use it then for their kitchen interiors in Chennai was heavily impacted by its scratch-resistance feature. Additionally, it's moisture-resistance, does well under pressure and is quite affordable. In fact, it supports easy installation and cleaning.
Hear It From the Homeowners of Kitchen Interior Design, Chennai
We had a great experience in renovating our kitchen with a modular setup with Livspace. Initially, we were not confident about the design but with the help of Livspace designers, we were able to have a clear idea on how our kitchen will look after completion. The Livspace team has provided good support over the installation and the outcome of the project was exactly how we wanted. Finally, we liked it, loved it and enjoyed the look and feel of it. Hearty thanks to the Livspace team for making our dream come true with a decent budget.

Suresh Kumar, Livspace Homeowner
For more amazing kitchen design ideas, check out:
How Can Livspace Help You?
We hope you found our ideas useful! If you want beautiful interiors for your home, then look no further. Book an online consultation with Livspace today. Also, if you have any thoughts and suggestions you'd like to share with us, we're all ears! Drop us a line at editor@livspace.com.