Charles Joseph's kitchen was in dire need of a makeover when he approached Livspace for its renovation. Our designers Roy Mathew, Eljeevan Winnoe, Anna Boben & Krishna R, readily took on the task and delivered it in the sincerest manner possible. Despite civil changes in the kitchen, they managed to renovate this U-shaped kitchen design in Kochi in just ₹2.5 lakh.
The Livspace team could identify the critical issues of the kitchen in the early site visits itself. So, in addition to making the U-shaped kitchen interior design in Kochi beautifully organised, they also improved the design to have more storage, light and ventilation.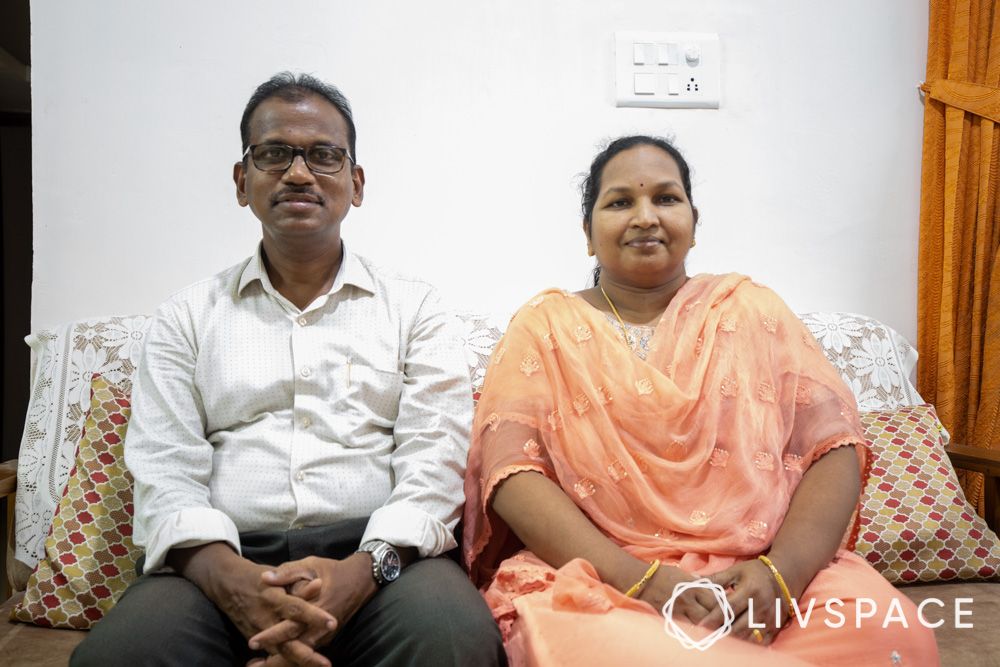 ---
Who Livs here: Charles Joseph, his wife and their kids
Location: Kochi, Kerala
Size of home: A kitchen spanning 100 sq. ft. approximately
Design team: Interior Designers Roy Mathew, Eljeevan Winnoe, Anna Boben & Krishna R
Livspace service: Kitchen renovation
Budget: ₹
---
IN A NUTSHELL


Brief
A simple kitchen design that has all the utilities in it

What We Loved
A sophisticated colour combination of berry bunch and Irish cream laminates for the kitchen cabinets

Look Out For
– The tall appliances unit with electric sockets in it
– The cream-coloured ceramic tiles for the backsplash
– The jet-black granite for the countertop

Biggest Indulgence
The hacking work and the tall unit with appliances

Smart Buy
MDF shutters used in cabinets to save money without compromising on durability


Charles Joseph's Improved U-Shaped Kitchen Design in Kochi
Your kitchen, without a doubt, plays a crucial role in the state of your wellbeing. Hence factors like light, ventilation and ease of maintenance were of utmost importance in this U-shaped kitchen design in Kochi. Let's see how our designers have renovated this kitchen for Charles Joseph.
The Golden Work Triangle in This Kitchen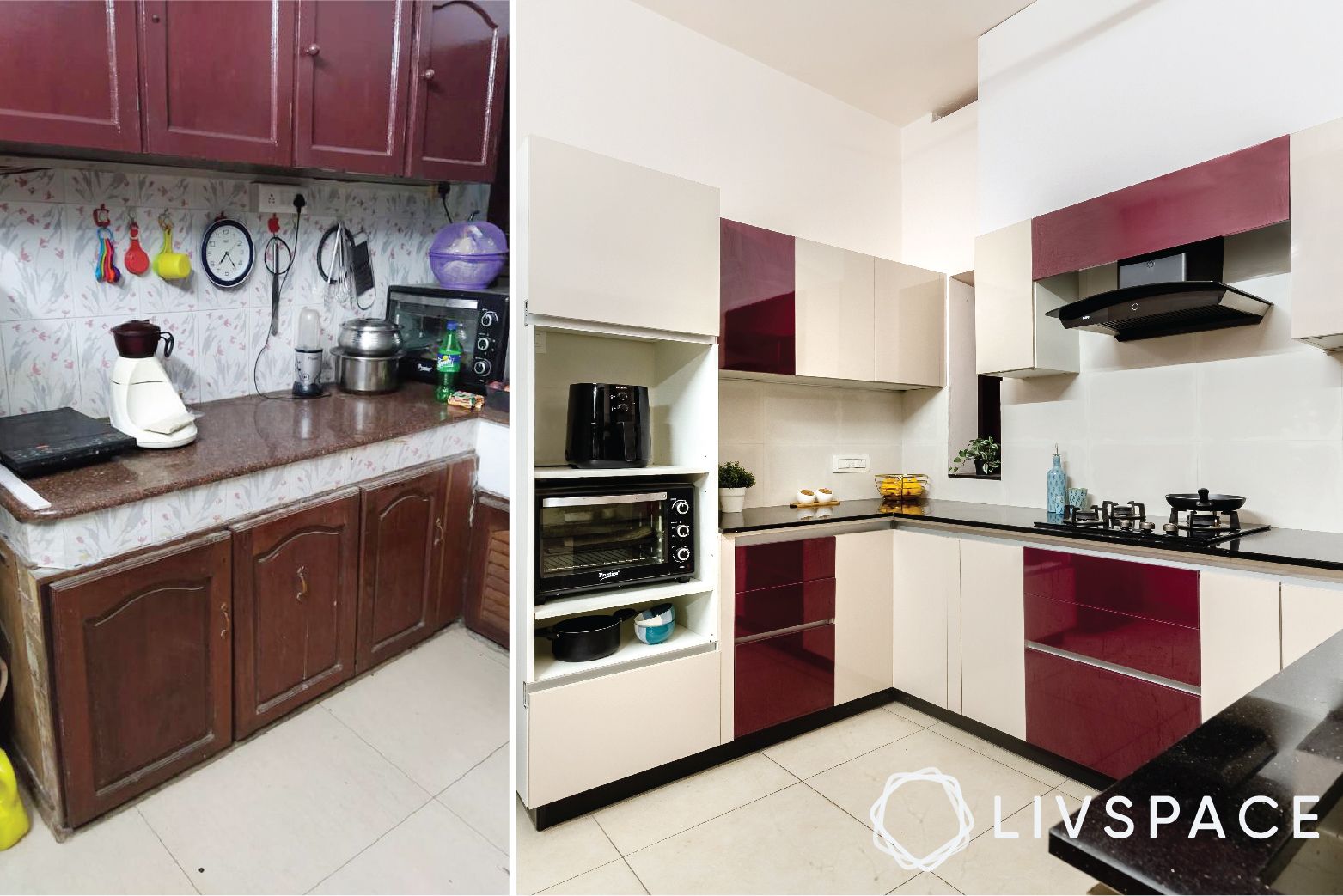 Every kitchen needs to have clearly defined dry, wet and hot zones. These zones make a golden triangle that suggests the ease of working in a kitchen. Your interior designer is responsible for giving you an effective work triangle so that your experience in the kitchen is the best possible in that space.
For example, the experience of a single user or multiple users at a time in this U-shaped kitchen design in Kochi, is comfortable and easy due to a small and uninterrupted work triangle. This is because it has clearly defined dry, wet and hot zones. Moreover, the hot and wet zones are next to each other to support the workflow in the kitchen.
The Colours Used in This U-Shaped Kitchen Design in Kochi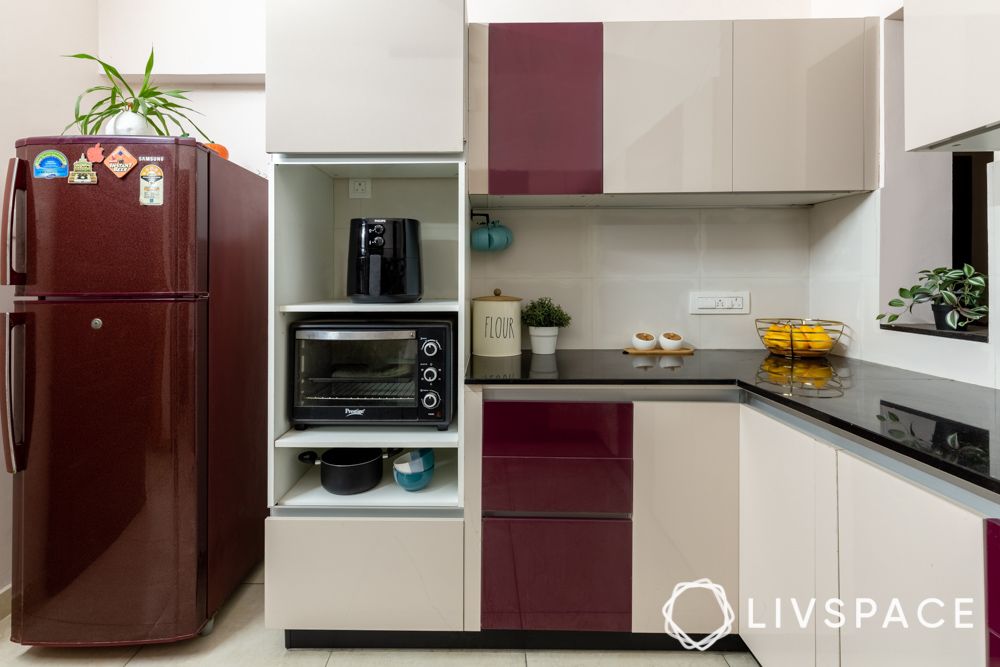 The colours in this kitchen are not only beautiful but also reflect light. The Irish cream coloured and gloss-finished laminates help enhance the lighting in this kitchen. Even the backsplash tiles are cream in colour to reflect light and match the cabinets at the same time.
The Easy-to-Maintain Aspects of This Kitchen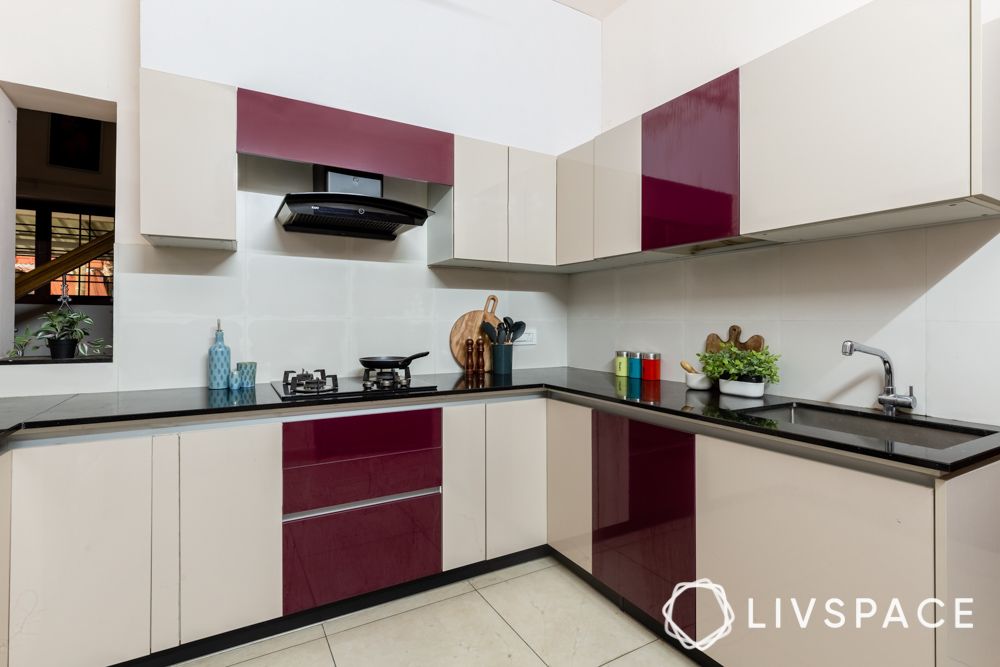 Managing a kitchen is not an easy task. It requires regular cleaning and using harsh chemicals isn't always the smart thing to do here. Therefore, our designers have chosen gloss-finished laminates that are not only economical but also easy to wipe and clean.
Additionally, the jet-black countertop is low-maintenance and helps define the shape of the kitchen cabinets. This countertop won't fade in colour and will last for a long time.
The Cost-Saving Measures in This Kitchen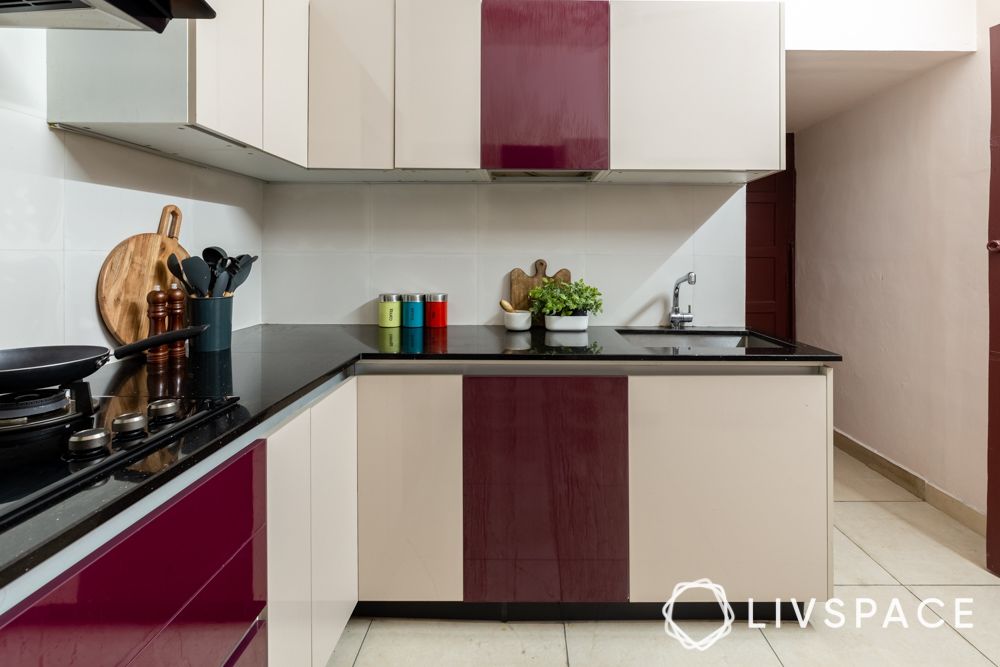 When it comes to cost, our designers don't shy away from getting creative. In this modern U-shaped kitchen design in Kochi, we have used HDF-HMR (a water-resistant material) to create the carcass of the cabinets whereas the shutters are made of MDF (most economical engineered wood).
The Benefits of Civil Hacking in This U-Shaped Kitchen Design in Kochi
It is important to remove all the hindrances from the kitchen worktop as they can interrupt your workflow. The column that was originally present in this kitchen was located right next to the hob. This caused two problems mainly:
It reduced the amount of counter space near the hob which is a necessity while cooking.
It shielded this heat zone from a natural ventilation that could help disperse the fumes during cooking.
But after hacking this column that was not reinforced, the countertop has become spacious and safe.
Apart from this, you will notice that even old tiles have been replaced with sophisticated Ceramic ones that match the colour palette of the kitchen and make it look bigger.
We hope you liked our U-shaped kitchen decor ideas in this Kochi home and are closer to planning your kitchen renovation wisely. You can also check out our budget storage solutions under ₹2.5 lakh in this contemporary Chennai home.
How Can Livspace Help You?
If you want your home to be just as beautiful, then look no further. Book an online consultation with Livspace today.
We love hearing from you! Write to us with your comments and suggestions at editor@livspace.com