It's important to support your children and their ambitions and for Malu Chatterjee, this meant extending her kitchen to build a baking station for her daughter. She chose Livspace for her 3BHK flat kitchen remodel in Delhi and our designer, Divya Bhati took the challenge to do it.
Since storage is the primary necessity in every home, Malu also got her wardrobes and storage units replaced with new modular ones from Livspace. Malu praises the final finishing of her furniture and let's find out why.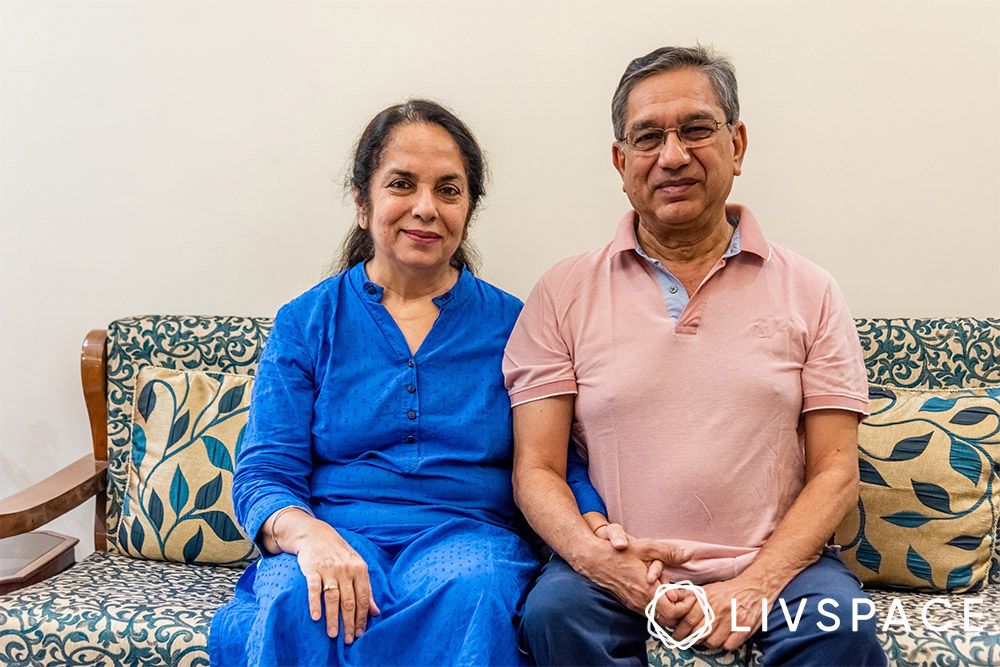 ---
Who Livs here: Malu Chatterjee with her husband and their daughter
Location: Vasant Kunj, Delhi
Size of home: A 3BHK spanning 1600 sq. ft. approximately
Design team: Interior Designer Divya Bhati and Project Manager Sumit Kanojia
Livspace service: Kitchen, wardrobe and storage
Budget: ₹
---
IN A NUTSHELL


Brief
A partial renovation to optimise for free space and storage

What We Loved
The warm colour palette that is consistent throughout the house

Look Out For
– The colourful backsplash in the kitchen
– The matching brown granite countertop

Biggest Indulgence
The beige modular kitchen with separate cooking and baking zones

Smart Buy
The economical MDF shutters for their storage units


Malu's 3BHK Flat Kitchen Remodel in Delhi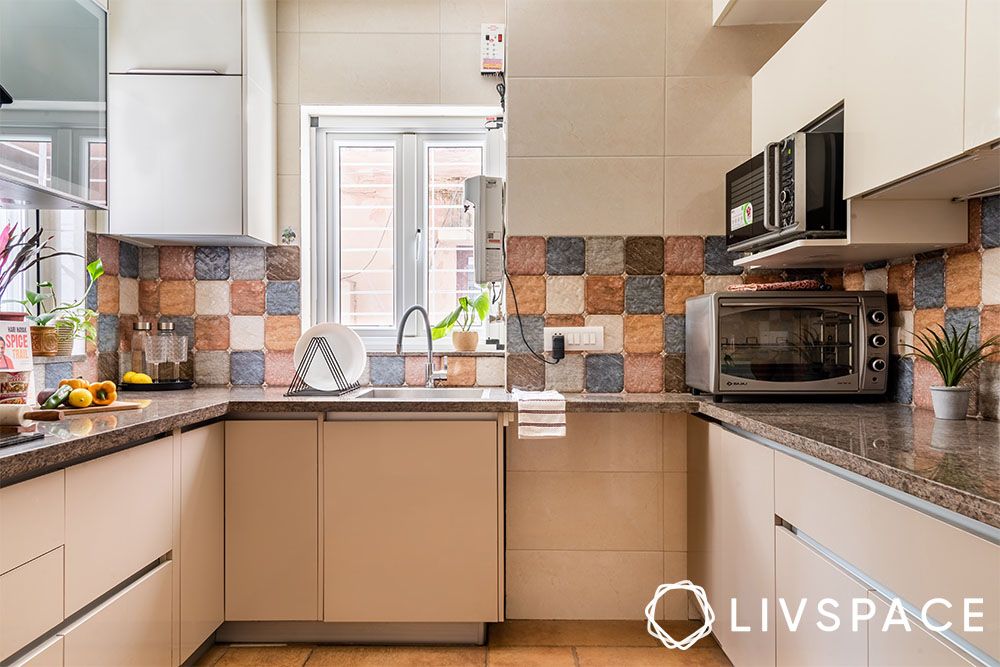 Like we mentioned, Malu's daughter also uses her kitchen for baking, but her L-shaped kitchen wasn't spacious enough for two people to work simultaneously. So Divya, our designer, hacked and reconstructed the new kitchen wall about 2 ft. away to make more space in the kitchen. Since this wall was shared by a powder bathroom that didn't require as much space, her idea worked well.
The Colours in This 3BHK Flat Kitchen Remodel in Delhi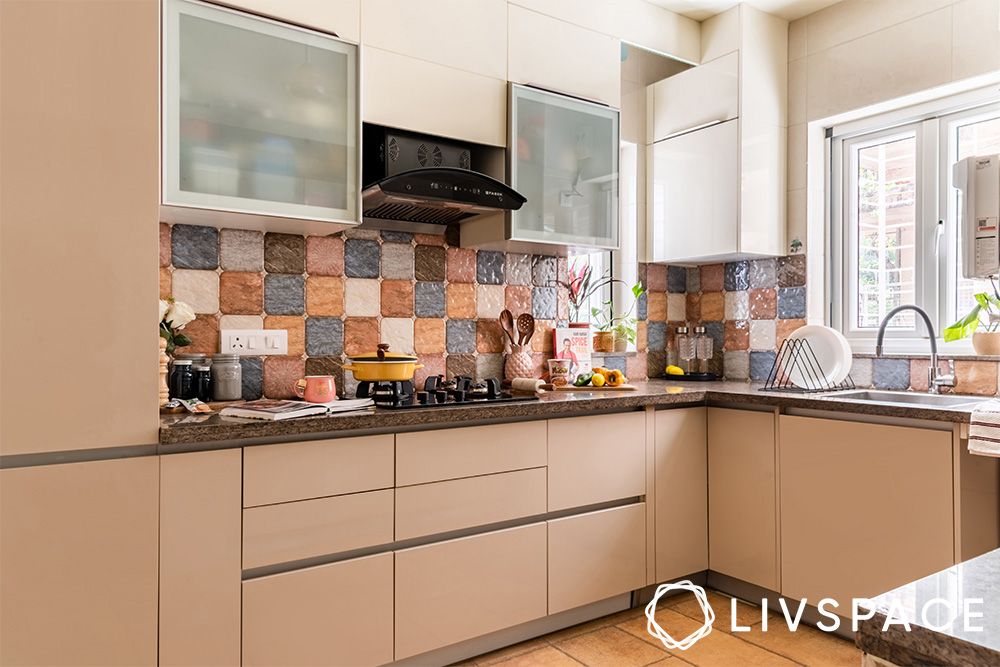 Since the rest of Malu's 3BHK flat has muted warm colours, she wanted to maintain this consistency in her kitchen's colour palette too. So she chose Irish cream matte-finished laminates for the bottom cabinets and gloss-finished white laminates for the upper ones.
But these muted colours are not left dull in this 3BHK flat kitchen remodel in Delhi; there are colourful dado tiles that break the mundane look. Additionally, even the brown granite countertop helps in uplifting the appearance of the kitchen by creating a pleasant transition from the plain cabinets to the backsplash tiles.
The Baking Zone for Malu's Daughter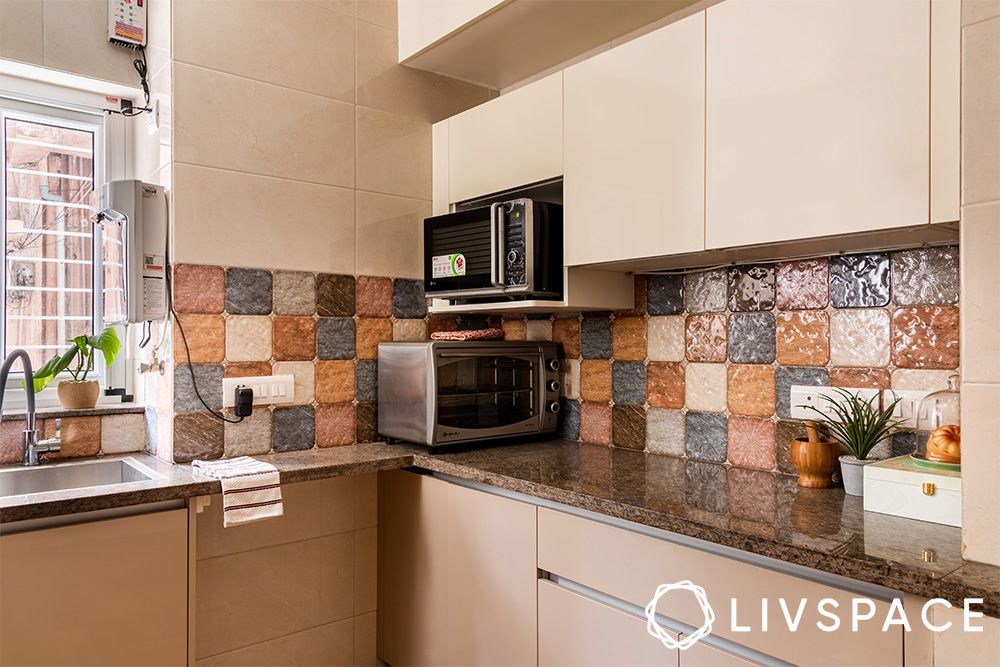 Since baking needs more than just counter space—it needs space for baking appliances and storage as well—Divya made sure that there was another set of modular storage units to keep baking essentials. As a result, she created a separate independent zone for Malu's daughter. This way the daughter doesn't need to go to the other side of the kitchen to retrieve her baking utensils.
Malu's Bedroom Wardrobe Renovation in Delhi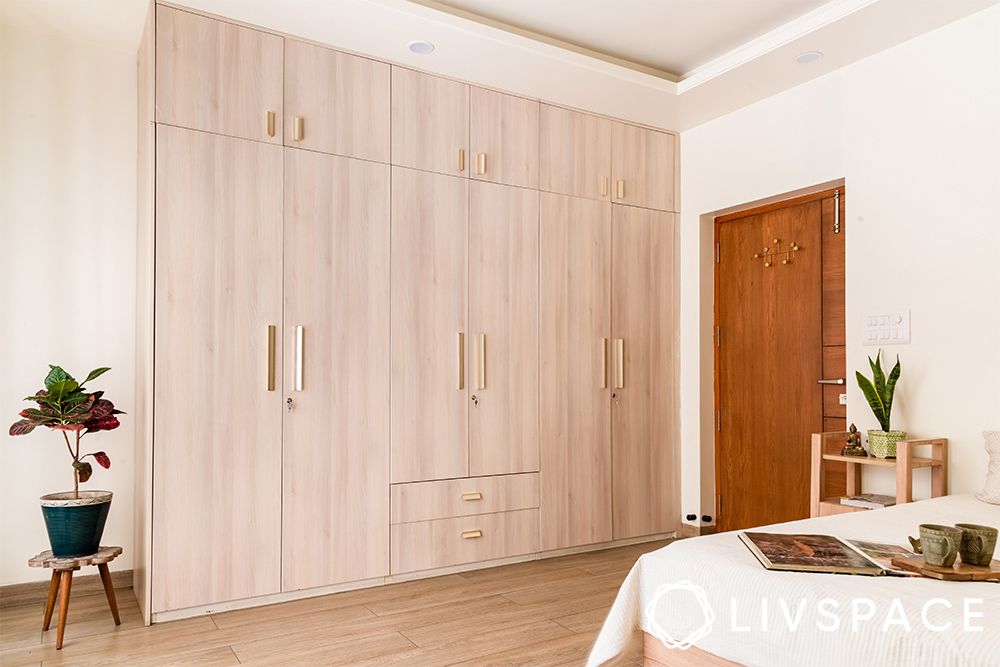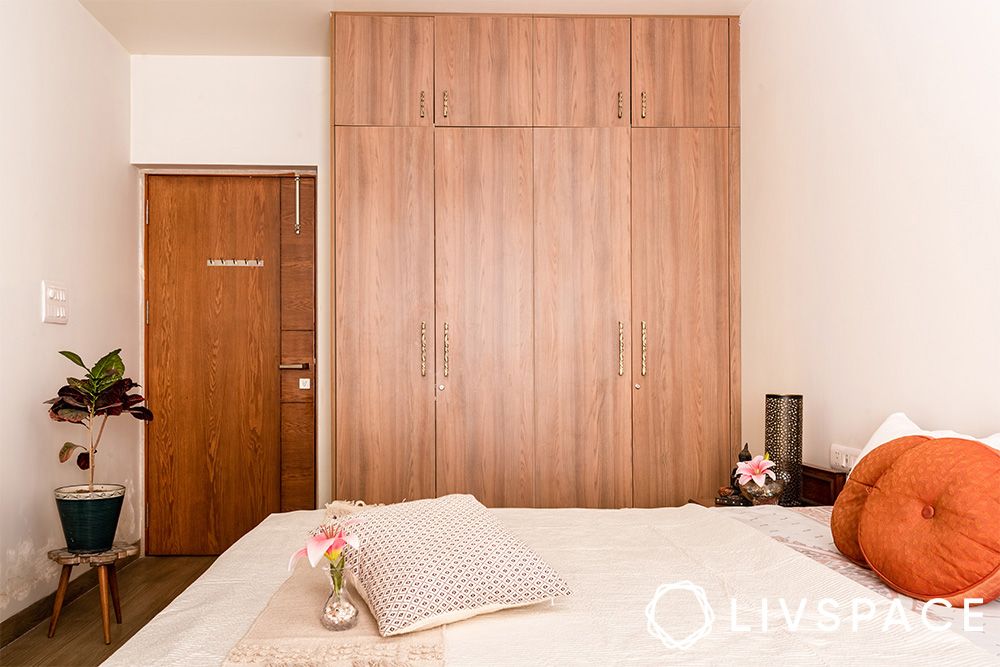 The wardrobes are built to cover full walls and have lofts above them to provide as much storage space as possible. Furthermore, since it is common in Delhi to lose your furniture to the humidity, Divya made wardrobe carcasses from HDF-HMR (water-resistant) and shutter from MDF (most economical) sheets. What's better is the European technology that we, at Livspace, use to make these panels in our factory. The laminates and edge bands are machine pressed to prevent moisture from entering these panels. This ensures our furniture lasts much longer while being affordable at the same time.
Our designers are creative, careful and sincere in delivering the best home interiors within your budget. If you like our work for Malu Chatterjee's Delhi flat, take a look at this Mumbai home renovation where we used 10 brilliant interior design ideas for small homes.
How Can Livspace Help You?
If you want your home to be just as beautiful, then look no further. Book an online consultation with Livspace today.
We love hearing from you! Write to us with your comments and suggestions at editor@livspace.com