Our homes assumed a pivotal role in our work/personal life during the pandemic. While we were repeatedly advised to 'stay home', some of us were also trying to get our new homes designed. Pallavi and Raj Kiran were one such couple who worked with us in 2021. Their 3BHK flat in Bangalore is a good case in point to understand just how homes were designed in a remote-only world! After using carefully calendared Zoom calls to get her storage-friendly home designed, Livspace homeowner Pallavi feels that her experience was 'remarkably convenient'. She elaborates;
"The best thing about our experience was that we didn't need to ask for updates. We were notified weekly of the progress by our project manager Somu. Our designer Allen understood us and he also brainstormed with us for the best solutions to our design problems on zoom calls."

Pallavi Peddada, Livspace Homeowner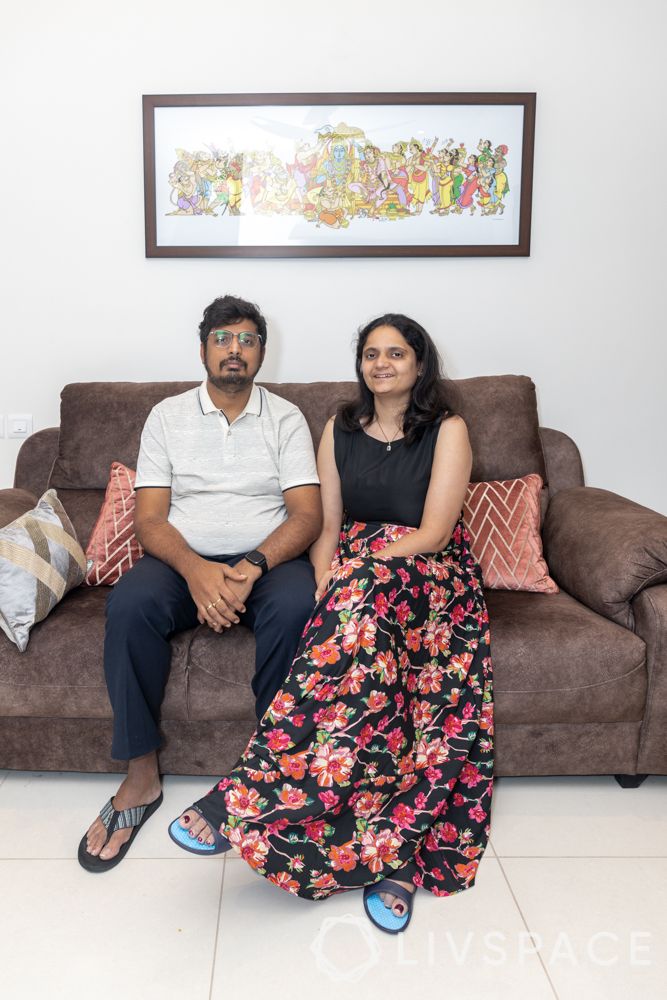 ---
Who livs here: Raj Kiran Gade and Pallavi Peddada
Location: Brigade Panorama, Bengaluru West
Size of home: 3BHK spanning 1,100 sq. ft. approx.
Design team: Interior Designer Allen Pascal and Project Manager Somu G P
Livspace service: KWS with custom
Budget: ₹₹₹
---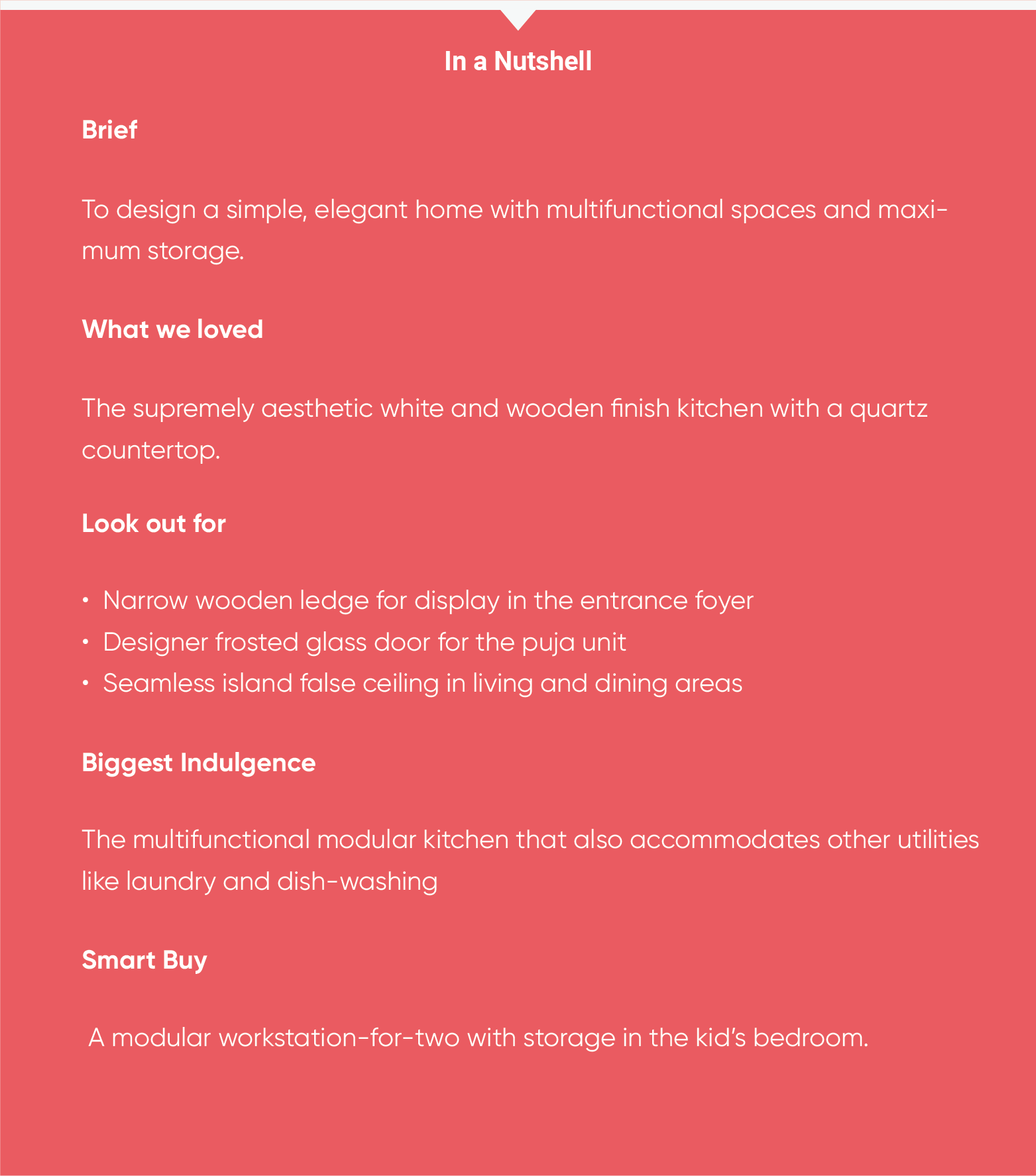 So, how do Pallavi and Raj go from owning an empty flat to living in an aesthetic and utilitarian home?
Take notes, this will be a journey.
How Much Work Does Your Foyer Need?
For Pallavi and Raj, the answer was not much. They opted for a multi-purpose ledge in their entryway that can serve as display space or also be a place to sit down and pull your footwear on. So, when you enter this beautiful 3BHK flat in Bangalore, you are greeted by this narrow ledge with a decorative metal piece atop.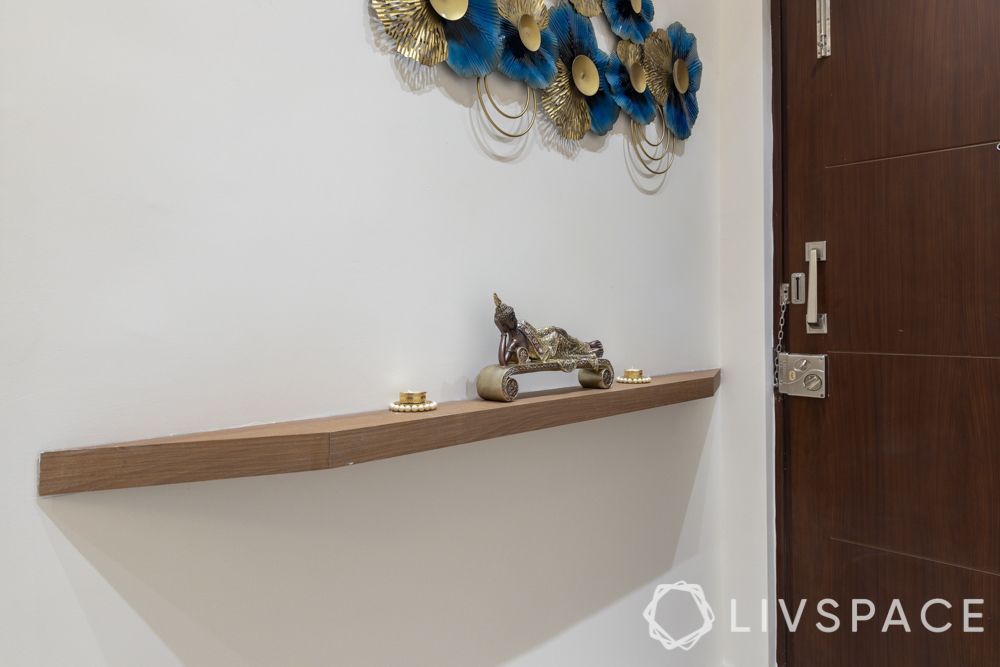 How to Optimise Your Living Room for Space, Style and Utility?
Once inside, you will find that the gypsum ceiling binds the living and the dining areas together. Allen designed the island-style false ceiling with neutral LED lights placed close to its edges to offer depth to the room. These gypsum boards also support cove lights that give extra length to the walls and express volume. The earthy coloured furniture and drapes, apart from rendering a comfy vibe, ensure that this is a low-maintenance 3BHK flat in Bangalore.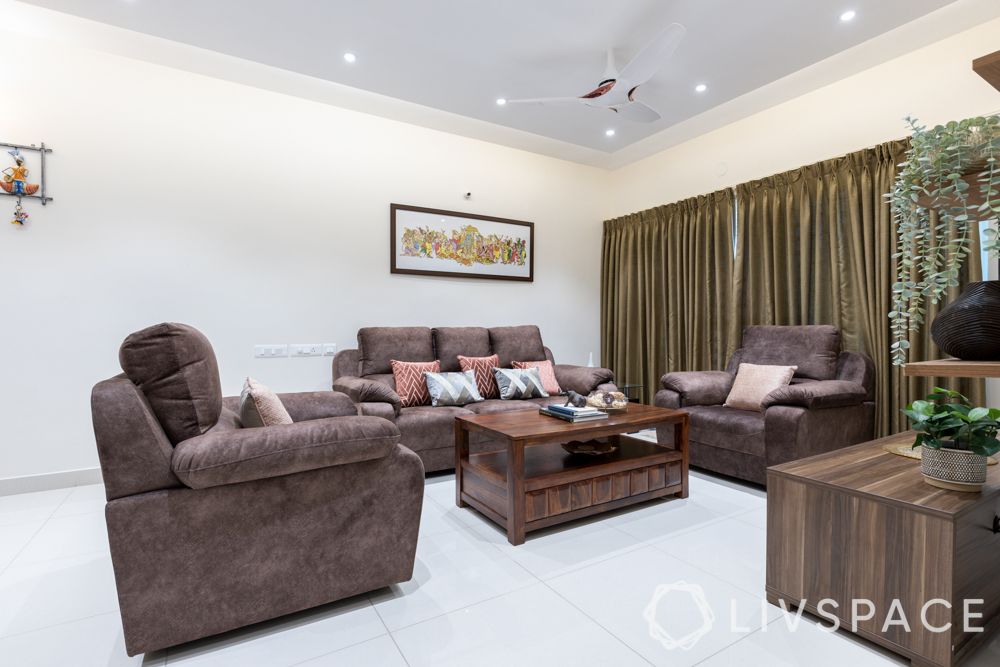 The clients' intentions with their TV unit were plain and simple too. They asked for open display ledges which can accommodate decorative pieces of all sizes and shapes. This is a classic case of 'form follows function' that can guarantee affordable home interiors.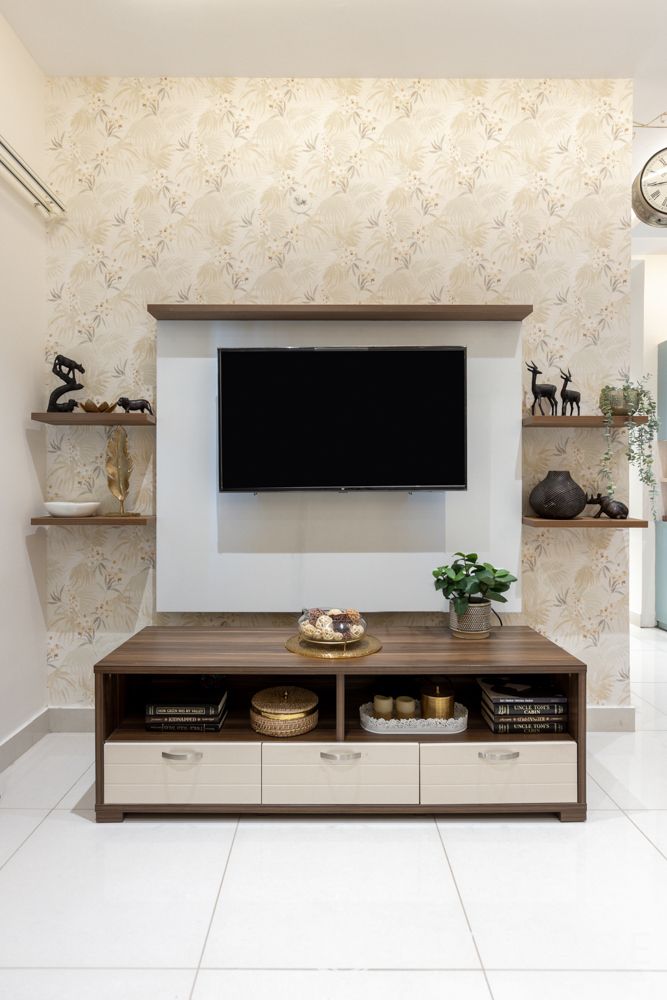 How to Have a Pooja Room Where There Isn't Space for One?
Raj and Pallavi, initially, opted for an open pooja room. However, they soon recognised the difficulties of cleaning an open cabinet in their 3BHK flat in Bangalore. They changed their minds and added designer frosted glass swing doors to a compact pooja unit, which fits on just one wall!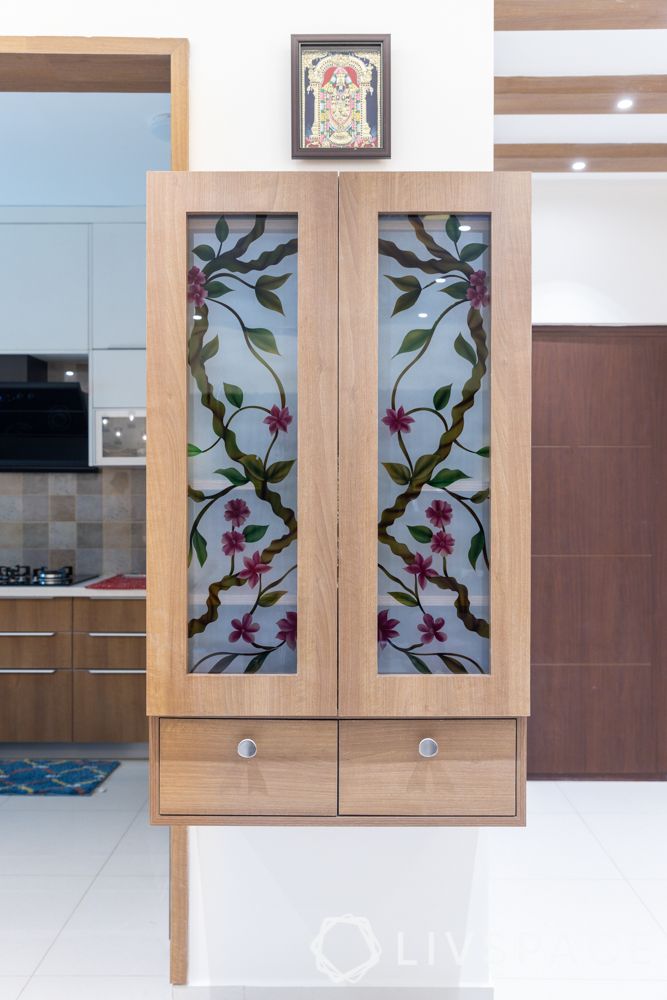 The jaali panels on the side allow some much needed ventilation inside the structure; they were added later when the decision to have doors on this unit was made. To serve its purpose even better in this beautiful although budget home interiors, the designer has provided a switch board inside the pooja unit. That will come in handy when the couple decides to decorate their pooja room during festivals.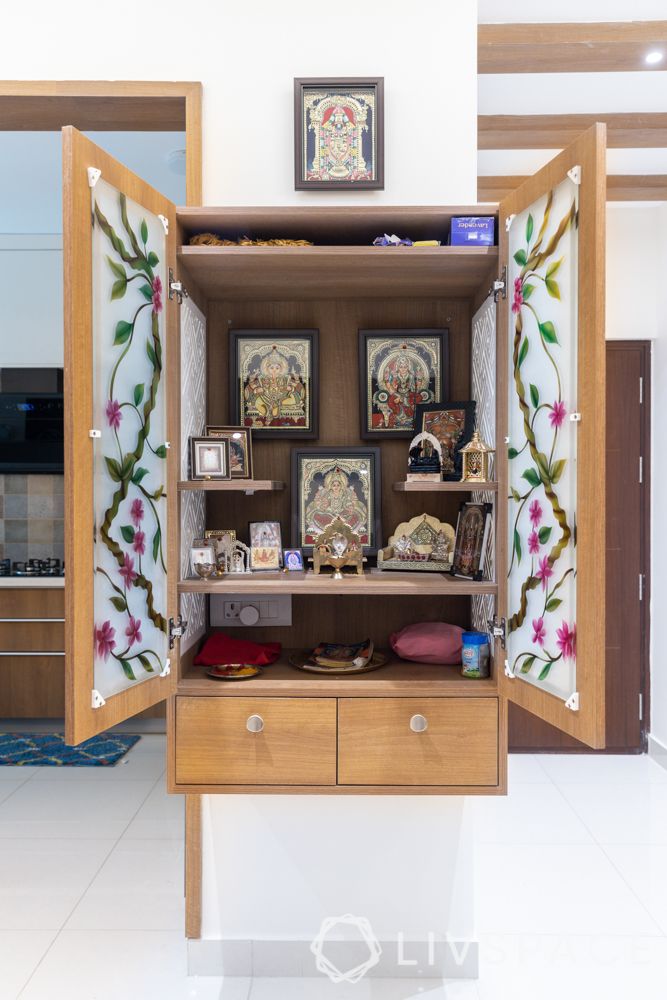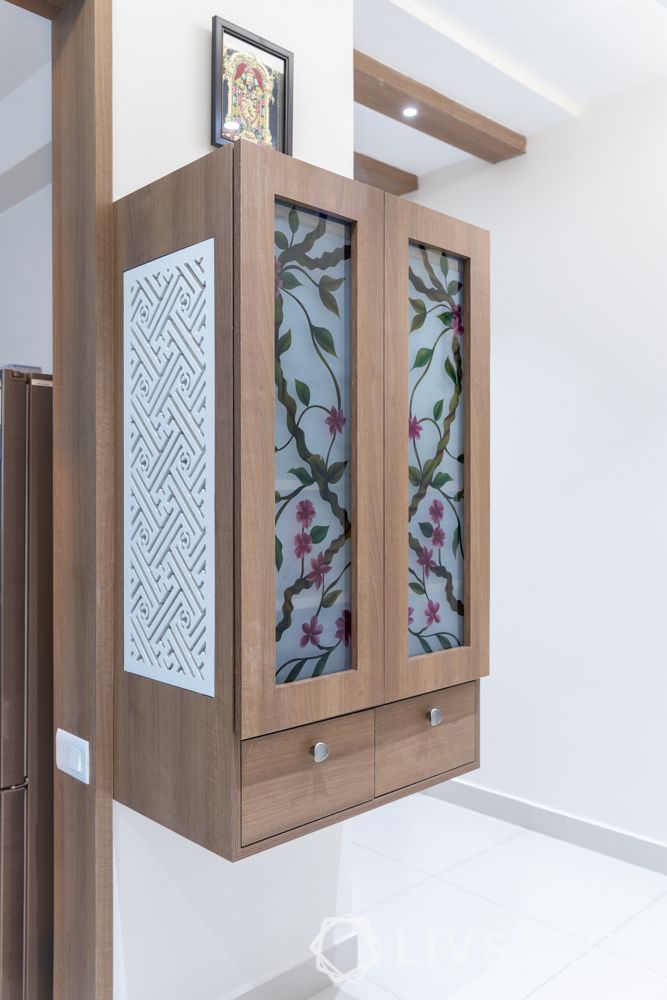 How to Make the Most of Your Dining Space Like This 3BHK flat in Bangalore?
What do you do when you have a stretch of empty wall space in your dining area? You turn it into storage that looks glam like this crockery unit. With see-through wall cabinets and plenty of neat shelves, this crockery unit can be used for storage and display. Also, this space encourages easy exchange of dialogues from dining to kitchen over the breakfast counter. This kind of connection and expression is the result of a mindset that wants to make the best use of the layout to deliver the most comfortable home interiors.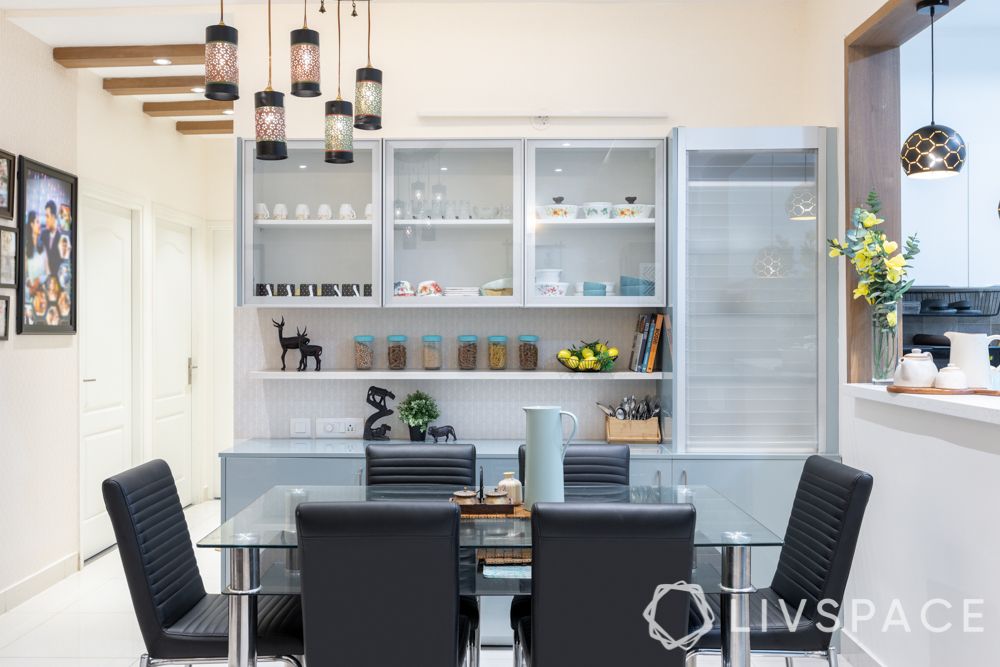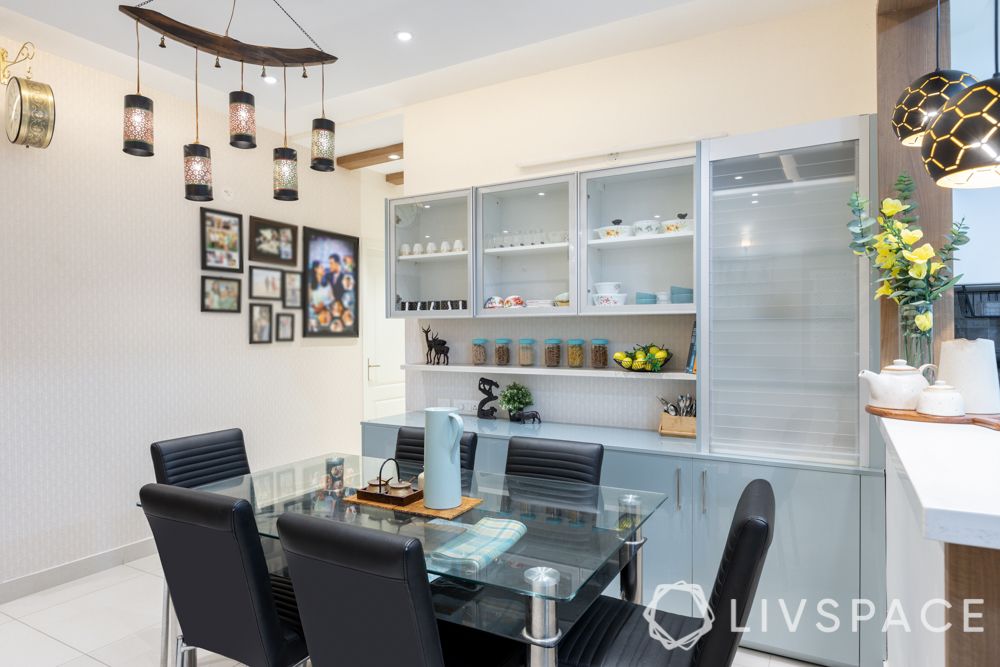 How to Design a Highly Functional Two-toned Kitchen?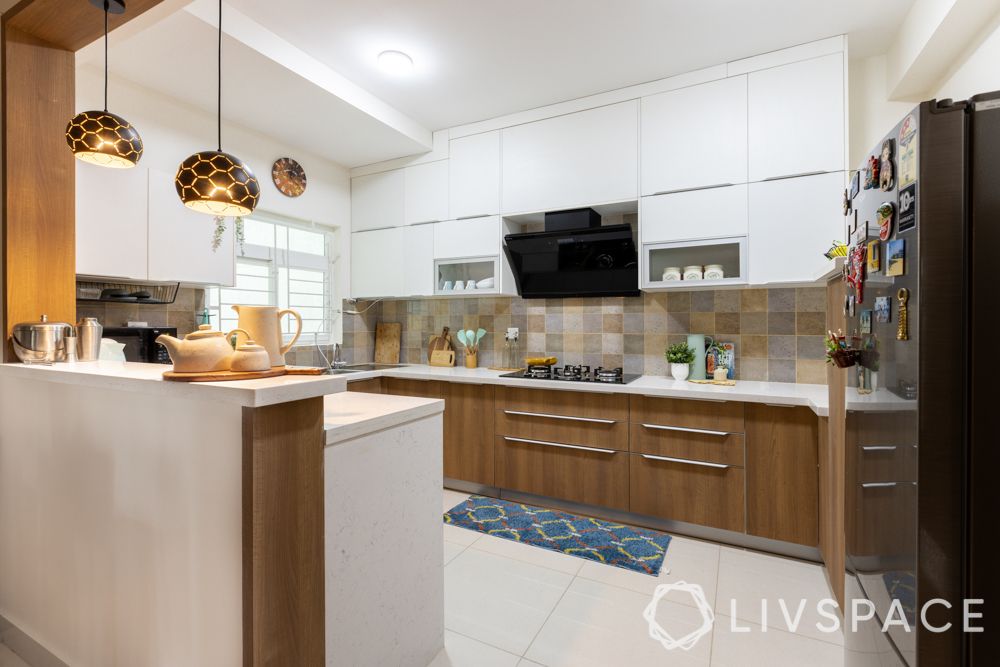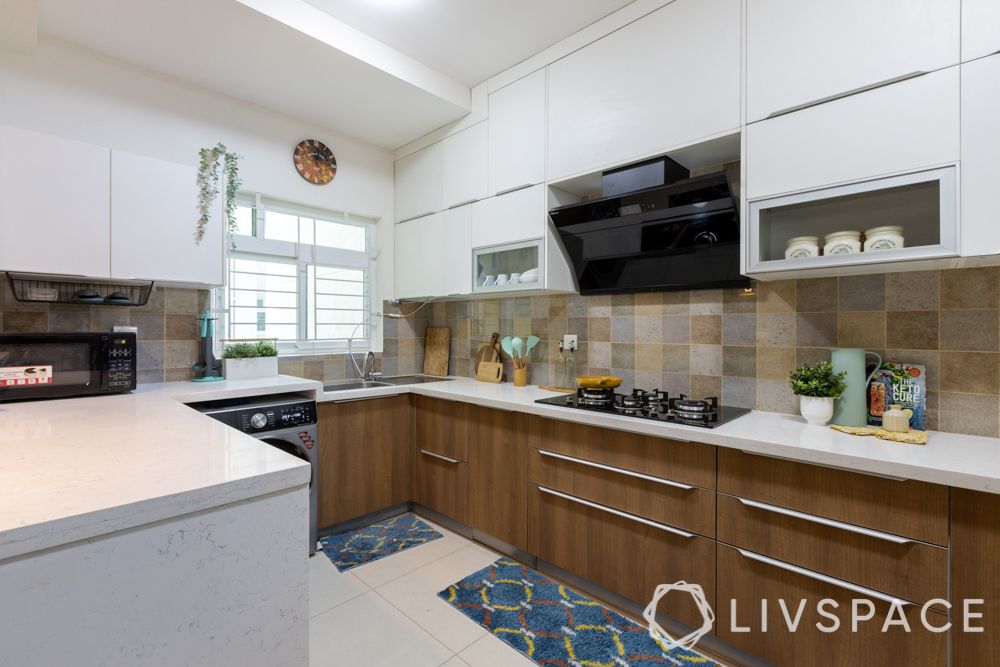 Raj and Pallavi spent a large portion of their time deliberating with Allen about the best possible way to design their kitchen. Many Zoom calls later, they set their heart on a G-shaped kitchen that gives them space and storage. Also, this layout would not require them to tamper with the existing plumbing while they fitted a washing machine and dishwasher into the kitchen.
First thing one notices is the wooden architrave that frames the entrance and separates the kitchen from the dining. The upper cabinets have white matte-finish laminates that match the quartz countertop and impressively brighten up the kitchen. The lower cabinets have a wooden membrane finish with stainless steel handles that add this unmissable elegance. The backsplash tiles were carefully selected by the couple to create an aesthetic buffer from the lower cabinets to the upper ones. Essential appliances that don't always make the prettiest sight, like the water purifier and chimney pipe, are hidden behind shutters. In addition, this G-shaped kitchen also has a tall unit that can fit all their groceries in one place.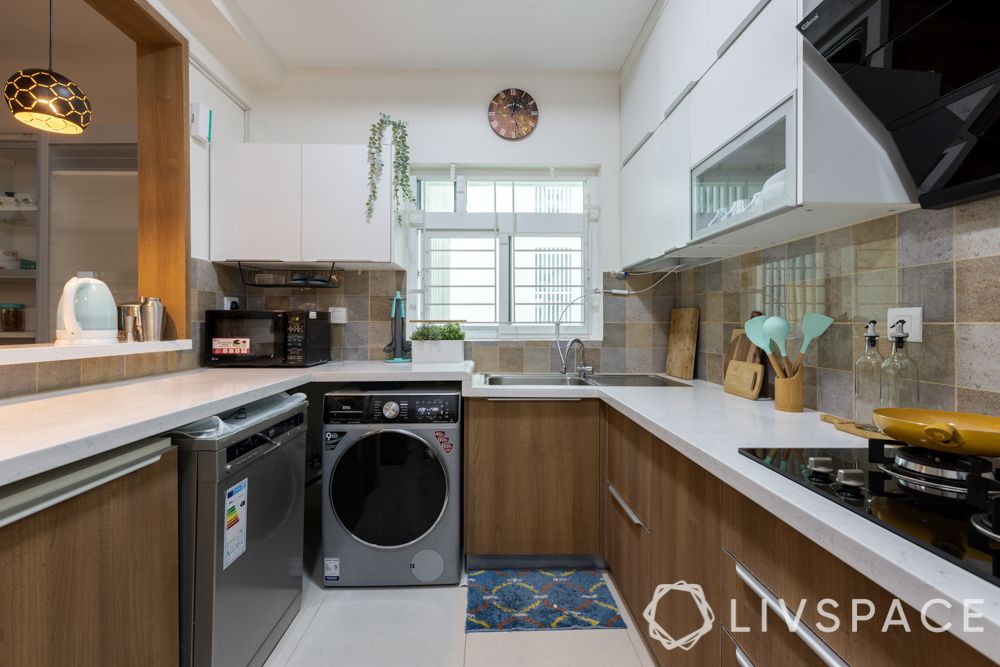 How to Personalise Your Master Bedroom?
Have you assigned purposes to your rooms? How many people will share them? How often will you use them? What time of the day will you be occupying them? What kind of space and facilities will your activities need? Think about all of these things and then discuss a realistic design plan with your designer just like our Bengaluru couple did.
Raj Kiran and Pallavi use their master bedroom for resting and dressing. Most of the day they are working in the other rooms in their adaptable 3BHK flat in Bangalore. So, their smart affordable room interiors consist of a large wardrobe with lofts and a heavy dark wood bed with storage that stands beautifully against the blue soft furnishings in the room.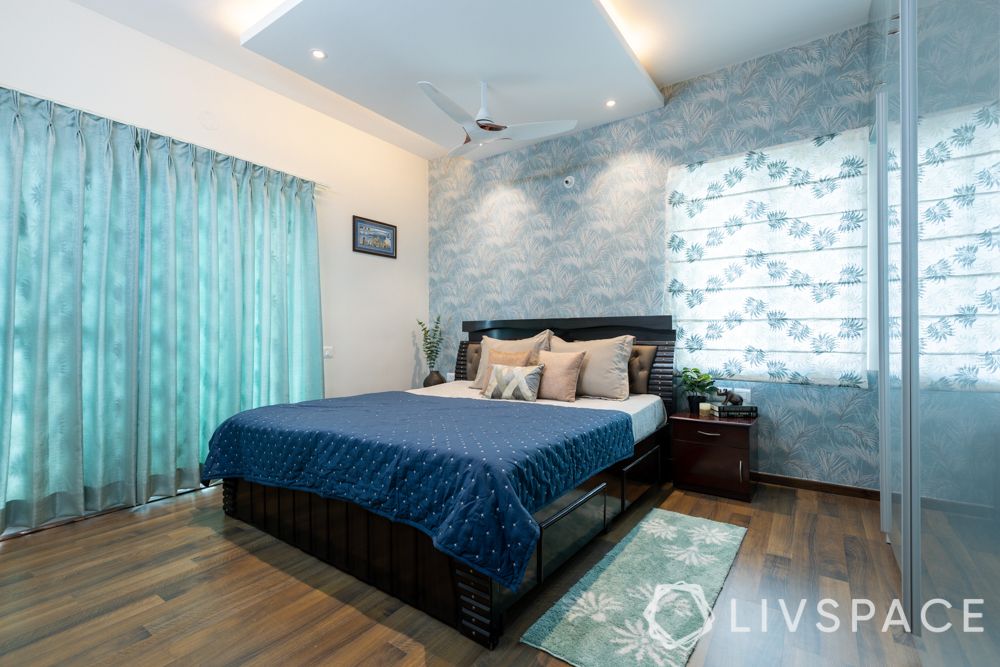 There is another island-type false ceiling right above the bed, subtly bringing attention to the area. The wardrobes have acrylic finish laminates which, due to light reflection, make the room look bigger than it is.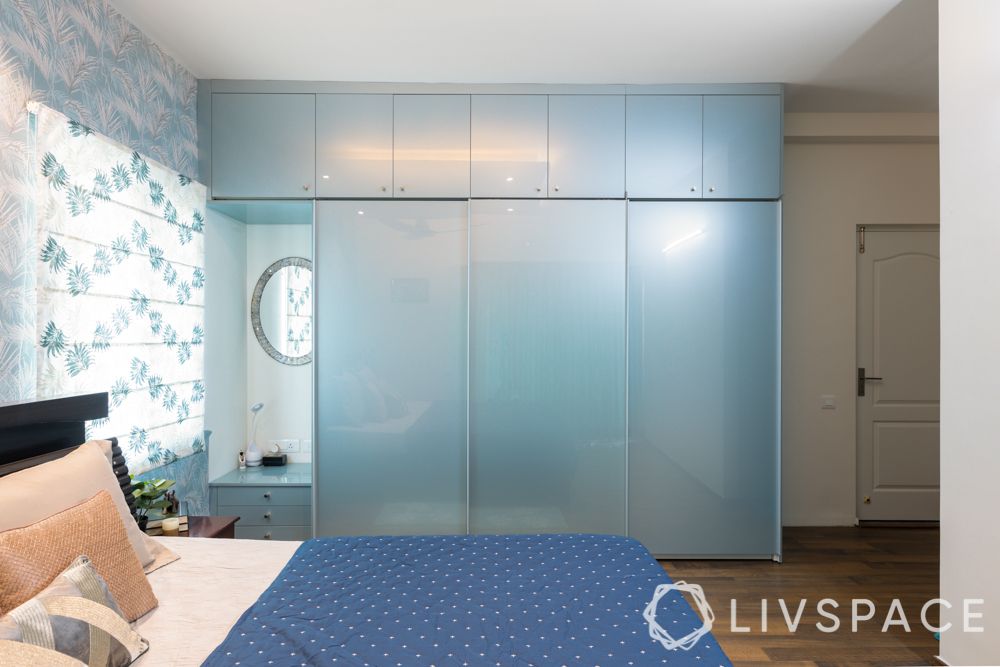 How to Design Your Spare Bedrooms on a Tight Budget for 3BHK home in Bangalore?
If you are not a large family living in a 3BHK flat in Bangalore, you should design your spare bedrooms so that you can disperse some secondary utilities in them. Raj works in IT and uses the extra bedroom to work during the day. The room features a comfortable bed, and a sliding door high-gloss finish wardrobe with loft. There is also a modular workstation for two with overhead storage.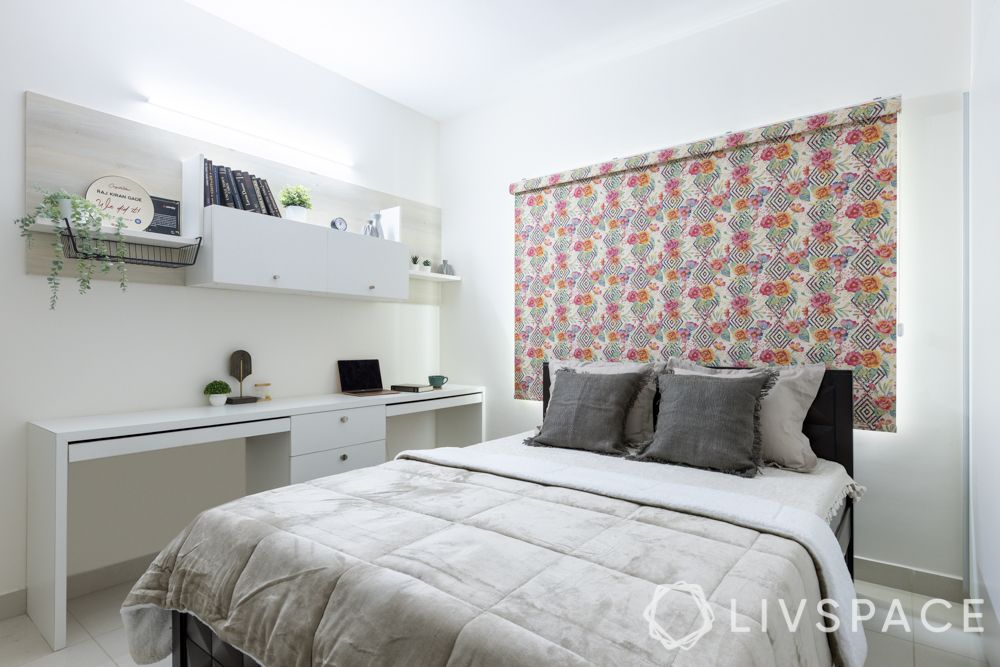 Pallavi occupies the guest bedroom where there is another workstation, double sliding door wardrobe with loft and a full-length mirror to support her fashion designing career.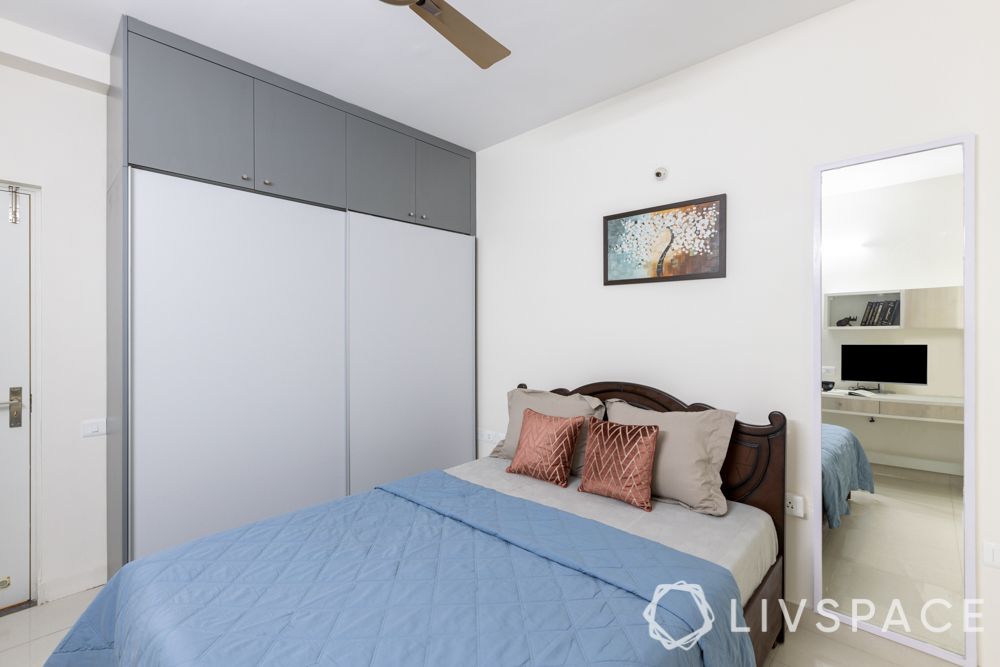 It is no secret that if you know what you want from your house, you can conveniently and realistically achieve it. Raj and Pallavi had planned their lifestyle and created a feasible functional layout with their design team. Most importantly, they were incredibly patient and open minded during the process and the resultant affordable home interiors is bringing out the best from their 3BHK flat in Bangalore.
How Can Livspace Help You?
We hope you found our ideas useful! If you want your home to be just as beautiful, then look no further. Book an online consultation with Livspace today.