A serene and cozy interior design for 1BHK flat.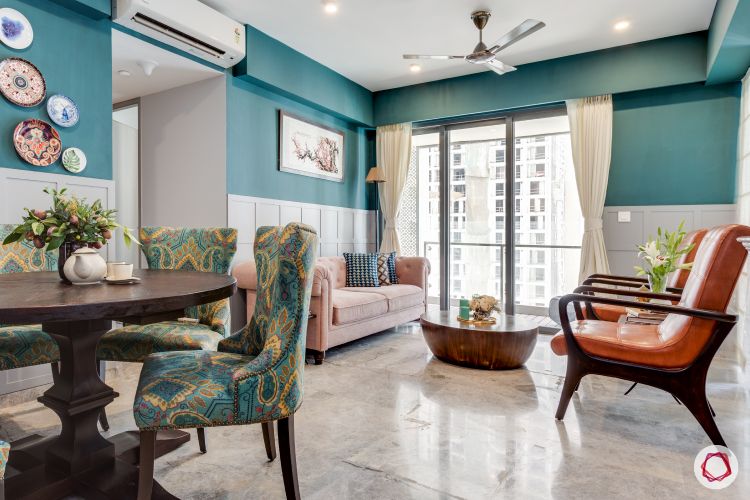 ---
Who livs here: Debomita Basu with her husband Ashish Ambwani and daughter
Location: Lodha, New Cuffe Parade, Mumbai
Size of home: A 1BHK
Design team: Interior Designer Pallavi Goel and Quality Manager Abdul Mateen Khan
Livspace service: Bedroom, living and dining room design
Budget: ₹₹₹₹₹
---
For Debomita Basu and her husband Ashish Ambwani, their first home had to be spectacular. Having studied and lived abroad for quite some time, Debomita knew what she wanted for her home. After following Livspace on Instagram and visiting our Experience Center, they decided to get their home designed by us.
When designer Pallavi Goel met them for the first time, she figured that the couple were well informed about decor and knew exactly what they wanted. So she set to work with their inputs and her ideas. This home incorporates a lot of neutral colours and wooden panelling throughout the living and dining room. Being avid photographers and collectors, the traveller-couple have a lot to put on display. Take a tour of this home and fall in love!
A Delight in Contrasts in Interior Design for 1BHK Flat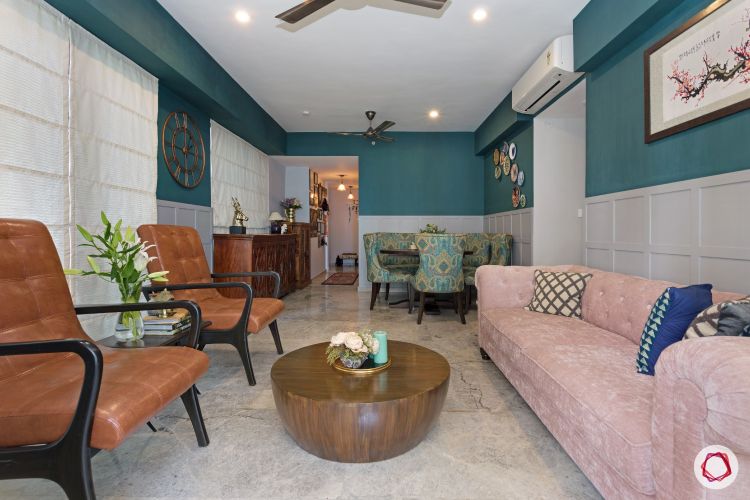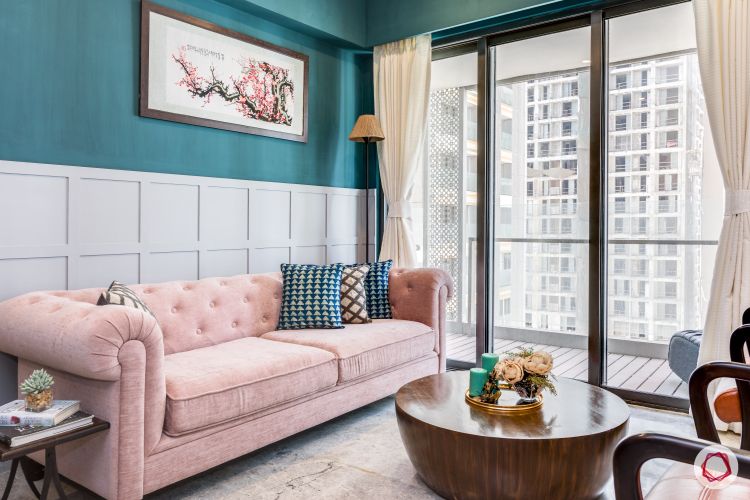 This home celebrates uniformity in walls and it welcomes you with open arms. Debomita chose a darker colour palette for their home, since she felt that the home is already blessed with a lot of natural light. A blue-green wall replaces the initial colour palette, with light grey paneling all around the living and dining area. Feast your eyes on the dusty pink Chesterfield sofa and tan leatherette accent chairs around the solid wood center table. The light upholstery lets light bounce right off and makes the room look luminous.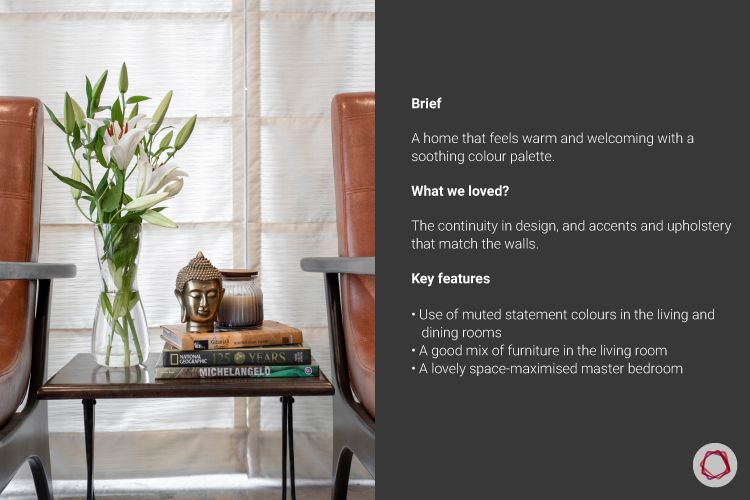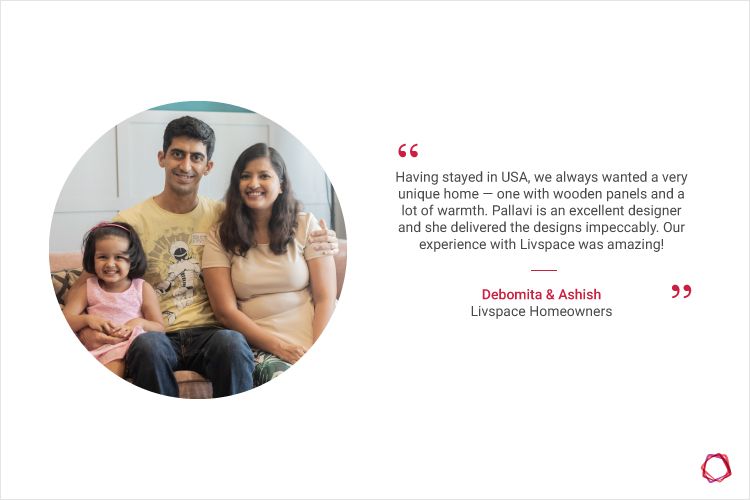 A Cool Dining Room in Interior Design for 1BHK Flat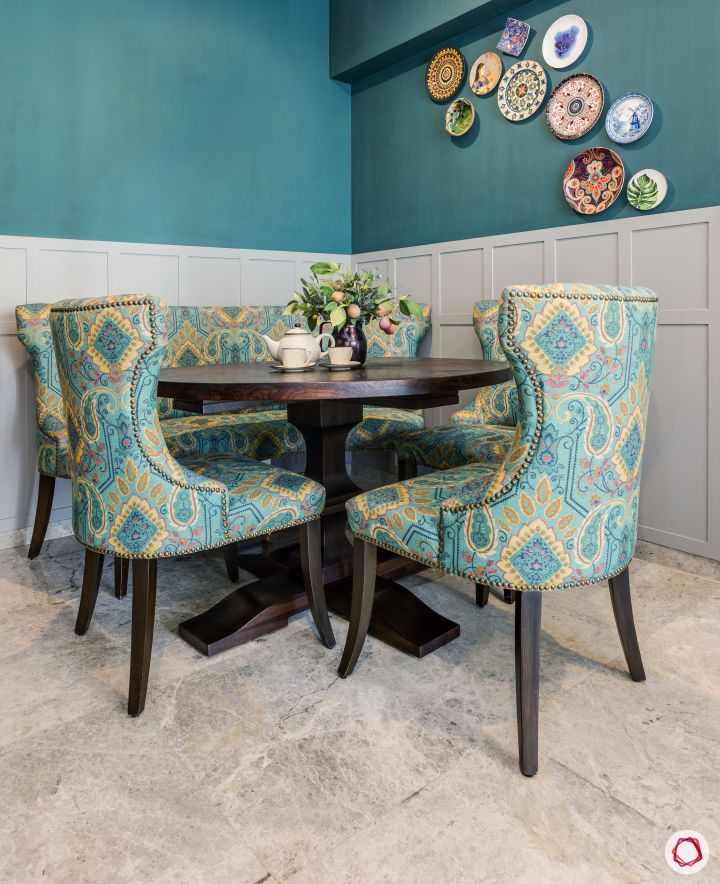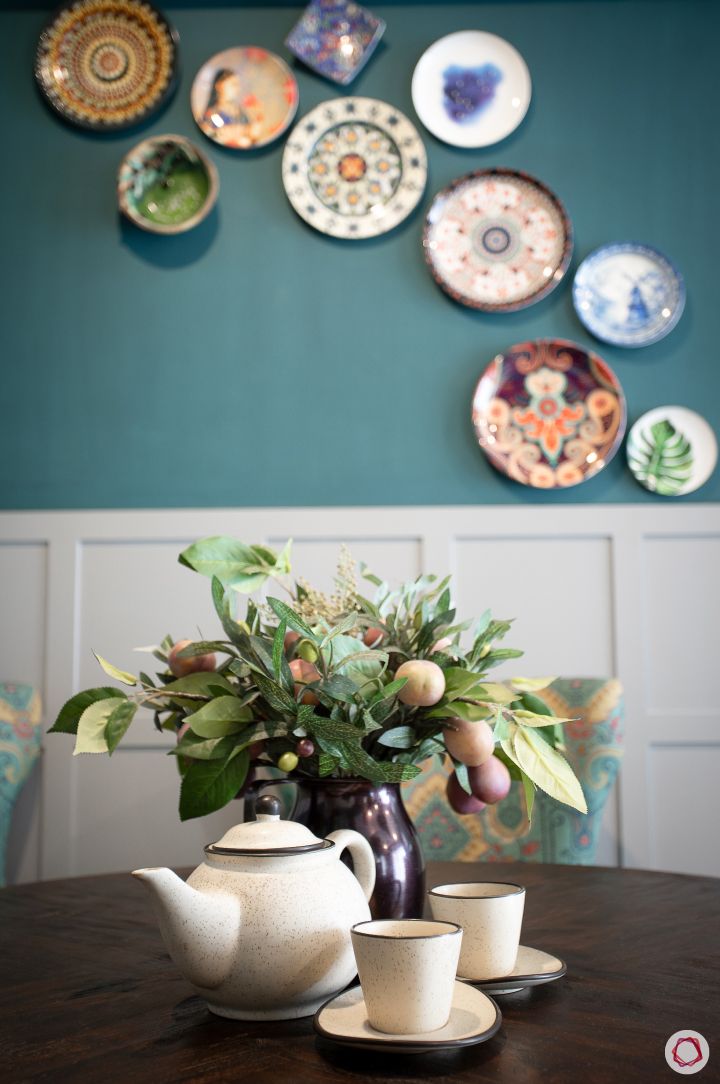 As is any collector's dream, Debomita and Ashish have always wanted to display their lovely collection of plates on one of the walls at home. So Pallavi decided to make an accent wall in the dining area using these plates.
The dining chairs also have a story to tell. Having a lot of get-togethers always calls for comfortable seating, and this led to a bench finding space in the corner of the dining room. Three chairs and a bench ensure that this four seater dining table can accommodate more people. Pallavi chose the tribal upholstery carefully, keeping in mind, the trims and colour on the wall.
A Soothing Escape in Interior Design for 1BHK Flat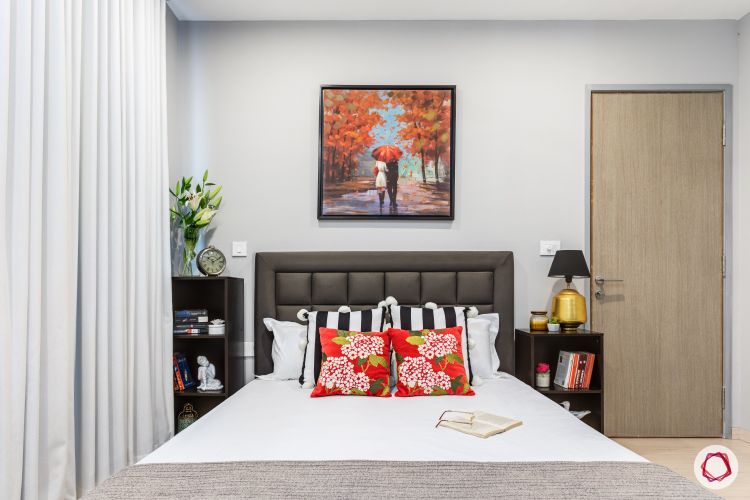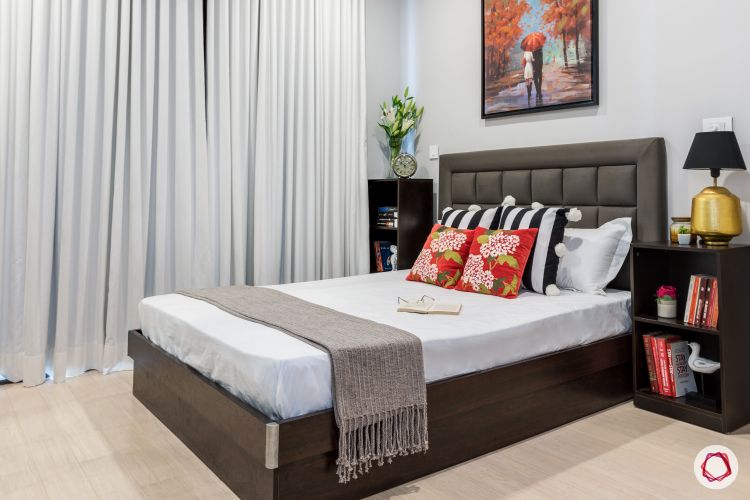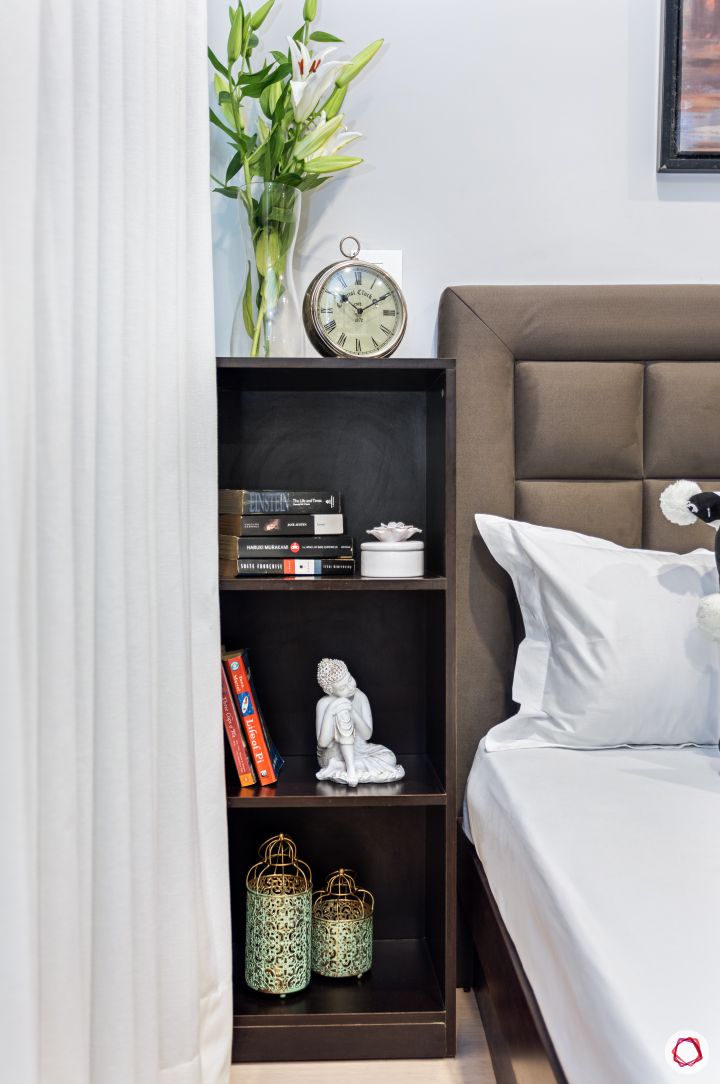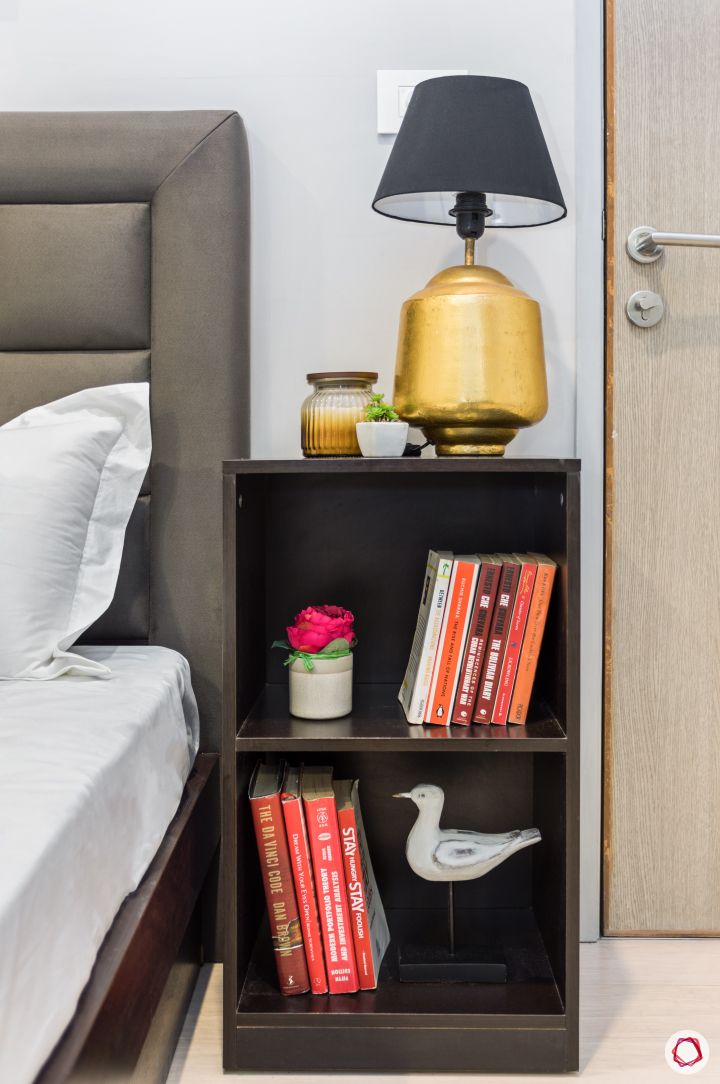 The master bedroom is a soothing sight for tired eyes. As soon as you enter the room, you see dreamy white drapes set against the backdrop of neutral walls. The dark grey, suede headboard accentuates the solid wood bed, that is plushly upholstered for utmost comfort. Being avid readers, the couple needs these bookshelf-style side tables, that act as a handy storage unit for their night-time essentials. This bedroom is perfect to retire in, after a long day at work!
Built for the Smart Dresser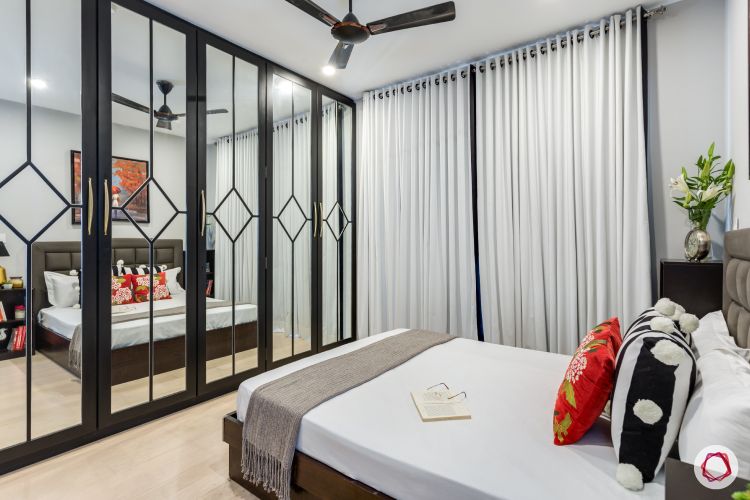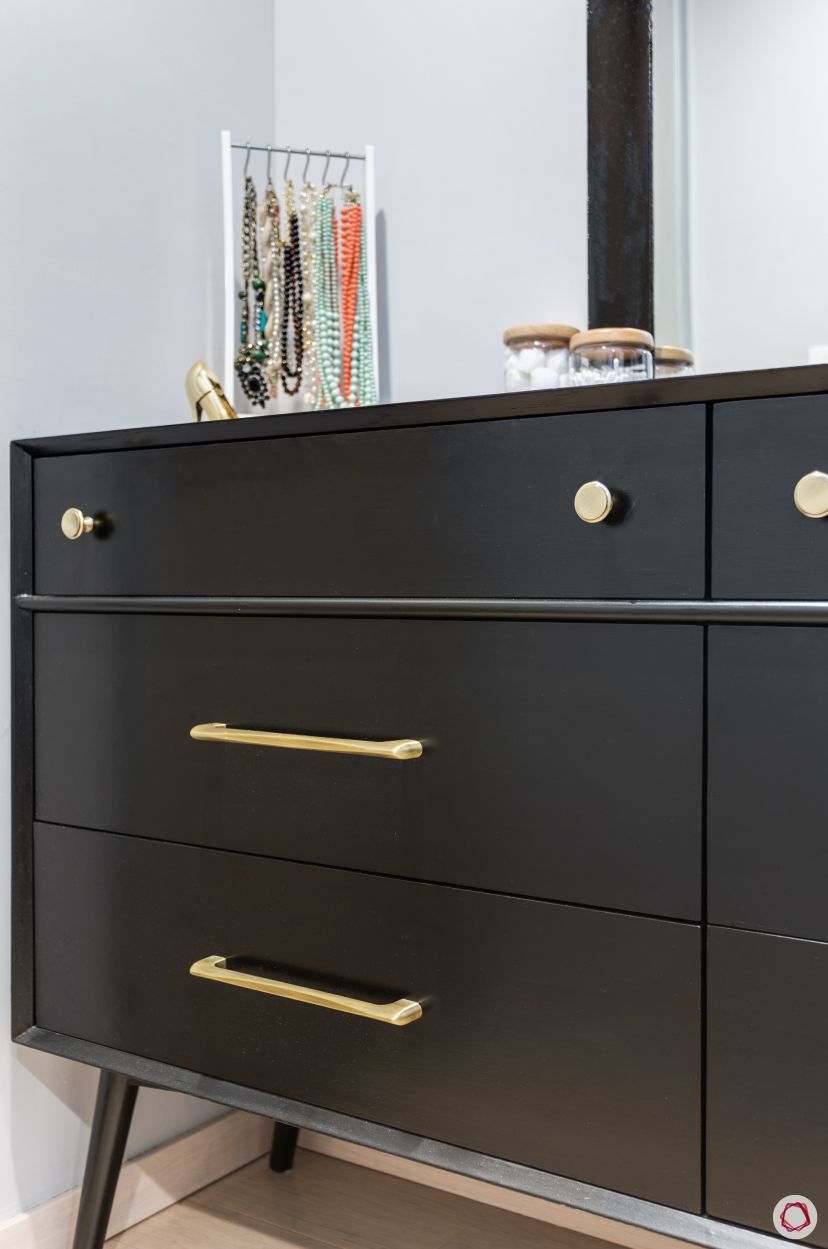 Pallavi chose to give mirror panels on the wardrobe, since it opens up the area and makes it look bigger due to the reflection of light. The placement of mirrors opposite the bed was not much of a problem for the couple because they aren't Vastu followers. Also, there is a dressing unit that finds its place next to the wardrobe. A carefully selected piece, this dresser has a lot of drawers space for storing toiletries and cosmetics. Debomita wanted a separate area for her dressing needs, and this proved to be the ideal choice.
"Both Debomita and Ashish had complete faith in my design capabilities and gave me freedom to work. I had to give them colours that match their personality and do not look loud or overpowering. I enjoyed working on this project, since I could experiment with a lot of things and this is my style of designing!"
Pallavi Goel, Interior Designer, Livspace
Did you love the use of blues and pastels in this home? Take a look at another Mumbai home that is doused in beautiful shades of blue.
Send in your comments and suggestions!
How Can Livspace Help You?
With Livspace, you have access to a team of experienced and talented designers. They can work with you to create a customized and personalized design plan that meets your unique style, preferences, and budget. The platform offers a range of services, including design consultations, 3D rendering, project management, and installation. You can also find the perfect pieces for your home by browsing through products on the platform's online store.
Additionally, Livspace's technology-driven approach allows for efficient communication and collaboration. Thereby, ensuring that your design vision is brought to life with precision and care. Whether you're looking to renovate your existing home or design a new one, Livspace can help you create a beautiful and functional space that meets your needs and exceeds your expectations.
Book an online consultation with Livspace today. To know how our customers feel about working with us, check out these Livspace reviews for more details!
Disclaimer: All contents of the story are specific to the time of publication. Mentions of costs, budget, materials, finishes, and products from the Livspace catalogue can vary with reference to current rates. Talk to our designer for more details on pricing and availability.