This home at Himalayan Heights by Ajmera is personalised to perfection.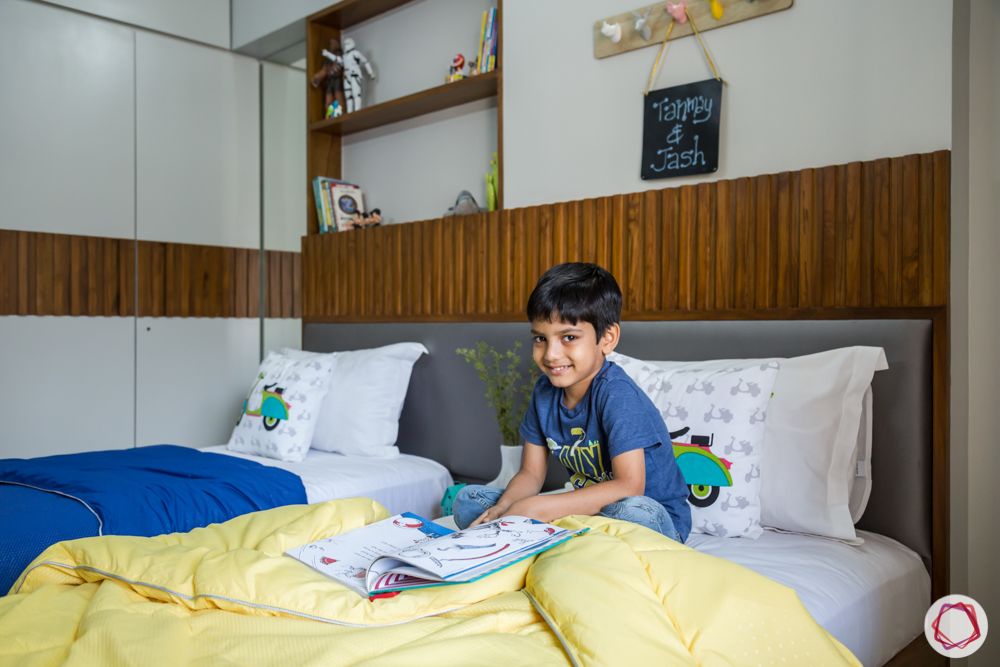 ---
Who livs here: Manish & Shweta Gupta with their two boys
Location: Himalayan Heights, Wadala, Mumbai
Size of home: A 3BHK spanning 1,250 sq ft approx.
Design team: Interior Designer Pallavi Goel and Design Associate Hamza Pinwala
Livspace service: Full home design (excluding kitchen & one bedroom)
Budget: ₹₹₹₹₹
---
A house is but four walls. A home, however, is a space that reflects you! So when Shweta and Manish Gupta moved their family to their new address, their main concern was to make it home. Their 3BHK in Mumbai at Himalayan Heights by Ajmera is quite spacious going by the city's standards but it still needed a deft hand at design to personalise it.
That is where we come in! Our designer Pallavi Goel ensured that this home addresses every need of this young family. She devised a flawless design strategy to use existing pieces of furniture with new ones picked from the Livspace catalogue. But, the USP of this home is its detailed and extensive customisation.
Take a tour to explore the design details of this 3BHK in Mumbai.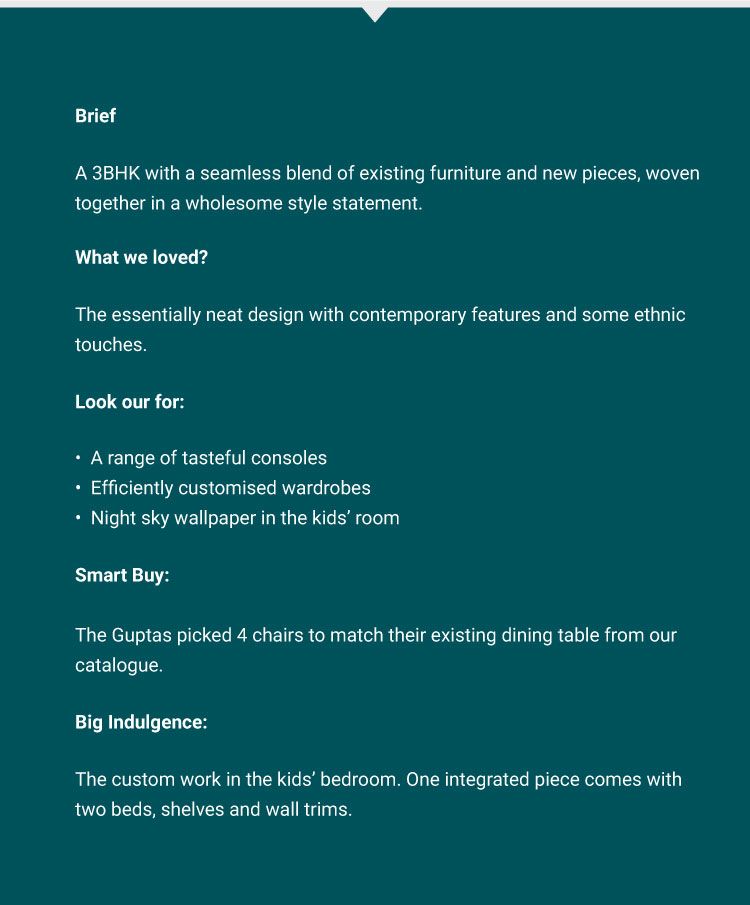 Himalayan Heights by Ajmera: Forging a Foyer
Manish and Shweta's home impresses us even before we step in! Their front door is set into an actual exposed brick wall with a pair of wall lights on either side. Then come to the foyer that didn't really exist but was carved out by the genius of our designer. Pallavi placed the Guptas' existing shoe cabinets by the wall coupled with plants to create an entryway. The neat mouldings on the wall also help simulate a foyer-like vibe here.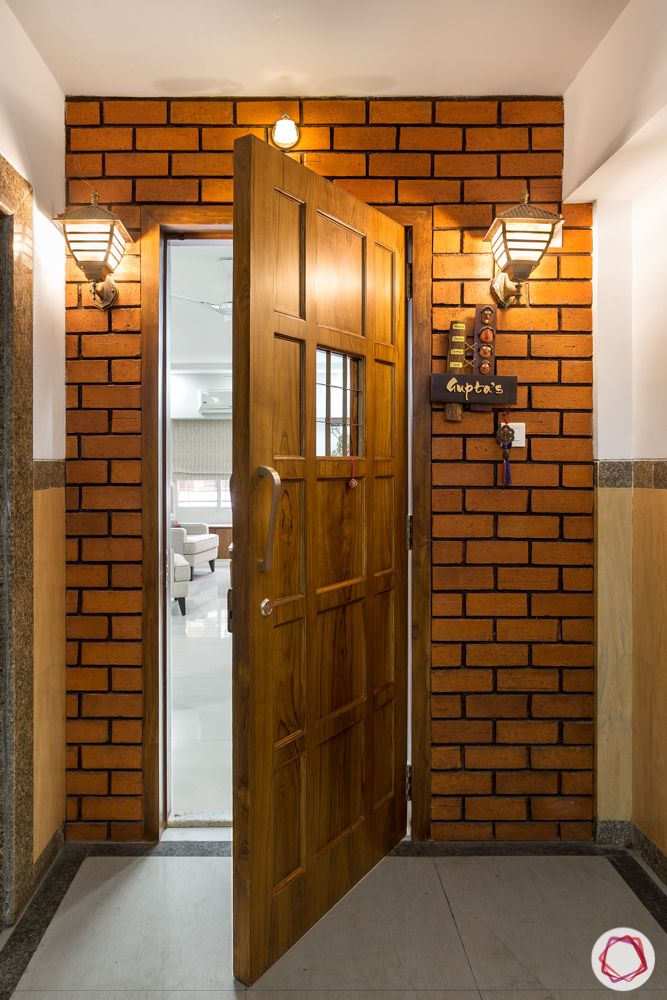 Himalayan Heights by Ajmera: A mix of old and new
The living and dining areas in this home have a mix of old and new furniture but we challenge you tell the difference! Pallavi has woven in the existing pieces, like the consoles, dining table and centre table, seamlessly with the new one, such as the custom bench as well as the dining chairs, side tables, lounge chairs and couch from the catalogue.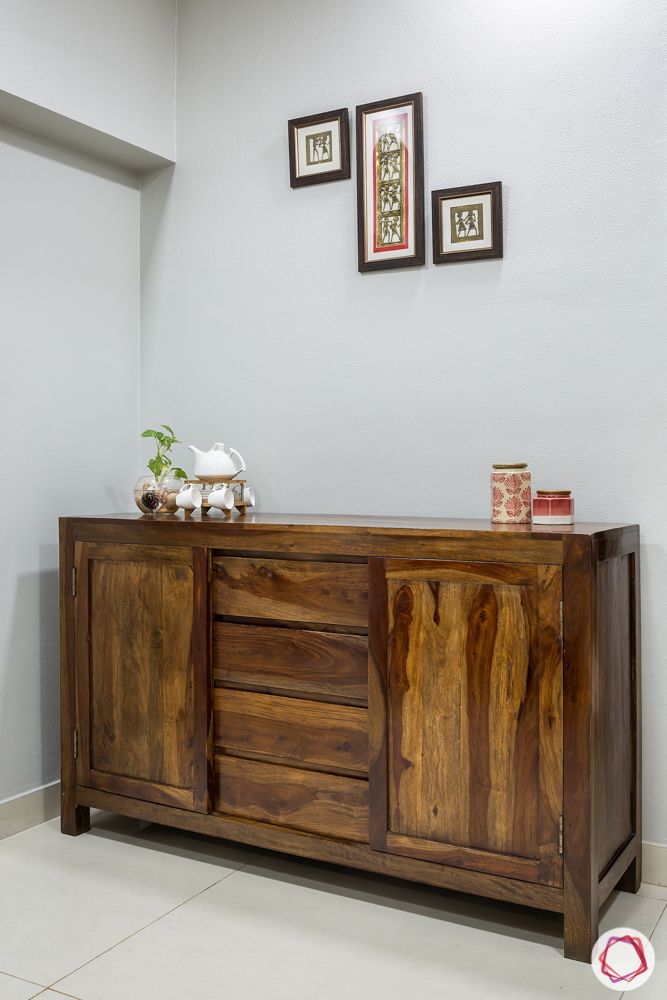 As they say, when you paint a masterpiece, make sure to hide the brush strokes! So all we see in the Guptas' living room is a wholesome unit with a clean and contemporary vibe. The bay seating gives the family a sunny spot to lounge as well as storage, while the tall corner unit adds a touch Indian design to this space.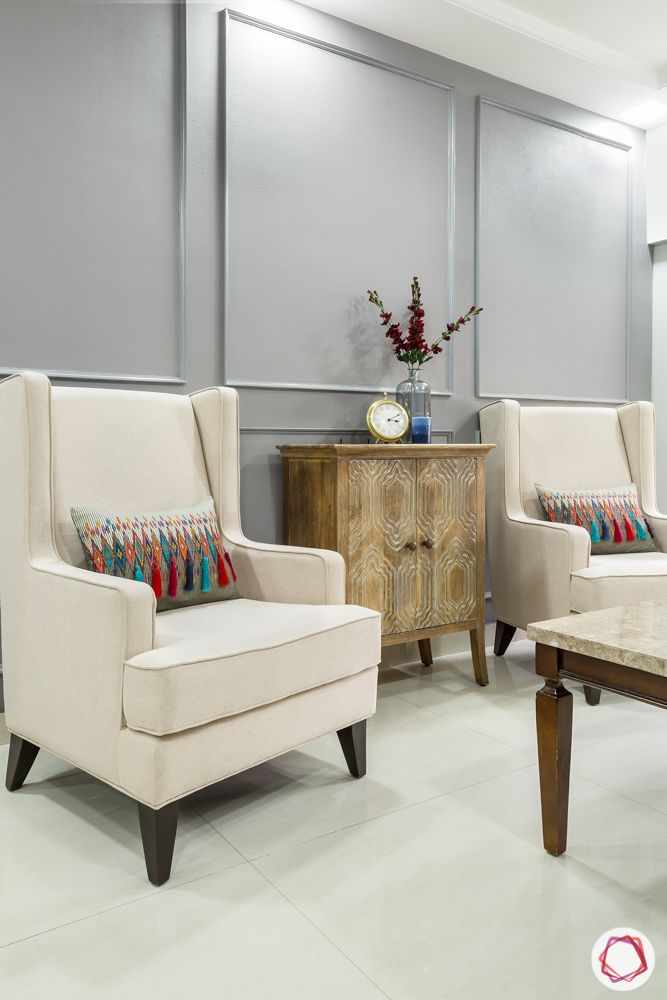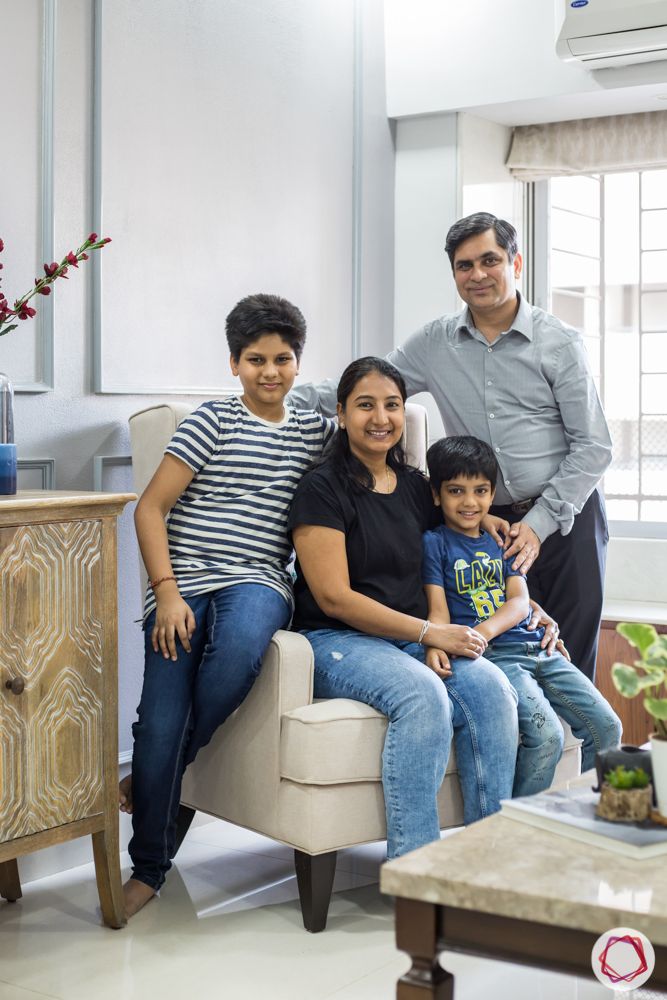 "We love the way our designer Pallavi has customised the room for our boys; they have two separate beds, study units and wardrobes. But, there is still place to move around and play in this room! The finishing of the interiors is also to our satisfaction."
– Shweta & Manish Gupta, Livspace Homeowners
Himalayan Heights by Ajmera: Basic & Beautiful
Manish and Shweta wanted to keep their sleeping quarters fairly simple. Hence, the master bedroom is an easy-breezy affair. The solid wood bed and side tables are from our catalogue, and the PU-finish wardrobe is a custom piece. Don't miss the details of the wardrobe handles; they are carved out of solid wood. Chic, isn't it?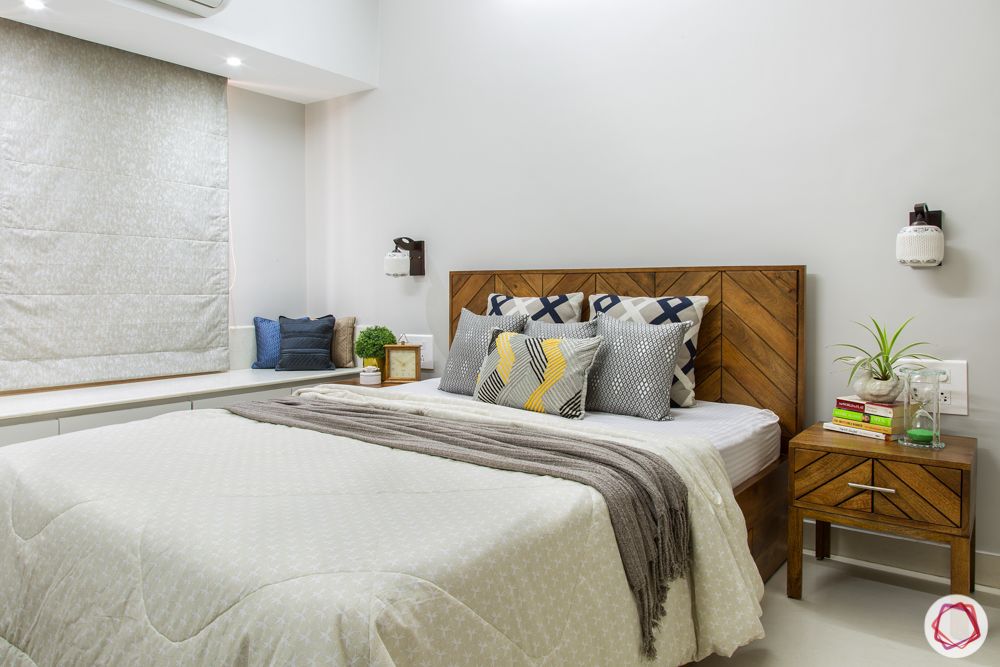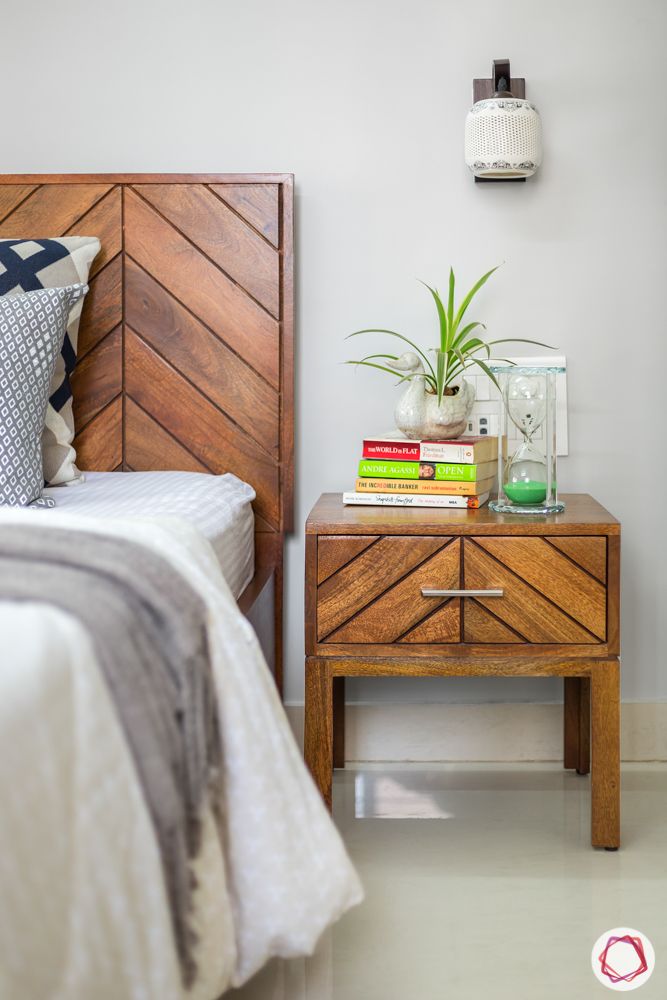 Himalayan Heights by Ajmera: Tastefully Tailored
The bedroom for the two boys was the biggest design challenge for Pallavi as Shweta wanted them to have separate beds and study units. Our designer solved it quite smartly by designing an integrated unit with shelves, two bed and wall trims that extend to the wardrobe as well. We are totally crushing on this textured strip of commercial ply with wooden beading that maintains the continuity of design in this room. But, the highlight here is the night sky wallpaper that creates a restful aura. The study unit is a mix of white and brown laminate with enough room for the brothers do either homework at the same time.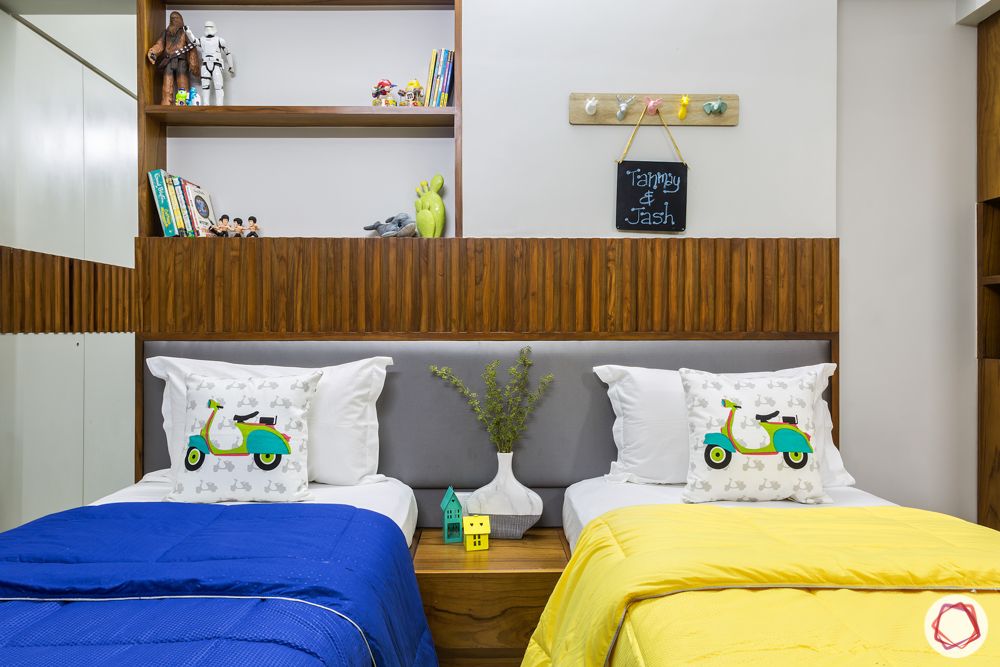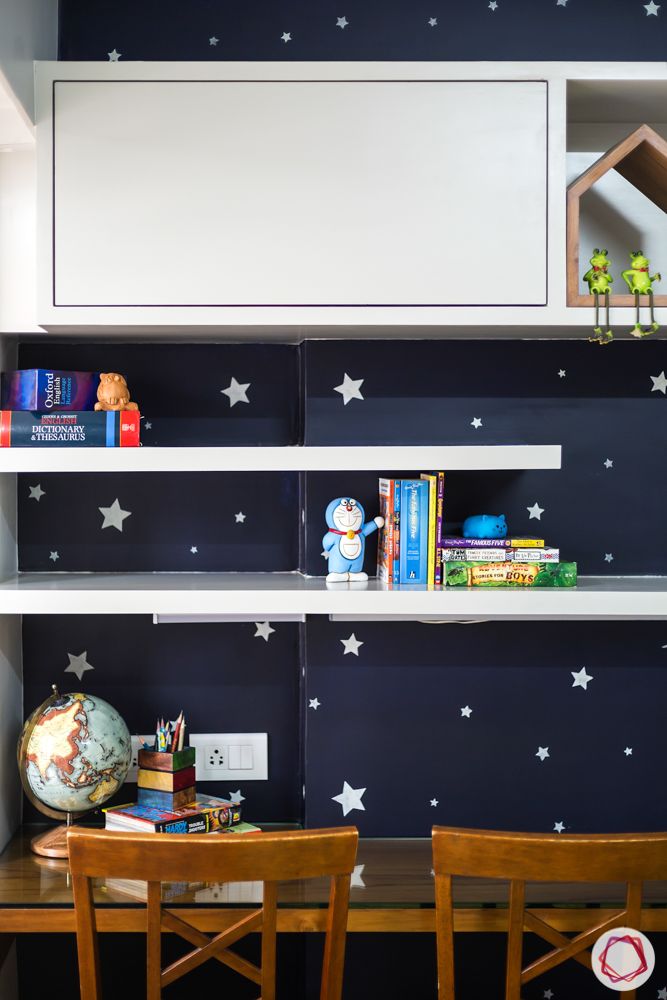 "Shweta and Manish were very sorted as clients because they had a clear idea of the basic things they wanted in their new home. This helped us design with a lot of clarity and made the process of delivering the home a smooth one."
– Pallavi Goel, Interior Designer, Livspace
Can't get enough of our special compact designs for Mumbai? You should definitely explore The Perfect 2BHK for a Family of Three.
Send in your comments and suggestions.