"A renovation project is definitely a challenging task considering civil work, layout changes, space planning and budgeting", says Shweta. So, when it came to redesigning a small house interior design in Pune, she optimised this compact 2BHK as much as possible while giving it a high-end designer look.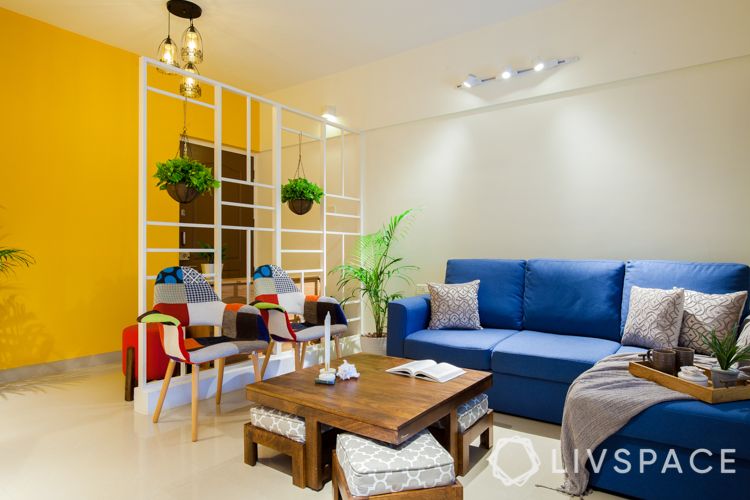 ---
Who livs here: Khushboo Sharma with her husband and son
Location: Pune
Size of home: A 2BHK spanning 900 sq ft
Design team: Interior Designer Shweta Bangde and Project Manager Lintu Abraham
Livspace service: Full Home Design
Budget: ₹₹₹₹₹
---
This 2BHK home has a simple design with colourful interiors and space-efficient furniture, but things weren't always like that. Homeowners Khushboo Sharma and her husband have been living here for six years in a suburban gated community that is perfect for a young family with a toddler. However, the couple felt it's high time their Pune home reflected their bright and cheery personalities. Moreover, they wanted a design that looked like a page out of a magazine. Therefore, Shweta Bangde and her team got on to work on a picture perfect showcase design.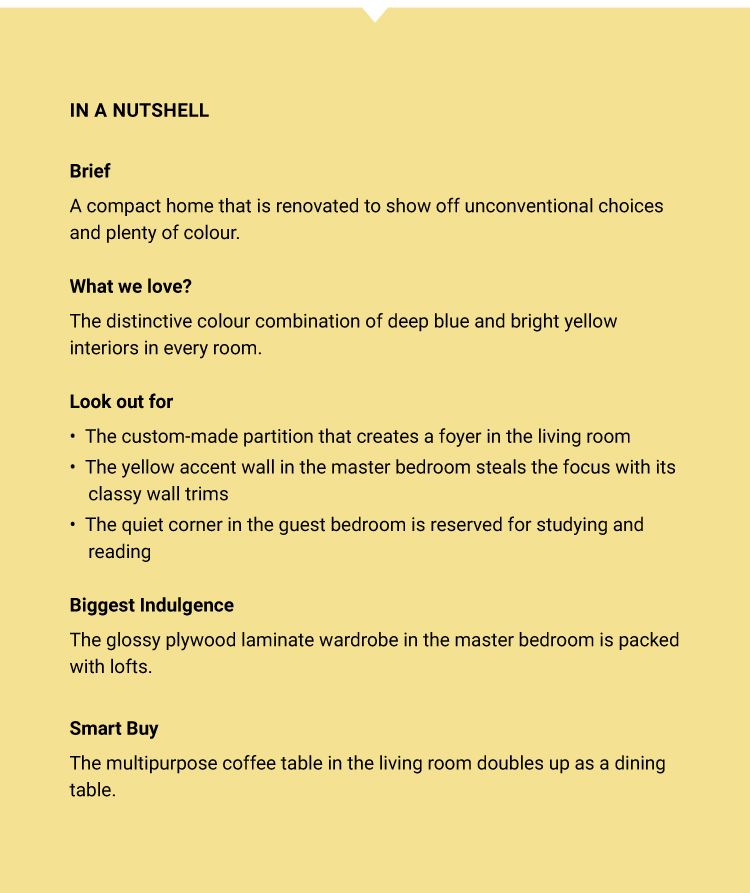 Creating a Foyer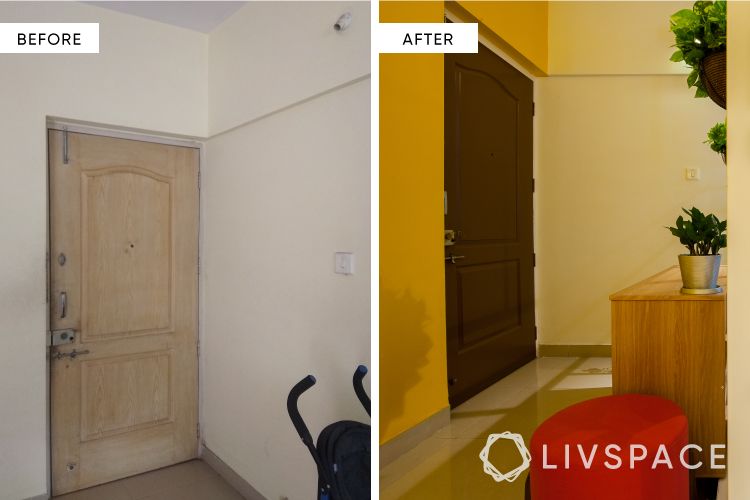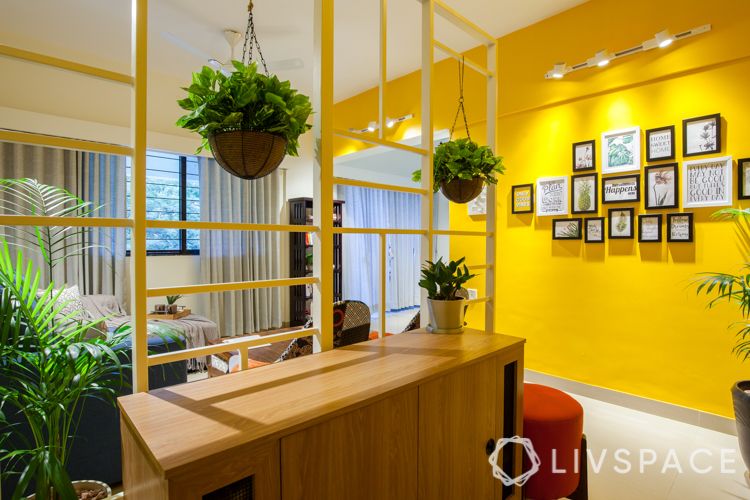 Originally, this small house interior design in Pune had a rectangular living room that didn't have any space for an entryway or foyer. If you visited their home a few months ago, you would go from the entrance directly to the living room. This gave the family little to no privacy and absolutely no storage for shoes. Therefore, Shweta came up with a design for a minimal yet sturdy partition design. This partition is made of metal but that's not it. It is designed in such a way that you can play it up by adding plants to it.
Try it yourself: In a compact foyer, opt for a small stool or ottoman for seating instead of a space consuming chair or bench.
Cheery & Colourful Themes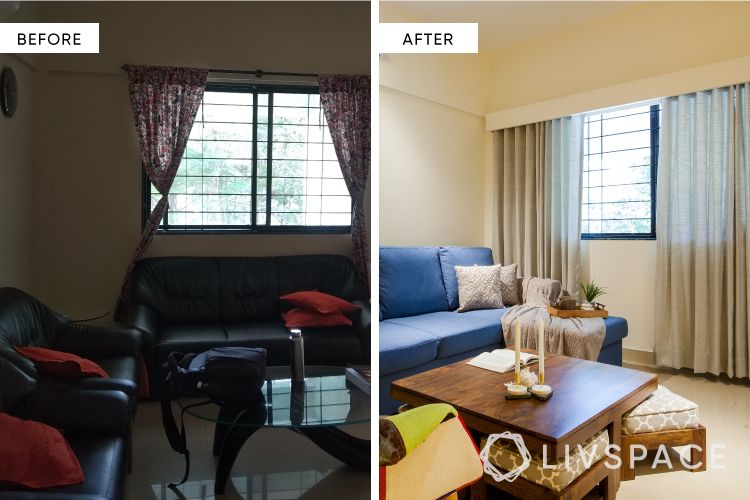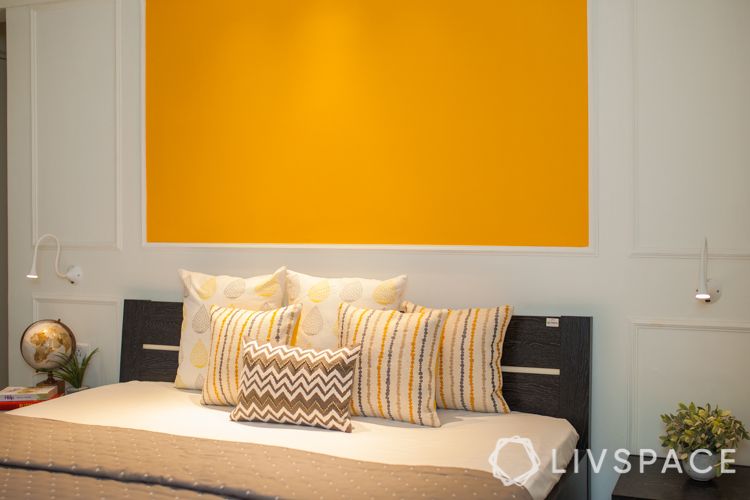 Notice the wall with a number of framed pictures? Khushboo and her husband wanted their Livspace Pune home to have a happy and motivational theme. Furthermore, all the rooms have a huge splash or a tiny tinge of bright yellow as compared to the dull beige walls before the renovation.
The bedrooms have distinctive themes that Shweta and Khushboo have carefully picked. The master bedroom has a yellow and white colour combination. All white interiors, with the wall trims that come with a yellow paint infill is the epitome of pristine and cheerful design. Whereas, the guest bedroom is a bright blue and white combination.
Try it yourself: Opt for one colour that dominates the entire design theme. This makes it easy to maintain a flow without spending too much time on designing it.

Unconventional Lighting Choices
Monotony can set in when popular designs are repeated over and over again. Shweta didn't face this issue since the family had unique requirements. They didn't want a regular false ceiling with recessed lights for their small house interior design in Pune. Therefore, she suggested opting for track lights that are minimal yet bright.
Try it yourself: If not the whole house, opt for track lights in spaces where you require focus such as, in your study corner or vanity unit.
Storage & Space-efficient Furniture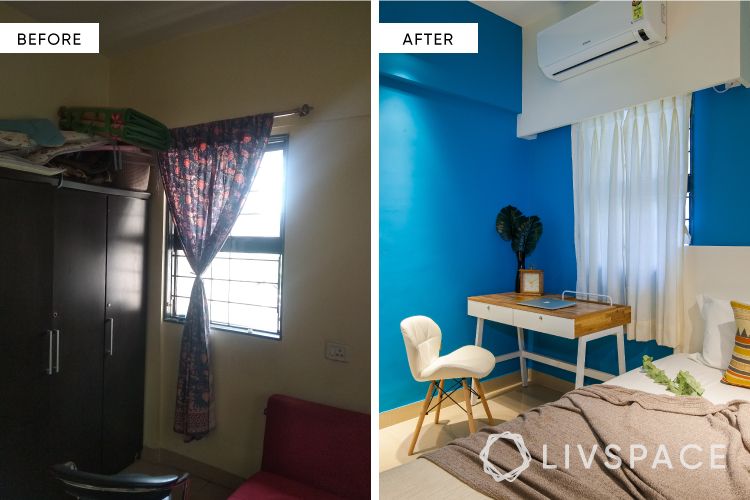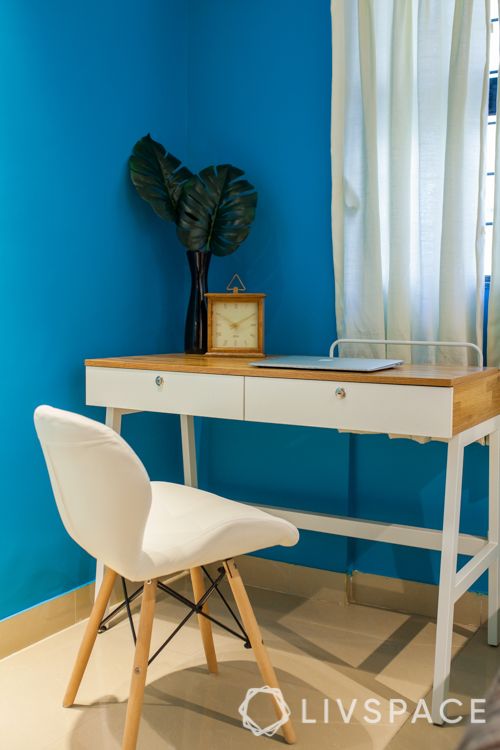 The fun part about a renovation by Livspace Pune is picking out new furniture one at a time. From revamped study corners to multi-purpose furniture, this small house interior design in Pune has it all and it's all from the Livspace Catalogue. With colourful sofas and armchairs in the living room, the couple opted for a coffee table that can store extra seating and can be used as a Japanese-style dining table.
The stand alone bookshelf and compact study unit are just some of the few furniture elements that were thoughtfully picked out. Subsequently, all the furniture is free-standing so that the layout can be changed at any time.
Storage is a major concern in every home. Consequently, in this home, the wardrobes are white in colour and in plywood laminate and membrane finish. They all come with lofts for extra storage.
"Designing this home for Khushboo and her family was more than a creatively enriching experience, it was fun too! When there are specific requirements, the design process becomes a lot easier and clearer."
–Shweta Bangde, Interior Designer, Livspace
If you enjoyed this colourful home, take a look at What Happens When Our Designer is Also an Artist.
Send in your comments & suggestions.