Prestige Sunrise Park apartment decked in tasteful greys!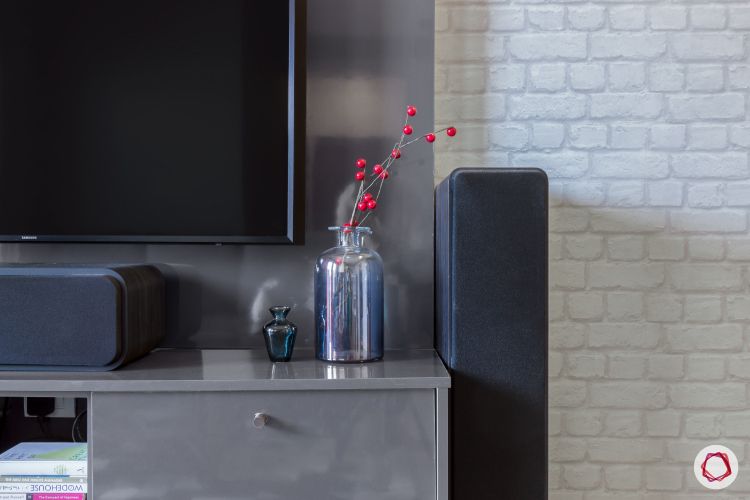 ---
Who livs here: Nitin Soni with his wife Akanksha, their son and their dog
Location: Prestige Sunrise Park, Electronic City, Bengaluru
Size of home: A 2BHK spanning 1,200 sq ft approx.
Design team: Interior Designer Shweta Kainthola and Project Manager Chandrashekhar N
Livspace service: Full home design
Budget: ₹₹₹₹₹
---
This home had us at the classic colour combination! Open and airy interiors were important aspects that the Soni's wanted to cover. As their first home after getting hitched, it is the dream of every couple to design it to the best of their liking. Ardent travellers and dog lovers, Nitin and Akanksha purchased this property and wanted to make it their home.
With this desire they approached Livspace and visited our Design Center to get a first hand experience of what we have to offer. While Shweta, their designer, was given a clear brief about using only grey and white as the dominant colours, she took the liberty of adding a dash of colour through soft furnishing. When we quizzed her about safety measures for the toddler and furry member of the family, she revealed that she has kept furniture minimal and given easy-to-maintain finishes everywhere. Read on to find out how she went about designing this modern home.
Prestige Sunrise Park Home: Minimal and Functional Foyer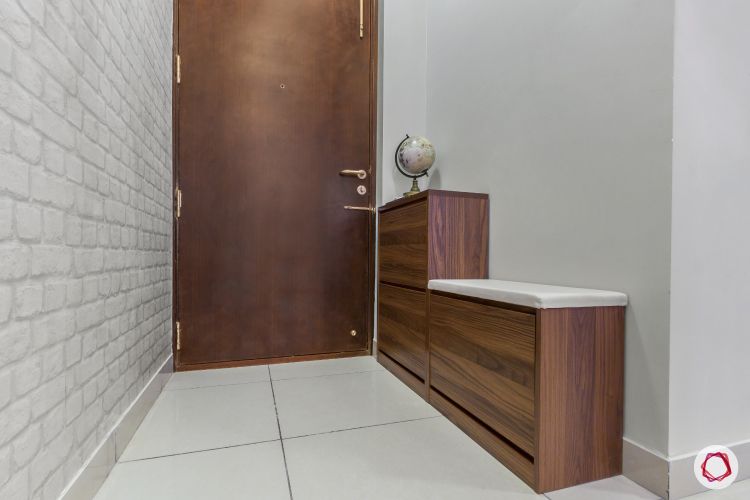 When you have clients who love open spaces but also stress on functionality, then a shoe rack with seating makes perfect sense in a foyer. As soon as you enter this Prestige Sunrise Park home you are welcomed by this sleek beauty suggested by Shweta. The couple bought the same and it can store up to 20 pairs of shoes. This is definitely a highly functional piece of furniture for every home.
Prestige Sunrise Park Home: Grey and Gorgeous Living Room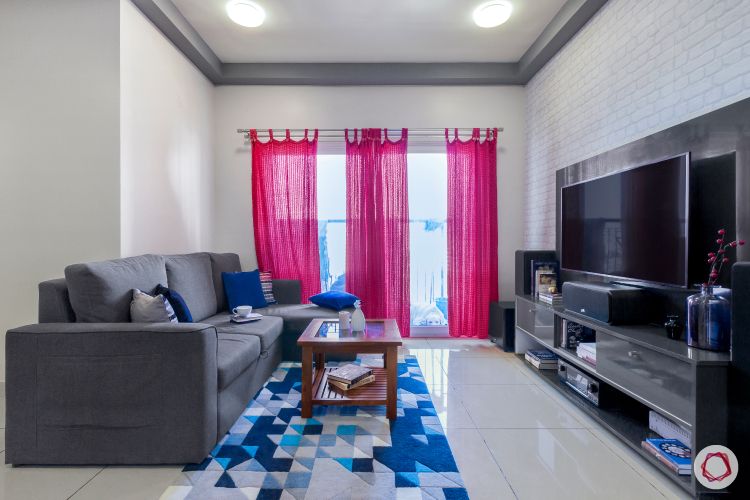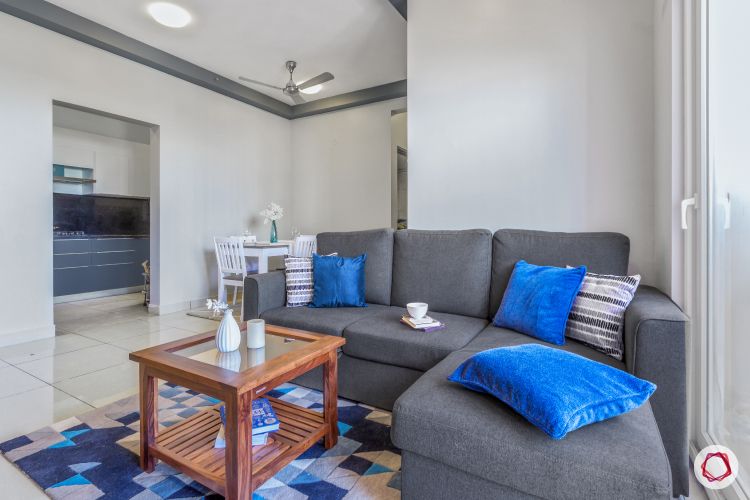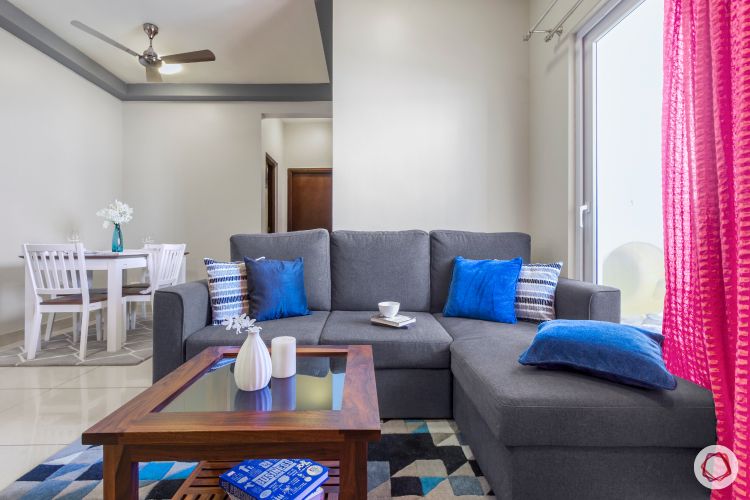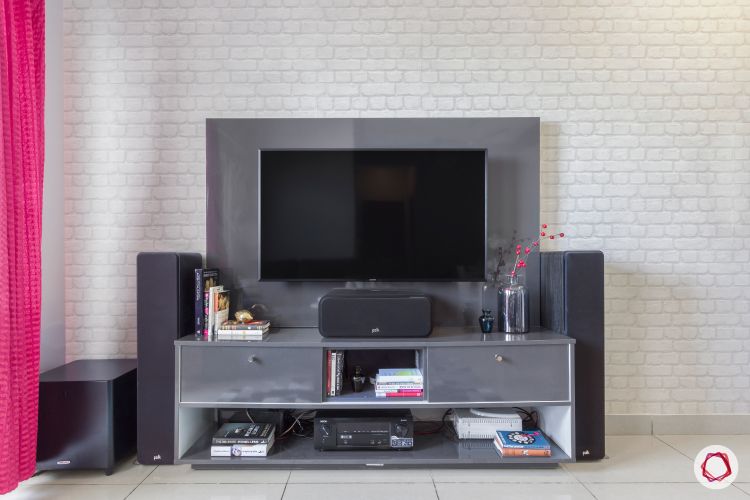 The living rooms in 2BHKs at Prestige Sunrise Park are compact and cozy. This bright and airy one, doused in grey, is designed in a way that it looks inviting and free from clutter. Shweta made sure that she gave them dark upholstery for the l-shaped sofa that makes the stains less visible. She has also added a dash of colour through soft furnishings that the family can change every now and then.
The TV unit deserves special mention here. Finished in high gloss laminate, this unit might look small but packs a punch. It features storage and makes sure that it accommodates everything that a home theatre system comes with. Also, do not miss the exposed brick wallpaper on the wall behind that adds lovely character to this space.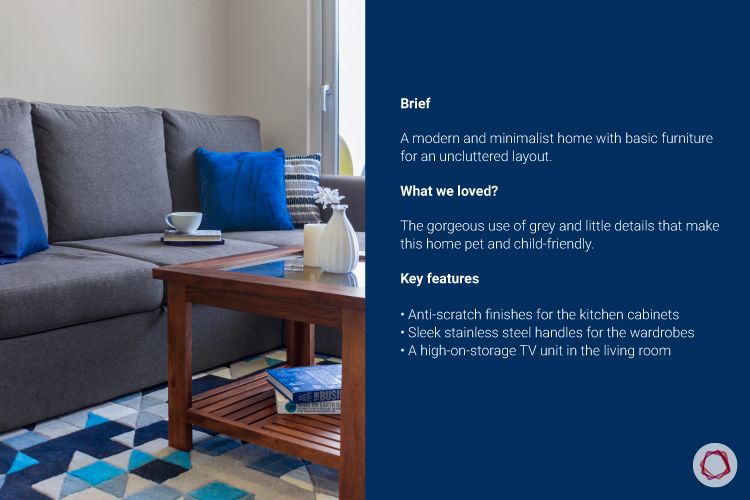 Prestige Sunrise Park Home: Compact Dining Room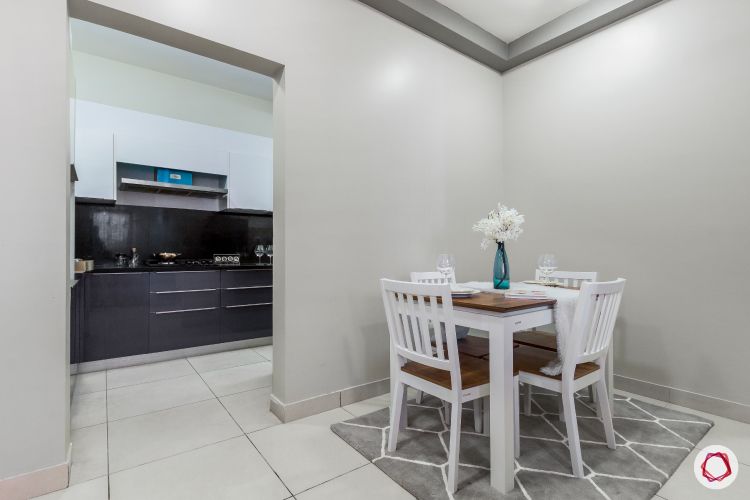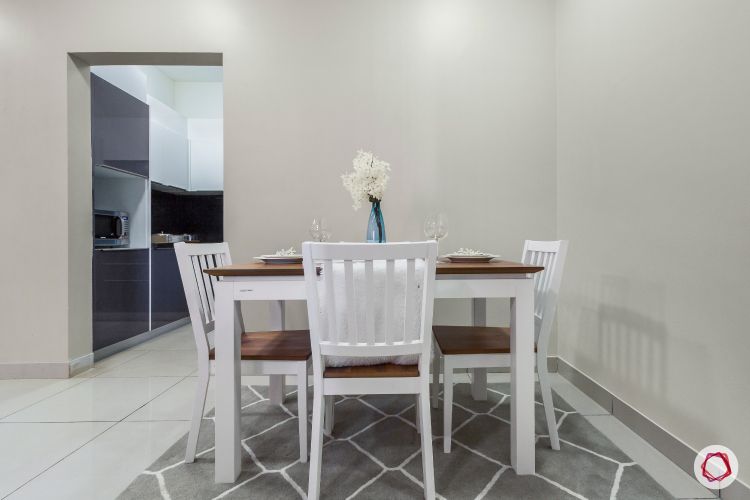 What does a close-knit family need other than some cozy meals together? The dining room at this Prestige Sunrise Park home has a very minimal vibe to it. A simple dining table set sits pretty on a subtle rug and that's what completes the look of this space.
Prestige Sunrise Park Home: A Classic Combination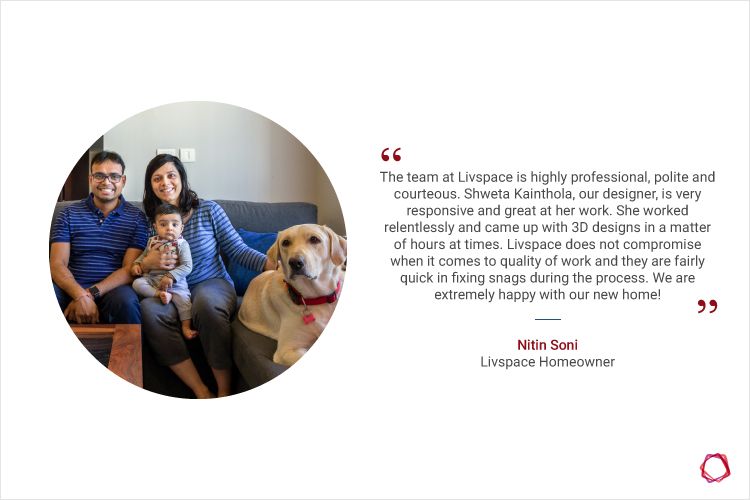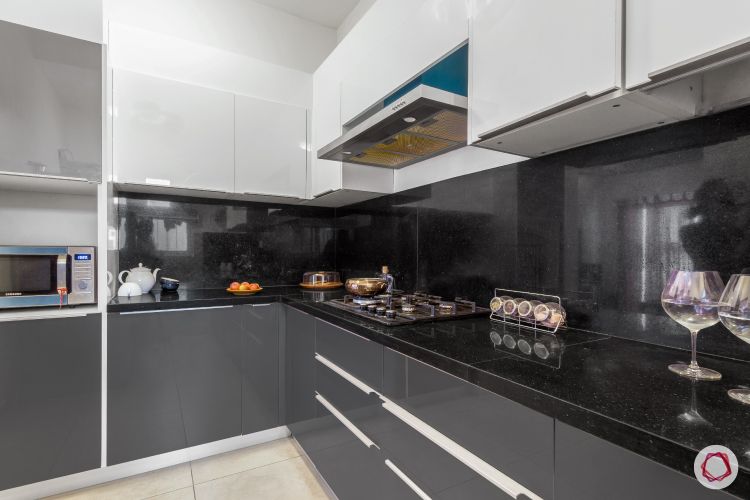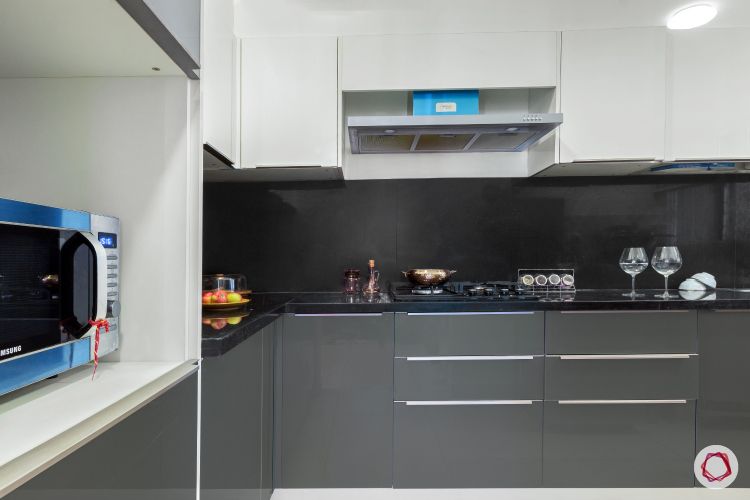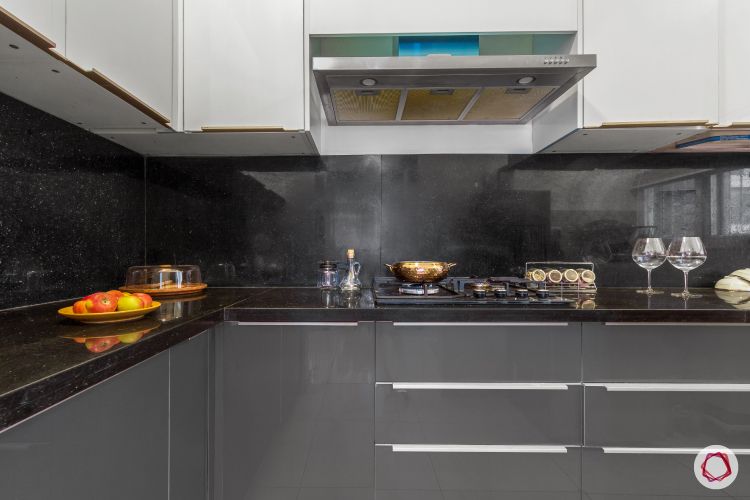 What is so special about this kitchen you ask? This is the doggo's favourite haunt at home. Our furry friend loves spending time in the kitchen, thus Shweta made sure that she pet-proofs it with anti-scratch acrylic finish on the cabinets. Now he can play around in here all he wants!
Speaking about the modules, Shweta has given them basic storages and units. One thing that she has not given in this kitchen are lofts. She feels that it makes the space look heavy and unnecessarily cluttered. It's best to avoid lofts if you're dealing with a compact space.
Prestige Sunrise Park Home: Sleek Wardrobes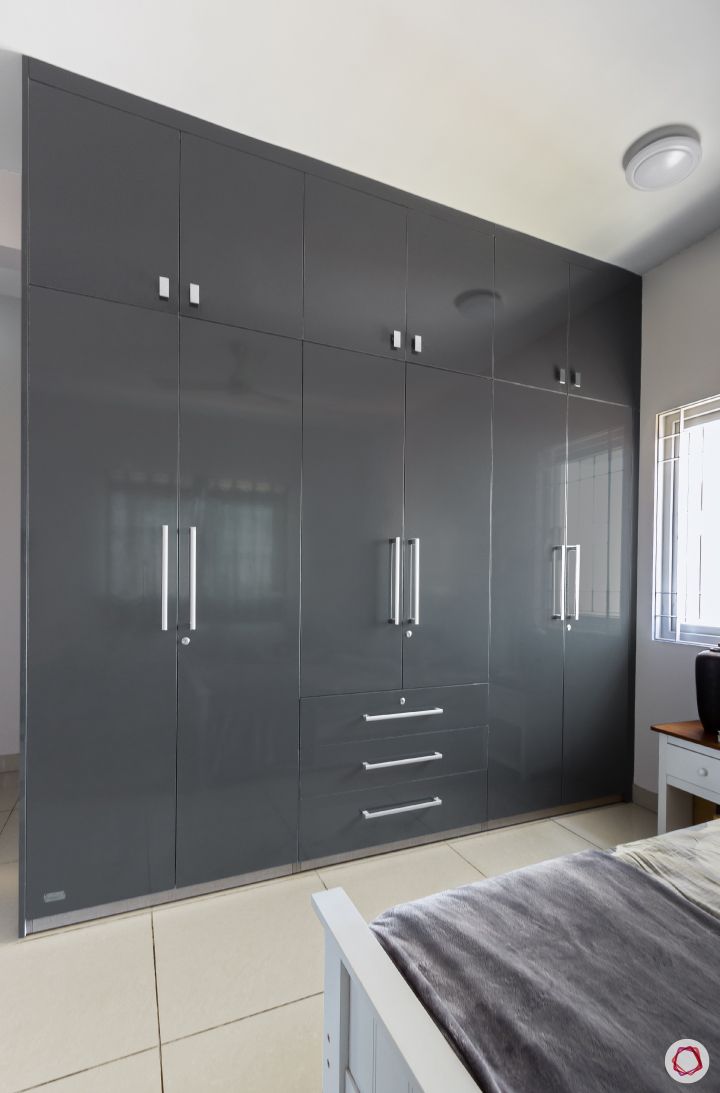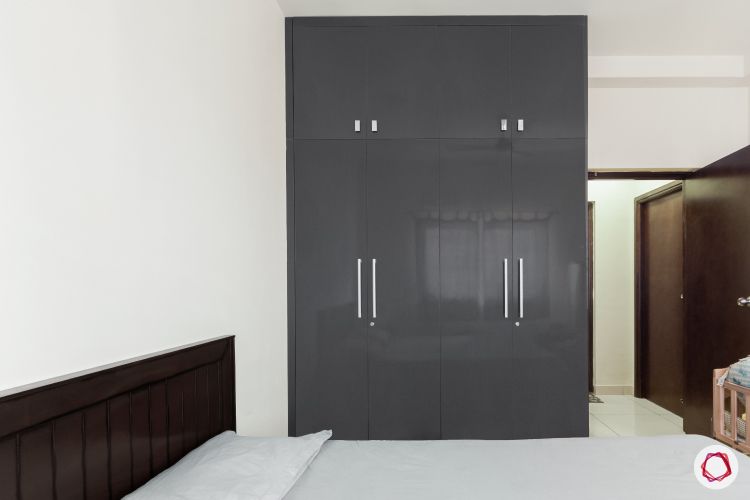 Both the rooms at this Prestige Sunrise Park apartment sport slate grey wardrobes. Finished in high gloss laminate, they have customised storage units to suit the needs of every member of the family. We love how they are perfectly in sync with the grey and white theme at home.
"I really appreciate the patience and understanding that Nitin and Akanksha possess. They were open to new ideas and it was very easy to work with them. Since they knew that they only wanted grey, I could come up with designs quickly. Anand and Chandrashekhar helped me a lot during the entire duration of this project. I enjoyed working on this."

– Shweta Kainthola, Interior Designer, Livspace
Did this Prestige Sunrise Park apartment inspire you? If you're looking for another home designed by Livspace in Bengaluru, check this out: Vastu-compliant 3BHK Done up in Warm Whites.
Send in your comments and suggestions.