This 3BHK in DLF Park Place exudes luxury!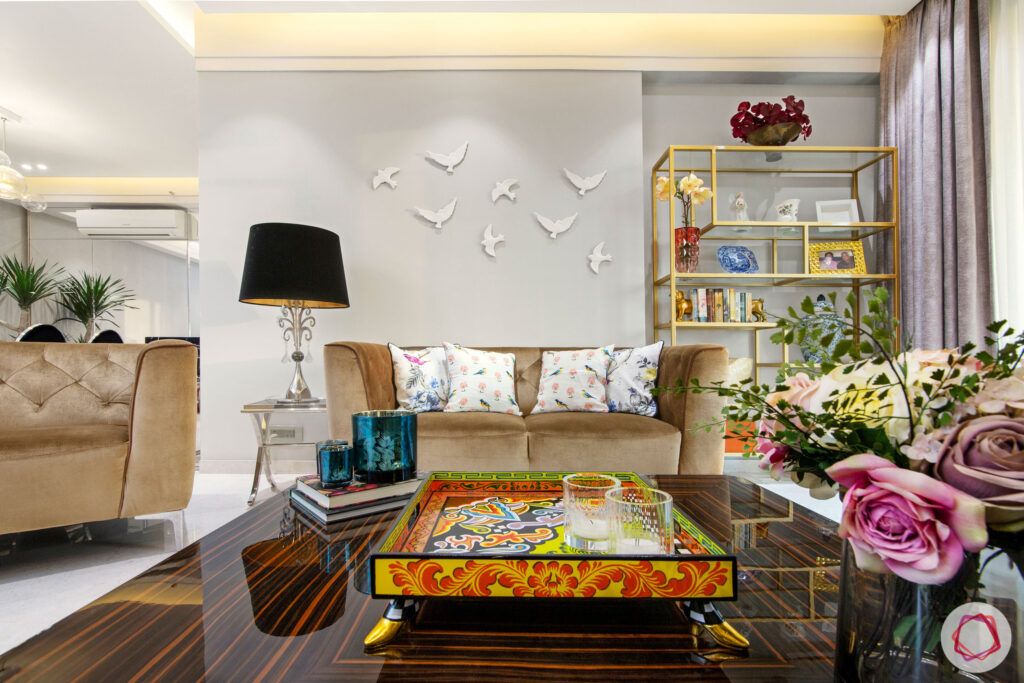 Who livs here: Mr. and Mrs. Kapur, and their son
Location: DLF Park Place, Gurgaon
Size of home: 3BHK spanning 1600 sq ft
Design team: Interior designers Sahil Suri and Shrishti Anand with Project Manager Arti Arora
Livspace service: Full home design (excluding kitchen)
Budget: ₹₹₹₹₹
When the Kapurs decided to revamp their 3BHK in DLF Park Place, they were looking for a direction in which to proceed. They wanted their home to be a blend of their existing furniture pieces and new ones, and have a fresh look that they would crave to keep returning to. And who should help them out in this journey but Livspace? Livspace designers Sahil Suri and Shrishti Anand took on the challenge of understanding the Kapurs' requirements and crafting a home that fell in place with their choices.
As a family that loves travelling, the Kapurs wanted to showcase the accessories collected over the course of their several journeys. With its wide range of accessories and pieces of art, our designers loved working on this Gurgaon 3BHK. Let's step inside this beautiful home!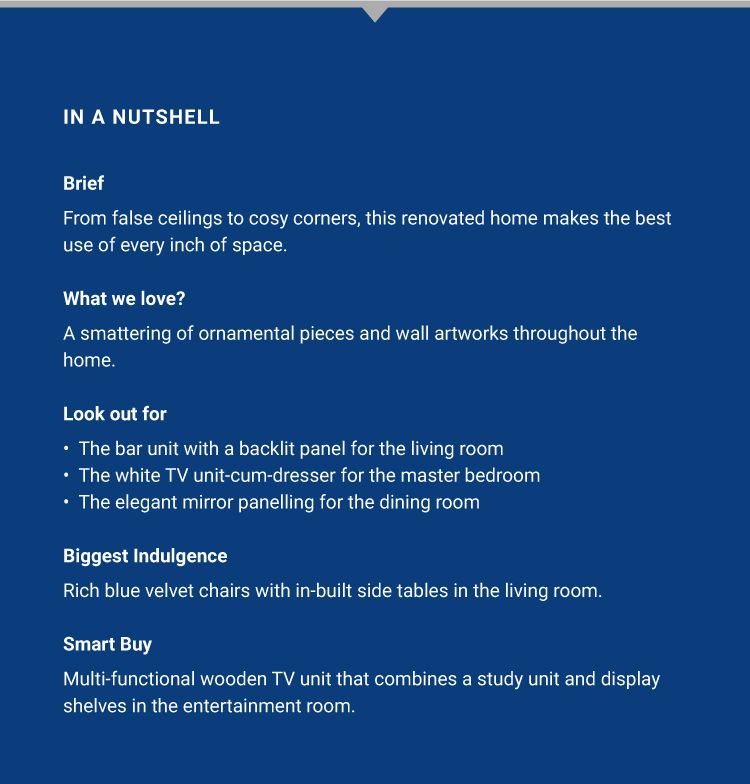 Functionality starts at the entrance at DLF Park Place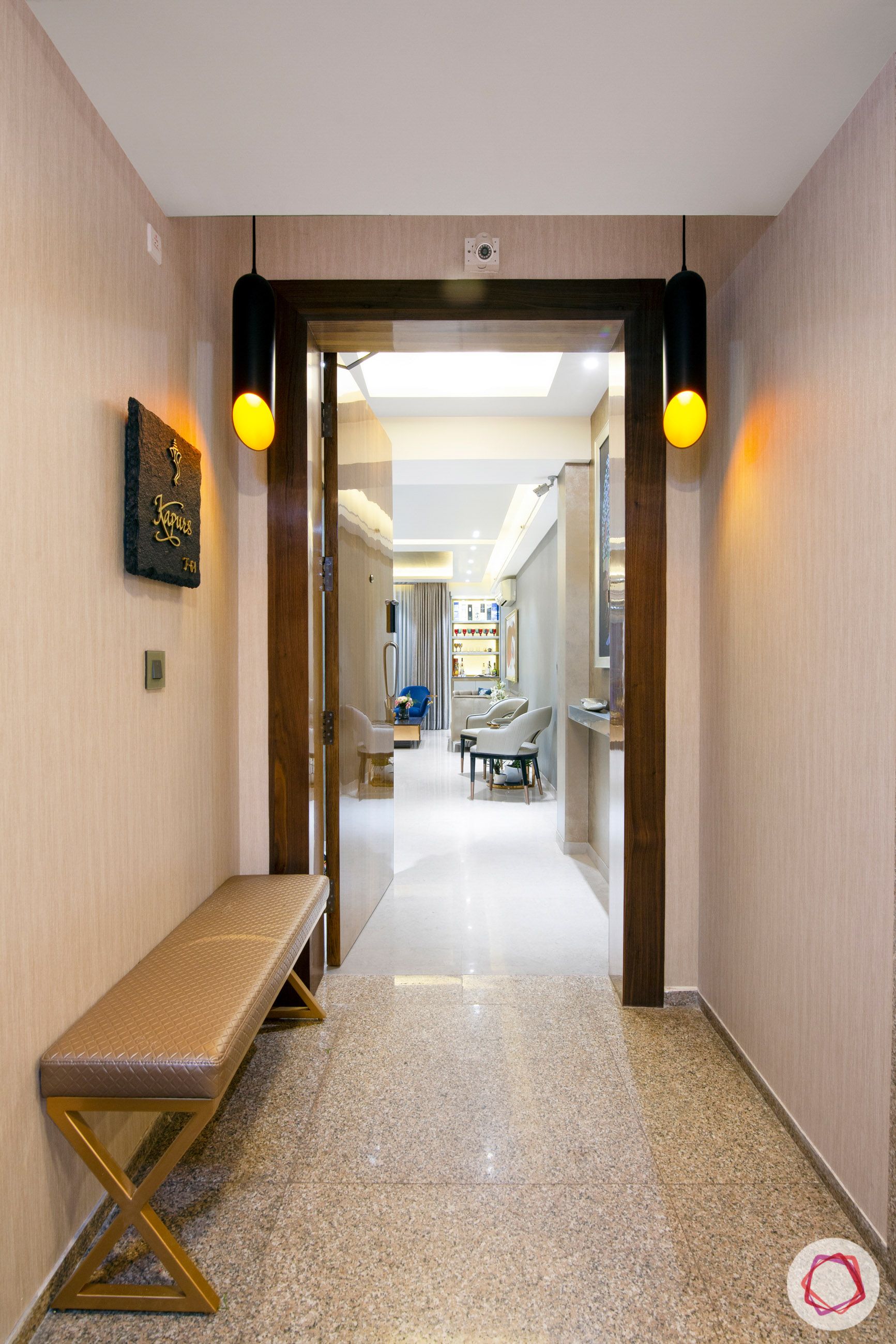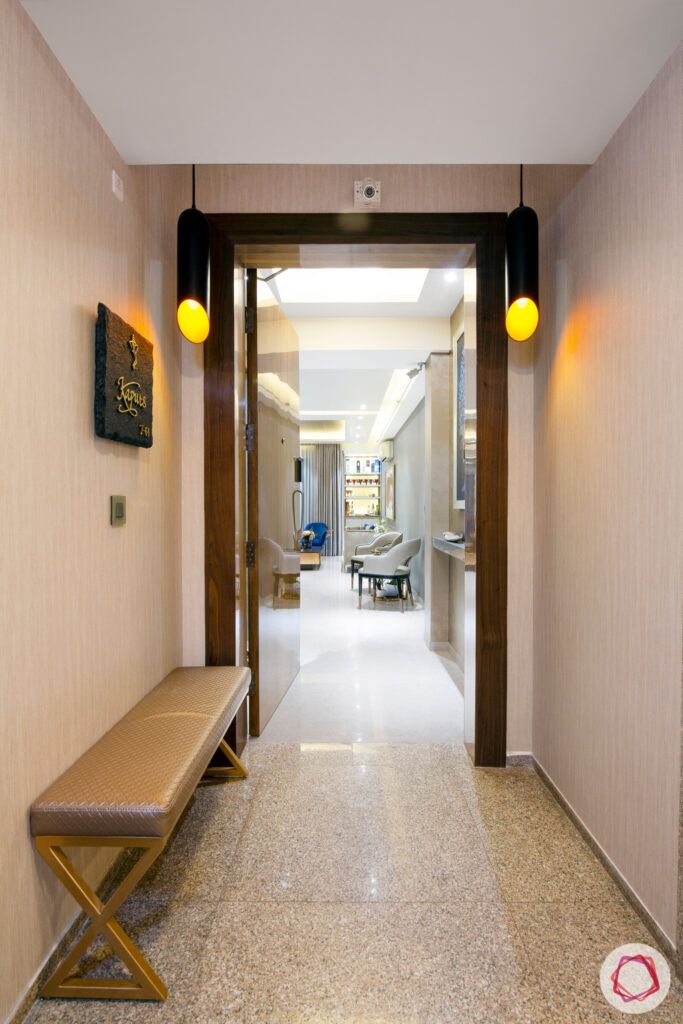 Mr. Kapur wanted a space outside the home that would provide space for staff and workers on official business. Designers Sahil and Shrishti suggested the placement of a sleek bench that would solve this purpose without taking up too much space.
Stepping into the home at DLF Park Place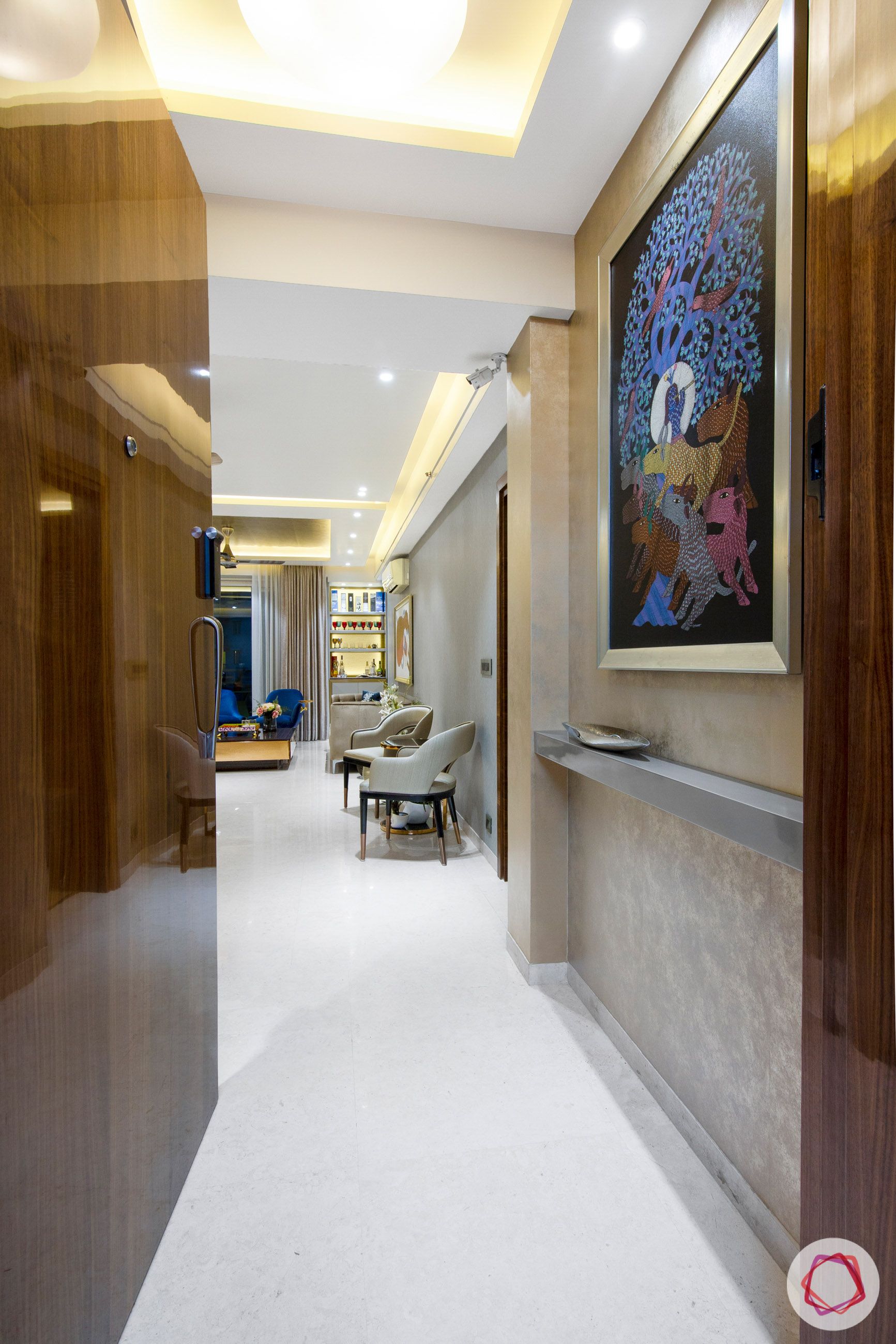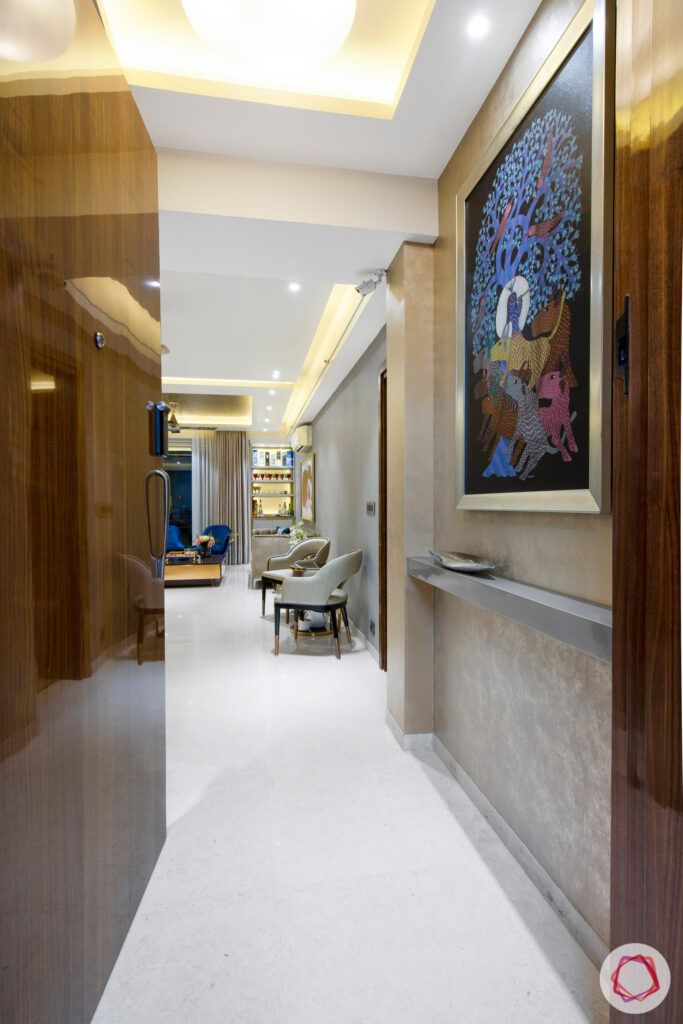 Since the Kapurs had wanted to showcase artwork in the foyer, Sahil and Shrishti wove the design around the same. Under it lies a narrow ledge for the display of curios. At the same time, the use of textured paint on the walls amps up the drama while you walk into this home!
Sheer opulence at DLF Park Place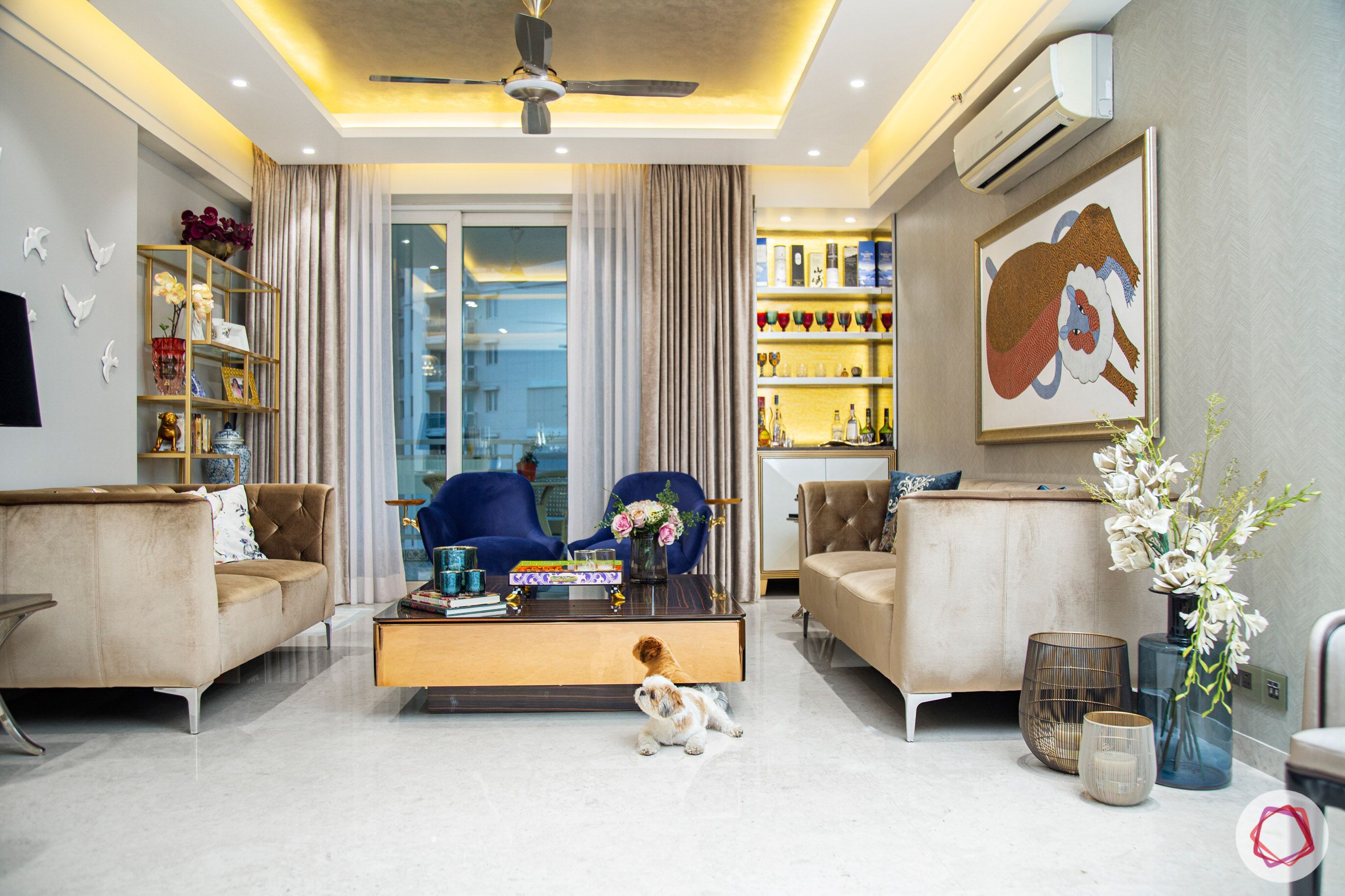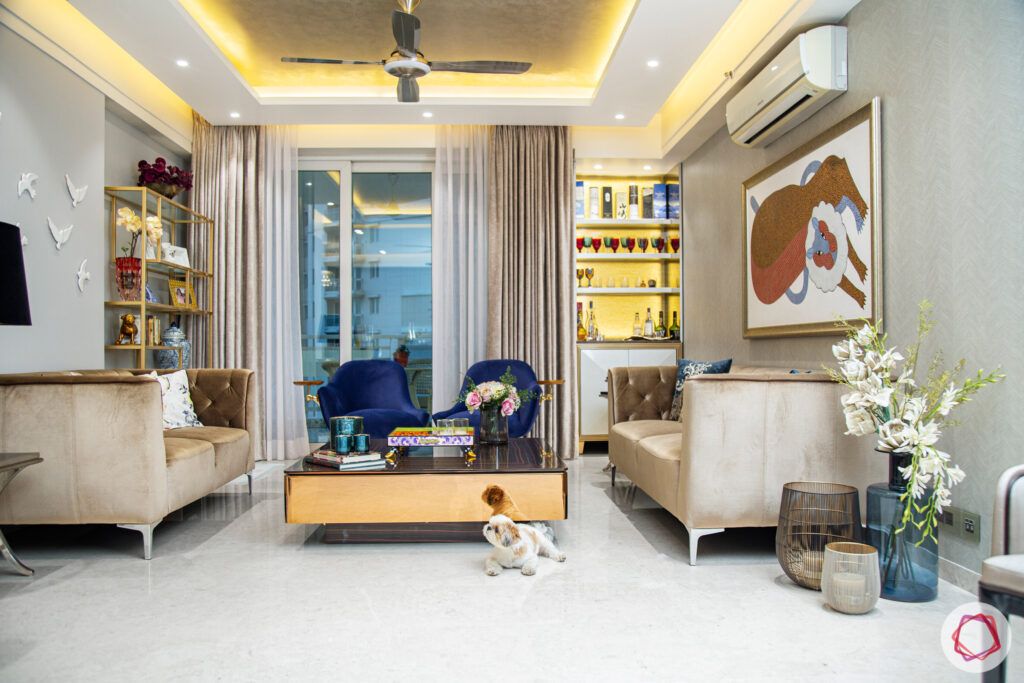 The L-shaped drawing-cum-dining space has been designed to look luxurious and clutter-free. From the chevron-patterned wallpaper to the velvet chairs, the room is understated yet regal. The neutral colour scheme of this room is broken by a pair of regal blue velvet chairs with in-built side tables. To one side is a small seating space comprising two chairs, serving as a cosy corner for private conversations.
The drawing room exudes opulence. At the same time, the right accessories add a personal touch to the space. A golden display shelf in one corner of the room serves as the perfect place to show off curios collected over the course of travels. On the other corner stands a custom-made bar unit in white with silver accents, with in-built backlighting.
To maintain continuity from the foyer, the false ceiling in the living room has the same textured paint. At the same time, this serves to distinguish the false ceiling in the drawing and dining spaces.
"We had a wonderful experience with Livspace. Our designers came up with ideas that we loved, and our home was completed right on time. From start to finish, it was an excellent experience and we are thrilled with our home!"

– Mrs. Kapur, Livspace Homeowner

Floorings to floor you at DLF Park Place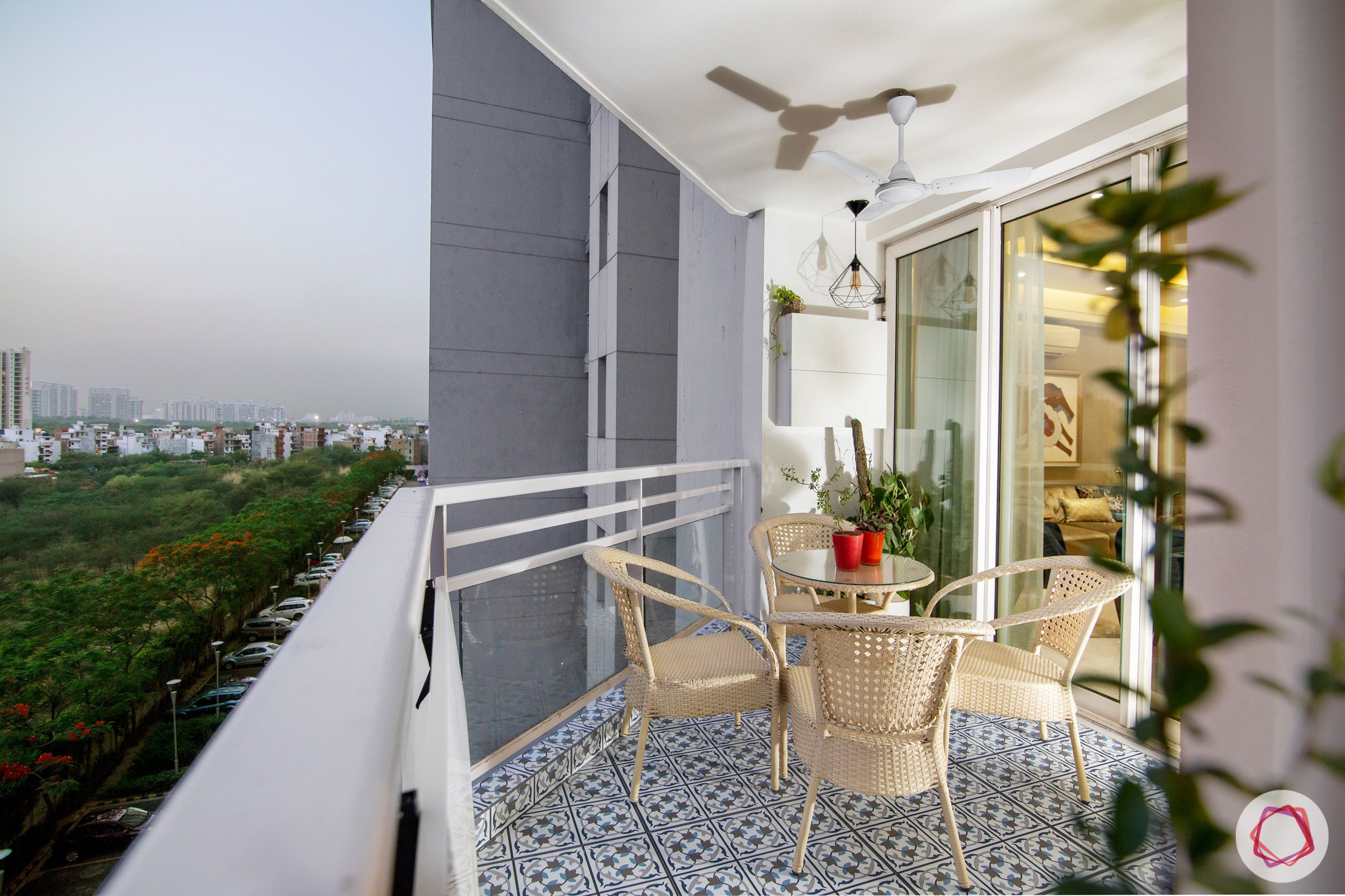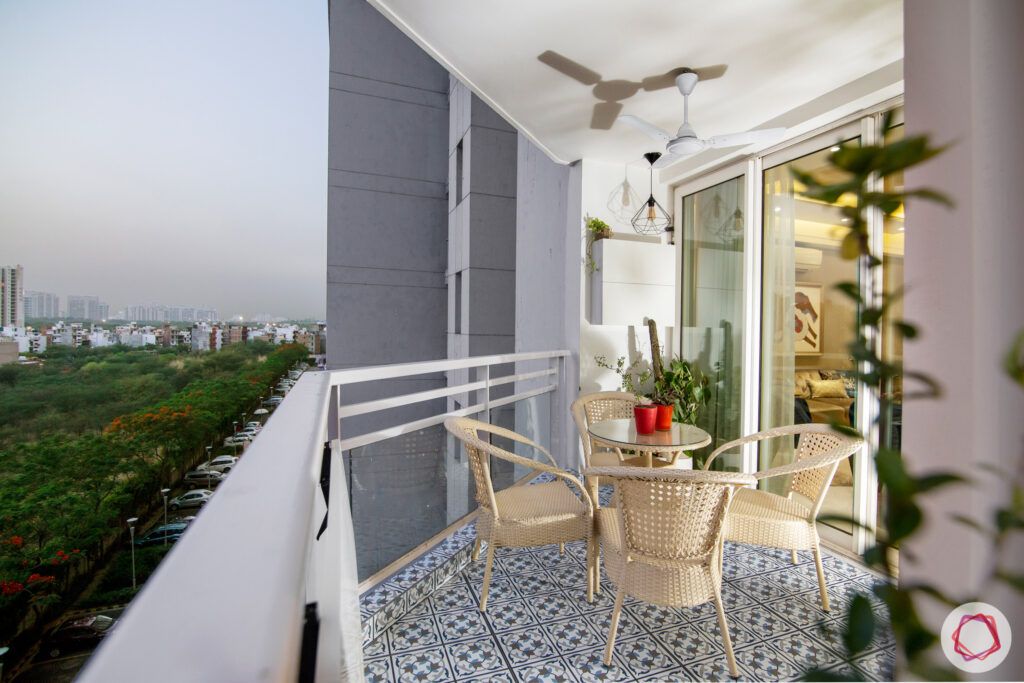 A small balcony can easily end up looking cluttered. But with designers Sahil and Shrishti at the helm, this was not an option at all! The designer duo suggested a simple balcony with minimal furniture, but amped it up in style all the same! With a flooring of Moroccan tiles and a cosy coffee table, this compact balcony has quickly become the preferred place for coffee and conversations for the Kapurs and their friends.
Dining in style at DLF Park Place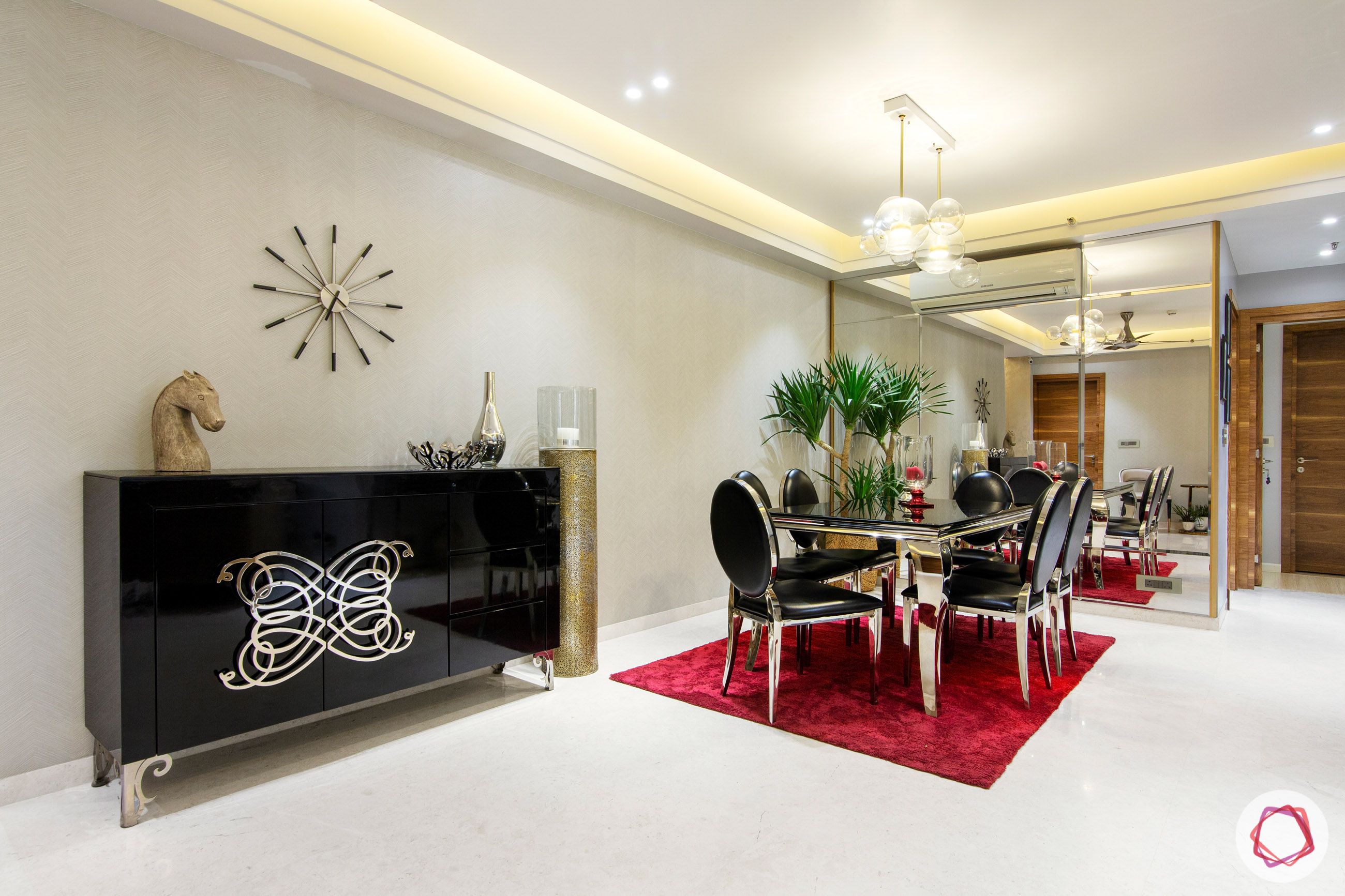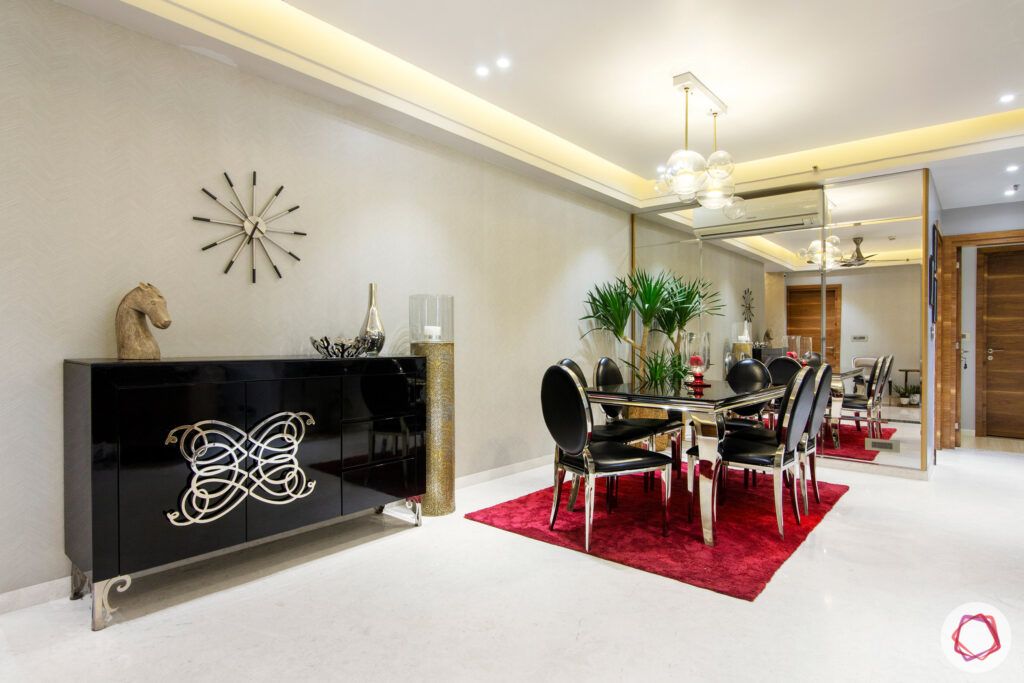 The stunning 6-seater dining table is offset by a matching cabinet. Mirror panelling behind the table opens up the space further, making it look larger than life. But what good is the right furniture without proper lighting? Thus, a statement chandelier completes dining room, making you feel like royalty.
Having played around with ambient and recessed lighting in both the drawing and dining rooms, the designer duo has not only demarcated these spaces but also allowed the Kapurs to choose how their home lights up at any given time.
Down the memory lane at DLF Park Place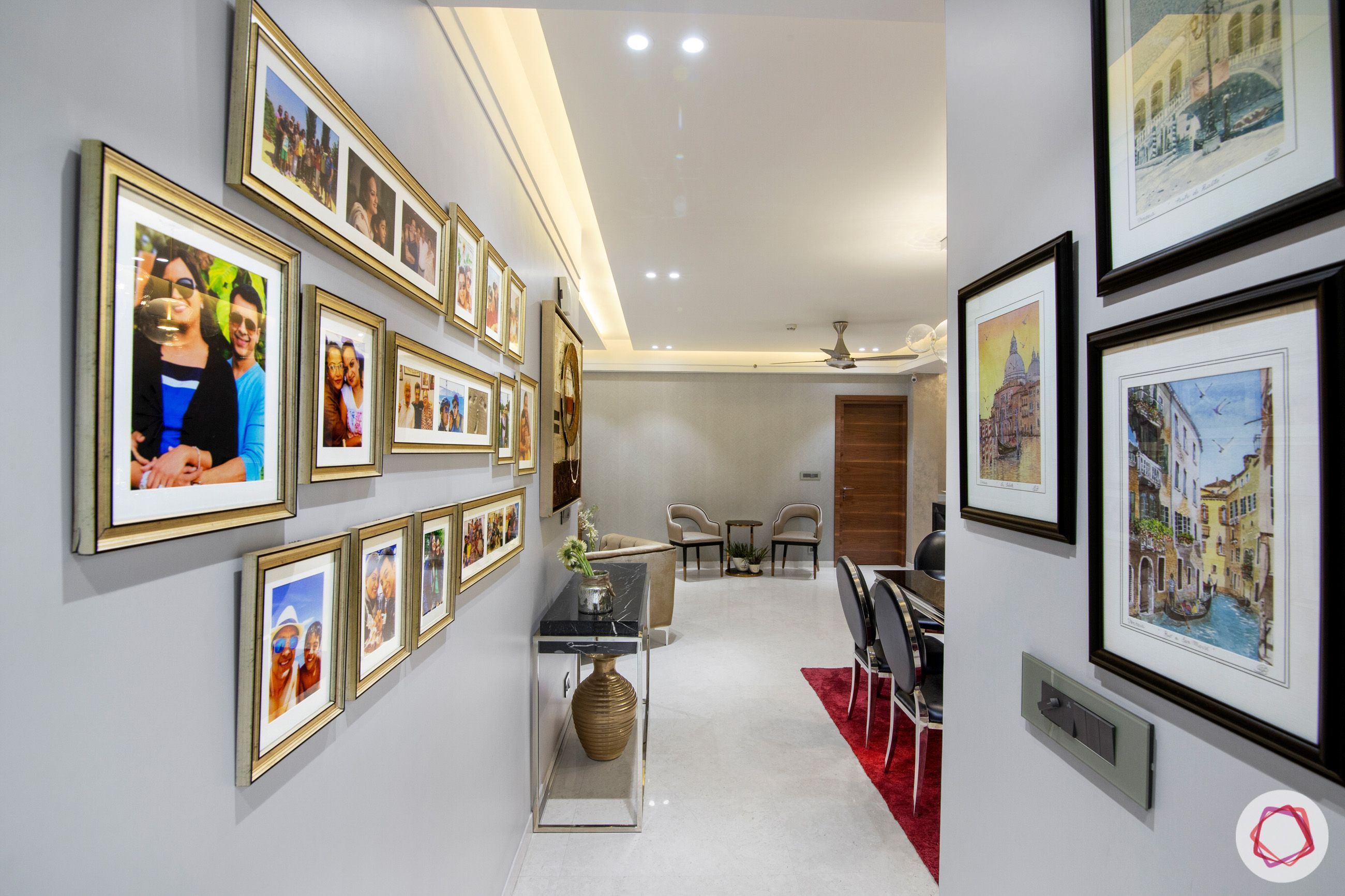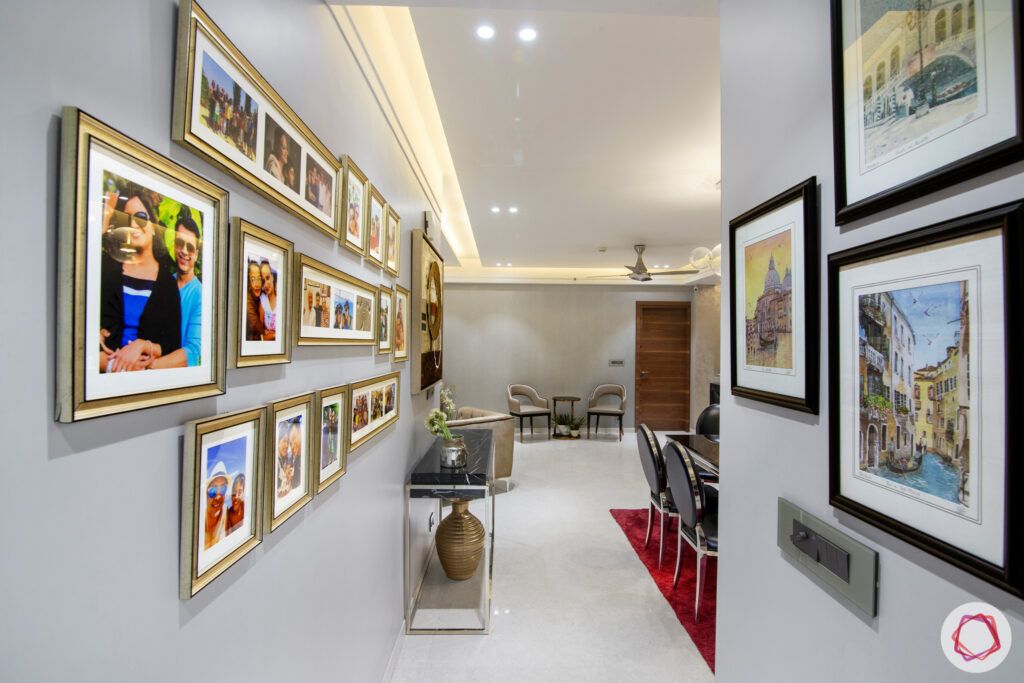 What good are family pictures if you cannot show them off? With this in mind, the designers decided to utilise the walls of the passageway inside the home to showcase family pictures. The opposite wall is taken up by a console unit. Sleek and showy, these walls effortlessly combine aesthetic appeal and functionality.
A serene bedroom at DLF Park Place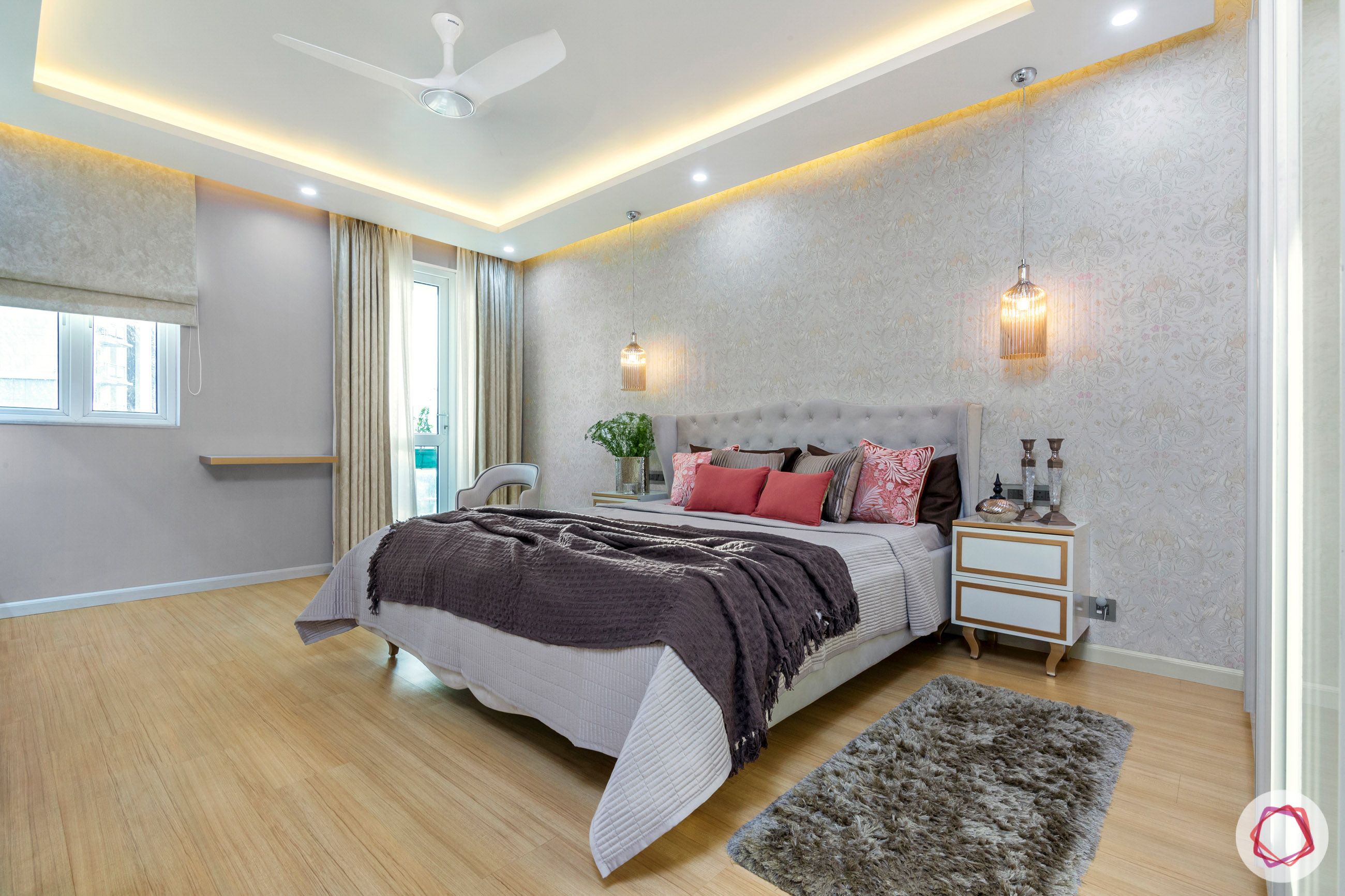 The master bedroom has been designed to be both aesthetic and functional. A soft grey colour scheme takes over the room. A wallpaper patterned in grey with hints of gold takes over the accent wall and suits the grey headboard perfectly. Complementing it is the white TV unit with gold highlights, that matches the side tables on either side of the bed. The unit doubles up as a dresser, in keeping with the Kapurs' requirements. Pendant lights contribute to the restful mood of the room.
Youthful energy at DLF Park Place
In stark contrast to Mr. and Mrs. Kapur's bedroom, we have this bedroom. Can't you tell at first glance that it belongs to a growing child? The Kapurs' ten year old son is the proud owner of this room, which is at once functional and aesthetic. A white brick accent wall dominates the bedroom, with a blue fabric headboard behind the bed. The denim-patterned fabric headboard is tough to stain and easy to maintain, making it the perfect choice for an active boy!
In designing this room, Sahil and Shrishti were careful to choose a colour scheme and setting that a growing child would love. In addition, they also wanted to provide everything that the child needs regularly. So, this room boasts of a sleek white entertainment unit, a study table in the corner, and enough space to store his sports gear!
Where the fun times begin at DLF Park Place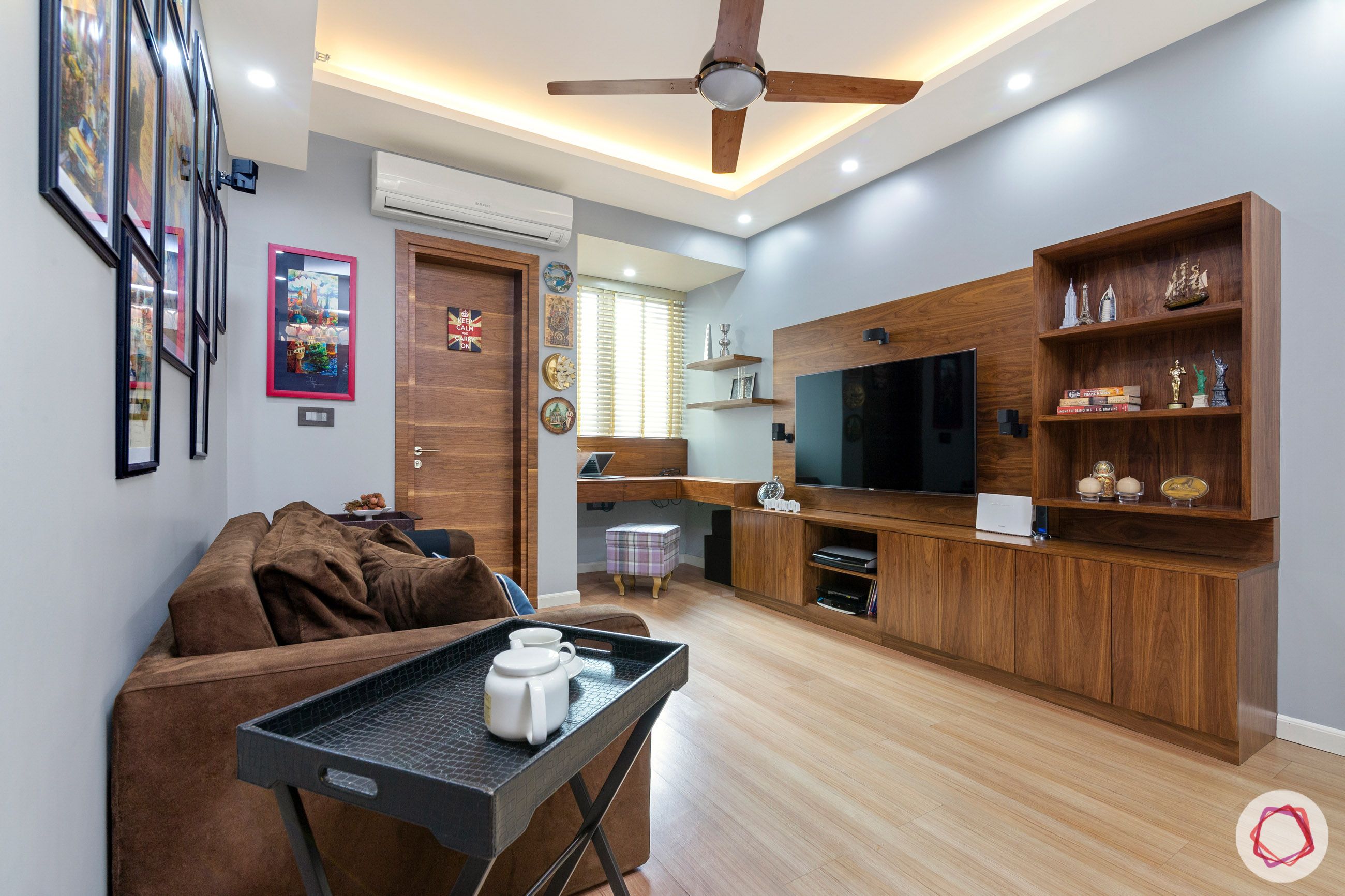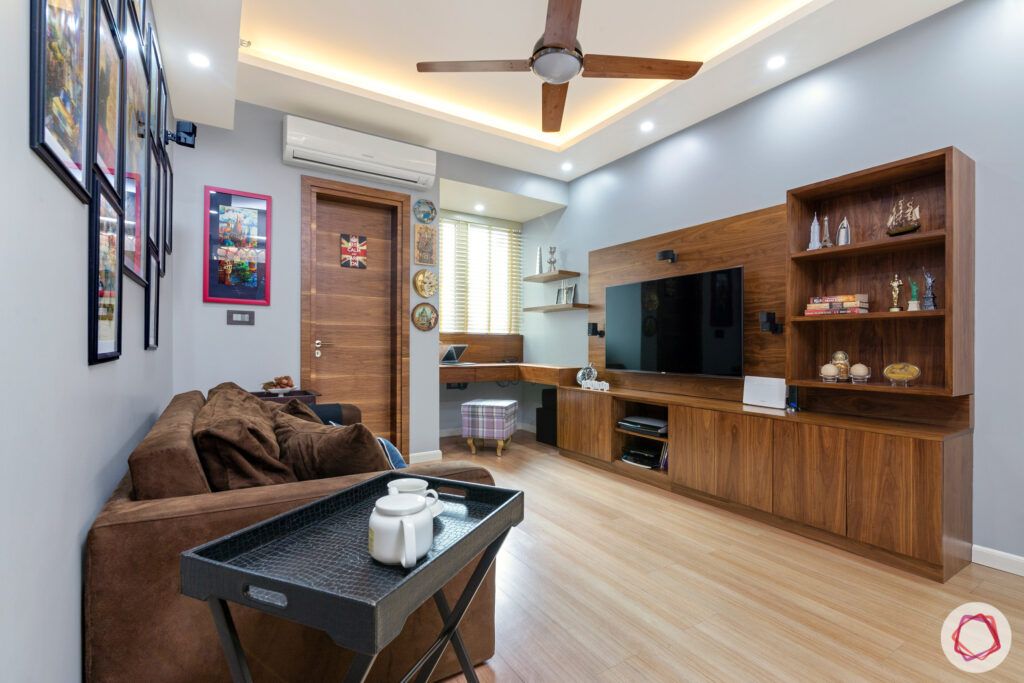 The Kapurs' entertainment room is one of a kind! It has been designed to be multi-functional, and serves perfectly as a study or even a guest room when needed. A large L-shaped TV unit dominates this space, which extends into the corner as a study table. Display shelves in the unit show of knick-knacks, while cabinets add to the storage space.
The sofa-cum-bed takes care of unexpected guests staying over while also allowing the family and guests to bond over movies and conversations. The Kapurs' collection of posters serves as the perfect backdrop as well!
A corner for prayer at DLF Park Place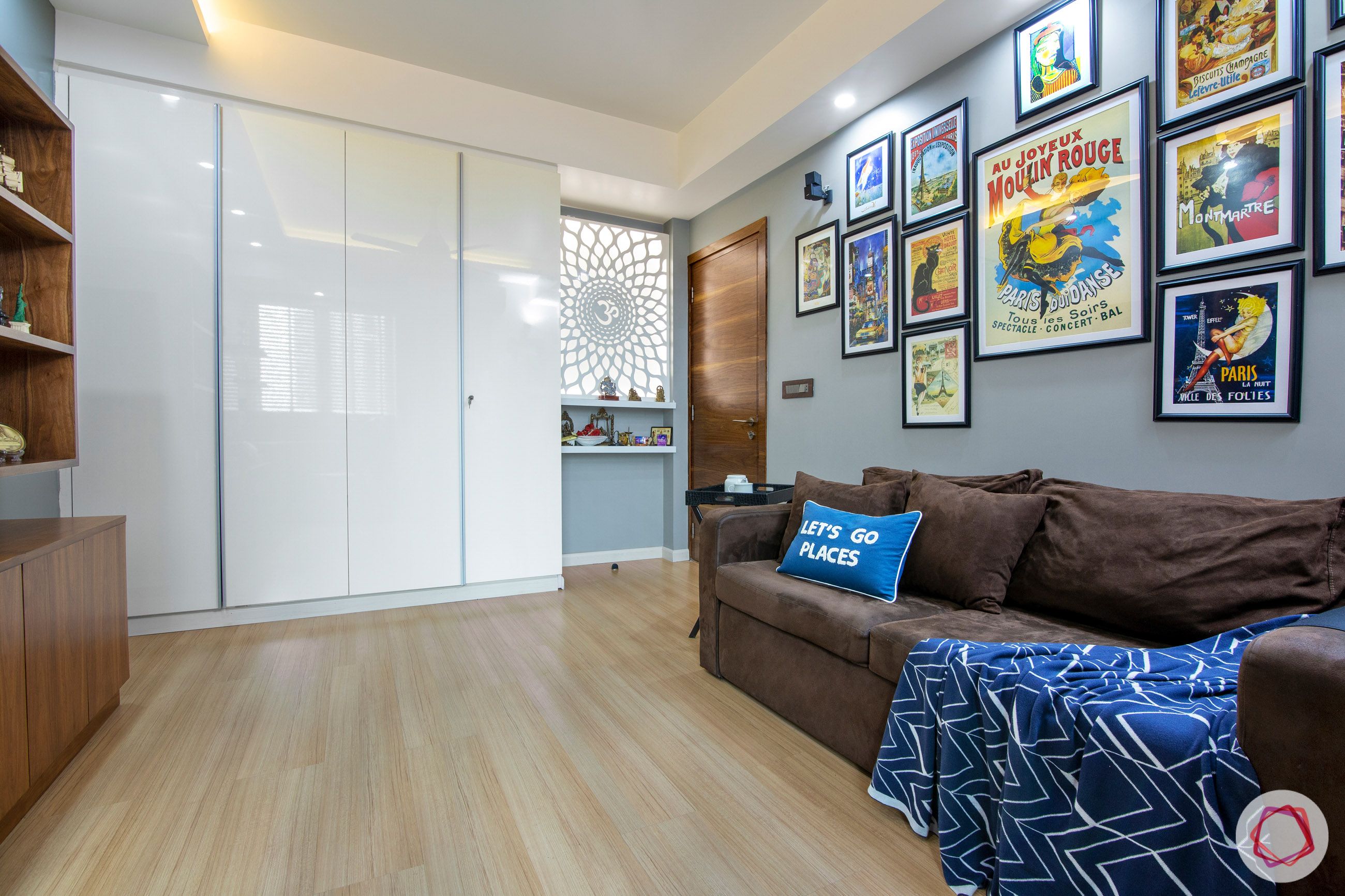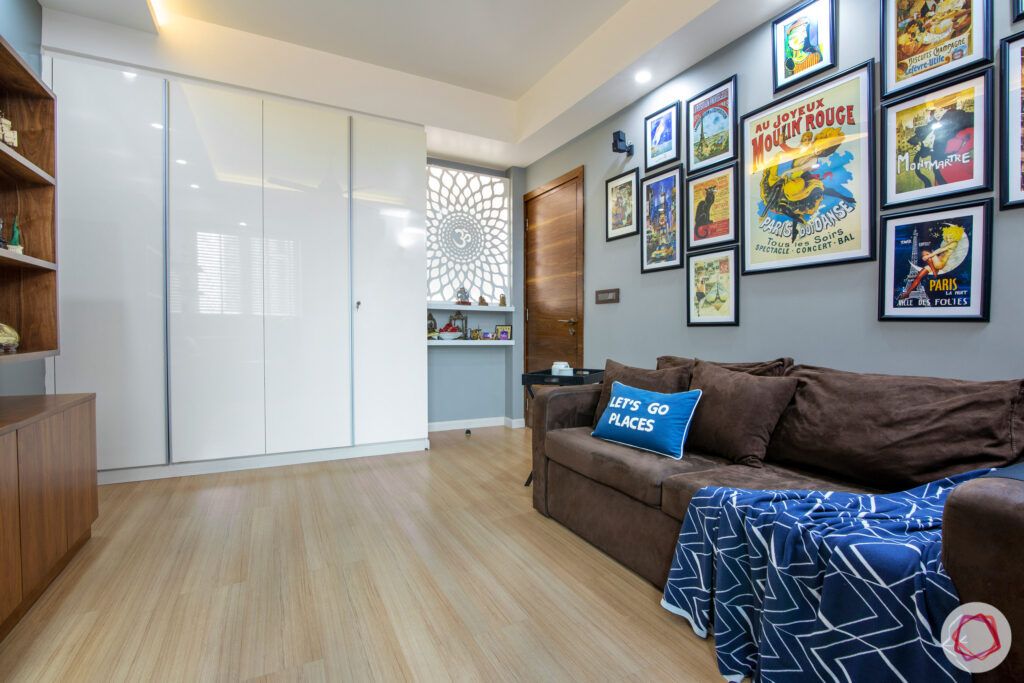 The Kapurs were clear in their need for a dedicated pooja nook, which did not need to be very large. That's how they ended up with this neat corner behind the door of the entertainment room. A backlit panel sets the prayerful mood, while a small 8" niche showcases their idols. Cosy and functional, don't you think?
"The Kapurs had excellent taste and leaned towards contemporary designs for their home. They were easy to work with and a pleasure to design for. I enjoyed designing their dream home, and am glad they loved it!"
– Sahil Suri, Interior Designer, Livspace
If you enjoyed reading about this home, take a look at A 3BHK in Dasnac Gets Striking Interiors.
Send in your comments & suggestions.